Dall-E Mini, the AI-powered text-to-image generator has taken over the internet. With its ability to render nearly anything your meme-loving heart desires, anyone can make their dreams come true.
DALL-E 2, a portmanteau of Salvador Dali, the surrealist and Wall-E, the Pixar robot, was created by OpenAI and is not widely available; it creates far cleaner imagery and was recently used to launch Cosmpolitan's first AI-generated cover. The art world has been one of the first industries to truly embrace AI.
The open-sourced miniature version is what's responsible for the memes. Programmer Boris Dayma wants to make AI more accessible; he built the Dall-E Mini program as part of a competition held by Google and an AI community called Hugging Face.
And with great technology, comes great memes. Typing a short phrase into Dall-E Mini will manifest 9 different amalgamations, theoretically shaping into reality the strange images you've conjured. Its popularity leads to too much traffic, often resulting in an error that can be fixed by refreshing the page or trying again later.
If you want to be a part of the creation of AI-powered engines, it all starts with code. CodeAcademy explains that Dall-E Mini is a seq2seq model, "typically used in natural language processing (NLP) for things like translation and conversational modeling." CodeAcademy's Text Generation course will teach you how to utilize seq2seq, but they also offer opportunities to learn 14+ coding languages at your own pace.
You can choose the Machine Learning Specialist career path if you want to become a Data Scientist who develops these types of programs, but you can also choose courses by language, subject (what is cybersecurity?) or even skill - build a website with HTML, CSS, and more.
CodeAcademy offers many classes for free as well as a free trial; it's an invaluable resource for giving people of all experience levels the fundamentals they need to build the world they want to see.
As for Dall-E Mini, while some have opted to create beauty, most have opted for memes. Here are some of the internet's favorites:
There's no looking back now, not once you've seen Pugachu; artificial intelligence is here to stay.
Look on our works, ye mighty, and despair!
There is a saying that it is easier to imagine the end of the world than to imagine the end of capitalism.
Entrenched systems of power have established bulwarks against the kind of institutional reform that younger Americans have recently been pushing for. By controlling the political conversation through lobbying, control of mass media, regulatory capture, and authoring of legislation, the ultra-wealthy maintain the status quo in a way that makes changing it seem impossible. The problem is that change is desperately needed if we are going to maintain any semblance of civilization.
While political dynamics have become so rigid that the boundaries of what we can achieve begin to feel impenetrable, the COVID-19 pandemic has revealed that the vital structures of our society—a society that is superficially so robust—have been so weakened that a collapse in one form or another is inevitable. We are the world's superpower, yet faced with a slightly more contagious, slightly more lethal virus than the flu, we are powerless. How did it get to be this bad? How were we so blind to it?
To clarify, depending on the part of the country you live in, it could seem like I'm exaggerating. It may not seem "so bad," or like we're on the verge of collapse. Not long ago the president and many of his loyalists on Fox News and AM radio were still calling dire forecasts around the coronavirus a hoax. At the time it seemed reckless but not unhinged from current events—which were still largely unaffected. In much of the country there is little cause for alarm, so few people are doing much to change their behavior. That's about to change, and the areas hit worst will soon be making the dire choices that Italian hospitals were recently faced with—which patients are we going to hook up to ventilators, and which are we going to allow to die. We are already started on a path that leads to overflowing hospitals in every major city.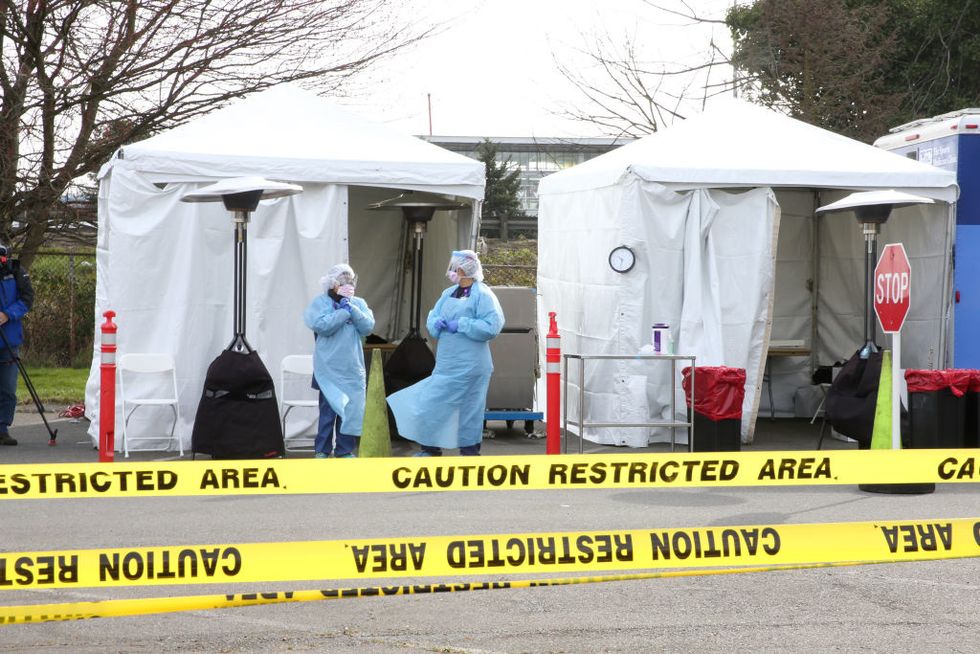 A makeshift testing facility in Seattle, Washington Getty Images
The problem is that our entire economy is set up around the same kind of short-term thinking that drive publicly traded corporations. The mentality that "government should be run like a business," leads to cost-cutting measures that only look to the current budget, with minimal consideration given to the kind of intermittent crises that we are bound to face—like a viral pandemic. If it's not particularly likely to happen before the next election cycle, it's better not to even worry about it. This is the kind of thinking that led Donald Trump's administration to push for cuts to the CDC and to disband their global health security team in 2018.

But the systemic issues go much deeper than that and started long before Trump took office. Trump and his ilk can't be blamed for the fact that the US has two hospital beds for every 1,000 citizens. Nor are they responsible for the fact that almost every aspect of America's critical infrastructure receives a near-failing grade from the American Society of Civil Engineers. This includes airport congestion—which has already become an issue with the current pandemic—and important shipping routes that we will rely on to maintain the movement of necessary goods as conditions around the country worsen.
Add to those issues the fact that we have a massive population of prisoners sharing tight quarters with poor sanitation, a substantial homeless population with no way to quarantine, a dearth of worker protections like paid sick leave, and it becomes hard to imagine how we'll get through this unscathed. And, of course, this is still ignoring the elephant in the room—a for-profit healthcare system that discourages millions of uninsured and underinsured Americans from seeking medical advice or treatment until it's too late.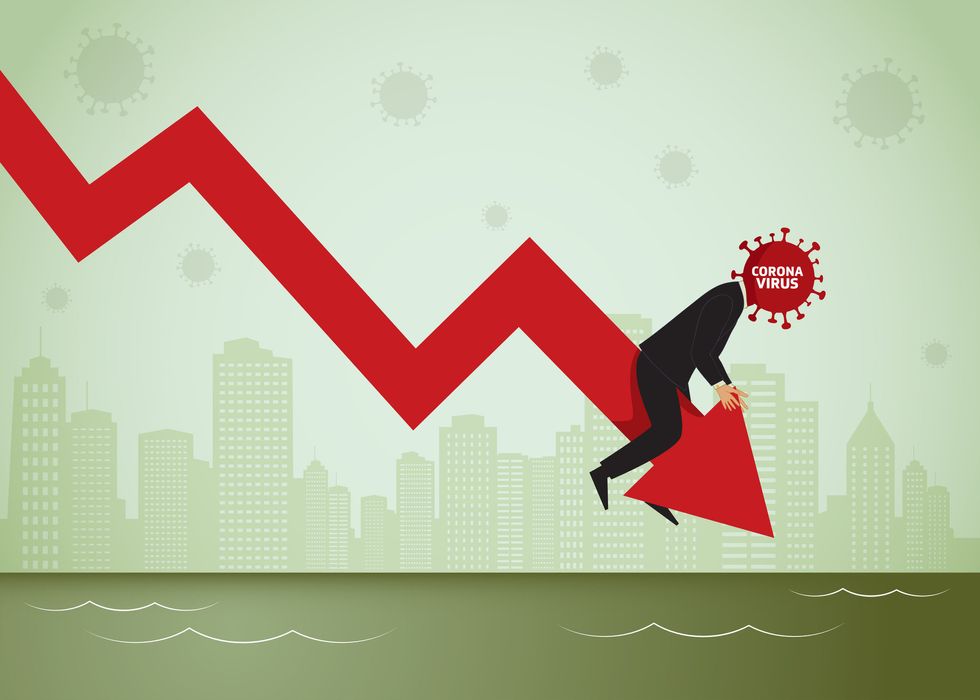 Getty Images
Meanwhile, the economic hardships imposed by the necessity of social distancing are being exacerbated by an economy that is heavily reliant on the whims of financial speculators who create an echo chamber of divestment that heightens every crisis. The stock market, in other words, is going crazy in the worst possible way. It's too soon to say how thoroughly the weaknesses in our system will be tested by the developing pandemic, but even in the best case scenario they are going to be strained to a terrifying extent.

Fortunately, there are efforts underway to shore up some of the most obvious breaking points so we can avoid complete societal collapse. They may turn out to be too little too late, but even if they get us through this current disaster, how long will it be before the next one hits? The best models of climate change predict that we are nearing an era that will be ruled by powerful natural disasters and refugee crises that will threaten economic stability and critical infrastructure and may heighten the threat of infectious diseases. Temporary, reactive measures cannot save us if the next crisis hits a little harder or when multiple crises overlap.
A strong social safety net like the one the US tried to develop under FDR would serve to mitigate the damage from this kind of crisis. But modern American politics has worked for decades—in an effort that became an object of worship under Ronald Reagan—to whittle the welfare state of the New Deal and the Great Society down to a fragile bare minimum.
We need to take seriously the voices of politicians like Bernie Sanders and Alexandria Ocasio-Cortez who have called for the kind of broad, sweeping legislation that stands a chance of upending the rigid political dynamics that maintain the status quo. The Green New Deal would be a good start. The alternative, one way or another, is the end of our civilization and the world as we know it.
While U.S. policies block many refugees from entering the country based on arbitrary or prejudicial criteria, Asylum remains a federal protection from persecution or fear from persecution.
When Joe Biden spoke at the 2019 Munich Conference in Germany, he spoke highly of America's participation in the global community. He told the European leaders, "The America I see…does not wish to turn our back on the world or our allies." This stands opposed to the policies Donald Trump's administration has enacted. As Biden added, "The America I see values basic human decency, not snatching children from their parents or turning our back on refugees at our border," he said. "The American people understand…because it makes us an embarrassment. The American people know, overwhelmingly that it is not right. That it is not who we are."
While U.S. policies block many refugees from entering the country based on arbitrary or prejudicial criteria, Asylum remains a federal protection from persecution or fear from persecution. Individuals may file on the basis of race, religion, nationality, membership in a particular social group, or political opinion. Asylum has actually saved the lives of multiple high profile figures.
Here are seven famous asylum seekers:
1. Albert Einstein (physicist)
The Nobel Prize-winning scientist fled Germany in 1933 in order to escape persecution from the Nazis. After his safe arrival in the. U.S., Einstein notably said, "I shall live in a land where political freedom, tolerance, and equality of all citizens reign."
2. Mila Kunis (actress)
Kunis and her family fled Soviet Ukraine during the Cold War. That 70s Show actress was seven years old when she was granted a refugee visa.
3. Gloria Estefan (singer)
Born in Havana, Cuba, the "Queen of Latin Pop" fled the country with her family when she was just two years old. After Fidel Castro led the Communist revolution in 1959, her family moved to Miami.
4. Madeleine Albright (former Secretary of State)
Born in 1937 in what was then Czechoslovakia, her family fled Nazi persecution during World War II. Although they attempted to return, they had to leave permanently in 1948. She later became the first female Secretary of State.
5. Henry Kissinger (former Secretary of State)
After spending the first 15 years of his life in Germany, his family fled in 1938 during the early years of the Holocaust.
6. Marlene Dietrich (actress)
The Hollywood beauty started her film career in Germany in the 1920s. When the Nazis gained power, she fled to Hollywood, where she became an American citizen and made a point to perform for troops during World War II. Later, she said, "America took me into her bosom when I no longer had a native country worthy of the name."
7. Regina Spektor (singer)
After being raised in Moscow, the singer's family fled the Soviet Union when she was nine years old in fear of religious persecution. They settled in New York, where Spektor would later begin her singing career
This week, immigrant advocacy groups lobbied to block an order under the Trump administration that would force asylum seekers to stay in Mexico until their case files were seen in immigration courts. Based on the fact that lives could be endangered if the order were executed, the group stated that asylum seekers "are being returned to Mexico without any meaningful consideration of the dangers they face there, including the very real threat that Mexican authorities will return them to the countries they fled to escape persecution and torture." The federal courts have yet to make a decision on overturning the order.
Meg Hanson is a Brooklyn-based writer, teacher, and jaywalker. Find Meg at her website and on Twitter @megsoyung.
"This caravan cannot come to the United States. They will not be allowed in," said Department of Homeland Security Department Secretary Kirstjen Nielsen.
Thousands of asylum-seeking migrants are making their way towards the U.S.-Mexico border, and President Trump wants to stop them.

The administration is looking at ways to crack down on border crossings as a means to rally his political base ahead of the midterm elections, specifically taking aim at the controversial migrant caravan that left Honduras on October 12th.
Reportedly still more than 1,000 miles from the U.S. border, the caravan's exact numbers are unknown amidst conflicting accounts. The Mexican government estimates the number of people taking part in the caravan has fallen below 4,000, while United Nations officials assisting Mexican authorities said Monday that more than 7,200 people had participated. Alex Mensing, a U.S.-based organizer with the humanitarian group Pueblo Sin Fronteras claimed the size of the caravan has swelled to 10,000.
Officials said they are considering all options for sealing the border, including denial of Central American asylum applications based on the so-called "travel ban" of 2017, which a deeply divided U.S. Supreme Court upheld as a legitimate use of executive authority. No final decisions have been made, they said, citing legal challenges as a barrier to some of the more aggressive methods.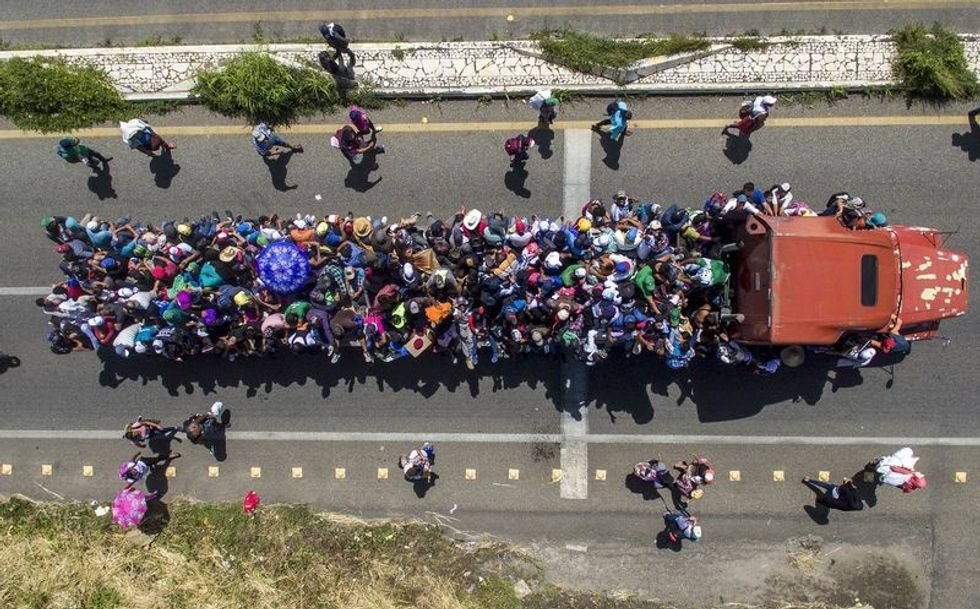 Pedro Pardo/AFP via Getty Images
"The administration is considering a wide range of administrative, legal and legislative options to address the Democrat-created crisis of mass illegal immigration," a White House official explained. "No decisions have been made at this time. Nor will we forecast to smugglers or caravans what precise strategies will or will not be deployed."

The details are expected to be finalized by early next week in a speech by the president. In the meantime, the Pentagon is preparing to deploy at least 800 troops to the border to confront the caravan.
Department of Homeland Security Department Secretary Kirstjen Nielsen said Thursday night, "If [the migrants] come here illegally with no legitimate reason to stay, they absolutely will be apprehended and removed immediately," she said. "To ignore, basically, refuge and continue, in some cases, to come to the United States raises questions of what their real motives are."
To those in the Caravan, turnaround, we are not letting people into the United States illegally. Go back to your Co… https://t.co/Er8gCUfVYU

— Donald J. Trump (@Donald J. Trump) 1540492267.0
Human Rights First, a non-profit and non-partisan rights group, spoke out against this proposed regulation, saying President Trump is "misinterpreting the law."

"The fact that the president can apply it to asylum is where we say no," said Jennifer Quigley, an advocacy strategist for refugee protections with Human Rights First, a non-profit and non-partisan rights group. She explained that such a move from the Trump administration would be a violation of the U.S. Constitution's due process clause and obligations under international law, such as the Refugee Convention.
Marielena Hincapie, executive director of the National Immigration Law Center agreed that closing the border would do more harm than good. "This is going to impact a large range of people coming through who may or may not be part of the caravan, other people who are seeking asylum, or other forms of visas," she said. "A lot of people are simply coming over to do business."
---
Joshua Smalley is a New York-based writer, editor, and playwright. Find Josh at his website and on Twitter: @smalleywrites.
The refugee crisis is becoming impossible to ignore.
There are currently 68.5 million people in the world who have been displaced because of war or racial/religious persecution. This is the highest this number has been since World War II, and as natural resources and access to clean water begin to dwindle, this number is projected to grow significantly. In response to this issue, the West has begun closing its borders in fear of mass migration. This fear however, is misguided. According to the U.N., most refugees don't go further than the countries neighboring their homelands. Still, the refugee crisis continues to grow unabated, so much so, that it threatens to be the defining marker of the 21st century. It's a multifaceted problem that's very difficult to solve, impossible if the following factors aren't properly addressed. Here's a look at the five major contributors to the world refugee crisis.
There are many who would argue that humanity has gotten less violent throughout history, but one look at the headlines and it's easy to prove that this isn't the case. The difference now is that violence doesn't typically occur between powerful nation states–that it's the poorer countries and factions who are left to fight over their limited resources. The death tolls from fighting alone are lower, but regimes are becoming more creative, weaponizing famine and hoarding resources as a means of oppression. These methods have created nearly 70 million refugees so far and when issues like climate change and water shortage come to a head in the next few decades, the refugee crisis is only going to get worse.
Matt Clibanoff is a writer and editor based in New York City who covers music, politics, sports and pop culture. His editorial work can be found in Inked Magazine, Pop Dust, The Liberty Project, and All Things Go. His fiction has been published in Forth Magazine. -- Find Matt at his website and on Twitter: @mattclibanoff
Keep reading...
Show less