They need to put their differences aside if either of them hopes to win
In a recent interview with New York Magazine Alexandria Ocasio-Cortez commented that "in any other country, Joe Biden and I would not be in the same party, but in America we are."
With consistent cries for party unity since before presidential candidates even began announcing their campaigns, it would be tempting to attack Ocasio-Cortez as splitting the party, but she is absolutely right. There is only a unified party to split on paper. America's winner-take-all style of voting forces disparate political interests to share a title and to pool donors—unless they have the ability, like AOC, to source their own funding.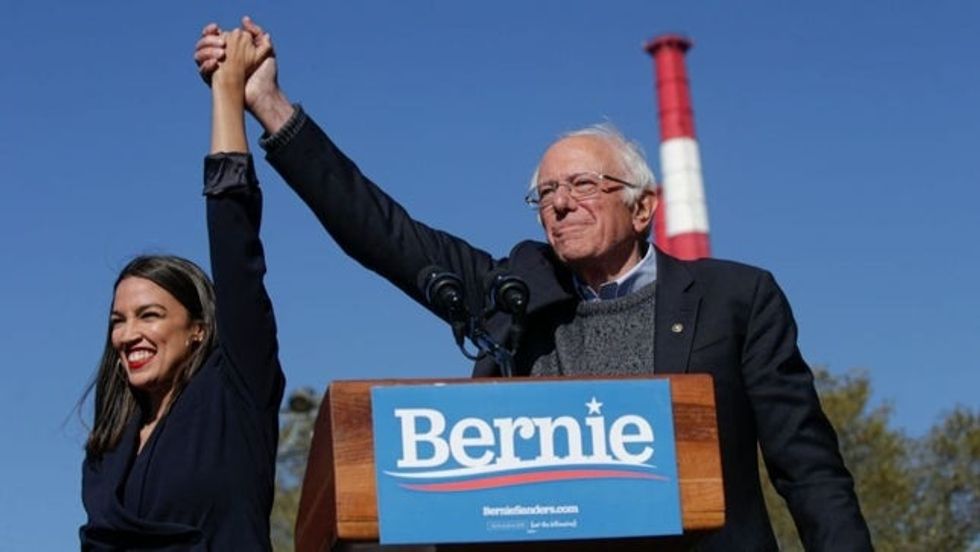 Getty Images
The GOP has used this to their advantage, emphasizing social wedge issues like abortion and immigration to pull working-class white voters away from their economic interests on the left—convincing them to cheer on tax cuts for the ultra-wealthy. For the Democrats, however, the powerful faction of the party that represents professional-class interests—the private-public partnership, means-testing, social-program-cutting wing—has represented a barrier to participation for truly progressive candidates and voters.

That's why it has been heartening, prior to this week, to see Bernie Sanders and Elizabeth Warren avoiding the temptation to attack one another. While many of Bernie's supporters online have adopted toxic attitudes toward anyone other than their preferred candidate, and many Warren supporters have questioned Bernie's feminist bona fides (particularly in light of that toxicity from many "Bernie Bros"), the candidates and their campaigns seemed largely cordial and supportive of one another. It's important, as the marginalized left-wing of the party, to focus on commonalities and mutual aid if there is going to be any hope of overcoming the powerful centrist forces that have ruled the party and served moneyed interests with only moderately less zeal than the Republican party.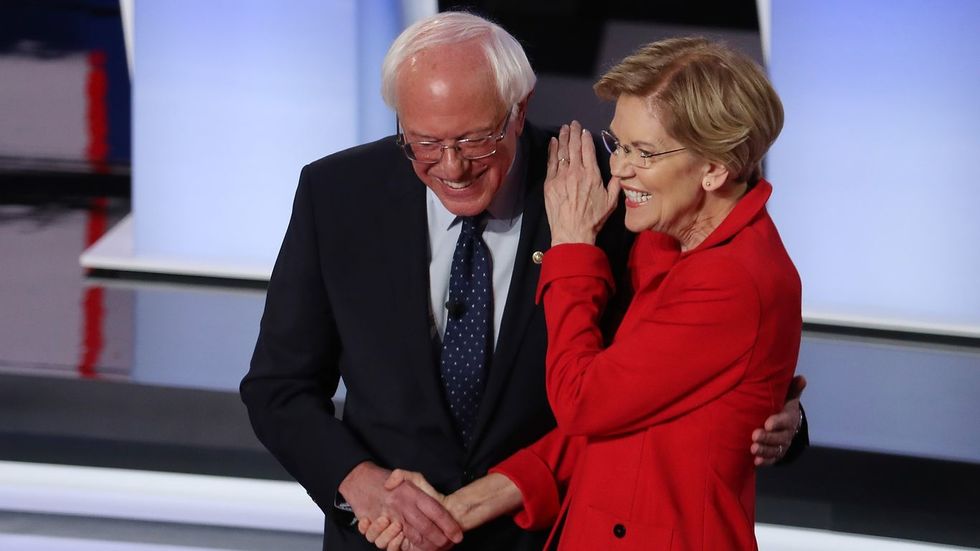 Justin Sullivan/Getty Images
That shared effort began to fall apart on Saturday night when Politico ran a story under the headline "Bernie Campaign Slams Warren as Candidate of the Elite." The story included excerpts from a document purported to be circulated within the Sanders campaign, with scripts instructing volunteers how to attack rivals in the Democratic primaries. While criticisms of Joe Biden and Pete Buttigieg are hardly surprising, the attacks on Warren—noting that her supporters are predominantly educated, affluent voters who "who are going to show up and vote Democratic no matter what"—came as a surprise in the context of the candidates' established alliance.

Skepticism in these cases is usually warranted, but the article contained little to suggest that the content was anything less than official and approved by Bernie Sanders himself. By the time Sanders came forward to repudiate the document and deny its official status, the damage was done. The rift was already beginning to widen.
Warren responded that she was "disappointed to hear that Bernie is sending his volunteers out to trash me," and she sent out a fundraising email that asked both for donations and for supporters to share personal stories and perspectives to contradict the framing of her base as elitist. If that had been all, then it might have been easy to move on and return to a mutually supportive stance within a few days. But the real damage was done when people close to Warren, perhaps in an effort to retaliate, spoke to CNN about a private conversation the two had in 2018.

Back then, the thought of actual voters making actual choices seemed distant and abstract, and the candidates sat down to discuss strategies against Trump and to establish the general truce that has held until now. Everyone involved seems to agree on those points, but differing reports emerge when it comes to the topic of gender. As CNN reported, Warren laid out her strengths as a candidate: "She could make a robust argument about the economy and earn broad support from female voters." Bernie was not on the same page.
According to anonymous members of Warren's team, Bernie didn't think a woman could win. Bernie shot back with his own version of events, saying, "It is ludicrous to believe that at the same meeting where Elizabeth Warren told me she was going to run for president, I would tell her that a woman couldn't win... What I did say that night was that Donald Trump is a sexist, a racist and a liar who would weaponize whatever he could. Do I believe a woman can win in 2020? Of course! After all, Hillary Clinton beat Donald Trump by 3 million votes in 2016." When Warren herself was finally convinced to weigh in directly, she urged people to move on, claiming that she was more interested in what she and Sanders agree on… But she also confirmed the more inflammatory version of events: "Among the topics that came up was what would happen if Democrats nominated a female candidate. I thought a woman could win; he disagreed."

While there is certainly a conversation to be had about to what extent America remains too sexist to support a female candidate, it seems like a stretch to accept the idea that, in 2018, Bernie would hold such a categorical view against the possibility of a woman being elected president. What makes it particularly questionable is the existence of footage from a C-SPAN appearance three decades earlier, in which Bernie says, "In my view, a woman could be elected president of the United States. The real issue is whose side are you on? Are you on the side of workers and poor people, or are you on the side of big money and the corporations?"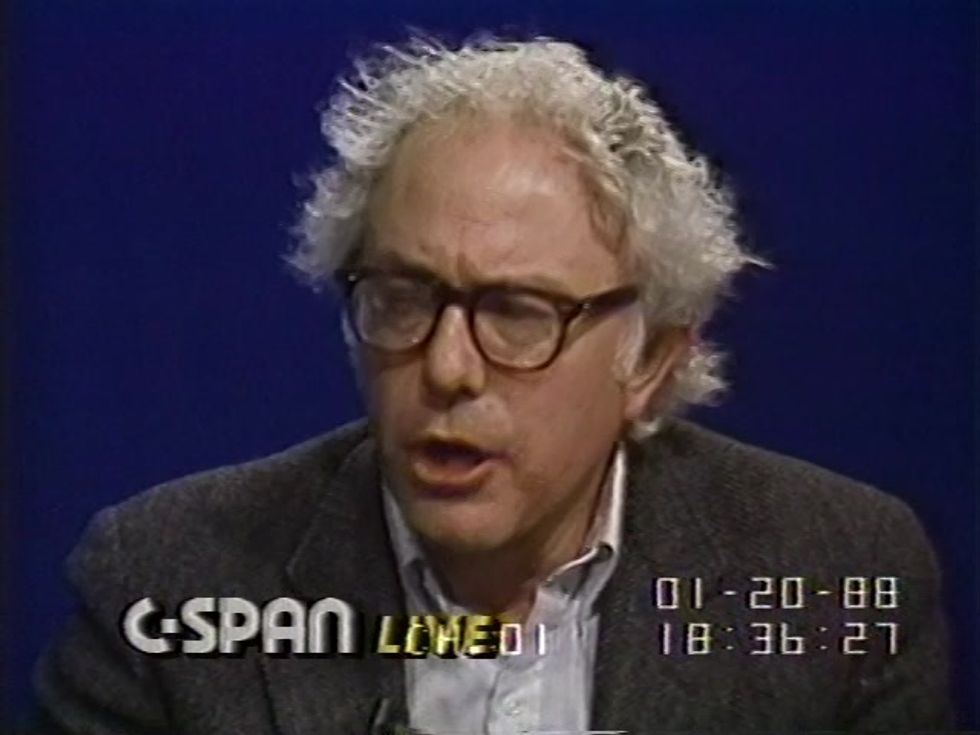 C-SPAN
The suggestion that Bernie's views have become more regressive since 1988 seems far-fetched. The inclusive, forward-thinking persona he has consistently presented to the public for 40+ years doesn't line up with this supposed private view. Then again, the idea that Warren would simply lie about Sanders' comments seems equally unlikely. Who you believe seems to depend largely on who you prefer, and the two camps seem to be moving further from each other as the Iowa Caucuses close in. On one side, Bernie Sanders is a sexist; on the other, Elizabeth Warren is a liar.
Without a recording or a transcript of the conversation, it doesn't seem quite justified to land in either of those camps. Without third-party witnesses, the basic facts of who did and who said what can quickly dissolve. The message that was intended and the message that was received crystallize in each person's mind to the point that they become irreconcilable. Perhaps Bernie did think that a progressive man was better poised than a progressive woman to counter Donald Trump's brand of populism in the 2020 election. Maybe his way of saying so was so clumsy that Warren took it as a broad statement about the viability (or lack of viability) of female candidates, and she recounted it as such to people close to her. Short of calling either of them a liar or worse, that is the best I can muster—a version of events that I prefer to believe in order to maintain my respect for both of these candidates.

Supporters from both sides will no doubt find this middle-ground unsatisfactory. The rift feels real right now, and it's starting to seem like each side is trying to undermine the chances of the other. But while only one candidate can win the nomination in the end, their support draws too much from the same pool of voters to allow this rift to remain. Already Bernie supporters who also donated to Warren are turning against her with the hashtag #RefundWarren. But the sad truth is that neither can win in the general election without support from the other's ardent fans. And who really stands to benefit from continued fighting? The center and the far-right. It can only help Joe Biden and Donald Trump. And Donald Trump seems to know it...
If Sanders and Warren can't each count on the other's supporters to get behind them as the primaries shake out, then Biden will likely hold onto his narrow lead. And if one of them does manage to get the nomination with this acrimony still hanging in the air between them, no amount of campaigning for one another is going to muster the sort of passion that we can count on to overwhelm Donald Trump in the general. 2016 should have taught us that much.

This feud needs to end now. Warren and Sanders need each other, and our country needs them. They are the only candidates taking America's economic divide seriously, and the only candidates willing to tackle climate change with the resolve and transformative action it requires. If Donald Trump gets reelected, he will continue to make both of these problems far worse, destroying hope for economic justice and a sustainable future. If Joe Biden is our next president, then we will go back to enacting middling, inadequate reforms—one step forward for every two steps back.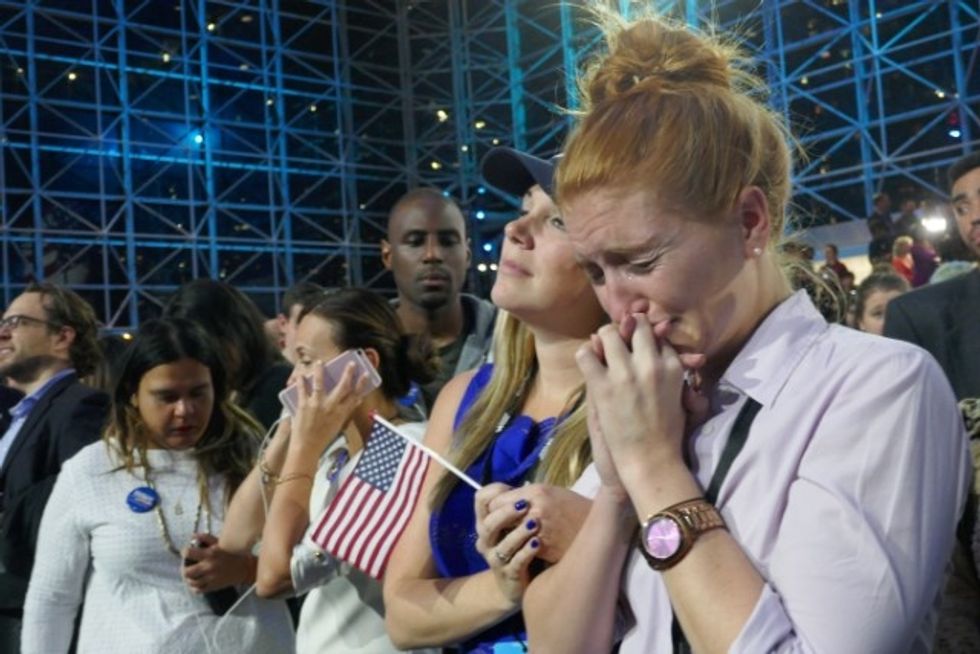 Hillary supporters as 2016 election results came inGetty Images
Warren and Sanders, united, represent our only real hope. Of course, they each believe that they are best suited to the job. They wouldn't be running otherwise. But if either of them is going to win, they need to come together, reaffirm progressive unity with one voice—acknowledging the differing accounts of events and decrying sexist limitations. Either of them can win this election, but neither can do it alone.
Why are we overlooking the brightest hope for America's future?
With 17 Democratic candidates vying for the chance to oust Trump in the 2020 presidential election, we're witnessing divides within the party that hammer home the fact that politics are infinitely nuanced, complicated, petty, and—forgettable? For some reason, Michael Bennet, the 54-year-old Colorado Senator whose face is as symmetrical and innocent as Mrs. Potts in Beauty and the Beast, is often overlooked in the race for the White House. But you are doing yourself a disservice—nay, an offense—if you haven't familiarized yourself with his campaign platform, his experiences as a Senator and as superintendent of Denver's school system, and his initiatives as a member on the Committee on Agriculture, Nutrition and Forestry; as well as the Committee on Finance and the Subcommittee on Energy, Natural Resources, and Infrastructure.
Basically, Michael Bennet might covertly be the sh*t. Consider the evidence: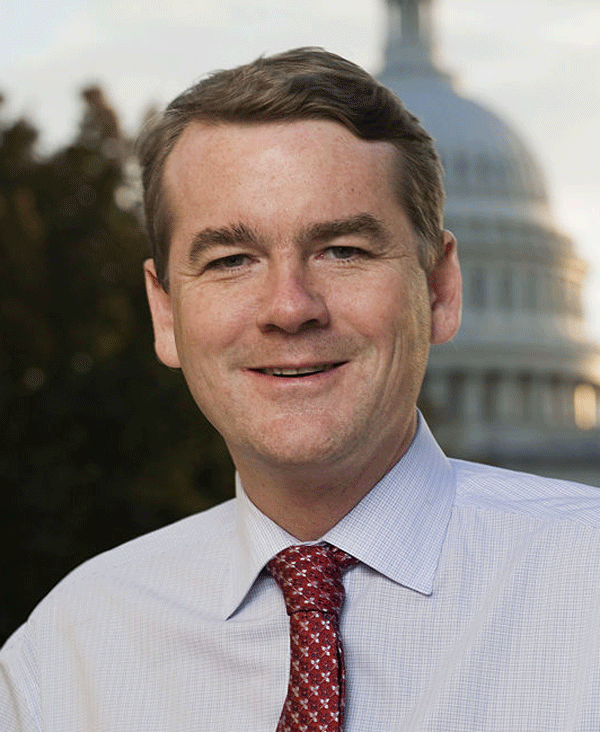 Look at that face! He looks like the Brave Little Toaster!
He's Good with His Hands
Listen: Bennet's home state of Colorado has a lot of land to farm. In fact, agriculture contributes up to $40 billion to the state's economy each year and accounts for over 173,000 jobs. As state Senator, Michael isn't afraid of dirty work. In 2019, he penned an op-ed in The Wall Street Journal calling out the ways that "Trump Has Been Bad for Farmers." What's the farmer's equivalent to throwing down a gauntlet? Throwing down a...hoe? Anyway, Michael's pushed for legislation to create jobs and protect dairy farmers, as market instability has endangered their livelihood, and he openly "believes a resilient agricultural sector is vital to a strong economy. This is certainly true in Colorado, where farming and ranching are a proud tradition and generate more than $40 billion in economic output each year. As a member of the Senate Committee on Agriculture, Nutrition, and Forestry, Michael is working to bring the diverse voices of Colorado to the debate in Washington."
Additionally, Michael's family owns a 1,500 acre farm in Arkansas; and sure, he rents it out to contribute to his notable wealth, but he probably owns at least one pair of overalls. Picture it: Michael Bennet in denim overalls. Wouldn't he look like such a happy little farmer? Hot.
He's Down-to-Earth and Down to Save the Earth
When it comes to land conservation, Michael doesn't mess around. Partly to advocate for America's 2 million farmers and partly because he's adorable and probably has a favorite species of flower, "Michael believes protecting public lands and wild places is an integral part of Colorado's heritage. It's why he brought together a diverse group of stakeholders to protect the Hermosa Creek watershed, and why he has stood up for sacred places and critical wildlife habitat across the country. From hiking to hunting, Michael also recognizes that outdoor recreation is vital to Colorado's economy."
Similarly, he's serious about converting American industry over to clean energy. In the last two years alone, he's cosigned or cosponsored multiple letters and legislation calling for improvements to the Environmental Protection Agency, the Land and Water Conservation Act, and proactive government action to combat climate change (like providing incentives to produce more solar panels in the U.S.). Always the good farmer, he wants to cut down hazardous emissions from farming and ranching with clean energy initiatives, and he supports plans that could conserve nearly one-third of U.S. lands.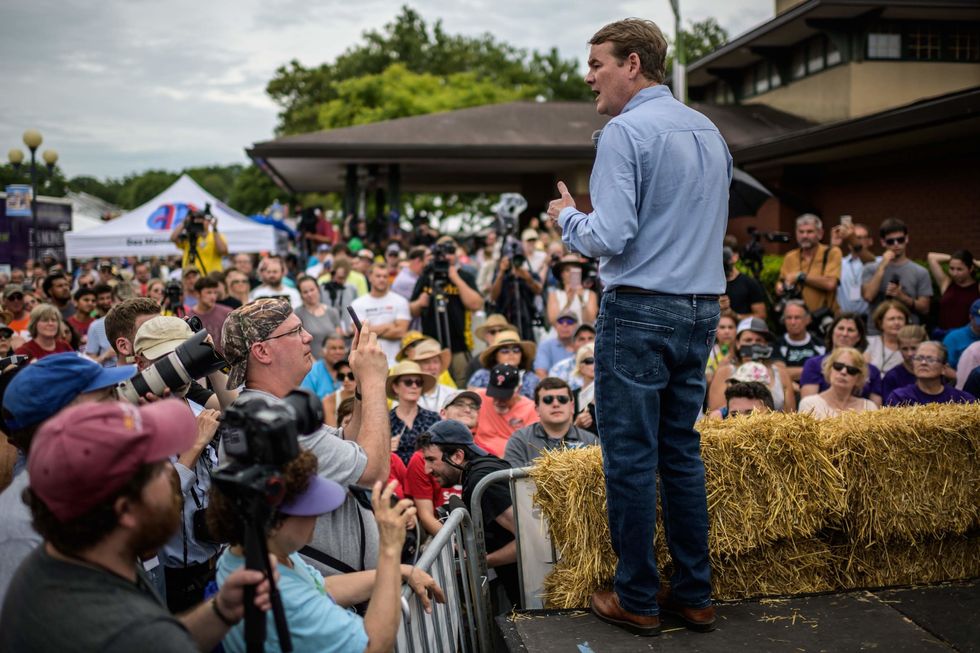 We're DEFINITELY not looking at his butt...We're DEFINITELY not looking at his butt...DEFINITELY not.The Gazette
Per his campaign team, "He recognizes this moment in our country as an opportunity to modernize our energy system, transition to low-cost renewable sources of energy, increase energy independence, and provide reliable and affordable energy for every American. Michael knows climate change is not a problem we can push off to the next generation. He believes in a comprehensive approach to combat climate change that includes commonsense actions to reduce carbon pollution and increase the resiliency of our communities, all while growing the economy."

Do you see? He's a happy and environmentally conscious farmer! (So screw you, Jay Inslee, you look like Bruce from Finding Nemo. We don't need you when we have Mike).
He's Almost Definitely into Weed
Speaking of loving plants, as the Colorado Senator, of course Mike is down with 4/20. Specifically, he's an advocate for legalizing marijuana for the sake of job creation, more health care options, and a fairer justice system. In fact, he's one of many supporters of the Affordable Care Act and supporting rural communities with less access to health care; but he's also a member of the U.S. Senate Committees on Finance and Agriculture. Through the committee, "Bennet championed the legalization of hemp in the 2018 Farm Bill and is a cosponsor of the SAFE Banking Act and Marijuana Justice Act, which would end the federal prohibition on cannabis and reverse decades of drug policies that have disproportionately affected low-income communities and communities of color."

In short, we're confident that Mike loves more than one type of grass.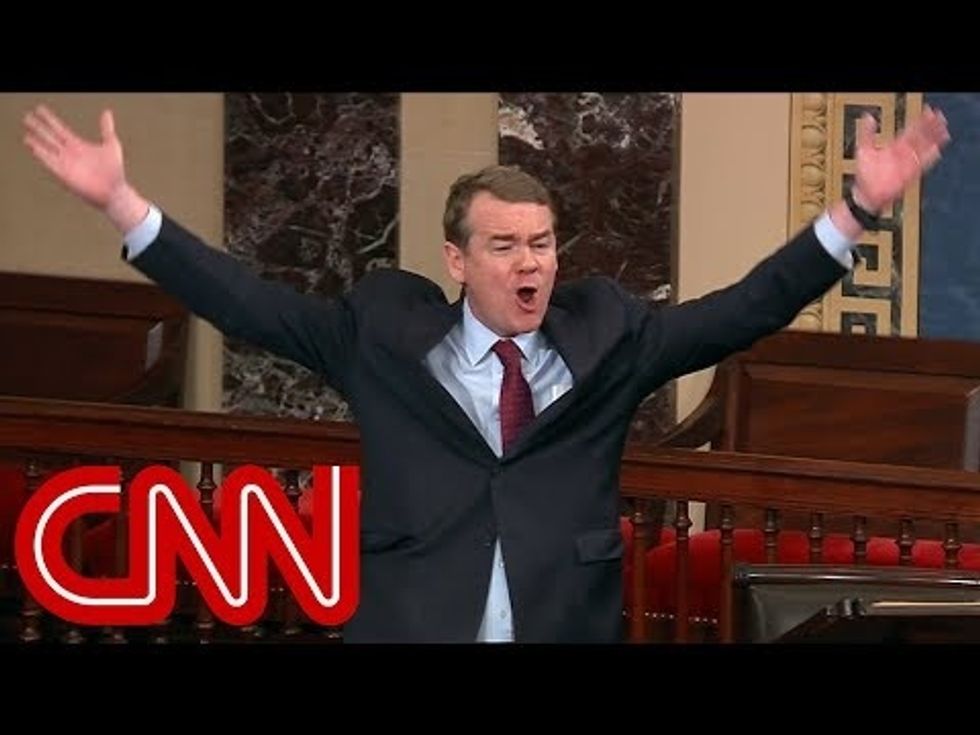 CNN
He Hates Washington

Who doesn't love the passion of a man who's running for the nation's highest office while publicly calling that office "broken." When it comes to government reform, "Michael knows that Washington is broken, and he has worked since 2009 to make Congress more functional. Michael has fought to hold lawmakers accountable to their promises and the rule of law. He supports overturning the Supreme Court's Citizens United decision and placing commonsense limits on campaign spending. Michael also believes that democracy depends on transparency and public access to information, and has lobbied federal agencies to swiftly comply with the Freedom of Information Act."
Michael's also called out the failures of America's immigration policies and our education system. Remember that he was Denver's superintendent for four years, during which time enrollment grew, dropout rates decreased, graduation rates increased, and college enrollment rose, leading The Denver Post to praise, "Bennet has been a force—pushing reforms and steering the state's second-largest district to a culture of success."
So he's proven his ability to helm a broken system and turn it around. He also managed to run a public school system to the public's satisfaction. If that's not a testament to the charm of his boyish freckles and a face that belongs on the label of some hipster's artisanal butter, we don't know what is.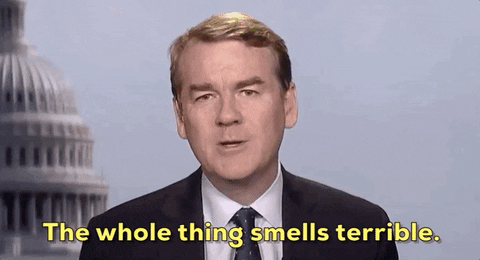 He's a Sagittarius
Obviously, you're not going to exercise your civic duty based on something as whimsical as a candidate's astrology sign. But to peer into the unassuming genius of Michael Bennet's brain, you must know his origins. Born on November 28, 1964, Michael is a through-and-through Sagittarius. Just ask Buzzfeed; they point out his "particularly Sagittarius trait: Bennet overcame dyslexia as a child and went on to graduate from Wesleyan University and Yale Law School, where he served as the Editor In Chief of the Yale Law Journal. That's some big Sagittarius energy!"
More tellingly, very credible and not at all bogus horoscopes for Sagittarius in 2020 foretell a year of professional strides and great success! Those born under the sign of the Archer are expected "to make more progress at work this year. You will work more this year than usual. But it will also help you to become more successful as the year goes on. If anything drains your energy this year, it will be your job!" Thanks, SunSigns.org, our gut's telling us that Michael's in for a future of glory, too!
No Scandals and No Game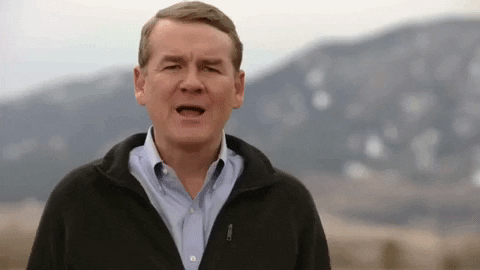 Let's face it: We love that he looks like George H. W. Bush was genetically spliced with our childhood hamster. He's the kind of boomer who just wants to drive you home from soccer practice and remind you to call your mother more often, without trying to smell your hair or mouth-breathing heavily with some rancid breath (JOE!). He's not creepy or even slick. In fact, he has zero moves that could remotely seem suspicious. Think about it: Obama danced like he knew he was hot. Everyone knows Trump has the most delicate, fluttery hands. Bennet? He has no distracting characteristics, no deceptive grace, and no smooth-talking rhetoric that raise any of our suspicions. Bill Clinton may have won over voters by pushing some "cool" image by playing saxophone on the Arsenio Hall Show, but that's not what we want in 2020.
We want a wholesome, dad's-golf-buddy type with a face that laughs even when he's trying to cry and who boldly tries new things. We want Bennet. After all, how could we be duped or betrayed as a nation by a man who dances this purely—as if a camera has never captured his quiet-uncle energy before, as if time and space were just illusions and he is that little boy beside him—as if he's never lost a race in his life and never will?
Could her Democratic Debate win unseat frontrunner Biden?
The second night of the 2020 Democratic primary debates gave American voters a glimpse into the policies, platforms, histories, and personalities of 10 more candidates, all vying to stand out in a crowded 25-person race to challenge Donald Trump in the next presidential election. Following up a spirited debate the night before, during which Elizabeth Warren ran much of the show, the second showdown featured the party's two frontrunners, Joe Biden and Bernie Sanders. Biden and Sanders, however, were not the brightest shining stars on the stage by the end of the night. For many Americans, Thursday's debate served as a formal introduction to many of the other candidates in the race, some of whom made quite a name for themselves.
The general consensus, at least according to liberal-leaning media outlets, is that California Senator Kamala Harris won the debate. Harris was exceptionally poised and confident throughout the entire night, answering questions directly and succinctly—a refreshing break from the single-note catchphrasing, discursive meandering, and sometimes chaotic squabbling of many of her opponents.
At one point of heightened bickering (of which there were several), while nearly every other candidate was trying to yell over one another, Harris addressed her colleagues and competitors, reminding them that "Americans don't want to witness a food fight, they want to know how we're going to put food on their tables." She then seamlessly shifted the discussion back to the matter at hand: jobs. Although quick-witted and clever, sure, I would posit that this was not merely a quippy soundbite. It demonstrates a seemingly natural proclivity for leadership, as well as an ability to behave with cool diplomacy in the face of contentious disarray—all of which are traits one might call "presidential."
That, however, was not even the most defining moment of the night for Harris. About halfway through the debate, she aired her grievances with Joe Biden's sordid political relationship with civil rights. Harris addressed Biden directly and with candor. Instead of trying to smear the former vice president, she simply informed him that she was personally hurt by recent comments he made regarding his positive working relationships with now-deceased segregationists in the Senate.
"It was hurtful," Harris said to Biden, "to hear you talk about the reputations of two United States senators who built their reputations and career on the segregation of race in this country. And it was not only that—you also worked with them to oppose busing."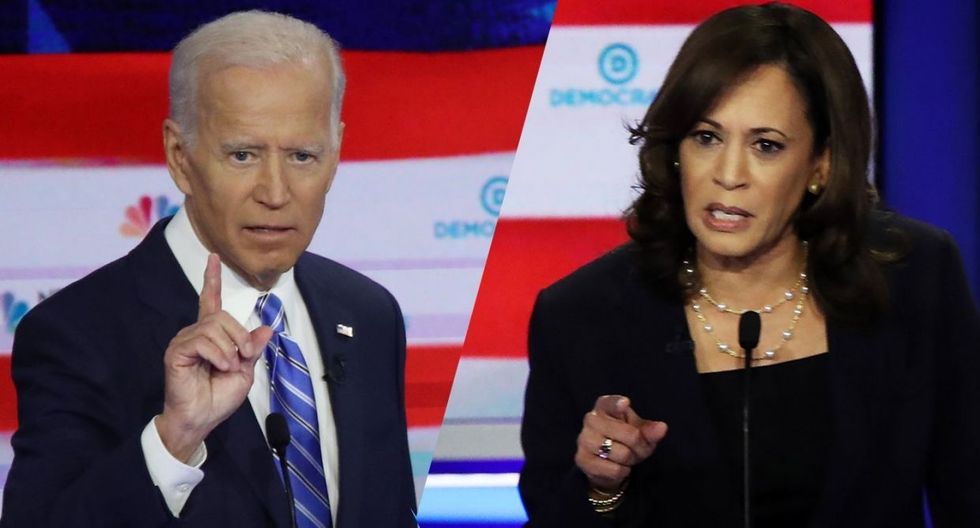 Yahoo News
She then went on to relay the story of a young girl in California being bused in order to integrate into public schools. "And that little girl was me," Harris concluded, "So I will tell you that on this subject, it cannot be an intellectual debate among Democrats. We have to take it seriously. We have to act swiftly,"

Even though he probably should have seen this coming, given the public outcry and a call from fellow Democratic primary hopeful, Senator Cory Booker, for an apology, Biden was clearly rattled by Harris' statements.
In short, he fumbled it. Instead of wielding an opportunity to mirror Harris' sincerity and take her concerns seriously, using the debate platform to finally make an apology, he doubled-down and condescendingly lectured (actually, his tone seemed, at least to this writer, to be teetering on the brink of scolding) Harris, stating that his stance on Civil Rights-era busing was about states' rights, not a tepid attitude towards racial equality.
"I did not praise racists," Biden retorted, "That is not true, number one. Number two, if we want to have this campaign litigated on who supports civil rights and whether I did or not, I'm happy to do that." The former vice president, however, still refuses to issue an apology.
In fact, upon hearing Cory Booker's initial call for an apology, he issued a statement outside of a fundraising event in Washington on June 19th, saying, "Apologize for what? Cory should apologize [...] He knows better. There's not a racist bone in my body. I've been involved in civil rights my whole career. Period."
Joe Biden, who has been the primary frontrunner for the Democratic primary nomination thus far, appears to be largely impenetrable in the face of criticism and scandal, despite being comparatively conservative among a pool of majority-progressive candidates. Only time will tell whether or not Harris has, indeed, finally found Biden's political Achilles Heel.
Either way, though, the first Democratic debate was all about Kamala Harris and the underdogs. In addition to Harris' impressive performance, Mayor Pete Buttigieg of South Bend, Indiana also stood out as intelligent, composed, and unflinching. And Andrew Yang, best known for his somewhat controversial platform of Universal Basic Income (giving every American citizen a monthly stipend of $1,000), also held his own—offering straightforward, no-nonsense, and logically sound answers, even if seldom few questions were directed at him.
A lot can happen between now and February 3rd when the first Democratic primary caucus is scheduled to take place in Iowa. And there will be plenty of chances for candidates to rise and fall in the meantime. If Thursday's debate is any indication of what's to come, however, it appears as if a paradigm shift may be on the horizon, with Senator Kamala Harris leading the charge.
The president's re-election campaign doubled spending over the last three months.
Even with his re-election vote two years away, President Trump has raised more than $100 million towards his campaign.
The president's fundraising total, which include his campaign committee and joint accounts with the Republican National Committee (RNC), raised more than $18 million from July to September, according to numbers filed by the Federal Election Commission on Monday night. With more than $106 million at his disposal, Trump has raised a historic amount for an election this far in advance. In contrast, President Barack Obama had just $2.3 million in his bank account two years before his 2012 re-election bid.
The preemptive effort to undermine his future Democratic contender began as soon as 2017, with Trump's abnormal decision to file for re-election the day he was sworn in. There was barely a pause in his campaign's rallying tours across the country—they continued in the first months of his presidency.
Strikingly, the president's campaign committee has raised the majority of its bursting wallet from donations of less than $200. These small sums represent nearly 98% of the money he collected during the third quarter of the year. That's not to say his fundraising team hasn't sought larger donors. One check deposited in the RNC joint account for $250,000 came from venture capitalist and human blood enthusiast Peter Thiel.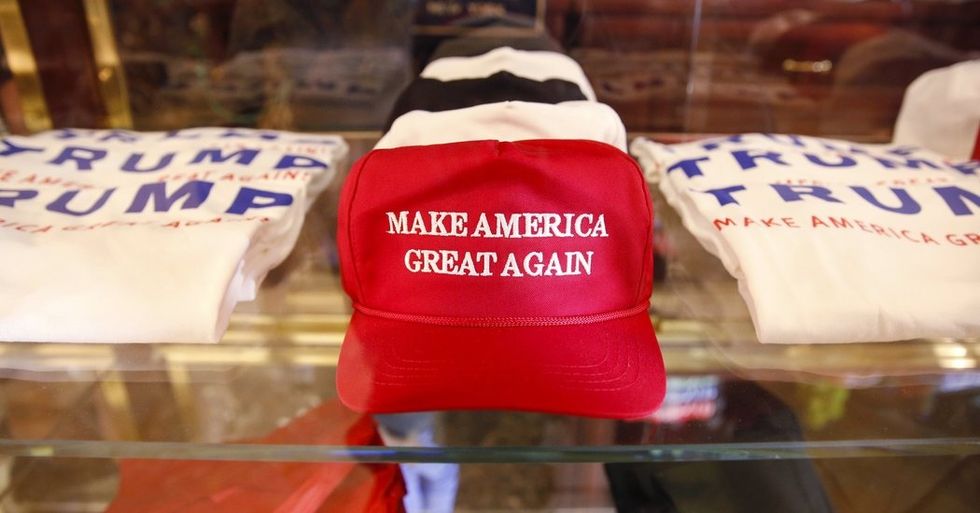 Reuters
Trump's campaign doubled spending over the last three months to $7.7 million, seeking to stir up its Republican base with more rallies and online appeals. $604,000 was paid to Ace Specialties in Louisiana, the manufacturers of the Trump base's favorite "Make America Great Again" red hats. $1.3 million was paid for legal fees, which includes services related to the Russian meddling investigations, and $1.6 million was spent on advertising to a shadowy company called American Made Media Consultants.

According to the New York Times, the company was created by the campaign to purchase media advertisements as well as online fundraising solicitations. While it's not intended to create profit for Trump, the company could allow the campaign to avoid declaring precise spending details to the election commission. The idea seems to draw inspiration from Mitt Romney's presidential campaign.
In a statement, the Trump campaign's senior advisor encourages their grass-root supporters "and millions more like them to get out and vote in the midterms so President Trump can continue to build on his agenda with even greater success for the forgotten men and women of this great country."
Despite his success, Rep. Beto O'Rourke, the Democratic challenger to Sen. Ted Cruz in Texas, reportedly raised more than double what Trump did between July and September. The $38.1 million haul is a quarterly fundraising record for a Senate campaign.

Joshua Smalley is a New York-based writer, editor, and playwright. Find Josh at his website and on Twitter: @smalleywrites.