Dall-E Mini, the AI-powered text-to-image generator has taken over the internet. With its ability to render nearly anything your meme-loving heart desires, anyone can make their dreams come true.
DALL-E 2, a portmanteau of Salvador Dali, the surrealist and Wall-E, the Pixar robot, was created by OpenAI and is not widely available; it creates far cleaner imagery and was recently used to launch Cosmpolitan's first AI-generated cover. The art world has been one of the first industries to truly embrace AI.
The open-sourced miniature version is what's responsible for the memes. Programmer Boris Dayma wants to make AI more accessible; he built the Dall-E Mini program as part of a competition held by Google and an AI community called Hugging Face.
And with great technology, comes great memes. Typing a short phrase into Dall-E Mini will manifest 9 different amalgamations, theoretically shaping into reality the strange images you've conjured. Its popularity leads to too much traffic, often resulting in an error that can be fixed by refreshing the page or trying again later.
If you want to be a part of the creation of AI-powered engines, it all starts with code. CodeAcademy explains that Dall-E Mini is a seq2seq model, "typically used in natural language processing (NLP) for things like translation and conversational modeling." CodeAcademy's Text Generation course will teach you how to utilize seq2seq, but they also offer opportunities to learn 14+ coding languages at your own pace.
You can choose the Machine Learning Specialist career path if you want to become a Data Scientist who develops these types of programs, but you can also choose courses by language, subject (what is cybersecurity?) or even skill - build a website with HTML, CSS, and more.
CodeAcademy offers many classes for free as well as a free trial; it's an invaluable resource for giving people of all experience levels the fundamentals they need to build the world they want to see.
As for Dall-E Mini, while some have opted to create beauty, most have opted for memes. Here are some of the internet's favorites:
There's no looking back now, not once you've seen Pugachu; artificial intelligence is here to stay.
Stay away from these lunch containers and packing items.
Once you've conquered the temptation of eating out for lunch every day, packing your own food seems like the perfect alternative. However, if you're packing certain items, then that brown bag lunch could be doing more harm than good. Before you start stuffing a lunchbox with cut vegetables and sandwiches, consider the following packing items you should avoid.
1. Plastic Containers for Microwaving
No one wants to eat cold soup or a frozen burrito for lunch, but microwaving food in plastic containers that you bring from home may expose you to chemicals such as bisphenol-A (BPA) or phthalates. Harvard Health recommends checking that the plastic containers have microwave-safe labels, which means they have been tested not to leak chemicals into your food. In addition, don't use old or scratched plastic containers because they may expose you to chemicals. Instead, consider switching to glass or ceramic items that are safe for microwaves.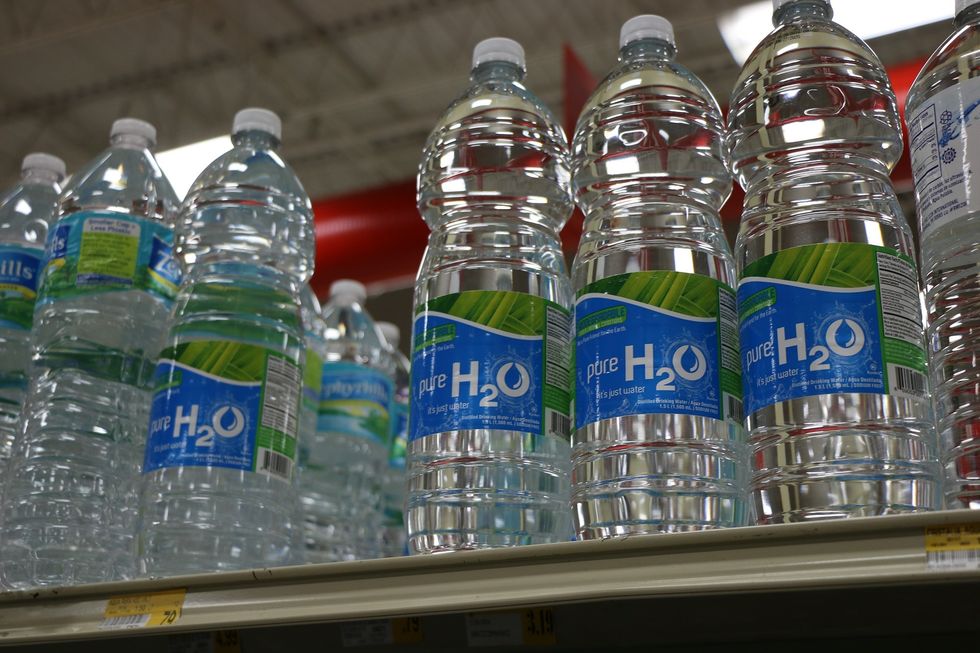 Plastic water bottles
2. Plastic Water Bottles
You may think that BPA-free plastic water bottles are safe, but one study found that almost all plastic products release chemicals. Even the BPA-free items may be dangerous. When researchers took a variety of plastic products and put them through common-use stresses such as ultraviolet radiation from the sun or microwaving, they leaked chemicals. If you care about your health, switch to stainless steel, glass, or ceramic water bottles.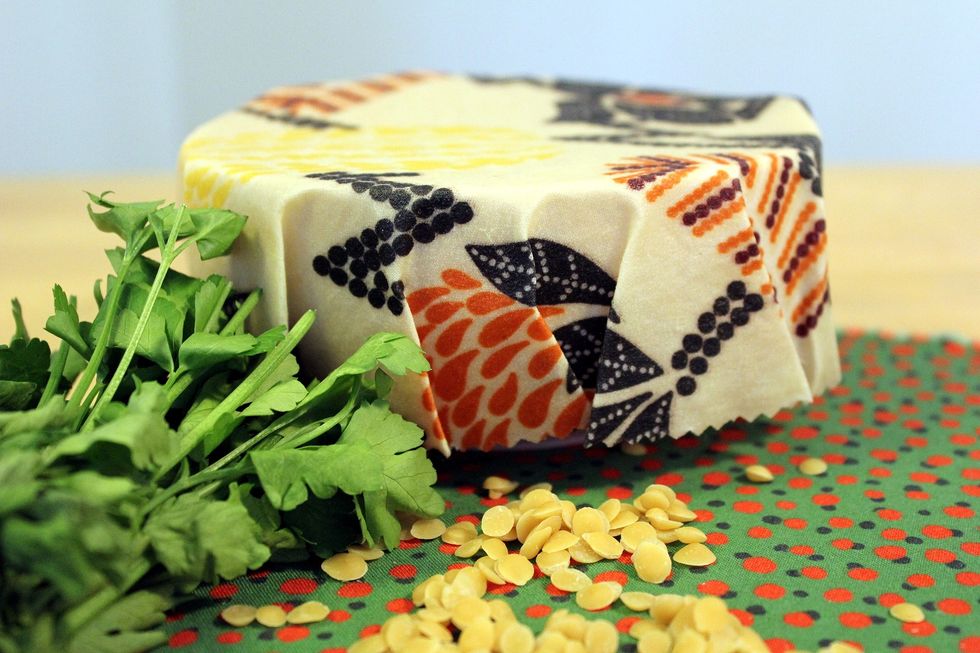 An alternative to plastic cling wrap made from beeswax
3. Plastic Cling Wrap
Whether you wrap a sandwich in it or use it to cover a bowl meant for the microwave, plastic cling wrap can seem like a convenient solution. However, you may be paying for it with your health. If the plastic cling wrap comes in contact with hot food while it's in the microwave, it can actually melt a little. This means you'll be eating some plastic along with the soup. Consider eliminating the plastic wrap completely. Some alternatives include paper towels, wax paper, beeswax wraps, and cotton bowl covers. If you must use a microwave, then choose silicone lids or white paper towels to cover the food.
4. Dangerous Lunchboxes
If you're worried about packing a healthy lunch, don't forget to check the lunchbox. One study tested 40 children's lunch boxes and found 35 percent of them contained lead. Many adults also use these boxes to pack their food for work, so it's crucial to check for recalls and verify that the lunchbox you're using is safe. Make sure it says lead-free on the labels. Also, consider using a stainless steel lunchbox since it won't leak chemicals.
5. Single-Use Food Items
From cups of applesauce to plastic packets of ketchup, single-use food items sometimes make their way into packed lunches. Not only are they creating unnecessary waste, they're usually made from plastic. Some ways to eliminate single-use food items from your lunch include buying larger items and only bringing a small amount with you in a container, or rethinking how you eat and pack food. For instance, consider layering a salad in a mason jar, so the sauce is on top, and you don't need to bring a single-use packet of ranch dressing.
The next time you're packing a healthy lunch, think about the entire lunchbox. Consider all the items you're using, such as the containers, so you can limit chemicals and plastic. It will be healthier for you and for the planet.
Keep reading...
Show less
Scientists have accidentally boosted the enzyme that's breaking down ocean plastic—and that's a huge step.
In the Pacific Ocean, at least 79,000 metric tons of plastic waste are floating across an area exceeding 1.5 million square kilometers. The latest measurements of the Great Pacific Garbage Patch revealed that it's constantly growing and that its accumulation of plastic is accelerating. Also increasing is the world's plastic consumption. We use over 320 million metric tons annually, the majority of which ends up in our oceans. This decade saw more plastic produced than any other in history. Since 1992, China has been importing nearly half of the planet's plastic waste for recycling. But starting this year, the country is refusing all nonindustrial plastics and limiting imports of paper waste. Suddenly, this recyclable material is falling into landfills because recycling plants can't keep up.
Researchers estimate that after China's ban, 111 million metric tons of plastic waste will have to find room elsewhere. Too much of that plastic (as much as a third) will likely end up in our oceans.

Good news came in February, when Japanese scientists announced that they had discovered the first species of bacteria that break down polyethylene terephthalate (PET). Commonly called polyester, PET is one of the most commonly used plastics and makes up a significant amount of the pollution in rivers, lakes and oceans. The bacteria, called Ideonella Sakaiensis 201-F6, contains enzymes that can break down the molecular bonds of PET in under six weeks.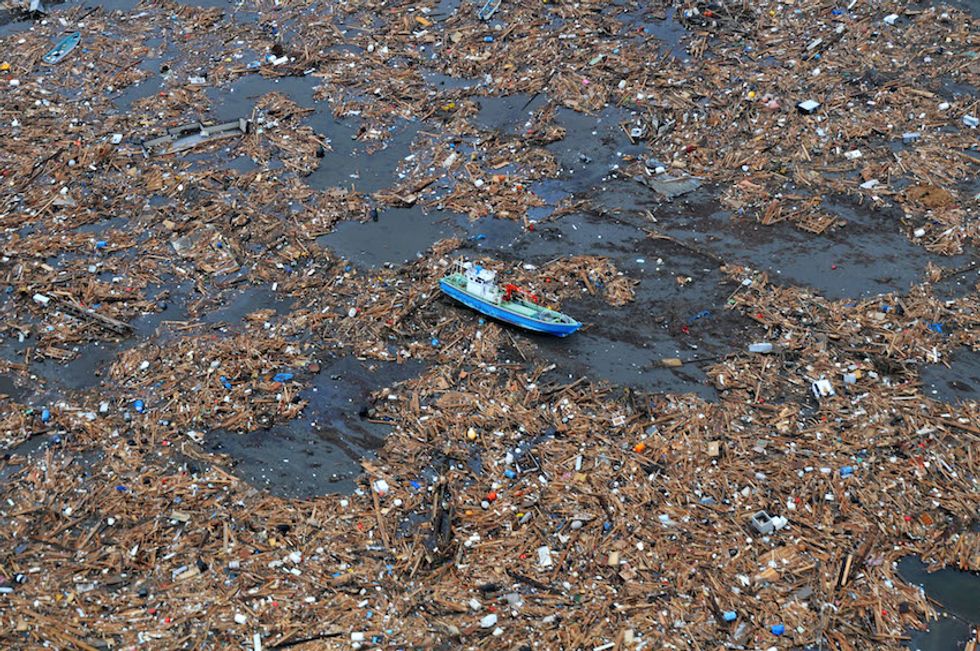 The Great Pacific Garbage Patch
It appears that the bacteria evolved their "appetite" for PET as global pollution increased over the past century. But, as the scientists investigated the bacteria's biological processes, a lucky accident unveiled the organisms' greater potential.

They had experimented on the plastic-eating enzyme to study its evolution. Subsequent testing showed the surprising result of their adjustments: they had made the enzyme even better at breaking PET's molecular bonds.
This astonishing discovery points directly to large-scale uses of this enzyme in reducing plastic pollution around the world. When the modified enzyme breaks down the PET, it reverts the plastic to its base components. Unlike standard recycling, which can only reuse the plastic in limited ways, such as clothing or bags, the enzyme's process could allow broken down PET to become new PET, turning plastic waste back into new plastic.
Plastics are made from feedstocks derived from natural gas processing and crude oil refining. If the enzyme can successfully break down plastic into its original parts on a large scale, it will simultaneously reduce the amount of plastic polluting the oceans and reduce the amount of fossil fuels used to produce new plastic. It would be a step toward true recycling, where the recycled material contributes no waste to landfills.
The researchers only made a 20% improvement to the efficiency of the enzyme but the "only," in this measurement, is optimistic. Their goal is to optimize its performance even further, until its widespread use is practical and effective. They have even considered inserting this enzyme into other super-resilient bacteria that can survive in extremely harsh conditions.
Scientists continue to search for other strains of bacteria and fungi that have evolved similar skills. Enzymes are an ideal agent for plastic breakdown because they have no environmental side effects. This discovery opens another source of hope to a world facing increasingly dire warnings and little help from its governments. Perhaps nature has, once again, found its own solution in the absence of human innovation. And, perhaps, this bacteria offers exactly the creative spark that human scientists need to design their own long-term solutions.
Keep reading...
Show less
What can we do to fix it?
As we thrust forward, full-throttle into a modern era defined by convenience and consumption, it's easy to blind ourselves to the effects our everyday lives have on the environment around us. Whether it's the choking yellow clouds that pour from our smokestacks or the heaps of refuse we leave behind us every trash day, one thing is clear: we're living with the garbage we create. We've only mapped about five percent of our oceans, but our garbage has reached seemingly every corner. 19 billion pounds of trash, a large portion of which is plastic, is dumped into the sea every year. This number is set to double by 2025.
Most trash that ends up in the ocean lands somewhere in five "patches," located in our oceans' various doldrums. The largest of these is the Great Pacific Garbage Patch, a debris-ridden swath of ocean that's thousands of miles wide. Currently, it is estimated that the combined weight of the world's garbage patches is somewhere near 200 millions tons. To make matters worse, fish have begun consuming microplastics, creating a health crisis not just for marine life, but for the people who rely on the ocean for food. So, what's the solution?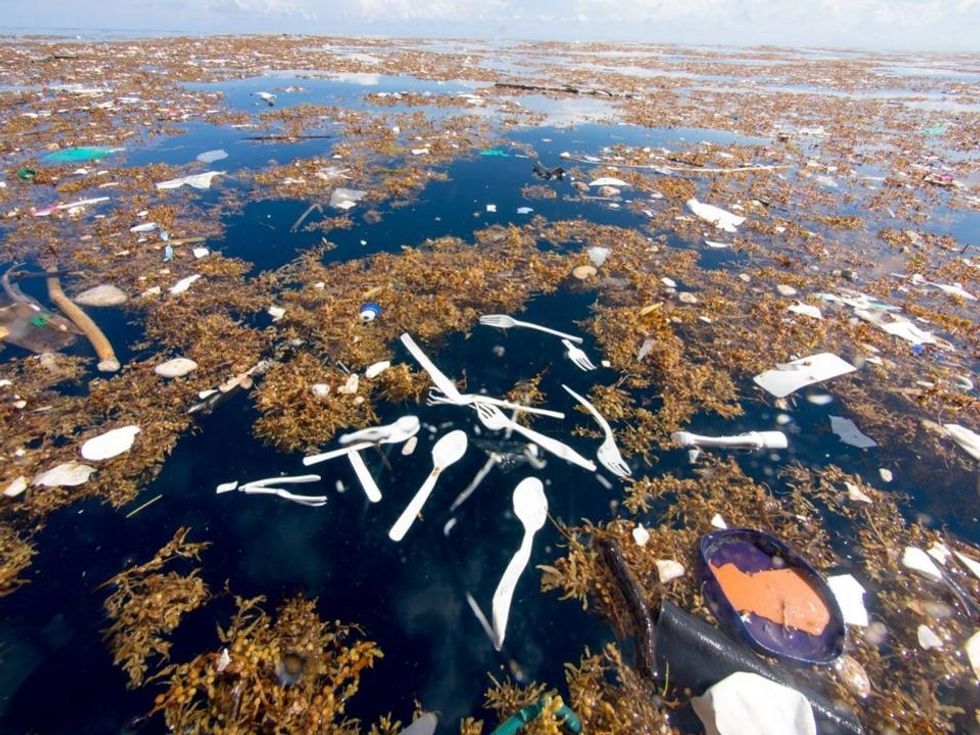 Trash, trash, and more trash.
Unsurprisingly, it's pretty difficult to scoop up and remove millions of tons of plastic from our oceans. While nets are partially effective, they have a tendency of picking up fish and by extension, inadvertently destroying the ecosystems they (the nets) are trying to protect. Boyan Slat, a Dutch Inventor, famously came up with another solution in which he places gigantic trash capturing barriers in the ocean. According to his site, the plan is to launch a set of these barriers into the Great Pacific Garbage Patch later this year. Slat's own estimates assure investors that his company (The Ocean Cleanup) can reduce the amount of trash in the Great Pacific Garbage Patch by 50% within five years. Still, there are detractors. Many scientists insist that focusing on collecting trash with this method is a waste of time. According to a report by marine biologist Jan van Franeker, the negative effects of plastic in the water tend to dissipate after laws governing plastic use are put into place. It's "something that disappears in 10 to 20 years, if you stop the input," says van Franeker. The concern among scientists is that Slat's flashy invention could possibly move the spotlight off of more tenable solutions, such as legislation to prevent plastic dumping and the use of plastic bags.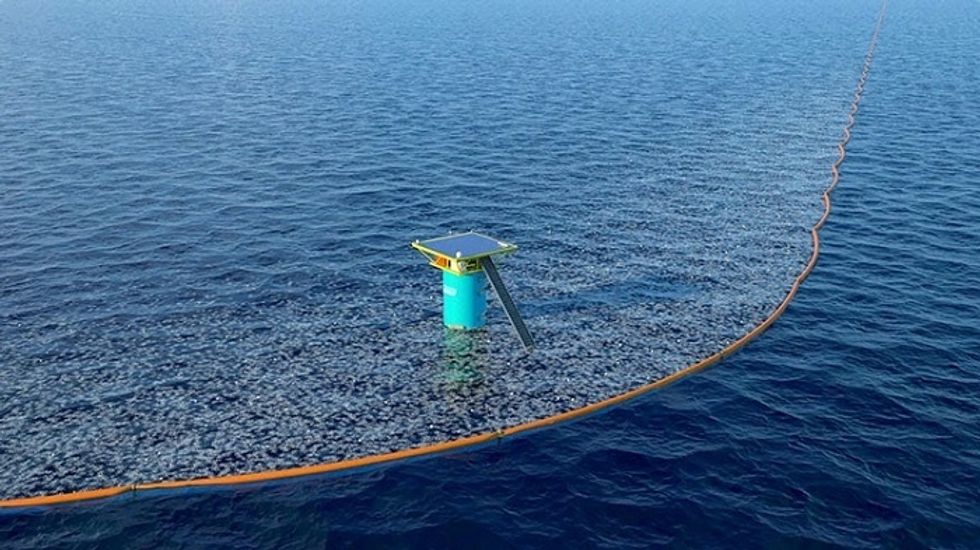 The Ocean Clean Up project in action
Considering the fact that 80% of ocean pollution comes from land-based garbage, reduction of input is the definitely the more clear-cut way to fix this problem. One step would be the enactment of a federal container deposit law. Essentially, a deposit law forces consumers to pay a small fee (typically between 2 and 15 cents) for each bottle or can at purchase. This fee can later be refunded when the recycling is brought back to an eligible return center, such as a supermarket.
Presently, only ten states have programs in place to buy used plastic and aluminum containers, despite the fact that about 50% of Americans have access to curbside recycling. In states where bills regarding container deposits have been passed, the amount of aluminum and plastic beverage containers has dropped by as much as 84%. In many ways, these programs seem like a no-brainer but, unfortunately, many lawmakers conflate (purposely or otherwise) container deposit laws with their larger ineffective cousin, the litter tax. A litter tax is imposed on manufactures and retailers of recyclable goods and is used to fund various anti-littering campaigns. These taxes haven't proven to be effective. A deposit law actively incentivizes consumers to recycle, because they lose money if they don't. The problem is, beverage manufacturers don't want these laws, as they raise the in-store price of everything from beer to bottled water. For obvious reasons, this translates to lower sales.
In order to correct our current course, Americans will need to adopt new attitudes and policies around how we produce and deal with our trash. Putting the health of our planet above our desire for profit may be a good place to start.
Keep reading...
Show less