Here are three crucial ways the digital age complicates your protections under the Fourth Amendment.
When the Fourth Amendment codified citizens' protections against government spying in 1791, Americans couldn't say, "Alexa: turn off the lights." With technology pervasively conducting our daily errands, the amendment against illegal search and seizure is not equipped to protect digital users. In fact, David Cole, a law professor of constitutional law and national security at Georgetown University, critiques, "In the modern digital age, it means very, very little."
To be clear, the totality of the Fourth Amendment reads: "The right of the people to be secure in their persons, houses, papers, and effects, against unreasonable searches and seizures, shall not be violated, and no Warrants shall issue, but upon probable cause, supported by Oath or affirmation, and particularly describing the place to be searched, and the persons or things to be seized."
Here are three crucial ways the digital age complicates your protections under the Fourth Amendment:
1. Law enforcement doesn't always require a search warrant to enter your home
When police want to mine your private information on suspicion that you've committed a crime, they have to meet the familiar requirement of "probable cause." Traditionally, they must convince a judge that there is a sound reason to search and/or bug your property for surveillance. True to the wording of the law, your protected personal belongings include your physical body, "houses, papers, and effects."
However, "probable cause" includes the "plain view" clause, wherein authorities have the right to enter your home if they see evidence, contraband, or suspicious materials in your home. In the age of social media, a picture, check-in, or status you post could very well justify law enforcement entering your home without a warrant. The ruling in Katz v. United States stands as the most notable example that qualifies the Fourth Amendment as only applying to situations in which "an individual has a reasonable expectation of privacy." When you're sharing the details of your life on social media sites, you waive much of that expectation.
2. Your personal information is no longer "private" from the government once shared on social media
A series of rulings in the 1960s and 1970s began to add exceptions to the "probable cause" requirement. Namely, the government does not need a search warrant to obtain any personal information that you've already shared with somebody else. Hence, the government can obtain any private information given to credit card companies, banks, or phone companies, because you've technically de-privatized the information by using those services.
Of course the same applies to any and all social media accounts. All the government needs is a subpoena, which experts say is "trivially easy to issue."
3. Your location can be tracked by the government
While it may seem obvious to be wary of broadcasting your location at any given time, some personal devices and social media sites automatically tag and record your location. Your whereabouts cease to be a topic of government surveillance when you share the information willingly (which you do by using digital services). As Justice Alito noted when presiding over the United States v. Jones, social media tools "will . . . shape the average person's expectations about the privacy of his or her daily movements." Traditional protections simply don't apply to what you publicize yourself.
With three high profile figures filing lawsuits against the company for marketing their likeness, the video game phenomenon is challenging who owns choreography.
Epic Games' Fortnite is at the center of controversy surrounding copyright and the limits of intellectual property laws. With three high profile figures filing lawsuits against the company for marketing their likeness, the video game phenomenon prompts a conversation about who owns culture.
The Battle Royale style game features customizable avatars, for which users can purchase "emotes," specific gestures or dance moves that avatars can perform in the game. The problem is that "emotes" are designed to appeal to millions of international users, with many replicating wildly popular dance trends and cultural icons. Select "emotes" are based on Snoop Dogg's "Drop It Like It's Hot" dance, Psy's "Gangnam Style," and Donald Faison's "Poison" dance from the US sitcom Scrubs.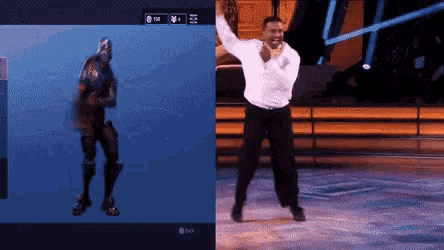 Tenor
However, Fortnite's creators did not secure licenses to recreate these artists' likenesses in their game. But it's unclear under U.S. law whether or not a segment of choreography even qualifies for copyright protection. As highlighted by the Wall Street Journal, the U.S. Copyright Office's stance on choreography dictates that it "cannot register short dance routines consisting of only a few movements or steps with minor linear or spatial variations, even if a routine is novel or distinctive." They elaborate that "social dance steps and simple routines" are not protected by copyright "even if they contain a substantial amount of creative expression."

In fact, few dance moves have been successfully copyrighted. Michael Jackson was able to patent his impressive leaning move featured in the "Smooth Criminal" music video–but only because he invented the special shoe that makes it possible. Since each one of Fortnite's "emotes" is a short movement and not a creative song or dance of its own, copyright lawyers can't agree about whether or not infringement laws apply.
The first "emote" to challenge what constitutes copyright infringement is called "Swipe It," which replicates the dance move recognizable as the "Milly Rock." Its creator, rapper 2 Milly, born Terrence Ferguson, was the first to sue the game with allegations that Fortnite violates copyright law by selling his "signature" choreography. He told Rolling Stone, "My dance is my signature. Everybody would tell you, from here to Alaska, 'Hey, that's the Milly Rock.' I don't mind people doing it in their videos. What I do mind is when somebody takes what I created and sells it."
While the "Milly Rock" became a viral dance move in 2015, it isn't a full choreography set. Christine Lepera, attorney for music industry giants like Drake and Timbaland, argues that a single dance move is precluded from copyright infringement: "You cannot copyright certain dance moves that are generic. From what I've seen online, I've done these [Milly Rock] moves in hip-hop [dance] class for years — it's a pivot, heel-out, heel-out, and swing your arms."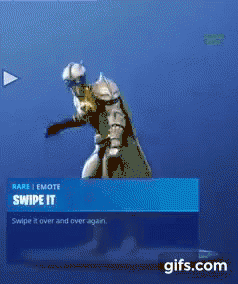 Amino Apps
The second creator to file charges against Epic Games is Alfonso Ribeiro, best known for playing Carlton Banks on The Fresh Prince of Bel-Air. He alleged that the "emotes" called "Fresh" plagiarizes the "Carlton Dance," made famous by the beloved sitcom character Ribeiro played in the 90s. However, copyright lawyer Scott Alan Burroughs argues that an actor doesn't own his character's stylized, or "signature," movements, since the character is owned by the production company. Burroughs says, "[Ribeiro] created and performed that dance while acting on a television show he was a performer on, so it was likely 'work for hire' that belongs to the show's producers."

The third creator to file charges against the game is actually the mother of Russell Horning, a 17-year-old content creator on YouTube who popularized "the floss" dance. Again, Fortnite sells a "Floss" emote that the Hornings claim infringes upon their legal right to share in the profit made through dance move.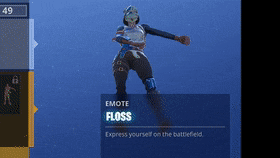 2048
But how much money does Fortnite make from selling "emotes?" For that matter, how does a game that's technically free to play earn Epic Games over $2 billion in 2018? When the Fortnite App launched on Apple's IOS in April, the game reportedly made $2 million a day, making history as the first to net over $1 billion by following a free-to-play model.

The secret–and the root of the controversy–is the game's profit from microtransactions. While all users can play the entirety of the game for free, they have the option of purchasing in-game currency, called "V-bucks," which allows players to customize their gaming experience. With an exchange rate of approximately 1 USD to 100 V-bucks, users are offered deals to spend anywhere from $2 to $20 on cosmetic skins, game modes for their characters, and, of course, dances. Michael Pachter, an analyst at Wedbush Securities, noted, "On the revenue side, [Fortnite has] done something that's really unique, which is come up with a perception of exclusivity." He added, "If you see another player in a leopard skin and go to the store and see it's no longer available, you think, Shoot, I've got to move on it next time."
All three complainants are represented by the law firm Pierce Bainbridge Beck Price & Hecht LLP. In addition to copyright infringement, the lawsuits allege violations of the rights to publicity, which are creators' rights to control and profit off any use of their likeness, name, or other distinct traits. David L. Hecht, the representative for 2 Milly, Ribeiro, and Horning, insists that his clients have exclusive rights to the cultural trends they've instigated, stating, "I will say you can absolutely copyright choreography, and you can leave it there." Whether U.S. law is in agreement with him is for a judge to decide in 2019.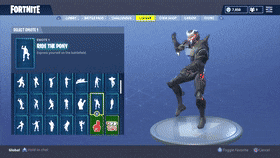 Meg Hanson is a Brooklyn-based writer, teacher, and jaywalker. Find Meg at her website and on Twitter @megsoyung.

Brown was sex trafficked as a teen and given a life sentence for murdering the man who paid for her.
Cyntoia Denise Brown was granted clemency after serving 15 years in prison for murdering the sex trafficker who solicited her for sex. Tennessee Governor Bill Haslam granted Brown's early release on Monday after years of lobbying by prison rights' activists, state lawmakers, and high-profile celebrities, including Amy Schumer, Rihanna, Kim Kardashian, and Ashley Judd. In December, Judd posted a message to Governor Haslam on Twitter, "Cyntoia Brown was a victim of child sex trafficking, raped, and forced into paid sexual exploitation to stay alive. She deserves our empathy and your mercy."
In 2004, Brown was a 16-year-old forced into prostitution by her 24-year-old pimp, "Kut Throat." She was solicited for sex in a parking lot by 43-year-old Johnny Allen. Alarmed by the man's behavior, Brown shot Allen with the gun he kept under the bed, later recounting to the police that he was reaching for the gun first.

While Brown was tried as an adult and found guilty for murder and robbery, her case helped to inspire reform in Tennessee's juvenile sentencing. Stacy Case, CNN affiliate and WZTZ anchor, points out, "If Cyntoia Brown were tried today, legal experts say she would not have been tried in the same way. Our courts today would view her as a child sex slave... She would be viewed as a victim."
Brown served over 14 years of her life sentence before Governor Haslam granted her clemency. His office issued the following statement: "This decision comes after careful consideration of what is a tragic and complex case. Cyntoia Brown committed, by her own admission, a horrific crime at the age of 16. Yet, imposing a life sentence on a juvenile that would require her to serve at least 51 years before even being eligible for parole consideration is too harsh, especially in light of the extraordinary steps Ms. Brown has taken to rebuild her life. Transformation should be accompanied by hope."
Brown, now 30 years old, told Haslam, "Thank you for your act of mercy in giving me a second chance. I will do everything I can to justify your faith in me." She continued, "With God's help, I am committed to live the rest of my life helping others, especially young people. My hope is to help other young girls avoid ending up where I have been."
Brown will be released on parole on August 7. Conditions of her release will include regular counseling sessions, 50 hours of community service, and gainful employment. While in prison, Brown has earned her Associate's degree, continues to work towards her Bachelor's, and mentors at-risk youth with plans to begin a nonprofit organization for troubled teens in the future.
Meg Hanson is a Brooklyn-based writer, teacher, and jaywalker. Find Meg at her website and on Twitter @megsoyung.
In the 2017-2018 term, the Justices of the U.S. Supreme Court will hear several major cases with national implications
Topics in this term's major cases include technological privacy, religious freedom, anti-discrimination laws, immigration and the President, sports gambling and political gerrymandering, among many others. The Court's deliberation on these cases will begin in the coming months but the discussions surrounding them have been going on for years, and will continue long after the decisions are made. Before the end of this term, the Court will have heard something close to 70 cases, chosen from an average of 7,000 petitions. Here are five of the most important cases to follow.
Keep reading...
Show less
Getting to know your Constitution and the rights it guarantees you.
Can you recite the five central freedoms protected by the First Amendment? If not, you aren't alone. The New York Times, citing a recent study by the First Amendment Center at Vanderbilt University, revealed that just over half the people surveyed knew that our First Amendment protects freedom of speech, under 25% knew that it protects freedom of religion, under 20% knew that it protects freedom of the press, 14% knew that it protects freedom of association and only 6% knew that it protects the right to petition the government for grievances. Yet another survey conducted by the Annenberg Public Policy Center found that 37% of Americans could not even name one right protected under the First Amendment. Back in 2006, one in four Americans could name one right, but more than half could name at least two members of the cartoon family, The Simpsons.

Keep reading...
Show less