"A tree is best measured when it is down," the poet Carl Sandburg once observed, "and so it is with people." The recent death of Harry Belafonte at the age of 96 has prompted many assessments of what this pioneering singer-actor-activist accomplished in a long and fruitful life.
Belafonte's career as a ground-breaking entertainer brought him substantial wealth and fame; according to Playbill magazine, "By 1959, he was the highest paid Black entertainer in the industry, appearing in raucously successful engagements in Las Vegas, New York, and Los Angeles." He scored on Broadway, winning a 1954 Tony for Best Featured Actor in a Musical – John Murray Anderson's Almanac. Belafonte was the first Black person to win the prestigious award. A 1960 television special, "Tonight with Belafonte," brought him an Emmy for Outstanding Performance in a Variety or Musical Program or Series, making him the first Black person to win that award. He found equal success in the recording studio, bringing Calypso music to the masses via such hits as "Day-O (The Banana Boat Song)" and "Jamaica Farewell."
Harry Belafonte - Day-O (The Banana Boat Song) (Live)www.youtube.com
Belafonte's blockbuster stardom is all the more remarkable for happening in a world plagued by virulent systemic racism. Though he never stopped performing, by the early 1960s he'd shifted his energies to the nascent Civil Right movement. He was a friend and adviser to the Reverend Doctor Martin Luther King, Jr. and, as the New York Times stated, Belafonte "put up much of the seed money to help start the Student Nonviolent Coordinating Committee and was one of the principal fund-raisers for that organization and Dr. King's Southern Christian Leadership Conference."
The Southern Poverty Law Center notes that "he helped launch one of Mississippi's first voter registration drives and provided funding for the Freedom Riders. His activism extended beyond the U.S. as he fought against apartheid alongside Nelson Mandela and Miriam Makeba, campaigned for Mandela's release from prison, and advocated for famine relief in Africa." And in 1987, he received an appointment to UNICEF as a goodwill ambassador.
Over a career spanning more than seventy years, Belafonte brought joy to millions of people. He also did something that is, perhaps, even greater: he fostered the hope that a better world for all could be created. And, by his example, demonstrated how we might go about bringing that world into existence.
CULTURE
Fortnite and Intellectual Property: Who Owns Cultural Trends?
dxshare
With three high profile figures filing lawsuits against the company for marketing their likeness, the video game phenomenon is challenging who owns choreography.
Epic Games' Fortnite is at the center of controversy surrounding copyright and the limits of intellectual property laws. With three high profile figures filing lawsuits against the company for marketing their likeness, the video game phenomenon prompts a conversation about who owns culture.
The Battle Royale style game features customizable avatars, for which users can purchase "emotes," specific gestures or dance moves that avatars can perform in the game. The problem is that "emotes" are designed to appeal to millions of international users, with many replicating wildly popular dance trends and cultural icons. Select "emotes" are based on Snoop Dogg's "Drop It Like It's Hot" dance, Psy's "Gangnam Style," and Donald Faison's "Poison" dance from the US sitcom Scrubs.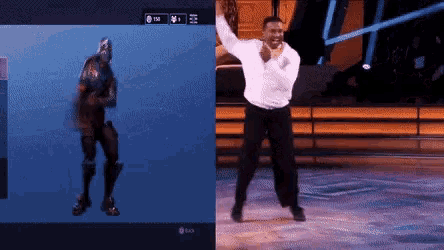 Tenor
However, Fortnite's creators did not secure licenses to recreate these artists' likenesses in their game. But it's unclear under U.S. law whether or not a segment of choreography even qualifies for copyright protection. As highlighted by the Wall Street Journal, the U.S. Copyright Office's stance on choreography dictates that it "cannot register short dance routines consisting of only a few movements or steps with minor linear or spatial variations, even if a routine is novel or distinctive." They elaborate that "social dance steps and simple routines" are not protected by copyright "even if they contain a substantial amount of creative expression."

In fact, few dance moves have been successfully copyrighted. Michael Jackson was able to patent his impressive leaning move featured in the "Smooth Criminal" music video–but only because he invented the special shoe that makes it possible. Since each one of Fortnite's "emotes" is a short movement and not a creative song or dance of its own, copyright lawyers can't agree about whether or not infringement laws apply.
The first "emote" to challenge what constitutes copyright infringement is called "Swipe It," which replicates the dance move recognizable as the "Milly Rock." Its creator, rapper 2 Milly, born Terrence Ferguson, was the first to sue the game with allegations that Fortnite violates copyright law by selling his "signature" choreography. He told Rolling Stone, "My dance is my signature. Everybody would tell you, from here to Alaska, 'Hey, that's the Milly Rock.' I don't mind people doing it in their videos. What I do mind is when somebody takes what I created and sells it."
While the "Milly Rock" became a viral dance move in 2015, it isn't a full choreography set. Christine Lepera, attorney for music industry giants like Drake and Timbaland, argues that a single dance move is precluded from copyright infringement: "You cannot copyright certain dance moves that are generic. From what I've seen online, I've done these [Milly Rock] moves in hip-hop [dance] class for years — it's a pivot, heel-out, heel-out, and swing your arms."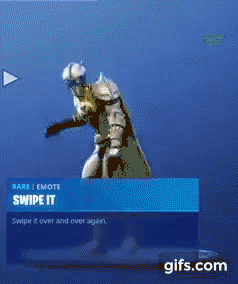 Amino Apps
The second creator to file charges against Epic Games is Alfonso Ribeiro, best known for playing Carlton Banks on The Fresh Prince of Bel-Air. He alleged that the "emotes" called "Fresh" plagiarizes the "Carlton Dance," made famous by the beloved sitcom character Ribeiro played in the 90s. However, copyright lawyer Scott Alan Burroughs argues that an actor doesn't own his character's stylized, or "signature," movements, since the character is owned by the production company. Burroughs says, "[Ribeiro] created and performed that dance while acting on a television show he was a performer on, so it was likely 'work for hire' that belongs to the show's producers."

The third creator to file charges against the game is actually the mother of Russell Horning, a 17-year-old content creator on YouTube who popularized "the floss" dance. Again, Fortnite sells a "Floss" emote that the Hornings claim infringes upon their legal right to share in the profit made through dance move.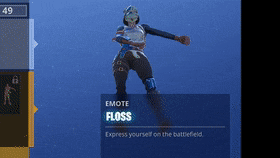 2048
But how much money does Fortnite make from selling "emotes?" For that matter, how does a game that's technically free to play earn Epic Games over $2 billion in 2018? When the Fortnite App launched on Apple's IOS in April, the game reportedly made $2 million a day, making history as the first to net over $1 billion by following a free-to-play model.

The secret–and the root of the controversy–is the game's profit from microtransactions. While all users can play the entirety of the game for free, they have the option of purchasing in-game currency, called "V-bucks," which allows players to customize their gaming experience. With an exchange rate of approximately 1 USD to 100 V-bucks, users are offered deals to spend anywhere from $2 to $20 on cosmetic skins, game modes for their characters, and, of course, dances. Michael Pachter, an analyst at Wedbush Securities, noted, "On the revenue side, [Fortnite has] done something that's really unique, which is come up with a perception of exclusivity." He added, "If you see another player in a leopard skin and go to the store and see it's no longer available, you think, Shoot, I've got to move on it next time."
All three complainants are represented by the law firm Pierce Bainbridge Beck Price & Hecht LLP. In addition to copyright infringement, the lawsuits allege violations of the rights to publicity, which are creators' rights to control and profit off any use of their likeness, name, or other distinct traits. David L. Hecht, the representative for 2 Milly, Ribeiro, and Horning, insists that his clients have exclusive rights to the cultural trends they've instigated, stating, "I will say you can absolutely copyright choreography, and you can leave it there." Whether U.S. law is in agreement with him is for a judge to decide in 2019.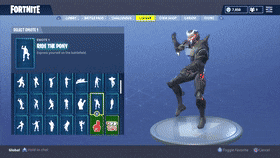 Meg Hanson is a Brooklyn-based writer, teacher, and jaywalker. Find Meg at her website and on Twitter @megsoyung.