"A tree is best measured when it is down," the poet Carl Sandburg once observed, "and so it is with people." The recent death of Harry Belafonte at the age of 96 has prompted many assessments of what this pioneering singer-actor-activist accomplished in a long and fruitful life.
Belafonte's career as a ground-breaking entertainer brought him substantial wealth and fame; according to Playbill magazine, "By 1959, he was the highest paid Black entertainer in the industry, appearing in raucously successful engagements in Las Vegas, New York, and Los Angeles." He scored on Broadway, winning a 1954 Tony for Best Featured Actor in a Musical – John Murray Anderson's Almanac. Belafonte was the first Black person to win the prestigious award. A 1960 television special, "Tonight with Belafonte," brought him an Emmy for Outstanding Performance in a Variety or Musical Program or Series, making him the first Black person to win that award. He found equal success in the recording studio, bringing Calypso music to the masses via such hits as "Day-O (The Banana Boat Song)" and "Jamaica Farewell."
Harry Belafonte - Day-O (The Banana Boat Song) (Live)www.youtube.com
Belafonte's blockbuster stardom is all the more remarkable for happening in a world plagued by virulent systemic racism. Though he never stopped performing, by the early 1960s he'd shifted his energies to the nascent Civil Right movement. He was a friend and adviser to the Reverend Doctor Martin Luther King, Jr. and, as the New York Times stated, Belafonte "put up much of the seed money to help start the Student Nonviolent Coordinating Committee and was one of the principal fund-raisers for that organization and Dr. King's Southern Christian Leadership Conference."
The Southern Poverty Law Center notes that "he helped launch one of Mississippi's first voter registration drives and provided funding for the Freedom Riders. His activism extended beyond the U.S. as he fought against apartheid alongside Nelson Mandela and Miriam Makeba, campaigned for Mandela's release from prison, and advocated for famine relief in Africa." And in 1987, he received an appointment to UNICEF as a goodwill ambassador.
Over a career spanning more than seventy years, Belafonte brought joy to millions of people. He also did something that is, perhaps, even greater: he fostered the hope that a better world for all could be created. And, by his example, demonstrated how we might go about bringing that world into existence.
Earth Week NYC saw climate activists deftly pivoting from IRL to digital actions. Here's a look at how they did it.
Earth Week NYC wasn't supposed to look this way.
Just a month ago, climate activists were planning a massive in-person rally and a three-day sequence of curated protests in honor of the 50th anniversary of the first Earth Day. Earth Week NYC was meant to recapture the spirit of the first Earth Day celebrations, which took place in 1970 and brought nearly 20 million Americans into the streets, while uplifting the movement's modern and more intersectional demands.
Instead, most of the climate movement's energetic young activists—like most of the rest of us should be—are at home in their houses. But that hasn't stopped them from organizing. Over the past few weeks, a three-day event that was supposed to pull thousands into the streets shifted almost entirely online.
"The Earth Week NYC coalition switched to a fully digital strategy almost overnight once large gatherings were banned in the city," said Ted Bogin, a member of the youth-led climate organization Sunrise NYC. "We built a website, earthweeknyc.com, that allows anyone to fight for climate justice at home with tools and scripts for calling and emailing our elected representatives, among other ways."
Events and actions moved to Instagram, Facebook Live, Slack, and Zoom. In-person office visits turned into email blasts and telephone calls. In preparation, climate activists hosted digital community care workshops, drafted emails, and crafted mutual aid resources and teach-ins.
The themes of each day remained in place as planned. Earth Week NYC consisted of three themed days, each dedicated to a different aspect of climate action. The first day's theme was "Strike," the second day's was "Divest," and the third was "Vote."
On the first day, Earth Day, young organizers took to social media to post images of themselves holding signs, calling for a Green New Deal, a People's Bailout, and other climate and social justice actions. Some activists even banded together for a socially distanced banner drop in New York City.
On the second day, activists lobbied with Stop the Money Pipeline, an organization dedicated to ending Wall Street's support of fossil fuels. Participants were encouraged to make calls to the CEOs of BlackRock, JP Morgan, Chase, and Liberty Mutual, using scripts to request fossil fuel divestment. (One terrifying statistic kept appearing: Wall Street has poured $1.9 trillion into the fossil fuel industry since 2015).
On the third day, which centered around voting, lobbying, and teach-ins, the NYC coalition sent out toolkits full of lesson plans for teachers, asked people to fill out their censuses, and called on everyone to reach out to their representatives and to encourage their friends to vote for climate champions. Championed in part by Fridays for Future, the organization first inspired by Greta Thunberg, Friday's actions (like the rest of the week's) focused on the intersections between social justice and climate change and the vital importance of local, indigenous-led, people-powered action.

All of it was supplemented by a flurry of online activities, including a three-day, all-day live broadcast hosted by the Future Coalition. Featuring politicians like Elizabeth Warren and John Kerry, musicians like Jason Mraz, and hundreds of other superstar activists and musicians, the livestream was a rousing marathon, a display of unity in the face of a brutal pandemic and the looming reality of the climate crisis.
Despite activists' best efforts, the week still suffered from a sense of inevitable disjointedness. But the climate crisis, with all its intersecting forces and causes and consequences, has never been an easy or cohesive thing to fight.
Back in the 1970s, activists were fighting against visible consequences of environmental degradation—rivers in flame, birds falling from the sky—but now we fight against a more invisible but much more insidious monster: rising global temperatures and the inequity that created and continues to perpetuate them.
Still, today's climate activists are used to shifting strategies on a dime and fighting rampant misinformation as well as apathy and inequality.
"Our demands include a people's bailout, prioritizing and funding those who have been hit first and worst by COVID-19 and the current recession, including, but not limited to, Black, Latinx, Indigenous, and low-income communities," reads an op-ed by the Youth Climate Strike Coalition, published last month in Teen Vogue. Additional demands include a Green New Deal that transitions the economy to 100% clean energy by 2030 and the return of stolen Indigenous lands.
Careful not to praise clearing skies or temporarily lowered pollution, the modern climate movement is dedicated to addressing environmental racism and large-scale problems head-on. Gone are the days of recycling and individual guilt. Instead, the modern movement is about collective action in the face of global tragedy.
The climate movement is all about the intersections that tie all things together—the land, the people, the economy, and even the digital world. In a way, perhaps the modern climate movement is uniquely well-suited to online action. "As one of the social media coordinators for the Sunrise NYC hub, I've seen our channels swell in importance and reach as people isolated in their homes connect with us digitally," said Jon Kirsch, an organizer with Sunrise NYC. "It's been tremendously exciting seeing Earth Week NYC take shape the past few months." Perhaps the digital world, which thrives on connection, is an ideal vehicle for the modern climate movement.
Regardless, the movement will not be giving up anytime soon. Populist activists have always been up against shadowy, malicious powers, winning seemingly impossible battles and fighting for justice in the short and long term. Now, more than ever, most agree that change is imperative.
"New Yorkers have made their demands for Climate Justice heard, and the fight will continue on (digitally for now) after Earth Week," said Bluedorn. "Fighting for Climate Justice is more important in this moment than ever, as we fight to reimagine what a more just and equitable world can look like."
For more information and to get involved with the movement, visit https://www.earthweeknyc.com.
Reduce your carbon footprint for Thanksgiving and beyond
Are you worried about your carbon footprint this holiday season? There's a limit to how much the responsibility for climate change individuals can take when industry is the true locus of the damage, and governmental regulation is necessary to reign it in. Still, with all the travel and the piles of food piled on top of other piles of food, it's easy to see why some people are taking note of the waste and pollution that results from these annual occasions. Does that mean we should give up these rare chances to celebrate and share with far-flung relatives?
Most of us aren't interested in that option, so how do we balance all the positivity of the holidays against the shocking environmental impact they bring? There's a number of methods you can add to your holiday traditions to help minimize your carbon footprint. Hopefully some of these options will fit into your holiday plans and reduce any stress about your carbon footprint.
The 16-year-old will take to Foley Square to spearhead a global strike on September 20.
Teen activist Greta Thunberg touched down on the shores of New York today after a two-week journey at sea, but her real journey has just begun.
The Swedish teenager rose to prominence last year with her "School Strikes for Climate," which have since sparked a worldwide movement. She's since become one of the leading faces in climate activism, representing young people's refusal to tolerate the ignorance of their elders.
Sixteen-year-old Thunberg has spent the past two weeks traveling to New York City via solar-powered yacht, which was chosen in order to avoid a carbon-heavy airplane flight. The journey—which was obsessively followed by activists and European media and much-maligned by critics—culminated with a landing on the shores of Coney Island, Brooklyn, and her final destination was a port off Lower Manhattan. She was welcomed by excited crowds of activists and fans.
Day 12. We are getting closer to the North American mainland. Rough conditions, but downwind sailing. https://t.co/n9huwHUSGI

— Greta Thunberg (@Greta Thunberg) 1566746954.0
We have anchored off Coney Island - clearing customs and immigration. We will come ashore at North Cove Marina earl… https://t.co/SItklEhQeK

— Greta Thunberg (@Greta Thunberg) 1566997753.0
Thunberg has a packed itinerary, which includes high-profile meetings with some of the world's most powerful officials. On Friday, September 20, she'll be leading a worldwide Climate Strike, and millions of people will be taking to the streets to call for aggressive global action on climate change. Find your local strike (or start your own) using this website.
Thunberg will be attending New York City's strike, which begins with a march in Foley Square and ends with a rally in Battery Park, where speakers, performers, and Thunberg herself will take the stage. If you want to be more involved in this event, NYC is having an art build on August 30 and 31, and the group Fridays for Future will be organizing other logistical actions in preparation for the strike. Also for NYC folks: Ethical Culture is hosting strike planning meetings every Wednesday from 6-8pm, and Greta herself will be striking each Friday, starting with a strike on Friday, 8/30 at Ralph Bunche Park outside of the United Nations from 11-2pm.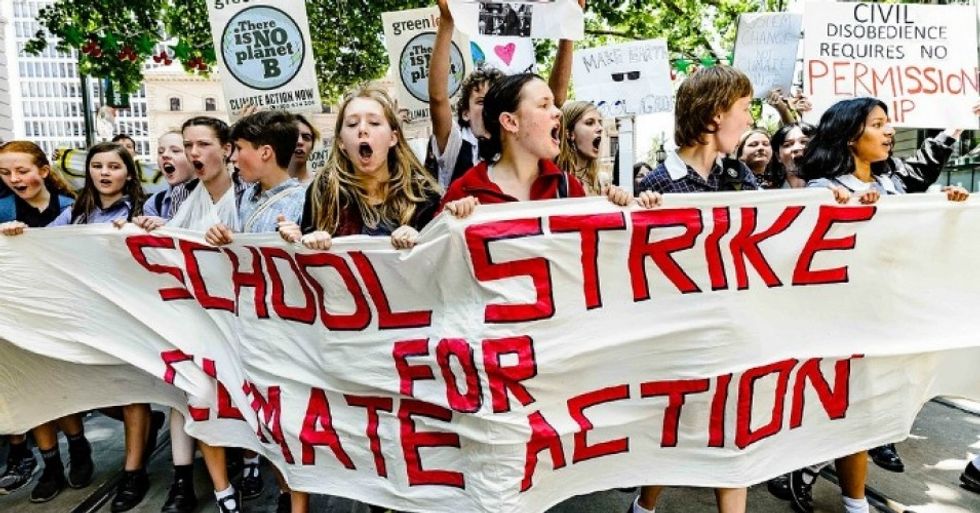 commondreams.org
Participants hope that mass action will influence several important upcoming climate meetings, which will be attended by Thunberg. The first will be the Youth Climate Summit at the United Nations in Manhattan on September 23rd. The next is the COP25 summit in Santiago, Chile, which takes place in December.

The young activist recently announced that she's taking a year-long sabbatical from school to focus on her activism. Her actions manifest the emotions and thoughts of many students who are asking, "What's the point in going to school and working towards our future if there is no future?"
As Thunberg put it in 2018, "We cannot solve the crisis without treating it as a crisis. You say you love your children above all else, and yet you're stealing their future in front of their very eyes."
Yet she's also resolutely hopeful. "It is still not too late to act," she reminded the European Parliament in a recent speech. "It will take a far-reaching vision, it will take courage, it will take fierce, fierce determination to act now, to lay the foundations where we may not know all the details about how to shape the ceiling. In other words, it will take cathedral thinking. I ask you to please wake up and make changes required possible."
Thunberg was nominated for a Nobel Peace Prize in 2018 for her work. She has mobilized millions of strikers around the world, and she's given hope and a sense of urgency to countless others. She also has been heavily criticized, mostly by conservative outlets and European nationalists. One British businessman even went as far as to Tweet, "Freak yachting accidents do happen in August…" She was also described as a "teenage puppet" by a member of Trump's transition team and a "prophetess in shorts" by a conservative French politician.
Freak yachting accidents do happen in August ... https://t.co/6CPePHYLtu

— Arron Banks (@Arron Banks) 1565817064.0
Many of these criticisms have taken on a misogynistic undertone, resembling those lobbed at another young, powerful female activist—Alexandria Ocasio-Cortez. This may not be incidental, since the kind of global structural overhaul that human survival requires necessitates a revamp of many patriarchal and conservative ideas based in traditional ways of doing things. "For climate skeptics … it was not the environment that was threatened, it was a certain kind of modern industrial society built and dominated by their form of masculinity," proposed one study that linked misogynistic comments about Thunberg and Ocasio-Cortez to toxic masculinity.

Thunberg, however, is not advocating for any particular shift in gender dynamics, nor any politician's agenda. Instead, she's all about ensuring human survival by adjusting our actions based on scientific fact.
As the Malitzia II sailed towards the New York City skyline, a banner reading "Unite Behind the Science" waved proudly above it. Unfortunately, the scientific consensus about the dire consequences of climate change hasn't been enough to mobilize humanity into acting. That has required one particularly outspoken teen activist, and New York City is lucky to have her here.
To keep the earth's temperatures from rising, serious changes need to happen over the next year and a half.
While Robert Mueller and Donald Trump dominate the public's attention, experts have quietly come to the consensus that we have around 18 months to stop the worst effects of climate change.
Last year, a study by the Intergovernmental Panel on Climate Change found that in order to prevent catastrophic warming, we need to cut carbon emissions by 45% by 2030. Today, political theorists believe that in order to achieve that goal, we must immediately begin implementing the political structures that will allow us to reach it.
At a reception for the Commonwealth foreign ministers, Prince Charles spoke out in support of climate action. "I am firmly of the view that the next 18 months will decide our ability to keep climate change to survivable levels and to restore nature to the equilibrium we need for our survival," he said.
'It's happening, it's now,' says U.S. government report on climate changewww.youtube.com
A Critical Time
So, why are the next 18 months so vital for the future of the earth's climate? During the next year and a half, a series of important political meetings and conventions will take place. On September 23, the UN will hold a special climate summit in New York, where attending countries are expected to present their emission-cutting plans. Then the UN's annual climate change summit, known as the COP25, will be held in Santiago, Chile in December 2019. Finally, the COP26 will take place at the end of 2020, most likely in the UK.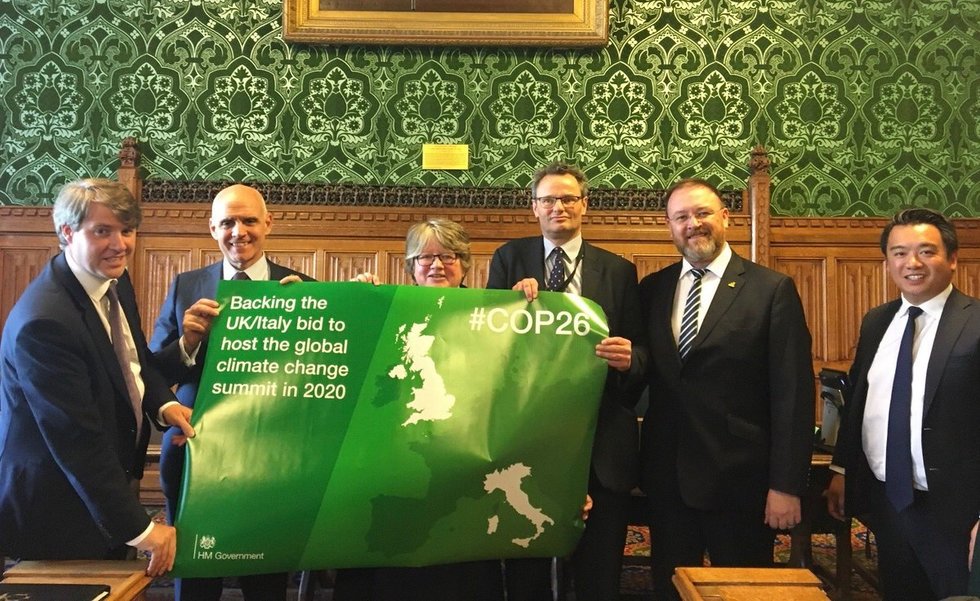 Image via Twitter
According to Environmental Secretary Micheal Gobe, the importance of these meetings cannot be understated. "We need at COP26 to ensure other countries are serious about their obligations and that means leading by example," he said. "Together we must take all the steps necessary to restrict global warming to at least 1.5C."

Depending on what happens at these meetings during the next 18 months, we could see plans like the Green New Deal set into motion. On the other hand, if a climate change denier remains in the US office, the UK summit could be the moment where the US formally withdraws from the Paris agreement (which proposed the bare minimum carbon emission cuts needed to prevent extreme consequences from climate change).
No Choice but Change
If these conferences fail to spark large-scale action, "we will have no chance of getting to a 1.5 or 2C limit," said Professor Michael Jacobs, a former climate advisor to the Prime Minister Gordon Brown.
There are several other conferences happening in the next year and a half, namely the Convention on Biological Diversity and the UN Convention on the Law of the Sea, both of which are expected to craft plans to protect our livelihoods. It's promising that all these conferences are occurring. Still, many fear that they will not push for action radical enough to meet the 1.5 degree goal.
If the goal is not met, the consequences will be unimaginable. More natural disasters (like the wildfires we're seeing right now in Alaska) would ravage coastlines and could destroy entire nations. Chronic refugee crises would ensue. Disease would flourish. One in four animal species would go extinct.
Judging by the current state of politics and carbon emissions (India is on track to overshoot its Paris Agreement goal by 60%), things are looking bleak. Fortunately, a rise in activism and protest—helmed by figures like Greta Thunberg and Alexandria Ocasio-Cortez—has drawn much needed political attention to the climate crisis. Still, it's not enough: In order to ensure a livable future for the earth, people around the world must come together and force their representatives and nations to listen to science and reason.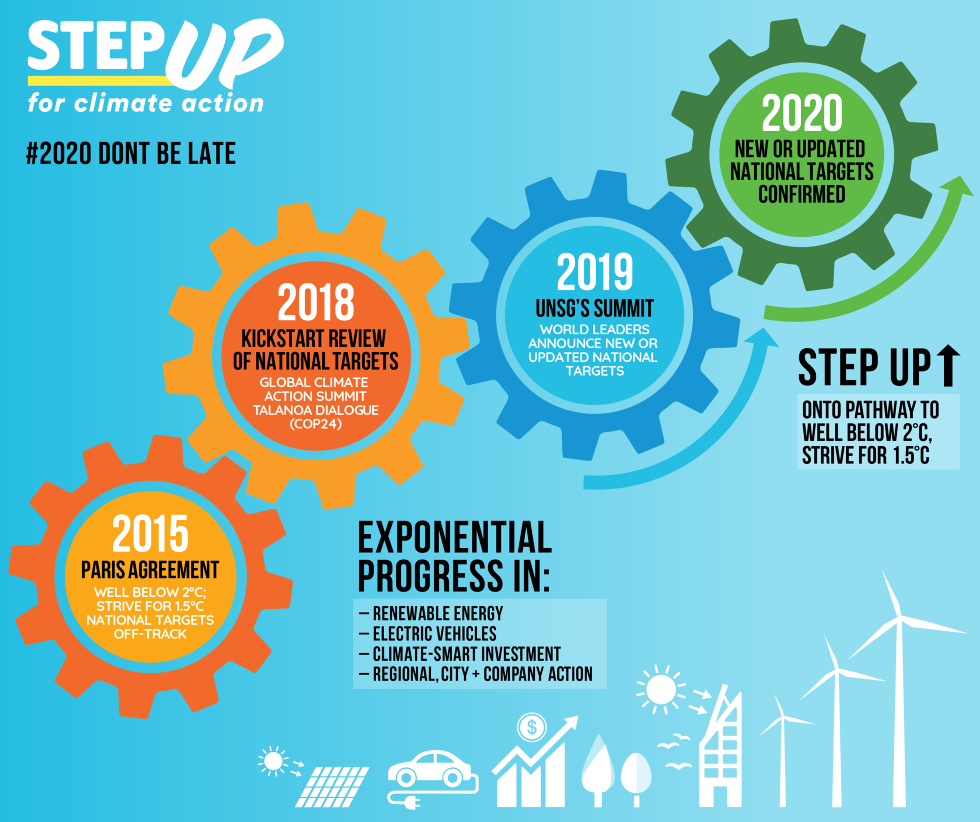 Image via World Economic Forum
Climate despair is becoming so widespread that some people are losing their will to live. Is this the new normal?
If you're reading this, you probably know that the earth is not doing well. A 2018 UN report declared that we have 12 years to keep the global climate from rising more than 1.5 degrees, or we'll face catastrophic warming levels. Even knowing this, our worldwide carbon emissions have only continued to rise, with atmospheric CO2 reaching a record high at 417.4 ppm in May 2019.
In essence, we know the world is ending, we know why, and yet we have done nothing to stop it. In fact, things are getting worse.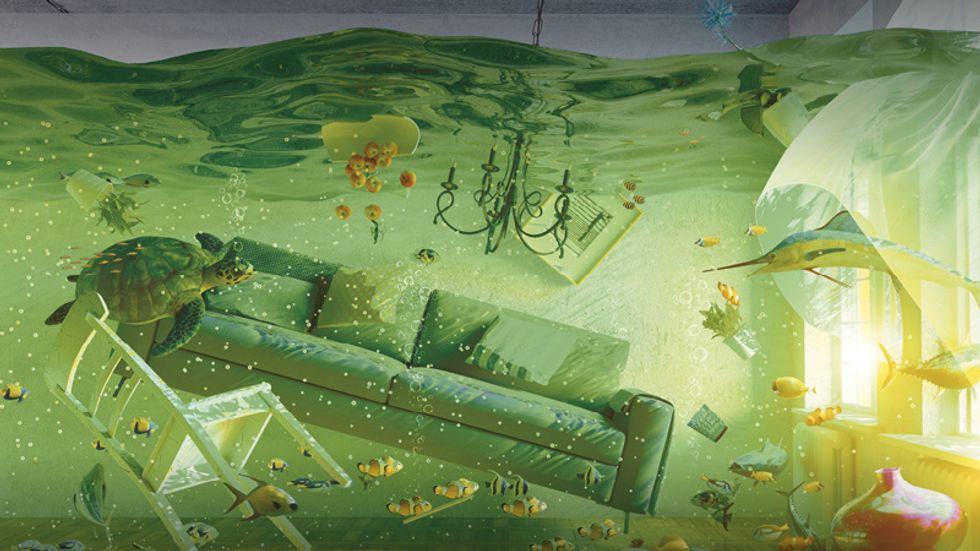 Image via blog.derby.ac.uk
The Argument for Despair
Faced with this truth, it's all too easy to slip into despair, and this is what's happening to people all over the world. A recent VICE article explored the mental health crises that many people are experiencing because of climate change. Known as "climate despair," sometimes called "eco-nihilism" or "human futilitarianism," chronic feelings of hopelessness about climate change are becoming all too common among those who have allowed themselves to fully comprehend the extent of the crisis.
For people who suffer from these feelings, it doesn't help that life appears to be continuing on as normal, while only a few of us seem to care that the world is burning down. This creates a sense of duality that can be even more painful than consciously accepting the reality of climate change, as it involves a deep suppression of pain and fear, which is then left to fester in the psyche. Living this "double life," according to Joanna Macy's essay "Working Through Environmental Despair," can be detrimental. "Awesome and unprecedented in the history of humanity, the awareness lurks there, with an anguish beyond naming," she writes.
This awareness can manifest in many ways; and often it has lead to depression or suicidal thoughts. Even therapists are having trouble knowing how to handle the looming specter of climate despair. Several people quoted in the VICE article described how their therapists attempted to trace their terror of climate change back to personal traumas, instead of acknowledging the validity of these fears.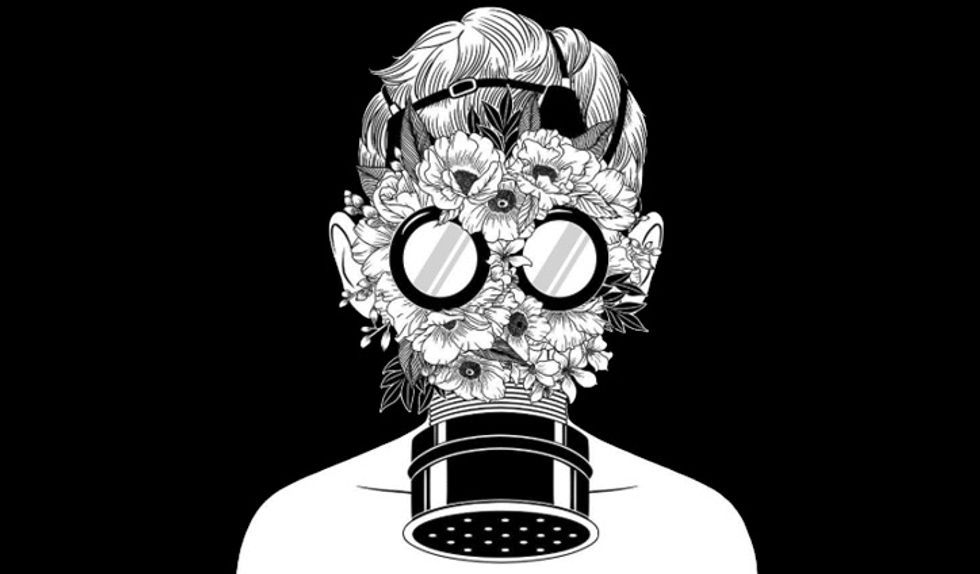 Image via Its Nice That
Children are just as vulnerable to these feelings as adults. As they watch governments refuse to act, kids are growing up in the world with little faith in the government or the adults around them, and with the knowledge that they've been born into a disaster they never asked for but have to deal with.

Greta Thunberg was one of these kids. She's spoken extensively about the feelings of despair that nearly paralyzed her as she became more and more aware of the climate crisis. "Before I started school striking, I was … so depressed and I didn't want to do anything," she once said.
But when she began to speak, as many of us know, she became one of the most outspoken and well-known climate activists in the world. According to Thunberg, this was not a choice. "I feel like dying inside if I don't protest," she said. For those suffering from climate despair, that feeling of dying inside is a familiar one. But Greta's inspiring actions contain seeds of hope, perhaps the best hope against climate despair.
The truth is that things are only hopeless if we don't take action. Conveniently, taking action might also be one of the best things we can possibly do to work through climate despair.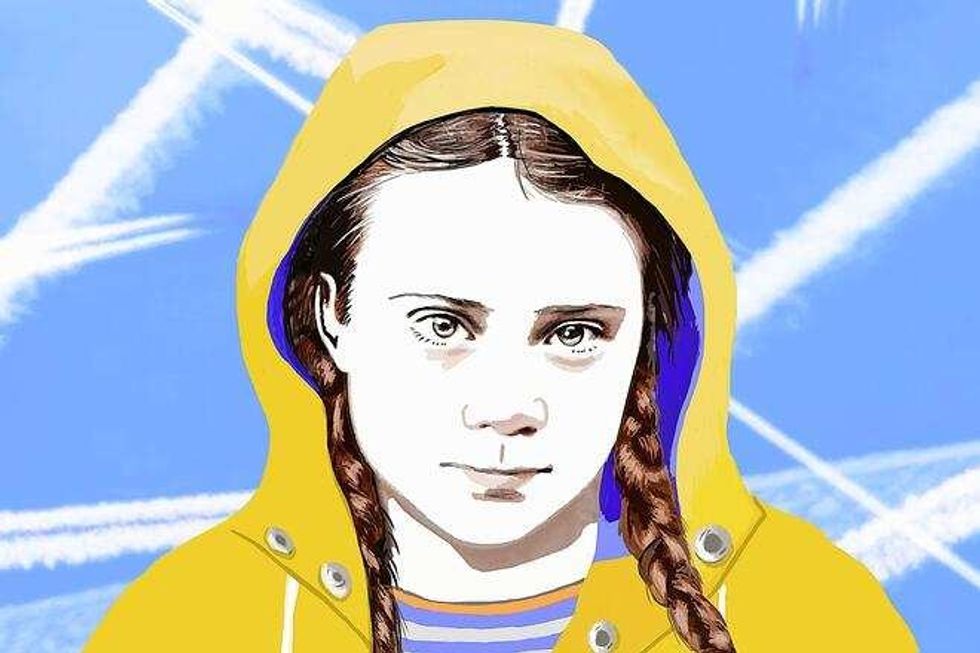 Image via Handelszeitung
Our Best Shot at Hope
Although they might be realistic responses to the threat of climate change, feelings of despair—when they aren't turned into action, or are suffered through in solitude— present a terminal danger to the climate movement, as they promote stagnation when what is truly needed is unity and protest.
This doesn't mean that we should deny the gravity of the situation. Action begins with admitting the problem, not stuffing it away under layers of performative normalcy. "Until we find ways of acknowledging and integrating that level of anguished awareness," continues Joanna Macy, "we repress it; and with that repression we are drained of the energy we need for action and clear thinking."
Still, the answer is also not necessarily to let oneself fall down a hole of hopelessness. Often, the doomsday-esque reports that are inundating the Internet and certain academic circles can be the opposite of productive. Sometimes, these reports are inaccurate, overly dramatized and apocalyptic. These alarmist articles that proclaim that we are all doomed often have the opposite effect, shaking people into complicity when the truth is that though things are really bad, there is definitely hope.
There is hope.
Though we won't be able to reverse climate change, it is possible to salvage so much of the world and to prevent the worst consequences of ecological decline. Human beings have mobilized massively before—we've split atoms and spread cell phones across the globe in less than a decade—and we can do it again. We have the technology, the money, and the capability: All we need to avert immediate crisis is the will and the public support to elect people into office who will take action.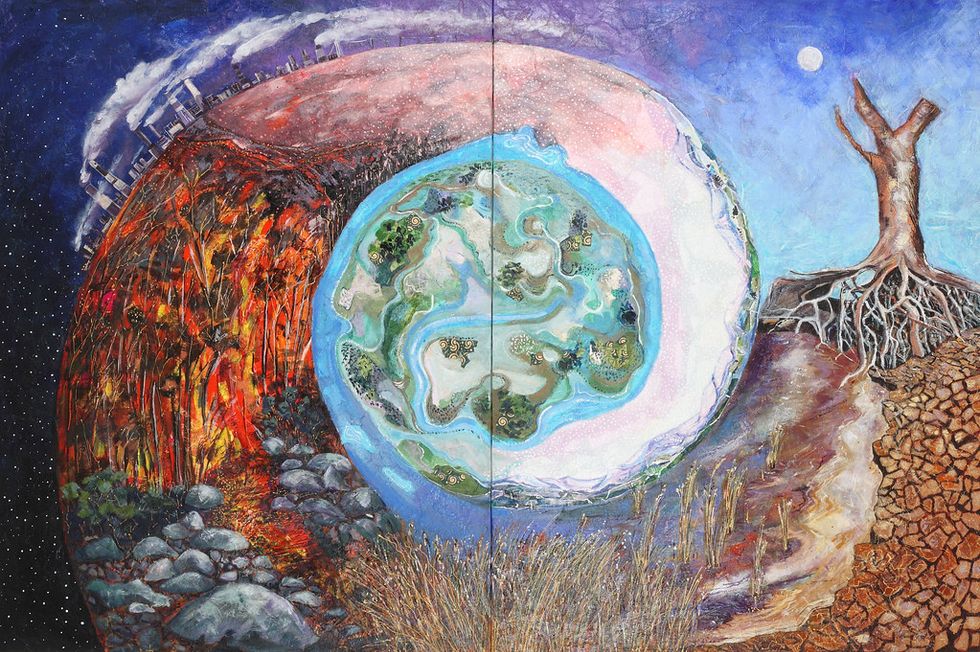 Image via Flickr
We have the resources to fight climate change. Many countries are instituting programs to reduce their carbon emissions. Small nations like Denmark and Belgium have successfully slashed their carbon emissions, and plans like the Paris Agreement are promising attempts at global change. What we need to do is fight, to spread awareness, to elect people into office who will take action, and to make it clear that we as a human race won't go down at the hands of an elite cult of carbon-worshipers determined to ruin all of our futures for the sake of their own fortunes.
Climate activism doesn't solely have to be a fight against something, though: it can be a fight for a better world. Though climate change is often painted as an entirely doom-and-gloom issue, some of the things that fighting it will combat it could actually benefit our whole society, healing some of the deep wounds that have caused our modern epidemic of mental illness, addiction, and loneliness.
According to Naomi Klein, author of This Changes Everything: Capitalism vs. The Climate, this impasse at the brink between oblivion and climate disaster presents an unprecedented opportunity for positive change. This crisis can be a beginning, not an ending, she argues: the beginning of a movement towards a more interconnected and compassionate world.
"Climate change—if treated as a true planetary emergency akin to those rising flood waters—could become a galvanizing force for humanity, leaving us all not just safer from extreme weather, but with societies that are safer and fairer in all kinds of other ways as well," she writes. "The resources required to rapidly move away from fossil fuels and prepare for the coming heavy weather could pull huge swaths of humanity out of poverty, providing services now sorely lacking, from clean water to electricity. This is a vision of the future that goes beyond just surviving or enduring climate change...It is a vision in which we collectively use the crisis to leap somewhere that seems, frankly, better than where we are right now."
This kind of future would require a paradigm shift, a complete departure from our current free-market model that glorifies isolated successes and prizes maximum consumption above all else. It would require that, among other things, we sacrifice our own desires for the good of everyone else.
We need to sacrifice the concept that the goal of life is to be able to pursue one's individual fortune to the highest level: And we have to acknowledge that we operate in an interconnected network, and must lift each other and our planet up, if we wish to continue to live on this earth.
The shift is already beginning. Organizations like Sunrise and Extinction Rebellion have emerged at the forefront of the fight against climate change; and artists are starting to wake up, too. But even if you don't have a massive platform or aren't going to protests, even just talking about the ecological crisis with others can ignite powerful chain reactions. Overall, probably the most meaningful thing you can do is work to elect officials who will make good on their promises to cut emissions and create a better world while doing it.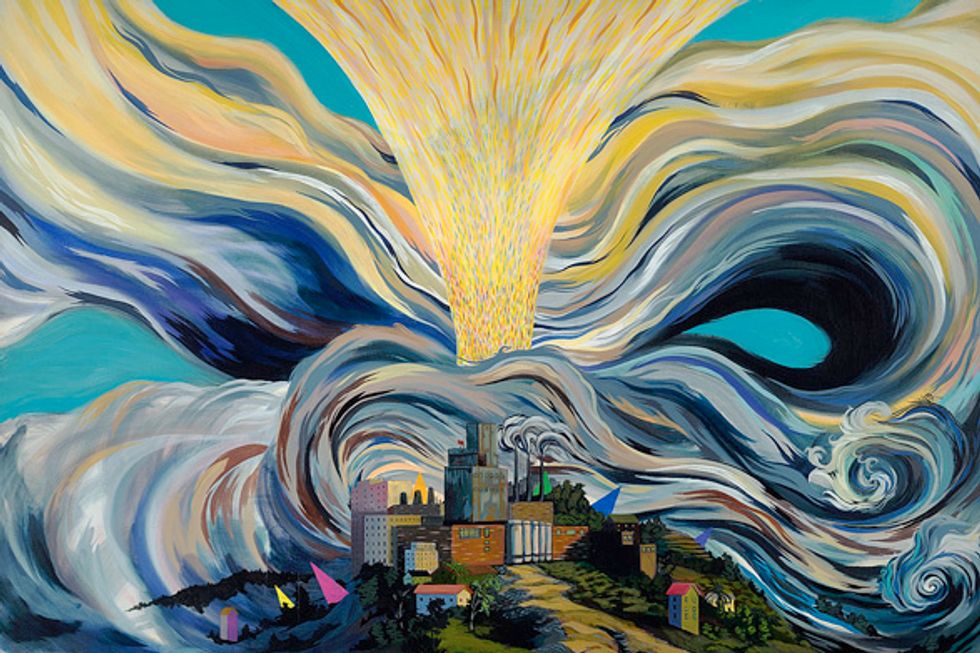 Image via Ethics and International Affairs
Where We Go From Here
Still, considering the amount of mobilization and effort that these changes require—and considering how determined major, extremely wealthy fossil fuel companies are to squander these efforts—it's extremely difficult to be hopeful all the time when it comes to the climate crisis. Plus we've already damaged some things beyond repair, and we've lost many people to the wildfires and hurricanes rooted in climate change; to name a few, the 79 people lost in California's Camp Fire, and the nearly 3,000 people who lost their lives in Hurricane Maria.
And so, as the VICE article proposes, to comprehend the full extent of the climate crisis, first we need to let ourselves grieve. We need to allow ourselves to grieve as we would in the face of any other tragedy—to comprehend the harm that we've done to our planet and to recognize and honor our feelings about it.
Once we recognize these feelings, we can begin to deal with them. As Macy continues, "To experience pain as we register what is happening to our world is a measure of our evolution as open systems. This is true not only from the perspective of systems science but from that of religion as well. How many mystics in their spiritual journey have spoken of the 'dark night of the soul'? Brave enough to let go of accustomed assurances, they let their old convictions and conformities dissolve into nothingness, and stood naked to the terror of the unknown. They let processes, which their minds could not encompass, work through them. It is in that darkness that birth takes place."

While it's important to embrace one's despair and grief regarding climate, it's equally important to view these feelings as starting points for a spiritual and political revolution, instead of hindrances that need to be suppressed. If we view climate as a consequence of evils we've always been peripherally cognizant of—like selfishness, greed, and the hypocrisy that plagues human society—then we can view the climate crisis as an opportunity to at the very least connect with other people who understand that we, collectively, cannot continue this way.
Through this lens, climate despair is far from an end point. Rather, it connects us to the world around us, and to other people who care enough to want to see a better future for everyone and everything. "As our pain for the world is rooted in our interconnectedness with all life, so surely is our power," writes Macy.
So if you're pained by climate change, good. That pain means you love something. That love means you're alive.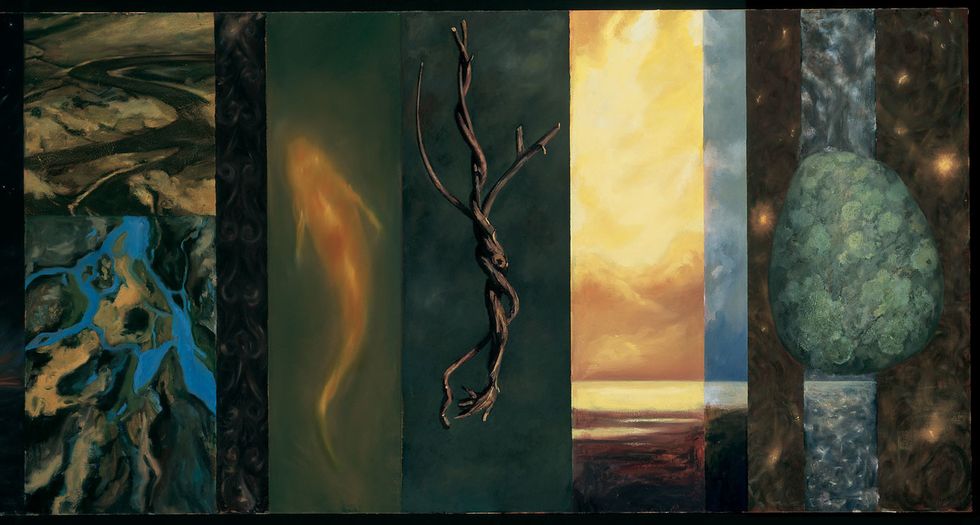 Image via Occidental Arts and Ecology Center
In 1971, the year "The Lorax" was published, scientists were just beginning to sound the alarm about climate change.
If you've somehow managed to successfully compartmentalize and ignore the fact that the earth is literally dying, perhaps this will jolt you out of your slumber: The tree that is believed to have inspired Dr. Seuss's iconic conservation-themed short story, "The Lorax," has fallen.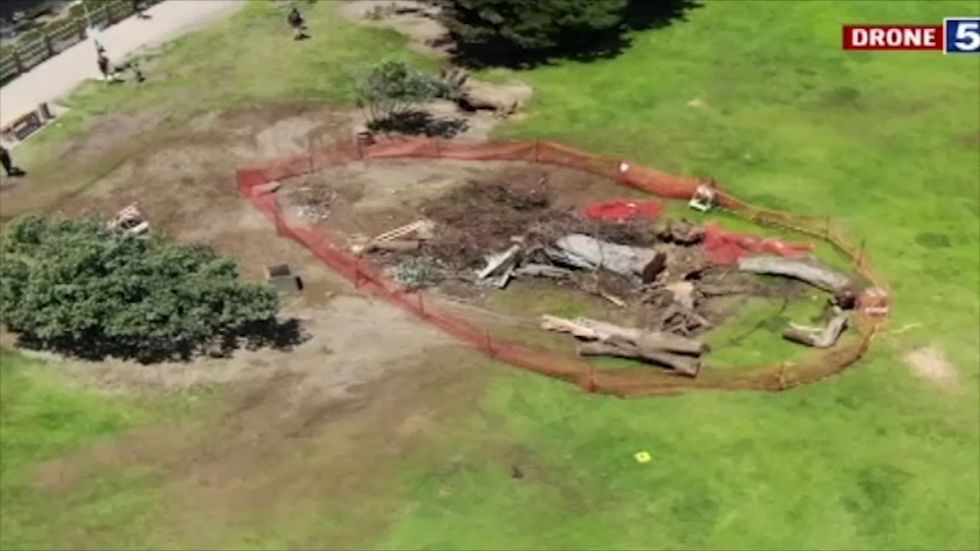 Image via ABC13
The tree in question was a Monterey Cypress, which grew without incident for 80 to 100 years in a La Jolla, California park until it keeled over suddenly on June 16. Dr. Seuss, whose real name was Theodor Seuss Geisel, could see the tree from the La Jolla apartment where he lived from 1948 until his death in 1991. It is believed that the cypress, with its curved trunk and abundant leaves, inspired the Truffala Trees that the Lorax in the story dedicates himself to defending—until a greedy factory owner cuts them all down, poisons the rivers, and fills the sky with smog. At the end of the story, the Lorax hangs his head and floats off into a tiny gap in the clouds, lamenting the death of his beloved forest and the creatures that called it home.

The Lorax- trailerwww.youtube.com
In 1971, the year "The Lorax" was published, scientists were just beginning to sound the alarm about climate change. That year, a coalition of leading scientists reported significant risks from global climate change caused by human activity; by the end of the decade, scientific consensus identified global warming as the largest risk of the 21st century. Still, largely due to misleading reports from companies like Exxon, right-wing denialist think tanks, multi-million dollar denial campaigns, and bribes given to politicians by oil barons and investors such as the Koch Brothers, climate change was delegitimized, relegated to the back burner of public and political consciousness.

Flash forward to 2019, and the consequences of that corruption and ignorance are coming back to bite all of us. Wildfires, hurricanes, tsunamis, and droughts—each of which has catalyzed waves of refugees and deepened wounds of already existent economic disparity—are just a few of the visible consequences of climate change; and the worst is yet to come. Roughly 80,000 acres of forest disappear each day, with another 80,000 experiencing significant degradation. Plusm 1 million species are teetering on the brink of extinction.
If the loss of forests and biodiversity is not enough to chill you to the bone, the effects on humanity have been severe and will become unimaginably extreme if we continue at our current pace of unchecked destruction. Climate change threatens coastal cities with flooding, displaces millions, exacerbates health problems like infectious diseases, triggers asthma attacks, and destroys infrastructure and agriculture. It can cause mental illness and it disadvantages the most vulnerable, threatening communities and nations who lack the resources needed to bounce back from ecological disasters.
And even if you really don't give a shit about poor people, you're still not safe—for climate change will pose significant risks to financial markets, with food costs, insurance markets, and the mortgage industry all at risk. (For proof, just look at the millions of dollars in liability costs and subsequent bankruptcy faced by Pacific Gas and Electric after the 2018 California wildfires).
So in the shadow of all this horrifying information, it doesn't seem so far-fetched that the tree that inspired one of the greatest tales of environmental destruction has fallen. Sure, maybe there was something wrong with its roots, or maybe the excess of poison or smoke from the fires or the gas leaks or the plastic particles in the salt-choked rivers did it in. Or maybe the tree just gave up, realizing that the earth was no longer a place for growing things. Its death feels like the real-world embodiment of the Lorax floating away into the murky skies, looking sadly down on the scorched earth that used to hold thousands of trees.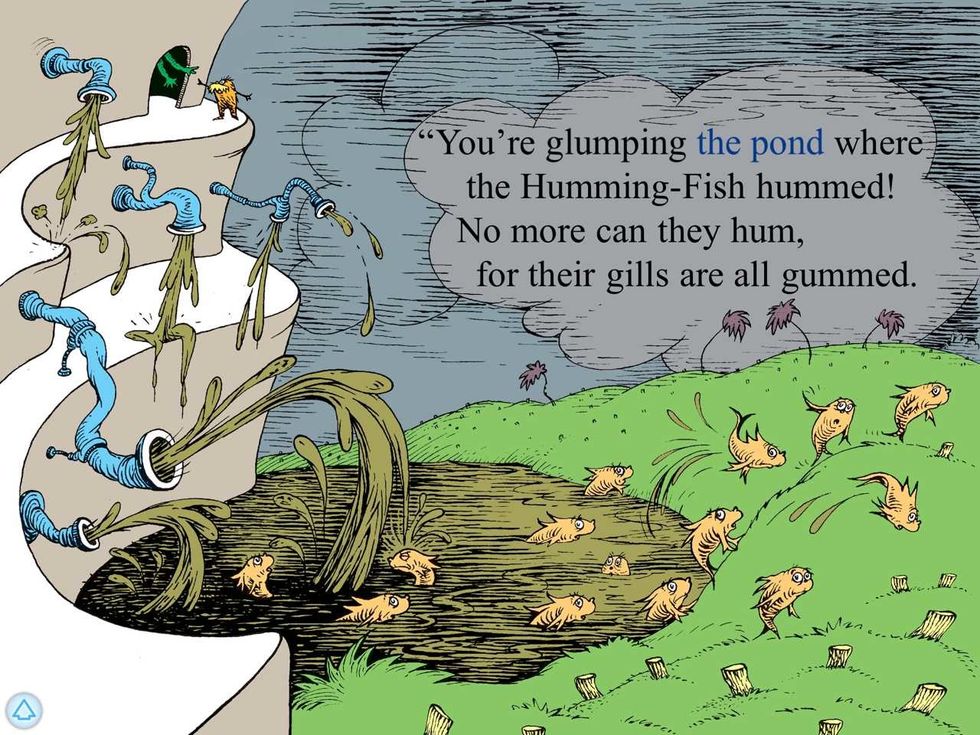 Image via techwithkids.com
Of course, the Seussian tale doesn't end with the Lorax's departure. It begins when the kid in the story gets the Once-ler to tell him what happened to the Lorax, and it ends when the Once-ler drops him a tiny Truffala tree seed. "UNLESS someone like you cares a whole lot, nothing is going to get better. It's not," says the old storyteller, imploring the kid (and by proxy, all readers) to try and do something, even if it starts with one seed.
In a world where Greta Thunberg—a sixteen-year-old playing hooky—is literally the most powerful voice in ecological activism, Dr. Seuss's message doesn't seem too starry-eyed. Small, improbable leaps of faith might be insignificant in themselves, but they can start waves of action that could be our best chance at launching the worldwide action needed to build a viable (and potentially more equitable) society.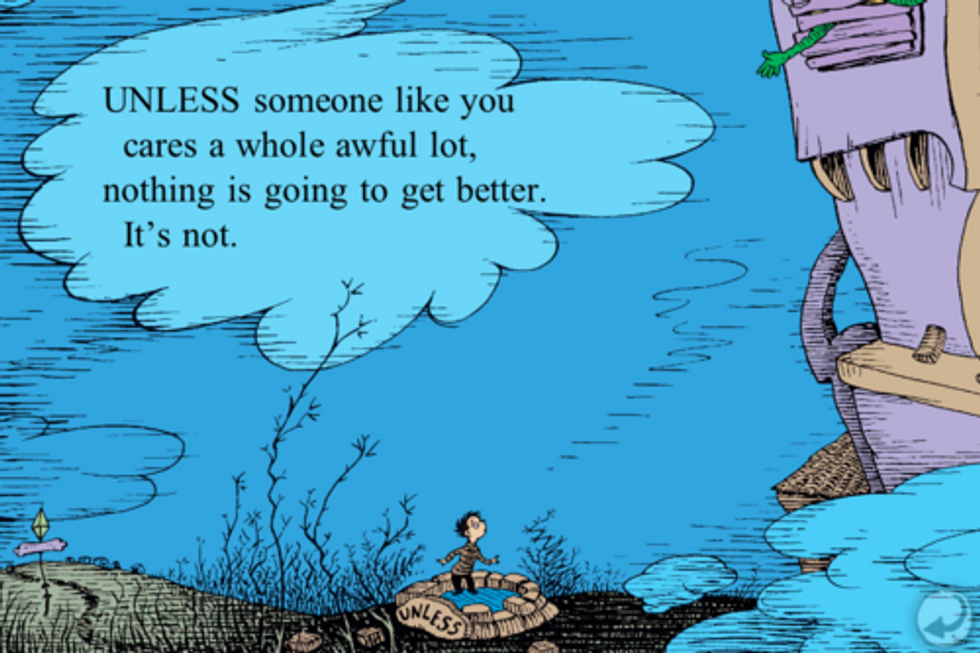 image via weheartit