"A tree is best measured when it is down," the poet Carl Sandburg once observed, "and so it is with people." The recent death of Harry Belafonte at the age of 96 has prompted many assessments of what this pioneering singer-actor-activist accomplished in a long and fruitful life.
Belafonte's career as a ground-breaking entertainer brought him substantial wealth and fame; according to Playbill magazine, "By 1959, he was the highest paid Black entertainer in the industry, appearing in raucously successful engagements in Las Vegas, New York, and Los Angeles." He scored on Broadway, winning a 1954 Tony for Best Featured Actor in a Musical – John Murray Anderson's Almanac. Belafonte was the first Black person to win the prestigious award. A 1960 television special, "Tonight with Belafonte," brought him an Emmy for Outstanding Performance in a Variety or Musical Program or Series, making him the first Black person to win that award. He found equal success in the recording studio, bringing Calypso music to the masses via such hits as "Day-O (The Banana Boat Song)" and "Jamaica Farewell."
Harry Belafonte - Day-O (The Banana Boat Song) (Live)www.youtube.com
Belafonte's blockbuster stardom is all the more remarkable for happening in a world plagued by virulent systemic racism. Though he never stopped performing, by the early 1960s he'd shifted his energies to the nascent Civil Right movement. He was a friend and adviser to the Reverend Doctor Martin Luther King, Jr. and, as the New York Times stated, Belafonte "put up much of the seed money to help start the Student Nonviolent Coordinating Committee and was one of the principal fund-raisers for that organization and Dr. King's Southern Christian Leadership Conference."
The Southern Poverty Law Center notes that "he helped launch one of Mississippi's first voter registration drives and provided funding for the Freedom Riders. His activism extended beyond the U.S. as he fought against apartheid alongside Nelson Mandela and Miriam Makeba, campaigned for Mandela's release from prison, and advocated for famine relief in Africa." And in 1987, he received an appointment to UNICEF as a goodwill ambassador.
Over a career spanning more than seventy years, Belafonte brought joy to millions of people. He also did something that is, perhaps, even greater: he fostered the hope that a better world for all could be created. And, by his example, demonstrated how we might go about bringing that world into existence.
The pain and struggle in those camps must be spun into a persuasive narrative; and the phrase "concentration camps" comes with a narrative, with implications, with images of something that we globally swore we would never let happen again.
In New York City there's an organization that sometimes operates out of empty college classrooms and sometimes out of church basements.
Every week, hundreds of undocumented people flow into the crowded rooms, working with translators to fit their stories into I-589 asylum application forms.

One week a woman came in with her eight-year-old son. Her court date was in days, but she had yet to begin filling out her official forms; just part of her story lay in disarray on an intake sheet. As she told her story—which involved rape and murder and decades of abuse—she began to sob. If she went back to Honduras, she said, she would die.
Her story, which would likely make worldwide headlines if any fraction of it was being told by a white woman in America, is not unique at all; abuse of the kind she experienced is one of the most common reasons why migrants come to the U.S.-Mexico border to seek refuge. If you present yourself at the border as seeking asylum, you are legally entitled to a hearing, under domestic and international law; and once she tells her story to the court she may well not receive asylum. Still, for now she is one of the lucky ones: she made it past the camps at the border.
The Semantics of a Human Rights Crisis
This week, Alexandria Ocasio-Cortez described the camps holding migrants at the U.S. border as "concentration camps." Immediately, she faced protests from politicians across the nation, most of whom have never been to the camps at the border and whose main point of contestation was the argument that the prisons at the U.S. border cannot be compared to the concentration camps of Nazi Germany.
This administration has established concentration camps on the southern border of the United States for immigrants,… https://t.co/40xPvnY41a

— Alexandria Ocasio-Cortez (@Alexandria Ocasio-Cortez) 1560863001.0
Criticism of Ocasio-Cortez's word choice is a convenient and fundamentally flawed distraction from the reality of what is happening. Firstly, both the Jewish people who experienced that genocide and the migrants who are attempting to cross the border are being caged, dehumanized, and denounced as vicious security and economic threats. Arguments that propose the suffering of the Jews is incomparable to the suffering of these migrants are a sort of Olympics of tyranny on the most depraved scale. How can the pain of one group delegitimize the suffering of another?

As a Jewish woman, I feel strongly that any trauma lingering in my bone marrow from the deaths of my family does more to link me to the migrants at the border than it does to separate me from them. We are not solitary in our persecution. Our struggle, as well as the lessons we have learned, means that we should feel a nauseating shock of recognition upon hearing that a group of people is being caged in brutal conditions on the basis of where they were born.
Though the meaning behind words is ultimately more important than the words themselves, semantics and word choice are undeniably powerful. As humans, we cling to symbols and patterns to make sense of our disorderly world. Words have sway over us, which is perhaps why calling the border camps concentration camps has sent such shockwaves across news outlets—more shockwaves than the reports of freezing cages, desert shootings, and persistent abuse in government facilities have created. In truth, words and our ability to freely speak them are often more incendiary than incidents of abuse and human suffering.
This is why calling the camps at the border concentration camps is a powerful act of political protest, one that merits repeating. In order to effectively protest these camps, merely telling stories of the human suffering that occur within them is not enough. The pain and struggle in those camps must be spun into a persuasive narrative; and the phrase "concentration camps" comes with a narrative, with implications, with images of something that we globally swore we would never let happen again.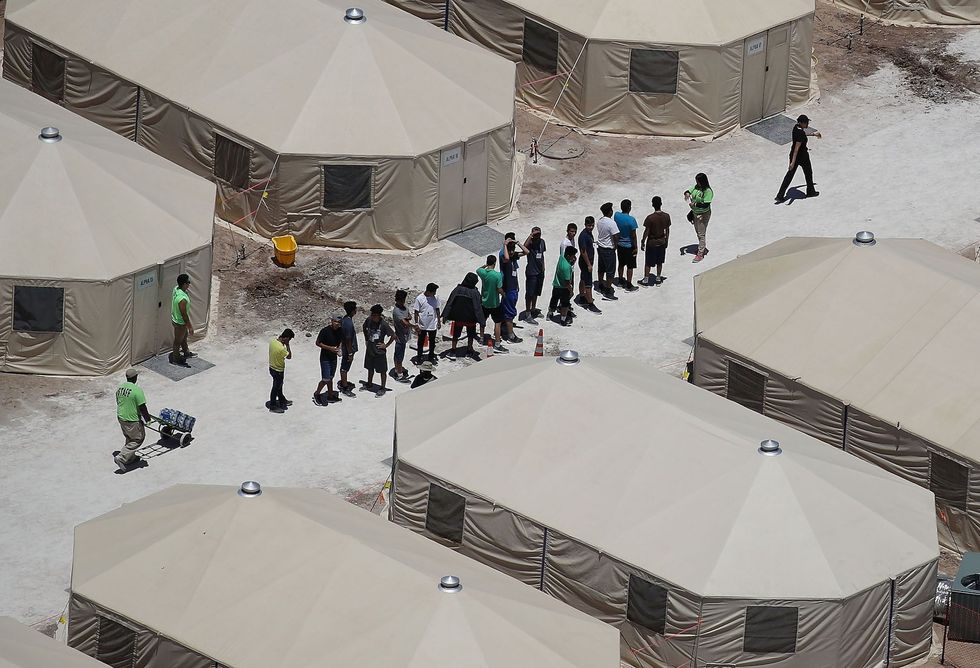 Image via Esquire
Another Holocaust?
The Holocaust, like most genocides, did not arise spontaneously. It began because of money—because of economic insecurity in Germany, a nation that had once been powerful but found itself suffering after wartime loss and a recession. It began with scattered proposals that Jewish people and other minority groups were to blame for these problems. It took off as a way of making Jews leave the country. The violence started with sporadic murders. The camps came later.
Even if the U.S.'s persecution of migrants at the border never reaches the level of the Final Solution, this does not legitimize the mistreatment and brutality that are occurring in those overcrowded, freezing prisons in the desert. Should the Holocaust be the standard that we expect human rights violations to live up to in order to merit serious criticism?
Andrea Pitzer, author of "One Long Night: A Global History of Concentration Camps," writes that the border camps qualify as concentration camps because the prisoners there are detained "without regard to individual circumstances, treating people as one mass, one group," and that the U.S. government, like the German government, is "presenting them as a national security threat to the country and then using as punitive means as the system will allow to detain them."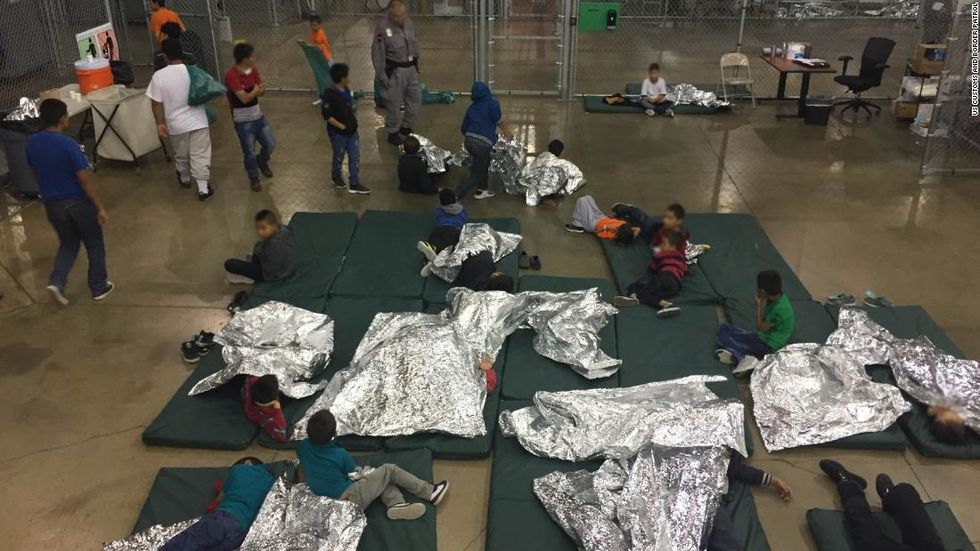 Image via CNN
This is a key requirement for the success of concentration camps: prisoners must be turned into shadowy, menacing masses. Through a variety of rhetorical strategies, the U.S. government has implemented this technique. Many Americans are convinced that migrants are criminals who should keep out of this country. They argue that refugees are not deserving of our justice system or our charity, nevermind that the justice system systemically targets poor and non-white people and that we are the richest nation in the world.
Most of the detainees are not criminals. Conditions in these migrants' homes are unbearable; the fact that they are willing to risk death at the U.S. border to escape shows this clearly. Migrants are usually not asking for charity or trying to steal the salaries of U.S. workers. They are asking for asylum. For mercy. For America to be a fraction of what some people once dreamed it could've been.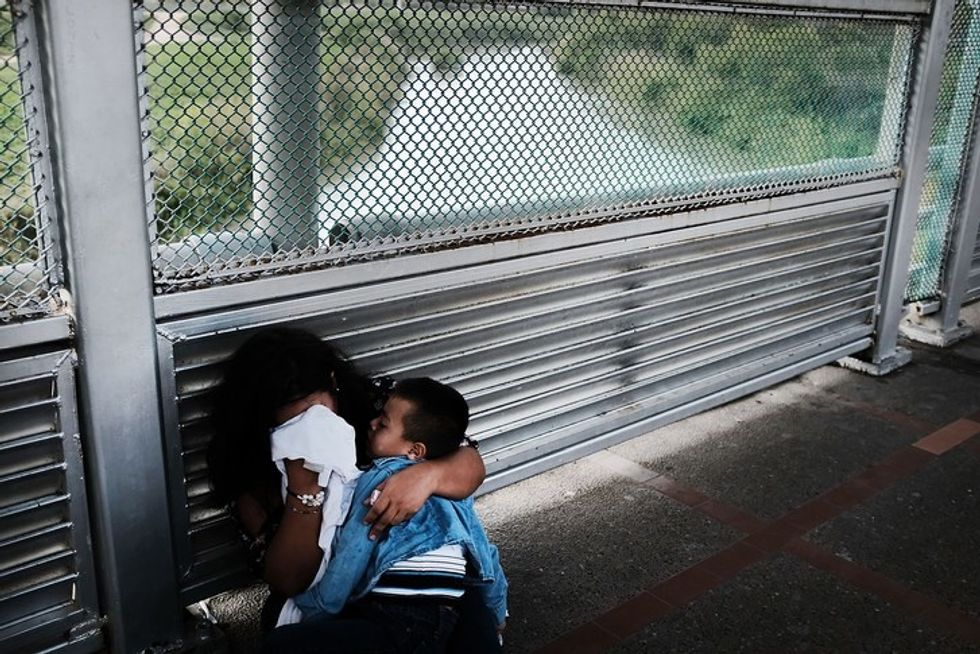 Image via The New Yorker
Call Them By Their Real Names
Rebecca Solnit writes that once we call injustices by their names, "we can start having a real conversation about our priorities and values. Because the revolt against brutality begins with a revolt against the language that hides that brutality." Alexandria Ocasio-Cortez has shown that she is unafraid to put this into practice, to look the murky viciousness of the U.S.'s treatment of migrants at the border straight in the eye. By calling the concentration camps what they are, she is replacing the language that legitimizes these injustices with language that condemns them. Unfortunately, she is largely alone in this.
Here is the name of our American S.S., the group that is fostering the concentration camps at the border: the ICE, or Immigration and Customs Enforcement. (Like the leaders of S.S., they also believe they're simply "doing their jobs").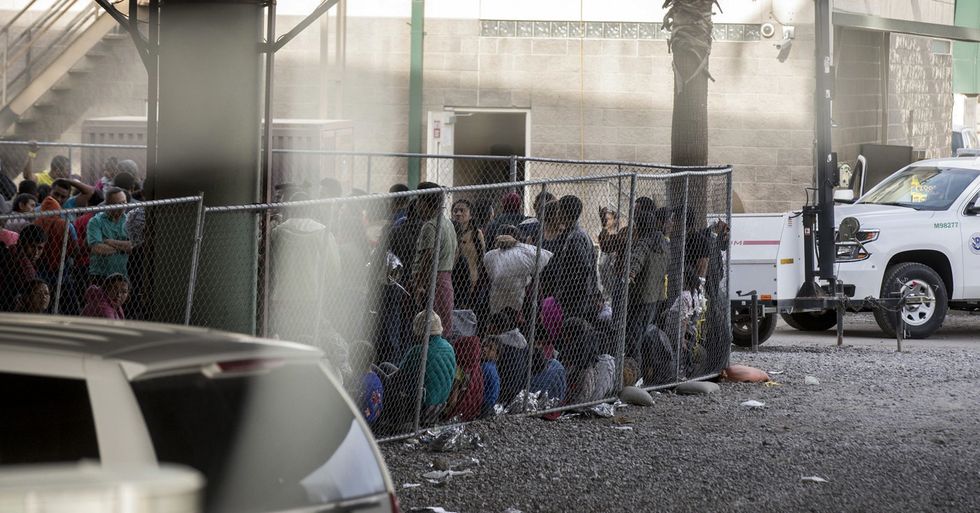 Image via BuzzFeed News
Here is a number: the ICE held 42,000 migrants in its detention camps last year.

Here is a list of DHS reports about the conditions at the border, including titles like "Lack of Planning Hinders Effective Oversight and Management" and "Immigration and Customs Officials Do Not Follow Federal Procurement Guidelines When Contracting For Detention Services."
Here are just a few quotes from official statements about the camps: A 2017 inspection found "problems that undermine the protection of detainees' rights, their humane treatment, and the provision of a safe and healthy environment." A Reuters report about the Paso Del Norte facility stated that "single adults were held in cells designed for one-fifth as many detainees as were housed there and were wearing soiled clothing for days or weeks with limited access to showers." It also stated that inspectors saw "detainees standing on toilets in the cells to make room and gain breathing space, limiting access to toilets." Additionally, there are reports of extreme temperatures, of physical and sexual abuse, of solitary confinement.
Right now, even the Customs and Border Patrol Commissioner John Sanders is demanding that the Senate pass a $4.6 billion dollar bill in emergency funding. If the bill is not passed, he testified, kids will keep dying.
Here are the names of some of the legally innocent people who have died at the border. Jakelin Caal Maquin, 7. Felipe Alonzo-Gomez, 8. Gurupreet Kaur, age 6, dead of dehydration in the Arizona desert. Roxana Hernandez, dead of untreated septic shock and HIV. Osmar Epifanio Gonzalez-Gadma, Jeancarlo Jiminez-Joseph, and Efrain Romero De La Rosa, all dead by suicide while in ICE facilities. Sergio Alonso Lopez, dead of internal bleeding after prison staff did not administer doses of methadone he needed to survive.
These names don't do justice to who they were and how they lived. No migrant story does, because migrants are whole people who want nothing but to live in America. They come for many reasons; they come knowing that they will be hated and discriminated against all their lives here—because, as poet Warsan Shire writes, "the insults are easier to swallow / than rubble / than bone / than your child body / in pieces."
Here are the names of some of the 200 ICE facilities:
The Adelanto Detention Center in California.
La Salle Processing Center in Louisiana.
The Aurora Detention Facility in Colorado.
Essex County Correctional Facility in New Jersey.
Fort Sill, an Oklahoma military base used to house Japanese immigrants during World War II.
The nameless makeshift camp underneath Paso Del Norte International Bridge, which connects Ciudad Juarez with El Paso, where hundreds of migrants were held outside behind a chain-link fence covered in razor wire.
The Tornillo Camp in Texas, meant to hold 400, now holding 2,400.
Here is the name of what these detention centers are: concentration camps. Remember these names. Imagine what you'll say when someone asks in the future: Did you know?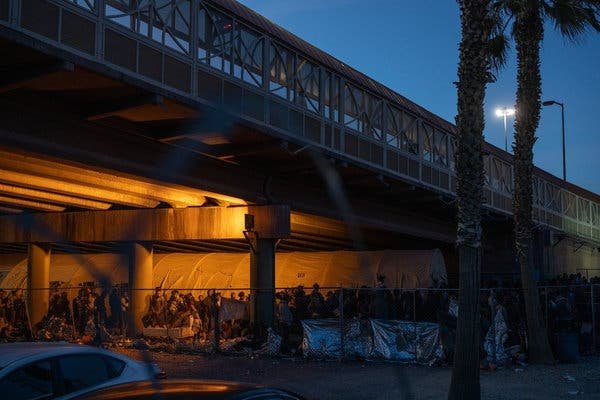 Image via The New York Times
Nine federal departments will shutdown at midnight on Friday due to Congress' inability to settle funding disputes, including Trump's demands for $5 billion for his border wall.
With Trump predicting that "chances are probably very good" that the government will shut down at midnight, he's reneged on his proud claim that he'd "totally be willing" to "take the mantle" of a shutdown. Instead, he said on Friday, "Now it's up to the Democrats as to whether or not we have a shutdown tonight."
Congress has been unable to pass funding packages for seven federal agencies, mainly due to Trump's stubborn demands for $5 billion to build his border wall. With funding deals expiring at midnight tonight, hundreds of thousands of federal employees will be either out of work or expected to work without pay until the government resumes full function in 2019.
Among those affected are more than 420,000 employees required to keep working through the shutdown, including those in the Department of Homeland Security, the FBI, the DEA, and Forest Service firefighters. With dozens of federal agencies expected to close down, national parks, museums, and zoos may be shuttered, with housing agencies warning that loan processing and approvals may be significantly delayed.
Aside from disrupting government services, shutdowns worsen deficits with financial losses in productivity. The longest government shutdown took place under the Clinton Administration, lasting 21 days and costing approximately $1.4 billion. The 2013 shutdown under Barack Obama lasted 16 days and cost about $2 billion.
Trump took to Twitter to blame Democrats for their refusal to offer more than $1.3 billion to fund the border wall. He posted, "If the Dems vote no, there will be a shutdown that will last for a very long time." After Congress voted and Trump still did not receive his inflated amount of $5 billion, he followed up with, "The Democrats now own the shutdown!"
The Democrats, whose votes we need in the Senate, will probably vote against Border Security and the Wall even thou… https://t.co/o4ZLHp93QM

— Donald J. Trump (@Donald J. Trump) 1545395058.0
As of early Friday evening, Congress had made no progress in settling the border wall dispute. Government agencies had been alerted on Thursday to prepare to freeze their functioning for an indeterminate amount of time.

"I hope we don't [shut down]," Trump told the press on Friday afternoon at a bill signing event at the White House. "But we are totally prepared for a very long shutdown and this our only chance that we'll ever have in our opinion, because of the world and the way it breaks out, to get great border security."
Trump threatens to close the border completely, despite having no authority to do so.
On Sunday, a group of Mexican migrants reportedly rushed the San Ysidro border crossing near San Diego, drawing tear gas from Border Patrollers. Consequently, the crossing was closed for several hours. Homeland Security Secretary Kirstjen Nielsen later said the closing of the border was "to ensure public safety in response to large numbers of migrants seeking to enter the U.S. illegally." According to the Washington Post, "At least two dozen tear gas canisters could be seen on the Mexican side of the border after the migrants eventually turned back."
Images from the incident, shot by Reuters photographer Kim Kyung-Hoon and showing young children fleeing the tear gas in obvious distress, have elicited outrage across the country. The photos also appear to contradict Republican propaganda claiming the migrant caravan was full of criminals.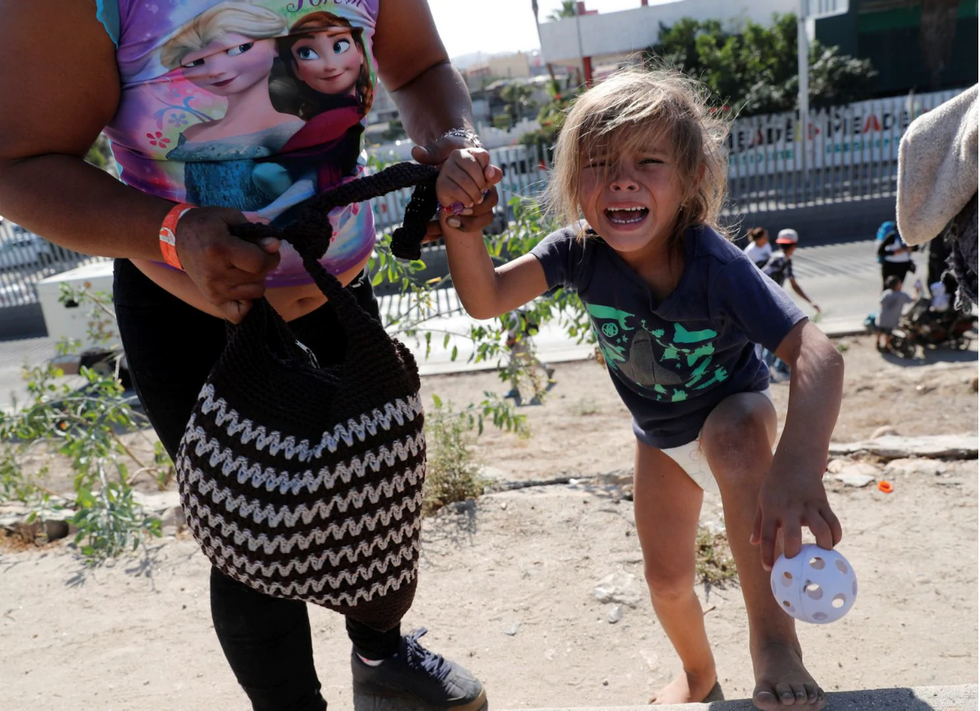 Kim Kyung-Hoon/Reuters
Senator Brian Schatz, D-Hawaii, condemned the extreme measures taken by border patrol, tweeting:

Tear gas across the border against unarmed families is a new low.

— Brian Schatz (@Brian Schatz) 1543185824.0
Gavin Newsom, the Democratic governor-elect from California, echoed this sentiment, saying:
These children are barefoot. In diapers. Choking on tear gas. Women and children who left their lives behind -- se… https://t.co/r3SXbDyGGW

— Gavin Newsom (@Gavin Newsom) 1543208589.0
On Monday, President Trump addressed the border closing by threatening to close the border permanently and calling for the deportation of the tear gassed migrants.
Mexico should move the flag waving Migrants, many of whom are stone cold criminals, back to their countries. Do it… https://t.co/IqgnrBTQFl

— Donald J. Trump (@Donald J. Trump) 1543231181.0
Despite this inflammatory claim, there are no legal provisions that would allow Trump to close the border in its entirety. Additionally, by law, asylum seekers must be allowed to present their case to a U.S. judge if they're able to cross the border. This means that the migrants who were tear-gassed on Sunday were not there illegally at all, and U.S. officials are required by law to consider their claim before deporting them back to Mexico. Yale Law School's Harold Hongju Koh, former legal adviser to the State Department, said that what Trump does not understand "is that everyone crossing our Southern border is not illegally present. Those with valid asylum claims have a legal right to assert those claims and remain."

But as the number of migrants waiting at the border grows and as Trump's anti-immigration policies and rhetoric cause longer and longer delays in the hearing of these cases, illegal immigration actually becomes more likely, not less. Wayne Cornelius, professor at the University of California, San Diego and expert on the border, told the New York Times, "The longer the caravaners stay in Tijuana, the more likely they are to succumb to the temptation to cross illegally into the U.S." So the Trump administration's anti-immigration stance is not only perpetuating a false impression that immigrants at the border are breaking the law, but also making the illegal immigration they're supposedly so opposed to more likely than ever.
Now, Trump is reportedly working with the Mexican government to add further peril and hardship to the journeys of these migrants. Trump tweeted on Saturday:
Migrants at the Southern Border will not be allowed into the United States until their claims are individually appr… https://t.co/1rhhYBhKvM

— Donald J. Trump (@Donald J. Trump) 1543103365.0
This provision, which the new Mexican government is reportedly agreeable to, would further violate asylum laws, which state that the United States must ensure that individuals waiting for asylum are safe not only from a hostile government, but from gangs and other threats. It would be nearly impossible for America to ensure asylum seekers this kind of protection while they're still in Mexico, and it would undoubtedly require a massive allocation of resources to do so. The American Civil Liberties Union immigration attorney Lee Gelernt told the Washington Post on Sunday night, "We believe it would be impossible for the U.S." to ensure asylum seekers safety while still in Mexico.
The truth of the matter is that these migrants are not the villains Trump has made them out to be, as they're merely seeking a better life for themselves and their families. Andrés Medina, 22, who left Honduras to escape gang recruitment and was a part of the group that rushed the crossing, said, "We've got to try one more time, we don't even have weapons." He added, "We just wanted to cross."
Brooke Ivey Johnson is a Brooklyn based writer, playwright, and human woman. To read more of her work visit her blog or follow her twitter @BrookeIJohnson.