Russian ships fired on Ukrainian sailors and illegally detained whole crews over the weekend, escalating Russia-Ukraine tensions.
Ukraine began the week by declaring martial law after six navy sailors were injured when the Russian coast guard open fired on them. Concerningly, three Ukrainian artillery ships were also seized, with their 24 crew members forcibly detained by Russian authorities.
U.S. Ambassador Nikki Haley urged Russia to "immediately cease its unlawful conduct" in the Black Sea off the coast of Crimea, which was illegally annexed by Russia in 2014. "In the name of international peace and security, Russia must immediately cease its unlawful conduct and respect the navigational rights and freedoms of all states," Haley announced at an emergency meeting of the U.N. Security Council late Monday morning.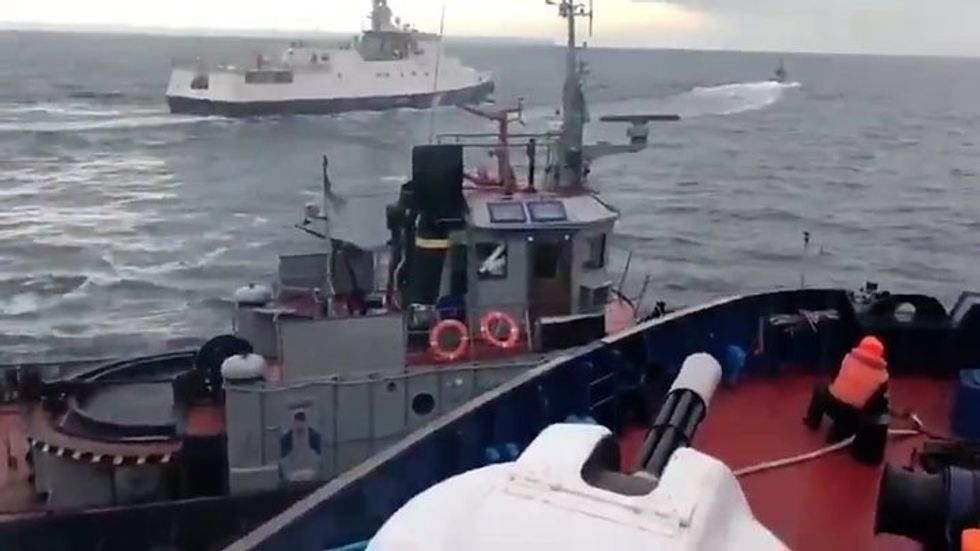 Russian vessel rams Ukrainian shipBBC
In response to the maritime incident, Ukraine's parliament overwhelmingly voted to impose martial law in the 10 regions bordering Russia. Ukrainian President Petro Poroshenko announced that martial law will last for 30 days, concluding in December, at which time he will assess the need for further action.
Poroshenko openly condemned Russia's actions, stating, "We consider it as an act of aggression against our state and a very serious threat," the president said. "Unfortunately, there are no 'red lines' for the Russian Federation." The international community has joined Ukraine in condemning Russia's actions, with NATO Secretary General Jens Stoltenberg pledging "full support for Ukraine's territorial integrity" and stating that Russia had "no justification" for the seizure of Ukraine's ships.
Russian officials dispute the details of the altercation, as the Federal Security Service contends that the skirmish was a justified response to the Ukrainian ships illegally entering territorial waters. Russia's Border Service released a statement over the weekend, stating, "The vessels are carrying out dangerous maneuvers and are disobeying the Russian authorities' demands." Ukraine denies allegations of wrongdoing, citing a 2003 treaty dictating maritime rights and protocol over the Kerch Strait where their ships were detained.
Ultimately, both governments are interpreting the incident as a fabricated aggression in order to discredit the other. Amidst an international backlash over the conflict, an arbitration court in Paris reportedly ruled that Russia owed Ukraine $1.3 billion in damages for the property seized in the annexation of Crimea. Though Russia did not comment on the ruling, they've accused the Ukrainian president of using the situation as a "dangerous provocation" that justifies the imposition of martial law, which grants him the power to manipulate Ukraine's next presidential election, scheduled for March.
It's true that President Poroshenko is currently far behind his political rival in the polls. Oksana Syroid, a deputy speaker in Ukraine's parliament, agreed, "Martial law in Ukraine would present a wonderful chance to manipulate the presidential elections." Aside from increasing the president's power, martial law would ostensibly allow the government to strengthen air defense and prepare a partial mobilization in the event of a Russian incursion. However, it could also restrict Ukrainians' civil liberties. For instance, objectors cite parliament's ambiguous wording in its plans for "strengthening" anti-terrorism measures and "information security." Three former Ukrainian presidents have already publicly opposed martial law, penning a letter that warns that it could be a "threat to democracy" in a country that found its democratic feet less than 30 years ago.
Martial law is set to begin on Wednesday, November 28. Alleged footage of the maritime clash has been leaked across news outlets and Youtube, found below.

Russian vessels fire at and seize Ukrainian ships youtu.be
Meg Hanson is a Brooklyn-based writer, teacher, and jaywalker. Find Meg at her website and on Twitter @megsoyung
Trump says he will announce her replacement in two to three weeks' time.
President Trump's ambassador to the United Nations, Nikki R. Haley, announced this morning that she will be resigning at the end of the year.
Haley, a former governor of South Carolina, was appointed as ambassador in 2016 shortly after Trump's election. She was an outspoken critic of Trump prior to his election, so when he named her the envoy to the world body the appointment was seen as a peacekeeping move.
However, it appears any previously existing tension between them has been resolved, as the two continually emphasized their admiration for each other in an oval office press conference this morning. Trump said he believes Haley has helped make the position of UN ambassador "more glamorous" and "more important," and said that "many people" want the job. He went on to say that, "She's done a fantastic job, and we've done a fantastic job together," adding that Haley has been, "very special to me." Trump says he will announce the name of the new ambassador in two to three weeks.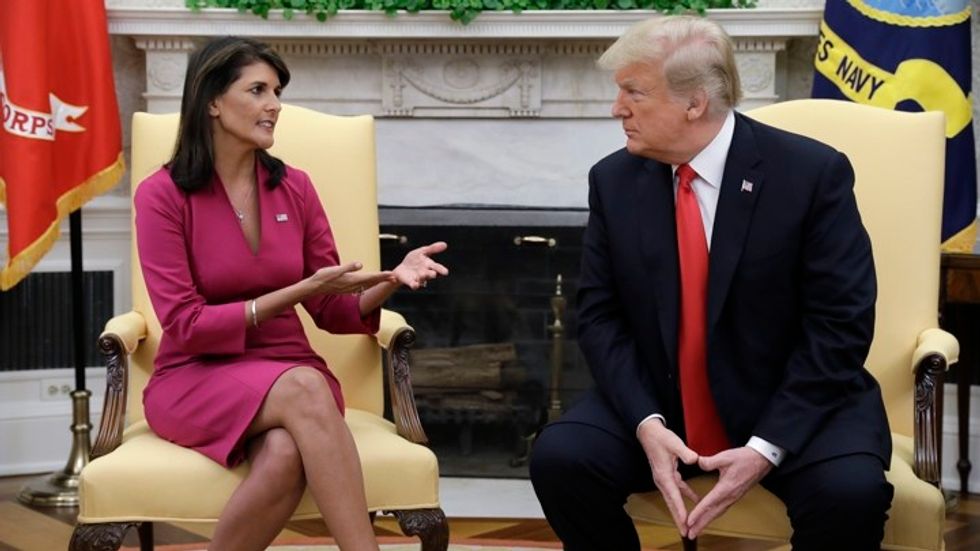 Associated Press
Trump claimed that Haley informed him of her plan to resign several months ago, but The Hill reports that Haley's staff and Secretary of State, Mike Pompeo, were supposedly "blindsided" by the news. President Trump said regarding Pompeo, "I can speak for Secretary of State Mike Pompeo. He thinks the world of Nikki." Pompeo has yet to comment on Haley's resignation.
Despite the abrupt nature of her departure, Haley was considered by many to have been a stabilizing force within the Trump administration. The New York Times describes her as, "someone whom foreign diplomats looked to for guidance from an administration known for haphazard and inconsistent policy positions."
Peter Yeo, a U.N. Foundation official, told the Washington Post that Haley, "was critical in ushering in U.N. reforms in partnership with the secretary general, and she took a thoughtful approach to peacekeeping and national security issues." He went on to say, "There certainly were great areas of contention between the United States and the U.N. But she played a very important and constructive role."
Haley was the first cabinet United Nations ambassador for a Republican administration since the end of the Cold War. There has been some past speculation that Haley saw the position as a way to climb to a higher political post, which Trump may have resented. But Haley put any rumors of a 2020 presidential run to rest this morning, saying, "For all of you that are going to ask about 2020, no, I'm not running for 2020," Haley said. "I can promise you what I'll be doing is campaigning for this one. So I look forward to supporting the president in the next election."

Haley described her job as US ambassador to the United Nations as the "honor of a lifetime."
Brooke Ivey Johnson
is a Brooklyn based writer, playwright, and human woman. To read more of her work visit her
blog
or follow her twitter
@BrookeIJohnson