Navva
Many wealthy clients pay more for private firefighters in 6 months than civil servant firefighters earn in a year.
With the Woolsey fire having scorched almost 100,000 acres and claimed 59 lives as of Thursday, some homes are safer than others. Private firefighters in the employ of select insurance companies protect homes of those who can afford the fee.
Take Kim Kardashian and Kanye West's $50-60 million home, for instance. When the fires approached the closed community of Hidden Hills, California where the Wests and other high profile figures reside, private firefighters were able to save the community from ashen ruin.
Kardashian West shared her fears and gratitude on Twitter last week, posting, "I heard the flames have hit our property at our home in Hidden Hills but now are more contained and have stopped at the moment...God is good. I'm just praying everyone is safe."
I heard the flames have hit our property at our home in Hidden Hills but now are more contained and have stopped at… https://t.co/XXBip2KS1x

— Kim Kardashian West (@Kim Kardashian West) 1541803079.0
While no one begrudges the preservation of home and personal safety, the elite community's usage of private firefighters sounds alarms of celebrity privilege out of control, capitalist evaluation of human life, and class differences demarcating who survives natural disasters. Insurance companies are already built on predatory privatization, but some like AIG and Chubb offer private Wildfire Defense Systems. In California, Chubb runs 53 engines to protect around 1,000 fee-payers' homes.

Yet privatized firefighting is far from novel. In fact, the practice invokes a shameful history of privatized life-saving services that dates back to 18th century London. In the U.S. before governments became centralized to fund public services like fire departments, those jobs were seen as a civic duty. Volunteer "fire clubs" were respected pillars in society wherein men were proud to defend their local communities.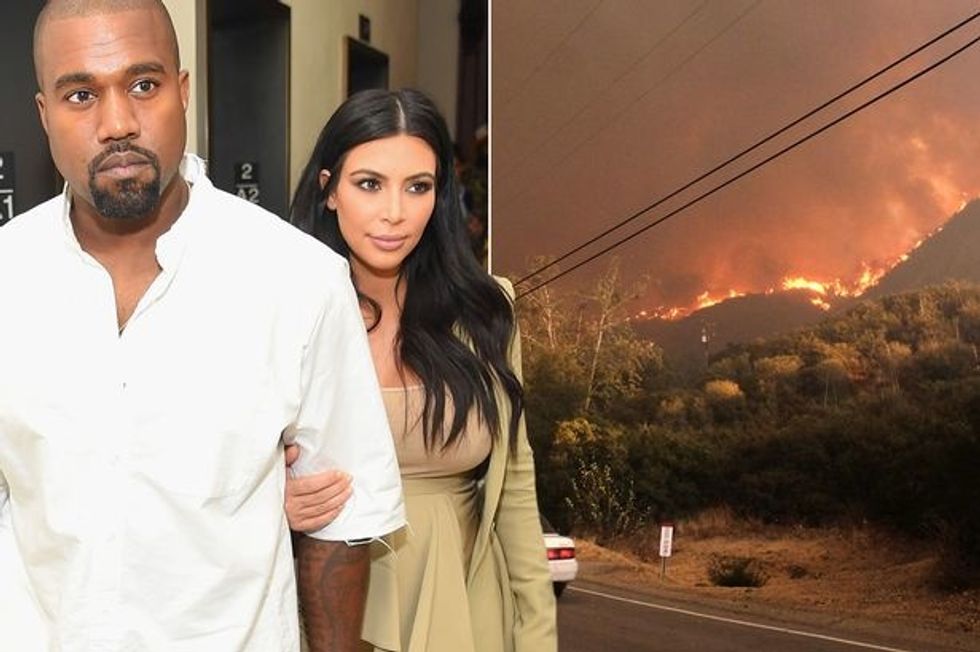 Mirror
However, reviving private contractors to specialize public-goods services speaks to concerns about quality and accessibility–not to mention elitism. Author and historian Amy Greenberg surveyed the legacy of fire departments in her book Cause for Alarm: The Volunteer Fire Department in the Nineteenth-Century City. In an email to The Atlantic, she finds the notion of celebrities' firefighters alarming.

Greenberg stated, "This isn't a story of the kooky Kardashians doing things in the most publicity-friendly manner possible. It's a story of the ramifications of economic disparity in this country. Frankly, I'm flabbergasted." She continued, "Firefighters are consistently ranked the most beloved public servants, not just because they look good on calendars but because they treat everyone equally. Rich people don't get their own 'better' firefighters, or at least they aren't supposed to."
Are private firefighters better? AIG's firefighters are certified through state or local authorities. According to AIG's website, "The Wildfire Protection Unit is not a private fire department; it's a loss mitigation service designed to pre-empt damage well before a wildfire even ignites." Policyholders qualify for private services by paying premiums of at least $10,000 to protect homes valued at $1 million minimum. In return, approximately 256 private firefighting companies offer services such as "complimentary" at-home consultations, ongoing monitoring from 24/7 "specialists" who track fire conditions, and treatments of their property with flame retardants, in addition to dispatched "wildfire mitigation specialists" in the event of fire emergencies.
NBC reports that 42% of Forbes' list of the 400 richest Americans are enrolled in AIG protection.
After Hidden Hills was spared from fire damage, Kardashian West followed up with a tweet commending and thanking California firefighters, urging those who can to support and donate the California Fire Foundation, which is a non-profit organization that supports state-employed firefighters, their families, and communities.
Grateful for the heroic @CAFirefighters battling the #CampFire #HillFire and #WoolseyFire and getting people to saf… https://t.co/Al7zr1k6l7

— Kim Kardashian West (@Kim Kardashian West) 1541886262.0
While the message is universally agreeable, the messenger would be laughable if it weren't so egregious. The firefighters who saved the Kardashian-West neighborhood were private employees for clients who can pay at least $10,000 per month for their protection. While no less courageous, they were not civil servants. According to Business Insider, the approximate 13,000 California state firefighters laboring to contain loss of life and property earn an average yearly salary of $58,000, or $33 an hour.

Meg Hanson is a Brooklyn-based writer, teacher, and jaywalker. Find Meg at her website and on Twitter @megsoyung.