In a shocking upset, Kanye 2020 turned out to be exactly as misguided as it always seemed.
Americans went to bed last night in state of tense uncertainty that we wished to end, but we've woken up to a finality that many of us are unwilling to face: Kanye West has conceded defeat in the presidential election.
The second most delusional narcissist in the race, Kanye launched his campaign brimming with blind ambition and some deeply offensive takes on Harriet Tubman, of all people. But when he finally ended the saga, it was without fanfare.
After celebrating his first ever presidential vote (for himself, of course), he delivered the sad news to his Twitter followers in the raw hours of Wednesday morning—when enough votes had been counted to confirm that he was not even close to getting a percentage of the vote in literally any state.

I will beat Biden off of write ins #2020VISION

— ye (@ye) 1595701286.0
While early on in his campaign it had looked like there was a real and frightening potential for Kanye to become a so-called "spoiler" candidate—attracting enough voters away from a major-party candidate to tip the results—it doesn't look like that panned out.
Though he received a lot of support from Republican operatives—along with plenty of bad advice from the president's First Son-in-Law Jared Kushner—Kanye was not able to get on the ballot in the handful of states where his vote total might have made an appreciable difference. And his outsized confidence in his ability to attract write-in votes appears to have been misplaced.

Kanye put a lot of work into his campaign—including improperly using celebrity images and nearly trashing his marriage to Kim Kardashian West by tearfully sharing their private history with the issue of abortion, then implying that she had cheated on him... But ultimately, it wasn't enough to overcome the dominance of America's two-party system...or the general sense that he was still a Trump stooge who had lost his grip on reality.
Kanye Said Harriet Tubman "Never Freed Slaves" During His First Presidential Rally www.youtube.com
Which brings us to this morning. With just around 60,000 votes for West currently tallied across the 12 states where he was on the ballot—amounting to about 0.2-0.3% of the vote in states like Colorado, Tennessee, and Vermont—Kanye did the only rational thing...by declaring his candidacy for 2024.

His initial tweet, "WELP KANYE 2024," has since been deleted and reposted without the "WELP," putting it in line with the more formal tradition of a three-year-early declaration. Still, it makes substantially more sense than announcing a presidential bid four months before the election. So...good for him.
Of course, it would be foolish to discount the chances of a billionaire reality TV star, self-promoting entrepreneur, and previously failed third-party candidate becoming president. After all, that was Donald Trump back in 2015. But whatever Kanye's prospects are as a future presidential candidate, for the time being, he will go back to being a musician, fashion designer, and possible aspiring cult leader. We can only hope that the same will be true of Donald Trump, once the results make it clear that he has lost too.
For the time being, that looks unlikely. Donald Trump, who spent much of recent months railing against mail-in voting and downplaying the threat of the deadly coronavirus pandemic—the threat which motivated the surge in mail-in ballots—is now expressing shock and suspicion that more of his supporters didn't vote by mail, meaning that the remaining ballots lean overwhelmingly toward Joe Biden. We should not be holding out for a "WELP TRUMP 2024" tweet anytime soon.
But as the results and the legal battles of the 2020 election unfold in the coming days—with the entire nation holding its breath—maybe we can at least leave behind whatever anxiety we had about Kanye's involvement in the whole mess. We can go back to listening to Late Registration with some added amusement—looking back at the strangeness of his rushed and erratic campaign with the clarity of hindsight about the "2020 vision" that Kanye promised us.
Keep reading...
Show less
A vote for Kanye is a vote for the spoiler effect.
When Kanye West announced he was running for president on July 4th 2020, most people thought it was just a joke or maybe a publicity stunt.
But he will now officially appear on the ballot in Arkansas, Oklahoma, and Missouri and is making an effort to appear on several other states' ballots. However, that doesn't mean you should consider him to be a viable candidate, and here's why:
So don't vote for Kanye, not even as a joke. Voting is an essential part of American democracy, and voting for a candidate who can't win and would make a bad president is not a very funny joke.
For more well-researched, unbiased information on today's biggest issues, follow Alexandra's Instagram account The Factivists.
Keep reading...
Show less
Many wealthy clients pay more for private firefighters in 6 months than civil servant firefighters earn in a year.
With the Woolsey fire having scorched almost 100,000 acres and claimed 59 lives as of Thursday, some homes are safer than others. Private firefighters in the employ of select insurance companies protect homes of those who can afford the fee.
Take Kim Kardashian and Kanye West's $50-60 million home, for instance. When the fires approached the closed community of Hidden Hills, California where the Wests and other high profile figures reside, private firefighters were able to save the community from ashen ruin.
Kardashian West shared her fears and gratitude on Twitter last week, posting, "I heard the flames have hit our property at our home in Hidden Hills but now are more contained and have stopped at the moment...God is good. I'm just praying everyone is safe."
I heard the flames have hit our property at our home in Hidden Hills but now are more contained and have stopped at… https://t.co/XXBip2KS1x

— Kim Kardashian West (@Kim Kardashian West) 1541803079.0
While no one begrudges the preservation of home and personal safety, the elite community's usage of private firefighters sounds alarms of celebrity privilege out of control, capitalist evaluation of human life, and class differences demarcating who survives natural disasters. Insurance companies are already built on predatory privatization, but some like AIG and Chubb offer private Wildfire Defense Systems. In California, Chubb runs 53 engines to protect around 1,000 fee-payers' homes.

Yet privatized firefighting is far from novel. In fact, the practice invokes a shameful history of privatized life-saving services that dates back to 18th century London. In the U.S. before governments became centralized to fund public services like fire departments, those jobs were seen as a civic duty. Volunteer "fire clubs" were respected pillars in society wherein men were proud to defend their local communities.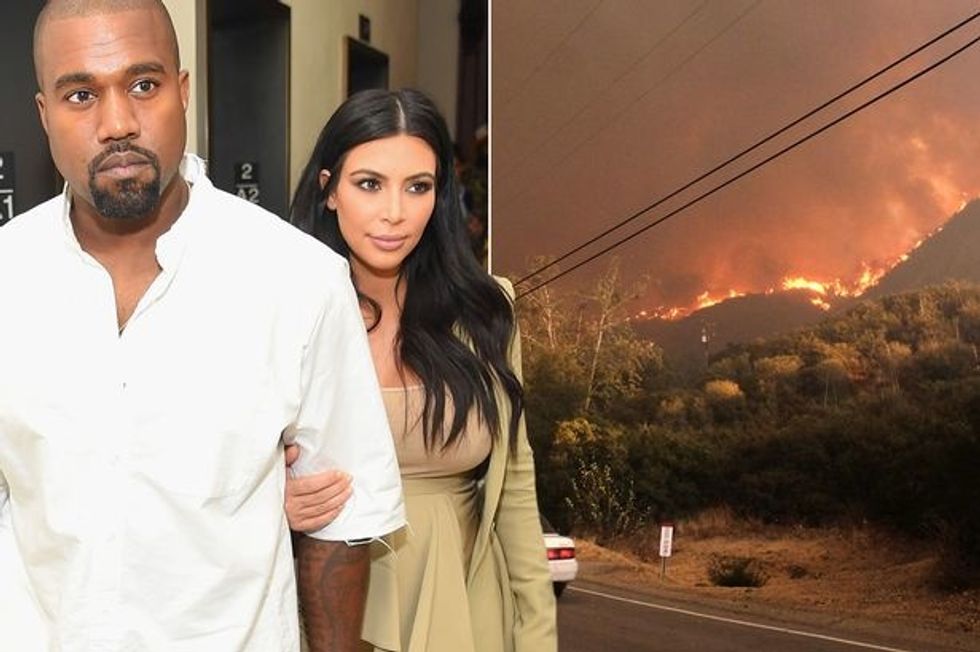 Mirror
However, reviving private contractors to specialize public-goods services speaks to concerns about quality and accessibility–not to mention elitism. Author and historian Amy Greenberg surveyed the legacy of fire departments in her book Cause for Alarm: The Volunteer Fire Department in the Nineteenth-Century City. In an email to The Atlantic, she finds the notion of celebrities' firefighters alarming.

Greenberg stated, "This isn't a story of the kooky Kardashians doing things in the most publicity-friendly manner possible. It's a story of the ramifications of economic disparity in this country. Frankly, I'm flabbergasted." She continued, "Firefighters are consistently ranked the most beloved public servants, not just because they look good on calendars but because they treat everyone equally. Rich people don't get their own 'better' firefighters, or at least they aren't supposed to."
Are private firefighters better? AIG's firefighters are certified through state or local authorities. According to AIG's website, "The Wildfire Protection Unit is not a private fire department; it's a loss mitigation service designed to pre-empt damage well before a wildfire even ignites." Policyholders qualify for private services by paying premiums of at least $10,000 to protect homes valued at $1 million minimum. In return, approximately 256 private firefighting companies offer services such as "complimentary" at-home consultations, ongoing monitoring from 24/7 "specialists" who track fire conditions, and treatments of their property with flame retardants, in addition to dispatched "wildfire mitigation specialists" in the event of fire emergencies.
NBC reports that 42% of Forbes' list of the 400 richest Americans are enrolled in AIG protection.
After Hidden Hills was spared from fire damage, Kardashian West followed up with a tweet commending and thanking California firefighters, urging those who can to support and donate the California Fire Foundation, which is a non-profit organization that supports state-employed firefighters, their families, and communities.
Grateful for the heroic @CAFirefighters battling the #CampFire #HillFire and #WoolseyFire and getting people to saf… https://t.co/Al7zr1k6l7

— Kim Kardashian West (@Kim Kardashian West) 1541886262.0
While the message is universally agreeable, the messenger would be laughable if it weren't so egregious. The firefighters who saved the Kardashian-West neighborhood were private employees for clients who can pay at least $10,000 per month for their protection. While no less courageous, they were not civil servants. According to Business Insider, the approximate 13,000 California state firefighters laboring to contain loss of life and property earn an average yearly salary of $58,000, or $33 an hour.

Meg Hanson is a Brooklyn-based writer, teacher, and jaywalker. Find Meg at her website and on Twitter @megsoyung.