In a shocking upset, Kanye 2020 turned out to be exactly as misguided as it always seemed.
Americans went to bed last night in state of tense uncertainty that we wished to end, but we've woken up to a finality that many of us are unwilling to face: Kanye West has conceded defeat in the presidential election.
The second most delusional narcissist in the race, Kanye launched his campaign brimming with blind ambition and some deeply offensive takes on Harriet Tubman, of all people. But when he finally ended the saga, it was without fanfare.
After celebrating his first ever presidential vote (for himself, of course), he delivered the sad news to his Twitter followers in the raw hours of Wednesday morning—when enough votes had been counted to confirm that he was not even close to getting a percentage of the vote in literally any state.

I will beat Biden off of write ins #2020VISION

— ye (@ye) 1595701286.0
While early on in his campaign it had looked like there was a real and frightening potential for Kanye to become a so-called "spoiler" candidate—attracting enough voters away from a major-party candidate to tip the results—it doesn't look like that panned out.
Though he received a lot of support from Republican operatives—along with plenty of bad advice from the president's First Son-in-Law Jared Kushner—Kanye was not able to get on the ballot in the handful of states where his vote total might have made an appreciable difference. And his outsized confidence in his ability to attract write-in votes appears to have been misplaced.

Kanye put a lot of work into his campaign—including improperly using celebrity images and nearly trashing his marriage to Kim Kardashian West by tearfully sharing their private history with the issue of abortion, then implying that she had cheated on him... But ultimately, it wasn't enough to overcome the dominance of America's two-party system...or the general sense that he was still a Trump stooge who had lost his grip on reality.
Kanye Said Harriet Tubman "Never Freed Slaves" During His First Presidential Rally www.youtube.com
Which brings us to this morning. With just around 60,000 votes for West currently tallied across the 12 states where he was on the ballot—amounting to about 0.2-0.3% of the vote in states like Colorado, Tennessee, and Vermont—Kanye did the only rational thing...by declaring his candidacy for 2024.

His initial tweet, "WELP KANYE 2024," has since been deleted and reposted without the "WELP," putting it in line with the more formal tradition of a three-year-early declaration. Still, it makes substantially more sense than announcing a presidential bid four months before the election. So...good for him.
Of course, it would be foolish to discount the chances of a billionaire reality TV star, self-promoting entrepreneur, and previously failed third-party candidate becoming president. After all, that was Donald Trump back in 2015. But whatever Kanye's prospects are as a future presidential candidate, for the time being, he will go back to being a musician, fashion designer, and possible aspiring cult leader. We can only hope that the same will be true of Donald Trump, once the results make it clear that he has lost too.
For the time being, that looks unlikely. Donald Trump, who spent much of recent months railing against mail-in voting and downplaying the threat of the deadly coronavirus pandemic—the threat which motivated the surge in mail-in ballots—is now expressing shock and suspicion that more of his supporters didn't vote by mail, meaning that the remaining ballots lean overwhelmingly toward Joe Biden. We should not be holding out for a "WELP TRUMP 2024" tweet anytime soon.
But as the results and the legal battles of the 2020 election unfold in the coming days—with the entire nation holding its breath—maybe we can at least leave behind whatever anxiety we had about Kanye's involvement in the whole mess. We can go back to listening to Late Registration with some added amusement—looking back at the strangeness of his rushed and erratic campaign with the clarity of hindsight about the "2020 vision" that Kanye promised us.
Keep reading...
Show less
Plus celebrities react to Nigerian protests.
Young people across Nigeria have been pouring into the streets for the last two weeks to protest police brutality, specifically the controversial special police force known as the Special Anti-Robbery Squad (SARS).
Tension came to a head on Tuesday when armed forces fired on protestors in Lagos, the biggest city in Nigeria, who were out past the state-mandated curfew. According to AP News, "Police also fired tear gas at one point, and smoke could be seen billowing from several areas in the city's center. Two private TV stations were forced off the air at least temporarily as their offices were burned."
According to Amnesty International, police have killed at least ten peaceful protestors and injured dozens more since the protests started.
The Nigerian people's protestation against SARS is nothing new. The #EndSARS hashtag first went viral in Nigeria in 2017. It was spurred by citizens' reports of harassment, abuse, extortion, torture, and kidnapping at the hands of SARS officers. While Nigerian leaders promised to reform SARS in 2018, protestors maintain there has been little meaningful change and are now doubtful of renewed promises.
What Is SARS doing?
Indeed, according to a harrowing report from Amnesty International, there have been at least 82 cases of severe police brutality since SARS was supposedly reformed two years ago. The report reads: "Detainees in SARS custody have been subjected to a variety of methods of torture including hanging, mock execution, beating, punching and kicking, burning with cigarettes, waterboarding, near-asphyxiation with plastic bags, forcing detainees to assume stressful bodily positions and sexual violence." It continues, Findings from our research indicate that few cases are investigated and hardly any officers are brought to justice on account of torture and other ill-treatment."
SARS was created in the 1990s as a special force meant to handle serious crimes in Nigeria including kidnapping, robbery, and murder. But since its inception, it's morphed into an abusive arm of the government used to intimidate and even torture supposed "criminals." Protestors claim that officers are essentially never brought to justice even when victims manage to bring complaints against them. As CNN states, the force has "become notorious for alleged abuses committed with apparent impunity." There are also myriad reports of SARS officers financially extorting the people they detain.
Global Citizen specifies, "At the time it was created, Nigeria had a big security problem that citizens argue now no longer exists. Over the years, the squad — and by extension the Nigerian police — have been repeatedly caught on video carrying out beatings and shooting at unarmed citizens, often without any consequences."
Celebrities Raise Awareness
The #EndSARS campaign and the related protests in Nigeria have come to international attention, in large part thanks to a growing roster of celebrities who have vocalized their support for the protestors. These celebrities include the always unpredictable Kanye West, who tweeted Monday: "I stand with my Nigerian brothers and sisters to end police brutality, the government must answer to the peoples cries #EndPoliceBrutalityinNigeria"
Other celebrities include Trey Songz who tweeted, "After doing a little research I would like to speak out against what's going on in Nigeria right now. Their pleas to #EndSarsNow IS VERY REAL. I have so much love for my Nigerian fans and it's so hurtful to hear whats happening."
Star Wars actor John Boyega also chimed in on Twitter to say, "The youth in Nigeria deserve good leadership and guidance. This situation is tied to many other issues. Please lend your attention to this pressing problem! #EndSARSImmediately #EndSarsProtests #EndSARS #EndSARSProtest"
Former football star Rio Ferdinand sent his love to protestors via Twitter.
Nigerian celebrities have also vocalized their support of the movement. Davido, Burna Boy, Adesua Etomi-Wellington, Runtown, and Falz have all spoken out in support of the protestors.
How the Nigerian Government Is Responding to #EndSARS Protests

In response to the heightening protests, inspector General of Police, Mohammed Abubakar Adamu, announced on October 11th that SARS would be disbanded. The next day, the President of Nigeria, Muhammadu Buhari, released a video in which he appeared to sympathize with protestors, he said that the disbanding of SARS was "only the first step" in more sweeping reform of the country's criminal justice system. He also assured the nation that, "We will also ensure that all those responsible for misconduct or wrongful acts are brought to justice."

But Nigerians are rightfully suspicious of these promises, given that they were told very similar things two years ago only to experience increasingly violent, extortionist police tactics. Now, protestors are demanding more widespread reforms to end the extensive human rights violations allegedly carried out by all branches of Nigerian security forces as well as the rampant government corruption.
Given that protestors were shot with tear gas and allegedly fired on with live ammunition even after SARS was supposedly disbanded, it's clear that the government has many steps left to take before they can expect protestors to be satisfied.
How Can You Help?
1. Seek out accurate information
As with most things, there is an abundance of misinformation out there about the #EndSARS movement. Make sure you're reading reliable, fact-checked sources (we recommend unbiased resources like AP News and Reuters). Or even better, read first hand accounts of what's happening in Nigeria on this website created by activists to document accounts, videos, and photos of the abuse individuals have suffered at the hands of corrupt Nigerian law enforcement.

2. Spread the message
The majority of the organizing surrounding these protests is being done online, specifically through Twitter, so social media is a great tool to spread awareness and accurate information about the #EndSARS movement. As of Friday, October 16 there had been nearly 3.3 million tweets with 744,000 retweets of posts containing the #EndSARS hashtag.
Sharing this simple Tweet that outlines the protestors five demands is a great place to start.
3. Donate funds
The way you can likely be the most helpful to the young revolutionaries in Nigeria is through financial support. Never donate to a fund that you don't have substantial evidence is going directly to the protestors in question, and try to stick to funds that offer detailed reporting of how the funds are being used. For example, we recommend donating to the Feminist Coalition, which has raised more than 70 million Naira (about $180,000) for protestors in Nigeria.
Keep reading...
Show less
A vote for Kanye is a vote for the spoiler effect.
When Kanye West announced he was running for president on July 4th 2020, most people thought it was just a joke or maybe a publicity stunt.
But he will now officially appear on the ballot in Arkansas, Oklahoma, and Missouri and is making an effort to appear on several other states' ballots. However, that doesn't mean you should consider him to be a viable candidate, and here's why:
So don't vote for Kanye, not even as a joke. Voting is an essential part of American democracy, and voting for a candidate who can't win and would make a bad president is not a very funny joke.
For more well-researched, unbiased information on today's biggest issues, follow Alexandra's Instagram account The Factivists.
Keep reading...
Show less
Kanye West's presidential campaign might be a consequence of a manic episode that deserves sympathy and understanding, but if Kanye gains traction, he has the potential to hurt all of us.
Since he announced his presidential campaign on July 4th, Kanye West has been the subject of endless press, headlines, and speculations—both about his mental health and his ability to harm American democracy.
We must now realize the promise of America by trusting God, unifying our vision and building our future. I am runni… https://t.co/MySzN3vjIB

— ye (@ye) 1593909493.0
West's campaign has been a labyrinth of twists and turns from start to finish. After he posted the initial announcement of his campaign on Twitter (and garnered millions of likes and an endorsement from Elon Musk), he described his platform as "anti-abortion" and "anti-vaccination" in a Forbes interview.

West, who has previously expressed support for Donald Trump, appears to be running on his own platform, which he calls "The Birthday Party," "because when we win, it's everybody's birthday," he said.
Though he launched his campaign after the filing deadline in many states, he paid the $35,000 fee to appear on the ballot in Oklahoma and appears to be encouraging people to vote for him, and he seems to be campaigning seriously.
The problem here is that we also have one of the most important elections of all time coming up, and we can't rule out the chance that Kanye's candidacy might present a potential threat to Joe Biden's campaign.
A Tumultuous Rally Leads Kim Kardashian to Call for Grace and Understanding
After an emotional campaign rally in South Carolina, Kanye wrote a series of tweets which led many people to worry about his mental health. West openly discussed his daughter North West and told the world that he and Kim considered aborting her until Kanye received a sign from God through his laptop. "My screen went black and white. And God said, 'If you f–k with my vision, I f–k with yours' … And I called my girlfriend and said, 'We're going to have this child,'" West said. He also maligned Harriet Tubman and said she "never actually freed the slaves, she just had them work for other white people."
Kim Kardashian followed up West's announcement with a call for privacy and compassion.
"As many of you know, Kanye has bi-polar disorder," she wrote. "Anyone who has this or has a loved one in their life who does, knows how incredibly complicated and painful it is to understand…" She continued, "I understand Kanye is subject to criticism because he is a public figure and his actions at times can cause strong opinions and emotions. He is a brilliant but complicated person who on top of the pressure of being an artist and a black man, who experienced the painful loss of his mother and has to deal with the pressure and isolation that is heightened by his bi-polar disorder. Those who are close with Kanye know his heart and understand his words some times do not align with his intentions.
"Living with bi-polar disorder does not diminish or invalidate his dreams and his creative ideas, no matter how big or unobtainable they may feel to some. That is part of his genius and as we have all witnessed, many of his big dreams have come true.
"We as a society talk about giving grace to the issue of mental health as a whole, however we should also give it to the individuals who are living with it in times when they need it the most. I kindly ask that the media and public give us the compassion and empathy that is needed so that we can get through this. Thank you for those who have expressed concern for Kanye's well being and for your understanding."
West then tweeted an apology to Kim:
Kardashian West reportedly flew out to Wyoming for an emotional visit with Kanye following the rally and statement. Tabloids report that their marriage is on the rocks. According to People, the couple has flown to a private resort in the Caribbean to focus on their marriage. "They've decided to travel together so they can be away in private," said a source, "and Kardashian is 'exhausted'." Reportedly politics is off the table for this last-ditch effort to save their marriage.

The Complexities of Discussing Kanye's Bipolar Disorder
West's bipolar disorder has been public knowledge for a while now, and many believe this presidential campaign is a result of a manic episode. Certainly West deserves infinite compassion during episodes, as does anyone struggling with mental illness. "No jokes right now," wrote singer Halsey on Twitter. "I have dedicated my career to offering education and insight about bipolar disorder and I'm so disturbed by what I'm seeing. Personal opinions about someone aside, a manic episode isnt [sic] a joke. If you can't offer understanding or sympathy, offer your silence."
And Nylah Burton wrote, "Having a 'laugh' about how he expresses himself still perpetuates ableism, even while West is incredibly wealthy and famous. And ableism affects people with much less privilege than him."
The situation is, all in all, extremely nuanced. "When Kanye says terrible things about our heroes and about Black people in general, those comments hurt, especially for Black women," writes Jenn M. Jackson for Teen Vogue. "We have to be clear, though, that racism, bigotry, misogynoir, and other hateful language are not related to mental illness." This is, Jackson says, a "both/and" moment: a time where "we must both recognize the complex nature of mental health in Black communities and in society at-large. We must also protect those who are most vulnerable to harm."
The Importance of November: We Need to Take All Campaign Threats Seriously
Over the past few weeks, lawyers with GOP ties have helped West get his name on the ballots in various states. In Colorado, former Republican Congressional candidate Matthew Zielinski helped West qualify for the ballot, and a similar pattern keeps playing out. In Wisconsin, a GOP strategist and lawyer named Lane Ruhland attempted to deliver West's signatures (apparently he was about a minute too late).
All this GOP support for Kanye has prompted concern that his campaign might be an effort to draw voters away from Joe Biden, rumors which West refused to deny.

In a text message correspondence with a Forbes journalist on Thursday, West was confronted with the fact that he's only filed enough paperwork to appear on eight ballots, which will not be enough to bring him to the Oval Office. When asked if his aim was to siphon votes from Joe Biden, West wrote, "I'm not going to argue with you." When asked again, he said, "I'm not denying it; I just told you."
After the quotes aired, West tweeted, "THE GOAL IS TO WIN." Yesterday, Trump appeared to be unfazed by West. "I like Kanye very much," Trump said yesterday. "No, I have nothing to do with him getting on the ballot. We'll have to see what happens."

Even non-viable third party candidates can present threats to major candidates. (Trump won by only 22,000 votes in Wisconsin).

Kanye deserves compassion and understanding—but also, bipolar disorder doesn't force people to run dangerous campaigns. We also all deserve to see Trump ousted this November. So while Kanye's mental illness should be discussed with nuance and grace, his campaign needs to be shut down, lest we be faced with another four years of disaster.
Keep reading...
Show less
Many wealthy clients pay more for private firefighters in 6 months than civil servant firefighters earn in a year.
With the Woolsey fire having scorched almost 100,000 acres and claimed 59 lives as of Thursday, some homes are safer than others. Private firefighters in the employ of select insurance companies protect homes of those who can afford the fee.
Take Kim Kardashian and Kanye West's $50-60 million home, for instance. When the fires approached the closed community of Hidden Hills, California where the Wests and other high profile figures reside, private firefighters were able to save the community from ashen ruin.
Kardashian West shared her fears and gratitude on Twitter last week, posting, "I heard the flames have hit our property at our home in Hidden Hills but now are more contained and have stopped at the moment...God is good. I'm just praying everyone is safe."
I heard the flames have hit our property at our home in Hidden Hills but now are more contained and have stopped at… https://t.co/XXBip2KS1x

— Kim Kardashian West (@Kim Kardashian West) 1541803079.0
While no one begrudges the preservation of home and personal safety, the elite community's usage of private firefighters sounds alarms of celebrity privilege out of control, capitalist evaluation of human life, and class differences demarcating who survives natural disasters. Insurance companies are already built on predatory privatization, but some like AIG and Chubb offer private Wildfire Defense Systems. In California, Chubb runs 53 engines to protect around 1,000 fee-payers' homes.

Yet privatized firefighting is far from novel. In fact, the practice invokes a shameful history of privatized life-saving services that dates back to 18th century London. In the U.S. before governments became centralized to fund public services like fire departments, those jobs were seen as a civic duty. Volunteer "fire clubs" were respected pillars in society wherein men were proud to defend their local communities.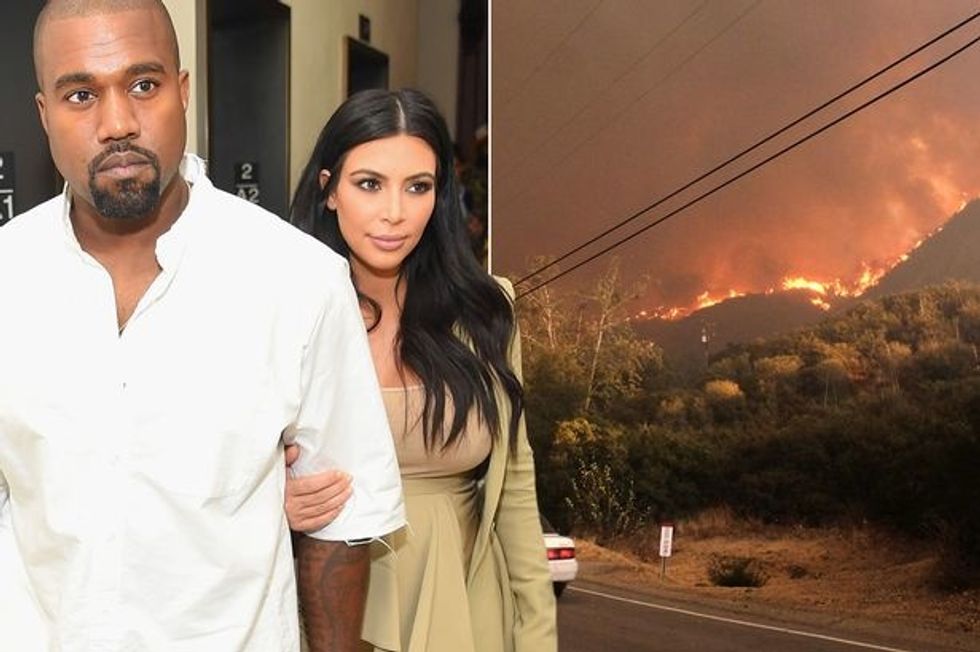 Mirror
However, reviving private contractors to specialize public-goods services speaks to concerns about quality and accessibility–not to mention elitism. Author and historian Amy Greenberg surveyed the legacy of fire departments in her book Cause for Alarm: The Volunteer Fire Department in the Nineteenth-Century City. In an email to The Atlantic, she finds the notion of celebrities' firefighters alarming.

Greenberg stated, "This isn't a story of the kooky Kardashians doing things in the most publicity-friendly manner possible. It's a story of the ramifications of economic disparity in this country. Frankly, I'm flabbergasted." She continued, "Firefighters are consistently ranked the most beloved public servants, not just because they look good on calendars but because they treat everyone equally. Rich people don't get their own 'better' firefighters, or at least they aren't supposed to."
Are private firefighters better? AIG's firefighters are certified through state or local authorities. According to AIG's website, "The Wildfire Protection Unit is not a private fire department; it's a loss mitigation service designed to pre-empt damage well before a wildfire even ignites." Policyholders qualify for private services by paying premiums of at least $10,000 to protect homes valued at $1 million minimum. In return, approximately 256 private firefighting companies offer services such as "complimentary" at-home consultations, ongoing monitoring from 24/7 "specialists" who track fire conditions, and treatments of their property with flame retardants, in addition to dispatched "wildfire mitigation specialists" in the event of fire emergencies.
NBC reports that 42% of Forbes' list of the 400 richest Americans are enrolled in AIG protection.
After Hidden Hills was spared from fire damage, Kardashian West followed up with a tweet commending and thanking California firefighters, urging those who can to support and donate the California Fire Foundation, which is a non-profit organization that supports state-employed firefighters, their families, and communities.
Grateful for the heroic @CAFirefighters battling the #CampFire #HillFire and #WoolseyFire and getting people to saf… https://t.co/Al7zr1k6l7

— Kim Kardashian West (@Kim Kardashian West) 1541886262.0
While the message is universally agreeable, the messenger would be laughable if it weren't so egregious. The firefighters who saved the Kardashian-West neighborhood were private employees for clients who can pay at least $10,000 per month for their protection. While no less courageous, they were not civil servants. According to Business Insider, the approximate 13,000 California state firefighters laboring to contain loss of life and property earn an average yearly salary of $58,000, or $33 an hour.

Meg Hanson is a Brooklyn-based writer, teacher, and jaywalker. Find Meg at her website and on Twitter @megsoyung.