"A tree is best measured when it is down," the poet Carl Sandburg once observed, "and so it is with people." The recent death of Harry Belafonte at the age of 96 has prompted many assessments of what this pioneering singer-actor-activist accomplished in a long and fruitful life.
Belafonte's career as a ground-breaking entertainer brought him substantial wealth and fame; according to Playbill magazine, "By 1959, he was the highest paid Black entertainer in the industry, appearing in raucously successful engagements in Las Vegas, New York, and Los Angeles." He scored on Broadway, winning a 1954 Tony for Best Featured Actor in a Musical – John Murray Anderson's Almanac. Belafonte was the first Black person to win the prestigious award. A 1960 television special, "Tonight with Belafonte," brought him an Emmy for Outstanding Performance in a Variety or Musical Program or Series, making him the first Black person to win that award. He found equal success in the recording studio, bringing Calypso music to the masses via such hits as "Day-O (The Banana Boat Song)" and "Jamaica Farewell."
Harry Belafonte - Day-O (The Banana Boat Song) (Live)www.youtube.com
Belafonte's blockbuster stardom is all the more remarkable for happening in a world plagued by virulent systemic racism. Though he never stopped performing, by the early 1960s he'd shifted his energies to the nascent Civil Right movement. He was a friend and adviser to the Reverend Doctor Martin Luther King, Jr. and, as the New York Times stated, Belafonte "put up much of the seed money to help start the Student Nonviolent Coordinating Committee and was one of the principal fund-raisers for that organization and Dr. King's Southern Christian Leadership Conference."
The Southern Poverty Law Center notes that "he helped launch one of Mississippi's first voter registration drives and provided funding for the Freedom Riders. His activism extended beyond the U.S. as he fought against apartheid alongside Nelson Mandela and Miriam Makeba, campaigned for Mandela's release from prison, and advocated for famine relief in Africa." And in 1987, he received an appointment to UNICEF as a goodwill ambassador.
Over a career spanning more than seventy years, Belafonte brought joy to millions of people. He also did something that is, perhaps, even greater: he fostered the hope that a better world for all could be created. And, by his example, demonstrated how we might go about bringing that world into existence.
Opening in the former studio of Basquiat and Warhol, Angelina Jolie's clothing brand is not another vanity project
Every day, it seems yet another big name launches a clothing brand. Kylie Jenner just announced her own fast fashion brand, Khy. Phoebe Philo just launched a high-ticket eponymous luxury brand with LVMH. But for Angelina Jolie, her foray into fashion isn't about her.

Angelina Jolie launched Atelier Jolie with all the fanfare you could expect from an A-Lister and one of the most recognizable faces on the planet. She graced the cover of Vogue. She bought the iconic former home of Andy Warhol, 57 Great Jones Street in New York -which still bears graffiti from Basquiat- to give the brand a home. And she even posted to her Instagram account, which followers will know is a rare occurrence.
But all of this impressive marketing is not an attempt to build Jolie's ego or even her own brand. It's to support the careers of other artists. Atelier Jolie is a brand of collaborations:
"I've met a lot of artisans over the years—very capable, talented people—and I'd like to see them grow," Jolie told Vogue. "It's not really about fashion … I don't want to be a big fashion designer. I want to build a house for other people to become that."
The atelier itself promises to be a collaborative space — part store, part cafe, part creative community where patrons can stitch and mend and tailor their pieces. "I've always wanted to take my family to a place where I can say: Does your clothing really represent you?" she said in Vogue. "Absolutely you? And do you love it? I think the average person would not think it does. But I think tailoring does that for you."
The brand is a community. The designers and collaborators are mostly "refugees and other talented, underappreciated groups." Its global collaborators include the London-based milliner Justin Smith, the American artist Duke Riley, South African lacemaker Pierre Fouché, and more.
In the brand announcement, Jolie wrote:
"I am building a place for creative people to collaborate with a skilled and diverse family of expert tailors, pattern makers, and artisans from around the world. A place to have fun. To create your own designs with freedom. To discover yourself.
We will use only leftover, quality vintage material and deadstock. You will be able to repair or upcycle pieces from your closet you wish to revive, perfecting fit, breathing new life into what could have been thrown away, and creating quality heirloom garments with personal meaning."
"We hope to create a community of creativity and inspiration, regardless of socio-economic background. We will spotlight the people who play a part in each creation. We will bring together a diverse team, including apprenticeships for refugees and other talented, underappreciated groups, with positions of dignity based on skill. And as we work with global artisans and creators, we hope to help share the richness of their cultural heritage and support the development of their own businesses.
But what about the clothes?
It should come as no surprise that the brand's creative vision is full of timeless silhouettes inspired by Jolie's simple approach to fashion. "Sometimes the way you dress says, 'Don't mess with me—I've got my armor on,' " Jolie told Vogue. "But I want a woman to feel safe enough that she can be soft."
Their first collaborator is B Corp-accredited luxury Maison Chloé. Together with Creative Director Gabriela Hearst, Jolie designed this capsule full of eveningwear with an emphasis on fluid silhouettes. Lots of tailored pants and fluid gowns. Lovers of the Chloe, The Row, and Phoebe Philo should eagerly await this one.
This new venture aligns with Jolie's personal commitment to service. A former UN Refugee Agency Goodwill Ambassador and Special Envoy, Atelier Jolie's focus on uplifting and supporting creatives from marginalized communities is on brand for Angelina. When she's not working on this new creative venture, she's writing pieces for TIME magazine, doing philanthropic work, and using her platform to speak on global issues. Moved by her work with refugees, she has been one of the only major celebrities to use their massive platform to explicitly address the humanitarian crisis in Gaza.
As with everything she does, Jolie's brand is a labor of love filled with passion and purpose. She has even gotten her kids involved to drive home the communal aspect of the brand. It's for everyone and it's about everyone — not just Jolie.
Atelier Jolie opens its doors later this year. I'll see you all in line at 57 Great Jones St.
Many wealthy clients pay more for private firefighters in 6 months than civil servant firefighters earn in a year.
With the Woolsey fire having scorched almost 100,000 acres and claimed 59 lives as of Thursday, some homes are safer than others. Private firefighters in the employ of select insurance companies protect homes of those who can afford the fee.
Take Kim Kardashian and Kanye West's $50-60 million home, for instance. When the fires approached the closed community of Hidden Hills, California where the Wests and other high profile figures reside, private firefighters were able to save the community from ashen ruin.
Kardashian West shared her fears and gratitude on Twitter last week, posting, "I heard the flames have hit our property at our home in Hidden Hills but now are more contained and have stopped at the moment...God is good. I'm just praying everyone is safe."
I heard the flames have hit our property at our home in Hidden Hills but now are more contained and have stopped at… https://t.co/XXBip2KS1x

— Kim Kardashian West (@Kim Kardashian West) 1541803079.0
While no one begrudges the preservation of home and personal safety, the elite community's usage of private firefighters sounds alarms of celebrity privilege out of control, capitalist evaluation of human life, and class differences demarcating who survives natural disasters. Insurance companies are already built on predatory privatization, but some like AIG and Chubb offer private Wildfire Defense Systems. In California, Chubb runs 53 engines to protect around 1,000 fee-payers' homes.

Yet privatized firefighting is far from novel. In fact, the practice invokes a shameful history of privatized life-saving services that dates back to 18th century London. In the U.S. before governments became centralized to fund public services like fire departments, those jobs were seen as a civic duty. Volunteer "fire clubs" were respected pillars in society wherein men were proud to defend their local communities.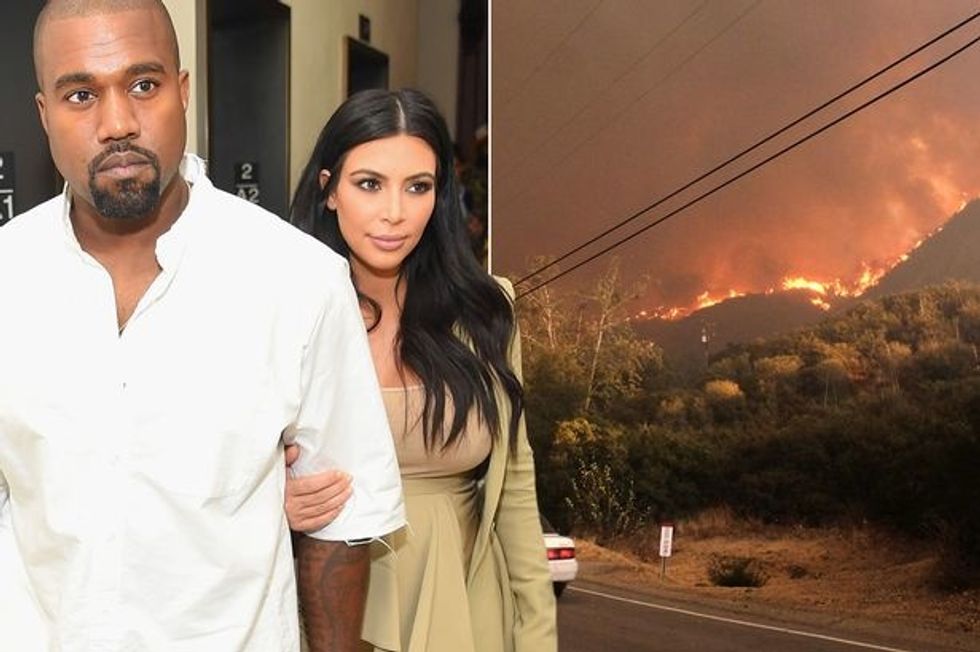 Mirror
However, reviving private contractors to specialize public-goods services speaks to concerns about quality and accessibility–not to mention elitism. Author and historian Amy Greenberg surveyed the legacy of fire departments in her book Cause for Alarm: The Volunteer Fire Department in the Nineteenth-Century City. In an email to The Atlantic, she finds the notion of celebrities' firefighters alarming.

Greenberg stated, "This isn't a story of the kooky Kardashians doing things in the most publicity-friendly manner possible. It's a story of the ramifications of economic disparity in this country. Frankly, I'm flabbergasted." She continued, "Firefighters are consistently ranked the most beloved public servants, not just because they look good on calendars but because they treat everyone equally. Rich people don't get their own 'better' firefighters, or at least they aren't supposed to."
Are private firefighters better? AIG's firefighters are certified through state or local authorities. According to AIG's website, "The Wildfire Protection Unit is not a private fire department; it's a loss mitigation service designed to pre-empt damage well before a wildfire even ignites." Policyholders qualify for private services by paying premiums of at least $10,000 to protect homes valued at $1 million minimum. In return, approximately 256 private firefighting companies offer services such as "complimentary" at-home consultations, ongoing monitoring from 24/7 "specialists" who track fire conditions, and treatments of their property with flame retardants, in addition to dispatched "wildfire mitigation specialists" in the event of fire emergencies.
NBC reports that 42% of Forbes' list of the 400 richest Americans are enrolled in AIG protection.
After Hidden Hills was spared from fire damage, Kardashian West followed up with a tweet commending and thanking California firefighters, urging those who can to support and donate the California Fire Foundation, which is a non-profit organization that supports state-employed firefighters, their families, and communities.
Grateful for the heroic @CAFirefighters battling the #CampFire #HillFire and #WoolseyFire and getting people to saf… https://t.co/Al7zr1k6l7

— Kim Kardashian West (@Kim Kardashian West) 1541886262.0
While the message is universally agreeable, the messenger would be laughable if it weren't so egregious. The firefighters who saved the Kardashian-West neighborhood were private employees for clients who can pay at least $10,000 per month for their protection. While no less courageous, they were not civil servants. According to Business Insider, the approximate 13,000 California state firefighters laboring to contain loss of life and property earn an average yearly salary of $58,000, or $33 an hour.

Meg Hanson is a Brooklyn-based writer, teacher, and jaywalker. Find Meg at her website and on Twitter @megsoyung.
Studies find that millennials have the highest incidence of mental health problems.
October 10th marks the World Health Organization's (WHO) official observation of World Mental Health Day, with this year's theme focusing on "Young People and Mental Health in a Changing World."
In a prelude to this week's commemoration, Lady Gaga and the WHO director-general Tedros Adhanom co-wrote an op-ed on suicide, stigma, and mental health services for The Guardian. "By the time you finish reading this," they warn, "at least six people will have killed themselves around the world."
Gaga and Adhanom opine that "despite the universality of the issue, we struggle to talk about it openly or to offer adequate care or resources." Indeed, a shameful legacy of social stigma has shadowed mental health sufferers, allowing society to "ostracize, blame, and condemn" them due to a historical lack of tools and understanding. The piece outlines the WHO's hopes that countries around the world will encourage their citizens to openly discuss psychological issues and open channels for non-judgmental communication and mental healthcare. With Lady Gaga penning a condemnation of the world community that gives less than 1% of global aid to mental health, we can appreciate a public figure using her platform to highlight a crucial social issue — but it's another diagnosis without a cure.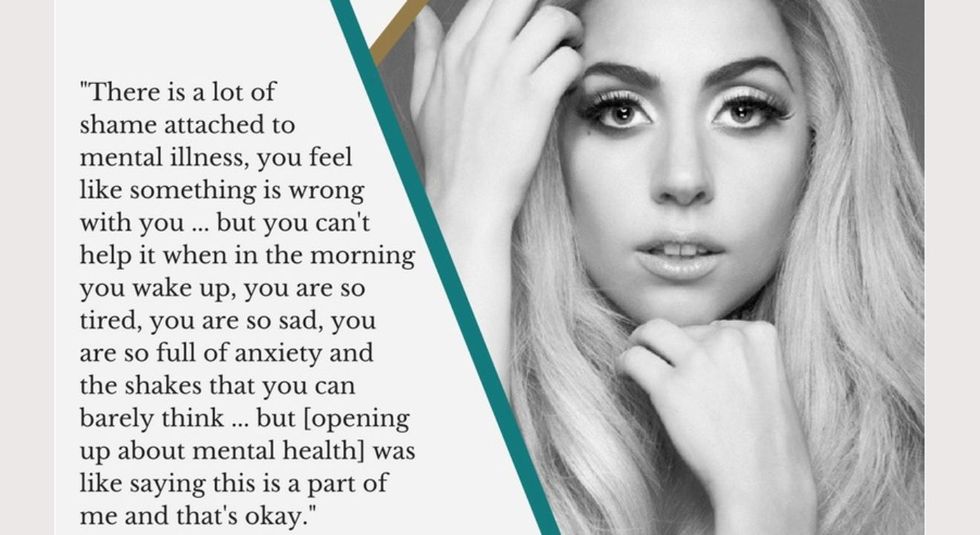 Entity Mag
Millennials, in particular, are very accustomed to discussing their struggles with mental illness, more so than any generation prior. With Selena Gomez recently entering treatment after an "emotional breakdown," Kanye West announcing he's off medication, and Demi Lovato publicly struggling with long-term "emotional and physical issues," there's a greater issue in the headlines than just the cost of a high-profile life. At least every celebrity blurb about a high profile figure battling mental illness opens another discussion about mental health.
Yet the core of the problem eludes us. While having those conversations makes progress towards destigmatizing psychological issues, various studies of the last year suggest that we still don't know how to have those conversations, and we might not be fully equipped to handle them when we do.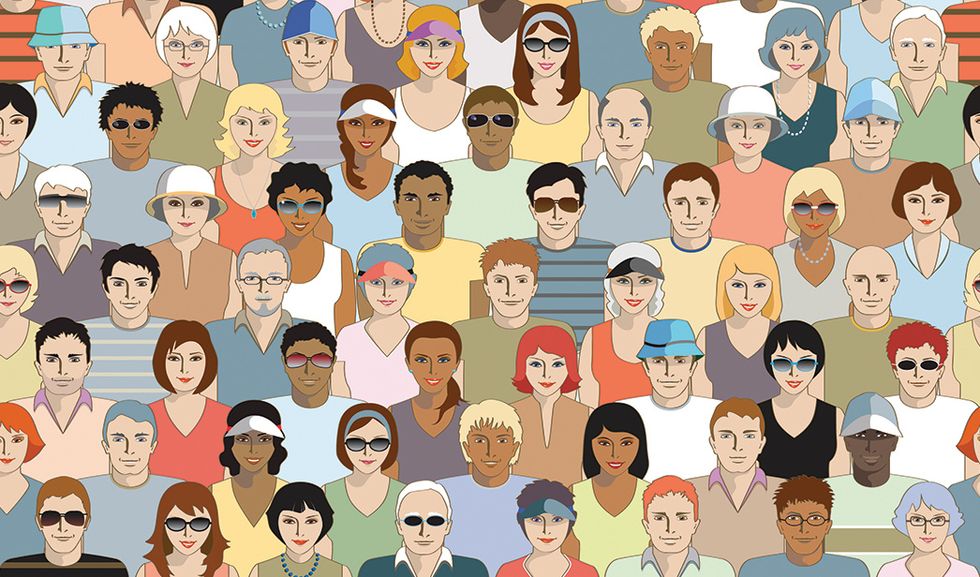 CMO
An assortment of studies in the past year have prefaced the WHO's focus on young people to highlight that millenials are the "most anxious generation" when compared to their predecessors dating back to the baby boomers (born 1945-64). While it's easy to malign millennials for their culture of abundance, youth centrism, and self-styling on social media, science has been weighing in that these privileges come at a cost. According to the American Psychological Association (APA), 12% of millennials have received a medical diagnosis of an anxiety disorder. Gaga and Adhanom cite in The Guardian, "One in four of us will have to deal with a mental health condition at some point in our lives," but they highlight, "Our young people are particularly vulnerable, with suicide being the second leading cause of death globally among 15-29 year olds and half of all mental illness beginning by the age of 14."

Statistics point to possible causes including lower employment rates, larger student loan debts, and decreased home ownership among millennials. However, other studies on the qualitative stressors on young people note epidemic detriment from "multidimensional perfectionism." Many millennials are the first to come of age under the unprecedented pressures of social media "to measure up to an ever-growing number of criteria," aiming for unrealistic perfection in work, school, romance, the arts, and an illustrious online persona. Of course "striving to reach impossible standards increases the risk of anxiety, depression, an eating disorder, and even suicidal ideation."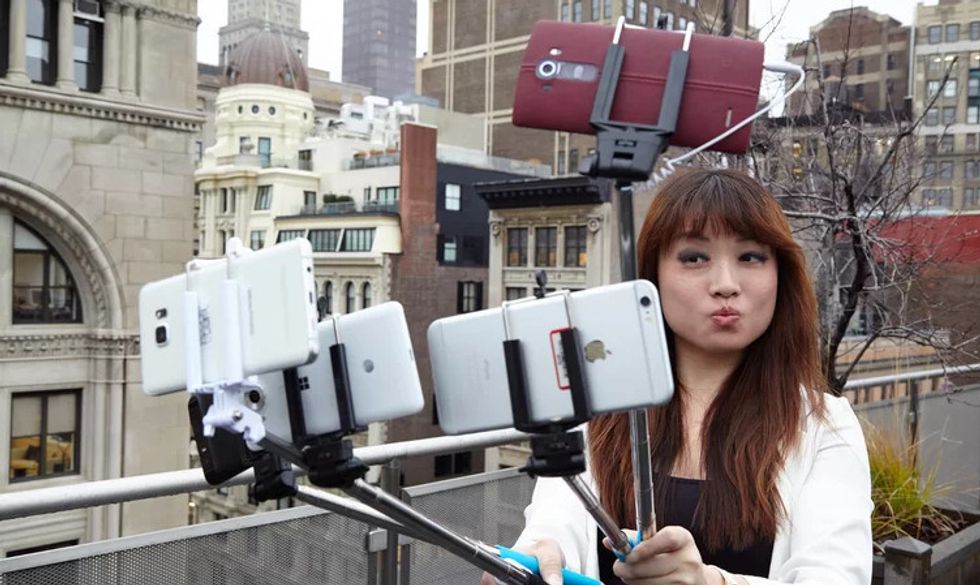 Curious Mind Magazine
While open dialogue about psychological issues is the first step to addressing them, we still risk being distracted by the celebrity gossip, the tragic suicide, or the newest controversial study that prompts us. How well we manage those conversations towards productive insights into stress management and coping strategies is the aim of our openness and turning point in improving world mental health. Rather than rumination (which can turn into commiseration) about mental health problems, there is the enduring truth that, "Stress is inevitable. You can either crumble and fall prey to it or ride it out," as neuropsychiatrist Dr. Era Dutta underscores in his work specializing in millennials' mental health.

Lady Gaga and Adhanom rally in their essay, "We can all be a part of a new movement – including people who have faced mental illness themselves – to call on governments and industry to put mental health at the top of their agendas." But we as individuals self-direct our conversations and manage our expectations — we know the diagnosis is too much silence, now how do we handle the cure?
Meg Hanson is a Brooklyn-based writer, teacher, and jaywalker. Find Meg at her website and on Twitter @megsoyung.