"A tree is best measured when it is down," the poet Carl Sandburg once observed, "and so it is with people." The recent death of Harry Belafonte at the age of 96 has prompted many assessments of what this pioneering singer-actor-activist accomplished in a long and fruitful life.
Belafonte's career as a ground-breaking entertainer brought him substantial wealth and fame; according to Playbill magazine, "By 1959, he was the highest paid Black entertainer in the industry, appearing in raucously successful engagements in Las Vegas, New York, and Los Angeles." He scored on Broadway, winning a 1954 Tony for Best Featured Actor in a Musical – John Murray Anderson's Almanac. Belafonte was the first Black person to win the prestigious award. A 1960 television special, "Tonight with Belafonte," brought him an Emmy for Outstanding Performance in a Variety or Musical Program or Series, making him the first Black person to win that award. He found equal success in the recording studio, bringing Calypso music to the masses via such hits as "Day-O (The Banana Boat Song)" and "Jamaica Farewell."
Harry Belafonte - Day-O (The Banana Boat Song) (Live)www.youtube.com
Belafonte's blockbuster stardom is all the more remarkable for happening in a world plagued by virulent systemic racism. Though he never stopped performing, by the early 1960s he'd shifted his energies to the nascent Civil Right movement. He was a friend and adviser to the Reverend Doctor Martin Luther King, Jr. and, as the New York Times stated, Belafonte "put up much of the seed money to help start the Student Nonviolent Coordinating Committee and was one of the principal fund-raisers for that organization and Dr. King's Southern Christian Leadership Conference."
The Southern Poverty Law Center notes that "he helped launch one of Mississippi's first voter registration drives and provided funding for the Freedom Riders. His activism extended beyond the U.S. as he fought against apartheid alongside Nelson Mandela and Miriam Makeba, campaigned for Mandela's release from prison, and advocated for famine relief in Africa." And in 1987, he received an appointment to UNICEF as a goodwill ambassador.
Over a career spanning more than seventy years, Belafonte brought joy to millions of people. He also did something that is, perhaps, even greater: he fostered the hope that a better world for all could be created. And, by his example, demonstrated how we might go about bringing that world into existence.
The legendary journalist was remembered in Colin Broderick's 'The Writing Irish Of New York'
Colin Broderick's new book, The Writing Irish of New York, tells the tales of a talented pool of New York writers who share Celtic blood. In this anthology, pages are split between titans like Oscar Wilde and F. Scott Fitzgerald and lesser-known writers and journalists who spent their careers in the literary trenches. Legendary journalist Jimmy Breslin is decidedly in the latter camp.
Breslin was born in Queens, NY, and his formative years were spent in an unstable, single parent home. It was during this time that he found his voice, developing an off-the-grid style of reporting that gained him a reputation of championing the stories of ordinary, everyday people. Breslin later went on to use his much coveted column to report on stories of working class Americans.
One of Breslin's most famous pieces was published in the New York Herald Tribune, 55 years ago, on November 26th, 1963, days after the assassination of John F Kennedy. While journalists from all across the world descended upon the capital to report on the loss of America's innocence, Breslin went off the beaten path and befriended a gravedigger at Arlington National Cemetery. He spent his time with Clifton Pollard, a 42-year-old WWII Veteran who was earning a mere $3.01 an hour to prepare the final resting place of his fellow serviceman, the President.
By detailing the simplicity of Pollard's life– the attention and care he took to complete such a harrowing task and the deep honor he felt while doing so–Breslin memorialized JFK in a way no other journalist was able to do at the time. He shied from sensationalizing the tragedy and let the sadness be conveyed through an everyday American, someone the country could truly relate to.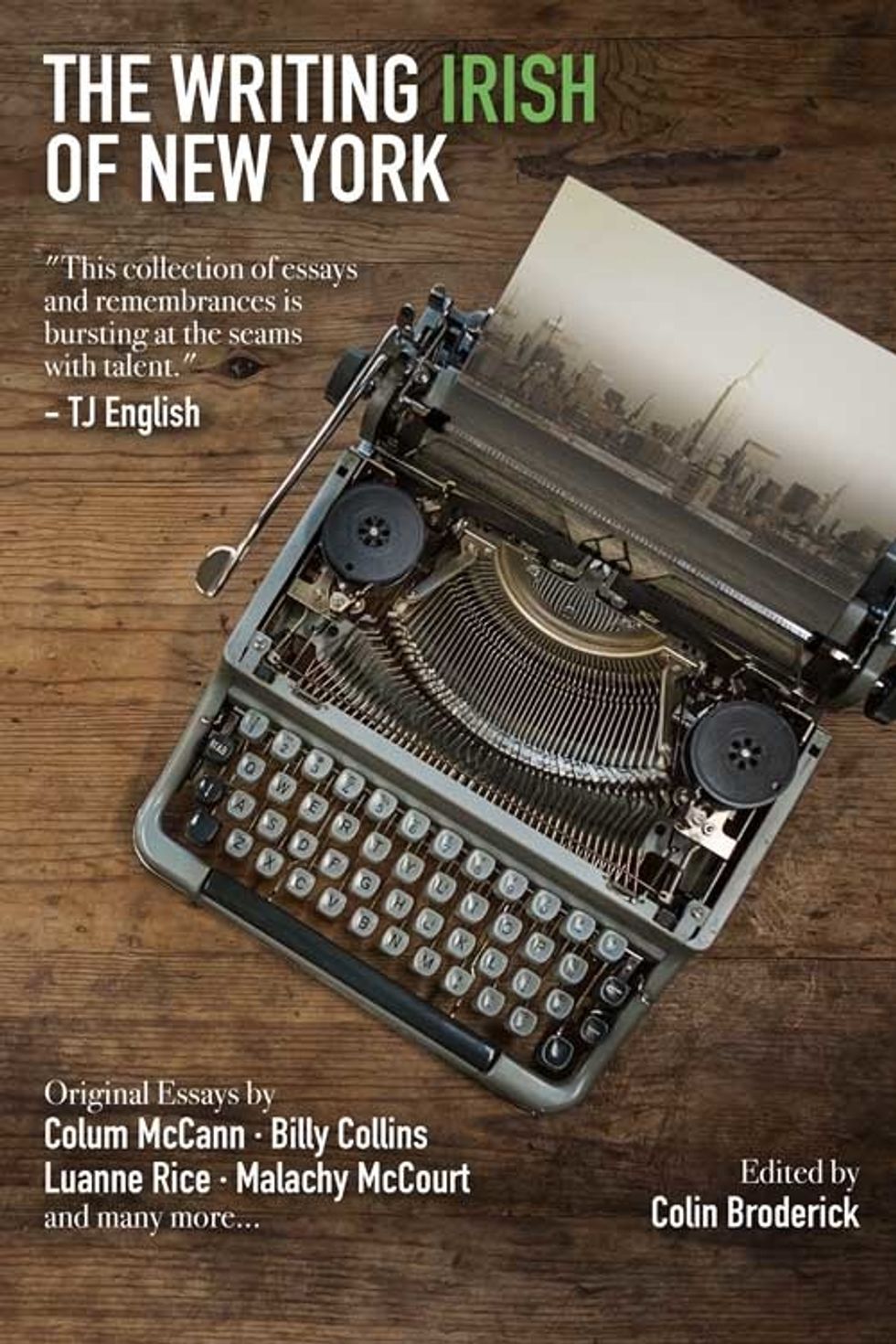 The Writing Irish Of New York by Colin Broderick
It can be hard to put that kind of grief into words, to paint sadness over text, but Breslin did just this. He saw a story where no one else was looking. He saw the necessity in detailing the grief of a nation through the eyes of a man that felt a sense of privilege in serving his Commander-in-Chief one last time. Through Breslin, a gravedigger's tale became one of the most beautiful and moving pieces of journalism ever published, at a time when every other reporter in the world was covering the same beat.

Never far from a story, Breslin was also present when tragedy struck again at the Ambassador Hotel in Los Angeles in June of 68'. America lost another great leader, and the journalist was on the ground, living through the emotion and making sure the story was documented. He later found himself surrounded by controversy again, when the notorious murder, The Son Of Sam, wrote him a handwritten letter which was delivered to his desk, taunting Breslin and complimenting him on his reporting of the killer's crimes. Breslin fought his way to the heart of a story yet again on a cold December night in New York City. Up against a tight deadline and covering what was no doubt the story of the year, Breslin managed to speak to the police officers who answered the 911 call on the night John Lennon was murdered. In his column about the tragedy, he humanized the beloved Beatle, focusing less on the loss of legend and more on the tragedy of yet another person killed on the tough streets of New York City.
Breslin's body of work is a biography of the everyday. He reported on some of the most significant crimes of the last century, and never failed to delve into the real issues at the heart of each tragedy. Breslin earns a place in The Writing Irish Of New Yorknot because of his celtic blood, but for the bravery with which wrote.
The pressure is building for Saudi Arabia to disclose information about the journalist's disappearance.
Reports now confirm that Maher Abdulaziz Mutreba, a frequent companion of Saudi Arabia's crown prince, entered the Saudi consulate in Istanbul shortly before journalist Jamal Khashoggi arrived.
The time-stamped photograph is one of the most condemning pieces of evidence to link Khashoggi's October 2nd disappearance to the crown prince, Mohammed bin Salman.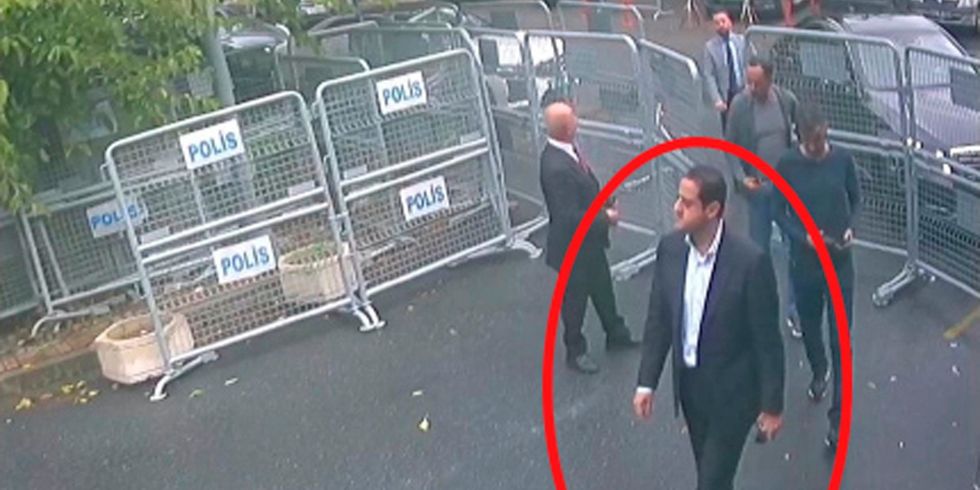 Associated Press
The New York Times reports that Sabah, a Turkish newspaper, also published photos of Mutreb "outside the Saudi consul general's home, leaving a Turkish hotel with a large suitcase, and leaving the country from Istanbul's international airport — all later that day."

This news comes in the wake of Steven Mnuchin, Treasury Secretary, announcing that he will not attend an upcoming investor conference in Saudi Arabia because of Khashoggi's disappearance. The DOW dropped 400 points after Mnuchin's tweet confirming his withdrawal.
Just met with @realDonaldTrump and @SecPompeo and we have decided, I will not be participating in the Future Invest… https://t.co/ESULIhy6Ov

— Steven Mnuchin (@Steven Mnuchin) 1539876574.0
Mnuchin had previously said he planned to attend the Future Investment Initiative, despite reports in the American and Turkish press alleging the gory dismemberment of the journalist at the hands of individuals with ties to high-up Saudi officials.

It's likely that Mnuchin's decision was influenced by several European countries recently announcing their respective withdrawals from the conference. The Trump administration had reportedly been waiting to see what other countries would do before making a decision about American representation at the conference.
This withdrawal comes as a surprising development in light of President Trump's repeated defense of Saudi Arabia since the news of Khashoggi's disappearance broke. Trump said the crown prince of Saudi Arabia "totally denied" knowledge about the suspected death of the journalist and that information about the matter would be coming "shortly."
But CNN reports that a group of Saudi men, who Turkish officials believe were involved in Khashoggi's apparent killing, were led by a high-ranking intelligence officer, with one source saying he was close to the inner circle of the country's Crown Prince Mohammed bin Salman.
With news of Mutreba's presence at the consulate, as well as the many withdrawals from the Future Investment Initiative, many speculate that the Saudis will soon be forced to reveal more information about Khashoggi's disappearance.
Brooke Ivey Johnson is a Brooklyn based writer, playwright, and human woman. To read more of her work visit her blog or follow her twitter @BrookeIJohnson.

The Saudi government prepares to confirm that the journalist died during "an interrogation gone wrong."
On a Tuesday afternoon, a Turkish woman's fiancé walked into the Saudi Consulate in Istanbul in order to confirm their wedding plans for the following day. Two weeks later and after international outrage over his disappearance, the Saudi government is reportedly preparing a statement that confirms his death within the government building, according to CNN.
The ominous disappearance of Jamal Khashoggi, 60, a well-known dissenter of the Saudi government, has resulted in taut political tensions between Saudi Arabia and western governments calling for a "credible investigation" into his whereabouts. The journalist was captured on CCTV entering the Saudi Consulate at 1:12 PM, as his fiancé, Hatice Cengiz, waited outside at a distance. He was not seen again.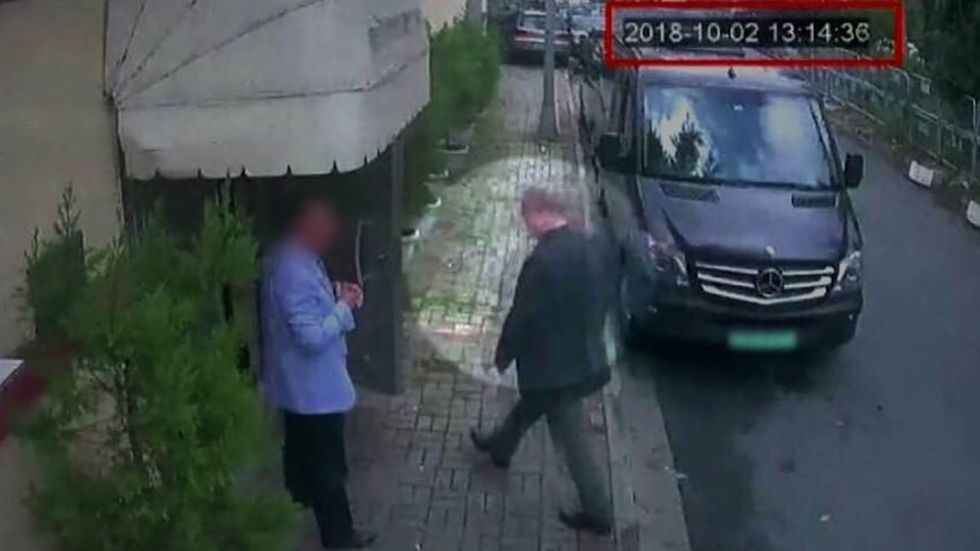 CNN
Khashoggi has been presumed dead after Turkish officials alleged that he was tortured and murdered at the hands of Saudi agents; what's ensued is international condemnation of the Saudi government's lack of transparency. EU foreign policy chief Federica Mogherini spoke for 28 foreign ministers after meeting on the matter: "There was full consensus around the table on the fact that we expect transparency, we expect full clarity from investigations to be done by the Saudi authorities together and in full co-operation with the Turkish authorities," she said. Over the weekend, President Trump vowed there would be "extreme punishment" and directed Secretary of State, Mike Pompeo to immediately travel to meet with Crown Prince Mohammed bin Salman.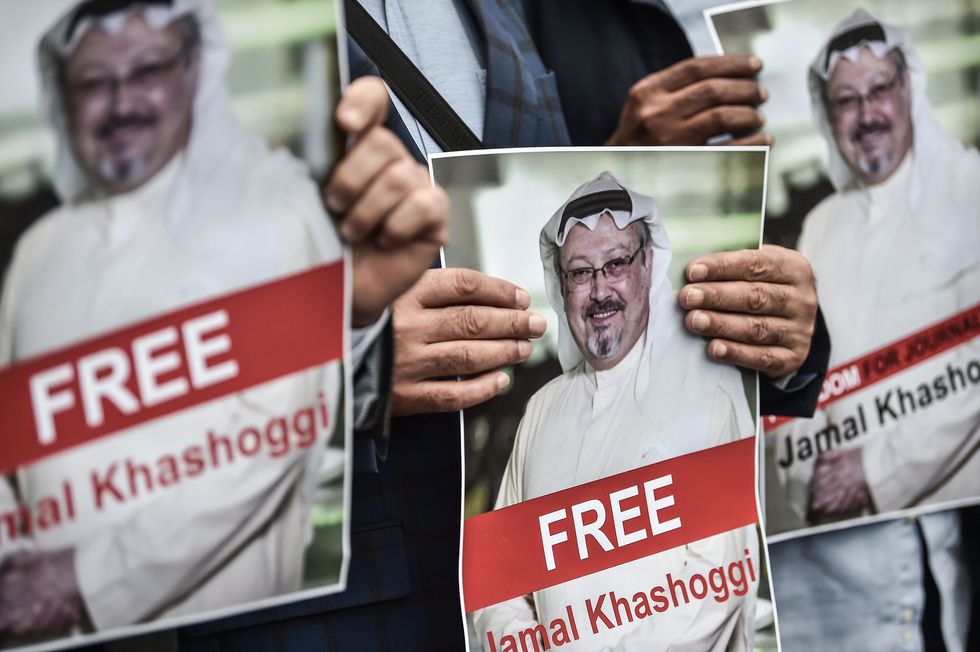 CNN
Turkish officials were admitted to the building, alongside a Saudi team, to investigate after unsubstantiated claims that Khashoggi's torture and murder were recorded by his Apple Watch and transmitted to his iPhone were widely publicized. While the Saudi government initially claimed that he exited the consulate safely on October 2, Turkish authorities have insisted that the journalist was brutally attacked by as many as 15 Saudi men who'd recently arrived in Istanbul in a coordinated government plan. To date, their investigation has not uncovered substantial evidence.

Unconfirmed reports indicate that the Saudi government will propose that "rogue" dissidents within the regime murdered the journalist, acting under their own power and not under any governmental orders. President Trump echoed the sentiment on Monday after a phone call to King Salman, stating, "It sounded to me like maybe these could have been rogue killers," he added. "Who knows?" The Saudi's report is expected to allege that Khashoggi died as a result of "an interrogation gone wrong," but disavow a premeditated plot against the outspoken critic.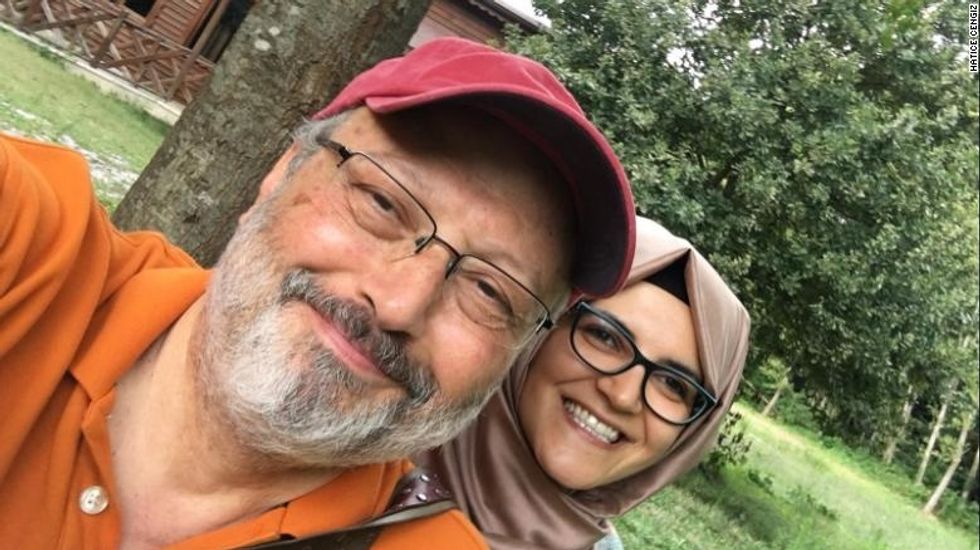 Khashoggi and CengizCNN
Khashoggi's fiancé is still demanding information from the Saudi government. Cengiz has taken to Twitter in both English and Arabic to implore a response: "I request #SaudiArabia to officially respond to the status of my fiancée #Jkhashogji who entered the #SaudiConsulate in #Istanbul. 10 days ago and his whereabouts are still unknown to date. @JKhashoggi #whereisjamalkhashogji." Prior to Tuesday, she'd shared her plans to throw Khashoggi a surprise party for his 60th birthday, which passed this Saturday.

Meg Hanson is a Brooklyn-based writer, teacher, and jaywalker. Find Meg at her website and on Twitter @megsoyung.
The writer and critic of the Saudi Crown Prince has been missing for one week.
Prominent journalist Jamal Khashoggi walked into the Saudi consulate in Istanbul last Tuesday, but never came back out.
A vocal critic of the regime of Saudi Arabia Crown Prince Mohammed bin Salman, Khashoggi left his home country to live in the US where he is a legal resident and columnist for the Washington Post. On Saturday, Turkish officials told the press that the writer was murdered at the consulate, however no evidence was given to verify the allegation.
President Trump expressed concern about the missing journalist while not pointing fingers. He said, "There's some pretty bad stories about it. I do not like it."
Khashoggi traveled to the embassy with his fiancee Hatice Cengiz, who was the only witness to his disappearance, to obtain paperwork from the Saudi government to finalize their marriage. Video footage shows the journalist entering through the front entrance of the building, but there is no evidence of his exit. Cengiz began to worry when he did not appear 30 minutes after the consulate's closing time.
"He said at some point, 'Maybe it's better if I don't go,' " she said. "He was worried that something might happen."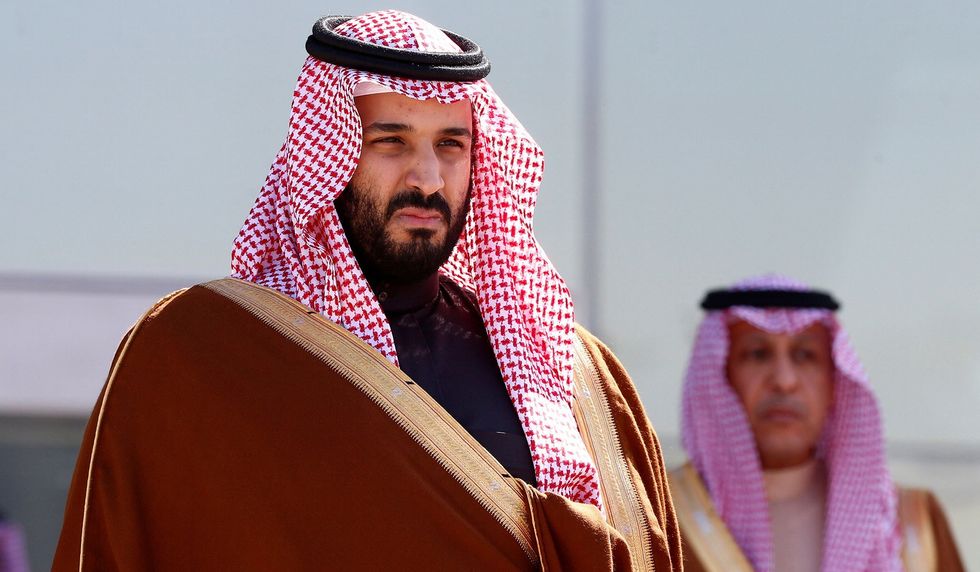 Crown Prince Mohammad bin Salman in January 2017Reuters photo: Faisal Al Nasser
In his first piece written for the Post in September of last year, Khashoggi identifies himself as in "self-exile" and says he could face arrest by authorities if he returned home. He describes the country as hostile to intellectuals and religious leaders, saying the public shaming of such figures is "repressive" and "unbearable."
Since his ascension to Crown Prince last year, King Salman's son and top advisor Mohammed bin Salman has executed controversial campaigns to consolidate his power, including the arrest of billionaire Prince Alwaleed bin Talal, as well as numerous other princes and ministers. The arrests came on the heels of forming the government's infamous anti-corruption committee, which the 33-year-old prince oversees in addition to his strong authority over the country's military, foreign, economic, and social policies.
"It was painful for me several years ago when several friends were arrested. I said nothing," Khashoggi writes. "I have made a different choice now. I have left my home, my family and my job, and I am raising my voice… I want you to know that Saudi Arabia has not always been as it is now. We Saudis deserve better."
Prince Khalid bin Salman bin Abdulaziz, Saudi Arabia's ambassador to the US, denounced the insinuation of foul play by the government as "absolutely false, and baseless." Saudi officials said Khashoggi left the consulate shortly after visiting. No surveillance footage or other evidence has been provided to support their claim.
Joshua Smalley
is a New York-based writer, editor, and playwright. Find Josh at his
website
and on Twitter:
@smalleywrites