NYPD officers falsely claimed that their Shake Shack milkshakes had been poisoned.
According to a statement that has since been deleted, three NYPD officers were hospitalized after an ill-fated trip to Shake Shack.
The officers claimed that the officers drank milkshakes that had been poisoned with bleach. According to CNN, the statement read that the officers "discovered that a toxic substance, believed to be bleach, had been placed in their beverages" on Monday. But here's a question: What if the cops were just lactose intolerant?
Investigators believed that residual cleaning solution from the milkshake machine might've made its way into the officers' drinks. "When NYC police officers cannot even take a meal without coming under attack, it is clear that the environment in which we work has deteriorated to a critical level," Patrick Lynch, President of the New York Police Benevolent Association, wrote in the statement.
Shake Shack responded on Twitter, saying they were "horrified by the reports of police officers injured." But—spoiler alert—no criminality was found by the burger joint's employees, according to a tweet by NYPD Chief Rodney Harrison.
We are horrified by the reports of police officers injured at our 200 Broadway Shack in Manhattan. We are working w… https://t.co/t8DWEtc5z8

— SHAKE SHACK (@SHAKE SHACK) 1592279377.0
After a thorough investigation by the NYPD's Manhattan South investigators, it has been determined that there was n… https://t.co/aZJZUIR0RD

— Chief Rodney Harrison (@Chief Rodney Harrison) 1592294531.0
This is hardly the first time police have made food-tampering claims that have been proven false. Last July, a corrections officer with the Marion County Sheriff's Office in Indiana filed a complaint against a McDonald's employee he believed had taken a bite of his sandwich because he was a law enforcement officer; as it turns out, the officer had forgotten it was him who took the bite himself.
Last December, a Starbucks employee was fired after allegedly printing the name "Pig" on an Oklahoma officer's drink order. However, Twitter users pointed out that the label on the cup was that of a mobile order, indicating that "Pig" would've been the name the customer enters themself.
tale as old as time...🎶 https://t.co/EXz6esjx4A

— Endless 😱 Bummer (@Endless 😱 Bummer) 1592296381.0
Considering law enforcement has been especially scrutinized lately following the murder of George Floyd by Minneapolis police, now is not the smartest time for a milkshake hijinx. If I were a police officer, I would simply read the room and mind my own business. I would also quit my job.
Keep reading...
Show less
By submitting your genetic material to a company, you're tacitly agreeing to share your identity and rights to your most private information.
From "fear of missing out" on social media to belligerent political differences, modern existence is increasingly alienating. As a result, more people are interested in "finding their tribe" by digging up their family origins. But genetics-testing companies like Ancestry and 23andMe take more than your DNA, they take your privacy to that information, as well. With the Golden State Killer finally arrested thanks to data mined from those genetic databases, law enforcement has proven their ability to access the company's records.
In the same vein, the government can gain access to personal information given to these sites for purposes they deem justified. For example, in 2019, Canadian immigration officials obtained DNA results from sites like Familytreedna.com and Ancestry.com in order to identify immigrants' nationality and trace their relatives. Subodh Bharati, a lawyer representing one targeted individual, told Vice, "I think it is a matter of public interest that border service agencies like the CBSA are able to obtain access to DNA results...There are clear privacy concerns. How is the CBSA able to access this information and what measures are being put in place to ensure this information remains confidential?"
While each site in question denies working with government agencies, if authorities argue that national security is at risk, then the websites "can't really say no," as immigration lawyer Jared Will explains. He condemns the exchange as "extorted consent." Bharati warns potential customers, "Individuals using these sites to look at their family tree should be aware that their confidential information is being made available to the government and that border agents may contact them to help facilitate the deportation of migrants."
Furthermore, accessing your data doesn't always take government measures. For instance, according to 23andMe's policy, "We do not share customer data with any public databases. We will not provide any person's data (genetic or non-genetic) to an insurance company or employer. We will not provide information to law enforcement or regulatory authorities unless required by law to comply with a valid court order, subpoena, or search warrant for genetic or Personal Information." Yet, there's an additional permission users are asked to agree to, reading, "By agreeing to the Research Consent Document, Individual Data Sharing Consent Document, or participating in a 23andMe Research Community, you can give consent for the use of your data for scientific research purposes."
In July 2018, 23andMe announced it was partnering with the world's ninth-largest pharmaceutical company, GlaxoSmithKline (GSK). The agreement grants GSK exclusive access to the genetic information of over 5 million users, and 23andMe received $300 million. GSK released a statement explaining their interest in genetic databases, saying, "The goal of the collaboration is to gather insights and discover novel drug targets driving disease progression and develop therapies."
While it's a universal good to create more effective and closely targeted medicine, the transactional exchange of people's most private information, their DNA, unsettles many. Peter Pitts, president of the Center of Medicine in the Public Interest, told NBC, "Are they going to offer rebates to people who opt in, so their customers aren't paying for the privilege of 23andMe working with a for-profit company in a for-profit research project?" In essence, people are paying the site to make money off their information, with no recompense.
Additionally, despite what's written in the company's policy, "the problem with a lot of these privacy policies and Terms of Service is that no one really reads them," says Tiffany C. Li, a privacy expert and resident fellow at Yale Law School's Information Society Project. While users can opt to close their 23andMe accounts or retract their permission once it's given, the company emphasizes, "Any research involving your data that has already been performed or published prior to our receipt of your request will not be reversed, undone, or withdrawn."
Lastly, there's the possibility of information leaks. In June 2016, the DNA testing service MyHeritage announced that its database of 92 million accounts had been hacked. The depth of the breach only revealed encrypted emails and passwords, but the company was targeted because the premium on genetic data is far more valuable than credit card or bank information. Hackers could hold DNA data for ransom, according to Giovanni Vigna, co-founder of the cybersecurity company Lastline. He says, "This data could be sold on the down-low or monetized to insurance companies. You can imagine the consequences: One day, I might apply for a long-term loan and get rejected because deep in the corporate system, there is data that I am very likely to get Alzheimer's and die before I would repay the loan."
Ultimately, by submitting your genetic material to a company, you tacitly agree to share your identity and rights to your most private information. As Natalie Ram, a law professor in bioethics, says, "If there is data that exists, there is a way for it to be exploited.
Meg Hanson is a Brooklyn-based writer, teacher, and jaywalker. Find Meg at her website and on Twitter @megsoyung.
Jason Van Dyke shot the black youth 16 times in 2014
A jury has convicted Jason Van Dyke of second-degree murder and 16 counts of aggravated battery in the fatal shooting of 17-year-old Laquan McDonald in 2014.
The Chicago police officer originally faced two counts of first-degree murder and was acquitted of one count of official misconduct. Second-degree murder carries a more lenient sentence than first-degree, and Van Dyke could face as long as 20 years in prison or as little as probation. Each aggravated battery conviction carries prison time from six to 30 years.
With jury deliberations starting Thursday afternoon, the verdict was reached midday Friday after approximately 7½ hours. In closing arguments, jury members heard a prosecutor claim that Van Dyke had no regard for the black teenager's life, while the defense framed the situation as tragic, but not a murder.
Assistant special prosecutor Jody Gleason told the jury that according to testimony by his partner, Van Dyke was already considering shooting the youth on the drive to the scene.
"Laquan McDonald was never going to walk home that night," Gleason said. "You heard what it was that he said, 'I guess we'll have to shoot him.'"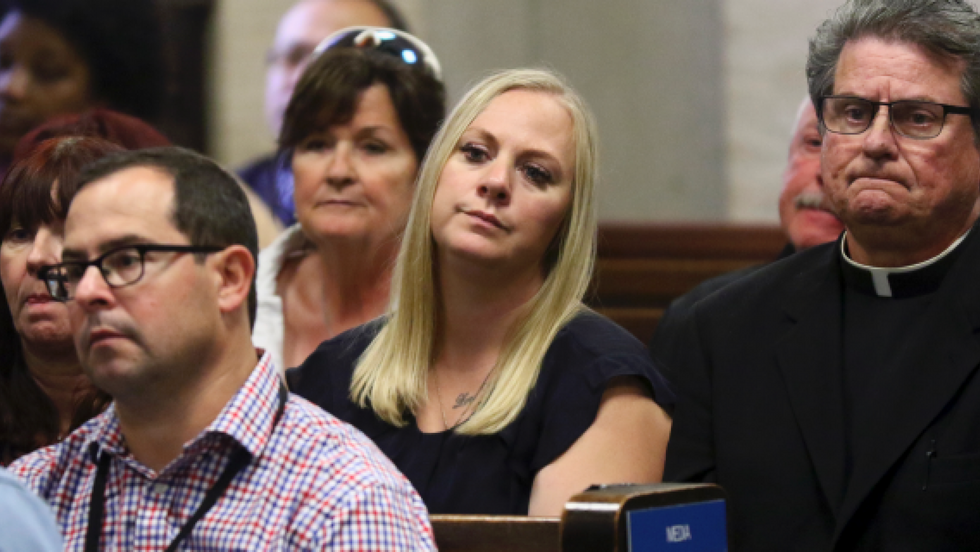 Tiffany Van Dyke, the wife of Chicago police Officer Jason Van Dyke, listens during the trial.
John J. Kim/Chicago Tribune via AP, Pool
Van Dyke is the first Chicago officer to be charged with first-degree murder since 1980. While police reports originally did not find the shooting an incriminating offense, dash-cam videos released by the city in 2015 sparked protests, and the courts ordered Van Dyke be held without bond on murder charges.

The video was approximately six minutes long and appeared to show the 17-year-old McDonald running down the middle of the road while Van Dyke, standing next to his SUV, opens fire, striking the teen sixteen times and killing him.
Chicago officials had been preparing for potential demonstrations following the release of the verdict Friday afternoon. Police said they had plans in place to "ensure public safety" while at the same time "protecting the rights of peaceful demonstrations."
Family members of McDonald in the courtroom included Rev. Martin Hunter, the victim's great uncle who acts as a family spokesperson, among others. Tina Hunter, McDonald's mother, was not in court for the verdict.
Demonstrators gathered outside the courthouse erupted into cheers after the reading of the verdict. "Thank you, Jesus!" one woman shouted. Others chanted, "Justice! Justice! Justice!"
Joshua Smalley is a New York-based writer, editor, and playwright. Find Josh at his website and on Twitter: @smalleywrites.

Keep reading...
Show less