Dall-E Mini, the AI-powered text-to-image generator has taken over the internet. With its ability to render nearly anything your meme-loving heart desires, anyone can make their dreams come true.
DALL-E 2, a portmanteau of Salvador Dali, the surrealist and Wall-E, the Pixar robot, was created by OpenAI and is not widely available; it creates far cleaner imagery and was recently used to launch Cosmpolitan's first AI-generated cover. The art world has been one of the first industries to truly embrace AI.
The open-sourced miniature version is what's responsible for the memes. Programmer Boris Dayma wants to make AI more accessible; he built the Dall-E Mini program as part of a competition held by Google and an AI community called Hugging Face.
And with great technology, comes great memes. Typing a short phrase into Dall-E Mini will manifest 9 different amalgamations, theoretically shaping into reality the strange images you've conjured. Its popularity leads to too much traffic, often resulting in an error that can be fixed by refreshing the page or trying again later.
If you want to be a part of the creation of AI-powered engines, it all starts with code. CodeAcademy explains that Dall-E Mini is a seq2seq model, "typically used in natural language processing (NLP) for things like translation and conversational modeling." CodeAcademy's Text Generation course will teach you how to utilize seq2seq, but they also offer opportunities to learn 14+ coding languages at your own pace.
You can choose the Machine Learning Specialist career path if you want to become a Data Scientist who develops these types of programs, but you can also choose courses by language, subject (what is cybersecurity?) or even skill - build a website with HTML, CSS, and more.
CodeAcademy offers many classes for free as well as a free trial; it's an invaluable resource for giving people of all experience levels the fundamentals they need to build the world they want to see.
As for Dall-E Mini, while some have opted to create beauty, most have opted for memes. Here are some of the internet's favorites:
There's no looking back now, not once you've seen Pugachu; artificial intelligence is here to stay.
Plus celebrities react to Nigerian protests.
Young people across Nigeria have been pouring into the streets for the last two weeks to protest police brutality, specifically the controversial special police force known as the Special Anti-Robbery Squad (SARS).
Tension came to a head on Tuesday when armed forces fired on protestors in Lagos, the biggest city in Nigeria, who were out past the state-mandated curfew. According to AP News, "Police also fired tear gas at one point, and smoke could be seen billowing from several areas in the city's center. Two private TV stations were forced off the air at least temporarily as their offices were burned."
According to Amnesty International, police have killed at least ten peaceful protestors and injured dozens more since the protests started.
The Nigerian people's protestation against SARS is nothing new. The #EndSARS hashtag first went viral in Nigeria in 2017. It was spurred by citizens' reports of harassment, abuse, extortion, torture, and kidnapping at the hands of SARS officers. While Nigerian leaders promised to reform SARS in 2018, protestors maintain there has been little meaningful change and are now doubtful of renewed promises.
What Is SARS doing?
Indeed, according to a harrowing report from Amnesty International, there have been at least 82 cases of severe police brutality since SARS was supposedly reformed two years ago. The report reads: "Detainees in SARS custody have been subjected to a variety of methods of torture including hanging, mock execution, beating, punching and kicking, burning with cigarettes, waterboarding, near-asphyxiation with plastic bags, forcing detainees to assume stressful bodily positions and sexual violence." It continues, Findings from our research indicate that few cases are investigated and hardly any officers are brought to justice on account of torture and other ill-treatment."
SARS was created in the 1990s as a special force meant to handle serious crimes in Nigeria including kidnapping, robbery, and murder. But since its inception, it's morphed into an abusive arm of the government used to intimidate and even torture supposed "criminals." Protestors claim that officers are essentially never brought to justice even when victims manage to bring complaints against them. As CNN states, the force has "become notorious for alleged abuses committed with apparent impunity." There are also myriad reports of SARS officers financially extorting the people they detain.
Global Citizen specifies, "At the time it was created, Nigeria had a big security problem that citizens argue now no longer exists. Over the years, the squad — and by extension the Nigerian police — have been repeatedly caught on video carrying out beatings and shooting at unarmed citizens, often without any consequences."
Celebrities Raise Awareness
The #EndSARS campaign and the related protests in Nigeria have come to international attention, in large part thanks to a growing roster of celebrities who have vocalized their support for the protestors. These celebrities include the always unpredictable Kanye West, who tweeted Monday: "I stand with my Nigerian brothers and sisters to end police brutality, the government must answer to the peoples cries #EndPoliceBrutalityinNigeria"
Other celebrities include Trey Songz who tweeted, "After doing a little research I would like to speak out against what's going on in Nigeria right now. Their pleas to #EndSarsNow IS VERY REAL. I have so much love for my Nigerian fans and it's so hurtful to hear whats happening."
Star Wars actor John Boyega also chimed in on Twitter to say, "The youth in Nigeria deserve good leadership and guidance. This situation is tied to many other issues. Please lend your attention to this pressing problem! #EndSARSImmediately #EndSarsProtests #EndSARS #EndSARSProtest"
Former football star Rio Ferdinand sent his love to protestors via Twitter.
Nigerian celebrities have also vocalized their support of the movement. Davido, Burna Boy, Adesua Etomi-Wellington, Runtown, and Falz have all spoken out in support of the protestors.
How the Nigerian Government Is Responding to #EndSARS Protests

In response to the heightening protests, inspector General of Police, Mohammed Abubakar Adamu, announced on October 11th that SARS would be disbanded. The next day, the President of Nigeria, Muhammadu Buhari, released a video in which he appeared to sympathize with protestors, he said that the disbanding of SARS was "only the first step" in more sweeping reform of the country's criminal justice system. He also assured the nation that, "We will also ensure that all those responsible for misconduct or wrongful acts are brought to justice."

But Nigerians are rightfully suspicious of these promises, given that they were told very similar things two years ago only to experience increasingly violent, extortionist police tactics. Now, protestors are demanding more widespread reforms to end the extensive human rights violations allegedly carried out by all branches of Nigerian security forces as well as the rampant government corruption.
Given that protestors were shot with tear gas and allegedly fired on with live ammunition even after SARS was supposedly disbanded, it's clear that the government has many steps left to take before they can expect protestors to be satisfied.
How Can You Help?
1. Seek out accurate information
As with most things, there is an abundance of misinformation out there about the #EndSARS movement. Make sure you're reading reliable, fact-checked sources (we recommend unbiased resources like AP News and Reuters). Or even better, read first hand accounts of what's happening in Nigeria on this website created by activists to document accounts, videos, and photos of the abuse individuals have suffered at the hands of corrupt Nigerian law enforcement.

2. Spread the message
The majority of the organizing surrounding these protests is being done online, specifically through Twitter, so social media is a great tool to spread awareness and accurate information about the #EndSARS movement. As of Friday, October 16 there had been nearly 3.3 million tweets with 744,000 retweets of posts containing the #EndSARS hashtag.
Sharing this simple Tweet that outlines the protestors five demands is a great place to start.
3. Donate funds
The way you can likely be the most helpful to the young revolutionaries in Nigeria is through financial support. Never donate to a fund that you don't have substantial evidence is going directly to the protestors in question, and try to stick to funds that offer detailed reporting of how the funds are being used. For example, we recommend donating to the Feminist Coalition, which has raised more than 70 million Naira (about $180,000) for protestors in Nigeria.
Keep reading...
Show less
His language threatens to escalate tensions while Twitter continues to enforce their standards
Shortly after midnight Friday morning, Donald Trump tweeted a message that would prompt the second instance of Twitter "censoring" him for a violation of their policies.
In this case his use of the phrase "when the looting starts, the shooting starts"—in reference to the riots that have taken hold of Minneapolis in the wake of George Floyd's death—was deemed to be "glorifying violence," and the Tweet was hidden. Twitter's decision was based in part on the phrase's connection (intentional or otherwise) to 1960s Miami police chief Walter Headley, who made the phrase famous in conjunction with the statement, "We don't mind being accused of police brutality. They haven't seen anything yet."
It was later determined that Headley's aggressive and inhumane approach to civil rights activists were a major factor contributing to violent Miami riots in 1968. So whether Trump's intended reading was as a threat against looters—whom he deemed "thugs" in what should be readily recognized as a thinly veiled racial slur—or (as some have claimed) concern about the looters themselves resorting to gun violence, really doesn't matter. If a man with millions of gun-toting, militia-joining, race-war fantasists prefers not to incite racist violence, he needs to take two seconds to think before he tweets—and should thank Twitter for spotting such an unfortunate "mistake."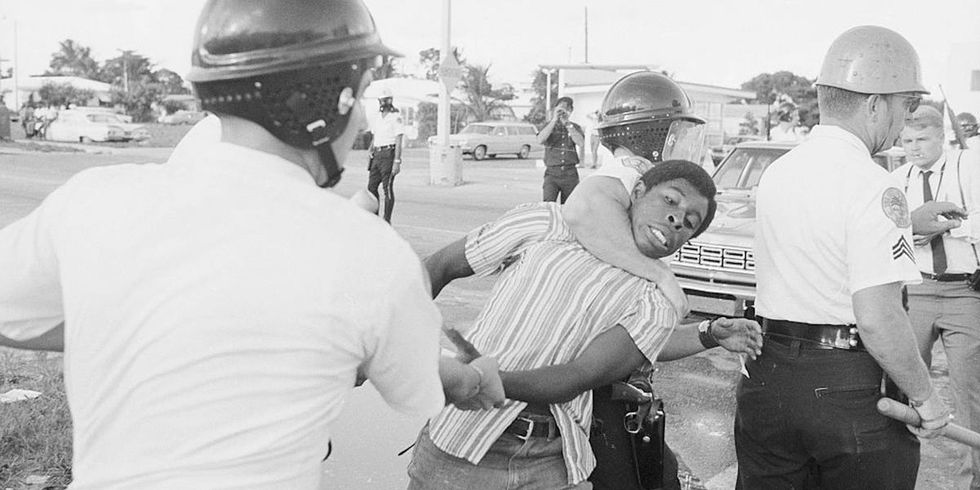 Miami police manhandling a black man during the 1968 clash
But considering how little Donald Trump cares to think about the consequences of his actions, and how much he has been milking his feud with Twitter, he's far more likely to be thanking them for another opportunity to rage against them. Speaking of raging against things—in this case, the machine—let's talk about the rioters:

The differences between a protest and a riot and a revolution are subtle. In every large political demonstration there are bound to be some bad actors who will take any opportunity to sow some chaos—steal things, break things, etc. At what point is there a critical mass of that kind of behavior that qualifies a demonstration as a riot?
There's no clear answer, but the general consensus within the media is that events in Minneapolis have passed through any gray area—protesters have become rioters. Civil disobedience has given way to looting and arson. But with so-called rioters taking over and destroying a police precinct, there is another threshold on the horizon. How many government buildings will violent groups of citizens need to take over before the riot is recognized as a revolt—a rebellion building toward revolution?
With this in mind, there are a number of reasonable ways to look at what's happening in Minneapolis—none of which include calling the people involved "thugs" or invoking the prospect of gun violence.
Black CNN reporter arrested live on TV by Minnesota police while covering race protests www.youtube.com
The first, more obvious way to view the riots is as a sad but predictable consequence of a horrifying injustice. People in Minneapolis witnessed what amounts to a murder carried out by the police while both the victim himself and bystanders politely asked officer Derek Chauvin to let George Floyd breathe. It makes sense that the citizens of Minneapolis—particularly black citizens who are all too familiar with racially-targeted police violence—are angry. And angry people (particularly in large groups) often behave irrationally. As a result, many of them are participating in violence that—according to this perspective—doesn't really help anything.

From this view, efforts to suppress the riots make sense—even if the use of tear gas and rubber bullets seems to have been much more of an option in recent days than it was, for instance, against armed protesters threatening the lives of Michigan legislators. If you take this view, then anything that can be done to encourage people to go home—even mass arrests that result in a black CNN reporter being handcuffed live on air—is for the best and will help this matter be resolved peacefully through the official channels.
From another perspective: F*** the official channels. Calls for a return to order and peace echo the sentiments of white moderates decried by Martin Luther King Jr. as preferring "a negative peace which is the absence of tension to a positive peace which is the presence of justice." Burning a police precinct may be the best way to ensure that police operate in fear of this kind of reprisal in the future—that they know their actions have consequences and that their monopoly on violence can be revoked by the citizens they're meant to serve.
When civility leads to death, revolting is the only logical reaction. The cries for peace will rain down, and whe… https://t.co/oCOivqBZ58

— Colin Kaepernick (@Colin Kaepernick) 1590683894.0
And in a time when tens of millions are struggling to make ends meet while corporations are bailed out, and the police are used as a force to protect capital—so much so that a man can be killed over an allegedly buying food with a fake $20 bill—even looting can be framed as a form of restorative justice. Revolt, violence, and insurrection may be the only way to topple existing power structures so that they can be remade into something more just.

Complicating the issue further, there are reasons to suspect that some of the worst aspects of the riots have been instigated by outside agitators with no interest in the demonstration's cause—only a desire to fan the flames of chaos. In one case Internet detectives believed they had even found evidence that a Minnesota police officer had smashed the windows of the autozone. While this account of events has been denied by police officials, there is no clear evidence one way or another.
It is not unreasonable—considering what we've seen—to consider that there might be a generally adversarial relationship between Minneapolis police and the communities they "serve." And the fact that—as of the most recent analysis—only about 5% of white police officers in the Minneapolis police force were living within the city, suggests that many of the most hostile police officers could have little personal incentive to maintain order—particularly those harboring a racist desire for an excuse to retaliate.
Who is the Minneapolis Umbrella Man? www.youtube.com
Regardless of which perspective you take, any suggestion that the current tensions should or must lead to gun violence is out of proportion to even the most dramatic aspects of the riots. Destruction of property—even on a massive scale—is not on par with murder, and you can't cure the anger arising from an unnecessary use of deadly force by invoking further unnecessary use of deadly force.

If President Trump doesn't start to handle this situation more carefully (hey, it could happen…), then he runs the risk of escalating the violence to new levels.
Keep reading...
Show less
Jason Van Dyke shot the black youth 16 times in 2014
A jury has convicted Jason Van Dyke of second-degree murder and 16 counts of aggravated battery in the fatal shooting of 17-year-old Laquan McDonald in 2014.
The Chicago police officer originally faced two counts of first-degree murder and was acquitted of one count of official misconduct. Second-degree murder carries a more lenient sentence than first-degree, and Van Dyke could face as long as 20 years in prison or as little as probation. Each aggravated battery conviction carries prison time from six to 30 years.
With jury deliberations starting Thursday afternoon, the verdict was reached midday Friday after approximately 7½ hours. In closing arguments, jury members heard a prosecutor claim that Van Dyke had no regard for the black teenager's life, while the defense framed the situation as tragic, but not a murder.
Assistant special prosecutor Jody Gleason told the jury that according to testimony by his partner, Van Dyke was already considering shooting the youth on the drive to the scene.
"Laquan McDonald was never going to walk home that night," Gleason said. "You heard what it was that he said, 'I guess we'll have to shoot him.'"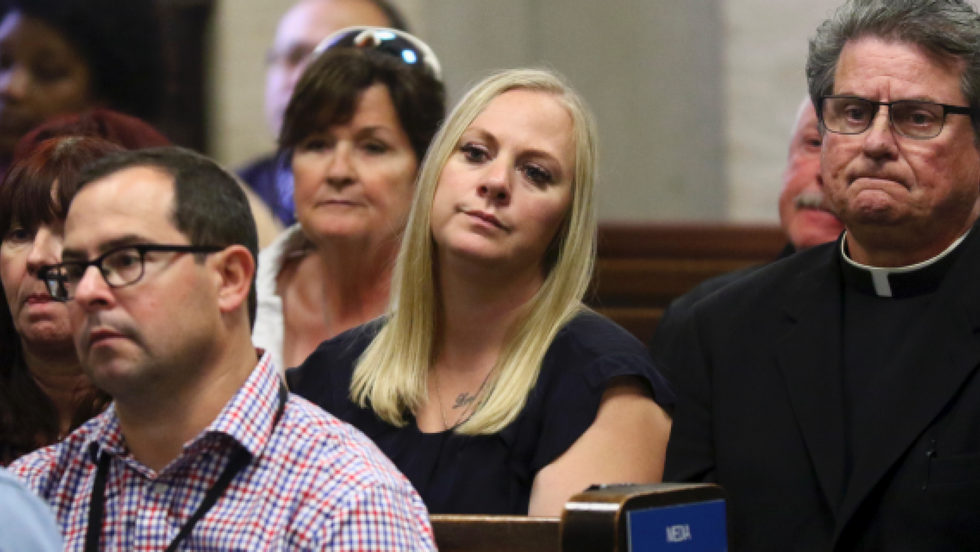 Tiffany Van Dyke, the wife of Chicago police Officer Jason Van Dyke, listens during the trial.
John J. Kim/Chicago Tribune via AP, Pool
Van Dyke is the first Chicago officer to be charged with first-degree murder since 1980. While police reports originally did not find the shooting an incriminating offense, dash-cam videos released by the city in 2015 sparked protests, and the courts ordered Van Dyke be held without bond on murder charges.

The video was approximately six minutes long and appeared to show the 17-year-old McDonald running down the middle of the road while Van Dyke, standing next to his SUV, opens fire, striking the teen sixteen times and killing him.
Chicago officials had been preparing for potential demonstrations following the release of the verdict Friday afternoon. Police said they had plans in place to "ensure public safety" while at the same time "protecting the rights of peaceful demonstrations."
Family members of McDonald in the courtroom included Rev. Martin Hunter, the victim's great uncle who acts as a family spokesperson, among others. Tina Hunter, McDonald's mother, was not in court for the verdict.
Demonstrators gathered outside the courthouse erupted into cheers after the reading of the verdict. "Thank you, Jesus!" one woman shouted. Others chanted, "Justice! Justice! Justice!"
Joshua Smalley is a New York-based writer, editor, and playwright. Find Josh at his website and on Twitter: @smalleywrites.

Keep reading...
Show less