"A tree is best measured when it is down," the poet Carl Sandburg once observed, "and so it is with people." The recent death of Harry Belafonte at the age of 96 has prompted many assessments of what this pioneering singer-actor-activist accomplished in a long and fruitful life.
Belafonte's career as a ground-breaking entertainer brought him substantial wealth and fame; according to Playbill magazine, "By 1959, he was the highest paid Black entertainer in the industry, appearing in raucously successful engagements in Las Vegas, New York, and Los Angeles." He scored on Broadway, winning a 1954 Tony for Best Featured Actor in a Musical – John Murray Anderson's Almanac. Belafonte was the first Black person to win the prestigious award. A 1960 television special, "Tonight with Belafonte," brought him an Emmy for Outstanding Performance in a Variety or Musical Program or Series, making him the first Black person to win that award. He found equal success in the recording studio, bringing Calypso music to the masses via such hits as "Day-O (The Banana Boat Song)" and "Jamaica Farewell."
Harry Belafonte - Day-O (The Banana Boat Song) (Live)www.youtube.com
Belafonte's blockbuster stardom is all the more remarkable for happening in a world plagued by virulent systemic racism. Though he never stopped performing, by the early 1960s he'd shifted his energies to the nascent Civil Right movement. He was a friend and adviser to the Reverend Doctor Martin Luther King, Jr. and, as the New York Times stated, Belafonte "put up much of the seed money to help start the Student Nonviolent Coordinating Committee and was one of the principal fund-raisers for that organization and Dr. King's Southern Christian Leadership Conference."
The Southern Poverty Law Center notes that "he helped launch one of Mississippi's first voter registration drives and provided funding for the Freedom Riders. His activism extended beyond the U.S. as he fought against apartheid alongside Nelson Mandela and Miriam Makeba, campaigned for Mandela's release from prison, and advocated for famine relief in Africa." And in 1987, he received an appointment to UNICEF as a goodwill ambassador.
Over a career spanning more than seventy years, Belafonte brought joy to millions of people. He also did something that is, perhaps, even greater: he fostered the hope that a better world for all could be created. And, by his example, demonstrated how we might go about bringing that world into existence.
TECHNOLOGY
Biohacking: The Dangers and Misconceptions
Is biohacking as scary as it's been made out to be?
Keoni Gandall, an 18-year-old research fellow at Stanford, has eschewed video games and team sports in favor of using advanced lab equipment to perform DIY gene editing. Using the widely available CRISPR/Cas9, Gandall wants to clone DNA and eventually make full genomes at home. The availability of this technology represents a new democratization of science, a science that can be performed anywhere by anyone relatively cheaply. That said, there's always a price associated with this type of freedom.
As barriers to entry to the scientific community are torn down, the world is exposed to the ideas and experiments of people outside of genetic science's traditional university setting. That said, more ideas don't necessarily mean better ideas. Biotech firm Ascendance Biomedical seemed committed to proving this point when their CEO Aaron Traywick injected himself with a DIY herpes medication in front of a crowd in Austin this February. This is the same company that urged Tristan Roberts to inject himself with an untested gene therapy to treat his HIV. Neither of these experiments worked, but they do paint an interesting picture of what we can expect in the future. Ease of access combined with relatively lax FDA standards about testing experimental medicines on oneself will eventually give rise to more companies like Ascendance Biomedical. Sure, this may present a sort of minor competition with Big Pharma with regard to curing certain diseases, but the danger of injecting oneself with a mystery cocktail created by someone with a few thousand dollars worth of gene-editing technology cannot be overstated.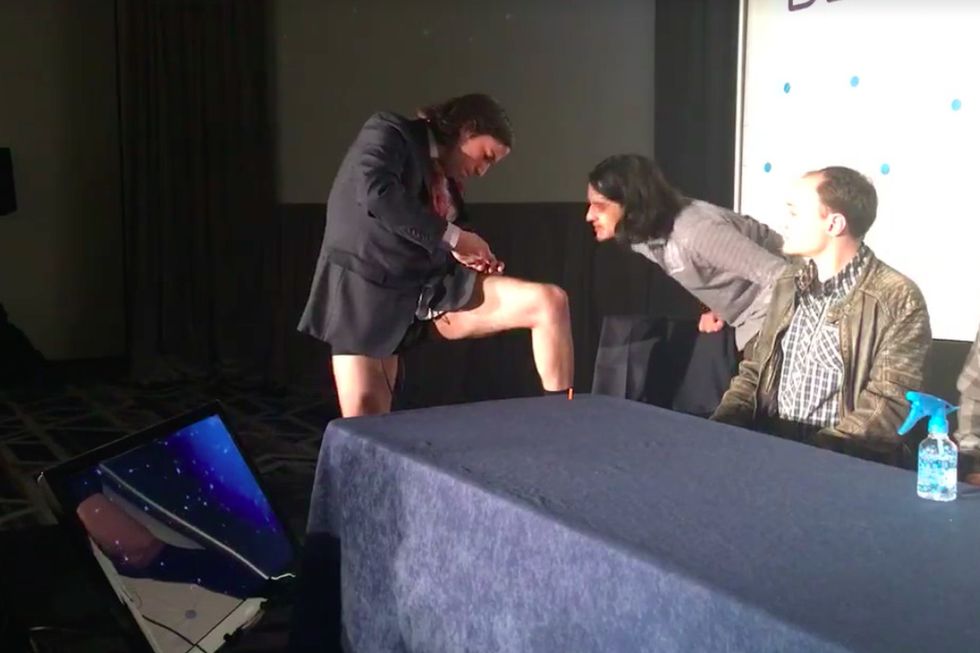 Traywick injecting himself with his DIY herpes medication.
Still, incompetent gene editors like Traywick are a bigger danger to themselves than others. The real concern with the dissemination of this technology is the potential for it to be used in the manufacturing of homemade biochemical weapons. Recently, researchers at the University of Alberta were able to recreate Horsepox, an extinct relative of the smallpox virus. It only cost them $100,000, and it took about six months. While this price point will keep hobbyists like Gandall from reproducing extinct diseases, the lack of government oversight regarding the University's experiment is frightening. Genetic science is improving at a rate faster than legislation regulating DNA experimentation can be churned out. In the wrong hands, the dangers associated with viral editing are incalculable.

Back in 2016, researchers at MIT invented a programming language that allows them to design and edit DNA. Supposedly, anyone fluent in this language is able to generate and edit a DNA sequence from their computer. Before this language was invented, advanced gene editing required years of experience. According to scientists at MIT, now anyone with some programming skills can create, edit, and model DNA. According to MIT professor Christopher Voigt, "it is literally a programming language for bacteria." The medical applications are seemingly endless, but there are concerns regarding accessibility. If every person with a computer has the ability to design new genetic material, biological attacks won't just increase in number, their origins will also become more and more difficult to trace.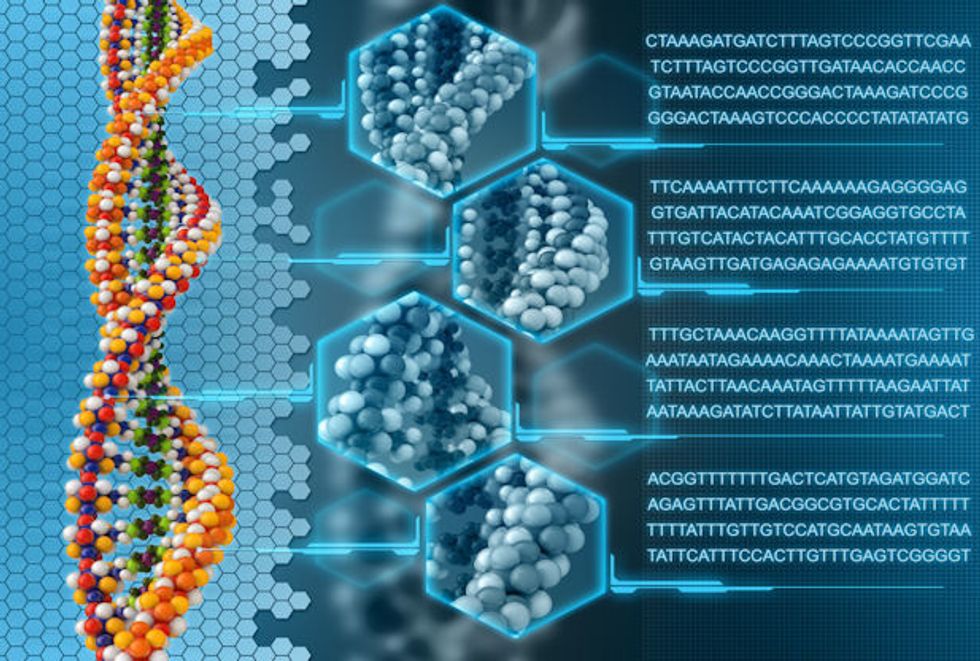 Analysis of DNA's nucleotides
While the growing anxiety surrounding biohacking is certainly warranted, there are plenty of professional geneticists out there who don't seem to be worried, and most of them don't believe that DNA sequencing is anything like a computer language. Synthetic biologist Sarah Richardson believes that this line of thinking has given bioengineers unrealistic expectations saying, "any analogy that ignores or downplays the fundamental rule of biology — that a cell makes imperfect copies of itself — is going to lead down a frustrating and unproductive path." According to her, we haven't even learned what some of our genes actually do, and that those worrying about the rise of biohacking are being tricked into fear. Scientists are quick to admonish the risky and often outright stupid Garageband biohackers out there, because as of right now, there's still a ton that our top geneticists don't know. We only finished mapping the human genome 15 years ago. Hell, it's only been 65 years since we discovered DNA. We're just not at the point where people with little-to-no real lab experience can accurately sequence and edit DNA from their basement. Still, the time is coming when this type of DIY genetic editing will be possible and accessible, which is why many in the bioethics community are arguing that t we need to start having the conversation now–while biohacking is in its infancy–so we can draw up preemptive legislation. One can only imagine the damage Aaron Traywick's could do if this technology were more advanced.