At a time when most Hollywood stars had pin-straight, blonde hair and crystal-clear, blues eyes, Nichelle Nichols' presence electrified many Black Americans who'd never seen someone who looked like them shimmering on the silver screen.
---
Sadly, Star Trek's beloved Lieutenant Uhura has passed – she died of natural causes at age 89 on Sunday. Although she'll no longer stand as a living example of why representation matters, we'll not forget her legacy as an actor and what inclusion meant to her.
Just think of all of the doors she kicked down for the actors of color who followed in her thigh-high leather boots.
If you aren't familiar, no worries neither was I – I blame my parents for having me in '94 – but it's time to get into just what made Nichelle's star shine so brightly.
Best remembered for her work on Star Trek – the cult-inspiring series that aired from 1966 to 1969 – Nichols wasn't just another sixties babe – there solely as eye-candy for a masculine protagonist.
Nichols was the first Black woman to have a continuing, leading role on television and later worked with NASA to recruit minorities for the space program.
Subsequent Star Trek series and films featured Nichols on equal footing with characters of a variety of races set the bar for inclusion and multiculturalism.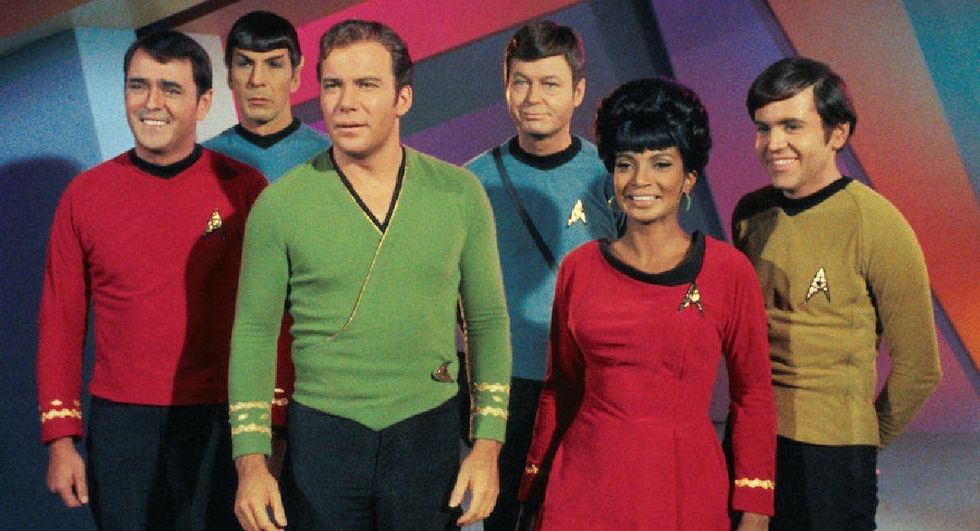 Her list of firsts continues. Nichols and co-star William Shatner shared the first onscreen kiss between a black female and white male on American television, setting the stage for countless showmances and romantic couplings to come.
"While fans will miss and honor the famous actress who opened so many paths with her presence on the screen … Nichelle Nichols, you were one-in-a-million in so many, many ways." -George Takei, of Star Trek
What's the best way to honor such an iconic, one-in-a-million actress?
INCLUSION… REPRESENTATION!
Excuse my caps lock, but It's 2022, and it feels like women and minorities are still not heard.
The best way to honor Nichols and her legacy is to push for diversity and show the major movie-makers and production companies that we watch stories that feature actresses like Nichelle Nichols. They need to produce more films and series featuring diverse female artists like Killing Eve, A Black Lady Sketch Show, and Everything Everywhere All At Once.
We may have lost a megastar, but Nichelle's mission will live on through her fans!
Rest In Power, Nichelle Nichols.