"A tree is best measured when it is down," the poet Carl Sandburg once observed, "and so it is with people." The recent death of Harry Belafonte at the age of 96 has prompted many assessments of what this pioneering singer-actor-activist accomplished in a long and fruitful life.
Belafonte's career as a ground-breaking entertainer brought him substantial wealth and fame; according to Playbill magazine, "By 1959, he was the highest paid Black entertainer in the industry, appearing in raucously successful engagements in Las Vegas, New York, and Los Angeles." He scored on Broadway, winning a 1954 Tony for Best Featured Actor in a Musical – John Murray Anderson's Almanac. Belafonte was the first Black person to win the prestigious award. A 1960 television special, "Tonight with Belafonte," brought him an Emmy for Outstanding Performance in a Variety or Musical Program or Series, making him the first Black person to win that award. He found equal success in the recording studio, bringing Calypso music to the masses via such hits as "Day-O (The Banana Boat Song)" and "Jamaica Farewell."
Harry Belafonte - Day-O (The Banana Boat Song) (Live)www.youtube.com
Belafonte's blockbuster stardom is all the more remarkable for happening in a world plagued by virulent systemic racism. Though he never stopped performing, by the early 1960s he'd shifted his energies to the nascent Civil Right movement. He was a friend and adviser to the Reverend Doctor Martin Luther King, Jr. and, as the New York Times stated, Belafonte "put up much of the seed money to help start the Student Nonviolent Coordinating Committee and was one of the principal fund-raisers for that organization and Dr. King's Southern Christian Leadership Conference."
The Southern Poverty Law Center notes that "he helped launch one of Mississippi's first voter registration drives and provided funding for the Freedom Riders. His activism extended beyond the U.S. as he fought against apartheid alongside Nelson Mandela and Miriam Makeba, campaigned for Mandela's release from prison, and advocated for famine relief in Africa." And in 1987, he received an appointment to UNICEF as a goodwill ambassador.
Over a career spanning more than seventy years, Belafonte brought joy to millions of people. He also did something that is, perhaps, even greater: he fostered the hope that a better world for all could be created. And, by his example, demonstrated how we might go about bringing that world into existence.

Overview
Home Chef makes dinnertime a breeze. From classic meal kits to convenient Oven-Ready and Fast & Fresh options, their meals are designed to fit different needs. They're the perfect solution for any household looking for quick-n-easy breakfasts, lunches, and dinners. You can even order snacks, and cold brews as well! They're incredibly affordable, with meals starting at only $7.99.
As a professional food editor, I tested Home Chef for a week to get a full view of how it stacks up against its competitors. Here's everything you need to know:
What's on Home Chef's Menu
Home Chef's menu features 30+ recipes and 18 extras each week. And if you consider the number of protein customizations you can make with select meals, that's a mighty robust menu. With their Customize It tool* you can upgrade, swap, or double up on your favorite protein – options include antibiotic-free boneless skinless chicken breasts, salmon filets, Impossible Burger, and more.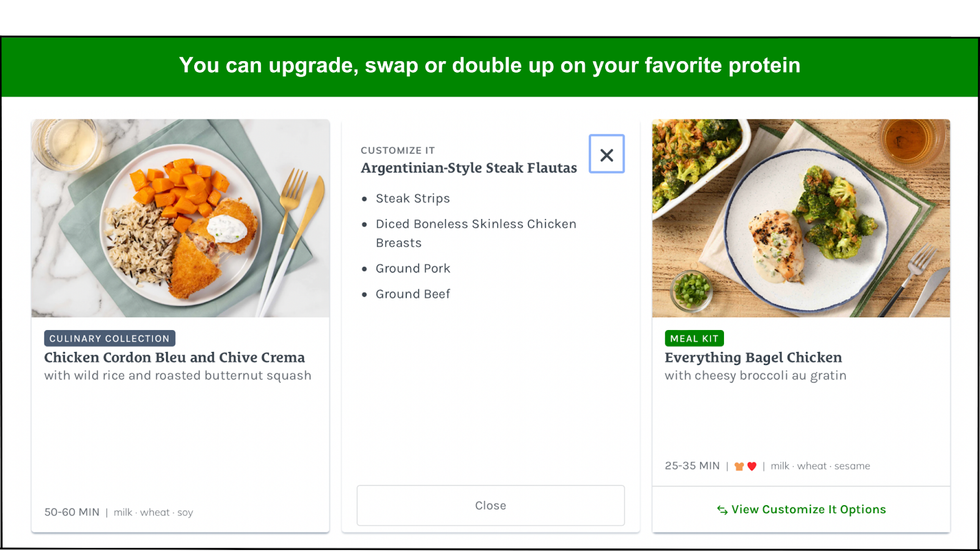 Choose from fancy dinners like their Blackened Salmon with Sun-Dried Tomato Alfredo Campanelle, or pick one of their mouth-watering Oven-Ready meals like the Cotija and Jalapeño-Crusted Chicken that requires close to zero prep. Simply assemble all ingredients in the tray you receive with your order and pop it in the oven. And on extra busy days, their Fast & Fresh microwavable options like the Cherry Chipotle Brisket Tacos are a true life savior – equally delicious but ready in only a few minutes!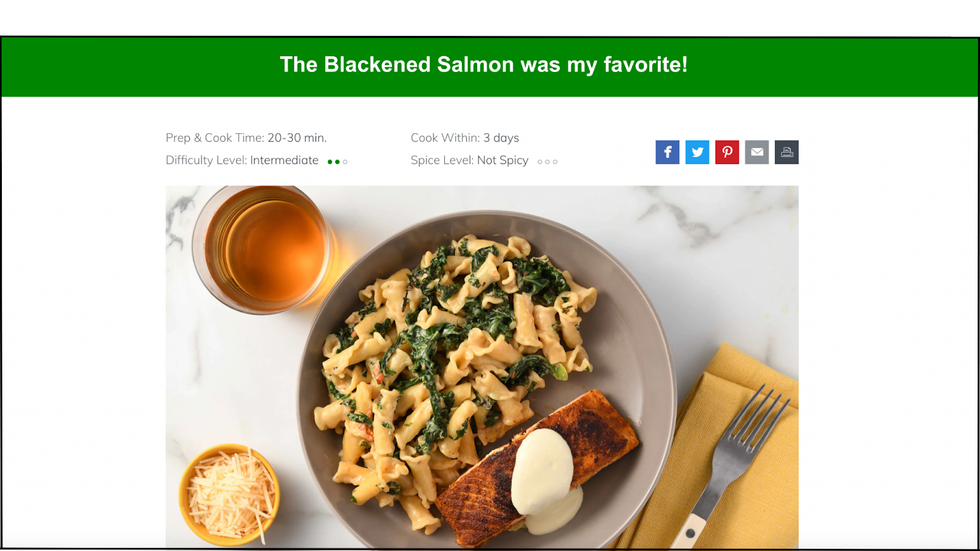 Home Chef gives you the option to filter recipes based on your personal preferences, such as:
Calorie-conscious
< 30 minutes
Carb-conscious
Vegetarian
And I absolutely love their vast selection of add-ons that you can simply add to your weekly order!
Unboxing
Home Chef's ingredients are shipped in a biodegradable, insulated box with reusable cool gel packs that keep the produce cold. You get fresh, pre-portioned ingredients organized in separate bags, making the cooking process super convenient.
Each order arrives with easy-to-follow recipe cards. Of course, they're recyclable, but the idea is to hold onto them and reuse. The cards provide clear instructions and an image of the delicious meal so you know the degree of difficulty, spice level, cook time, and what your Home Chef meal will look like once plated.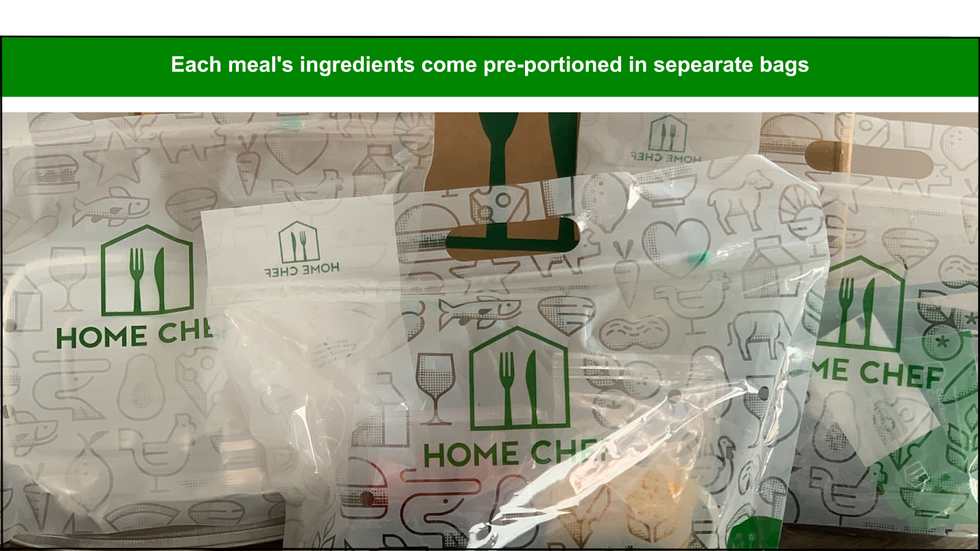 Cooking and Eating
Brainstorming recipes, driving to the grocery store, selecting all the ingredients, and cooking can get exhausting. No wonder we go for highly caloric frozen meals or greasy takeout.
Home Chef, however, takes the hassle of cooking away, by saving time and making the cooking process enjoyable! Did you know that they feature the most Oven-Ready options of leading meal kit services? Plus, you will never cook the same meal twice. Instead, you can explore a wide range of flavorful recipes and cuisines from all around the world.
It's astonishing how easy it is to develop a solid routine where the family gathers together every night to enjoy a wholesome, home-cooked meal.
Subscription
Signing up for Home Chef is super simple: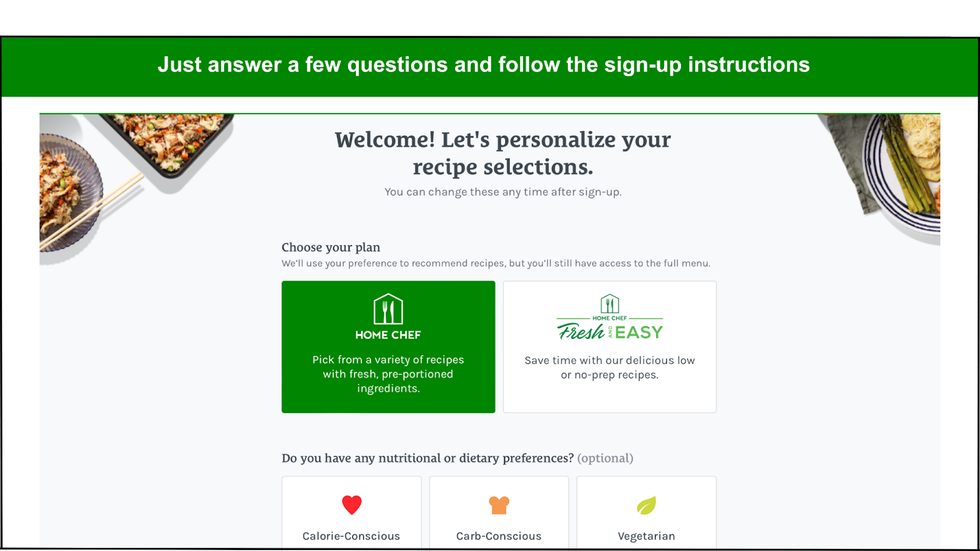 Click on one of the links below and get redirected to the Home Chef Website. Then click on your preferences by answering a few questions.
Enter your email address and zip code to create your account.
Build a box that suits your needs by selecting the number of servings and recipes you would like to receive each week
Enter your address and choose your preferred delivery day. Remember, their subscription is flexible, you can skip a week or pause your account at any time in just a few clicks. You won't have to call or email anyone.
Pick your favorite meals from their menu . . . and done!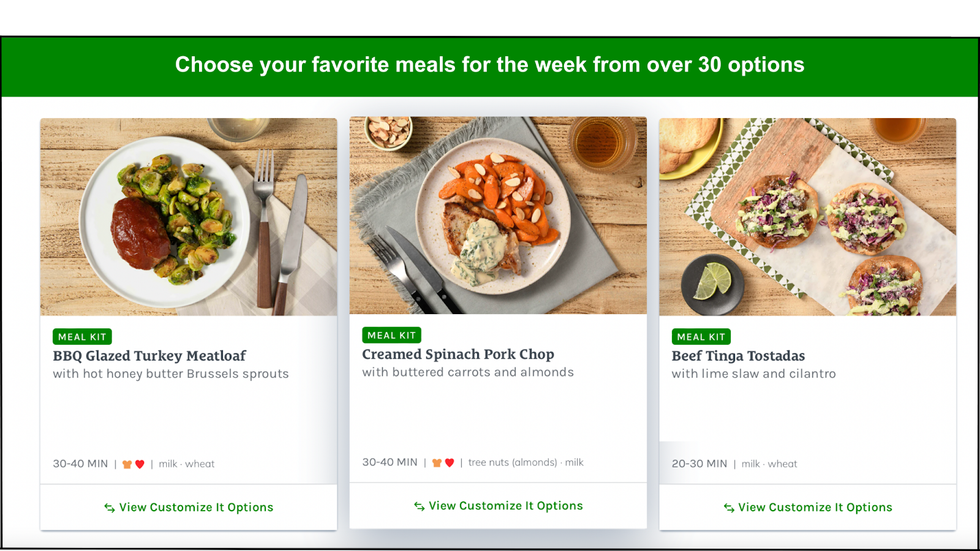 You might find it a little frustrating that you have to complete the checkout process before you get to their menu page. But don't worry. You can still change your mind after browsing their recipes.
If you need further assistance, just reach out to Home Chef — the #1 in Customer Satisfaction among leading meal kit companies**.
The Bottom Line: Is Home Chef Worth It?
Home Chef is a fantastic service for any household looking for a convenient dinnertime solution. Their recipes are tasty, easy to cook, and fit various lifestyles and dietary needs – all for a brilliant price point, with meals starting at only $7.99.
Sure, there are cheaper meal kits out there. But I can honestly say that Home Chef's overall service is of the highest quality, so I don't mind paying a little extra. What an exceptional experience, I will for sure continue with my subscription.
Home Chef is worth the investment, I highly recommend you try it!
Our friends at Home Chef are extending a special offer to our readers! Follow this link to get 18 Free Meals & Free Shipping!

Offer Expires In
*Source: https://www.homechef.com/customize-it
**Source: US Grocery Benchmark Study, April 2020, Market Force Information, Inc.
Photo credit: Michel Euler/AP/Shutterstock
I'll never forget the moment I finished reading Sula by Toni Morrison.
I closed the book and then cried.
I cried at how beautifully the story was written, I cried at the powerful revelation Nel (one of the main protagonists) has at the end, and I cried out in relief. Relief that, for once, both black and female characters were shown in all their glory – and flaws – outside of the white male gaze.
Their sense of self was not created based on how white America perceived them, but on how they perceived themselves. And as a gay black writer born on the East Coast, that felt revolutionary to me.
"I'm writing for black people… in the same way that Tolstoy was not writing for me, a 14-year-old colored girl from Lorain, Ohio. I don't have to apologize or consider myself limited because I don't [write about white people] – which is not absolutely true, there are lots of white people in my books. The point is not having the white critic sit on your shoulder and approve it," - Morrison told The Guardian.
Toni Morrison was the recipient of the 1977 National Book Critics Circle Award for Song of Solomon, 1988's Pulitzer Prize for Fiction for Beloved, and the Nobel Prize in Literature a few years later.
Morrison's writing and characters have gone on to resonate with millions of readers across the globe of various races and ethnicities. Not to mention the generations of writers, like myself, that she has and will continue to inspire.
From her debut novel, The Bluest Eye, to her last, God Help The Child, Toni Morrison has vigorously and unapologetically encapsulated the human experience that so many Black Americans endure despite the masks we wear for society at large, which transformed American literature as we know it.
An enormous part of her legacy is the work she did to establish and extend the Black American literary canon, both in her own writing and in the work she did as an editor prior to having published her first novel.
Toni Morrison's Writing | Making Black America | PBS
Morrison leans into topics many would consider taboo and creates complex characters with raw psyches and emotions.
The authenticity, the rawness, and the brutal honesty touch you in a way I can't even begin to try and type out or describe. All I can say is that after each Morrison novel I've read, I'm left both inspired and hungry for something else from her. Inspired to create characters that look like me, from worlds like mine, who are bigger than life, and unapologetically black.
"If there's a book that you want to read, but it hasn't been written yet, then you must write it," - Toni Morrison.
Her works force you to confront the ugly truths of society, the links to our brutal past, and the relationships forged because of a history we often would rather forget, than revisit.
"Quiet as it's kept, there were no marigolds in the fall of 1941. We thought, at the time, that it was because Pecola was having her father's baby that marigolds did not grow" - The Bluest Eye.
Everything, and I mean EVERYTHING, Morrison has written is a work of literary art. However, we all have our favorites. Here are mine:
1.Song Of Solomon - "Milkman Dead was born shortly after a neighborhood eccentric hurled himself off a rooftop in a vain attempt at flight. For the rest of his life he, too, will be trying to fly. As Morrison follows Milkman from his rustbelt city to the place of his family's origins, she introduces an entire cast of strivers and seeresses, liars and assassins, the inhabitants of a fully realized Black world."
2.Love - "In life, Bill Cosey enjoyed the affections of many women, who would do almost anything to gain his favor. In death, his hold on them may be even stronger. Wife, daughter, granddaughter, employee, mistress: As Morrison's protagonists stake their furious claim on Cosey's memory and estate, using everything from intrigue to outright violence, she creates a work that is shrewd, funny, erotic, and heartwrenching."
3.Paradise- "Starts with a horrifying scene of mass violence and chronicles its genesis in an all-black small town in rural Oklahoma. Founded by the descendants of freed slaves and survivors in exodus from a hostile world, the patriarchal community of Ruby is built on righteousness, rigidly enforced moral law, and fear. But seventeen miles away, another group of exiles has gathered in a promised land of their own. And it is upon these women in flight from death and despair that nine male citizens of Ruby will lay their pain, their terror, and their murderous rage."
No matter which of her books catches your eye first, you're bound to be in for an adventure that puts your emotions on a rollercoaster and introduces you to some of the most well-written and thought-out characters.
Toni Morrison is one of the best American authors. Thanks to her, readers and writers across the world are inspired to speak their truths and fully be who they are and what they stand for; just like she did.
Thank you, Toni!
Image Courtesy of Thought Catalog/Unsplash
I thought Octavia E. Butler was a dope writer back when I first stumbled upon her 1979 novel Kindred—arguably her most famous work. But now that I've read most of her novels, if not all, I have soooo much respect, admiration, and appreciation for her work and everything she stood for.
I'm not the only one who feels that way either, Butler went on to receive a raft of awards and accolades for her works, starting with:
Butler's fiction helped frame Black women's agency and individuality in a world that often denies them both. Born in Southern California, Butler was raised by her widowed mother, and at a young age, she discovered her love of reading and writing science fiction.
While in college Octavia was encouraged to attend the Clarion Workshop, which focused on science fiction and led to her first published work, Crossover. By the late 1970s, Butler had become sufficiently successful as an author that she was able to pursue writing full-time - THE DREAM!
"All that you touch
You Change.
All that you Change
Changes you.
The only lasting truth
is Change.
God is Change."
― Octavia E. Butler,Parable of The Sower
What a powerfully profound quote from such a violently relevant book.
Butler's work has radically changed my perspective on life and has left a lasting impression on me as a Black man and a writer.
Above And Beyond - Octavia's Legacy
Before I had the honor of encountering Octavia Butler's body of work, I already adored science-fiction and fantasy. There are so many books, comics, shows, and films that I enjoyed as a kid, but the main thing they taught me was that someone who looked like me and came from where I was from could never be the main character.
Then sometime between high school and college, I discovered Toni Morrison, James Baldwin, and Alice Walker, all prolific Black American writers. Yet, when it came to adventures in deep space and post-apocalyptic settings, there was little out there.
Thank the heavens for Nichelle Nichols and the doors she broke for black actors, but where were the black science-fiction writers?
In walks Octavia Butler . . . Not actually [I wish], but figuratively.
"Embrace diversity.
Unite—
Or be divided,
robbed,
ruled,
killed
By those who see you as prey.
Embrace diversity
Or be destroyed."
― Octavia E. Butler, Parable of The Sower
After I finished Kindred, I knew I had to DEVOUR everything else by this amazing writer. Building out my Octavia Butler collection has been a source of pleasure during stressful days and also an inspiration for my writing.
Octavia Butler shows me as a reader that we can exist alongside everyone else in science fiction and that, as a Black writer, the stars are the limit. She's given me permission to write about whatever the hell I want and not to allow hateful, bigoted ideologies to stop me from telling the stories I'm meant to tell.
"I fantasized living impossible but interesting lives – magical lives in which I could fly like Superman, communicate with animals, control people's minds." Butler wrote in 1999.
Butler mastered the art of storytelling by digging into deeply uncomfortable terrain - particularly humanity's hierarchical nature - and examining it with unwavering honesty. Her works challenged widespread notions of evolution, community, and sexuality as set against the backdrop of alien invasions or post-apocalyptic America.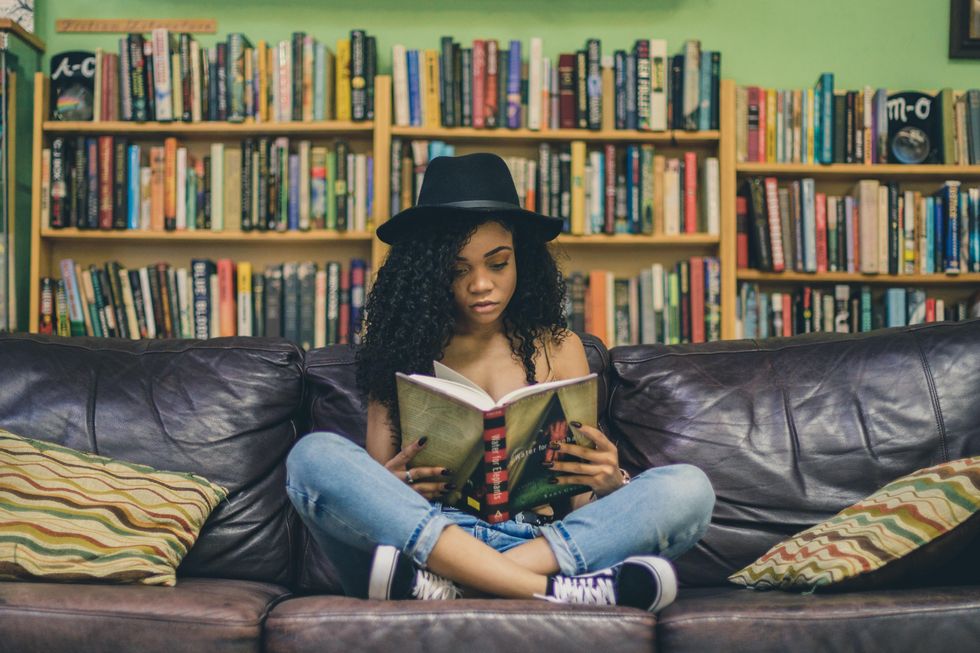 Photo by Seven Shooter on Unsplash
And this is only the beginning.
Butler's work continues to inspire a renaissance of Afrofuturism. I can't wait to get my hands on the amazing works to come that have been inspired and empowered by Octavia's novels.
My personal recommendations
I think all of her novels are worthy of reading, but here are a few of my personal favorites:
Sixteen years after Butler's death, her legacy is more relevant than ever.
Octavio Butler stands as the blueprint for future Black science-fiction writers - and all writers - who seek to share the worlds they're conjuring and the outstanding characters they're creating.

This weekend, do yourself a favor and check out any of Butler's books, you won't be disappointed!

Photo by Gift Habeshaw on Unsplash
I could write an epic poem based on my 2022. But I shall refrain and avoid boring you all. I'll just say this, it was one helluva year.

But I read more books than I expected, and that's a win I'll gladly take!
Despite everything that happened last year, I believe it was all worth it. Because I learned that I love learning, exploring, and uncovering new perspectives.
Here are 7 books I'm glad I read in 2022:
In Arcadia, Ben Okri
One read I wasn't expecting or hadn't planned.
No, this book found me. I was sorting things in the back corner of a forgotten closet, and there it was calling my name. And what a treasure it is. A portrait sends a group of diverse characters on a deeply magical journey filled with stunning scenery and fascinating mythology. Not to mention Okri's eloquent prose.
Ben Okri's In Arcadia will transport you to a world of intrigue and history.
Memed, My Hawk, Yashar Kemal
Another book I hadn't heard about, but grabbed from my roommate's shelf before a 7-hour train ride. I headed out the door and hoped for the best.
The story is a fast-paced adventure that takes you through the Turkish countryside with a clear narrative style that perfectly suits this tale of rebellion. But at its core, Kemal's Memed, My Hawk wants you to walk away from it with a different perspective on good and evil and their impact on society and the individual.
Tender Is The Night, F. Scott Fitzgerald
A lover of The Great Gatsby, I was intrigued to read more from Fitzgerald. Even more so when I discovered that this novel was his fourth and final novel. Although I wasn't prepared for the depths of sadness this book reaches I couldn't put this down.
Tender Is The Nighthauntingly mirrors the tragic but real experiences so many of us have had at one point in our lives.
Parable of the Sower, Octavia Butler
A smack-back into reality.
A well-deserved smack might I add. Butler's Parable Of The Sowerkeeps you on your toes with its all-too-familiar themes of religion, climate change, survival, and community. Its main character, Lauren, will be your new best friend, your confidant. And with each turn of the page, you join her in her crumbling world. And that strikes quite close to home.
If you're looking to get into sci-fi, Butler is the best author to start with. This is a must-read.
The Color Purple, Alice Walker
A touching and immensely powerful cultural touchstone of not merely African-American literature but World literature. Walker weaves a realistic story of a young woman's journey from the drudgery of domestic abuse to independence.
The novel is unapologetically female and black and opens up readers to a richly cultured world that has been ignored for hundreds of years. Listen up, time to pay attention. Give this magnificent story a try.
The Hobbit, J.R.R Tolkien
The adventure that started it all, and one I read as a child. But I must admit I fell in love with Amazon's Rings of Power series, so I immediately ordered The Hobbit and devoured it in one go.
It's simply a great modern classic!
J.R.R.'s worldbuilding is LEGENDARY. His magical creatures, their mystical cultures, and the constant perils they face are imaginative and so inspiring. Who knows, maybe I have a fantasy story in the works!
Sula, Toni Morrison
A book I've read more times than I'll admit on the internet but one I'll continue return to. With each delicious read, there's always something new to uncover. Toni Morrison is a master of prose and effortlessly portrays the friendship between two black women - the love, the betrayal, and the loss of innocence.
Sula makes me think about my own friendships - current and lost - and how profound platonic love is.
Image courtesy: Broadway World/Shutterstock
Monday night, I left the Barrymore theater in awe, inspired, and excited to tell anyone with ears how incredible the Broadway revival of August Wilson's The Piano Lesson was from start to finish.
To be honest, I wasn't sure how it would turn out with such a star-studded cast consisting of Samuel L. Jackson, Danielle Brooks, and John David Washington, with Samuel's wife, LaTanya Richardson Jackson, directing. But boy, did they not only exceed my expectations, they brought such personality and fire into their characters.
The Piano Lesson is a play about family, inheritance, and heritage and how best to honor that heritage. Wilson's play opened at Broadway's Walter Kerr Theatre in 1990, and ran for over 10 years, winning multiple awards, including a Pulitzer Prize for Drama.

Set in 1936, the story revolves around two adult siblings who cannot agree on what to do with a family heirloom: a piano carved with the faces of their enslaved ancestors. One insists on keeping the piano as a reminder of their ancestors' hardships, while the other, a sharecropper, wants to sell the piano to buy the land where their ancestors worked, believing that to be the best way to honor them.
The show brings to light the experience, trials, and tribulations many African Americans faced during the great depression. Wilson's authentic writing, paired with the talent placed on stage – particularly Brooks, who delivered a show-stealing performance – creates an experience like no other.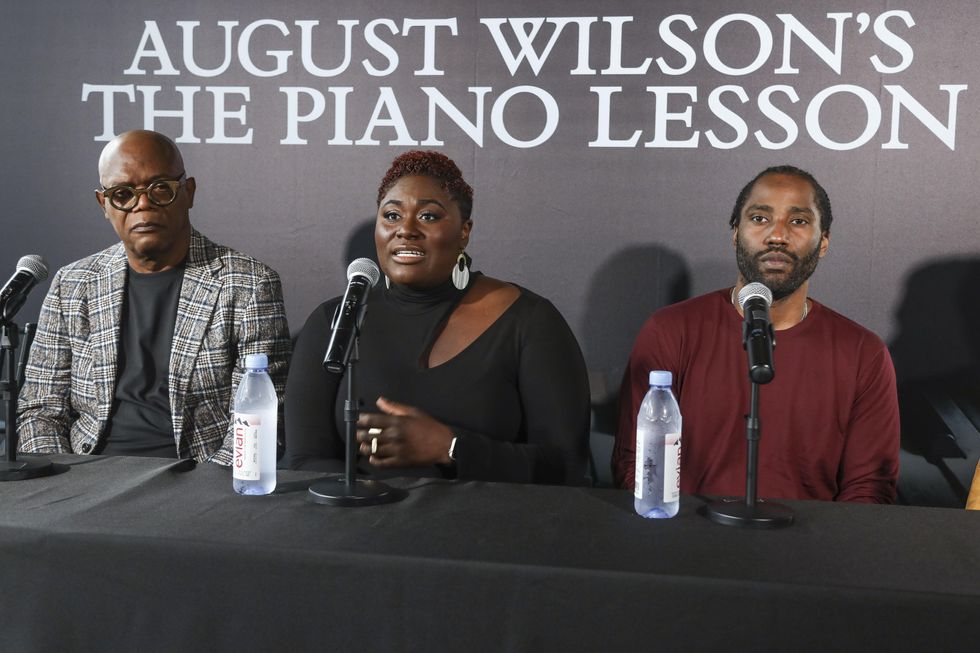 Credit: Andy Kropa/Invision/AP/Shutterstock
Believe me when I say you must see this before it leaves Broadway! I know I'm happy I was able to snag tickets.
Until you get your tickets to The Piano Lesson, here are other noteworthy plays included in August Wilson's Pittsburgh Cycle:

Jitney
Two Trains Running
King Hedley
Gem of the Ocean
Radio Golf
It's safe to say I'll be delving further into Wilson's works and eagerly awaiting both the film adaptation of The Piano Lesson and the next of his plays to make it to Broadway!
The Piano Lesson is only playing at the Barrymore Theatre for 17 weeks. Get your tickets before it's too late – you don't want to miss this cast or this show!

Sure, you've heard about Harlem, New York, a trendy uptown Manhattan neighborhood filled with Black culture and irresistible music. But have you ever heard of Seneca Village?
Before Harlem became an urban mecca, there was Seneca Village. Founded in 1825 by free Black Americans, it was the first such community in The City.
Fast-forward to today, and you'll notice that the section of Central Park that was once Seneca Village is set to be the temporary home of the augmented and inaugural '
Say Their Names Memorial Exhibition
'. It kicks off on Saturday, September 17th, and ends Monday, October 17th.
"Racial violence has been a distinct part of American history since 1660. While that violence has impacted every ethnic and racial group in the United States, it has had a particularly horrific effect on African American life ranging from revolts of the enslaved and lynchings to urban uprisings and calculated acts of murder. SDAAMFA is honored to bring this exhibition to New York City and dedicate it to the ongoing fight to end systemic racism." - Gaidi Finnie, Executive Director of the San Diego African American Museum of Fine Art
Produced by the San Diego African American Museum of Fine Art, this collaboration includes the Schomburg Center for Research in Black Culture and the New York Urban League, among other NYC cultural institutions. Described as an augmented reality experience that combines digital photography, cutting-edge technology, and art. There are 50 virtual pedestals bearing over 200 photos of Black people who died from racism over the span of 200 years.

This is precisely what we need so that each and every one of the names we cried out during the 2020 lockdown-driven protests won't have died in vain.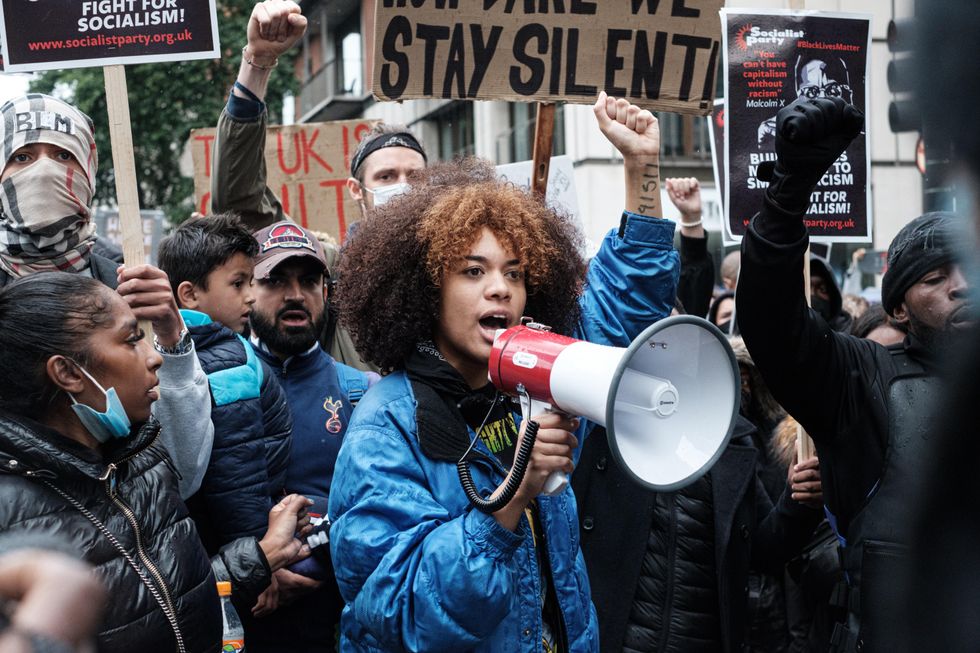 Photo by Ehimetalor Akhere Unuabona on Unsplash.com
People featured in the memorial include Eric Garner, Emmett Till, George Floyd, and Breonna Taylor, along with victims of the May 14th mass shooting at a Tops Supermarket in Buffalo, New York.
Say it with me, THEY MATTER, WE MATTER!
Come September 17th, I know what I'm doing. Do you?
Sul Sul!
If you don't know, that's how Sims greet one another in Simlish, the language spoken in each iteration of The Sims franchise, including my personal favorite and the one currently loaded on my iMac: The Sims 4.
"Is this really an article about The Sims?"
YES!
And no, Sims is not just virtual Barbies. Absolutely not.
The Sims is a popular long-running life simulation game. In fact, it's one of the most successful video games in terms of sales and has sold over 175 million copies worldwide.
Playing The Sims, is an EXPERIENCE and with33 million players worldwide, it's clear I'm not the only one who feels this way. Plus, it's so accessible, players can find The Sims 4 on PC or Mac, and gaming consoles like Xbox and Playstation.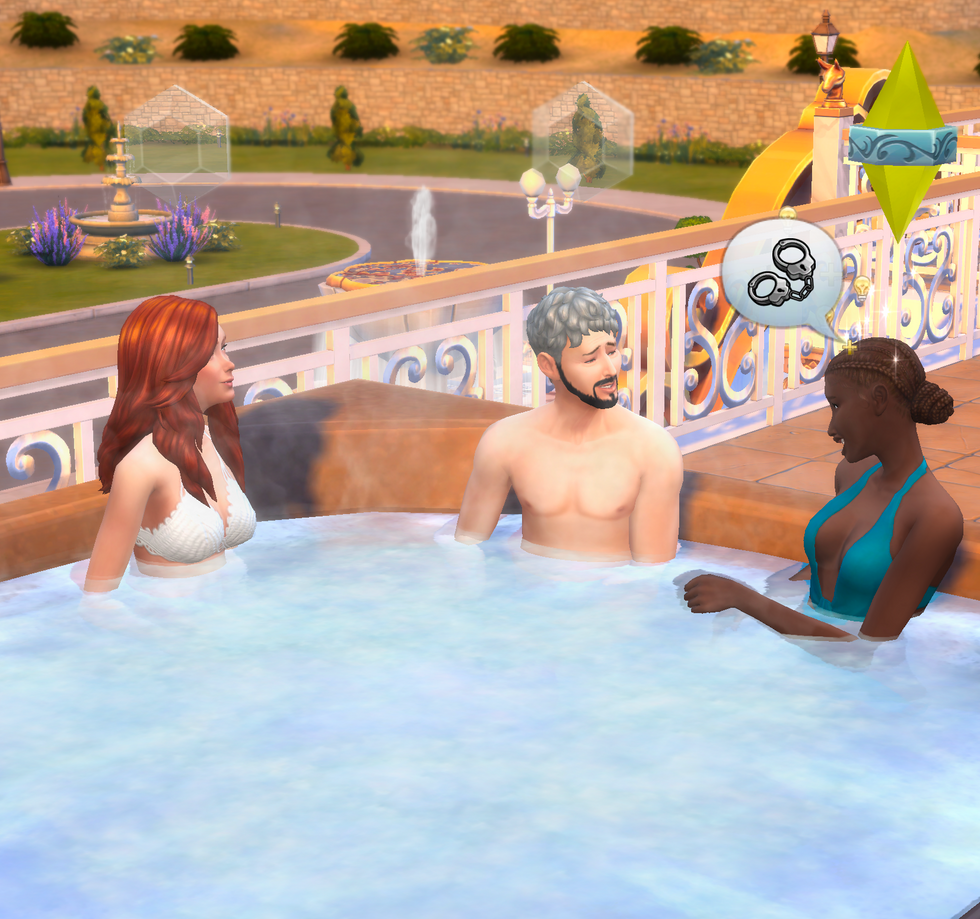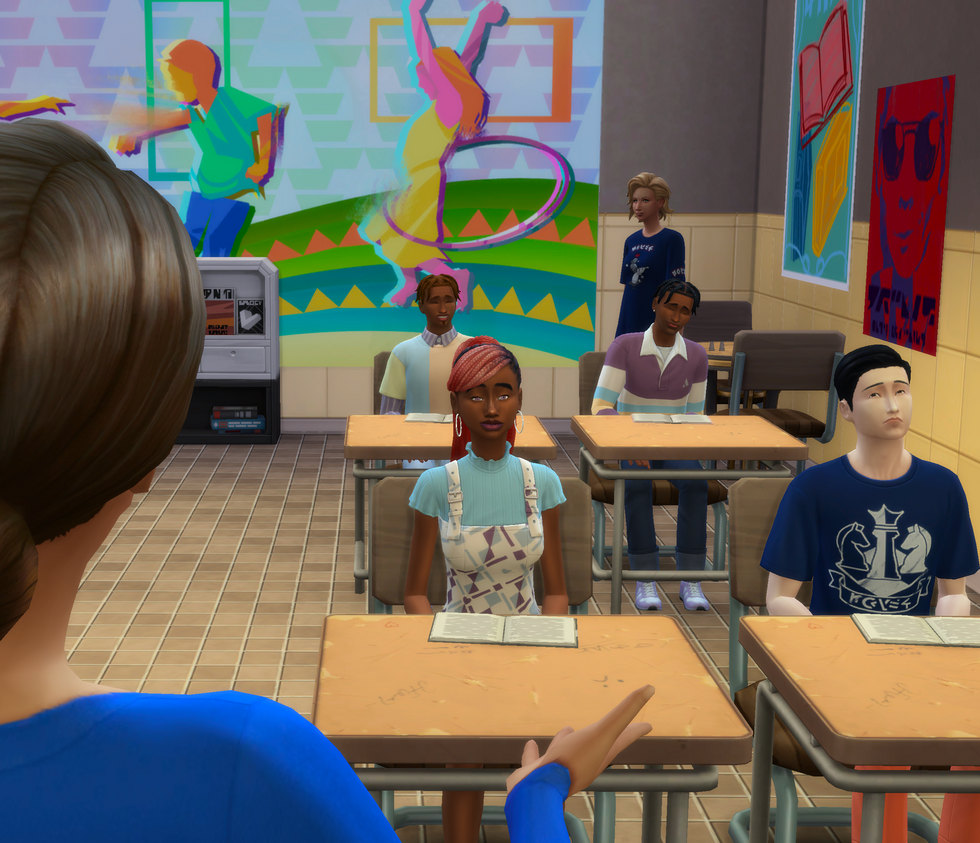 Sims not only allows me - and so many others - to step away from everyday reality, but I also get to explore endless possibilities and opportunities. One day I can be a father of four working on becoming a Silver Screen legend, the next I can be a femme-fatale vampire who owns a 5-star restaurant. The list goes on.

No, like it actually goes on. Once when I played as a bachelor, my sim was abducted, impregnated, and then the next day his house caught on fire. Talk about drama with a capital D.
I even got the chance to speak with a few other simmers to uncover what the game has meant to them:
"Playing the sims eases my stress, and is one of my biggest hobbies. Sharing my sims stories online has become an amazing creative outlet for me." - @WhimsyAlien
"Some aspects of the game are like therapy for me. During the pandemic, playing The Sims was a great way to ease my anixety and stress." - @NardVillian
"I've been playing the sims since around 2003 and I can't begin to describe how it's helped me, not to mention the amazing community, and all the simmers around the world I get to connect with." - @TheBlackPlumbob
"I'd like to thank my older sister for getting me into the sims, one day, she got up from her computer, and there it was The Sims 2! Now when the world isn't being nice, turning on Sims and hopping into my own universe helps every time." - @CheyLaVie
"The Sims 4 is for anyone who enjoys the art of storytelling, or has a visual eye for design, this game is for you! Plus, I enjoy being a part of such a welcoming and supportive community." - @NardVillian
The game gets your creativity going, pushes you to think outside of the box, and allows you to fully express yourself, which is something many of us can't do IRL.
What I love most about the game is that there is no right or wrong way to play. There's only you, your sim, and endless possibilities. Sims truly creates a gaming experience like no other.
The billions of player-made challenges also level up the experience. The 100 Baby Challenge allows your sim to pop out hundreds of babies, while the Off The Grid Challenge puts your sim on a lot with no electricity, money, or modern amenities.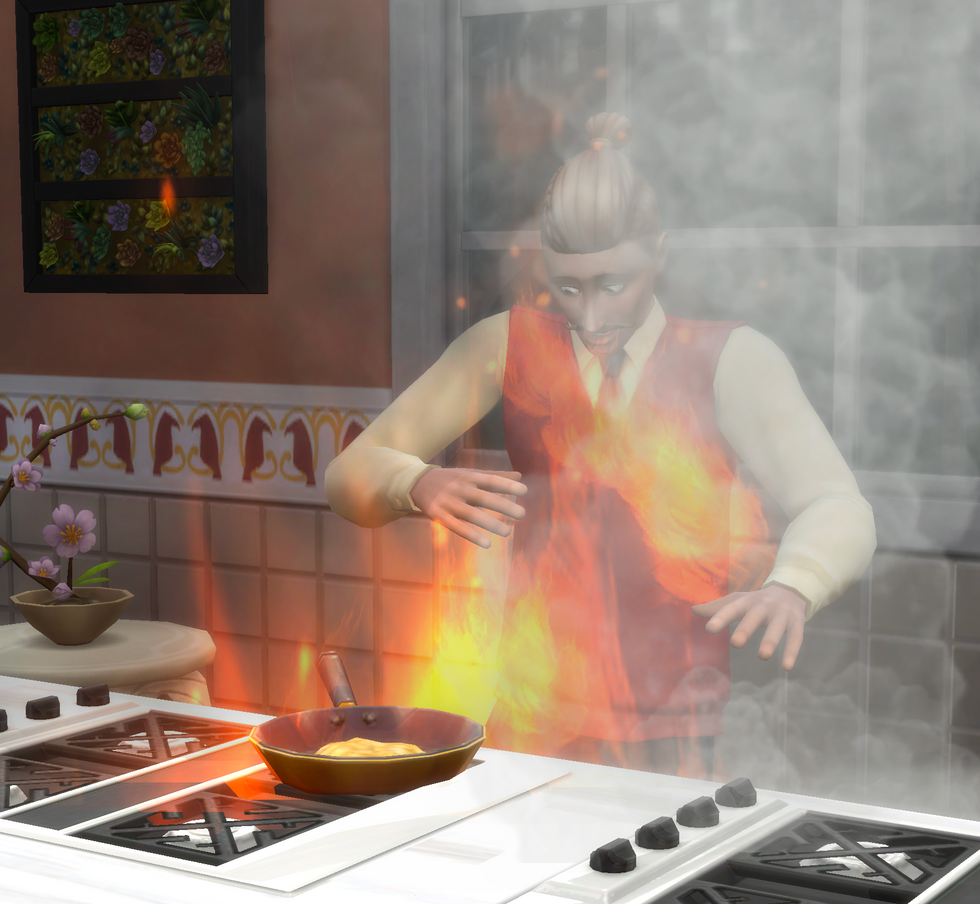 There's something for everyone in this world. Whether you want to try your hand at the nuclear family, become a leader of a werewolf pack, or dabble in the supernatural, Sims 4 has you covered. Just don't expect any cars.
If you're ready to express yourself and see your imagination fly, it's time you check out TheSims. Trust me, once you start playing, you won't want to stop – especially once you uncover all the money cheats!
P.S. - Steer clear of the Cowplants ;-)
At a time when most Hollywood stars had pin-straight, blonde hair and crystal-clear, blues eyes, Nichelle Nichols' presence electrified many Black Americans who'd never seen someone who looked like them shimmering on the silver screen.
Sadly, Star Trek's beloved Lieutenant Uhura has passed – she died of natural causes at age 89 on Sunday. Although she'll no longer stand as a living example of why representation matters, we'll not forget her legacy as an actor and what inclusion meant to her.
Just think of all of the doors she kicked down for the actors of color who followed in her thigh-high leather boots.
If you aren't familiar, no worries neither was I – I blame my parents for having me in '94 – but it's time to get into just what made Nichelle's star shine so brightly.
Best remembered for her work on Star Trek – the cult-inspiring series that aired from 1966 to 1969 – Nichols wasn't just another sixties babe – there solely as eye-candy for a masculine protagonist.
Nichols was the first Black woman to have a continuing, leading role on television and later worked with NASA to recruit minorities for the space program.
Subsequent Star Trek series and films featured Nichols on equal footing with characters of a variety of races set the bar for inclusion and multiculturalism.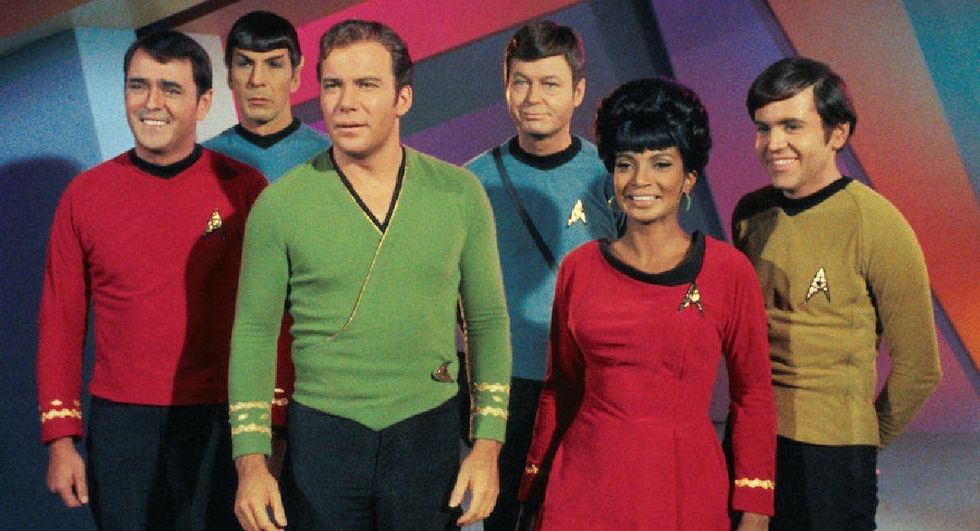 Her list of firsts continues. Nichols and co-star William Shatner shared the first onscreen kiss between a black female and white male on American television, setting the stage for countless showmances and romantic couplings to come.
"While fans will miss and honor the famous actress who opened so many paths with her presence on the screen … Nichelle Nichols, you were one-in-a-million in so many, many ways." -George Takei, of Star Trek
What's the best way to honor such an iconic, one-in-a-million actress?
INCLUSION… REPRESENTATION!
Excuse my caps lock, but It's 2022, and it feels like women and minorities are still not heard.
The best way to honor Nichols and her legacy is to push for diversity and show the major movie-makers and production companies that we watch stories that feature actresses like Nichelle Nichols. They need to produce more films and series featuring diverse female artists like Killing Eve, A Black Lady Sketch Show, and Everything Everywhere All At Once.
We may have lost a megastar, but Nichelle's mission will live on through her fans!
Rest In Power, Nichelle Nichols.
I love nature, but I'm also a home boy. I adore snuggling up on the sofa with all of the creature comforts of home. Being a Tennessee native, I tend to vacation close by. I figure, what's the point of traveling when there's still so much to discover?
Over the years, I've seen a lot in Nashville and loved every bit. Whenever my friends come to visit, we make sure to hit the Country Music Hall of Fame and Museum, Broadway, the parks, and my favorite restaurants and bars.
I really enjoy my state. I know where to go when I'm having a relatively hard day, what pizza — and yummy toppings! — to order at City House, and where to find the best cocktails. Although I view myself an expert on Tennessee, I have yet to find an idyllic place for a weekend escape off the grid.
I was scrolling through Instagram when I noticed a post about Getaway Dale Hollow, which is located near Celina and set in Moss Forest. The forest floor is a carpet of deep green moss and the cozy cabins looked super quaint.
Getaway's an excellent alternative to the same-old, same-old vacation but in a rustic setting. Tucked away in the most beautiful places, they have clusters of tiny cabins that offer the comforts of home, just two hours from major cities. Getaway Dale Hollow's location is only two hours outside of Nashville.
With 50 to 150 feet between cabins, they're socially distant by design. Check-in and check-out are contact-free. Plus, rates start at only $99/night.
I'd be completely alone and have a chance to reconnect with my thoughts, feelings, and myself. Each cabin has a warm shower, a private toilet, air conditioning and heat, a charming mini-kitchen, and a freshly made queen-sized bed that sleeps two — or two queen beds that sleep four.
It seemed like the perfect hidden gem close by the city of Nashville. I booked it and couldn't wait to head there that weekend. From the minute I stepped out of the car, the quietness was bliss. I found my cabin — even better than the website — and ran in to see my comfy queen-sized bed. The huge glass window has to be my favorite: no sidewalks, no buildings, no traffic, nothing but trees for miles.
On my first night, I relaxed on the Adirondack chair by the fire pit, watching the flames and sipping on a crisp Chardonnay. I got the best night's sleep in months. I didn't wake up to my blaring phone alarm, which was all packed away in the lockbox. Instead, I woke to the sun streaming in through the window. Once I'd polished off my morning cup of coffee, I was off to explore.
I started with a trek around Roaring River Falls — only a few miles from the cabin! I walked till the end of the trail and was rewarded with the most beautiful waterfall — the second gem I uncovered.
I stopped at Teddi Lou's Bakery for lunch and picked up an order of fresh apple fritters and their famous jalapeno poppers — absolutely delicious! My afternoon was spent at the Clay County Museum of History, taking in all the local history. Then I popped into Dale Hollow Antiques and picked up an antique tea set for my mom.
On my way back I grabbed a few ingredients from Scott's Bestway and rustled up a delicious dinner that I savored by the fire wrapped in a comfy blanket — absolute bliss! The next morning I got in another quick hike through the Bearwaller Gap before heading back to the busy city.
I know Nashville is incredible, but Getaway has revealed a whole new site to Tennessee. Now when my friends come to visit, I can take them to Getaway so we can all really relax. These glorious cabins nestled in the woods have made me love my state even more.
Any time I need an escape, I simply hop in my car and take off for a perfectly blissful weekend only two hours away.
If you're looking for a tranquil time away — with a little adventure mixed in — check out Getaway Dale Hollow. It's truly the Hidden Gem of Tennessee.