Dall-E Mini, the AI-powered text-to-image generator has taken over the internet. With its ability to render nearly anything your meme-loving heart desires, anyone can make their dreams come true.
DALL-E 2, a portmanteau of Salvador Dali, the surrealist and Wall-E, the Pixar robot, was created by OpenAI and is not widely available; it creates far cleaner imagery and was recently used to launch Cosmpolitan's first AI-generated cover. The art world has been one of the first industries to truly embrace AI.
The open-sourced miniature version is what's responsible for the memes. Programmer Boris Dayma wants to make AI more accessible; he built the Dall-E Mini program as part of a competition held by Google and an AI community called Hugging Face.
And with great technology, comes great memes. Typing a short phrase into Dall-E Mini will manifest 9 different amalgamations, theoretically shaping into reality the strange images you've conjured. Its popularity leads to too much traffic, often resulting in an error that can be fixed by refreshing the page or trying again later.
If you want to be a part of the creation of AI-powered engines, it all starts with code. CodeAcademy explains that Dall-E Mini is a seq2seq model, "typically used in natural language processing (NLP) for things like translation and conversational modeling." CodeAcademy's Text Generation course will teach you how to utilize seq2seq, but they also offer opportunities to learn 14+ coding languages at your own pace.
You can choose the Machine Learning Specialist career path if you want to become a Data Scientist who develops these types of programs, but you can also choose courses by language, subject (what is cybersecurity?) or even skill - build a website with HTML, CSS, and more.
CodeAcademy offers many classes for free as well as a free trial; it's an invaluable resource for giving people of all experience levels the fundamentals they need to build the world they want to see.
As for Dall-E Mini, while some have opted to create beauty, most have opted for memes. Here are some of the internet's favorites:
There's no looking back now, not once you've seen Pugachu; artificial intelligence is here to stay.
POLITICS
A (not-so-brief) Timeline of Trump Administration Turnover
Getty Images
This White House has the highest turnover of any recent administration. Who's leaving?
Trump's staff has the highest turnover within the first year out of the past five administrations. So far, as of April 16, 2018, a total of 32 of staffers and cabinet members have either resigned or been fired. While turnover is expected in the high stress environment of the White House, the frequency of exits is unprecedented. Who are the administration members who have left and been replaced? Here's a timeline of the most important officials who have left the administration.
Feb. 13, 2017 — National Security Adviser Michael Flynn was the first to be forced out of the administration. This was over concerns that Flynn lied to administration officials about the nature of his conversations with the Russian ambassador to the United States.
May 9, 2017 — FBI Director James Comey was fired. Trump said he felt frustrated by Comey's testimony about the FBI investigation into Russia's meddling during the 2016 campaign and the possible contacts with Trump advisers. This came out after the administration said Trump fired Comey based on recommendations from Attorney General Jeff Sessions.
June 2, 2017 — White House Communications Director Mike Dubke resigned from his post. He told colleagues that his reasons were personal.
July 21, 2017 — White House Press Secretary Sean Spicer resigned. This followed after he had told Trump he disagreed with his appointment of Anthony Scaramucci to replace Dubke as communications director.
July 28, 2017 — White House Chief of Staff Reince Priebus was forced out of his position after a tumultuous six months in the position. He was widely viewed as weak and ineffective.
July 31, 2017 — White House Communications Director Anthony Scaramucci was fired days after just 10 days. This came after ranting to a reporter about his co-workers. He described them as paranoid and mentally ill while throwing in a few choice curse words. Scaramucci was fired by the new chief of staff John Kelly.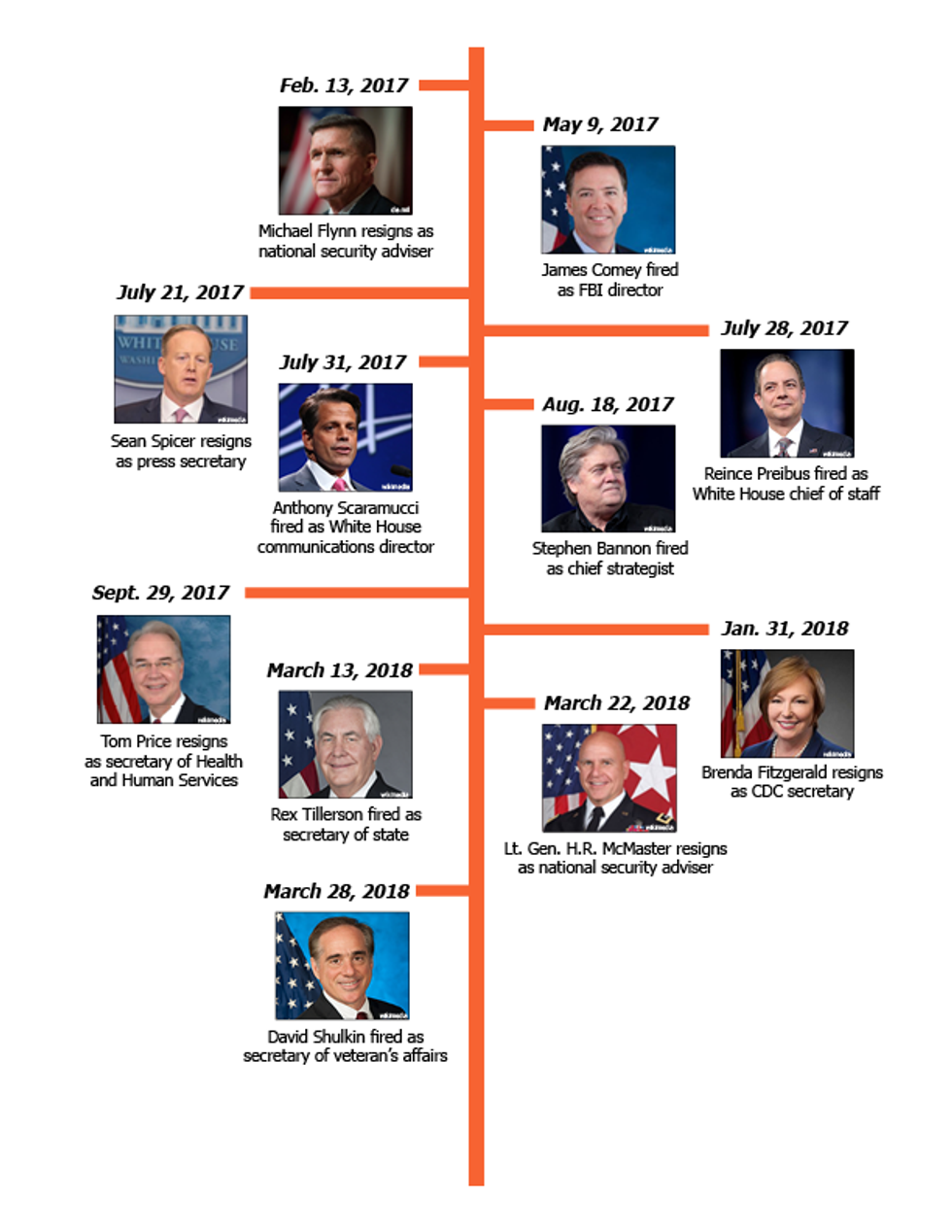 A visual timeline of Trump Administration exits Graphic by Lauren Aguirre
Aug. 18, 2017 — Chief Strategist Stephen Bannon was fired shortly after Kelly took over as chief of staff. Bannon was a highly controversial figure in the administration. He was a former head of Brietbart News — a far right-wing website that puts a heavy spin on its stories.
Aug. 25, 2017 — Adviser Sebastian Gorka was forced out shortly after Bannon left the administration. He was a former Breitbart News writer and was closely aligned with Bannon.
Sept. 20, 2017 — Director of Oval Office Operations Keith Schiller resigned shortly after Kelly came in as chief of staff. Schiller was a longtime aide and bodyguard to Trump since before he started his political career. Schiller was hired by the Republican National Committee.
Sept. 29, 2017 — Secretary of Health and Human Services Tom Price resigned surrounding controversy that he used taxpayer money to fund thousands of dollars in travel bills and chartered flights.
Dec. 13, 2017 — Communications Director for the Office of Public Liaison Omarosa Manigault Newman was fired by Kelly. Newman was a former contestant on Trump's reality show The Apprentice.
Jan. 18, 2018 — Chief of External Affairs for Corporation for National and Community Service Carl Higbie resigned after CNN reported on disparaging remarks he had made in the past about black people, Muslims, LGBT, and veterans with post-traumatic stress disorder.
Jan. 31, 2018 — Director of Centers for Disease Control and Prevention Brenda Fitzgerald resigned over her financial investments in tobacco and health care companies that created potential conflicts of interest.
Feb. 7, 2018 — White House Staff Secretary Rob Porter resigned a day after his two ex-wives accused him of physical abuse during their marriages.
Feb. 9, 2018 — White House Speechwriter David Sorensen resigned after reports of accusations from his ex-wife saying he abused her during their marriage.
March 13, 2018 — Secretary of State Rex Tillerson was fired by tweet. Trump had posted that he would replace Tillerson with Mike Pompeo, the CIA director.
March 22, 2018 — National Security Adviser Lt. Gen. H.R. McMaster resigned after it became clear that Trump no longer wanted him. He was replaced by John Bolton, who is a hardline former U.S. ambassador to the United Nations.
March 28, 2018 — Secretary of Veterans Affairs David Shulkin was fired by Trump after weeks of uncertainty. He was replaced by Trump's White House physician Dr. Ronny Jackson, a rear admiral in the navy.
March 29, 2018 — White House Communications Director Hope Hicks resigned. She had worked with Trump for years and was an important adviser on the campaign. In late February, she announced that she would resign in the coming weeks.