"A tree is best measured when it is down," the poet Carl Sandburg once observed, "and so it is with people." The recent death of Harry Belafonte at the age of 96 has prompted many assessments of what this pioneering singer-actor-activist accomplished in a long and fruitful life.
Belafonte's career as a ground-breaking entertainer brought him substantial wealth and fame; according to Playbill magazine, "By 1959, he was the highest paid Black entertainer in the industry, appearing in raucously successful engagements in Las Vegas, New York, and Los Angeles." He scored on Broadway, winning a 1954 Tony for Best Featured Actor in a Musical – John Murray Anderson's Almanac. Belafonte was the first Black person to win the prestigious award. A 1960 television special, "Tonight with Belafonte," brought him an Emmy for Outstanding Performance in a Variety or Musical Program or Series, making him the first Black person to win that award. He found equal success in the recording studio, bringing Calypso music to the masses via such hits as "Day-O (The Banana Boat Song)" and "Jamaica Farewell."
Harry Belafonte - Day-O (The Banana Boat Song) (Live)www.youtube.com
Belafonte's blockbuster stardom is all the more remarkable for happening in a world plagued by virulent systemic racism. Though he never stopped performing, by the early 1960s he'd shifted his energies to the nascent Civil Right movement. He was a friend and adviser to the Reverend Doctor Martin Luther King, Jr. and, as the New York Times stated, Belafonte "put up much of the seed money to help start the Student Nonviolent Coordinating Committee and was one of the principal fund-raisers for that organization and Dr. King's Southern Christian Leadership Conference."
The Southern Poverty Law Center notes that "he helped launch one of Mississippi's first voter registration drives and provided funding for the Freedom Riders. His activism extended beyond the U.S. as he fought against apartheid alongside Nelson Mandela and Miriam Makeba, campaigned for Mandela's release from prison, and advocated for famine relief in Africa." And in 1987, he received an appointment to UNICEF as a goodwill ambassador.
Over a career spanning more than seventy years, Belafonte brought joy to millions of people. He also did something that is, perhaps, even greater: he fostered the hope that a better world for all could be created. And, by his example, demonstrated how we might go about bringing that world into existence.
At approximately 2:18 PM today, every cellphone in America received a message testing this new system.
The current chapter of American history feels like a piece of speculative fiction, something resembling a joke we collectively forgot the punchline to. In the past two months alone, we've watched our Commander-in-Chief demolish a foreign economy via Twitter, fall in love with a voluptuous beauty, and nominate a gang rapist to the Supreme Court. Donald Trump, by virtue of his absurdity, has sent the news into a state of quantum flux in which the country's more prominent newsrooms have been forced to hire full-time staffers to monitor social media, patiently waiting for the tweet that abolishes the SEC or makes it legal to kill your dog. Now, with the help of FEMA, the president has the power to send alerts directly to your cellphone, whether you want him to or not. At approximately 2:18 PM today, every cellphone in America received a message testing this system.
And no, you can't opt out of the messaging service. In 2006, Congress passed a law called the Warning, Alert, and Response Network Act preventing this. There's now a satellite uplink that telegraphs Trump's dementia-addled ramblings straight to your iPhone, and there's nothing you can do about it. This is kind of like having Bill O'Reilly's cirrhotic liver on speed dial. We live in hell.
Okay, so the above paragraph isn't exactly true. While the emergency texting program will light up your phone whenever there's "a natural disaster, act of terrorism, or other man-made disaster or threat to public safety," Trump (probably) won't use this system as a means of continuing his many Twitter rants. That said, the question of what exactly constitutes a "natural disaster, act of terrorism, or other man-made disaster or threat to public safety" might provide the president with just enough leeway to use the system as a means of communicating his private thoughts.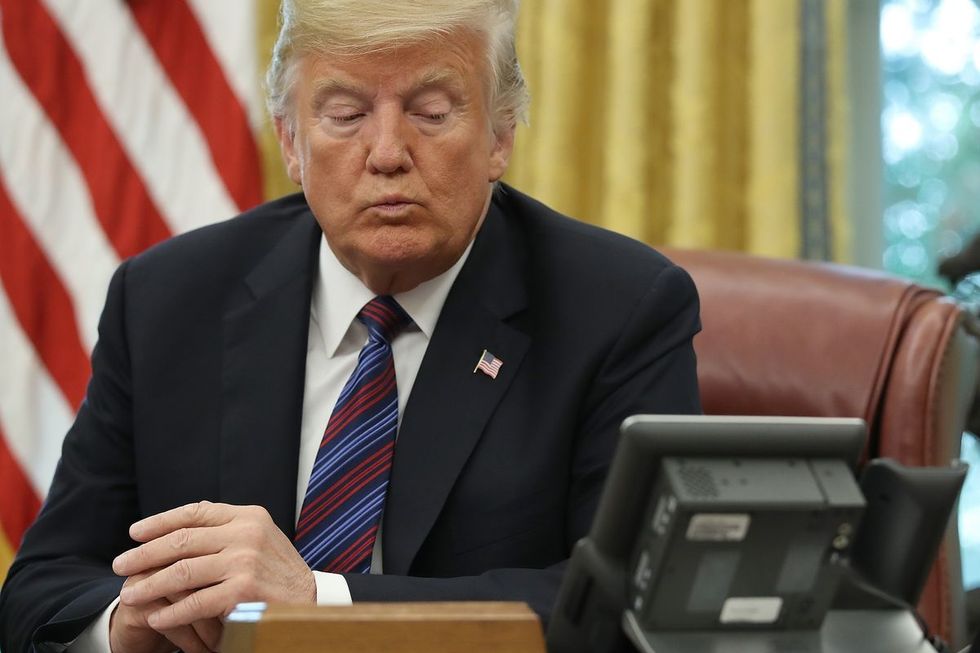 Irwin Redlener, director of the National Center for Disaster Preparedness at Columbia University, is worried that Trump will abuse this system, saying, "I'm not sure that the system would protect us from rogue announcements by a president who has exhibited the kind of behavior President Trump has over the last two years."

Also, it's not as if the government's never made an honest mistake with its emergency broadcast system. Remember in January when this happened:
Trump's steadily erratic Twitter posts and penchant for mocking the disabled have people worried that their phones are going to be inundated with a constant stream of presidential alerts. The fear is that if we get too many false alarms (or pointless rants), the text system will be rendered useless. Whether or not this happens remains to be seen, but the chances that this is the one function of his office that Trump uses responsibly seems unlikely.
Matt Clibanoff is a writer and editor based in New York City who covers music, politics, sports and pop culture. He currently serves as Lead Editor for Gramercy Media. His editorial work can be found in Inked Magazine, Pop Dust, The Liberty Project, and All Things Go. His fiction has been published in Forth Magazine. -- Find Matt at his website and on Twitter: @mattclibanoff
Tattoos have evolved over the years, but are they harmful or toxic to the body?
When most cancer survivors ask their oncologists if they can get a tattoo, the answer is, "No! And don't even think about it." The reason often stems from numerous studies looking at a possible connection between tattoos and leukemia, a blood cancer. The big concern is chemicals in the dye that will go directly on and potentially in the skin. The key questions many studies are trying to answer right now are: "What are in the dyes?" "Do they go directly into the blood stream for some or all?" "What is the impact of the dyes long-term?" and "Why are those dyes not regulated in he first place?"
So if everything else that can potentially go into your bloodstream is regulated, then why isn't tattoo ink?
First, to give you perspective, I have to share one cautionary rule that many oncologists tell survivors to follow in order to lower their risk, and this is certainly good for anyone. Think before you apply anything to your skin because it does have the potential to go directly into your bloodstream, and that includes sunscreen, bug spray or lotion. This should come as no surprise, especially with the existence of a birth control patch the size of a bandage that goes directly into your bloodstream. So if everything else that can potentially go into your bloodstream is regulated, why isn't tattoo ink?
The Food and Drug Administration (FDA) states on its website, "While state and local authorities oversee the practice of tattooing, ink and ink colorings (pigments) used in tattoos are subject to FDA regulation as cosmetics and color additives. However, because of other public health priorities and a previous lack of evidence of safety concerns, FDA has not traditionally regulated tattoo inks or the pigments used in them." After receiving various reports of adverse reactions to tattoo ink, the FDA launched an investigation in 2008. It has a warning on its website to consumers that says several of the pigments used in tattoo ink are "industrial-grade colors suitable for printers' ink or automobile paint."
The FDA's National Center for Toxicological Research (NCTR), research chemist Paul Howard, Ph.D., and his team are investigating to get more answers. What they do know is that some ink particles have shown the ability to go beyond the skin, into the bloodstream and into the lymph nodes or lymphatic system, which is where the body carries out disease-causing organisms. That's a problem. The FDA also found some potentially dangerous substances, including metals and hydrocarbons that are known carcinogens in the ink, saying, "One chemical commonly used to make black ink called benzo(a)pryrene is known to be a potent carcinogen that causes skin cancer in animal tests."
Some ink particles have shown the ability to go beyond the skin, into the bloodstream and into the lymph nodes or lymphatic system, which is where the body carries out disease-causing organisms.
Outside the US, more studies are being conducted. One out of the University of Bradford in the UK found that the tattoo process removes the body's main connective tissue and the ink particles leave the surface of the skin and travel elsewhere. Another study out of the UK is led by Jorgen Serup, a professor of dermatology at Copenhagen's Bispebjerg University Hospital. He claims that he found evidence that the nanoparticles present in inks can reach major organs of the body and cause cancer. According to the International Business Times, the study says that as many as 13 out of 21 commonly used European inks have cancer causing chemicals in them. The article goes on to state that the Tattoo Ink Manufacturers of Europe "believe that about 5 percent of European tattooists use toxic ink, and wants the EU to compel ink makers to conduct risk assessments on their products and make the results public."
Think that henna tattoos might be your best shot? Think again! The Telegraph looked at a study in the United Arab Emirates, published in the "Leukemia and Lymphoma Journal." Women there who use henna to stain their nails, hands, feet, etc., face a higher incidence of leukemia. They said it is not the henna itself that is the problem but rather the compounds used as a solvent for the henna powder. That solvent contains benzene, which is known to cause cancer. According to the Telegraph, benzene is banned in many countries but still used.
I checked many tattoo website across the country to see if, perhaps, a newer, "cleaner" dye has been introduced since these studies were published, but I found no mention of anything. A few sites mentioned that there are always risks since it is a dye/pigment is permanently being added to the layers of your skin. Bottom line: There is no hard evidence that there is a 100 percent connection to leukemia but there is much cause for concern about what chemicals are in the ink, the long-term effects of the ink, and how the ink enters the body. Ask questions. Know before you ink. Perhaps, if you have a history of cancer in your family and you are at higher risk, talk to your doctor as well.