We've all been there. You were gifted a dumb present that you'll never in a million-zillion years ever use and you're too polite to tell anyone any differently. It sits at the bottom of your drawer for months, then years. And when you finally feel like enough time has passed, you can throw it out in good conscience.
A return is almost always out of the question. Plus, gift givers don't often include a return receipt, and we all know we wouldn't dare ask for one. I'd rather admit to a crime than confess I don't like a gift - how insulting to the gifter's sense of aesthetics.
And-hey, I have limited drawer space. Who can keep these unwanted gifts for six months when there isn't any space for them? I hate clutter, and unwanted gifts are just that.
This year, I am making an effort to swiftly remove any unwanted gifts from my house without hurting anyone's feelings…and potentially benefiting others. As the old saying goes, one man's trash is another man's treasure. And thank goodness for that.
From the The Guardian:
"According to research published this week by the consumer body, one in four people (24%) received an unwanted or unsuitable gift for the Christmas of 2021. Meanwhile, a separate study by the personal finance comparison site Finder said £1.2bn was wasted on unwanted Christmas gifts each year."
Come to terms with the fact that you will never use that gift and follow these quick tips to offload those unwanted gifts:
Donate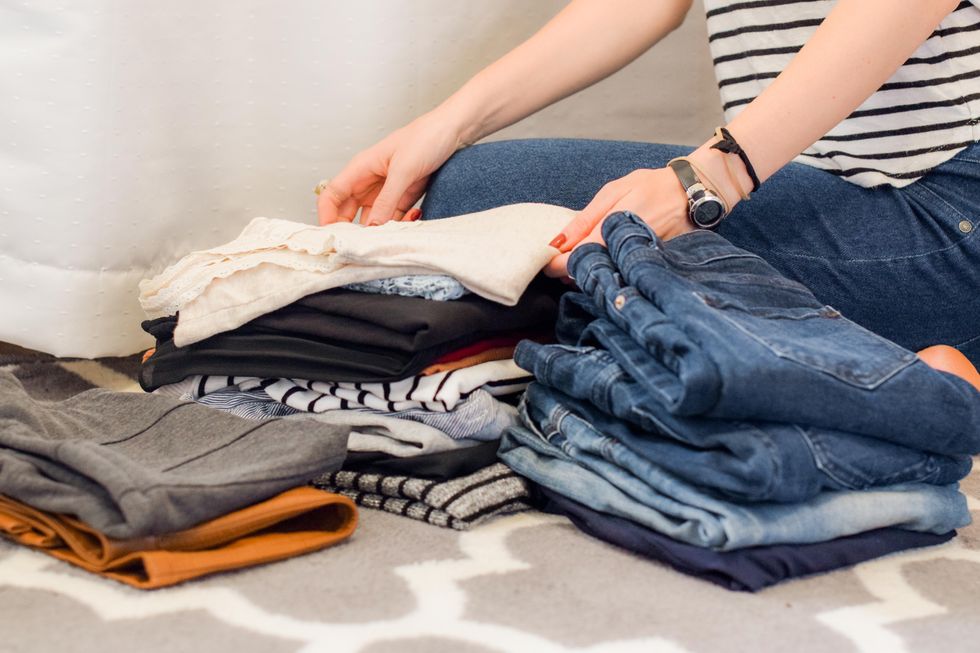 Sarah Brown via Unsplash
The most obvious choice for those unwanted pairs of mud-green sweat socks and that same fluffy robe you get every year from your Aunt Judy is to donate them. Just round up everything you don't want and Google the donation center closest to you.
This is also a fantastic excuse to purge your closet of that pile of stuff you've been meaning to get rid of. A few bags of give-away-clothes will get your spring cleaning out of the way early.
Sell Them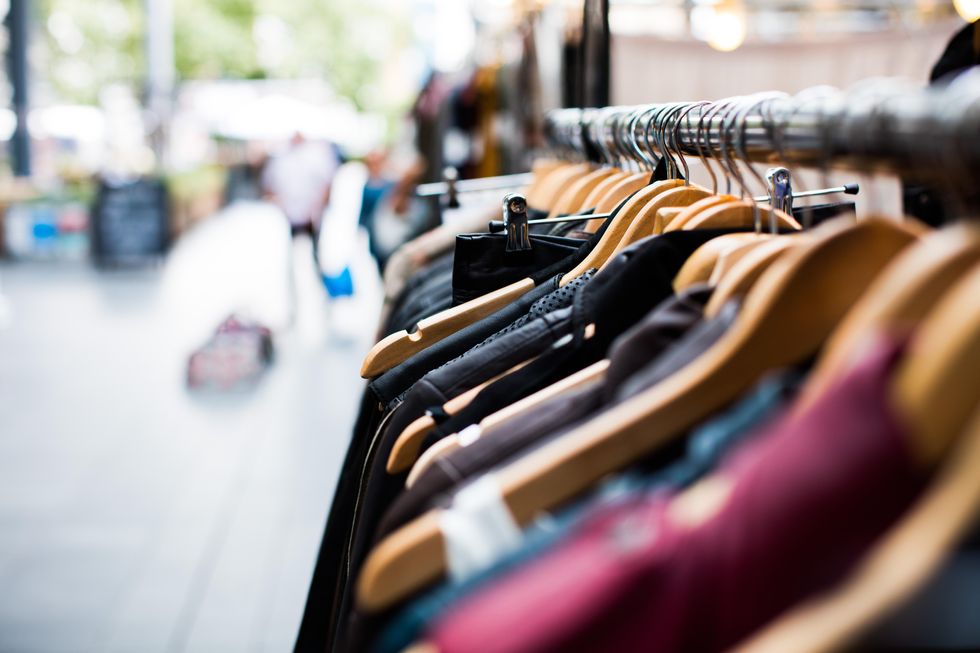 Artificial Photography via Unsplash
Resale websites are all the rage right now. If you got a pair of pants that don't fit or a sweater that isn't your style, resell them on a website dedicated to just that. Sites like Poshmark, Mercari, and DePop are known for selling those trendy pieces of clothing you barely used.
Thrifting has never been hotter. Hop on the trend while people are constantly perusing sites for the hottest deal. Then reward yourself for being so virtuous, by dropping the cash on some fabulous things you'll actually wear!
Re-Gift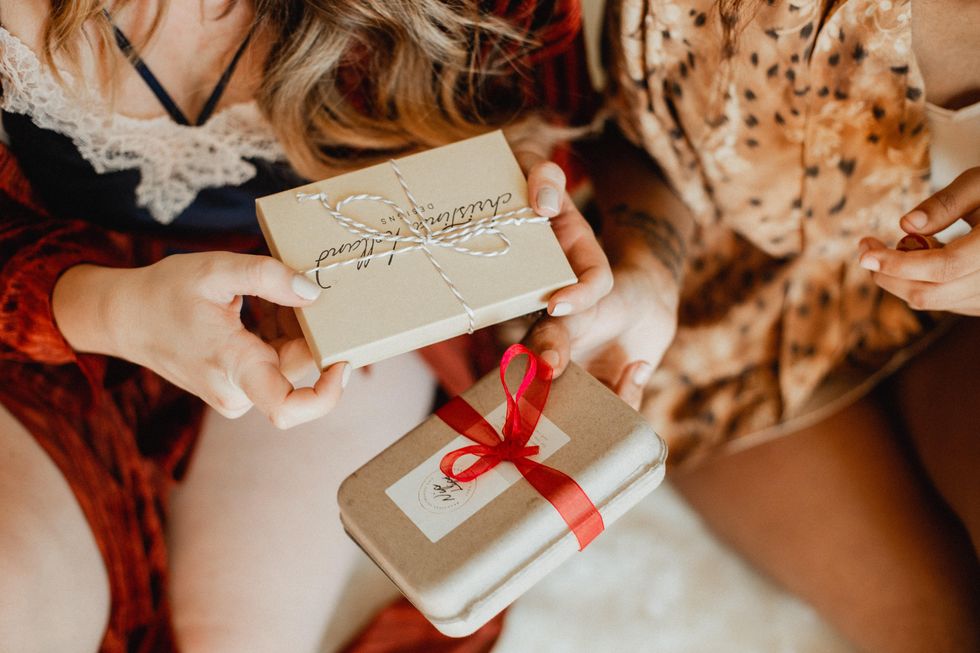 Jackie S via Unsplash
If you got something that you think one of your friends or family can benefit from, why not give it to them? There's no shame in revealing that it was a gift and you don't want it anymore…as long as you aren't re-gifting to the person who gave it to you!
Or, keep the gifts to re-gift at a later date. You never know when you're going to need a last minute gift. You'll thank yourself later.
Attempt a Return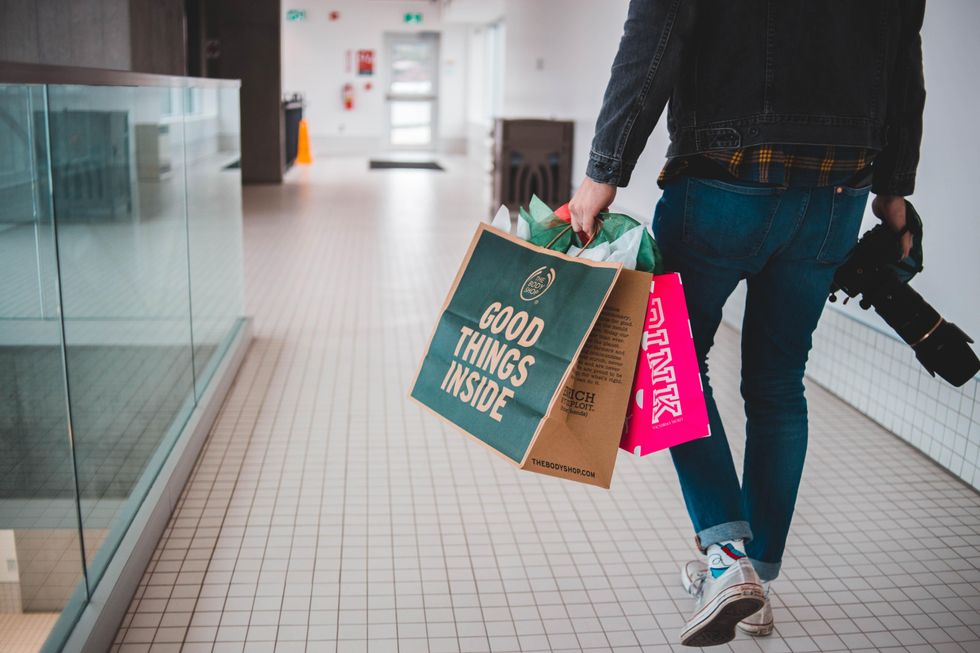 Erik McLean via Unsplash
If your item still has a tag, you can make a valiant effort to return to the store. If you can make your case, many stores won't want to fight you on it. They may be forgiving and grant you store credit at the very least.
While most of America teeters on the edge of a fascist abyss, Maine has given democracy a much needed upgrade with the switch to ranked choice voting.
Maine will officially become the first-ever state to use ranked-choice voting for a presidential election, the state's Supreme Court ruled this September.
This will allow voters to rank each presidential candidate in order of preference for the November election. Voters will now be able to rank all five presidential candidates that will appear on the ballot, which include Republican President Donald Trump, Democrat Joe Biden, Libertarian Jo Jorgensen, Green Party candidate Howard Hawkins, and Rocky De La Fuente of the Alliance Party. But why is ranked choice voting such a big deal?
How Does It Work?
Ranked Choice Voting is also known as instant-runoff voting (IRV), the alternative vote (AV), or preferential voting. In ranked choice voting, instead of only voting for one candidate, voters can rank the candidates in order of preference. You can rank as many or as few of the candidates as you like and leave the rest blank. If any candidate has more than half of the vote based on first-choices, that candidate wins. If not, then the candidate with the fewest votes is eliminated and their votes are redistributed to their second-choices. The process repeats until one candidate has a majority.
Former Massachusetts gubernatorial candidate, Evan Falchuk, explains that ranked choice voting is essentially the same idea as runoff elections. "You hold an election one day, and then you see how the votes come out, and then you eliminate the candidates that didn't meet whatever the threshold is, and then you hold another election. With ranked choice voting, you do that instantaneously," he stated. Maine's new policy is essentially a more efficient way to hold multiple rounds of elections at the same time.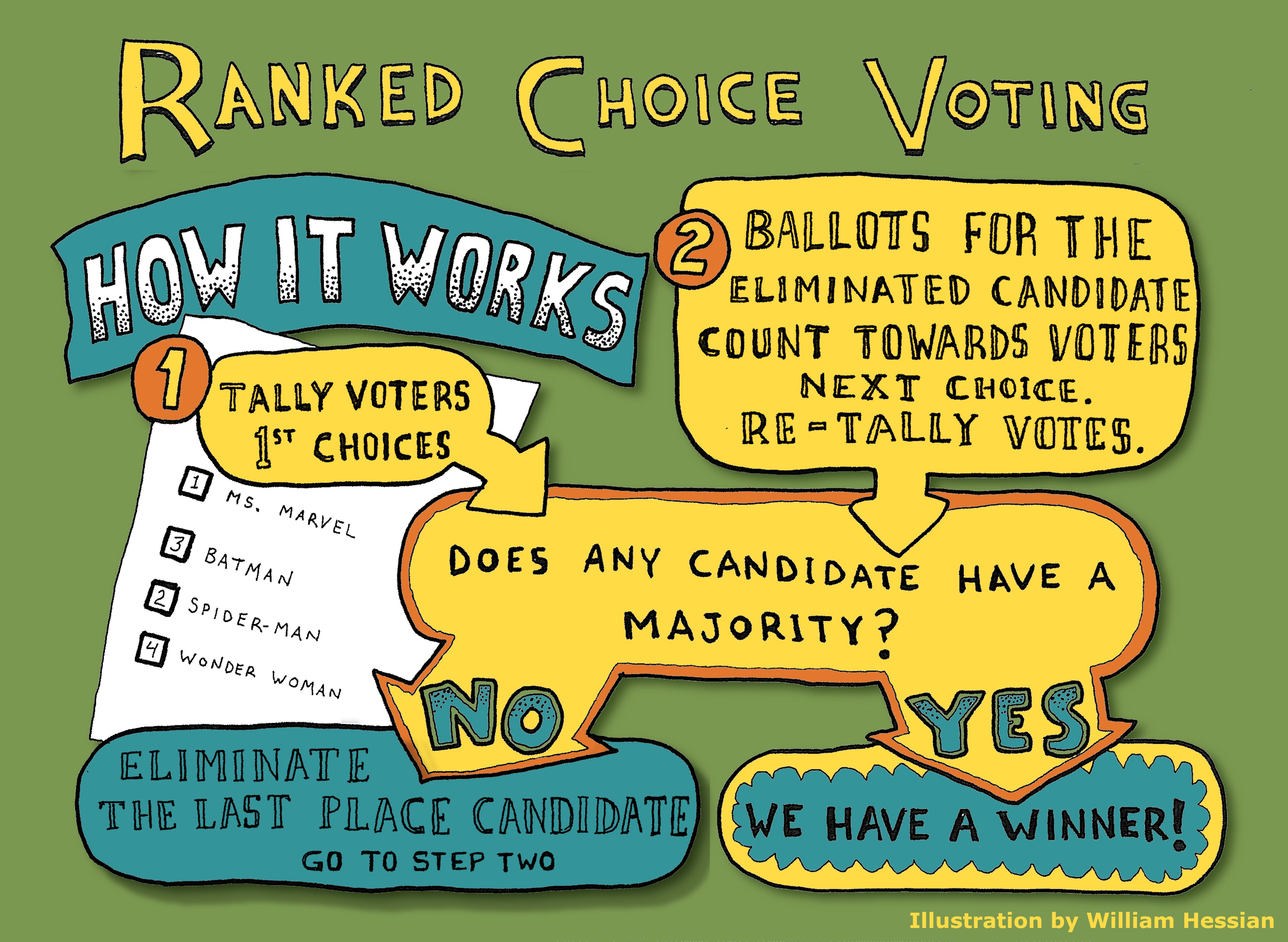 Ranked Choice VotingWilliam Hessian
This system was successfully used by all voters in four states in the 2020 Democratic Party presidential primaries, and is used for local elections in more than 15 US cities and the state of Maine. Even some of the biggest critics of RCV agree it's better than our current system.

But what does this actually mean for elections? Elections have become increasingly unreliable at selecting policymakers who are representative of and supported by their constituents. But RCV eliminates a few of the common problems that exist in our current system. It makes third parties viable, it enables winners that actually have majority support, and it reduces polarization and negative campaigning.
Benefit # 1: RCV Makes 3rd Parties Viable
The majority of the country uses a system called winner-take-all voting or first-past-the-post voting. In this system, voters each have a single vote which they can cast for a single candidate. Whoever gets a plurality of the votes wins all of the representation. Winner-take-all voting systems naturally trend towards two parties. This is mainly because voters feel that they have to strategically vote for candidates who have the best chance of winning so that they don't "waste their vote."
Yet third parties still run for president every four years, and every four years they lose. Sometimes they gain a fair amount of votes, but even then, they are accused of being spoilers.
The spoiler effect is when a third party candidate's presence in the election draws votes from a major-party candidate similar to them, thereby causing a candidate dissimilar to them to win the election. The more popular a third party candidate, the less likely someone who has similar beliefs is to win.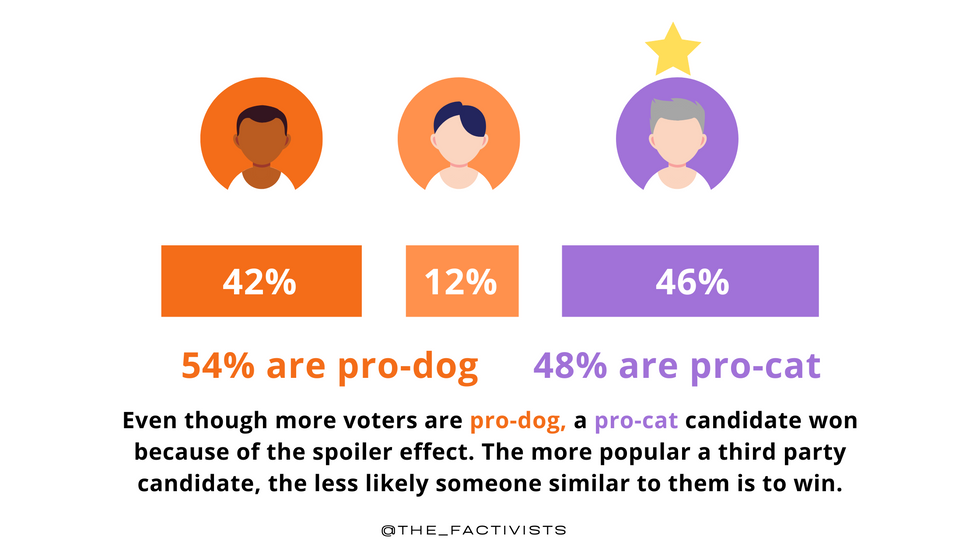 The Spoiler Effect@The_Factivists
The spoiler effect is particularly relevant in close elections like the 2000 presidential race. Many people think that Democrat Al Gore lost the 2000 Presidential Election to Republican George W. Bush because some voters on the left voted for Ralph Nader of the Green Party. If even 1% of Nader's Floridian supporters had chosen to vote for environmentalist Gore over Texas oilman Bush, Gore would have been elected president.
RCV eliminates this issue. Voters can feel confident voting for a third party candidate, even one they think is unlikely to win, without fear of being a spoiler. Say you live in Maine and you think Green Party candidate Howard Hawkins is awesome, you think Joe Biden is just okay, but most of all you want Donald Trump to lose. Normally, most people would tell you to just suck it up and vote for Biden, because Howard Hawkins is never going to win and it's more important to prevent Trump from winning. With RCV you can confidently rank Hawkins as your first choice and Biden as your second, and you can know that if Hawkins loses, your vote will still be put to good use.
This allows third parties to form and grow because voters can vote for the candidate they like the most without worrying that they will help elect the candidate they like least. If it were implemented across America, RCV may not lead to many third party wins in the first few years, because America is firmly entrenched in a two party system. However, RCV allows third parties to gain real footholds and eventually even majority support.
Benefit #2: RCV Enables Majority Support
One of the biggest problems with our current election system is that in order to win candidates only need a plurality of the vote, not a majority. A plurality just means that a candidate received more votes than everyone else, whereas a majority is 51%. This is not a problem when there are only two candidates, but any time there are more than two this becomes a concern.
Too often, candidates win elections despite being opposed by the majority of voters. In elections with more than two candidates, candidates can and do win even when less than half of voters support them.
This lack of majority support is part of what pushed voters in Maine towards adopting a new system. For example, in Maine, nine of the eleven gubernatorial elections between 1994 and 2014 were won with less than 50% of voters' support. Maine governors with low winning percentages include Angus King, who won the governorship in 1994 with just 35% of the vote; John Baldacci, who won in 2006 with just 38.1% of the vote; and Paul LePage, who won in 2010 with 37.6% of the vote.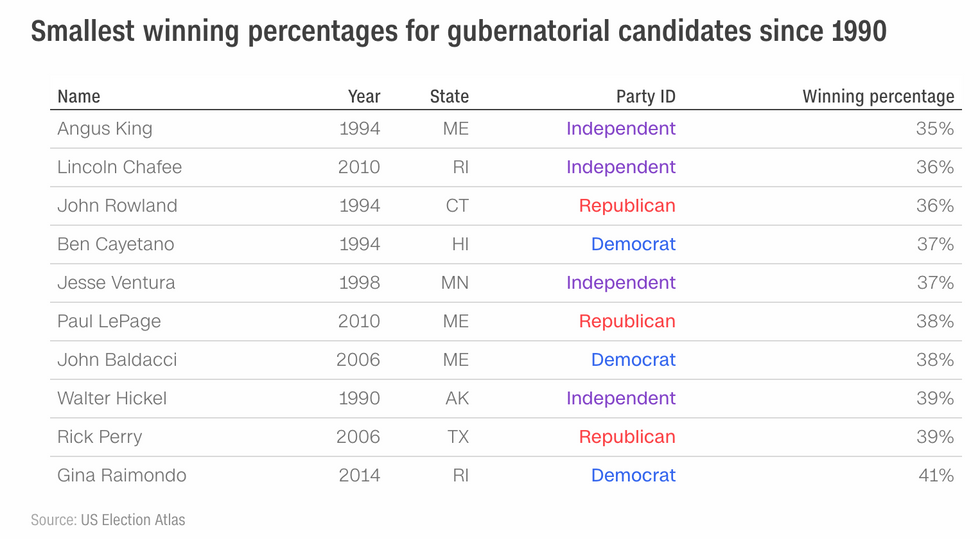 Smallest Winning Percentages for Gubernatorial Candidates Since 1990US Election Atlas
These low percentage wins are not unique to Maine. A recent win in the Massachusetts Fourth Congressional District Democratic primary made headlines when Jake Auchincloss won with only 22.5% of the vote.

RCV has the potential to resolve these issues. With RCV, a candidate can only be declared a winner if they have received 51% of the vote. It's true that not every voter will get to see their first choice candidates win, but a majority of voters will see a candidate they at least somewhat agree with in office. If a voter's first choice is eliminated, their vote instantly goes to their second choice. That way, we can find out which of the top candidates actually has the most support.
All that being said, RCV will elect a majority winner—so long as that majority winner actually exists in the election. In RCV you only have to rank as many candidates as you like. This can result in something called exhausted ballots. Ballot exhaustion occurs as part of RCV when a voter has ranked only candidates that have been eliminated even though other candidates remain in the contest. For instance if your ballot just ranks the Green Party and Libertarian Party candidates, but you decided not to rank any of the major party candidates, it's very possible that both of the candidates you voted for will be eliminated therefore your vote won't end up counting in the final round. RCV makes a majority more likely but no single-winner voting method can guarantee a majority in every election, including RCV.
Benefit #3: Decreased Political Polarization
Americans are more polarized today than ever before. A 2019 Pew poll asked partisan voters to rate their feelings towards the opposite party on a thermometer-style scale. The results showed that Americans feel increasingly negative toward the party they oppose. In March 2016, before the election, 61% of Democrats gave Republicans a cold rating and 69% of Republicans gave Democrats a cold rating (a thermometer rating of 0-49). By 2019, those numbers had significantly increased, 79% of Democrats and 83% of Republicans rated the other party coldly.
Yet the results from the bipartisan Battleground Poll from October 2019 reported that 8 in 10 Americans say that "compromise and common ground should be the goal for political leaders."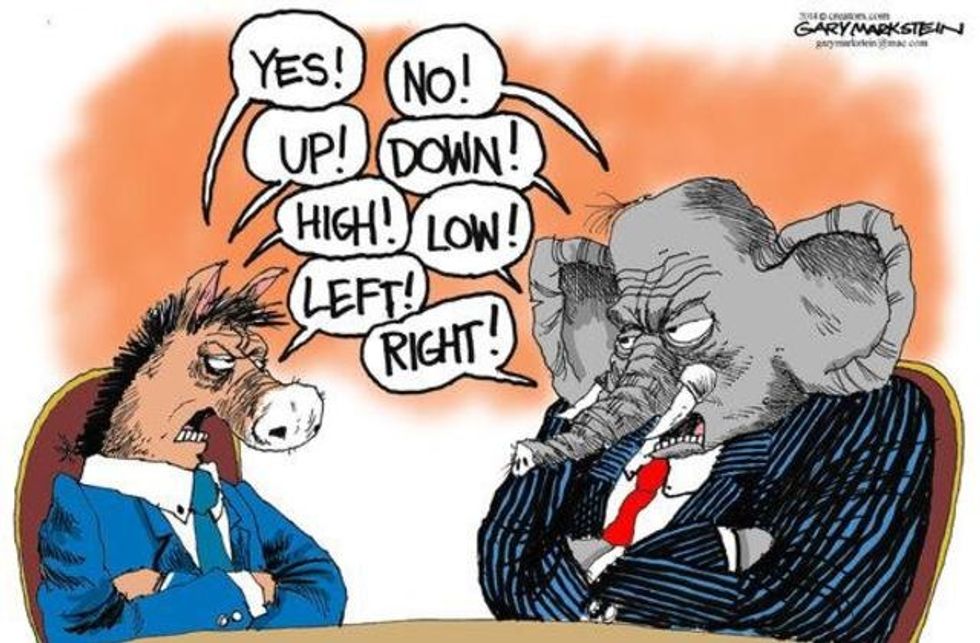 Democrats and Republicans agree only to disagreeGary Markstein
Ranked choice voting could help bridge America's widening political divide by changing how elections work. This is partly because RCV decreases negative campaigning and partisan politicking. When a politician needs second-choice votes to win, they're incentivized to promote their own policies rather than tear down their opponents. And they are incentivized to focus on the beliefs they have in common with other candidates rather than the small policy difference s.

In RCV contests, candidates do best when they reach out and positively influence as many voters as possible–including those who support their opponents. This gives constituents more power and major parties less power. With RCV, candidates can't write off any voter as "unreachable"; they must genuinely try to appeal to voters who are openly voting third party. This means that in order to gain those second choice votes, major parties will have to look at the third parties close to them and adjust their platforms accordingly.
A 2016 study on campaign civility in local RCV elections found that voters viewed campaigns as more civil than they did in cities without RCV. The study concluded that "people in cities using preferential voting were significantly more satisfied with the conduct of local campaigns than people in similar cities with plurality elections." They added, "People in cities with preferential voting were also less likely to view campaigns as negative, and less likely to respond that candidates were frequently criticizing each other."
Our current voting system really only does one thing really well: fuel America's two-party system, a system that is divisive, outdated, and makes voters feel like their votes don't count. When voters feel like their votes count, they show up and they participate. In the words of Elizabeth Warren, RCV's latest champion, "That's a stronger democracy."
Congratulations, Maine; this is a huge step in the right direction. Now let's hope we see similar changes across America—before it's too late.
#SaveTheUSPS? Budget cuts and reforms have made it difficult for the Post Office, a beloved American institution to do its job.
The United States Post Office is under attack.
Direct attacks from the president, COVID-19, government failure to provide aid, and a radical new postmaster general have all contributed to what's shaping up to be a veritable disaster for American mail—one that might have consequences for the upcoming November election.
The Postal Service's Opponents: COVID-19, Trump, DeJoy, and Money
2020 has been extremely difficult for most people and businesses, and the USPS, which reported a $3 billion loss in the last three months, is no difference. Democrats proposed giving the postal service $25 billion in aid as part of their latest coronavirus stimulus package, which stalled to a standstill in Congress due to partisan divides. Without significant aid, the USPS has suffered intensely during the COVID-19 pandemic—and so have its customers.
In addition to the fact that the postal service provides necessary services to millions across America every day–and it is now responsible for delivering vital products to Americans trying to social distance and end this pandemic–it will be responsible for perhaps the most important job ever: carrying the millions of mail-in ballots that are sure to be cast in 2020 to the appropriate destination.
More Americans than ever before are projected to vote by mail in the 2020 election, largely due to the coronavirus pandemic. Some polls have shown that Trump's supporters are more likely to vote in person, whereas Democrats are more likely to vote by mail, while others show that there is no partisan divide between who votes by mail and who does not.
Still, many of Trump's opponents, who fear he is attempting to sabotage the election by shutting down the postal service and forcing people to choose between their health and democracy, are terrified.
The postal service has, therefore, found itself an unwitting political punching bag.
President Donald Trump has never hid his disdain for the Post Office. Recently, he's begun to argue that voting by mail—the safest way to vote during COVID-19—will lead to fraud.
Americans Fight for the Post Office & Obama Speaks Out | The Daily Social Distancing Showwww.youtube.com
This claim has been proven false, but of course Trump doesn't care. Still, it's clear that the postal service could easily manage an election if it was allowed to continue as it had been for over 200 years. "If — and that's a big IF — allowed to do its work, the US Postal Service can easily handle the surge of mail that might result from 150 million Americans choosing to vote by mail this fall rather than vote in person," writes Jesse Jackson for the Chicago Sun Times. The postal service normally handles around 500 million letters per day.
The problem is that the postal service is not being allowed to do its work. COVID-19 was incredibly difficult, but the postal service was able to keep things somewhat under control until Louis DeJoy entered the scene.
Louis DeJoy, Postmaster General
At the center of all this is Louis DeJoy, who was appointed the new postmaster general in June. Notably, DeJoy, a multimillionaire, is a top GOP donor and was the chairman of fundraising for the Republican National Convention last year.
Since he was appointed, DeJoy has made some changes. His "reforms," all imposed without any public consultation or discussion with employees, include cutting hours, reducing overtime, and removing mail processing equipment. The USPS also recently announced that it will not treat ballots as priority mail without first-class postage.
In short, DeJoy's "reforms" are slowing down the mail.
Over the past few months, the Post Office has reported delays in receiving prescription medications and other necessary goods, delays that have increased thanks to DeJoy's new policies.

The Post Office's sudden decline has also already harmed elections, with some voters in Wisconsin and Michigan never receiving the absentee ballots they requested in advance and with New York postal service employees rejecting ballots that did not have the appropriate postage.
Postal service employees themselves are extremely confused by the "reforms." "If you asked me a month ago [if] the postal service handle an influx of mail-in ballots, I would have said, 'We've been through two world wars and a depression, we've been doing this for more than 200 years,'" said Mark Dimondstein, president of the American Postal Workers' Union, to The Guardian. "Now, I'm not so sure."
Trump's administration has already announced that they want to privatize the Post Office, selling it off to private companies. DeJoy—who has million-dollar investments in competitors to the Post Office—has a reason to support these plans.
Democrats are attempting to take action. Nancy Pelosi recently called lawmakers back to the House to vote on legislation dedicated to protecting the postal service. They're currently voting on the Delivering America Act, which bans changes to the post office implemented after January 1st, 2020.
Democratic leaders are also calling on DeJoy to testify in court, demanding an explanation for the "sweeping and dangerous operational changes at the Postal Service that are slowing the mail and jeopardizing the integrity of the election."
What Can We Do?
With #SaveTheUSPS and #SaveThePostOffice trending on Twitter recently, the hashtag needs to become a movement.

"Citizens should be mobilizing pressure across the country, with demonstrations at Post Offices in support of the service, with calls to legislators demanding action, with pressure on state and local election officials to provide the resources needed for more drop-off boxes, more hours of early voting, more polling places," continues Jackson.
It's a great time to stage protests and call legislators, who need to know the people's opinions. While civilian contributions alone won't save the Post Office (only government stimulus packages or pocket change from Jeff Bezos could do that), concerned citizens can still do our part to show the postal service that we stand with them by buying Post Office merchandise, sending letters, and rallying to support our democracy by fighting voter suppression.
Trump's latest tweet has sparked questions across the nation.
Of all the senseless tweets we've had to make sense of since Donald Trump was elected president of the United States in 2016, one of the most alarming went out on July 30th.
The tweet reads: "With Universal Mail-In Voting (not Absentee Voting, which is good), 2020 will be the most INACCURATE & FRAUDULENT Election in history. It will be a great embarrassment to the USA. Delay the Election until people can properly, securely and safely vote???"
With Universal Mail-In Voting (not Absentee Voting, which is good), 2020 will be the most INACCURATE & FRAUDULENT E… https://t.co/VcSCg7IPwj

— Donald J. Trump (@Donald J. Trump) 1596113169.0
For obvious reasons, many people around the world reacted strongly to the suggestion that Trump may try to delay the election. It's long been speculated that President Trump will dispute election results should he lose in November 2020, and this tweet seems to support the idea that Trump is priming his followers to question the validity of the results.
Does Trump have the power to delay the election?
Luckily, Trump does not actually have the power to delay the election, and it's incredibly unlikely that Congress would allow a delay.
By law, the presidential election is held on the first Tuesday after the first Monday in November. For that date to be changed, both houses of Congress (the House of Representatives and the Senate) would need to approve the delay. The constitution is very clear on the matter of election date change, and Congress would have to undertake the arduous process of amending the constitution in order to change the date.
As The New York Times points out, "Article II of the Constitution empowers Congress to choose the timing of the general election. An 1845 federal law fixed the date as the first Tuesday after the first Monday in November. It would take a change in federal law to move that date. That would mean legislation enacted by Congress, signed by the president and subject to challenge in the courts."
Prominent law experts have also spoken out and confirmed that Trump doesn't have the power to move the election, including Democratic election lawyer Marc Elias.
🚨Trump cannot delay the election. Only Congress, through a new law could do so. In any event, per the US Constituti… https://t.co/XTupQVZsZ9

— Marc E. Elias (@Marc E. Elias) 1596114116.0
Is universal mail-In voting a bad idea?
Not at all. In fact, mail-in voting has been a major part of elections since the Civil War when soldiers voted by mail from the battle field. Voter fraud is extremely rare in any case.
According to a study by the Brennan Center for Justice, incident rates of voter fraud in mail-in situations are between .0003% and .0025% nationwide. Oregon, the first state to institute universal mail in voting in 2000, have only documented about a dozen cases of proven fraud in the last two decades. According to The New York Times, "Numerous studies have shown that all forms of voting fraud are very rare in the United States. A panel that Mr. Trump established to investigate election corruption was disbanded in 2018 after it found no real evidence of fraud. Experts have said that voting by mail is less secure than voting in person, but it is still extremely rare to see broad cases of voter fraud."
Does mail-in voting disproportionately benefit the Democratic party?
It's unlikely. As the Brooking Institute points out, "The first state to adopt a universal mail-in ballot program was Oregon in 2000. Shortly after it was enacted, Adam J. Berinsky, Nancy Burns, and Michael W. Traugott sought to explore the impact of the new law. They found that voting by mail did not bring substantial numbers of new voters into electorate, nor did it have any effect on whether the electorate was more Democratic or more Republican. The only effect they found was that it helped keep regular voters in the electorate."
A Stanford study on the subject found: "(1) vote-by-mail does not appear to affect either party's share of turnout; (2) vote-by-mail does not appear to increase either party's vote share; and (3) vote-by-mail modestly increases overall average turnout rates, in line with previous estimates. All three conclusions support the conventional wisdom of election administration experts and contradict many popular claims in the media."
In summary, it is incredibly unlikely that Donald Trump will be successful in delaying the election, and he is incorrect about mail-in voting being subject to widespread voter fraud.
Check out this helpful graphic for more information:
And Their Jobs Owe Them Money for It.
Election day is here.
Not the big one that the whole county is obsessed with—that's still a year away. This is the little one in which your voice can actually make a difference.
All across the country, on Tuesday November 5th, local elections and special elections give a voice to the tiny fraction of voters who will actually show up. Historically speaking, these are likely to be aging voters who no longer work or have the luxury to set their own schedules. Historically speaking, young people have allowed the local government to be ruled by this privileged and aberrant minority of voters, even as their interests and agendas have drifted further from the cultural center. Historically speaking, we've thrown our power away—and not just our power, we've been throwing away paid time off work!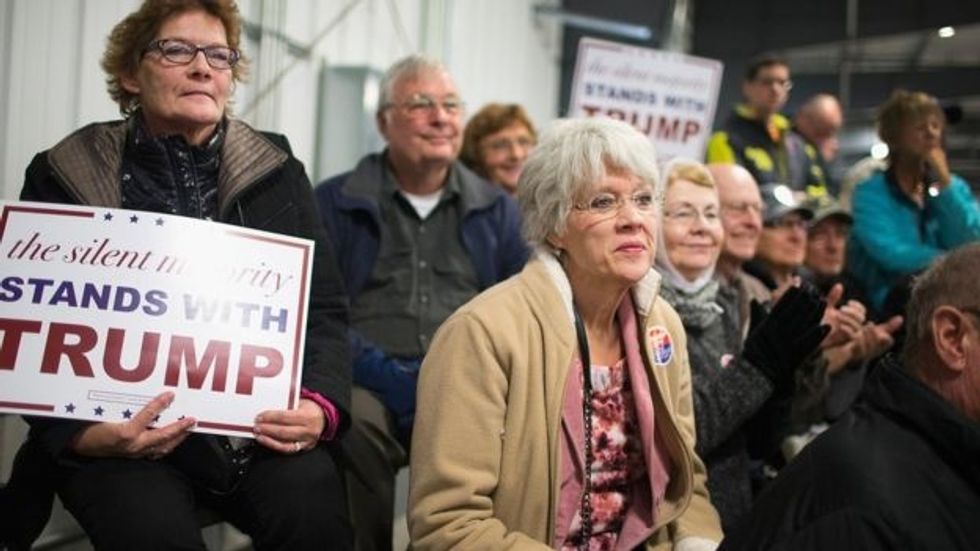 Getty
This is not like us. Aren't we the generation of entitled slackers who use any excuse to skip work? Is that just a myth created by baby boomers to make us sound way cooler—and therefore more threatening—than we actually are? In almost every state in the US, your boss is legally required to give you time off on election day to go vote! And in most states, that time off is paid!
In New York, any employee scheduled to work on Election Day is allowed three hours paid time off. In California, it's two hours. So why would you give away your labor? Find out where your polling place is, and figure out how long it takes to get there. If it's less than the time you're getting paid for, have you considered walking? If there's one thing better than a lovely Autumn stroll in the afternoon sun, it's getting your boss to pay for it.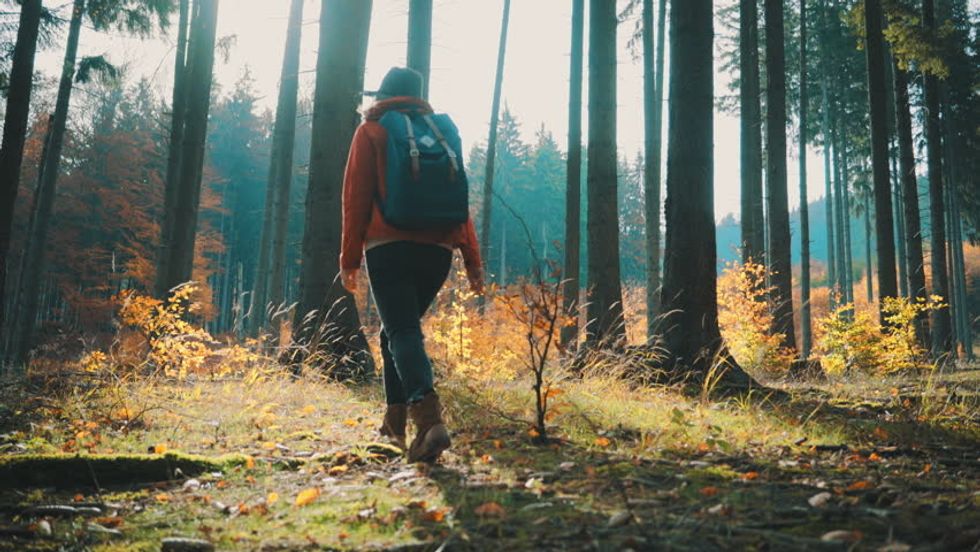 What getting paid could look like on TuesdayShutterstock
Along with the countless municipal elections that will otherwise be decided by retirees, there are a number of state-level races worth watching, from the Virginia state legislature elections, which could flip both houses, to the effort to reinstate affirmative action measures in Washington state. In New York, several ballot measures have been getting attention, in particular the issue of ranked-choice voting, which will go into effect in 2021 if the voters choose it tomorrow.
Would you rather that decision be made by people who might not live to see it take effect? Or would you rather you and all your friends get a half-day to go vote? Remember how much you love half-days? So, take one! Spend ten minutes on ballotpedia, then take three hours off work.
Even if you think electoralism is a joke, and you devote your life to activism that will tear down the state and rebuild it from scratch, elections can build enthusiasm and political engagement. If anything, show up and write in "voting is for chumps." Maybe a surprising turnout of young people will get some more people to start the long process of waking up to to political realities. Maybe some candidates will notice the demographics and start shifting their politics to appeal to people like you. It could happen!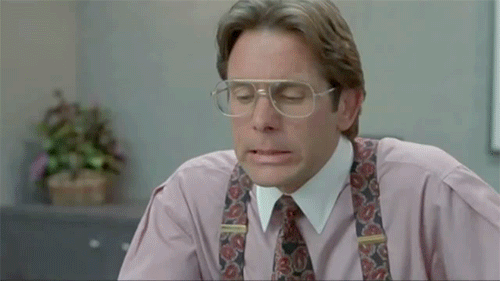 Office Space
Or maybe you'll just get a paid afternoon off, and watch your boss try—and fail—to argue with the law. Win-win.
Can the Democratic establishment get it right this time?
With the first Democratic primary still about eight months away, the Democratic party establishment appears prepared to throw all of their weight behind Joe Biden.

To hear MSNBC or CNN tell the story, Joe Biden has been the Democratic party's frontrunner since before he even declared his candidacy. Whether or not this is entirely true, however, is debatable. Misleading polls are being conducted and then misrepresented by many liberal news outlets as a means of solidifying Uncle Joe's frontrunner status early on in hopes of swaying voters toward the "more electable" candidate in the primaries. If Joe Biden can be made to look like he actually has the best chance of clinching the nomination or winning against Trump in a general election, then, voters will be more likely to vote for him as the safe bet.
IVN, or the Independent Voters Network, self-described as "a platform for unfiltered political news and policy analysis from independent-minded authors," has highlighted the biased nature of many political polls. IVN writer, Rudolpho Cortes Barragan reports:
"FiveThirtyEight, which is owned by ABC/Disney, functions as a sort of gatekeeper for polling, and polls are extremely important for candidacies. The public is told that polls judged as A+ by FiveThirtyEight are to be seen as real bellwethers of popular opinion. In reality, 'the polls' are manufactured to produce the results that the pollsters (and their corporate funders) want to see."
Barragan goes on to cite a recent Mammoth University poll as evidence. "The results showed Biden 9 percentage points ahead of Sanders," he writes, "but if you look closely you will see that more than 70% of the people polled are over the age of 50. Any honest person would be able to tell you that the 2020 electorate will be far younger than 50." The data is seldom presented within its full context on mainstream news outlets like MSNBC or CNN, and instills in voters a false sense of Biden's electability and props him up as the "safe" vote.
If this sounds eerily familiar, it's because the same thing happened in 2016. Hillary Clinton, like Biden, was prematurely propped up as the most electable candidate, even though an anti-establishment candidate like Bernie Sanders may have stood a better chance against Trump's "outsider" persona, which resonated with many voters (particularly across the midwest). This was proven in the wake of Trump's victory when analyses showed that many Bernie supporters either did not vote in the general election or jumped on the Trump ticket, preferring the radical change suggested by Trump's "drain the swamp" narrative over Clinton's years of experience as a politician.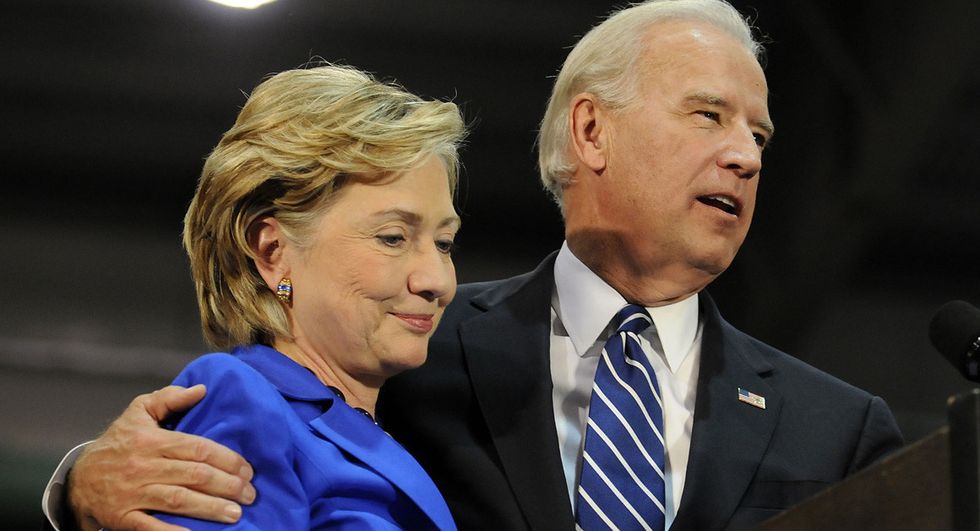 Joe Biden, like Clinton, is firmly rooted in the Democratic establishment. While Trump's approval rating has wavered over the last few years, hitting its low at 35% in 2017, it has remained around 40 to 45% — a number that should be alarming for Democrats going into 2020, as there have been only three single-term presidents since World War II.

Either way, the Democratic party and its voters must avoid making the same mistakes if there is any hope of preventing a Trump reelection. Poll manipulation was not the only issue in the 2016 election. The Democratic National Committee (DNC) was also exposed for unfairly tipping the scales toward Clinton in 2016, effectively rigging the primary against Bernie Sanders.
Donna Brazile, former interim chair of the DNC, revealed in her book, Hacks: The Inside Story of the Break-ins and Breakdowns that Put Donald Trump in the White House, the nefarious– although not technically illegal, according to US District Judge William J. Zloch, who dismissed a class action lawsuit against the DNC – actions of the Committee.
"Hillary would control the party's finances, strategy, and all the money raised," writes Brazile. "Her campaign had the right of refusal of who would be the party communications director, and it would make final decisions on all the other staff. The DNC also was required to consult with the campaign about all other staffing, budgeting, data, analytics, and mailings."
It's unclear whether the DNC's current chair, Tom Perez, will run an honest and fair ship as we approach the 2020 election cycle. Perez held the position of labor secretary during the Obama administration, and Biden publicly threw his support behind Perez during his campaign for DNC chair; whereas Sanders preferred Keith Ellison, who lost by a narrow margin. Only time will tell if Perez will tip the scales in Biden's favor due to their favorable history together, but the Democratic party is no stranger to nepotism, so Perez – especially in light of 2016 – should be watched carefully in the months to come.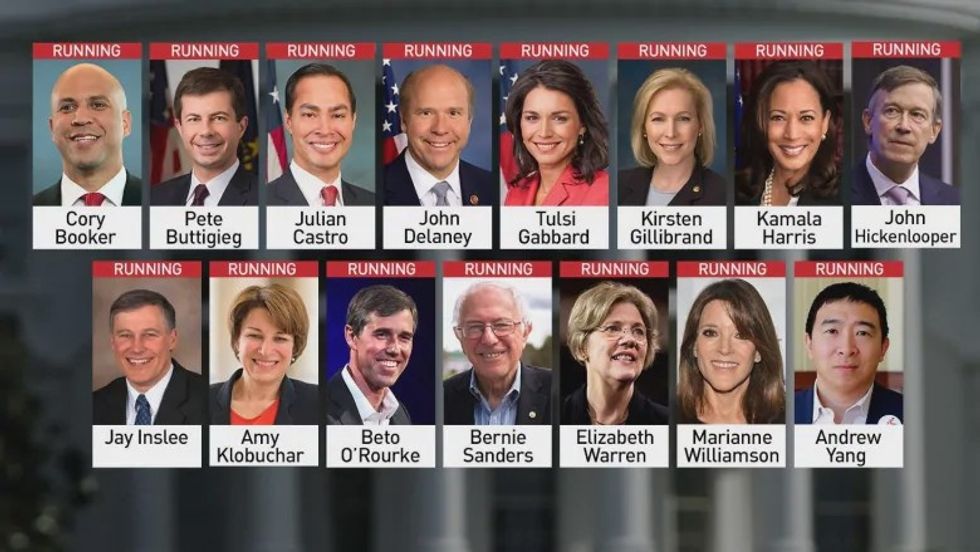 Even if the DNC does run a fair election this time around, electing Joe Biden would be a grave mistake. A mistake that the party already made last time around in the form of gifting the primary to Hillary Clinton. This election will not be one for tepid, center-of-the-road policies. We've already seen how an establishment centrist performs against Donald Trump. The Democratic party must embrace and adopt the progressive push to the left provided by candidates like Sanders and others if they have any hope of winning in 2020. Playing politics as usual will cost the Democratic party, and the nation, another four years of a Donald Trump White House.

How the voting systems around the world differ from country to country
There are many different voting systems in the world that vary in large or small ways from one another. Here are some of the most popular, explained. These three systems make up the majority of the world's election processes and can be used for larger and smaller elections.

First, some vocab
Plurality: The Candidate with the most votes wins, doesn't need to be a majority.
Examples: United States, United Kingdom, Ethiopia, India, etc.
Two Round System: Similar to plurality but a winner needs the majority. If there is no majority in the first round of voting then there will be a second with the 2 leading candidates.
Examples: France, Iran, Mali, Vietnam, etc.
List Proportional Voting: Multi-winner system where political parties nominate candidates and electors vote for preferred party or candidate. The governmental seats are given to each party in proportion to the votes they receive.
Examples: Spain, Morocco, Russia, Brazil, Angola, etc.
A Deeper Look into Certain Election Processes

France
French Presidents serve for 5 year terms and are elected using a run off voting system which involves two rounds of elections. If someone doesn't win the majority in the first round then the top contenders run against each other in the second. France does not have a two party system and many different parties are represented in their 3 branches of government. This means that the French President could have a Prime Minister from another political party.
Both the financing and spending of French campaigns are highly regulated. All commercial advertisements are prohibited in the three months before the election. Political ads are aired for free but on an equal basis for each candidate on national television and radio. There are limits on donations and expenses that are regulated by an independent financial representative of the campaign.
United Kingdom
General elections are held every five years with a large number of elections across the UK. In 2015, six hundred and fifty people were elected into the House of Commons and this greatly changes the standing of the parties in the government. With three major parties there is no longer a two party system. These parties are the Conservative Party formerly know as the Tories, the Liberal Democrats formerly known as the Whigs, and the Labour Party who all make up the bulk of the government along with various independents.
The party that wins the majority of seats in the House of Commons in the general election becomes the leading party. The leader of the majority party is appointed Prime Minister by the Queen. The leader of the minority party is referred to as the leader of the opposition. The Prime Minister appoints the ministries and forms the government. There are moments where the system is adapted whether the Prime Minister calls for a special early election or there is no party with a majority in the House of Commons.
UK elections limit how much campaigns can spend during certain elections, but there is no price limit for donations. This is regulated by the Electoral Commission which is an independent regulatory body. All of the parties need to keep records for the independent audit. To ensure transparency the Electoral Commission publishes party spending returns online.
Russia
A presidential candidate can be nominated by a Russian political party or by a collection of signatures in support. Similar to France, Russia has many political parties that make up their government and there is also a two round voting system. The Presidential term is 6 years and though someone can hold many terms there can only be two consecutive terms at a time. There were protests and concerns over the legitimacy of past elections.
The main political party is the United Russia Party lead by Vladimir Putin and it holds 343 seats of the 450 possible seats in their governmental body, the Duma. Other parties are the Communist Party, the Liberal Democratic Party, A Just Russia, Civic Platform, and there are independents. Members of the Duma are elected for 5 year terms.
Though spending and broadcast time is monitored and regulated there are large loopholes for the party who is in control of public resources. Opposition parties need to fund from their own resources but United Russia uses official state-funded trips, positive news reporting, and other means to avoid using personal funds.