Dall-E Mini, the AI-powered text-to-image generator has taken over the internet. With its ability to render nearly anything your meme-loving heart desires, anyone can make their dreams come true.
DALL-E 2, a portmanteau of Salvador Dali, the surrealist and Wall-E, the Pixar robot, was created by OpenAI and is not widely available; it creates far cleaner imagery and was recently used to launch Cosmpolitan's first AI-generated cover. The art world has been one of the first industries to truly embrace AI.
The open-sourced miniature version is what's responsible for the memes. Programmer Boris Dayma wants to make AI more accessible; he built the Dall-E Mini program as part of a competition held by Google and an AI community called Hugging Face.
And with great technology, comes great memes. Typing a short phrase into Dall-E Mini will manifest 9 different amalgamations, theoretically shaping into reality the strange images you've conjured. Its popularity leads to too much traffic, often resulting in an error that can be fixed by refreshing the page or trying again later.
If you want to be a part of the creation of AI-powered engines, it all starts with code. CodeAcademy explains that Dall-E Mini is a seq2seq model, "typically used in natural language processing (NLP) for things like translation and conversational modeling." CodeAcademy's Text Generation course will teach you how to utilize seq2seq, but they also offer opportunities to learn 14+ coding languages at your own pace.
You can choose the Machine Learning Specialist career path if you want to become a Data Scientist who develops these types of programs, but you can also choose courses by language, subject (what is cybersecurity?) or even skill - build a website with HTML, CSS, and more.
CodeAcademy offers many classes for free as well as a free trial; it's an invaluable resource for giving people of all experience levels the fundamentals they need to build the world they want to see.
As for Dall-E Mini, while some have opted to create beauty, most have opted for memes. Here are some of the internet's favorites:
There's no looking back now, not once you've seen Pugachu; artificial intelligence is here to stay.
Bernie Sanders is no longer running for president, but he had an indelible impact on American politics.
Bernie Sanders dropped out of the presidential race on Wednesday, April 8th. The news broke at around 11AM ET, and Sanders addressed his supporters in a live-streamed press conference starting at 11:45.
Standing inside his home, flanked by framed photos of bucolic houses, the Brooklyn-born Vermont senator thanked his supporters—specifically mentioning his campaign staff, all the people who called and texted for him, and all the artists and writers who did their best to promote his unprecedented campaign for president.
"The greatest obstacle to social change is the corporate and political establishment," he told the audience as comments flickered down the side of the screen—a Trump 2020 troll, then a Biden supporter, then a disappointed fan calling for him to re-enter.
Sanders, broadcasting from Burlington, Vermont seemed calm, yet focused. He referenced the Nelson Mandela quote, "It always seems impossible until it's done." He reminded his followers that while Medicare for All was a fringe idea in 2016, now multiple democratic candidates supported it in the presidential race, and now progressive ideals have pervaded mainstream American consciousness.
What Bernie Sanders created was a clearing, an opening for ideas that had fallen out of fashion, and for expanding… https://t.co/jJii3DfYo5

— Charles P. Pierce (@Charles P. Pierce) 1586376367.0
"Few would deny...our movement has won the ideological struggle," he said. "A majority of the American people now understand that we must raise the minimum wage...that we must guarantee healthcare as a right...that we must transform our energy system away from fossil fuels...and that higher education must be available to all, regardless of income."

Bernie was always a policy candidate, fixated on the issues at hand, clearly tormented by the idea that people are still sleeping on the streets in the richest nation in the world. The rest of the image surrounding him—the toxic masculinity, the Internet trolls—may have been true in part, and perhaps that played a role in his campaign's demise, but the truth is that Bernie's campaign failed for the same reason it won the support of millions of young people and working class people across the country: It was always about supporting and uplifting the working class.
"A member of Congress for nearly 30 years, Mr. Sanders has been bitingly frank about the way that money strangles American democracy," wrote Elizabeth Bruenig in a rare pro-Bernie New York Times op-ed, published conveniently after Sanders dropped out. "Rich individuals with a vested interest in defanging egalitarian politics donate to campaigns, PACs, universities and think tanks in hopes of purchasing lawmakers' loyalties and rigging the legislative process in their favor. These oligarchs — the Koch brothers, the Mercers and Michael Bloomberg, among others — exert control over our politics that far exceeds the one vote accorded to each citizen."
In a nation that worships wealth above all else, and that's truly led by massive corporations, perhaps this was a doomed endeavor. Sanders certainly invoked ire across political parties; and sometimes, Bernie supporters did exhibit somewhat cult-like behavior—though from personal experience, this cult mostly consisted people who were deeply inspired and committed to healing American society.
For some, that Sanders dropped out in the midst of the coronavirus crisis only adds insult to injury. As Keeanga-Yamahtta Taylor wrote in the brilliant New Yorker article "Reality Has Endorsed Bernie Sanders"—published a week before he dropped out—coronavirus is starkly illuminating the validity of points that Bernie has been making all along. "The class-driven hierarchy of our society will encourage the spread of this virus unless dramatic and previously unthinkable solutions are immediately put on the table," Taylor writes. "As Sanders has counseled, we must think in unprecedented ways… The Sanders campaign...has shown public appetite, even desire, for vast spending and new programs. These desires did not translate into votes because they seemed like a risky endeavor when the consequence was four more years of Trump. But the mushrooming crisis of COVID-19 is changing the calculus. As federal officials announce new trillion-dollar aid packages daily, we can never go back to banal discussions of 'How will we pay for it?' How can we not?"
Though Bernie's acquiescence to Joe Biden is a devastating loss for many of his supporters, particularly those who were never able to even cast a vote for him, in many ways Sanders' decision to drop out was a logical and even ethical choice. As Sanders himself stated in the broadcast, there was no clear path to his election—a crushing Biden victory on Super Tuesday made that clear—and in addition, holding primary elections during the coronavirus crisis poses its own unique health dangers and inevitably would distort the results.
Now, for all intents and purposes, Biden is the Democratic nominee. Though he fell short of actually endorsing Biden, Bernie called the former vice president a "very decent man" and promised to do his best to promote his progressive ideals in the forthcoming campaign.
The road ahead will be long and difficult, regardless of who wins this November. But our Vermont savior, who symbolized such a potent and promising new world, at the very least laid down some seeds. We may not see them this season, but maybe in future years, the ideas Bernie Sanders planted will be able to grow.
"Now is a moment to remake our society anew," Taylor writes. To say Bernie made an indelible impact on American politics is an understatement. In a critical and volatile moment, he inspired a new wave of young progressives to organize, and made millions of voters question the status quo. He prioritized morality in his campaign in an era that seems entirely devoid of it—not morality in terms of tolerance that disguises inaction, but morality defined by what we truly owe to each other.
These ideas will not die out after Sanders exits the primary. If anything, they'll become more local, more grassroots, more rooted in people power. After all, mainstream political parties in America have never been at the forefront of radical people-focused action. That kind of change will always have to come from the actions of everyday folks, organizing and fighting tirelessly for people they don't know.
Time's Up, one of the largest organizations fighting against sexual assault, says they can't help the alleged victim.
Content warning: the following article contains a brief depiction of sexual assault.

For the entirety of his run in the 2020 presidential race (and much of his decades-long career), Joe Biden hasn't had the best track record regarding his treatment of women.
The former vice president, who's earned a shocking lead in the Democratic primaries thus far, has racked up multiple accusations from women who say he was inappropriate towards them. Many of these recounts involve a disregard for personal space, improper comments about appearance, and even some condescending finger-wagging, but none of them explicitly depicted a sexual assault. Until now.
Tara Reade didn't initially go public with her sexual assault story about Joe Biden when it allegedly occurred in 1993. A staff assistant of Biden's at the time, Reade told her brother and close friend but otherwise kept her story silent. But, in an episode recently aired of Katie Halper's podcast, Reade has finally let her story out in the world.
Reade says that she was called to bring a gym bag to Biden, who was Chair of the Senate Judiciary Committee at the time, near the Capitol. Nobody else was around. "We were alone, and it was the strangest thing," Reade said. "There was no exchange, really. He just had me up against the wall." In what seemed like one swift motion, she added, Biden had his hands under her clothes and then began penetrating her digitally. "I pulled back, and he said, 'Come on, man, I heard you liked me'...It's like he implied that I had done this."
Reade tried to come forward with her story in April 2019, but she was halted after her claims of sexual harassment got her doxxed and smeared as a Russian agent. In January of this year, Reade tried again telling her story to Time's Up, the organization that rose as Hollywood's initial #MeToo movement unfolded. However, as Ryan Grim reports in The Intercept, Time's Up couldn't provide assistance "because Biden was a candidate for federal office, and assisting a case against him, Time's Up said, could jeopardize the organization's nonprofit status."
Reade told Grim she was conflicted about coming forward with her sexual assault allegation as the 2020 election carried on because she feared she'd be "help[ing] Trump" win over Biden. But, if our two presidential front-runners are both men accused of sexual assault, and one of the largest organizations intended to help survivors can't help at all, there's a much larger issue than simply defeating Trump: It's how we handle assault at the hands of the world's most powerful men.
Statistical anomalies in previous elections point to frightening vulnerabilities in how votes are tallied
In 2012, Mitt Romney was declared the winner of the GOP's Iowa caucus by a margin of just eight votes.
That result was announced at 1:30 AM on Caucus night, but two weeks later there was a different result. The Republican Party of Iowa had performed a recount of the votes and Rick Santorum—a candidate broadly considered too far outside the mainstream to stand a chance in the general election—was revealed as the actual winner. By that point of course it was far too late. Romney had already gotten the media attention that comes with winning, and had capitalized on that sense of momentum to achieve a solid victory in the New Hampshire primary.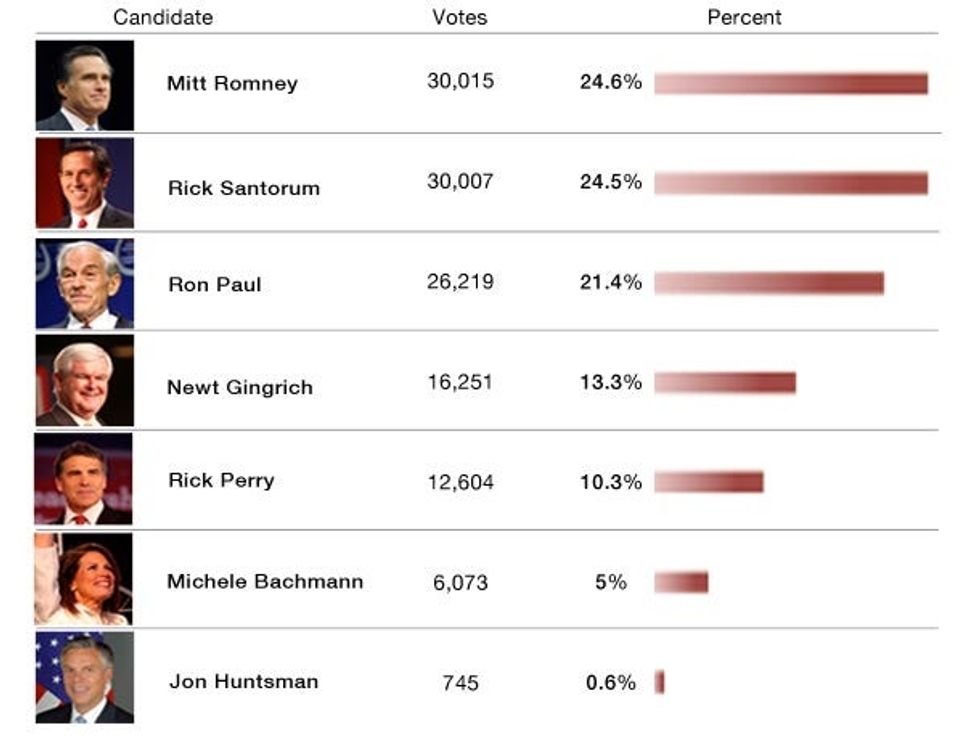 Business Insider
If that sounds familiar, that's because there is currently a "recanvassing" under way in Iowa to reassess the results of a contest that will once again be decided by a very slim margin. Though Bernie Sanders managed a clear victory in the popular vote, Iowa's elaborate system for awarding "State Delegate Equivalents" at each caucus location (to then be converted to the actual delegate count that determines the Democratic party's nominee), has resulted in a near-tie between Senator Sanders and former South Bend Mayor Pete Buttigieg.

The official winner may not be announced for days or weeks—or it may never be known at all. In the mean time, Pete Buttigieg declared himself the winner on Caucus night, and has been treated as such by much of the media. With Sanders looking more and more like the frontrunner, Buttigieg is seen as much more palatable to moderate general election voters, and many powerful donors and party insiders would much rather he get the nomination. With that in mind, the chaos in Iowa—particularly the faulty app and the release of partial results that seemed to favor Buttigieg—has already sparked speculation of party corruption and election rigging for Sanders voters holding on to memories of the DNC's favoritism toward Hillary Clinton in 2016, but it may be more instructive to consider the model of the 2012 Republican primaries.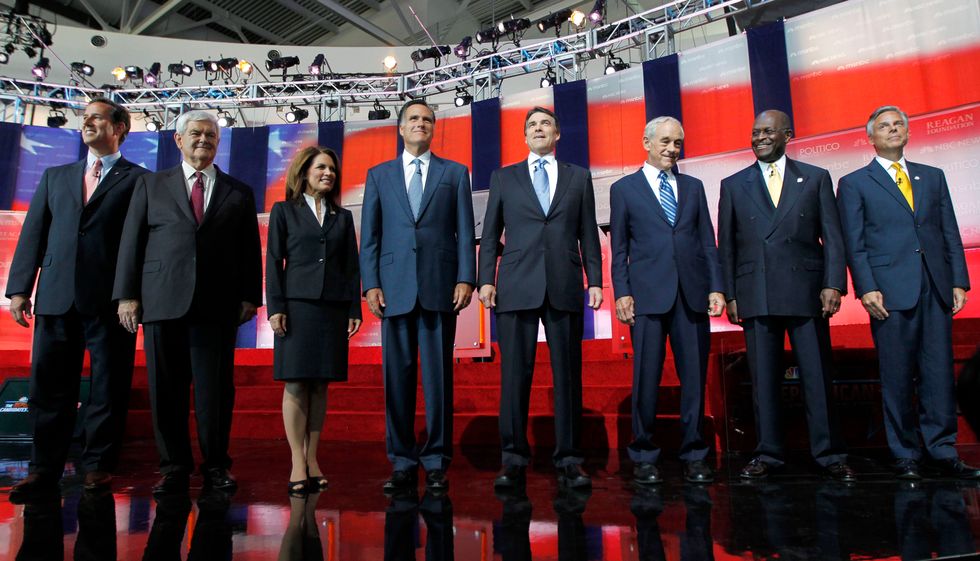 AP
2012 was not a simple year for Republicans in the way 2016 was for Democrats. Much like the 2020 field of Democratic candidates, there was not a presumptive nominee, but rather a wide field of contenders with centrists—Mitt Romney and Jon Huntsman—struggling against the enthusiastic support for more extreme candidates like Rick Santorum, Newt Gingrich, and Ron Paul. Polling seemed to swing wildly, from one candidate to the next until—according to some accounts—the RNC tipped the scales toward the man considered the most electable (read: bland and inoffensive) candidate.

The case of bias for Romney is as elaborate and detailed as every budding conspiracy theory about Acronym, Shadow Inc., and the new "Voter Protection Director" for the Nevada State Democratic Party—especially considering the contentious events of the Nevada Democratic Party state convention in 2016. Likewise, the overwhelming variety of those details is evidence—depending on your perspective—of either how insidious the whole plot was, or of the depths of its adherents' delusion.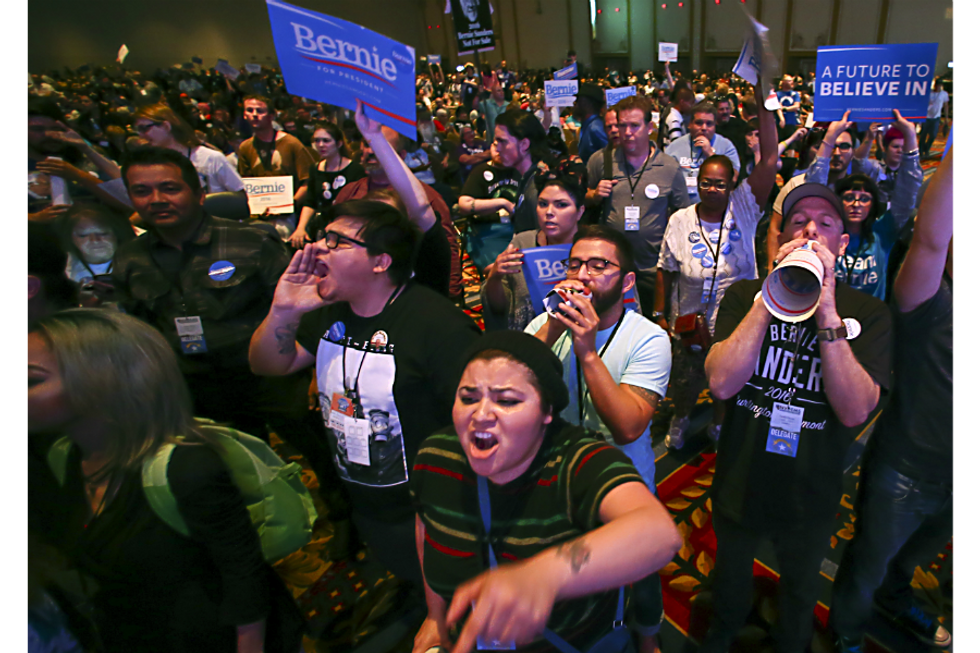 Chase Stevens/AP
For a start, there were a variety of issues in that year involving states attempting to increase their influence on the process by ignoring the traditional schedule for primaries and caucuses, skipping ahead of other states. The RNC was conflicted about how to handle that tactic, but many voters felt that the resulting schedule favored Romney's candidacy by allowing states where he polled well to vote earlier, further emphasizing the sense of building momentum. That much was acknowledged as a problem even at the time, but there are other issues that remain murkier. Was the miscount in Iowa intentional? Did the RNC combine fundraising with Romney's campaign too early? Did they pad Romney's delegate count to prevent a brokered convention? Most worryingly of all, were votes flipped to Romney in state primaries that lacked a paper trail?
Whatever the confusion in Iowa, the caucus system is at least public and relatively easy to monitor. But primaries that are carried out with all electronic voting machines are a black box, and the state parties run the show with little oversight. Unlike a federal election, primaries are fundamentally under the purview of political parties. They can choose their nominees however they like. They have chosen a roughly democratic system for a variety of reasons (to build enthusiasm, test candidates' campaign skills, and avoid voter alienation) but if they wanted to undermine the integrity of that process in order to ordain the candidate they see as standing the best chance in the general election, there would be little to stop them. According to two statisticians, Francois Choquette and James Johnson, that is exactly what happened in 2012.

Choquette and Johnson, 2012
When Choquette and Johnson analyzed vote totals out of hundreds of precincts, they discovered a strong tendency for voters in larger precincts to favor Mitt Romney more than did voters in smaller precincts. These results have been criticized as attributable to demographic differences between precincts, but when researchers looked at results out of precincts that kept paper records of voting, that tendency disappeared. Likewise in Utah—where Romney was always expected to win by a wide margin—the results showed no shift in preference toward Romney based on the size of the precinct. The trend was so distinct in competitive precincts with no paper trail that Choquette and Johnson were unable to account for it as a result of chance or any factor other than deliberate fraud. According to their work, Romney received approximately a 7% bump in the most populous precincts in multiple states as a result of votes flipped from other candidates—allowing him to secure the nomination handily.
Choquette and Johnson's evidence was brought to court in a lawsuit filed by a third statistician at Witchita State University. Beth Clarkson works in the university's National Center for Advanced Materials Performance, and was inspired by Choquette and Johnson's research to investigate similar anomalies in Kansas's 2014 general election—larger precincts trending toward Republican candidates. She sued to gain access to more detailed records in order to build a statistical model that could shed light on the question of fraudulent vote flipping. Unfortunately Clarkson's efforts were stymied by Kansas Secretary of State Kris Kobach, who argued that releasing the time-stamped records could somehow violate voter anonymity.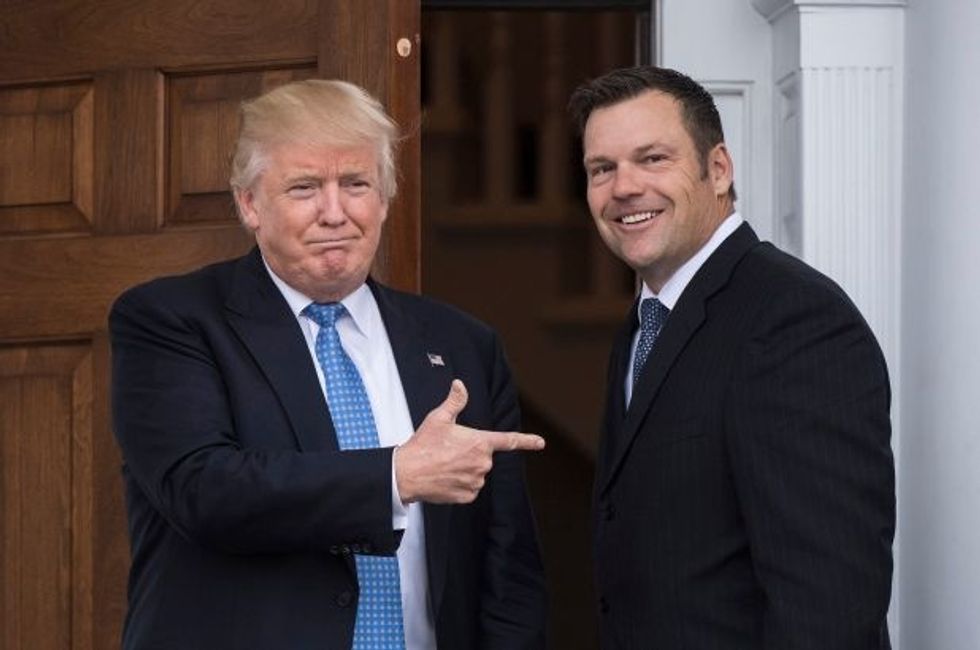 Kris Kobach with Donald Trump
You may recognize Kris Kobach as perhaps the greatest enemy of unbiased elections in recent American history. Kobach is the man whose voter fraud commission pushed the false narrative of millions of fake voters in support of discriminatory voter ID laws, and whose apparent political and white-supremacist motivation for adding a citizenship question to the national census resulted in the Supreme Court rejecting the change—which would have led to dramatic under-counts of immigrant populations, and a shift in congressional districts that would disproportionately benefit the Republican party. While he was able to halt Clarkson investigation, many have credited her lawsuit as being instrumental in the push for recently enacted legislation which now requires post-election audits in Kansas. Reached for Comment, Clarkson admitted that this was a step in the right direction, though she was "not impressed" with the audit techniques being utilized.
Overall, Clarkson seems pessimistic about the fidelity and security of our elections, saying that there is still a lot of potential for fraudulent vote counts, "anytime there's no way to check a paper record." This does include several races in the Democratic primaries, though the New Hampshire primary taking place today is utilizing paper ballots, which leave less room for tampering. Nationally, there has been a push to move toward that model, but for those of us who will be casting votes on electronic machines, Clarkson advocated that, where possible, voters check their electronic vote against the paper record to ensure their vote was recorded correctly. And for all voters, Clarkson had a reminder to check your voter registration online in advance of every election. With recent voter purges Clarkson says there have been many cases "of people being surprised when they arrive at the polls to vote and find out, 'Oh, they don't have me down as a registered voter.'"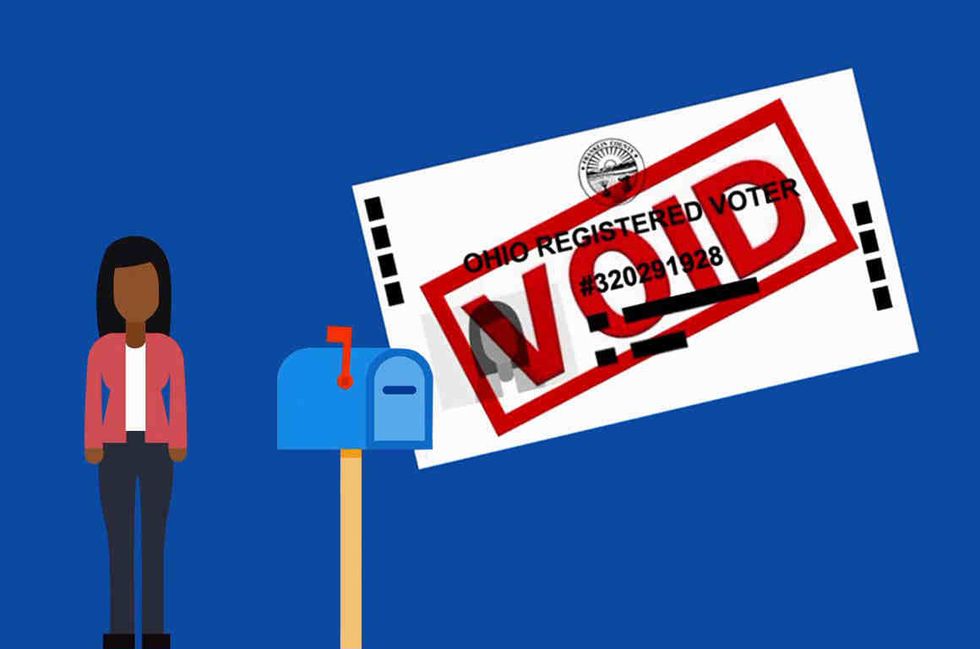 ACLU
Beyond that, electronic voting remains so opaque and vulnerable, all we can do is continue pushing for paper-based voting systems and remind our nation's political institutions—as the primary process continues through New Hampshire and beyond—that we are watching them; that we will not take any irregularities lightly.
The revolution will not be Tweeted, but its agenda can be.
Can a tweet save the world? No. Is it a public record of your intolerance of unjust systems in the world? Sure, if anybody reads it among the white noise of Twitter rage. Protest movements in the digital age are tricky; hacktivism, or hashtag activism, has been critiqued as an ineffective and tokenizing way to virtue signal in the name of social justice while actually being armchair activists. Meanwhile, nonviolent protests like marches, boycotts, and strikes are critiqued for being too passive to ever enact real change. On the other end of the spectrum are volatile reactionaries who want to tear down the system and begin from scratch–even if they have no actionable plans to create a viable replacement.
So what are we supposed to do? More to the point, what are we supposed to believe? A patient and open-minded look at both sides of any issue is guaranteed to point out one commonality: Everybody has the wrong idea about the opposing side. When it comes to social movements that create a better future, there are some basic, prevailing myths that only distract people from the real problems at hand. Ask activists, historians, and political science analysts, and they agree that you shouldn't fall for the following misconceptions when fighting for a better world:
1. Myth: Nonviolence Is Ineffective
Historically speaking, this simply isn't true. When two researchers from the United States Institute of Peace conducted a study of nearly 330 major violent and nonviolent campaigns "targeting incumbent regimes and foreign military occupations," they concluded that "nonviolent efforts were twice as likely to achieve their goals." They wrote, "The majority succeeded against authoritarian governments, when even peaceful protests could have fatal consequences. The ousters of Augusto Pinochet in Chile, Ferdinand Marcos in the Philippines, Zine el-Abidine Ben Ali in Tunisia, Yahya Jammeh in Gambia, Bashir in Sudan and Abdelaziz Bouteflika in Algeria are only a handful of cases in which mass nonviolent force stripped power from despots." Furthermore, another study in 2011 looked at 323 civil resistance campaigns around the world between 1900 and 2006, concluding that nonviolent campaigns were successful in 53% of cases, compared to violent ones' success rate of 26%. Additionally, only 4% of violent revolutions ended up in a "functioning democracy," compared to 42% of non-violent regime changes.
So radical violent action, whether that be in the form of paramilitary groups or self-appointed vigilantes who want to burn down the Establishment, is statistically not as likely to produce change as collective nonviolent protest.
2. Social Media Makes Protests More Effective
With that being said, there is a degree of truth to the allegation that social media creates lazy activists. More specifically, however, social media encourages engagement in social issues (i.e. sharing an article, liking a tweet, and maybe hurling insults at the opposing side), which is different from collective action. While Facebook, Twitter, and Instagram allow people to express their displeasure at existing policies, the most social media can do is mobilize people to agree on a unified agenda and a set of actions.
The problem, of course, is that many online participants don't end up following through with in-person plans, thus there's no unity where it counts: on the ground, at the march, or holding up signs. Furthermore, analysts Maria J. Stephan and Adam Gallagher emphasize the importance of "durable organizations" and "long-term planning," and in the fast-paced, immediate gratification of social media platforms like Twitter, responses can often be reactionary and short-term, which doesn't even begin the work of effective protest.
3. Myth: You Need to Have a Massive Amount of People
This is half-true, but it's mostly misunderstood. Effective nonviolent protests gain traction and grow into massive movements when their tactics get them noticed–even if that doesn't involve a large amount of people. As evidenced by the progression of the Egyptian occupation of Tahrir Square and the Serbian student protest group, Otpor (translated as "Resistance!"), a large following of people don't mark the beginning of a movement but rather it's a sign that a movement's worked. Srdja Popovic, leader of Otpor, reflected on the overthrow of war criminal Slobodan Milošević, "All successful movements come with a very low entry bar. You need to offer people the chance to do something meaningful, and – crucially – to get away with it. In Chile, against Pinochet, they drove at half speed: not illegal, very low risk, pretty funny, nothing the cops can do. It's about doing something neat, and living to tell everyone." He added, "We had to go out and listen. Get the real people, rural people, not so clever-clever people, behind us. Build a movement. We did, but it took us five years." Resistance from within a system is more effective to create change than external opposition.
4. Myth: It's a Business
Popovic coins one of their best tactics "laughtivism." Making people laugh not only gets attention, but it alleviates tension from living within fraught social realities. From graffitiing pictures of the corrupt men in charge to spreading the movement's message through public pranks, nonviolent movements have gained global traction through being human and showing a sense of humor.