"A tree is best measured when it is down," the poet Carl Sandburg once observed, "and so it is with people." The recent death of Harry Belafonte at the age of 96 has prompted many assessments of what this pioneering singer-actor-activist accomplished in a long and fruitful life.
Belafonte's career as a ground-breaking entertainer brought him substantial wealth and fame; according to Playbill magazine, "By 1959, he was the highest paid Black entertainer in the industry, appearing in raucously successful engagements in Las Vegas, New York, and Los Angeles." He scored on Broadway, winning a 1954 Tony for Best Featured Actor in a Musical – John Murray Anderson's Almanac. Belafonte was the first Black person to win the prestigious award. A 1960 television special, "Tonight with Belafonte," brought him an Emmy for Outstanding Performance in a Variety or Musical Program or Series, making him the first Black person to win that award. He found equal success in the recording studio, bringing Calypso music to the masses via such hits as "Day-O (The Banana Boat Song)" and "Jamaica Farewell."
Harry Belafonte - Day-O (The Banana Boat Song) (Live)www.youtube.com
Belafonte's blockbuster stardom is all the more remarkable for happening in a world plagued by virulent systemic racism. Though he never stopped performing, by the early 1960s he'd shifted his energies to the nascent Civil Right movement. He was a friend and adviser to the Reverend Doctor Martin Luther King, Jr. and, as the New York Times stated, Belafonte "put up much of the seed money to help start the Student Nonviolent Coordinating Committee and was one of the principal fund-raisers for that organization and Dr. King's Southern Christian Leadership Conference."
The Southern Poverty Law Center notes that "he helped launch one of Mississippi's first voter registration drives and provided funding for the Freedom Riders. His activism extended beyond the U.S. as he fought against apartheid alongside Nelson Mandela and Miriam Makeba, campaigned for Mandela's release from prison, and advocated for famine relief in Africa." And in 1987, he received an appointment to UNICEF as a goodwill ambassador.
Over a career spanning more than seventy years, Belafonte brought joy to millions of people. He also did something that is, perhaps, even greater: he fostered the hope that a better world for all could be created. And, by his example, demonstrated how we might go about bringing that world into existence.
The President vilifies immigrants as the midterms approach.
On Thursday Nov. 1st, President Trump released a political ad that accused Democrats of plotting to help murderers and criminals invade the country.
The ad is a flagrantly manipulative and fear mongering move, a new low in Trump's inflammatory closing argument of the GOP's midterm campaign.
It is outrageous what the Democrats are doing to our Country. Vote Republican now! https://t.co/0pWiwCHGbh https://t.co/2crea9HF7G

— Donald J. Trump (@Donald J. Trump) 1541017087.0
The video — produced by Trump's campaign — features Luis Bracamontes, a Mexican immigrant who returned to the United States after being deported, and was then convicted of killing two California deputies. Bracamontes is shown with a chilling smile, saying, "I'm going to kill more cops soon," meanwhile, a caption flashes across the screen that reads "Democrats let him into our country. Democrats let him stay." The video then goes on to show footage of people crossing the border as menacing music plays. The screen then reads, "Who else would Democrats let in?" The spot is not only a clear attempt at sowing fear, but also rife with misinformation, as Bracamontes was actually originally deported by a democrat, Bill Clinton, and let back in by a Republican, George W. Bush.

After posting the video, Trump told reporters he would deploy 15,000 troops to the southern border to repel a caravan of central American immigrants, which is still hundreds of miles away. He also suggested that these troops could fire on the migrant caravan if rocks or stones were thrown, a claim that contradicts Official Department of Defense regulations, which state, "deadly force is justified only when there is a reasonable belief that the subject of such force poses an imminent threat of death or serious bodily harm to a person." Additionally, Trump repeatedly implied to reporters that there are Middle Eastern individuals hiding amongst the caravan, but later said, "There's no proof of anything. There's no proof of anything. But there could very well be."
In the wake of all of this troubling rhetoric surrounding immigration, Trump claimed Thursday that he would sign an executive order "next week" aimed at limiting immigrants ability to seek asylum in the United States. These developments come on the heels of Trump's recent assertion that he aims to repeal the 14th amendment, which automatically grants citizenship to children born in the United States.

This recent rise in anti-immigration rhetoric is yet another example of the President's willingness to exploit racial divides to falsely inflate his power and the cause of the Republican midterm campaign. It's clear that the Trump administration has chosen to scapegoat and villify central American immigrants in an attempt to counteract
rising enthusiasm
about democratic candidates in the midterm elections. The question is, will voters succumb to Trump's scare tactics, or see it as the manipulative and divisive rhetoric that it is?
Brooke Ivey Johnson is a Brooklyn based writer, playwright, and human woman. To read more of her work visit her blog or follow her twitter @BrookeIJohnson.
Trump has expressed his intention to repeal the 14th amendment.
President Trump's latest attack on immigration targets the children of undocumented persons by threatening to nullify the writ of birthright citizenship, also known as the 14th Amendment. Legislatively, this is nearly impossible and unheard of; but, most damningly, its patent ridiculousness is alienating both sides of the aisle.
While fatuous celebrity rants may err in understanding constitutional law, as was the case of Kanye West's Twitter fodder to "abolish" the 13th Amendment, a United States President's defective understanding of the constitution is as alarming as it is shameful.
But on Wednesday Trump once again aimed his tweets directly at his blind spot for facts, underscoring that he's impenetrable to shame. He claimed that "so-called Birthright Citizenship...is very unfair to our citizens. It is not covered by the 14th Amendment because of the words 'subject to the jurisdiction thereof."
So-called Birthright Citizenship, which costs our Country billions of dollars and is very unfair to our citizens, w… https://t.co/TDGBLMUNAh

— Donald J. Trump (@Donald J. Trump) 1540992317.0
The tweet was precipitated by an interview with Axios on HBO, which was released on Tuesday. Trump evinced his ignorance on constitutional law by stating, "It was always told to me that you needed a constitutional amendment. Guess what? You don't." Convinced, he added, "You can definitely do it with an act of Congress. But now they're saying I can do it just with an executive order."
No, of course he can't. In brief, the U.S. policy of jus soli dictates that an individual has a right to citizenship in the country he/she is born. This "Citizenship Clause" is codified in the 14th Amendment, which reads, "All persons born or naturalized in the United States, and subject to the jurisdiction thereof, are citizens of the United States and of the State wherein they reside." Depending on your interpretation of the constitution, no matter if you see it as elastic or fixed, legal precedent set by the U.S. Supreme Court in 1898 has upheld the Citizenship Clause as we know it.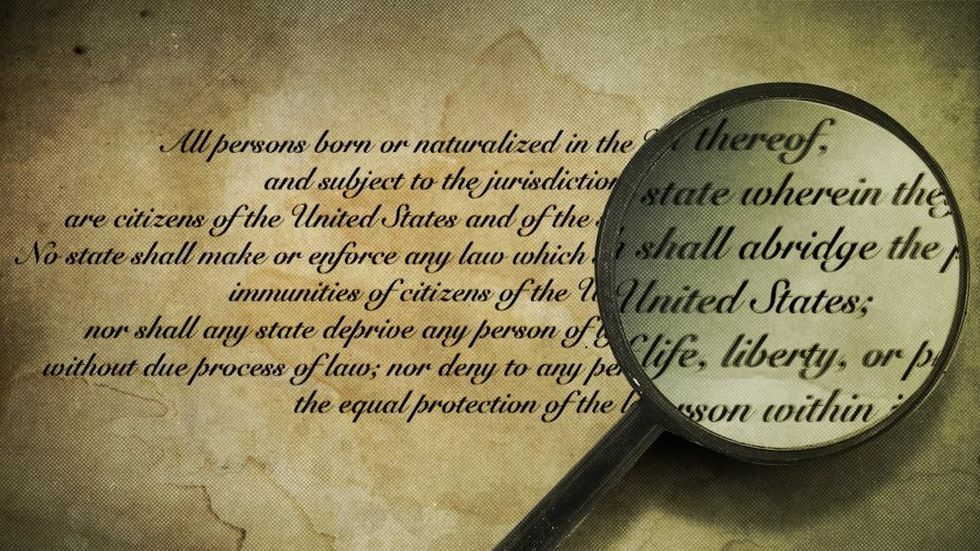 CNN
Trump went on to misattribute the "law of soil" as a singularly American mistake, stating, "We're the only country in the world where a person comes in, has a baby, and the baby is essentially a citizen of the United States for 85 years with all of those benefits." That's incorrect; over 30 other nations recognize birthright citizenship. "It's ridiculous. It's ridiculous. And it has to end," Trump went on.

Of course, rudimentary awareness of American history reminds us that constitutional amendments are complex pieces of legislation which are subject to checks and balances. If President Trump truly believes he can solely command an amendment change, House Speaker Paul Ryan clarified in a radio interview that he "obviously cannot do that." In fact, Ryan spoke on behalf of all conservatives as fully dissenting from Trump's views.
"You obviously cannot do that. You cannot end birthright citizenship with an executive order. We didn't like it when Obama tried changing immigration laws via executive action, and obviously as conservatives, we believe in the Constitution," Ryan told WVLK radio. "I'm a believer in following the plain text of the Constitution, and I think in this case, the 14th Amendment's pretty clear, and that would involve a very, very lengthy Constitutional process." Ryan added, "I believe in interpreting the Constitution as its written."
With midterm elections approaching, Trump's turgid misrepresentations of immigration law can only be in hopes of rallying votes from anti-immigration supporters and encouraging strife between republicans and democrats. Dem. Sen. of Virginia, Mark Warner said, "This is simply an attempt for Donald Trump, who wants to do anything possible to bring back fears around immigration, to use that as a political tool in this last week before the election."
He adds, tellingly, "This is again, where a President's words matter. The Constitution is quite clear that no one, including the President of the United States, is above the law."
Indeed, the President's stream of inflammatory rhetoric only serves as a distraction from his unfulfilled promises and his administration's failings. For instance, two new studies reported by The New York Times indicate growing anti-Trump sentiments in the top GOP district, suggesting that voters are alienated by "endless lies and hate-mongering." Greg Sargent at The Washington Post adds, "One likely answer is that the story Trump has told about the economy - and the country - just isn't resonating in many of these districts."
That Trump took to Twitter to repudiate Paul Ryan's reality check is par for the course, as was his ad hominem attack questioning Ryan's credentials to comment on birthright citizenship.
Paul Ryan should be focusing on holding the Majority rather than giving his opinions on Birthright Citizenship, som… https://t.co/fWpqNevAGI

— Donald J. Trump (@Donald J. Trump) 1541004199.0
Meg Hanson is a Brooklyn-based writer, teacher and jaywalker. Find Meg at her website and on Twitter @megsoyung.
From bonfires to bicentennials, the history of America's birthday tells the story of a changing nation
The 4th of July is one of those rare days where everyone knows what to expect –– a hot summer's day off spent with family, friends, fireworks, food, and patriotically-branded cans of beer. Yet, all the common rituals of our national day are the product of almost two-hundred and fifty years of chaotic, challenging, and occasionally calamitous celebration; the lesser-known parts of which offer us an interesting view of a constantly changing America. So, here are some things you may not know about Independence Day.
You've heard of Clinton and Trump, but did you know Ameruc's relationship with impeachment started all the way back in 1868?
Republicans in Congress face a desperate dilemma. The President, ostensibly their ally, has proven increasingly erratic and hard to control. He acts with minimal regard for the law, lashes out at his Cabinet, and seems determined to tear down everything his predecessor worked so hard to build. The year is 1868, and Congress decides to bring Andrew Johnson to heel with the greatest weapon at their disposal: impeachment.
As the situation in Washington grows more fantastic by the day, modern Americans are understandably becoming more interested in how impeachment works. The mechanics are relatively simple, but what triggers impeachment is much fuzzier. The Constitution empowers Congress to impeach and remove the president for "treason, bribery, or other high crimes and misdemeanors." The first two are pretty clear, but that last clause gives legislators a lot of leeway. By examining the first time Congress used its impeachment powers, we can get a better sense of what conduct might lead to impeachment, along with how the process unfolds.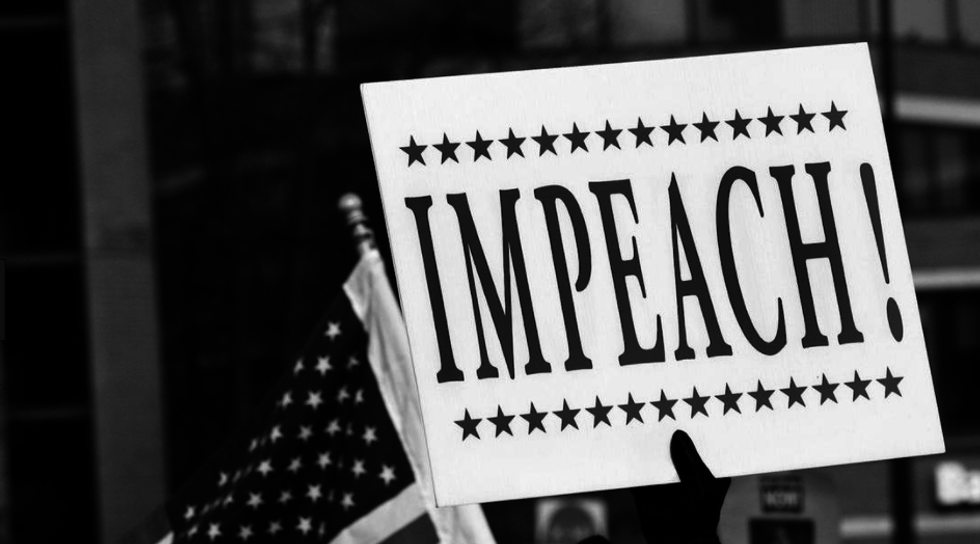 Protesters call for impeachment
Andrew Johnson became President on April 15, 1865, upon the assassination of Abraham Lincoln. The military governor of Tennessee during the Civil War, Johnson was chosen by Lincoln as his 1864 running mate as a symbol of union, a Southern Democrat joining an administration of Northern Republicans. Johnson had been a firm supporter of the Union through the war, and upon his ascent to the presidency he sought to bring the southern states back into the Union with minimal conditions, in the name of rapid reconciliation.
Congress, meanwhile, along with most of Johnson's inherited cabinet, believed that the war's outcome showed a clear verdict: the Confederacy had been defeated, and with it not only slavery but the whole of the old racial caste system. A new South would be built on the basis of racial egalitarianism, with the federal government taking a strong hand to ensure that freed slaves had access to jobs, land, and the ballot. This was unacceptable to Johnson, who spent the bulk of 1866-7 using every power at his disposal, most notably the veto, to block Congress's plans. He vetoed a bill authorizing the Freedman's Bureau (designed to provide aid and education to former slaves), multiple incarnations of the nation's first civil rights bill, and a host of other proposals. The huge Republican majority in Congress overrode most of these, but the battle lines were clearly drawn.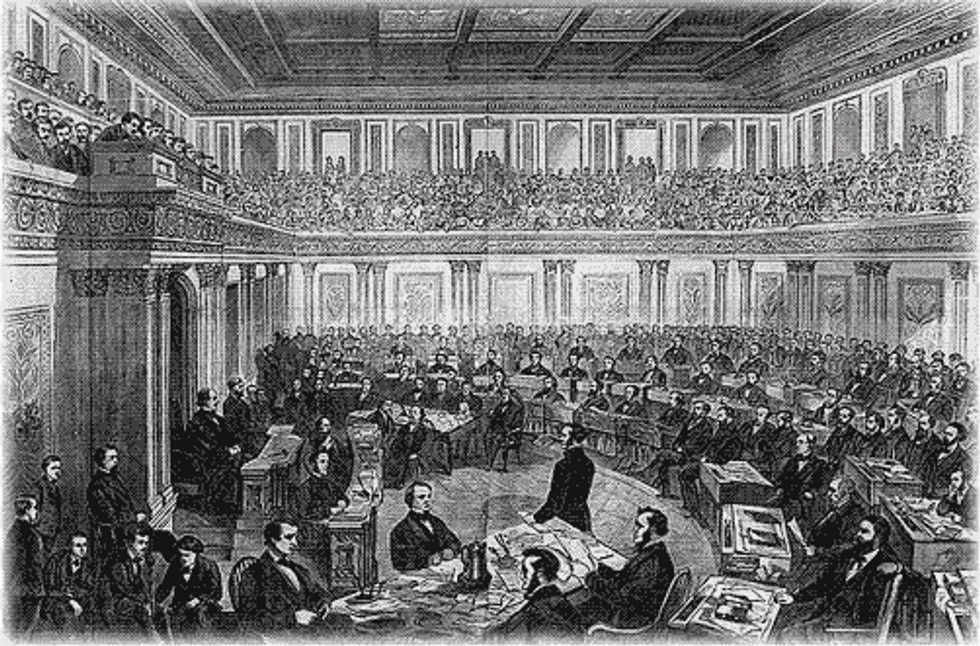 Congress convenes to discuss the fate of President Johnson
The final straw, from Congress's perspective, was Johnson's decision to fire his Secretary of War, Edwin Stanton. With the South still under military jurisdiction following the war, Stanton had broad powers over how the occupied states were governed. The generals he oversaw as military governors were instructed to protect the rights of freedmen, and troops under his command had put down riots, lynchings, and even attempted coups by the Klan and other white supremacist groups. Johnson saw this as an unlawful assault upon the rights of southern whites, and wished to replace Stanton with someone friendlier to their cause. To prevent precisely this sort of action, Congress had earlier passed the Tenure in Office Act, barring the president from removing any Senate-approved appointee unless the Senate agreed. Johnson fired Stanton anyway, and the House approved articles of impeachment.
The House quickly impeached Johnson along party lines, the trial went to the Senate, and at this point the complicated nature of impeachment became clear. Johnson's lawyers argued that the Tenure Act didn't apply to Stanton, since Lincoln had appointed him and Johnson had only inherited him. Some moderate Republicans worried about the unprecedented nature of a successful impeachment. Still others worried about the line of succession, since Johnson had no Vice President and the man next in line supported such wild causes as labor rights and women's suffrage. With political considerations ruling the day, Johnson was acquitted by a single vote, and remained in office. He didn't last long, as neither the Democrats nor Republicans nominated him for the 1868 election, and he was succeeded by Ulysses Grant.
Johnson's impeachment, far more than that of Bill Clinton, reveals the bizarre nature of the process. While there was a clear legal basis for the impeachment, the underlying cause was obviously political. Johnson was using his powers as President to thwart the express wishes of Congress, arguably in favor of a class of people who had just committed mass treason. He was also, to put it plainly, something of a political embarrassment. Eric Foner describes his speech following the veto of the Freedmen's Bureau as "self-absorbed (in a speech one hour long he referred to himself over 200 times), intolerant of criticism, and out of touch with political reality." (Sound familiar?)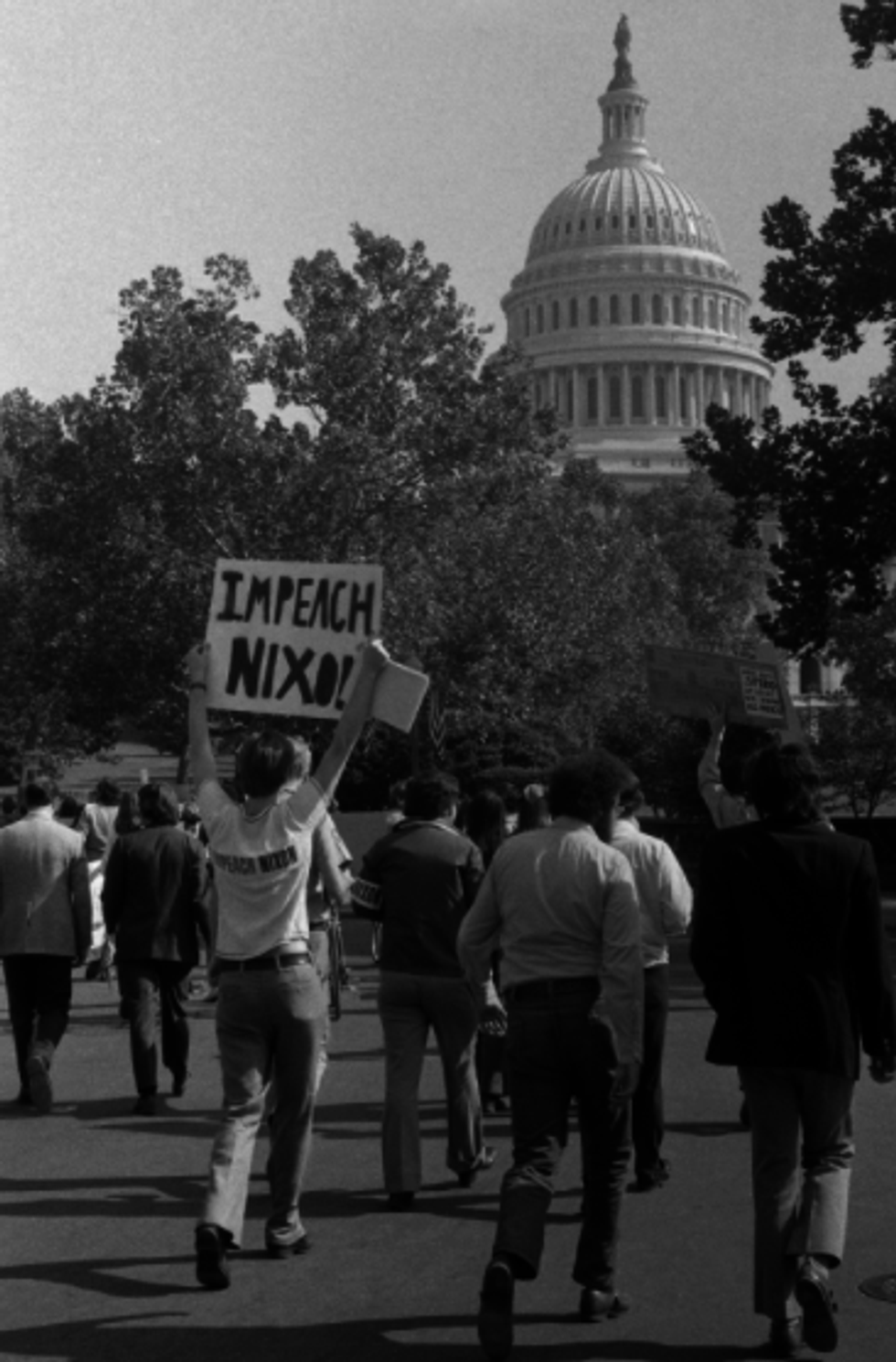 Of course, because impeachment is political, the rules we tend to associate with crimes, trials, and verdicts don't really apply. Andrew Johnson clearly violated a law, and as an accidental president had trouble making the traditional argument that he was the true voice of the people against an overreaching Congress. And still he stayed in office, because the political question was more complicated than simple guilt or innocence. Similarly, no one remotely credible believed that Bill Clinton hadn't lied under oath, but relatively few Senators saw this as being serious enough to warrant removal from office.
Where does that leave things, 150 years almost to the day after Johnson's trial began in the Senate? Clearly, an impeachment of the current president is a non-starter with a Republican majority in Congress. But should the midterm elections go as they're expected to, what then? Would what we already know about this administration suffice to begin the process? Will Robert Mueller survive the threat of dismissal long enough to provide substantive charges? Would the Senate follow through? Here we can consider the third historical example: Richard Nixon, who resigned his office when it became clear he wouldn't have the votes to survive an impeachment. So perhaps there's a way out without the difficulty and uncertainty of impeachment. It simply requires Donald Trump to have the humility and grace of Richard Nixon.
How the voting systems around the world differ from country to country
There are many different voting systems in the world that vary in large or small ways from one another. Here are some of the most popular, explained. These three systems make up the majority of the world's election processes and can be used for larger and smaller elections.

First, some vocab
Plurality: The Candidate with the most votes wins, doesn't need to be a majority.
Examples: United States, United Kingdom, Ethiopia, India, etc.
Two Round System: Similar to plurality but a winner needs the majority. If there is no majority in the first round of voting then there will be a second with the 2 leading candidates.
Examples: France, Iran, Mali, Vietnam, etc.
List Proportional Voting: Multi-winner system where political parties nominate candidates and electors vote for preferred party or candidate. The governmental seats are given to each party in proportion to the votes they receive.
Examples: Spain, Morocco, Russia, Brazil, Angola, etc.
A Deeper Look into Certain Election Processes

France
French Presidents serve for 5 year terms and are elected using a run off voting system which involves two rounds of elections. If someone doesn't win the majority in the first round then the top contenders run against each other in the second. France does not have a two party system and many different parties are represented in their 3 branches of government. This means that the French President could have a Prime Minister from another political party.
Both the financing and spending of French campaigns are highly regulated. All commercial advertisements are prohibited in the three months before the election. Political ads are aired for free but on an equal basis for each candidate on national television and radio. There are limits on donations and expenses that are regulated by an independent financial representative of the campaign.
United Kingdom
General elections are held every five years with a large number of elections across the UK. In 2015, six hundred and fifty people were elected into the House of Commons and this greatly changes the standing of the parties in the government. With three major parties there is no longer a two party system. These parties are the Conservative Party formerly know as the Tories, the Liberal Democrats formerly known as the Whigs, and the Labour Party who all make up the bulk of the government along with various independents.
The party that wins the majority of seats in the House of Commons in the general election becomes the leading party. The leader of the majority party is appointed Prime Minister by the Queen. The leader of the minority party is referred to as the leader of the opposition. The Prime Minister appoints the ministries and forms the government. There are moments where the system is adapted whether the Prime Minister calls for a special early election or there is no party with a majority in the House of Commons.
UK elections limit how much campaigns can spend during certain elections, but there is no price limit for donations. This is regulated by the Electoral Commission which is an independent regulatory body. All of the parties need to keep records for the independent audit. To ensure transparency the Electoral Commission publishes party spending returns online.
Russia
A presidential candidate can be nominated by a Russian political party or by a collection of signatures in support. Similar to France, Russia has many political parties that make up their government and there is also a two round voting system. The Presidential term is 6 years and though someone can hold many terms there can only be two consecutive terms at a time. There were protests and concerns over the legitimacy of past elections.
The main political party is the United Russia Party lead by Vladimir Putin and it holds 343 seats of the 450 possible seats in their governmental body, the Duma. Other parties are the Communist Party, the Liberal Democratic Party, A Just Russia, Civic Platform, and there are independents. Members of the Duma are elected for 5 year terms.
Though spending and broadcast time is monitored and regulated there are large loopholes for the party who is in control of public resources. Opposition parties need to fund from their own resources but United Russia uses official state-funded trips, positive news reporting, and other means to avoid using personal funds.
With Trump as president, the term 'impeachment' is always thrown around, but what does it mean?
Discussion of the possible impeachment of President Donald Trump has been following news regarding his administration and business practices for several months. Most recently, a Democratic congressman has announced plans to file articles of impeachment in the House of Representatives. However, not many people truly understand what impeachment means and how it really works. Impeachment is a process laid out in the Constitution as a check on presidential power, but it has only really been put to use twice in all of American history.

First, it's important to note that impeachment does not automatically equal removal from office. When Congress votes to impeach a president, it begins a process that may or may not end in the president being forced to leave. Only two presidents have ever been impeached: Andrew Johnson and Bill Clinton. Richard Nixon was never impeached. However, he was the only president to ever resign from office.
First, it's important to note that impeachment does not automatically equal removal from office.
That said, what does impeachment really mean? According to the Constitution, a vote in the House of Representatives is required to formally impeach a president. If the vote passes, then the president has been formally charged. He will then be tried in the Senate to determine whether or not he is guilty. The Chief Justice of the Supreme Court is constitutionally required to preside over the trial.
The president can be convicted only by a two-thirds majority vote in the Senate. Once that happens, he will be removed from office and banned from ever holding any another elected office in the United States. He can also be held liable and "subject to indictment, trial, judgement, and punishment, according to the law" for his actions that resulted in his removal. After the president is removed, the vice president would be sworn into office in his place, according to the line of succession.
If the president is not convicted, then things essentially return to normal — at least in process. However, there would probably be many political implications for a present who was impeached.
Clinton was impeached, but not convicted or removed from office. After the trial, his administration faced a few hurdles. He struggled with a low approval rating, which gave him much less leverage with Congress. However, it wasn't really devastating to his administration. Many on the left viewed the entire proceeding as a political move. (Clinton's impeachment had come about after a famous stained dress was uncovered, after all.) The vote to impeach passed under the pretense that the president lying about an affair to the public was morally corrupt.
But could President Trump be impeached? He could. All it takes is a vote in the House of Representatives. Still, with Republicans in the majority, it's unlikely a vote would pass. Unless Trump's response to the events in Charlottesville changed a lot of minds on the conservative side. Impeachment might become more of a possibility if Republicans end up losing their majority in Congress.
However, impeachment isn't really taken lightly. There would likely have to be definitive proof of wrongdoing before a vote would even be considered. That said, allegations of colluding with Russia to win an election or using the federal government to increase profits for his businesses are much more serious accusations than lying publicly about an affair. These are uncharted waters and no one really knows what's going to happen.