The President vilifies immigrants as the midterms approach.
On Thursday Nov. 1st, President Trump released a political ad that accused Democrats of plotting to help murderers and criminals invade the country.
The ad is a flagrantly manipulative and fear mongering move, a new low in Trump's inflammatory closing argument of the GOP's midterm campaign.
The video — produced by Trump's campaign — features Luis Bracamontes, a Mexican immigrant who returned to the United States after being deported, and was then convicted of killing two California deputies. Bracamontes is shown with a chilling smile, saying, "I'm going to kill more cops soon," meanwhile, a caption flashes across the screen that reads "Democrats let him into our country. Democrats let him stay." The video then goes on to show footage of people crossing the border as menacing music plays. The screen then reads, "Who else would Democrats let in?" The spot is not only a clear attempt at sowing fear, but also rife with misinformation, as Bracamontes was actually originally deported by a democrat, Bill Clinton, and let back in by a Republican, George W. Bush.

After posting the video, Trump told reporters he would deploy 15,000 troops to the southern border to repel a caravan of central American immigrants, which is still hundreds of miles away. He also suggested that these troops could fire on the migrant caravan if rocks or stones were thrown, a claim that contradicts Official Department of Defense regulations, which state, "deadly force is justified only when there is a reasonable belief that the subject of such force poses an imminent threat of death or serious bodily harm to a person." Additionally, Trump repeatedly implied to reporters that there are Middle Eastern individuals hiding amongst the caravan, but later said, "There's no proof of anything. There's no proof of anything. But there could very well be."
In the wake of all of this troubling rhetoric surrounding immigration, Trump claimed Thursday that he would sign an executive order "next week" aimed at limiting immigrants ability to seek asylum in the United States. These developments come on the heels of Trump's recent assertion that he aims to repeal the 14th amendment, which automatically grants citizenship to children born in the United States.

This recent rise in anti-immigration rhetoric is yet another example of the President's willingness to exploit racial divides to falsely inflate his power and the cause of the Republican midterm campaign. It's clear that the Trump administration has chosen to scapegoat and villify central American immigrants in an attempt to counteract
rising enthusiasm
about democratic candidates in the midterm elections. The question is, will voters succumb to Trump's scare tactics, or see it as the manipulative and divisive rhetoric that it is?
Trump has expressed his intention to repeal the 14th amendment.
President Trump's latest attack on immigration targets the children of undocumented persons by threatening to nullify the writ of birthright citizenship, also known as the 14th Amendment. Legislatively, this is nearly impossible and unheard of; but, most damningly, its patent ridiculousness is alienating both sides of the aisle.
While fatuous celebrity rants may err in understanding constitutional law, as was the case of Kanye West's Twitter fodder to "abolish" the 13th Amendment, a United States President's defective understanding of the constitution is as alarming as it is shameful.
But on Wednesday Trump once again aimed his tweets directly at his blind spot for facts, underscoring that he's impenetrable to shame. He claimed that "so-called Birthright Citizenship...is very unfair to our citizens. It is not covered by the 14th Amendment because of the words 'subject to the jurisdiction thereof."
The tweet was precipitated by an interview with Axios on HBO, which was released on Tuesday. Trump evinced his ignorance on constitutional law by stating, "It was always told to me that you needed a constitutional amendment. Guess what? You don't." Convinced, he added, "You can definitely do it with an act of Congress. But now they're saying I can do it just with an executive order."
No, of course he can't. In brief, the U.S. policy of jus soli dictates that an individual has a right to citizenship in the country he/she is born. This "Citizenship Clause" is codified in the 14th Amendment, which reads, "All persons born or naturalized in the United States, and subject to the jurisdiction thereof, are citizens of the United States and of the State wherein they reside." Depending on your interpretation of the constitution, no matter if you see it as elastic or fixed, legal precedent set by the U.S. Supreme Court in 1898 has upheld the Citizenship Clause as we know it.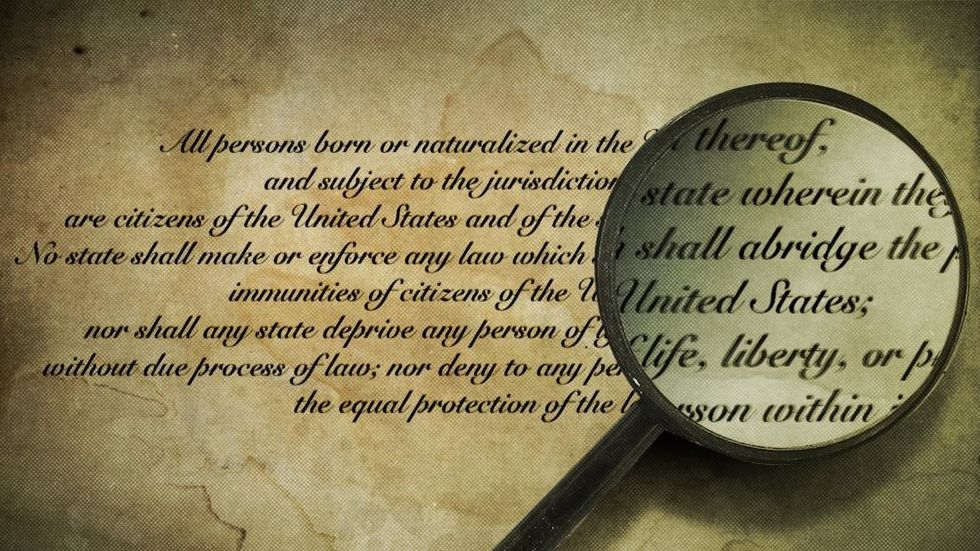 CNN
Trump went on to misattribute the "law of soil" as a singularly American mistake, stating, "We're the only country in the world where a person comes in, has a baby, and the baby is essentially a citizen of the United States for 85 years with all of those benefits." That's incorrect; over 30 other nations recognize birthright citizenship. "It's ridiculous. It's ridiculous. And it has to end," Trump went on.

Of course, rudimentary awareness of American history reminds us that constitutional amendments are complex pieces of legislation which are subject to checks and balances. If President Trump truly believes he can solely command an amendment change, House Speaker Paul Ryan clarified in a radio interview that he "obviously cannot do that." In fact, Ryan spoke on behalf of all conservatives as fully dissenting from Trump's views.
"You obviously cannot do that. You cannot end birthright citizenship with an executive order. We didn't like it when Obama tried changing immigration laws via executive action, and obviously as conservatives, we believe in the Constitution," Ryan told WVLK radio. "I'm a believer in following the plain text of the Constitution, and I think in this case, the 14th Amendment's pretty clear, and that would involve a very, very lengthy Constitutional process." Ryan added, "I believe in interpreting the Constitution as its written."
With midterm elections approaching, Trump's turgid misrepresentations of immigration law can only be in hopes of rallying votes from anti-immigration supporters and encouraging strife between republicans and democrats. Dem. Sen. of Virginia, Mark Warner said, "This is simply an attempt for Donald Trump, who wants to do anything possible to bring back fears around immigration, to use that as a political tool in this last week before the election."
He adds, tellingly, "This is again, where a President's words matter. The Constitution is quite clear that no one, including the President of the United States, is above the law."
Indeed, the President's stream of inflammatory rhetoric only serves as a distraction from his unfulfilled promises and his administration's failings. For instance, two new studies reported by The New York Times indicate growing anti-Trump sentiments in the top GOP district, suggesting that voters are alienated by "endless lies and hate-mongering." Greg Sargent at The Washington Post adds, "One likely answer is that the story Trump has told about the economy - and the country - just isn't resonating in many of these districts."
That Trump took to Twitter to repudiate Paul Ryan's reality check is par for the course, as was his ad hominem attack questioning Ryan's credentials to comment on birthright citizenship.
Meg Hanson is a Brooklyn-based writer, teacher and jaywalker. Find Meg at her website and on Twitter @megsoyung.
From bonfires to bicentennials, the history of America's birthday tells the story of a changing nation
The 4th of July is one of those rare days where everyone knows what to expect –– a hot summer's day off spent with family, friends, fireworks, food, and patriotically-branded cans of beer. Yet, all the common rituals of our national day are the product of almost two-hundred and fifty years of chaotic, challenging, and occasionally calamitous celebration; the lesser-known parts of which offer us an interesting view of a constantly changing America. So, here are some things you may not know about Independence Day.
Independence Day Isn't the Day the U.S. Became Independent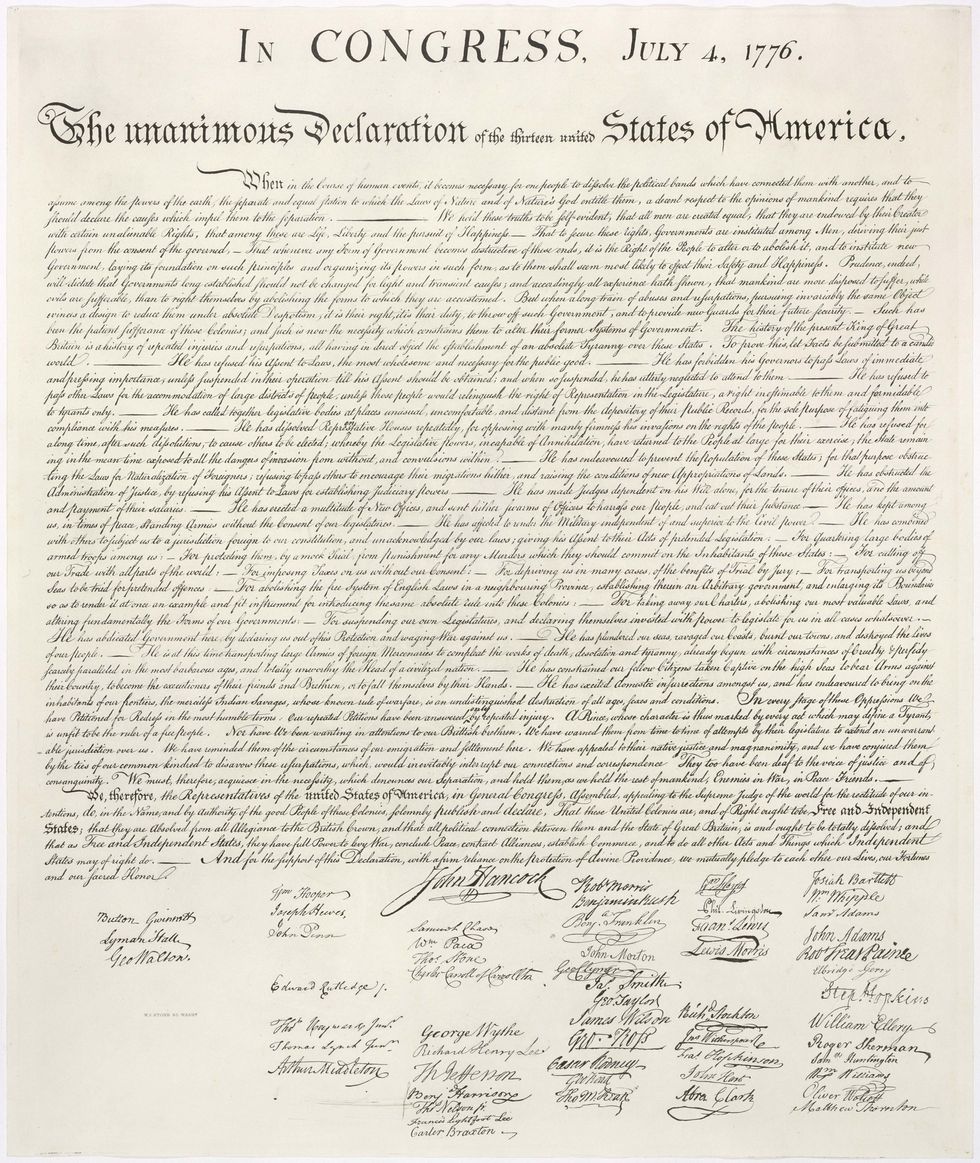 "Let's just go with the big date at the top..." –– Americans, 1776, probably...
That's right; although we celebrate the 4th of July in commemoration of the anniversary of America gaining its independence in 1776, the reality is a little more complex. Legally, the original thirteen colonies separated from the British crown two days earlier on the 2nd, as this is when the Second Continental Congress passed the resolution that declared the United States to be independent from the rule of Great Britain. Yet, from the very beginning, Americans celebrated the anniversary of their independence on the 4th; simply because it was the date written at the top of the incredibly popular Declaration of Independence. If you want to go further, it could be argued that the US didn't truly become an independent nation on any date in 1776, because it was still largely occupied by hostile British forces. The Revolutionary War would would not end, and Britain would not renounce its claim to the colonies until the signing of the Treaty of Paris on September 3rd, 1783. So, if you want to rebel against the red-white and blue holiday, or just love it so much you want to celebrate it twice, consider September 3rd as a candidate for 'alternate Independence Day'.
The Way the 4th Was Originally Celebrated Might Shock You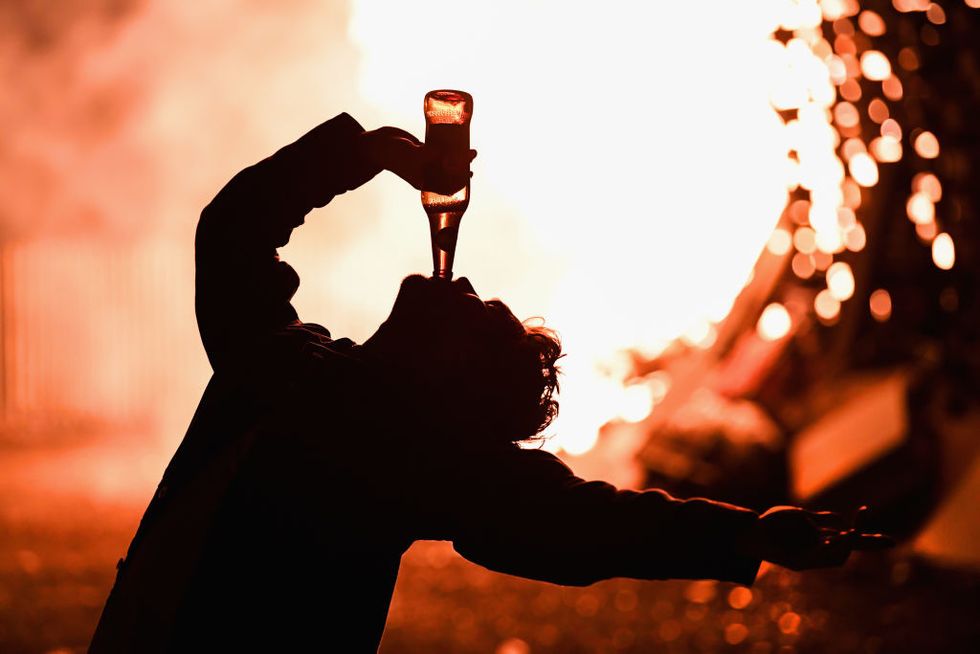 History teaches us that nothing goes wrong when you combine liquor and pyrotechnics.
(Photo: Jeff J Mitchell/Getty Images)
In many ways, the early celebrations of the 4th of July were not that different from our own. Fireworks were present at the very first anniversary, in an elaborate display sanctioned by Congress itself, in which, according to an account of the time: "rockets...ascended to an amazing height in the air, burst, and displayed thirteen stars". Other traditions were not so familiar. In 1779, July 4th fell on a Sunday for the first time. As most Americans at the time strictly observed the christian Sabbath, the celebrations were held the next day instead. That's not to say that their staunch Protestantism prevented them from indulging in the same feasting and drinking that we enjoy today; in fact, it allowed them to justify adding a whole extra night to the festivities of the "Glorious Fourth". In a tradition that somehow survived well into the 20th century in many parts of America, the night of the 3rd would see ginormous pyramids of barrels and crates set alight in a call-back to the rituals of the anti-Catholic 'Pope-Day', a celebration that originated in England and often included the burning of the Pope in effigy. While this is one practice (thankfully) relegated to our past, the institution survives elsewhere in the form of "the Glorious Twelfth". Take a trip to certain parts of the North of Ireland on the night of 12 July and you can still see huge wooden pyramids with anti-Catholic imagery being set alight to mark the anniversary of the Battle of the Boyne. History is just the past happening over and over, etc.
Independence Day was the Subject of One of the Greatest Abolitionist Speeches

"Right is of no sex, Truth is of no color, God is the Father of us all, and we are all Brethren."
(Photo: George Warren/Wikimedia Commons)
Another ritual of the 4th that has waned in popularity is the practice of prominent figures in public life delivering speeches celebrating the nation and the struggle for independence. However, perhaps the most notable of these speeches was far from an ode to America. Delivered by the famous abolitionist and former slave Frederick Douglass on July 5th, 1852, the speech known as, "What to a slave is the 4th of July?" was one of the most powerful and moving arguments against America's original sin of slavery. In the speech, Douglass, speaking to an audience of white abolitionists, examines the hypocrisy of a celebration of freedom in a nation that still permitted the ownership of human beings, and frames the struggle for emancipation in parallel to the fight for independence:
"They [the Founding Fathers] were statesmen, patriots, and heroes… with them justice, liberty, and humanity were final; not slavery and oppression."
The checkered history of America can often be obscured by a fog of red, white, and blue on the 4th; and, while there's nothing wrong with throwing on your favorite starred-and-striped bandana and enjoying a deserved holiday, Douglass remind us that, even today, the dream of a nation where everyone is born free remains far from fulfilled. So, perhaps we should revive an old tradition of the 4th and read some of Douglass' historic speech; or, even better, hear them brought to life by the legendary James Earl Jones.
The 4th Was a Pivotal Date in Deciding the Outcome of the Civil War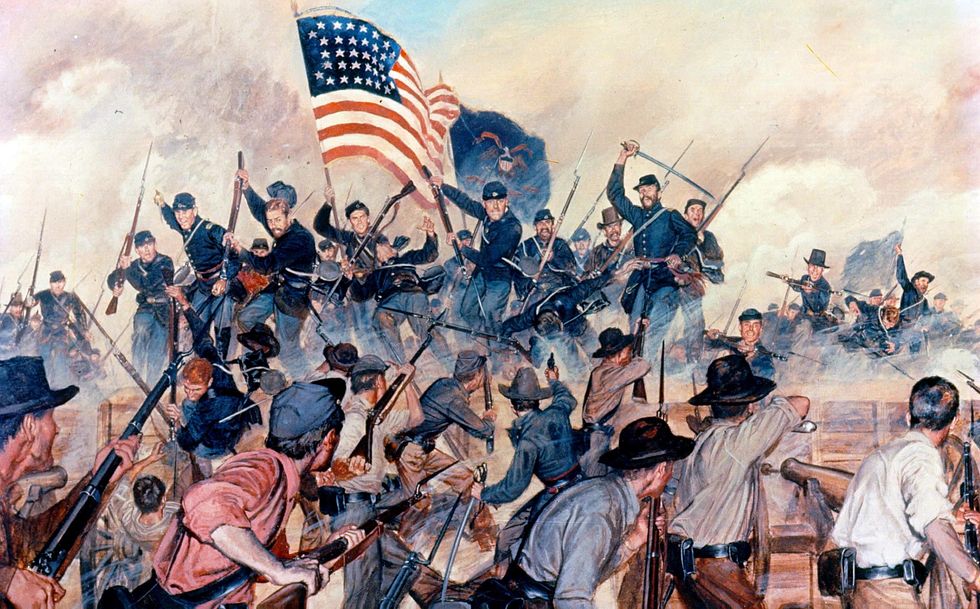 Confederates and the terrible, horrible, no good, very bad day
As with the question of America's independence, the question of slavery was not one that would be answered peacefully. Nine years after Douglass' speech, the nation was plunged into a bloody civil war that, during its first months, appeared to be headed toward a stalemate. However, on the 4th of July 1863, two events made it clear that the tide of war was turning in favor of the Union and emancipation. Firstly, after three days of the bloodiest battle ever raged on American soil, General Robert E. Lee was forced to retreat from Gettysburg back to Virginia, suffering his first major defeat. Gettysburg would mark the furthest advance of the Confederacy, and they would not mount a single significant assault into Union territory for the remainder of the war. As Lee's army began their flight south, the Confederacy suffered another devastating loss. The city of Vicksburg, Mississippi; which had been besieged by the forces of Ulysses S Grant for nearly two months, surrendered on the 4th of July, splitting the Confederacy in two and denying them access to the critical supply line of the Mississippi River. Within two years, Lee had surrendered to Grant and the war was over, yet the town of Vicksburg would prohibit the celebration of Independence Day until 1907.
Some Independence Days Are More Important Than Others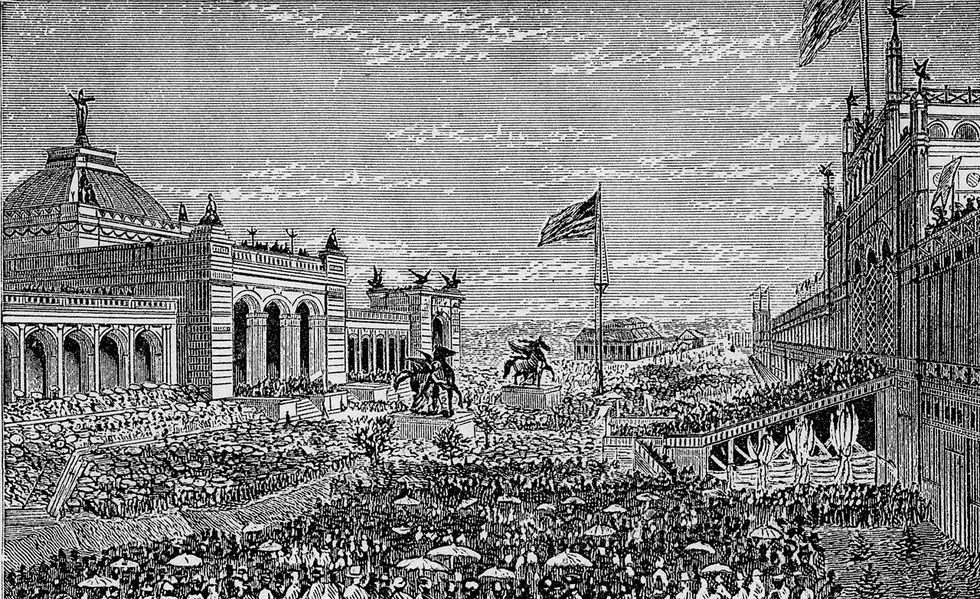 Philly, partying like it's 1876
(James McCabe/Wikimedia Commons)
The 4th of July is often called 'America's birthday', and, like your sweet sixteen and twenty-first, some of those birthdays have been celebrated in extra special ways. To celebrate the nation's 100th birthday (which fell little over a decade after the end of the Civil War), the nation threw a massive party in Philadelphia to celebrate. Over ten million people visited the 'Centennial Exhibition', the first World's Fair to be held in the United States, which featured exhibits from thirty-seven countries. Attendees at this seven month long festival got to see (and taste) some rather spectacular things, including the first public unveilings of the telephone, typewriter, Heinz ketchup, and root beer. Also on display were the hand and torch of the Statue of Liberty, itself a gift from France to celebrate the centennial. On America's two-hundredth birthday, which fell a year after the withdrawal from Vietnam, the whole nation was swept up in a celebration that leant heavily on themes of revival through a kind of patriotic nostalgia. The iconic bicentennial logo could be seen everywhere; from NFL uniforms to NASA launch vehicles. In fact, NASA had planned for an even more ostentatious celebration –– the televised landing of the first spacecraft on Mars. However, the proposed landing site ended up being too risky, so the landing had to be delayed. If you weren't around for America's 100th or 200th birthdays, you don't have to worry about missing out. Legislation has already been passed to begin plans for big celebrations of the nation's 250th birthday in 2026, with events taking place in Boston, Philadelphia, Charleston and New York City. Time to start learning how to spell 'semiquincentennial'...
This Fireworks Display on the 4th is Mind-Blowingly Large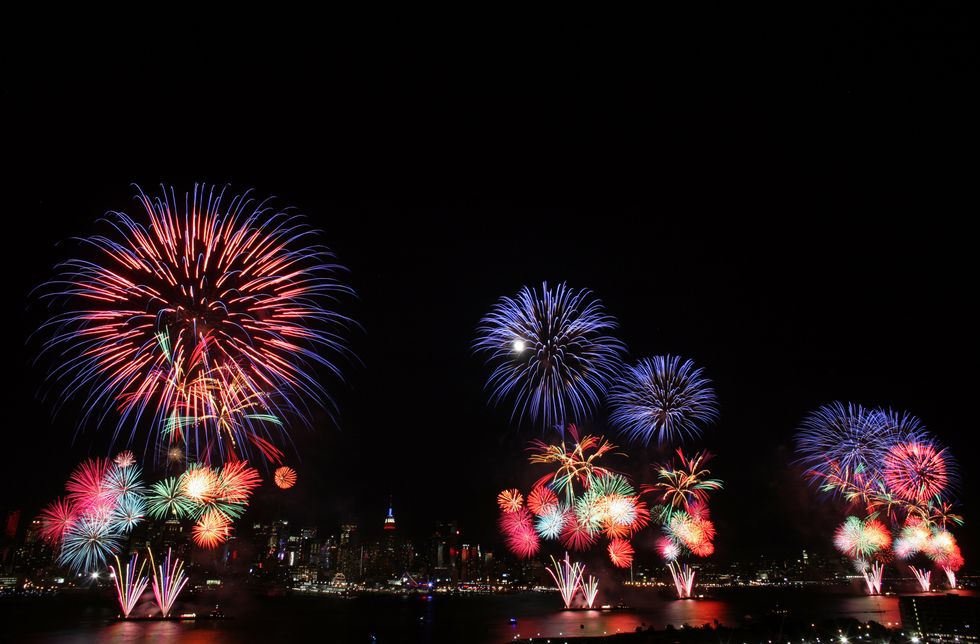 *U-S-A! U-S-A! chanting intensifies*
(Photo: Yana Paskova/Getty Images)
Is there anything more American than the appreciation of ginormous explosions? How about the appreciation of three-thousand ginormous explosions every minute? That's exactly what the centerpiece of New York City's 4th of July celebrations, Macy's 'Fireworks on the East River', has been about ever since its inaugural show in 1958. This display of patriotic combustion is so elaborate that it takes one whole year of man hours to plan, load, and ignite each twenty-five minute show. Some of the pyrotechnics used are so powerful that they can fly one-thousand feet in the air –– that's three times the height of America's most famous birthday present, the Statue of Liberty. Perhaps the French should just have sent a really big rocket instead.
You've heard of Clinton and Trump, but did you know Ameruc's relationship with impeachment started all the way back in 1868?
Republicans in Congress face a desperate dilemma. The President, ostensibly their ally, has proven increasingly erratic and hard to control. He acts with minimal regard for the law, lashes out at his Cabinet, and seems determined to tear down everything his predecessor worked so hard to build. The year is 1868, and Congress decides to bring Andrew Johnson to heel with the greatest weapon at their disposal: impeachment.
How the voting systems around the world differ from country to country
There are many different voting systems in the world that vary in large or small ways from one another. Here are some of the most popular, explained. These three systems make up the majority of the world's election processes and can be used for larger and smaller elections.

With Trump as president, the term 'impeachment' is always thrown around, but what does it mean?
Discussion of the possible impeachment of President Donald Trump has been following news regarding his administration and business practices for several months. Most recently, a Democratic congressman has announced plans to file articles of impeachment in the House of Representatives. However, not many people truly understand what impeachment means and how it really works. Impeachment is a process laid out in the Constitution as a check on presidential power, but it has only really been put to use twice in all of American history.