"A tree is best measured when it is down," the poet Carl Sandburg once observed, "and so it is with people." The recent death of Harry Belafonte at the age of 96 has prompted many assessments of what this pioneering singer-actor-activist accomplished in a long and fruitful life.
Belafonte's career as a ground-breaking entertainer brought him substantial wealth and fame; according to Playbill magazine, "By 1959, he was the highest paid Black entertainer in the industry, appearing in raucously successful engagements in Las Vegas, New York, and Los Angeles." He scored on Broadway, winning a 1954 Tony for Best Featured Actor in a Musical – John Murray Anderson's Almanac. Belafonte was the first Black person to win the prestigious award. A 1960 television special, "Tonight with Belafonte," brought him an Emmy for Outstanding Performance in a Variety or Musical Program or Series, making him the first Black person to win that award. He found equal success in the recording studio, bringing Calypso music to the masses via such hits as "Day-O (The Banana Boat Song)" and "Jamaica Farewell."
Harry Belafonte - Day-O (The Banana Boat Song) (Live)www.youtube.com
Belafonte's blockbuster stardom is all the more remarkable for happening in a world plagued by virulent systemic racism. Though he never stopped performing, by the early 1960s he'd shifted his energies to the nascent Civil Right movement. He was a friend and adviser to the Reverend Doctor Martin Luther King, Jr. and, as the New York Times stated, Belafonte "put up much of the seed money to help start the Student Nonviolent Coordinating Committee and was one of the principal fund-raisers for that organization and Dr. King's Southern Christian Leadership Conference."
The Southern Poverty Law Center notes that "he helped launch one of Mississippi's first voter registration drives and provided funding for the Freedom Riders. His activism extended beyond the U.S. as he fought against apartheid alongside Nelson Mandela and Miriam Makeba, campaigned for Mandela's release from prison, and advocated for famine relief in Africa." And in 1987, he received an appointment to UNICEF as a goodwill ambassador.
Over a career spanning more than seventy years, Belafonte brought joy to millions of people. He also did something that is, perhaps, even greater: he fostered the hope that a better world for all could be created. And, by his example, demonstrated how we might go about bringing that world into existence.
Bronx native Alexandria Ocasio-Cortez first burst onto the political scene in the summer of 2018 with an incredible underdog win against 10-year incumbent Democrat Caucus Chair Joe Crowley.
Since then she's become an overnight celebrity, that infamous win being just the first of many historic moments to follow in her wake. During her short two years in office, she's done a lot, including authoring both the Green New Deal and the COVID-19 Funeral Assistance Act and introducing them to Congress.
(Seriously, when I say she's done a lot, I mean it — here's just some of her incredible political accomplishments, straight from the icon herself.)
Representative Cortez has proven that she's pretty amazing at a lot of things, but her most impressive skill of them all may just be her flawless social media game.
AOC is a trailblazer when it comes to the intersection of politics and social media. She has mastered the art of using her digital platforms (particularly Instagram and Twitter) to connect with her constituents and educate them on current political issues, legislation, votes, and world events. She breaks complex topics down into bite-sized pieces, answers public questions, and includes links to helpful infographics and resources.
Her down-to-Earth-ness is making politics much more accessible for young people who may otherwise find these topics too confusing or intimidating to research on their own. Her stories, livestreams, Q&As, and easy-to-digest explanations have brought an entire generation of voters into the loop when, for so many years, the ultimate goal of politicians was to keep us as far out of it as possible.

Livestreams
AOC has done quite a few Instagram Lives where she utilizes some of her spare time (it's hard to believe she has any) to talk with and answer her followers' questions.
She's even gone live on Twitch where a record-breaking 435,000 people watched her play Among Us with her fellow Congresswoman Minnesota Representative Ilhan Omar, as well as some popular streamers like Hasan Piker (Twitch user HasanAbi), Imane Anys (Twitch user Pokimane), Benjamin Lupo (Twitch user Dr Lupo), and Jeremy Wang (Twitch user Disguised Toast), among others. As of this writing, the archived video now has more than 5.6 million views.
AOC Among Us FULL STREAM with Ilhan Omar and Twitch Streamers #IWillVote | 10/20/20www.youtube.com
In a completely unprecedented move, she posted an hour-long livestream where she broke down each part of the upcoming COVID relief bill and addressed questions and concerns from her followers in regards to exactly what this would mean for them and how it would affect them.
What Happened at the Capitol Instagram Live | Alexandria Ocasio-Cortezwww.youtube.com
Never in American history have we had a politician that has taken the time to so closely and accurately explain what is in a piece of legislation to constituents. And especially during the pandemic — a time for so many people that was confusing, overwhelming, and frankly, pretty terrifying — having a politician be completely transparent about details surrounding relief was an incredible show of how politicians should serve the people.
"We are now in the era of receipts. People now want to see the actual clips of legislation. They want to hear less about our stances." - AOC
Although she's done many, her two most-watched lives are unsurprisingly both about the January 6th insurrection. In her first live addressing the situation, she explained what happened at the Capitol and answered some questions before stating that she wasn't quite ready to go into detail about her personal experience yet. A few weeks later, she revisited the topic in a second live where she finally dug a little bit deeper and got more personal about her experience, revealing the trauma she had endured and had been enduring ever since the violent attack on the capital.
Behind the Scenes and Q&As
Recently, in another never-before-seen political display of transparency, she's been taking her followers behind the scenes on her Instagram stories to see what she does in a week as a government employee. When most politicians would probably rather die (or have you die) than let you see what they're up to in a week, AOC wants to make sure you know that your tax dollars aren't wasted on her salary by showing you exactly what's in her work agenda: helping the people every single day.
During the COVID-19 pandemic (and the discourse surrounding the safety and legitimacy of vaccines), her Q&As have been an indispensable resource for a lot of people. She was very vocal about her COVID vaccination process and took her Instagram followers with her through the entire process via her stories, keeping them updated on her symptoms and side effects. (You can see all of this in a highlight she has pinned on her Instagram profile.)
Recently for Pride Month, she posted this Instagram story putting some companies on blast for using pride logos when they're funding anti-LGBTQ+ politicians behind the scenes. (We love an ally with receipts!)
Just @AOC using political social media flawlessly once again https://t.co/45LSkVLvev

— 🐉Samwise✨ (@🐉Samwise✨) 1623285306.0
The Relatability Factor

I know the term "relatable" has been completely overplayed by internet culture, but a certain air of relatability is such an important tool for politicians to have. People want to know real people, and the way Representative Cortez uses her social media to connect on a relatable level not just with young people, but constituents of all ages, is ingenious when it comes to breaking down the walls of secrecy surrounding political literacy.
Ocasio-Cortez comes from a lower-middle-class background, and before becoming a politician, she worked in the restaurant industry as a bartender. The fact that she comes from a "normal" background where she held a "normal" job gives her the distinct advantage of really knowing what it's like to live in the shoes of the people she represents. (As a former restaurant worker myself, it hits really close to home.) She knows what the most important issues are because she's lived them. She knows how to speak to people in vulnerable positions because she's been in them. And she knows how to connect with her audience because she understands the importance of accessibility.
AOC utilizing social media doesn't just make her relatable, it makes her accessible. There are so many people across America that don't have access to proper education or resources about things like politics, vaccines, laws, legislations, and voter rights — but many of them do have access to Instagram.
Representative Ocasio-Cortez has set a very high standard in terms of digital literacy for the next generation of politicians. She's setting a new precedent in terms of their responsibility to use their platforms as an opportunity to be open, honest, and engaging with their constituents. With the internet and social media increasingly becoming more ingrained in our everyday lives, it's more important than ever that politicians pivot to utilizing the platforms that will connect them the most efficiently with the people they represent. And to get started, it's easy: All they have to do is take the Masterclass from AOC herself.
Amidst ongoing violence, many Palestinians and their allies believe their social media posts are being censored and deleted.
Some have described what's happening as a "digital apartheid." Over the past few weeks, many activist groups and people posting pro-Palestinian content have accused social media of censoring their posts and of going so far as to delete them in some cases.
For some quick background on the situation at hand, an 11-day conflict between Israel and Palestine recently resulted in a ceasefire. It would take a full length book to summarize the history and nature of the conflict between these two groups, but here's a quick summary of what's happened this month.
After days of fighting between Palestinian protestors and Israeli police, Hamas fired long range rockets toward Jerusalem. The initial fighting happened because of an attempt by Israeli settlers to evict dozens of Palestinians from their homes. In retaliation to the rocket firing, Israel conducted hundreds of airstrikes, killing at least 230 Palestinians and wounding over 1,000 more.
As many have done with their causes in the past, those supporting Palestine in and outside of the area, including in the United States, have taken to social media to get the word out.
Social media has been one of the only places for us to get first-hand accounts from Palestinians about the occupati… https://t.co/ILb9LnGjwp

— Congresswoman Rashida Tlaib (@Congresswoman Rashida Tlaib) 1621976550.0
This has been seen in the past in the Middle East during previous conflicts and movements, such as the Arab Spring in 2011. A study done by the University of Washington found that social media played a "central role" in shaping the political debates around the Arab Spring.

"Conversations about revolution often preceded major events, and social media has carried inspiring stories of protest across international borders," an article from the University of Washington about the study wrote. "Online activists created a virtual ecology of civil society, debating contentious issues that could not be discussed in public."
The article also noted that efforts to quell social media posts about the protests may have actually resulted in more public activism, because after people were isolated due to Internet shutdowns, they may have gone to the streets instead.
Efforts to quell social media protests can again be seen in the latest movement to promote the human rights of Palestinians. Many, like Salma Shawa, founder of Anat International, a Palestianian clothing brand, have said they had pro-Palestine content removed or censored.
Shawa runs her business out of Gaza, where she grew up before moving to the United States for college. Anat International specializes in unisex hand embroidered garments, which are imported to the United States before being shipped worldwide.
When this recent wave of conflict began, her business's account started gaining more followers. She noted that she wasn't censored right away, but soon noticed that her story views were going down, from around 1,500 to only 250-300. This was in spite of the fact that she was still getting direct messages and engagement on posts.
"It was very weird because I had gained like five or six thousand new followers in a week, so you would assume that my views on story would also go up," Shawa said.
Shawa spoke with other creators who were facing similar issues and saw infographics circulating that detailed how to get around the algorithm and what many considered to be a shadow ban. A shadow ban is when a platform blocks a user's content without them knowing, by doing something such as making comments no longer available for others to view.
"I started following those tips of just taking a small break on story where I post my face or some random thing that you can trick Instagram," she said. "I'm not so sure that it was working. I did it anyways; I still do it every now and then."
Her initial posts that she feels were being censored were using words like "Palestine," "Israel," "attacks" and "colonialism." Now she and others have taken to replacing certain letters in a word with exclamation marks or different symbols as another way to trick the algorithm.
"On top of having to deal with what was going on in Palestine and having to deal with educating the world and raising awareness and covering everything that was happening on the ground, we also had to grapple with another form of digital apartheid," Shawa said.
For one of her posts where she featured pictures from a protest that had signs and flags, multiple followers messaged her to say that the picture was showing up on their feed with a warning that it had sensitive or graphic content.
"It seems to be a pattern of how social media is created. On top of people running these platforms being just so powerful, it also feels like the algorithms are discriminatory," Shawa said. "Even though they're not human, they were programmed by humans that are complicit."
This happened to my sister right now and a few others who posted about Palestine on their stories. Is this somethin… https://t.co/2GhtLDsSc6

— Fariha Iqbal (@Fariha Iqbal) 1622998717.0
When Instagram was called out on this issue, the company said it had to do with a glitch due to their automated systems launching an update to help detect whether reshared media in someone's story was actually still available or not.

"Unfortunately, the update resulted in our systems treating all reshared media posted before midnight as missing," the company shared on their Twitter. "Part of the reason that it took us such a long time to figure out what was taking place was because this had been an automated deployment, and we had to comb through every possibility."
Shawa said she experienced similar issues with her TikTok account. According to her, the previous few videos she posted before the conflict began were getting 10,000+ views, comments, and engagement, despite the fact that she didn't have that many followers.
Once the conflict began, her viewership went down to around 300 views, and TikTok stopped her from posting an explainer video more than once, telling her that the video, which had text that included the word "Palestine," violated their community guidelines.
Other activists tell a different story than what the social media companies are saying. On May 21, 7amleh, The Arab Center for the Development of Social Media, issued a report entitled "The Attacks on Palestinian Digital Rights." The organization documented more than 500 reports of Palestinian digital rights violations, of which 50% were connected to Instagram. 45% of these incidents were deleted stories.
Join 7amleh's webinar "Palestinian Narrative: Censorship and Creativity in Times of Crisis" which will focus on how… https://t.co/mVhxjiBH8o

— 7amleh حملة (@7amleh حملة) 1623175889.0
"The reasons presented to users included hate speech, violation of community standards, requesting proof of identity among others," 7amleh wrote in their report. "After 7amleh's submission of the reports to social media companies, companies recovered and restored some of these accounts and censored content. However, several reports are still under review."

7amleh also noted that Instagram's explanation focused on technical issues but didn't explain the high rate of censorship documented by human rights advocates. The organization goes so far as to make a connection between Israel and some of these tech companies, noting that the Israeli Ministry of Strategic Affairs promoted a video on YouTube entitled "Israel will Protect its Citizens Against Hamas' Terror."
We also saw this kind of censorship during the 2020 uprisings that happened nationwide following George Floyd's murder at the hands of a police officer. In late June, TikTok users reported their posts with the Black Lives Matter hashtag were being affected, making it appear that the videos had zero views. At the time, TikTok released a statement blaming it on a bug.
"We acknowledge and apologize to our Black creators and community who have felt unsafe, unsupported, or suppressed," the company wrote. "We don't ever want anyone to feel that way. We welcome the voices of the Black community wholeheartedly."
TikTok user Jailyn Feliz (@jailynisfeliz) spoke to Refinery29 last summer, expressing that they were receiving low amounts of views despite having over 30,000 followers.
"I posted three TikToks that day. I also spent the day liking, commenting on, and sharing the content of Black creators and following them," Feliz told the outlet. "I was proud of the movement and seeing more Black creators on my For You Page was my motivation for participating."
That being said, one needn't look far for evidence of the bias of algorithms. The book Algorithms of Oppression: How Search Engines Reinforce Racism by Safiya Umoja Noble discusses this issue further, highlighting the relationship between search engines and discriminatory biases. "Algorithmic oppression is not just a glitch in the system but, rather, is fundamental to the operating system of the web," she writes.
Despite all of the bias and censorship, Palestinian supporters continue to post their content, hoping that it will reach audiences around the world who can lend an ear.
Ideas are indestructible, and Anonymous was always—first and foremost—an idea.
shortcode-01-02B3-go-to-responsive]
Once upon a time, the Internet was less a broken mirror of reality and more a diversion from it.
Maybe that's why prior to the era of identity monetization, blue check marks, and self-branding, anonymity was synonymous with power.
In the early 2000s, a group known as Anonymous sprung up across digital platforms, born out of a spirit of loose anarchism and disruption. "Anonymous" or "Anon" is an umbrella term, and like the Internet itself, the group was always slippery and amorphous.
Between 2003 and 2018, Anonymous's loosely interconnected network of digital hacktivists took on everything from Scientology to the Clintons to ISIS to Trump. At some point, they fractured, and it's unclear as to whether they still exist in any context, or if they ever really did. Was Anonymous an idea? A joke? A movement?
To try and answer these questions is a doomed enterprise from the start, because the group is (or was) so decentralized, so scattered, and so complex that it resists exact interpretation.
But perhaps Anonymous can also teach us something about our modern political moment—after all, the group was entwined with many of the major political forces of the past decade, from Occupy Wall Street to the Arab Spring to QAnon. Maybe it can teach us something about the art of modern rebellion, especially in a rapidly digitizing and artificial age when information is poised to become the most valuable currency of all.
Welcome to the netherworld of Anonymous, where everyone can be no one together.
Born of Trolls, Hackers Turn to Scientology
The hacktivist network known as "Anonymous" arose around 2003. Springing up on 4chan, the group began as a collective of tricksters harnessing the Internet to pull pranks and seed an ethos of trolling and general disarray.
Anonymous eventually gained global reach thanks to its appealing ethos of decentralized leadership and general anarchical spirit. With memetic virality, it spread thanks to broad, decentralized messaging techniques and an emphasis on both humor and justice.
Today, two images are usually associated with Anonymous. There's the Guy Fawkes mask from the 2006 film V for Vendetta, which follows one activist's quest to end a totalitarian fascist rule in England; and there's the "man without the head" image that symbolizes the group's commitment to decentralized, anti-authoritarian rule.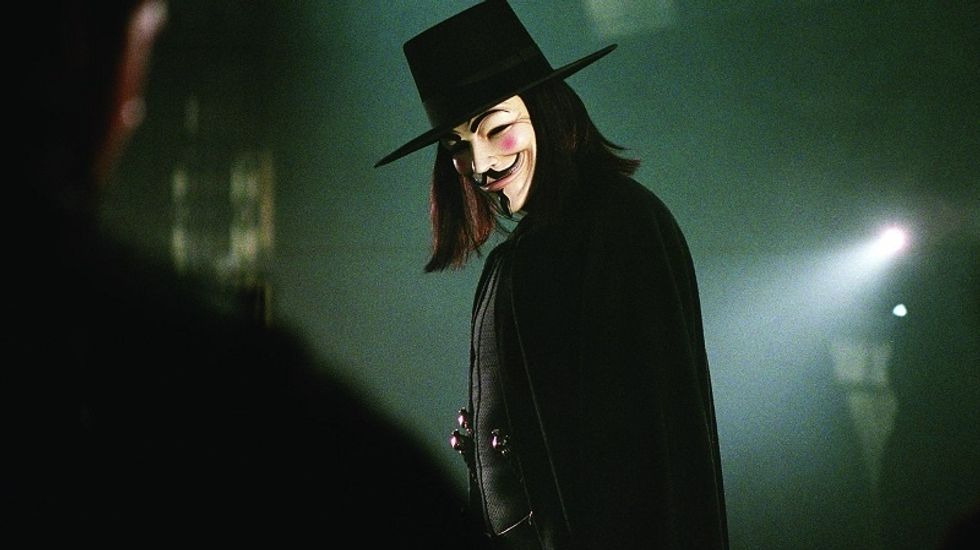 Literary Hub
Early on, the group embarked on helter-skelter actions and pranks, with mixed results. The group targeted the white nationalist figure Hal Turner in 2006, eventually exposing him as an FBI informant, and Anonymous first began to dive into high-profile political activism through an effort called "Project Chanology," a coordinated protest against the Church of Scientology. After the Church removed a video of Tom Cruise because they believed it portrayed them negatively, Anonymous hackers started a campaign to take down Scientology once and for all. They posted a video called "Message to Scientology" and launched a crusade against the church, which included a coordinated attack on the organization's website.

And so a movement was born. Thousands of people showed up in real life to protests around the country. "It was a very bizarre scene," the former hacker Gregg Housh said of the protest he attended in Los Angeles. "Here is a church created by a science-fiction author, being protested by people wearing masks created by a science-fiction author." Reality was bending; the simulation was showing its cracks.
For the next decade, Anonymous would harness the Internet in unprecedented ways, fighting for justice and destruction, for irony and distraction, and for change that would reverberate all the way to the top.
WikiLeaks and the Arab Spring: Anonymous Gets Political
Anonymous quickly shifted focus towards censorship and free speech. They used DDoS (Distributed Denial of Services) attacks to shut down websites they viewed as threatening to freedom. In 2010, they emerged to protest a censorship bill in Australia; and later that year, they collaborated to defend WikiLeaks after Amazon kicked Julian Assange's operation off its servers and Visa, Mastercard, and PayPal stopped processing donations to the group. (Anonymous later separated itself from WikiLeaks, due to Assange's influence over the organization).
Around the same time, a segment of the group decided that they'd collectively become too serious. They needed more "lulz"—LOLs, laughs, the trolling ethos that originally inspired the group. So a group called Lulz Security (or LulzSec) was born. They hacked the CIA's website. The next month, the FBI arrested fourteen Anonymous hackers for the aforementioned earlier attacks on PayPal, and Anonymous began to rise on the US government's radar.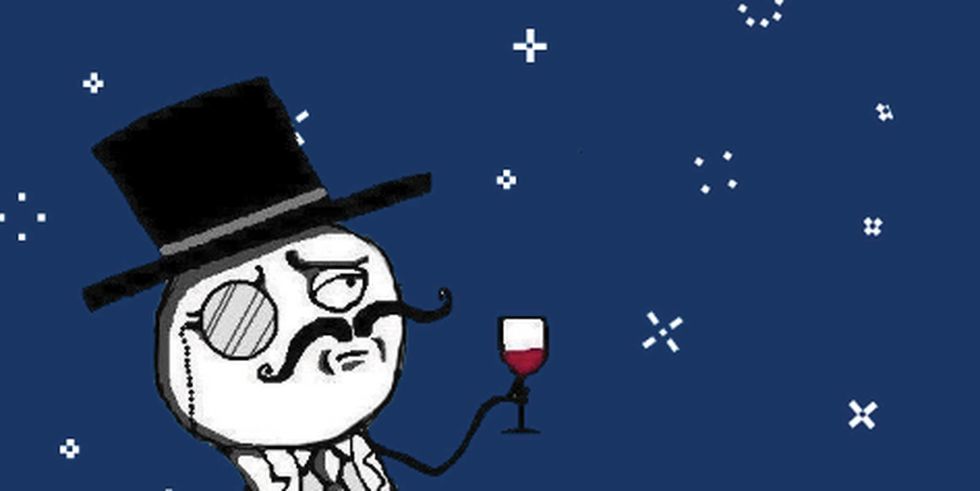 The Daily Dot
In 2011, when the Tunisian government blocked WikiLeaks, Anonymous launched a crusade to support protestors in the movement that would eventually spark the Arab Spring. One of the more infamous leaders of LulzSec, Hector Xavier Monseguer (or "Sabu")—who would later become an FBI informant—and others also allegedly helmed a DDoS attack on the Tunisian government's websites. Anonymous was also integral to the planning of 2011 Occupy Wall Street protests in New York, which were somewhat similar to the organization in that they lacked internal structure and clear leadership and set goals.
Soon, White House staff became concerned that the group could destabilize the US power grids. The group became known as cyber-terrorists and anarchists. Perhaps out of necessity, or because its major players were being taken out or growing up and leaving hacktivism behind, Anonymous fractured around 2015 and 2016, leaving behind conspiracies and a legacy of rupture and chaos.
Still, Anonymous's penchant for social action continued throughout the 2010s. In 2013, Operation Safe Winter fought to raise awareness about homelessness. In 2014, a group called "Operation Ferguson" organized cyberprotests against the police after the death of Michael Brown.
In 2015, Anonymous shifted its focus towards the Islamic State. #OpISIS was a response to the Charlie Hebdo attacks in Paris; despite being a largely uncoordinated effort, they still managed to make waves. "For more than a year, a ragtag collection of casual volunteers, seasoned coders, and professional trolls has waged an online war against the Islamic State and its virtual supporters," writes E. T. Brooking. But they never lost their irreverence.
"Taking away the free speech from a group that is advocating the end of free speech is delicious fun," a member wrote on a Reddit forum about the Hebdo operation.
"They rise up most forcefully when it comes to Internet freedoms and technology, particularly technology that is being abused in some way," says Brian Knappenberger, creator of the documentary We Are Legion. "They're sort of protectors of the Internet. This is their territory, and if it's abused, they're personally offended."
In the latter half of the 2010s, Anonymous waged war against pedophiles and the dark web. In 2018, they lashed out at QAnon, the pro-Trump conspiracy group that stole Anonymous's branding despite a complete lack of alignment with most of Anonymous's central ideologies.
Some members of Anonymous may have gone off to join QAnon; it's hard to know. Though different from Anonymous, QAnon shares some of Anonymous's hatred of the government—its "deep state" paranoia echoes Anonymous's fears of totalitarianism.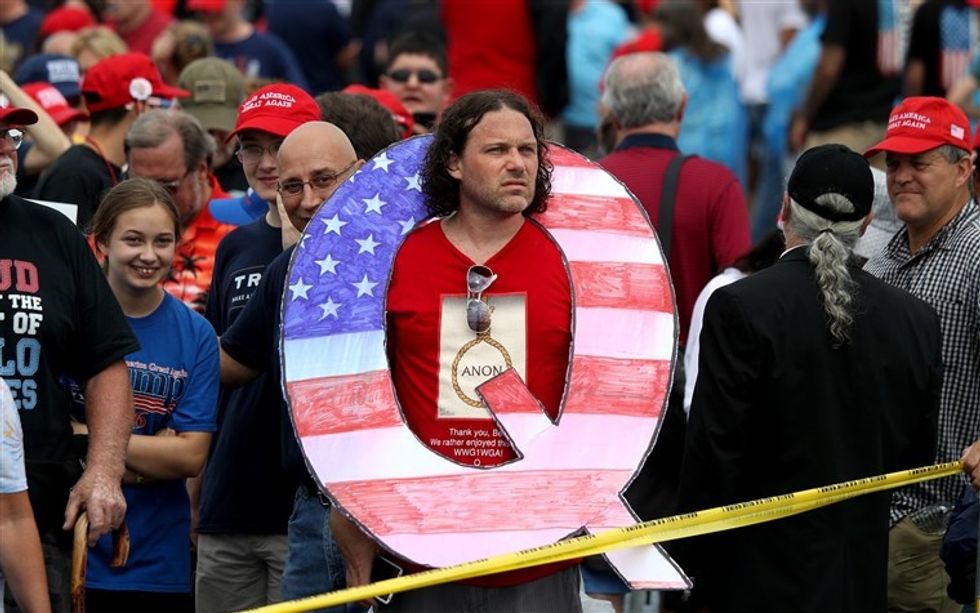 NBC News
Today, QAnon members often show up at Trump campaign rallies, and though Anonymous and QAnon have very different ideas about what constitutes freedom and free speech, it's clear they both believe they're fighting for it.

In the wilderness of the Internet, especially when so many layers of irony interlace with each other and when trolls abound, it's easy for ideologies to twist out of form. It's easy for trolls to be mistaken as criminals, too—just as it's easy for trolls to become criminals. On the Internet, at least outside the realm of corporate influence and bribes, identity is as fluid and amorphous as you want it to be. Anonymous members can become Trump supporters who can become Bernie supporters who can become QAnon supporters who can become FBI informants who can then rejuvenate Anonymous.
If the Anonymous movement shows us anything, it's that identity and ideology are not set. They're as fluid as the shifting landscape of the World Wide Web, which might just be a reflection of the shifting tides of the human spirit.
Remembering Anonymous in 2020
If you Google Anonymous, you'll see the question "is anonymous good"? pop up on the search bar.
A short search will reveal that most self-proclaimed authorities on the subject believe that Anonymous is neither good nor evil. Instead, it's a diverse group made up of people from all around the world, bound together by a shared symbol rather than a structure or hierarchy.
Because Anonymous never had a set ideology or leader, there's no one precise way to remember them. There's no way to know what's real, or if Anonymous was ever the super-group that the media made it out to be. Most likely, it was more of an idea than anything else, though it may still exist in pockets. There's also no way to tell if the group has just gone further underground or if it truly has been dead for years.
According to Gabriella Coleman, Anonymous was always about freedom and elusiveness. "They dramatize the importance of anonymity and privacy in an era when both are rapidly eroding," she writes.
In terms of ethos, Coleman argues that Anonymous embodied an ancient trickster archetype, using old ideas about freedom, hedonism, and the randomness of the universe to cope with an increasingly unbearable modernity. "Nietzsche was attuned to the vitality of sensuality, myth, and art. Music, poetry, and even the mad laughter of the trickster Dionysus, who he championed, offer an aesthetic life of pleasure," she writes in her book Hacker, Hoaxer, Whistleblower, Spy: The Many Faces of Anonymous. "They are pursuits through which humans can overcome their limits and the tragic condition of life: 'Not by wrath does one kill but by laughter. Come, let us kill the spirit of gravity!'"
Is Anonymous nothing more or less than an idea, which became a movement and an identity? Was it all just a story? Has the story ended, or has it fractured and bled into other movements and other corners of the Internet?
Someone in a Guy Fawkes mask is out there, laughing.
The Anonymous forum on Reddit is still alive and well. A month ago, one Redditor mused, "Is Anonymous just a legend to teach us that we do not need a name or an organization to use our power?" Could Anonymous have been a myth designed to reveal that 'All of us can anonymously exploit the options that we have (elections, commercial decisions, jobs we chose, freetime activities) to change the world together?'"

Recently, #AnonHasBeenDeadForYears trended on Twitter. Some agreed with the hashtag. Some warned the world that Anonymous has never been dead—instead, it's everywhere.
These are the kind of conversations that Anonymous inspires. Half-ironic, half-imbued with radical visions—zombified, always mutating—Anonymous (or whatever remains of it) persists.
Maybe it persists in part because it, ironically, offered a form of identity, of differentiation, of meaning crafted through collectivity born out of a crisis of meaning. Perhaps in anonymity, there is identity.
"On the street...I am just another person in a sea of faces," writes a (fittingly) anonymous blogger in Dazed, in a piece that may or may not be a parody or a fake—we'll never know. "But in cyberspace we are different. We helped free the people of Egypt. We helped fight against Israel as it attempted genocide. We exposed more than 50,000 paedophiles around the world. We fought the drug cartels. We have taken to the streets to fight for the rights you are letting slip through your fingers. We are Anonymous."
Are you?
Here are three crucial ways the digital age complicates your protections under the Fourth Amendment.
When the Fourth Amendment codified citizens' protections against government spying in 1791, Americans couldn't say, "Alexa: turn off the lights." With technology pervasively conducting our daily errands, the amendment against illegal search and seizure is not equipped to protect digital users. In fact, David Cole, a law professor of constitutional law and national security at Georgetown University, critiques, "In the modern digital age, it means very, very little."
To be clear, the totality of the Fourth Amendment reads: "The right of the people to be secure in their persons, houses, papers, and effects, against unreasonable searches and seizures, shall not be violated, and no Warrants shall issue, but upon probable cause, supported by Oath or affirmation, and particularly describing the place to be searched, and the persons or things to be seized."
Here are three crucial ways the digital age complicates your protections under the Fourth Amendment:
1. Law enforcement doesn't always require a search warrant to enter your home
When police want to mine your private information on suspicion that you've committed a crime, they have to meet the familiar requirement of "probable cause." Traditionally, they must convince a judge that there is a sound reason to search and/or bug your property for surveillance. True to the wording of the law, your protected personal belongings include your physical body, "houses, papers, and effects."
However, "probable cause" includes the "plain view" clause, wherein authorities have the right to enter your home if they see evidence, contraband, or suspicious materials in your home. In the age of social media, a picture, check-in, or status you post could very well justify law enforcement entering your home without a warrant. The ruling in Katz v. United States stands as the most notable example that qualifies the Fourth Amendment as only applying to situations in which "an individual has a reasonable expectation of privacy." When you're sharing the details of your life on social media sites, you waive much of that expectation.
2. Your personal information is no longer "private" from the government once shared on social media
A series of rulings in the 1960s and 1970s began to add exceptions to the "probable cause" requirement. Namely, the government does not need a search warrant to obtain any personal information that you've already shared with somebody else. Hence, the government can obtain any private information given to credit card companies, banks, or phone companies, because you've technically de-privatized the information by using those services.
Of course the same applies to any and all social media accounts. All the government needs is a subpoena, which experts say is "trivially easy to issue."
3. Your location can be tracked by the government
While it may seem obvious to be wary of broadcasting your location at any given time, some personal devices and social media sites automatically tag and record your location. Your whereabouts cease to be a topic of government surveillance when you share the information willingly (which you do by using digital services). As Justice Alito noted when presiding over the United States v. Jones, social media tools "will . . . shape the average person's expectations about the privacy of his or her daily movements." Traditional protections simply don't apply to what you publicize yourself.
700,000 Muslims were forced to flee to neighboring Bangladesh in 2017.
On Monday, Facebook said it removed 13 pages and 10 accounts controlled by the Myanmar military in connection with the Rohingya refugee crisis.
The accounts were masquerading as independent entertainment, beauty, and information pages, such as Burmese popstars, wounded war heroes, and "Young Female Teachers." Fake postings reached 1.35 million followers, spreading anti-Muslim messages to social media users across the Buddhist-majority country.
Facebook's move comes a year after 700,000 Rohingya, a Muslim minority group in Myanmar, were forced to flee to neighboring Bangladesh amid widely-documented acts of mob violence and rape perpetrated by Myanmar soldiers and Buddhist mobs. The United Nations Human Rights Council denounced the crisis as "a textbook case of ethnic cleansing and possibly even genocide."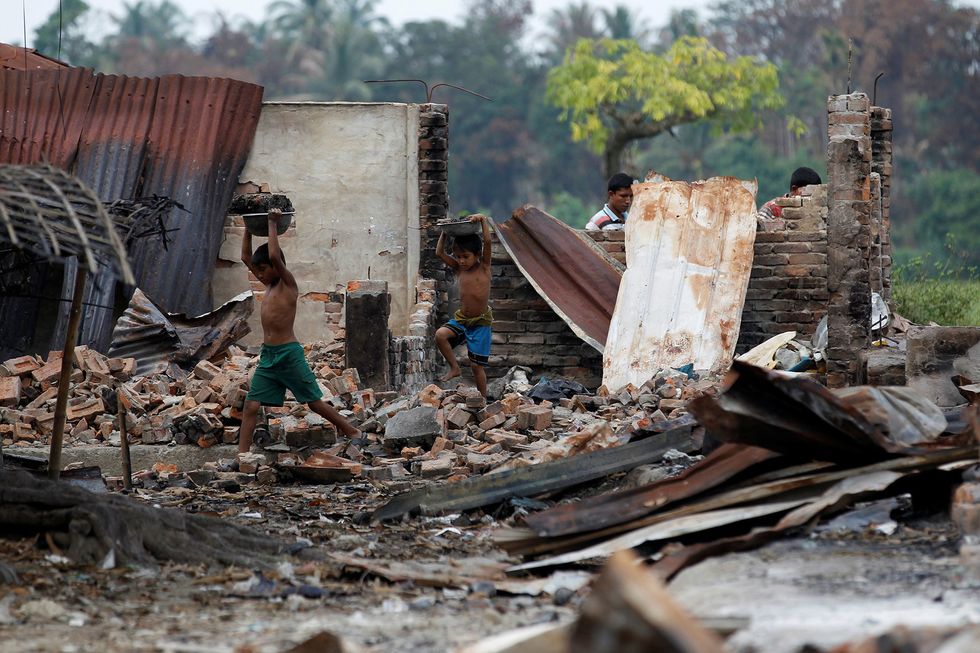 Rohingya children rummaging through the ruins of a village market that was set on fire.Reuters
Last month, the social media giant announced a similar purge, removing Facebook and Instagram accounts followed by a whopping 12 million users. Senior General Min Aung Hlaing, commander-in-chief of the Myanmar armed forces, was banned from the platform, as was the military's Myawady television network.
Over the last few years, Facebook has been in the hot seat for their tendency to spread misinformation. In the 2016 U.S. presidential election, inauthentic Facebook accounts run by Russian hackers created 80,000 posts that reached 126 million Americans through liking, sharing, and following. This problem has persisted in the 2018 midterm elections, ahead of which 559 pages were removed that broke the company's policies against spreading spam and coordinated influence efforts. Recent campaigns originating in Iran and Russia target not only the U.S., but also Latin America, the U.K., and the Middle East.
The situation in Myanmar is particularly troubling—it's not an effort by foreign powers to stoke hate and prejudice in a rival, but rather an authoritarian government using social media to control its own people. According to the New York Times, the military Facebook operation began several years ago with as many as 700 people working on the project.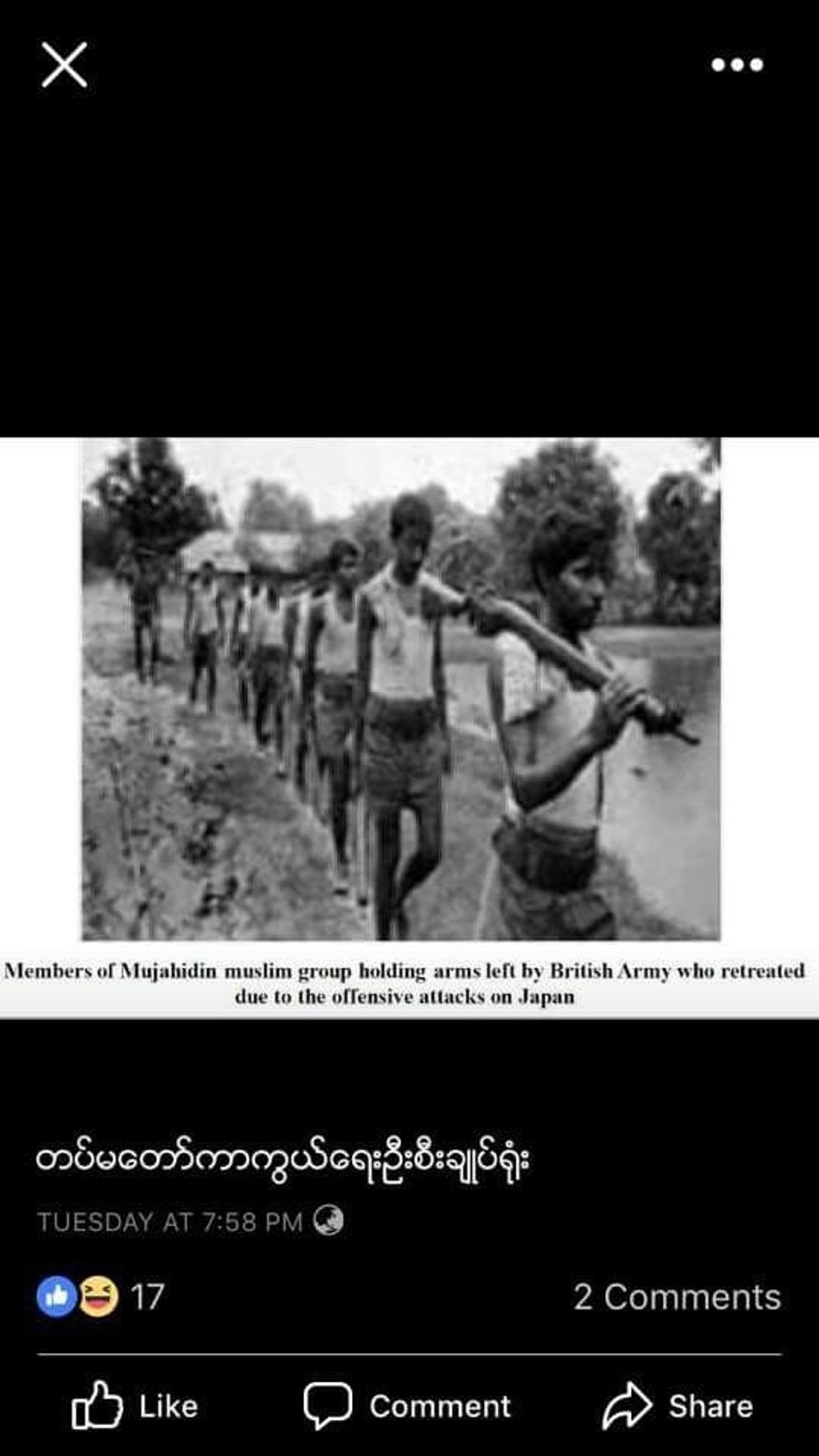 Screen shots from the account of the Myanmar Senior General Min Aung Hlaing, whose pages were removed in August.
Facebook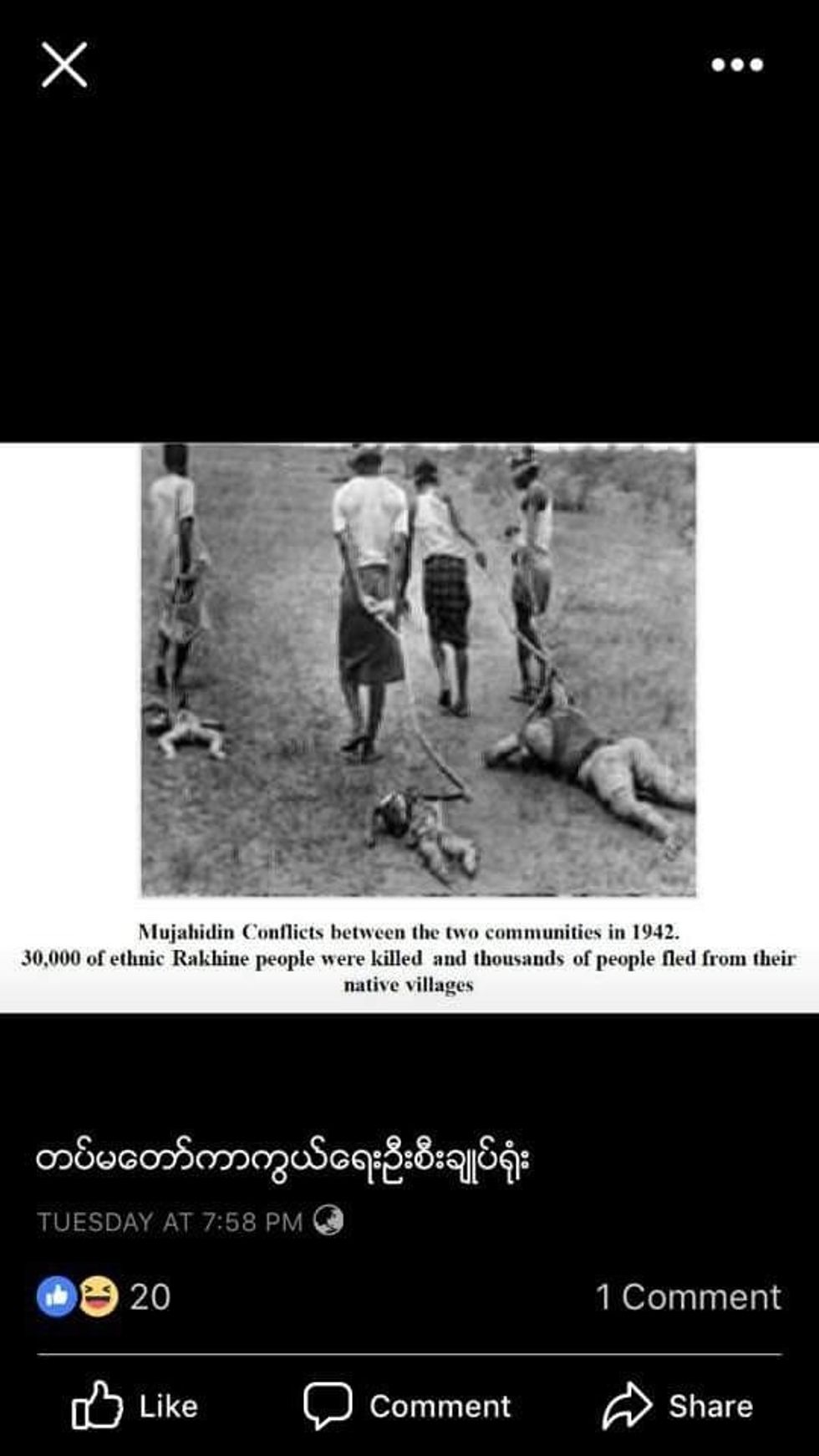 Claiming to show evidence of conflict in Myanmar's Rakhine State in the 1940s, the images are in fact from Bangladesh's war for independence from Pakistan in 1971.
Facebook
Fake pages of pop stars and national heroes would be used to distribute shocking photos, false stories, and provocative posts aimed at the country's Muslim population. They often posted photos of corpses from made-up massacres committed by the Rohingya, or spread rumors about people who were potential threats to the government, such as Nobel laureate Daw Aung San Suu Kyi, to hurt their credibility. On the anniversary of September 11, 2001, fake news sites and celebrity fan pages sent warnings through Facebook Messenger to both Muslim and Buddhist groups that an attack from the other side was impending.

Facebook admitted to being "too slow to prevent misinformation and hate" on its sites. To prevent misuse in the future, they plan on investing heavily in artificial intelligence to proactively flag abusive posts, making reporting tools easier and more intuitive for users, and continuing education campaigns in Myanmar to introduce tips on recognizing false news.
The company called the work they are doing to identify and remove the misleading network of accounts in the country as "some of the most important work being done [here]."
Joshua Smalley is a New York-based writer, editor, and playwright. Find Josh at his website and on Twitter: @smalleywrites.
Sites like Facebook will have more and more influence over our elections in the future.
America's favorite uncorroborated news story of the moment is that the Russian government masterminded Trump's rise to power. It's easy to understand why. Introspection after a loss is difficult, and rather than face themselves, the DNC decided to have a seance, evoking a Cold War ghost to explain their defeat. It's somewhat comforting to assume an international conspiracy was behind the Hillary Clinton's failure in the 2016 election. It absolves the DNC of any responsibility to change their conduct or adjust their political strategy. That said, there is no hard evidence of collusion, but rather a string of awkward encounters by Trump's largely inexperienced, and frankly stupid, staff. The meat of Russia's "interference" came in the form of social media bots, fake accounts that would automatically repost sensationalist headlines to drum up support for Trump. These accounts are pretty easy to spot however, as they don't even come close to passing a turing test.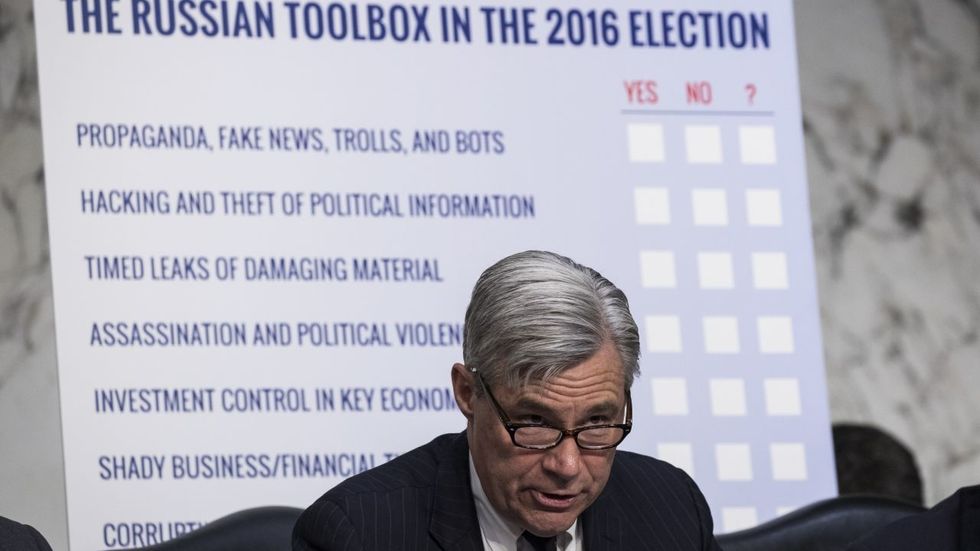 Blaming Russia is too easy
Still, the creation of Russia's bot army had to be predicated on some form of information, and many have accused Putin's government of tracking users' Facebook data in an attempt to gain a psychological understanding of the average American voter. This is where Aleksandr Kogan comes into play. Kogan sold the data of some 87 million Facebook users (collected via a quiz app) to Cambridge Analytica, a political consulting firm hired by the Trump campaign. Cambridge Analytica's goal was to create psychographic voting profiles. While there's no definitive connection between Cambridge Analytica and Russia, the precedent set by CA and their illegal exploitation of Facebook is a frightening one. If a private company is collecting data on citizens, it's a pretty safe bet that governments around the world are doing the same. While the Democratic Party's Russophobia is definitely a reaction to losing in 2016 more than anything else, but it accidentally shed light on an important issue: our data isn't safe, and with recent improvements AI and voice recognition software, we'll soon have the technology to not only create comprehensive individual psych profiles, but to tailor campaigns to individual voters.
Obviously companies like Google and Facebook have large stores of internal data, and they've certainly been amenable to
selling it
, but academic researchers (like Kogan) also have large data caches. Behavioral psychologists use Facebook in studies all the time, and the academic world isn't particularly well-known for its cyber security. Even in the event that these databases aren't hacked, there's nothing to prevent a researcher from
selling their findings
after their study is complete. The quick fix is to let Facebook block third parties from collecting data on its users, and for its part, Facebook has done just that. They've begun
blocking apps
from collecting information, and have also limited the number of researchers allowed to look at data on the site. Only academics researching political elections through the lens of social media are
permitted to apply
for access to Facebook's database.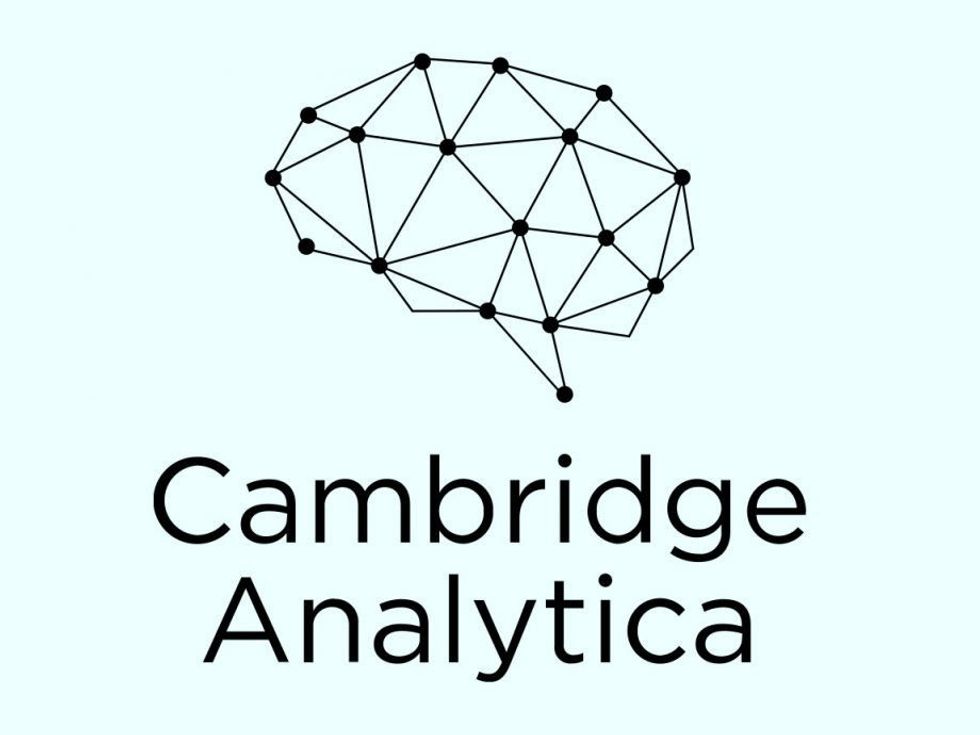 Cambridge Analytica
At a glance, these robust safety measures are a breath of fresh air. It isn't often that a tech company is so committed to its customers' privacy. That said, when things look too good to be true, they usually are. If Facebook continues its path to prohibition, "only Facebook will really know very much about how Facebook actually operates and how people act on Facebook," warns Dr. Rasmus Kleis Nielsen of Oxford University. Sure, measures like these could protect data from outsiders, but it would also give a private company sole proprietorship over the most comprehensive database of human behaviors and tendencies ever created. Facebook would have even more sway over our local and national elections than it already does, and would gain a monopoly over 2 billion people's personal data. Essentially, Facebook could name its price. Because of the way the Internet works, there's no way to effectively protect our Facebook data without severely compromising our freedom. And even if we were to let Zuckerberg shut everyone out of Facebook's data vaults, this doesn't prevent other websites or services from collecting information on us. It doesn't make us any safer. Our sensitive information is freely available to anyone who knows how to access it.
As technology improves, it's going to become more and more difficult to tell what is and isn't fake news–whether or not that article you just read was an advertisement for Tide or some political campaign you weren't aware of. For better or worse, we've set out to map the entire spectrum of human behaviors. Eventually, marketing campaigns will be so advanced, so accurate in their mapping of our desires, we may forget that we ever had the capacity to think. Somewhere, the ghost of B.F. Skinner smiling.

Even though some Millennials are almost forty, people are still bashing them.
Last year the New York Post ran an article about Millennials making up the largest portion of the American workforce, ignoring a glaringly obvious point: of course 22-37 year olds are the largest portion of the labor market; they're adults. In an effort to make a distinctly un-newsworthy article newsworthy, the Post settled on an old trope, pick on the Millennials. For its part, this article wasn't as bad as most. The author refrained from using words like "entitled" and "coddled" and "irresponsible," but there's still a certain connotation attached to the term Millennial, particularly in the way it pertains to work ethic and maturity. Repudiating a stereotype often doesn't have the desired effect; in fact, it has a tendency of validating the stereotyper.* That said, my editor's asked me to dissect the maelstrom of insults and unfair generalizations that surround my generation, so here it goes.
In order to parse the general themes of Millennial bashing from the tsunami of bull shit that's been thrown our way, it's important to acknowledge how it all started. In many ways, a lot of the Millennial-centric ire feels natural. Baby Boomers hated Gen Xers. WWII Vets were critical of Boomers. There's always been something decidedly adversarial about the relationship between a young generation and their parents. This is fine. It's one of the many growing pains associated with being a young professional. The strange thing is how long this anti-Millennial sentiment has lasted. Complaints about young folks usually stop before those young folks are forty.
One theory about Millennial bashing's longevity is that it's a symptom of the economic anxiety created by the financial crisis of 2008. Parents had already been lambasting Millennials for being entitled and not wanting to sacrifice their twenties to careers paths they weren't interested in and didn't respect. Boomers were more concerned with being pragmatic, while Millennials wanted to find meaning in their work. Naturally, this caused friction. Still, there was nothing out of the ordinary. At this point, Millennials were college and high school students.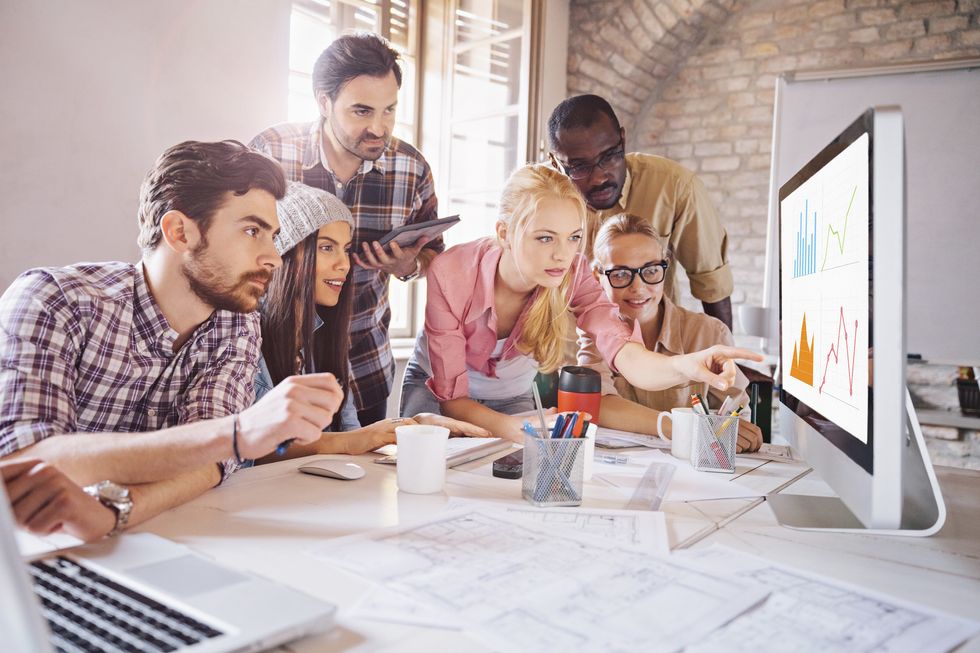 We're just gathering around a single computer monitor to check out some sweet graphs. You know, millennial stuff.
Following the Great Recession, however, this friction was compounded, as Boomers and Gen Xers everywhere lost pensions and 401ks, and their supposedly 'safe' jobs went up in smoke. When slapped in the face by reality, Boomers realized that sacrificing the best years of their lives to jobs they hated yielded very few tangible results. They were understandably upset. There's plenty of pop psychology out there that'll tell you people hate being wrong, but when by virtue of being wrong, their entire life is called into question, something interesting happens. Back in the 50s, a study was done on a doomsday cult in Chicago. The cult predicted that a massive flood would destroy the West Coast of the United States and that flying saucers would rescue the chosen believers before the cataclysm struck. Obviously, it never happened. Strangely, after the prophecy failed, rather than admitting they'd been duped, folks in the cult doubled down on their beliefs, assuming that their prayers had been answered by God and that he decided to spare the planet on their behalf.
Applying similar logic, Boomers, rather than admitting that the system they'd bought into wasn't really looking out for their best interest, doubled down, intensifying their rhetoric against lazy and entitled Millennials. Inasmuch as all invectives are projections of a speaker's insecurities, Boomers and Gen Xers are really saying one of two things when they blindly lash out. One: they made the wrong choices when they were young, and feel they missed The Road Not Taken. Two: they feel that they didn't work hard enough to inoculate themselves from the effects of our failing economy. The former is sad. The latter is terrifying.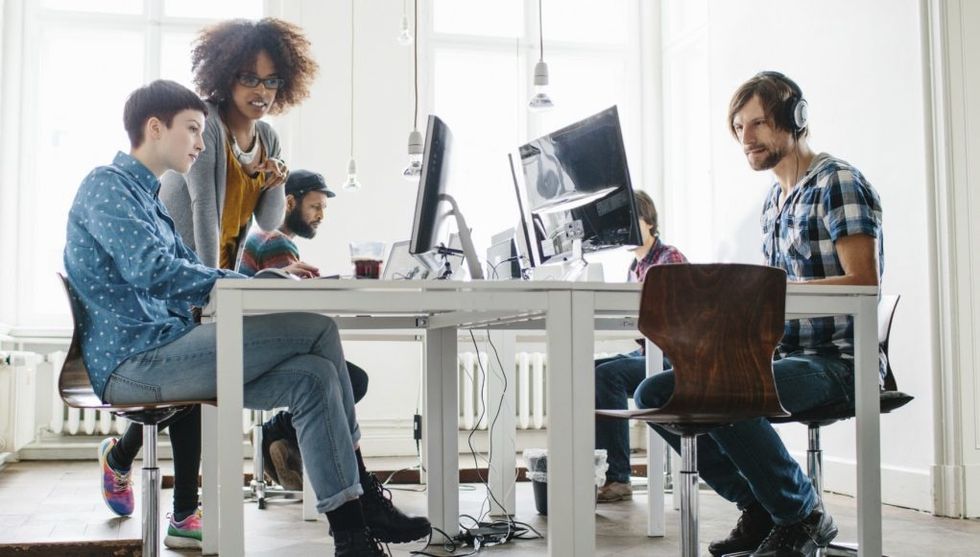 Millennials don't care about dressing up for work.
Another way to look at this issue is via the lens of corporate America. As pointed out by Tucker Max**, the corporate formula is simple: sacrifice youth in exchange for status and financial security. The problem is, status is only worthwhile if people believe in the power structures it's attached to. Money certainly still commands respect, but middle managers aren't exactly rolling in it. With this in mind, it's easy to look at Boomers' Millennial fixation as an obsession with preserving the status quo (pun intended). In their world, being respected can feel like the end all be all of adult life. If Millennials don't buy into the existing systems of power, then the prestige Boomers have strived for is meaningless.
There's always a disconnect between generations, but the way in which Millennials have been used as scapegoats for economic issues is beyond the pale. Many of us own homes and have families already. Some of us are prominent business owners. If 1996 is a strict cutoff, then this coming school year will be the last college graduating class primarily comprised of Millennials. We're adults, in every sense of the word. Still, the stereotypes attached to Millennials have persisted, and while I've discussed the hows and whys, I haven't directly addressed the crimes my generation is accused of.
Here's a shortlist of refutations:
-Millennials are not as addicted to their phones as Boomers and Gen Xers.
-Millennials do not want participation trophies. Those were invented to coddle and reassure parents that their children are special. I have a box of them at home. They mean nothing to me.
-Every generation since the Boomers has been called "The Me Generation."
-Millennials aren't stupid. They're the most educated generation ever. Full stop.
-Millennials aren't lazy or entitled. We just won't work for less than what we're worth. Anyone who thinks refusing to work for free is an entitlement, has no spine.
-Our debt is not due to a lack of fiscal responsibility. Boomers destroyed the economy, and we're shouldering 1.2 trillion dollars in student debt because we were taught that higher education is a prerequisite to success in this country.
---
* This is because discourse is predicated on the idea that each side of an argument has merit. A potential side effect of debate, however, is the creation of a neutral center, a nebulous region in which values from either end of the discussion are combined and redefined ad infinitum. Often, the center is painted as the domain of the rational thinker, the one who can clearly see both sides of an argument. The problem is, in a debate with, say, a neo-nazi, the center must by this definition, at least partially endorse certain ethno-fascist ideals. In this way, the creation of an ideological middle ground always benefits the more radical opinion.

**Listen...I know. I didn't see the author until after I read the article, but it makes some pretty good points. Yes, his books are still bad.
---
Matt Clibanoff is a writer and editor based in New York City who covers music, politics, sports and pop culture. His editorial work can be found in Inked Magazine, Popdust, The Liberty Project, and All Things Go. His fiction has been published in Forth Magazine. -- Find Matt at his website and on Twitter: @mattclibanoff
Are you interacting with a real person, or an automated program? Sometimes, it's hard to tell
For years, science fiction writers have been telling us robots are going to take over the world. It turns out they were right.
But, it's we humans who are doing the androids' dirty work. Unless you've been living in a cabin deep in the woods without the internet (and if so, do you have an extra bunk?), you are probably familiar with the scourge of "Bots," even if you don't recognize the invasion. Bots, short for "robots," are automated programs that run over the internet. On social media, bots have made their presence felt through a wave of fake accounts posing as real people, some 48 million on Twitter alone.
Spotting a bot can be tricky.
Many of the accounts look and feel like real people, but it's worth taking the time and effort to weed out the phonies. Fake social accounts can do real harm through the spreading of misinformation. It's important to be able to recognize and eliminate bots, because according to computer scientist Chengcheng Shao who said to MIT Technology Review, "Social bots play a key role in the spread of fake news."
Perhaps you recall that during the lead-up to the 2016 presidential election, Pope Francis shocked the world by endorsing Donald Trump. It was the top fake news story of 2016 and earned nearly a million Facebook engagements. Fake news works, it always has, and it isn't going anywhere. Which is why last January, Pope Francis said we all need to recognize the "snake-tactics" of the "crafty serpent" that go all the way back to the Book of Genesis. When the Pontiff himself declares, "the truth will set you free," it's time to identify and eliminate the bots in our human lives.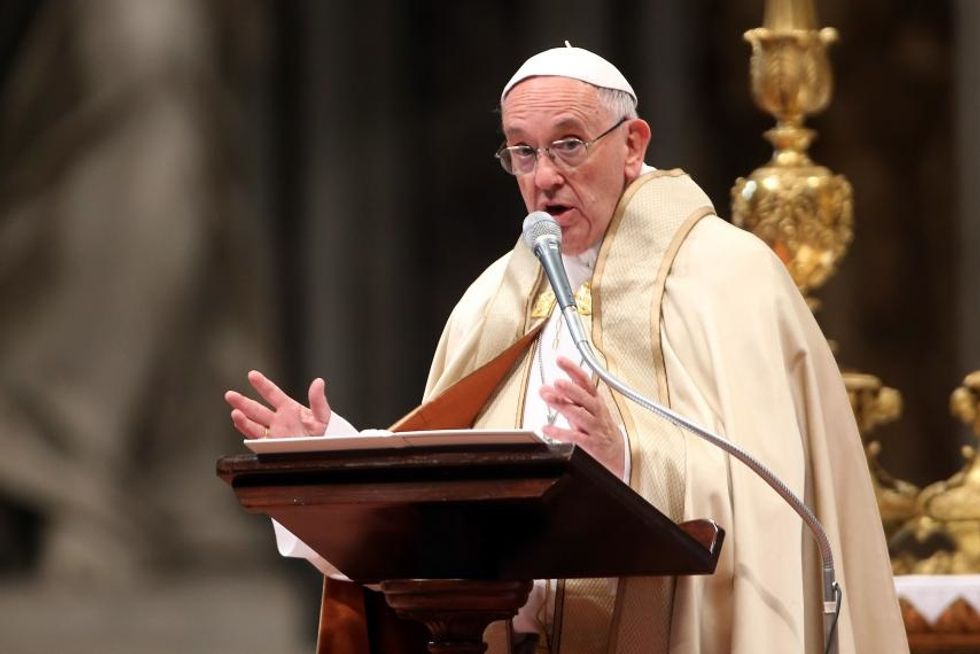 Pope Francis addresses the scourge of fake news at the Vatican https://goo.gl/uz6gFJ
Unfortunately, there isn't a single characteristic to help spot a bot, but there are broad identifiable patterns.
First and foremost, no matter the social media site, ask yourself a simple question when you see a post from someone you don't know personally (or more likely a post from someone you do know, reposting some "person" you don't):
Does this account seem like a real human being? Common sense is on your side. Use it.
Let's start with Twitter, where the homepage of a user can tell a lot. If the bio reads like something Rosey from The Jetsons would spit out, it's a flashing sign of online garbage. Real people write real bios. Is the avatar the default silhouette? Is the Twitter handle gobbledygook no human would choose? Do they post all the time, morning, noon, and night? People sleep, bots not so much. Or conversely, do they only retweet and repost, often to multiple accounts? This isn't how humans engage on social media.
These are the obvious ones, but of course, the bot factories are a lot more complex.
Here are a few more telltale Twitter questions to ask: Does the account follow a ton of people with few followers of its own? Has it followed and unfollowed you in a short amount of time? (Google "Who Unfollowed Me on Twitter" for a simple link), Did you get a reply in microseconds? Do the comments, retweets, and reposts appear to be from other bots? Does the Tweet originate not from the web or mobile, but "from API," which is often automated? Are there multiple posts about breaking news within minutes? (The Parkland shooting unleashed a near-instantaneous torrent of Russian bots.) Does the account interact with friends and foes in the same way you do? If not, chances are, it's a bot. Another trick if you're still stumped is to take the avatar photo and reverse image it. If it pops up all over the web, it's probably a stock photo, which isn't necessarily rock solid--mine is currently of legendary Philadelphia Eagles QB Nick Foles--but it's fairly obvious if it matches up with the other giveaway signs. Two other helpful tools to verify Twitter accounts are Botometer and Botchek.
Facebook has one simple built-in bot eliminator, which is that you have to accept invitations from others.
Use the old childhood axiom of not taking candy from strangers. If you don't know the person, or you have no mutual friends, ignore the request. You can also look up the account to make sure.
Other Facebook warning signs include an older pre-Timeline layout, an attractive female model as the profile picture (men are such easy marks), an empty wall or one with few personal updates and responses, or an enormous amount of "likes" that have seemingly zero in common. Again, does the account look like yours? The Facebook Help Center has a tool to show what bots you followed, but it's limited to bots you directly followed, not your friends, and it doesn't go that far back. Consider it a starting point.
But what about bots on other social platforms?
The New York Times just ran a fascinating story on combatting Instagram bots, which pointed out the most obvious ones, those following 7,500 accounts, the maximum allowed, without a single posted photo or profile picture. Other fishy things to look for are: Accounts with a lot of followers, say 25,000, and little engagement, say two likes, on a photo, an account with a giant inorganic spike in followers, or an account following many more on the 'Gram than it has followers.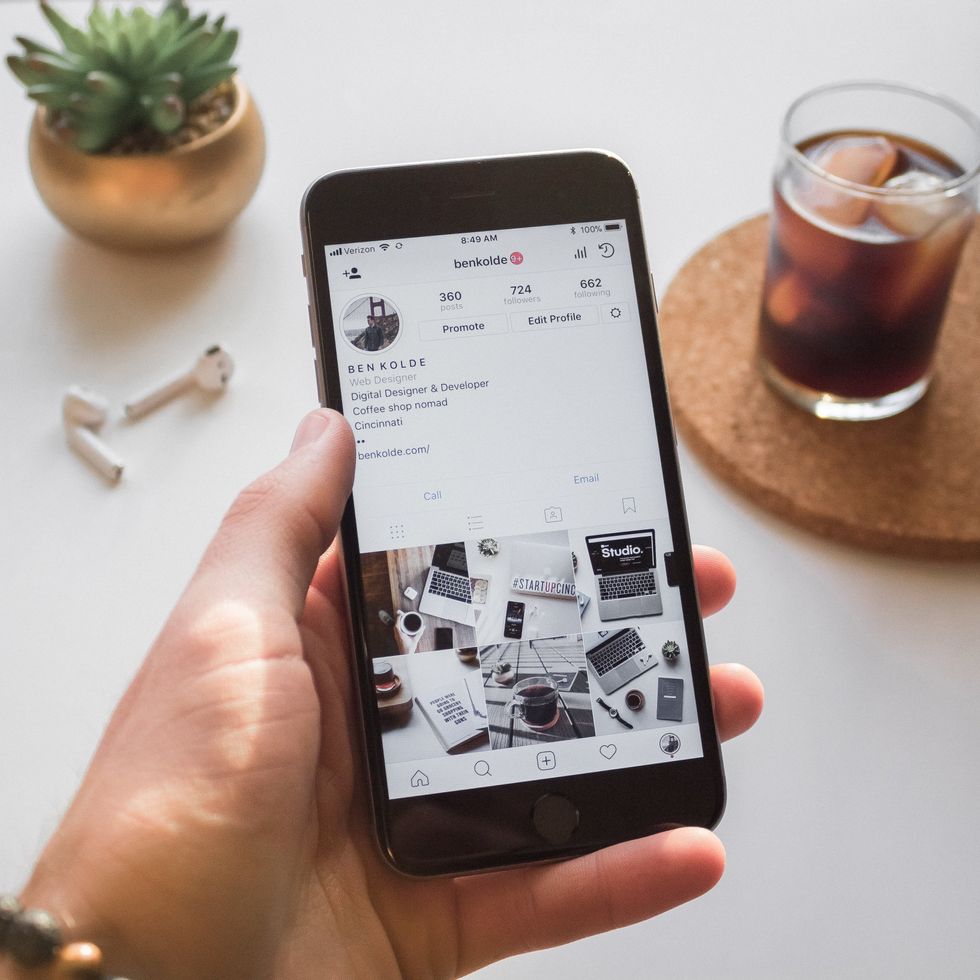 Beware of instagram accounts with thousands of followers, and no picturesPhoto by Ben Kolde
Spotting and blocking the fraudulent is key to a healthy social media existence.
But remember, bots aren't the biggest problem. We are. A new study by three MIT scholars found that on Twitter, most fake news is spread by humans, at a speedier rate, and at a much higher volume. Fake news stories are 70% more likely to be spread than actual news stories and reach 1,500 people six times faster. Why? The scholars theorize it's a combination of human impulses. Fake stories, often with insane too-good-to-be-true headlines, seem novel, so we share them to be "in the know." Bullcrap also triggers "surprise and disgust," whereas accurate stories engender sadness, anticipation, and (gasp) trust.


You can train yourself to spot a bot, but it's not enough. Check yourself first. Otherwise, when the robots do officially take over, we'll only have ourselves to blame.