Here are three crucial ways the digital age complicates your protections under the Fourth Amendment.
When the Fourth Amendment codified citizens' protections against government spying in 1791, Americans couldn't say, "Alexa: turn off the lights." With technology pervasively conducting our daily errands, the amendment against illegal search and seizure is not equipped to protect digital users. In fact, David Cole, a law professor of constitutional law and national security at Georgetown University, critiques, "In the modern digital age, it means very, very little."
To be clear, the totality of the Fourth Amendment reads: "The right of the people to be secure in their persons, houses, papers, and effects, against unreasonable searches and seizures, shall not be violated, and no Warrants shall issue, but upon probable cause, supported by Oath or affirmation, and particularly describing the place to be searched, and the persons or things to be seized."
Here are three crucial ways the digital age complicates your protections under the Fourth Amendment:
1. Law enforcement doesn't always require a search warrant to enter your home
When police want to mine your private information on suspicion that you've committed a crime, they have to meet the familiar requirement of "probable cause." Traditionally, they must convince a judge that there is a sound reason to search and/or bug your property for surveillance. True to the wording of the law, your protected personal belongings include your physical body, "houses, papers, and effects."
However, "probable cause" includes the "plain view" clause, wherein authorities have the right to enter your home if they see evidence, contraband, or suspicious materials in your home. In the age of social media, a picture, check-in, or status you post could very well justify law enforcement entering your home without a warrant. The ruling in Katz v. United States stands as the most notable example that qualifies the Fourth Amendment as only applying to situations in which "an individual has a reasonable expectation of privacy." When you're sharing the details of your life on social media sites, you waive much of that expectation.
2. Your personal information is no longer "private" from the government once shared on social media
A series of rulings in the 1960s and 1970s began to add exceptions to the "probable cause" requirement. Namely, the government does not need a search warrant to obtain any personal information that you've already shared with somebody else. Hence, the government can obtain any private information given to credit card companies, banks, or phone companies, because you've technically de-privatized the information by using those services.
Of course the same applies to any and all social media accounts. All the government needs is a subpoena, which experts say is "trivially easy to issue."
3. Your location can be tracked by the government
While it may seem obvious to be wary of broadcasting your location at any given time, some personal devices and social media sites automatically tag and record your location. Your whereabouts cease to be a topic of government surveillance when you share the information willingly (which you do by using digital services). As Justice Alito noted when presiding over the United States v. Jones, social media tools "will . . . shape the average person's expectations about the privacy of his or her daily movements." Traditional protections simply don't apply to what you publicize yourself.
700,000 Muslims were forced to flee to neighboring Bangladesh in 2017.
On Monday, Facebook said it removed 13 pages and 10 accounts controlled by the Myanmar military in connection with the Rohingya refugee crisis.
The accounts were masquerading as independent entertainment, beauty, and information pages, such as Burmese popstars, wounded war heroes, and "Young Female Teachers." Fake postings reached 1.35 million followers, spreading anti-Muslim messages to social media users across the Buddhist-majority country.
Facebook's move comes a year after 700,000 Rohingya, a Muslim minority group in Myanmar, were forced to flee to neighboring Bangladesh amid widely-documented acts of mob violence and rape perpetrated by Myanmar soldiers and Buddhist mobs. The United Nations Human Rights Council denounced the crisis as "a textbook case of ethnic cleansing and possibly even genocide."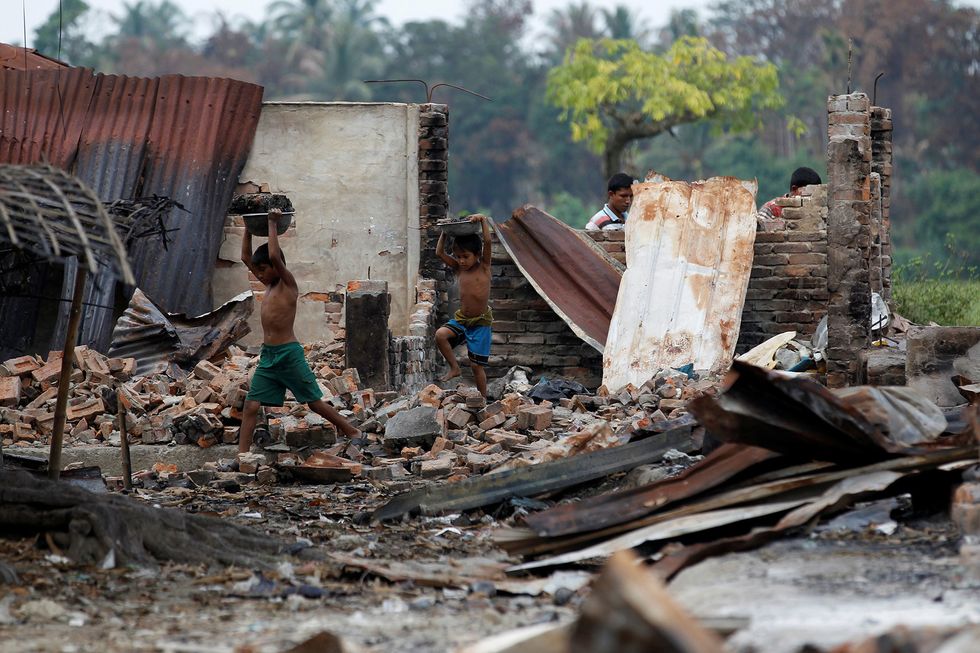 Rohingya children rummaging through the ruins of a village market that was set on fire.Reuters
Last month, the social media giant announced a similar purge, removing Facebook and Instagram accounts followed by a whopping 12 million users. Senior General Min Aung Hlaing, commander-in-chief of the Myanmar armed forces, was banned from the platform, as was the military's Myawady television network.
Over the last few years, Facebook has been in the hot seat for their tendency to spread misinformation. In the 2016 U.S. presidential election, inauthentic Facebook accounts run by Russian hackers created 80,000 posts that reached 126 million Americans through liking, sharing, and following. This problem has persisted in the 2018 midterm elections, ahead of which 559 pages were removed that broke the company's policies against spreading spam and coordinated influence efforts. Recent campaigns originating in Iran and Russia target not only the U.S., but also Latin America, the U.K., and the Middle East.
The situation in Myanmar is particularly troubling—it's not an effort by foreign powers to stoke hate and prejudice in a rival, but rather an authoritarian government using social media to control its own people. According to the New York Times, the military Facebook operation began several years ago with as many as 700 people working on the project.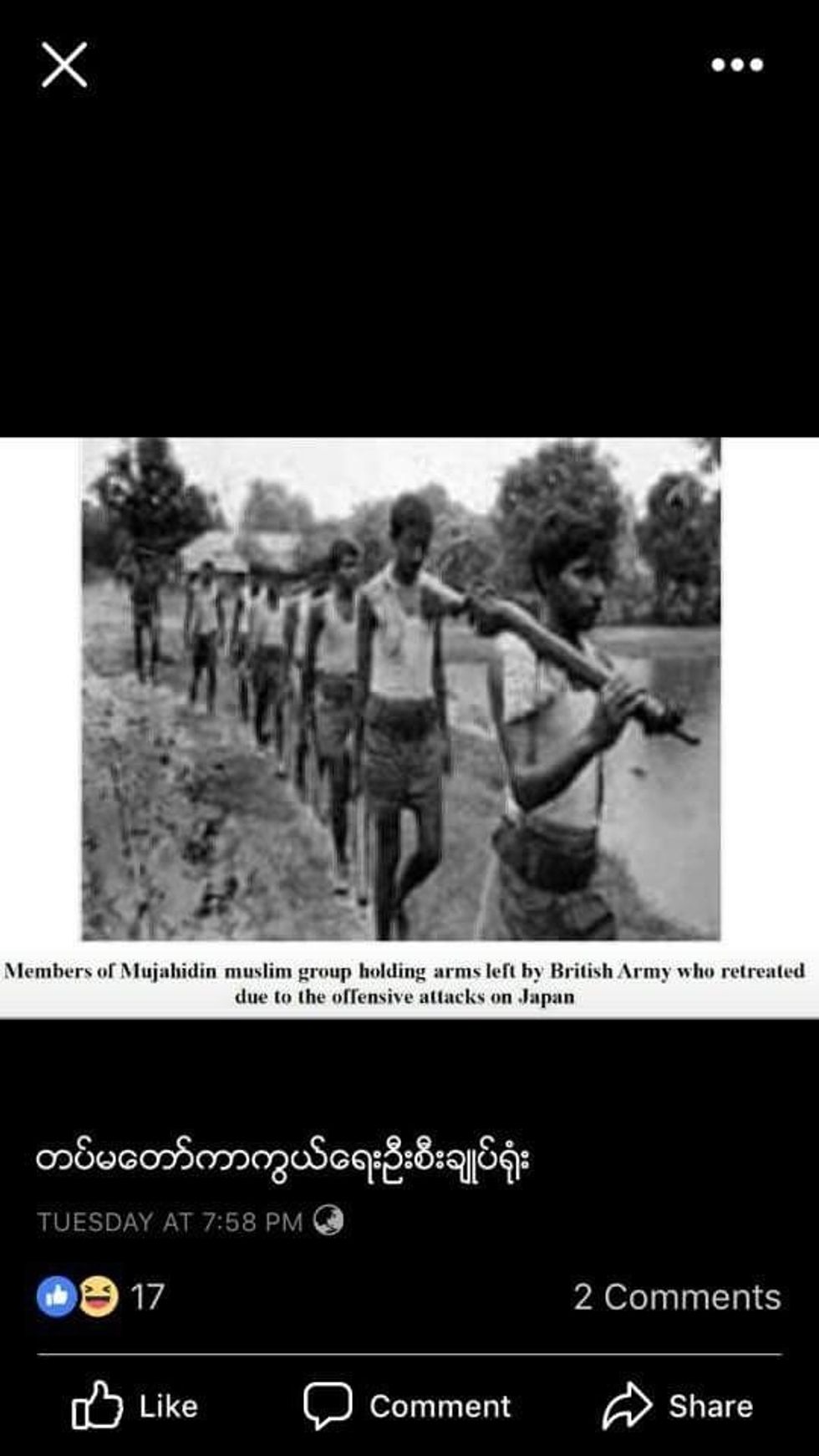 Screen shots from the account of the Myanmar Senior General Min Aung Hlaing, whose pages were removed in August.
Facebook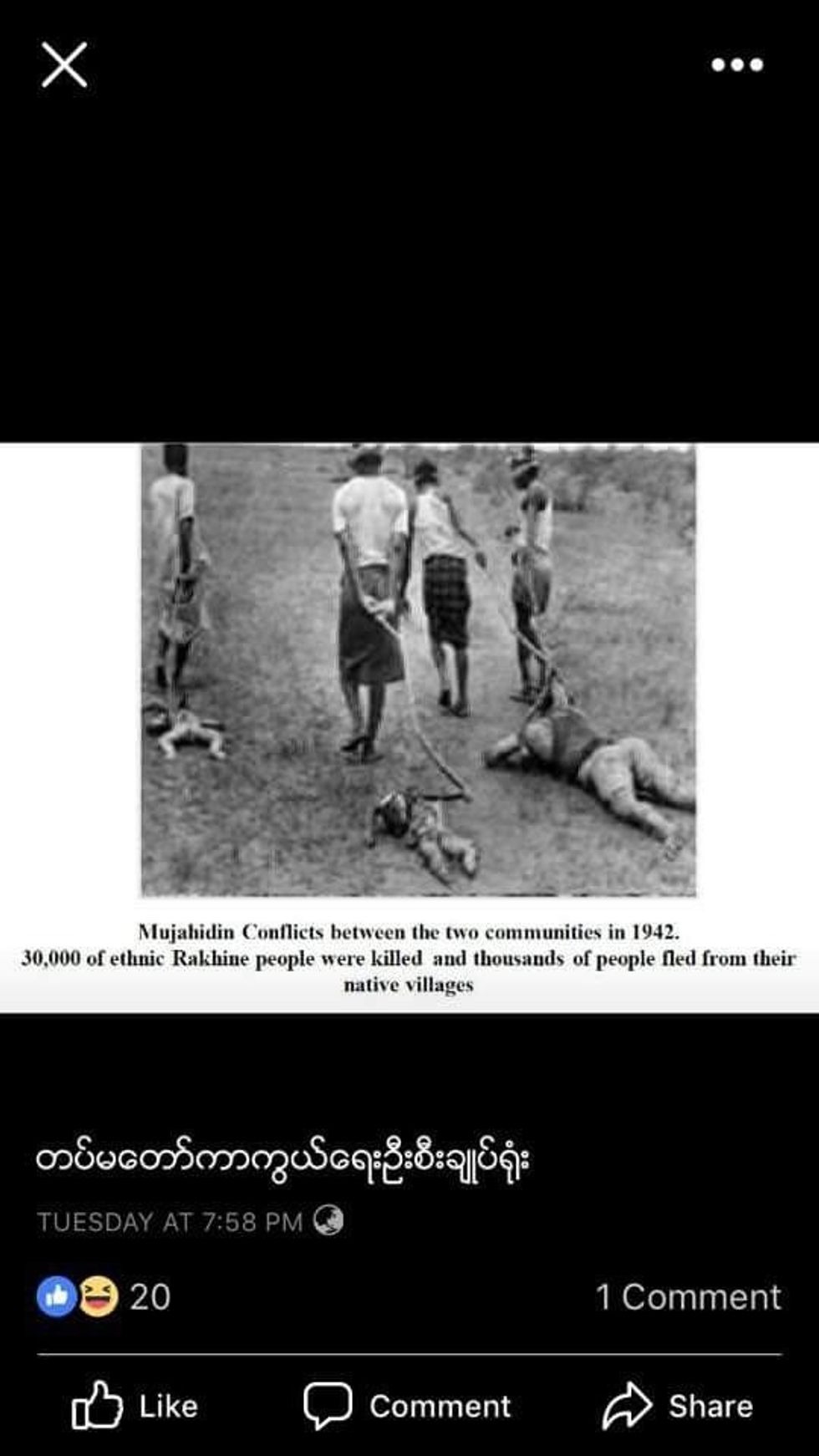 Claiming to show evidence of conflict in Myanmar's Rakhine State in the 1940s, the images are in fact from Bangladesh's war for independence from Pakistan in 1971.
Facebook
Fake pages of pop stars and national heroes would be used to distribute shocking photos, false stories, and provocative posts aimed at the country's Muslim population. They often posted photos of corpses from made-up massacres committed by the Rohingya, or spread rumors about people who were potential threats to the government, such as Nobel laureate Daw Aung San Suu Kyi, to hurt their credibility. On the anniversary of September 11, 2001, fake news sites and celebrity fan pages sent warnings through Facebook Messenger to both Muslim and Buddhist groups that an attack from the other side was impending.

Facebook admitted to being "too slow to prevent misinformation and hate" on its sites. To prevent misuse in the future, they plan on investing heavily in artificial intelligence to proactively flag abusive posts, making reporting tools easier and more intuitive for users, and continuing education campaigns in Myanmar to introduce tips on recognizing false news.
The company called the work they are doing to identify and remove the misleading network of accounts in the country as "some of the most important work being done [here]."
Joshua Smalley is a New York-based writer, editor, and playwright. Find Josh at his website and on Twitter: @smalleywrites.
Sites like Facebook will have more and more influence over our elections in the future.
America's favorite uncorroborated news story of the moment is that the Russian government masterminded Trump's rise to power. It's easy to understand why. Introspection after a loss is difficult, and rather than face themselves, the DNC decided to have a seance, evoking a Cold War ghost to explain their defeat. It's somewhat comforting to assume an international conspiracy was behind the Hillary Clinton's failure in the 2016 election. It absolves the DNC of any responsibility to change their conduct or adjust their political strategy. That said, there is no hard evidence of collusion, but rather a string of awkward encounters by Trump's largely inexperienced, and frankly stupid, staff. The meat of Russia's "interference" came in the form of social media bots, fake accounts that would automatically repost sensationalist headlines to drum up support for Trump. These accounts are pretty easy to spot however, as they don't even come close to passing a turing test.
Even though some Millennials are almost forty, people are still bashing them.
Last year the New York Post ran an article about Millennials making up the largest portion of the American workforce, ignoring a glaringly obvious point: of course 22-37 year olds are the largest portion of the labor market; they're adults. In an effort to make a distinctly un-newsworthy article newsworthy, the Post settled on an old trope, pick on the Millennials. For its part, this article wasn't as bad as most. The author refrained from using words like "entitled" and "coddled" and "irresponsible," but there's still a certain connotation attached to the term Millennial, particularly in the way it pertains to work ethic and maturity. Repudiating a stereotype often doesn't have the desired effect; in fact, it has a tendency of validating the stereotyper.* That said, my editor's asked me to dissect the maelstrom of insults and unfair generalizations that surround my generation, so here it goes.
Are you interacting with a real person, or an automated program? Sometimes, it's hard to tell
For years, science fiction writers have been telling us robots are going to take over the world. It turns out they were right.
But, it's we humans who are doing the androids' dirty work. Unless you've been living in a cabin deep in the woods without the internet (and if so, do you have an extra bunk?), you are probably familiar with the scourge of "Bots," even if you don't recognize the invasion. Bots, short for "robots," are automated programs that run over the internet. On social media, bots have made their presence felt through a wave of fake accounts posing as real people, some 48 million on Twitter alone.