Ideas are indestructible, and Anonymous was always—first and foremost—an idea.
shortcode-01-02B3-go-to-responsive]
Once upon a time, the Internet was less a broken mirror of reality and more a diversion from it.
Maybe that's why prior to the era of identity monetization, blue check marks, and self-branding, anonymity was synonymous with power.
In the early 2000s, a group known as Anonymous sprung up across digital platforms, born out of a spirit of loose anarchism and disruption. "Anonymous" or "Anon" is an umbrella term, and like the Internet itself, the group was always slippery and amorphous.
Between 2003 and 2018, Anonymous's loosely interconnected network of digital hacktivists took on everything from Scientology to the Clintons to ISIS to Trump. At some point, they fractured, and it's unclear as to whether they still exist in any context, or if they ever really did. Was Anonymous an idea? A joke? A movement?
To try and answer these questions is a doomed enterprise from the start, because the group is (or was) so decentralized, so scattered, and so complex that it resists exact interpretation.
But perhaps Anonymous can also teach us something about our modern political moment—after all, the group was entwined with many of the major political forces of the past decade, from Occupy Wall Street to the Arab Spring to QAnon. Maybe it can teach us something about the art of modern rebellion, especially in a rapidly digitizing and artificial age when information is poised to become the most valuable currency of all.
Welcome to the netherworld of Anonymous, where everyone can be no one together.
Born of Trolls, Hackers Turn to Scientology
The hacktivist network known as "Anonymous" arose around 2003. Springing up on 4chan, the group began as a collective of tricksters harnessing the Internet to pull pranks and seed an ethos of trolling and general disarray.
Anonymous eventually gained global reach thanks to its appealing ethos of decentralized leadership and general anarchical spirit. With memetic virality, it spread thanks to broad, decentralized messaging techniques and an emphasis on both humor and justice.
Today, two images are usually associated with Anonymous. There's the Guy Fawkes mask from the 2006 film V for Vendetta, which follows one activist's quest to end a totalitarian fascist rule in England; and there's the "man without the head" image that symbolizes the group's commitment to decentralized, anti-authoritarian rule.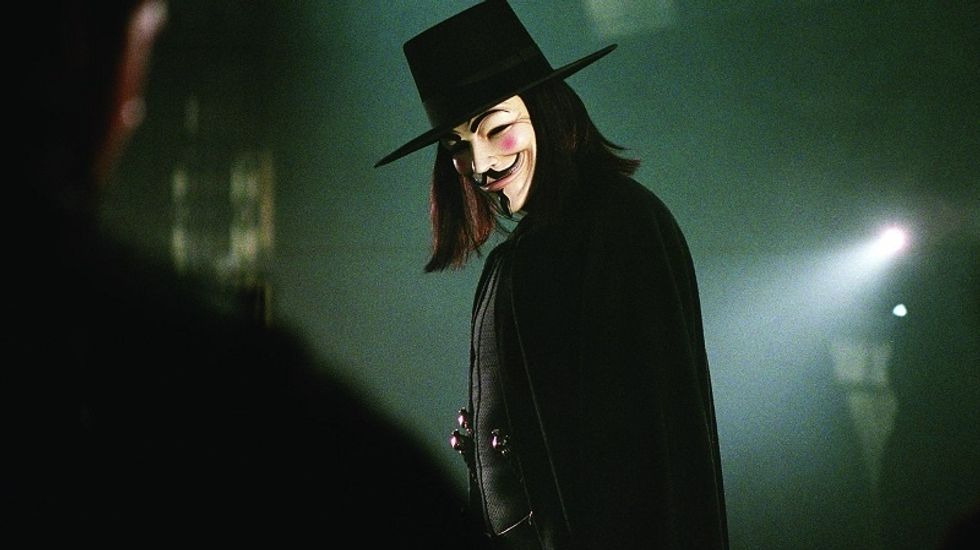 Literary Hub
Early on, the group embarked on helter-skelter actions and pranks, with mixed results. The group targeted the white nationalist figure Hal Turner in 2006, eventually exposing him as an FBI informant, and Anonymous first began to dive into high-profile political activism through an effort called "Project Chanology," a coordinated protest against the Church of Scientology. After the Church removed a video of Tom Cruise because they believed it portrayed them negatively, Anonymous hackers started a campaign to take down Scientology once and for all. They posted a video called "Message to Scientology" and launched a crusade against the church, which included a coordinated attack on the organization's website.

And so a movement was born. Thousands of people showed up in real life to protests around the country. "It was a very bizarre scene," the former hacker Gregg Housh said of the protest he attended in Los Angeles. "Here is a church created by a science-fiction author, being protested by people wearing masks created by a science-fiction author." Reality was bending; the simulation was showing its cracks.
For the next decade, Anonymous would harness the Internet in unprecedented ways, fighting for justice and destruction, for irony and distraction, and for change that would reverberate all the way to the top.
WikiLeaks and the Arab Spring: Anonymous Gets Political
Anonymous quickly shifted focus towards censorship and free speech. They used DDoS (Distributed Denial of Services) attacks to shut down websites they viewed as threatening to freedom. In 2010, they emerged to protest a censorship bill in Australia; and later that year, they collaborated to defend WikiLeaks after Amazon kicked Julian Assange's operation off its servers and Visa, Mastercard, and PayPal stopped processing donations to the group. (Anonymous later separated itself from WikiLeaks, due to Assange's influence over the organization).
Around the same time, a segment of the group decided that they'd collectively become too serious. They needed more "lulz"—LOLs, laughs, the trolling ethos that originally inspired the group. So a group called Lulz Security (or LulzSec) was born. They hacked the CIA's website. The next month, the FBI arrested fourteen Anonymous hackers for the aforementioned earlier attacks on PayPal, and Anonymous began to rise on the US government's radar.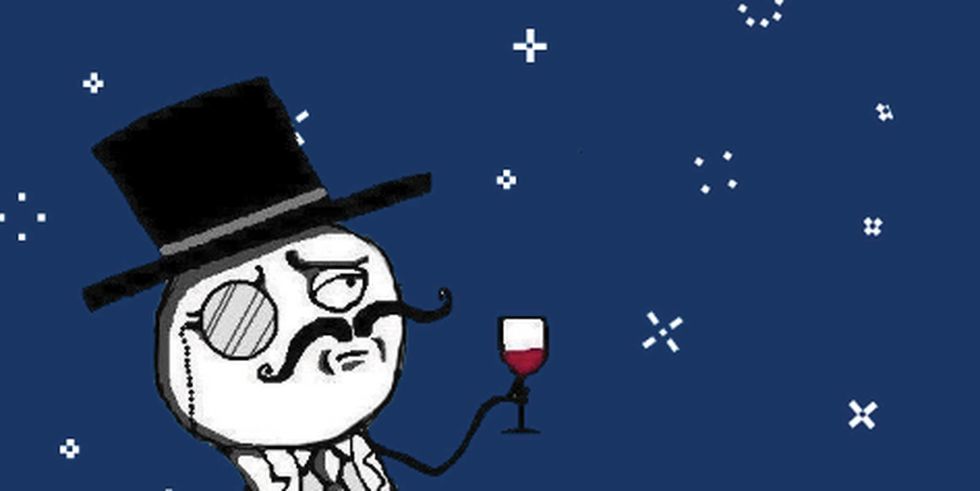 The Daily Dot
In 2011, when the Tunisian government blocked WikiLeaks, Anonymous launched a crusade to support protestors in the movement that would eventually spark the Arab Spring. One of the more infamous leaders of LulzSec, Hector Xavier Monseguer (or "Sabu")—who would later become an FBI informant—and others also allegedly helmed a DDoS attack on the Tunisian government's websites. Anonymous was also integral to the planning of 2011 Occupy Wall Street protests in New York, which were somewhat similar to the organization in that they lacked internal structure and clear leadership and set goals.
Soon, White House staff became concerned that the group could destabilize the US power grids. The group became known as cyber-terrorists and anarchists. Perhaps out of necessity, or because its major players were being taken out or growing up and leaving hacktivism behind, Anonymous fractured around 2015 and 2016, leaving behind conspiracies and a legacy of rupture and chaos.
Still, Anonymous's penchant for social action continued throughout the 2010s. In 2013, Operation Safe Winter fought to raise awareness about homelessness. In 2014, a group called "Operation Ferguson" organized cyberprotests against the police after the death of Michael Brown.
In 2015, Anonymous shifted its focus towards the Islamic State. #OpISIS was a response to the Charlie Hebdo attacks in Paris; despite being a largely uncoordinated effort, they still managed to make waves. "For more than a year, a ragtag collection of casual volunteers, seasoned coders, and professional trolls has waged an online war against the Islamic State and its virtual supporters," writes E. T. Brooking. But they never lost their irreverence.
"Taking away the free speech from a group that is advocating the end of free speech is delicious fun," a member wrote on a Reddit forum about the Hebdo operation.
"They rise up most forcefully when it comes to Internet freedoms and technology, particularly technology that is being abused in some way," says Brian Knappenberger, creator of the documentary We Are Legion. "They're sort of protectors of the Internet. This is their territory, and if it's abused, they're personally offended."
In the latter half of the 2010s, Anonymous waged war against pedophiles and the dark web. In 2018, they lashed out at QAnon, the pro-Trump conspiracy group that stole Anonymous's branding despite a complete lack of alignment with most of Anonymous's central ideologies.
Some members of Anonymous may have gone off to join QAnon; it's hard to know. Though different from Anonymous, QAnon shares some of Anonymous's hatred of the government—its "deep state" paranoia echoes Anonymous's fears of totalitarianism.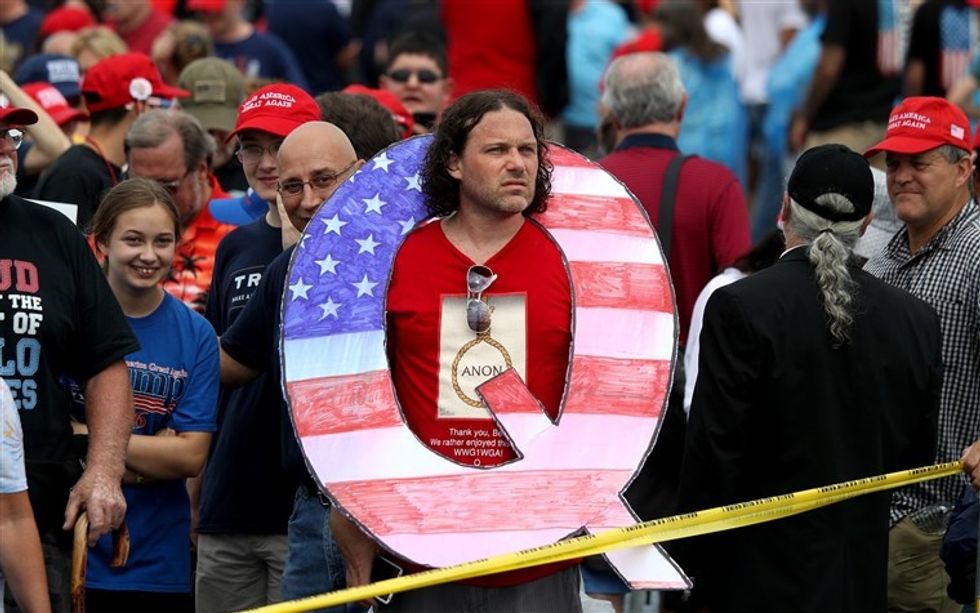 NBC News
Today, QAnon members often show up at Trump campaign rallies, and though Anonymous and QAnon have very different ideas about what constitutes freedom and free speech, it's clear they both believe they're fighting for it.

In the wilderness of the Internet, especially when so many layers of irony interlace with each other and when trolls abound, it's easy for ideologies to twist out of form. It's easy for trolls to be mistaken as criminals, too—just as it's easy for trolls to become criminals. On the Internet, at least outside the realm of corporate influence and bribes, identity is as fluid and amorphous as you want it to be. Anonymous members can become Trump supporters who can become Bernie supporters who can become QAnon supporters who can become FBI informants who can then rejuvenate Anonymous.
If the Anonymous movement shows us anything, it's that identity and ideology are not set. They're as fluid as the shifting landscape of the World Wide Web, which might just be a reflection of the shifting tides of the human spirit.
Remembering Anonymous in 2020
If you Google Anonymous, you'll see the question "is anonymous good"? pop up on the search bar.
A short search will reveal that most self-proclaimed authorities on the subject believe that Anonymous is neither good nor evil. Instead, it's a diverse group made up of people from all around the world, bound together by a shared symbol rather than a structure or hierarchy.
Because Anonymous never had a set ideology or leader, there's no one precise way to remember them. There's no way to know what's real, or if Anonymous was ever the super-group that the media made it out to be. Most likely, it was more of an idea than anything else, though it may still exist in pockets. There's also no way to tell if the group has just gone further underground or if it truly has been dead for years.
According to Gabriella Coleman, Anonymous was always about freedom and elusiveness. "They dramatize the importance of anonymity and privacy in an era when both are rapidly eroding," she writes.
In terms of ethos, Coleman argues that Anonymous embodied an ancient trickster archetype, using old ideas about freedom, hedonism, and the randomness of the universe to cope with an increasingly unbearable modernity. "Nietzsche was attuned to the vitality of sensuality, myth, and art. Music, poetry, and even the mad laughter of the trickster Dionysus, who he championed, offer an aesthetic life of pleasure," she writes in her book Hacker, Hoaxer, Whistleblower, Spy: The Many Faces of Anonymous. "They are pursuits through which humans can overcome their limits and the tragic condition of life: 'Not by wrath does one kill but by laughter. Come, let us kill the spirit of gravity!'"
Is Anonymous nothing more or less than an idea, which became a movement and an identity? Was it all just a story? Has the story ended, or has it fractured and bled into other movements and other corners of the Internet?
Someone in a Guy Fawkes mask is out there, laughing.
The Anonymous forum on Reddit is still alive and well. A month ago, one Redditor mused, "Is Anonymous just a legend to teach us that we do not need a name or an organization to use our power?" Could Anonymous have been a myth designed to reveal that 'All of us can anonymously exploit the options that we have (elections, commercial decisions, jobs we chose, freetime activities) to change the world together?'"

Recently, #AnonHasBeenDeadForYears trended on Twitter. Some agreed with the hashtag. Some warned the world that Anonymous has never been dead—instead, it's everywhere.
These are the kind of conversations that Anonymous inspires. Half-ironic, half-imbued with radical visions—zombified, always mutating—Anonymous (or whatever remains of it) persists.
Maybe it persists in part because it, ironically, offered a form of identity, of differentiation, of meaning crafted through collectivity born out of a crisis of meaning. Perhaps in anonymity, there is identity.
"On the street...I am just another person in a sea of faces," writes a (fittingly) anonymous blogger in Dazed, in a piece that may or may not be a parody or a fake—we'll never know. "But in cyberspace we are different. We helped free the people of Egypt. We helped fight against Israel as it attempted genocide. We exposed more than 50,000 paedophiles around the world. We fought the drug cartels. We have taken to the streets to fight for the rights you are letting slip through your fingers. We are Anonymous."
Are you?
Here are three crucial ways the digital age complicates your protections under the Fourth Amendment.
When the Fourth Amendment codified citizens' protections against government spying in 1791, Americans couldn't say, "Alexa: turn off the lights." With technology pervasively conducting our daily errands, the amendment against illegal search and seizure is not equipped to protect digital users. In fact, David Cole, a law professor of constitutional law and national security at Georgetown University, critiques, "In the modern digital age, it means very, very little."
To be clear, the totality of the Fourth Amendment reads: "The right of the people to be secure in their persons, houses, papers, and effects, against unreasonable searches and seizures, shall not be violated, and no Warrants shall issue, but upon probable cause, supported by Oath or affirmation, and particularly describing the place to be searched, and the persons or things to be seized."
Here are three crucial ways the digital age complicates your protections under the Fourth Amendment:
1. Law enforcement doesn't always require a search warrant to enter your home
When police want to mine your private information on suspicion that you've committed a crime, they have to meet the familiar requirement of "probable cause." Traditionally, they must convince a judge that there is a sound reason to search and/or bug your property for surveillance. True to the wording of the law, your protected personal belongings include your physical body, "houses, papers, and effects."
However, "probable cause" includes the "plain view" clause, wherein authorities have the right to enter your home if they see evidence, contraband, or suspicious materials in your home. In the age of social media, a picture, check-in, or status you post could very well justify law enforcement entering your home without a warrant. The ruling in Katz v. United States stands as the most notable example that qualifies the Fourth Amendment as only applying to situations in which "an individual has a reasonable expectation of privacy." When you're sharing the details of your life on social media sites, you waive much of that expectation.
2. Your personal information is no longer "private" from the government once shared on social media
A series of rulings in the 1960s and 1970s began to add exceptions to the "probable cause" requirement. Namely, the government does not need a search warrant to obtain any personal information that you've already shared with somebody else. Hence, the government can obtain any private information given to credit card companies, banks, or phone companies, because you've technically de-privatized the information by using those services.
Of course the same applies to any and all social media accounts. All the government needs is a subpoena, which experts say is "trivially easy to issue."
3. Your location can be tracked by the government
While it may seem obvious to be wary of broadcasting your location at any given time, some personal devices and social media sites automatically tag and record your location. Your whereabouts cease to be a topic of government surveillance when you share the information willingly (which you do by using digital services). As Justice Alito noted when presiding over the United States v. Jones, social media tools "will . . . shape the average person's expectations about the privacy of his or her daily movements." Traditional protections simply don't apply to what you publicize yourself.
700,000 Muslims were forced to flee to neighboring Bangladesh in 2017.
On Monday, Facebook said it removed 13 pages and 10 accounts controlled by the Myanmar military in connection with the Rohingya refugee crisis.
The accounts were masquerading as independent entertainment, beauty, and information pages, such as Burmese popstars, wounded war heroes, and "Young Female Teachers." Fake postings reached 1.35 million followers, spreading anti-Muslim messages to social media users across the Buddhist-majority country.
Facebook's move comes a year after 700,000 Rohingya, a Muslim minority group in Myanmar, were forced to flee to neighboring Bangladesh amid widely-documented acts of mob violence and rape perpetrated by Myanmar soldiers and Buddhist mobs. The United Nations Human Rights Council denounced the crisis as "a textbook case of ethnic cleansing and possibly even genocide."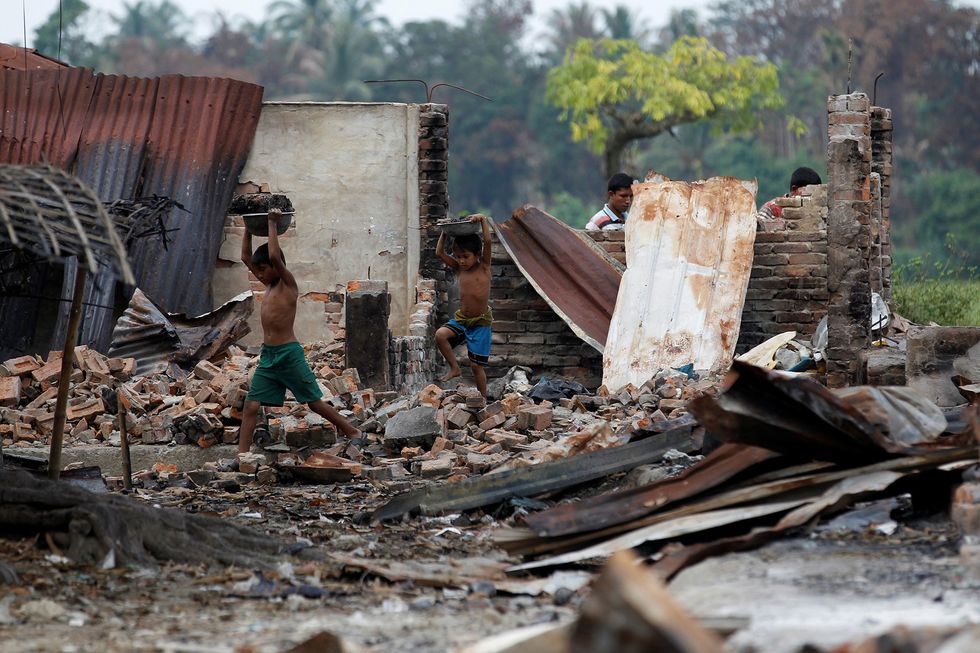 Rohingya children rummaging through the ruins of a village market that was set on fire.Reuters
Last month, the social media giant announced a similar purge, removing Facebook and Instagram accounts followed by a whopping 12 million users. Senior General Min Aung Hlaing, commander-in-chief of the Myanmar armed forces, was banned from the platform, as was the military's Myawady television network.
Over the last few years, Facebook has been in the hot seat for their tendency to spread misinformation. In the 2016 U.S. presidential election, inauthentic Facebook accounts run by Russian hackers created 80,000 posts that reached 126 million Americans through liking, sharing, and following. This problem has persisted in the 2018 midterm elections, ahead of which 559 pages were removed that broke the company's policies against spreading spam and coordinated influence efforts. Recent campaigns originating in Iran and Russia target not only the U.S., but also Latin America, the U.K., and the Middle East.
The situation in Myanmar is particularly troubling—it's not an effort by foreign powers to stoke hate and prejudice in a rival, but rather an authoritarian government using social media to control its own people. According to the New York Times, the military Facebook operation began several years ago with as many as 700 people working on the project.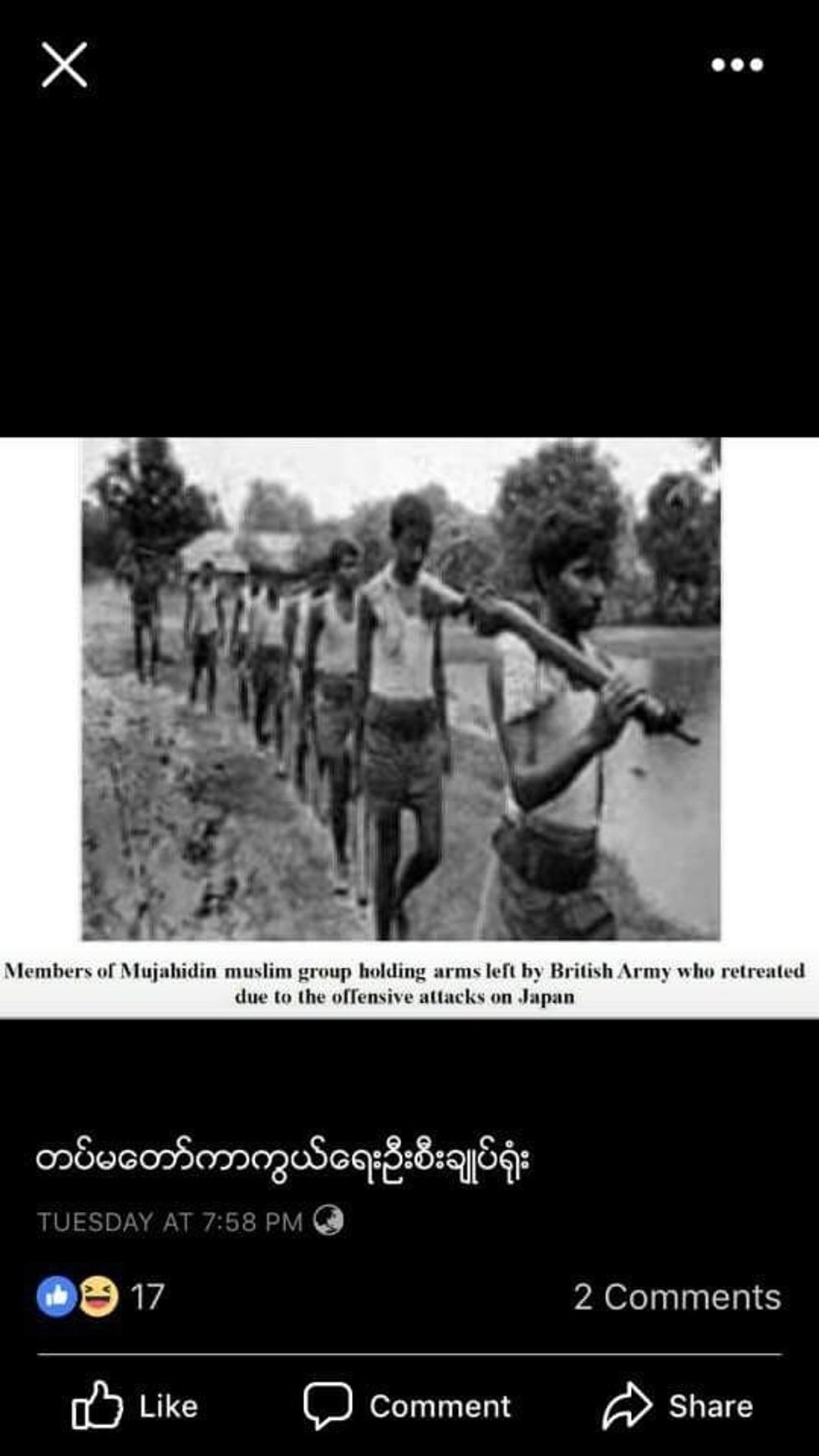 Screen shots from the account of the Myanmar Senior General Min Aung Hlaing, whose pages were removed in August.
Facebook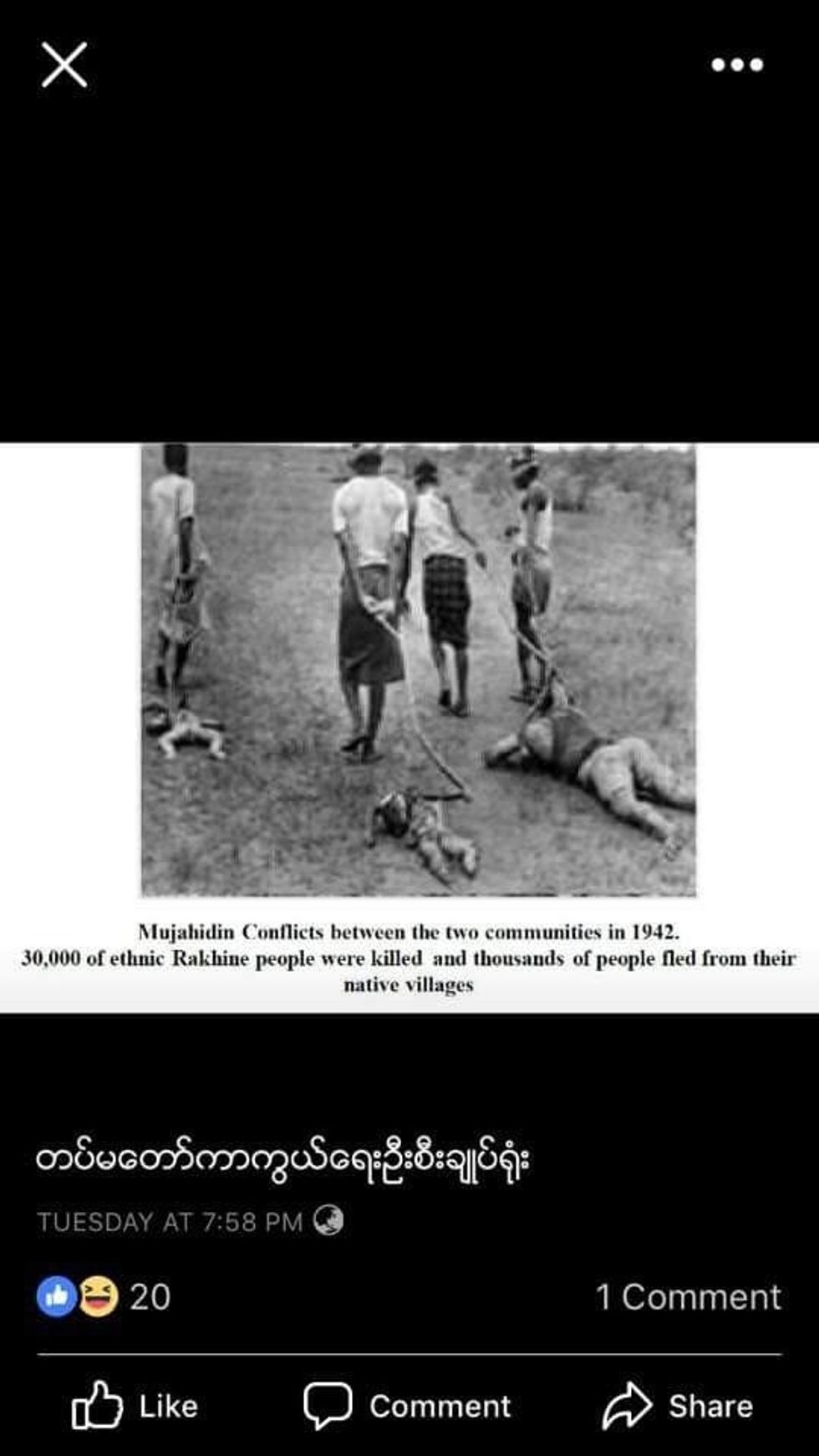 Claiming to show evidence of conflict in Myanmar's Rakhine State in the 1940s, the images are in fact from Bangladesh's war for independence from Pakistan in 1971.
Facebook
Fake pages of pop stars and national heroes would be used to distribute shocking photos, false stories, and provocative posts aimed at the country's Muslim population. They often posted photos of corpses from made-up massacres committed by the Rohingya, or spread rumors about people who were potential threats to the government, such as Nobel laureate Daw Aung San Suu Kyi, to hurt their credibility. On the anniversary of September 11, 2001, fake news sites and celebrity fan pages sent warnings through Facebook Messenger to both Muslim and Buddhist groups that an attack from the other side was impending.

Facebook admitted to being "too slow to prevent misinformation and hate" on its sites. To prevent misuse in the future, they plan on investing heavily in artificial intelligence to proactively flag abusive posts, making reporting tools easier and more intuitive for users, and continuing education campaigns in Myanmar to introduce tips on recognizing false news.
The company called the work they are doing to identify and remove the misleading network of accounts in the country as "some of the most important work being done [here]."
Joshua Smalley is a New York-based writer, editor, and playwright. Find Josh at his website and on Twitter: @smalleywrites.
Sites like Facebook will have more and more influence over our elections in the future.
America's favorite uncorroborated news story of the moment is that the Russian government masterminded Trump's rise to power. It's easy to understand why. Introspection after a loss is difficult, and rather than face themselves, the DNC decided to have a seance, evoking a Cold War ghost to explain their defeat. It's somewhat comforting to assume an international conspiracy was behind the Hillary Clinton's failure in the 2016 election. It absolves the DNC of any responsibility to change their conduct or adjust their political strategy. That said, there is no hard evidence of collusion, but rather a string of awkward encounters by Trump's largely inexperienced, and frankly stupid, staff. The meat of Russia's "interference" came in the form of social media bots, fake accounts that would automatically repost sensationalist headlines to drum up support for Trump. These accounts are pretty easy to spot however, as they don't even come close to passing a turing test.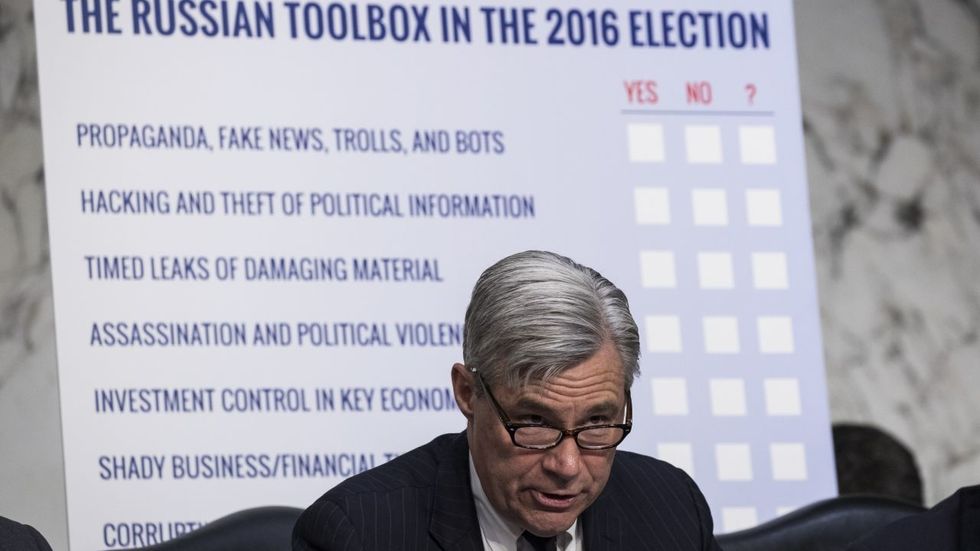 Blaming Russia is too easy
Still, the creation of Russia's bot army had to be predicated on some form of information, and many have accused Putin's government of tracking users' Facebook data in an attempt to gain a psychological understanding of the average American voter. This is where Aleksandr Kogan comes into play. Kogan sold the data of some 87 million Facebook users (collected via a quiz app) to Cambridge Analytica, a political consulting firm hired by the Trump campaign. Cambridge Analytica's goal was to create psychographic voting profiles. While there's no definitive connection between Cambridge Analytica and Russia, the precedent set by CA and their illegal exploitation of Facebook is a frightening one. If a private company is collecting data on citizens, it's a pretty safe bet that governments around the world are doing the same. While the Democratic Party's Russophobia is definitely a reaction to losing in 2016 more than anything else, but it accidentally shed light on an important issue: our data isn't safe, and with recent improvements AI and voice recognition software, we'll soon have the technology to not only create comprehensive individual psych profiles, but to tailor campaigns to individual voters.
Obviously companies like Google and Facebook have large stores of internal data, and they've certainly been amenable to
selling it
, but academic researchers (like Kogan) also have large data caches. Behavioral psychologists use Facebook in studies all the time, and the academic world isn't particularly well-known for its cyber security. Even in the event that these databases aren't hacked, there's nothing to prevent a researcher from
selling their findings
after their study is complete. The quick fix is to let Facebook block third parties from collecting data on its users, and for its part, Facebook has done just that. They've begun
blocking apps
from collecting information, and have also limited the number of researchers allowed to look at data on the site. Only academics researching political elections through the lens of social media are
permitted to apply
for access to Facebook's database.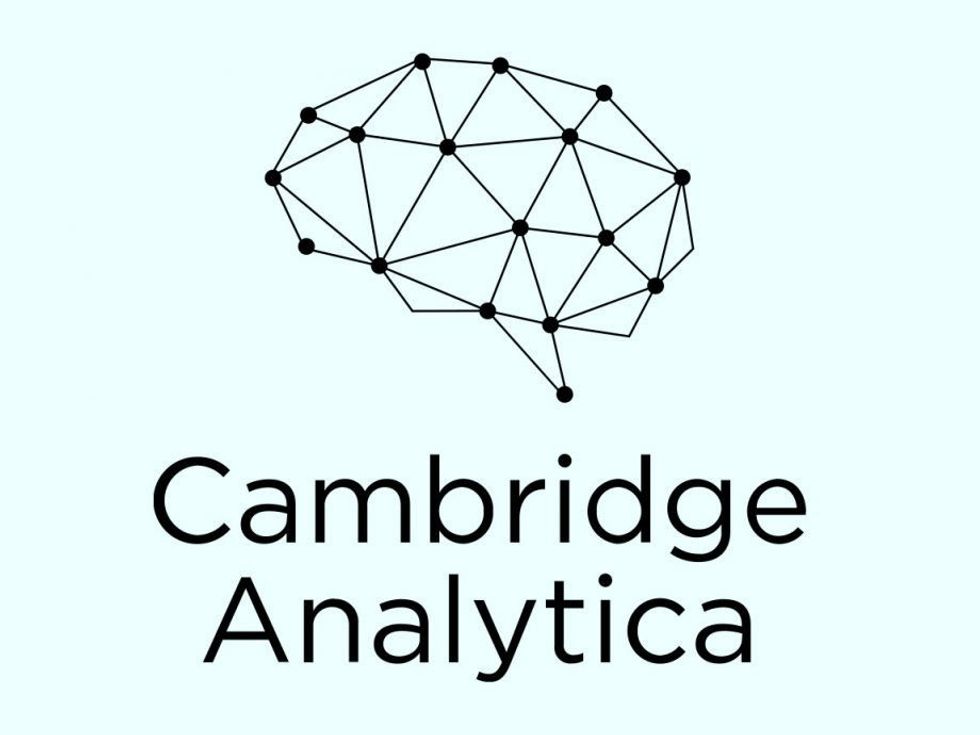 Cambridge Analytica
At a glance, these robust safety measures are a breath of fresh air. It isn't often that a tech company is so committed to its customers' privacy. That said, when things look too good to be true, they usually are. If Facebook continues its path to prohibition, "only Facebook will really know very much about how Facebook actually operates and how people act on Facebook," warns Dr. Rasmus Kleis Nielsen of Oxford University. Sure, measures like these could protect data from outsiders, but it would also give a private company sole proprietorship over the most comprehensive database of human behaviors and tendencies ever created. Facebook would have even more sway over our local and national elections than it already does, and would gain a monopoly over 2 billion people's personal data. Essentially, Facebook could name its price. Because of the way the Internet works, there's no way to effectively protect our Facebook data without severely compromising our freedom. And even if we were to let Zuckerberg shut everyone out of Facebook's data vaults, this doesn't prevent other websites or services from collecting information on us. It doesn't make us any safer. Our sensitive information is freely available to anyone who knows how to access it.
As technology improves, it's going to become more and more difficult to tell what is and isn't fake news–whether or not that article you just read was an advertisement for Tide or some political campaign you weren't aware of. For better or worse, we've set out to map the entire spectrum of human behaviors. Eventually, marketing campaigns will be so advanced, so accurate in their mapping of our desires, we may forget that we ever had the capacity to think. Somewhere, the ghost of B.F. Skinner smiling.

Keep reading...
Show less
Even though some Millennials are almost forty, people are still bashing them.
Last year the New York Post ran an article about Millennials making up the largest portion of the American workforce, ignoring a glaringly obvious point: of course 22-37 year olds are the largest portion of the labor market; they're adults. In an effort to make a distinctly un-newsworthy article newsworthy, the Post settled on an old trope, pick on the Millennials. For its part, this article wasn't as bad as most. The author refrained from using words like "entitled" and "coddled" and "irresponsible," but there's still a certain connotation attached to the term Millennial, particularly in the way it pertains to work ethic and maturity. Repudiating a stereotype often doesn't have the desired effect; in fact, it has a tendency of validating the stereotyper.* That said, my editor's asked me to dissect the maelstrom of insults and unfair generalizations that surround my generation, so here it goes.
In order to parse the general themes of Millennial bashing from the tsunami of bull shit that's been thrown our way, it's important to acknowledge how it all started. In many ways, a lot of the Millennial-centric ire feels natural. Baby Boomers hated Gen Xers. WWII Vets were critical of Boomers. There's always been something decidedly adversarial about the relationship between a young generation and their parents. This is fine. It's one of the many growing pains associated with being a young professional. The strange thing is how long this anti-Millennial sentiment has lasted. Complaints about young folks usually stop before those young folks are forty.
One theory about Millennial bashing's longevity is that it's a symptom of the economic anxiety created by the financial crisis of 2008. Parents had already been lambasting Millennials for being entitled and not wanting to sacrifice their twenties to careers paths they weren't interested in and didn't respect. Boomers were more concerned with being pragmatic, while Millennials wanted to find meaning in their work. Naturally, this caused friction. Still, there was nothing out of the ordinary. At this point, Millennials were college and high school students.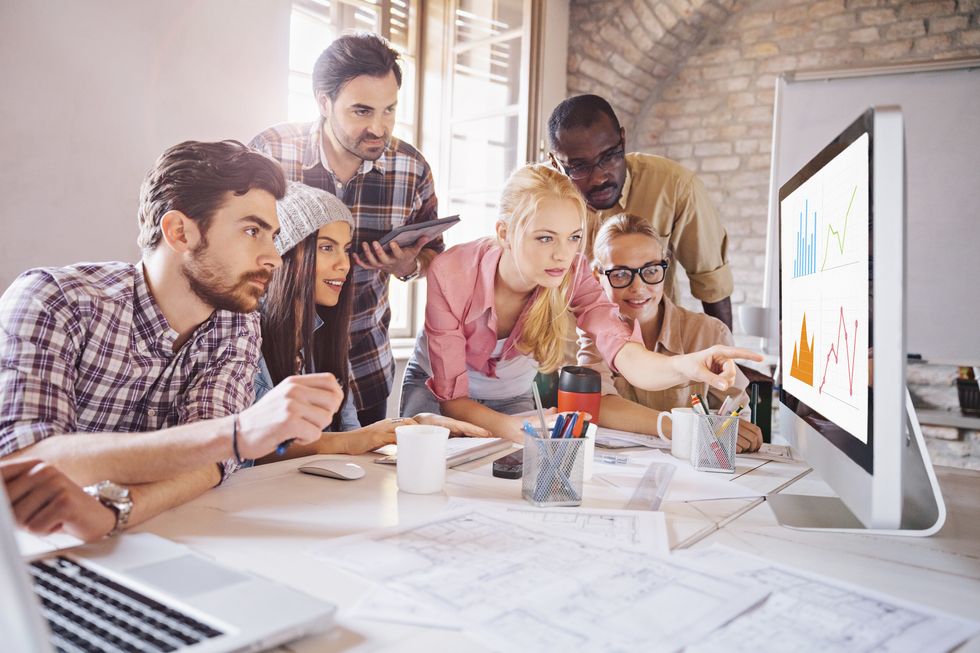 We're just gathering around a single computer monitor to check out some sweet graphs. You know, millennial stuff.
Following the Great Recession, however, this friction was compounded, as Boomers and Gen Xers everywhere lost pensions and 401ks, and their supposedly 'safe' jobs went up in smoke. When slapped in the face by reality, Boomers realized that sacrificing the best years of their lives to jobs they hated yielded very few tangible results. They were understandably upset. There's plenty of pop psychology out there that'll tell you people hate being wrong, but when by virtue of being wrong, their entire life is called into question, something interesting happens. Back in the 50s, a study was done on a doomsday cult in Chicago. The cult predicted that a massive flood would destroy the West Coast of the United States and that flying saucers would rescue the chosen believers before the cataclysm struck. Obviously, it never happened. Strangely, after the prophecy failed, rather than admitting they'd been duped, folks in the cult doubled down on their beliefs, assuming that their prayers had been answered by God and that he decided to spare the planet on their behalf.
Applying similar logic, Boomers, rather than admitting that the system they'd bought into wasn't really looking out for their best interest, doubled down, intensifying their rhetoric against lazy and entitled Millennials. Inasmuch as all invectives are projections of a speaker's insecurities, Boomers and Gen Xers are really saying one of two things when they blindly lash out. One: they made the wrong choices when they were young, and feel they missed The Road Not Taken. Two: they feel that they didn't work hard enough to inoculate themselves from the effects of our failing economy. The former is sad. The latter is terrifying.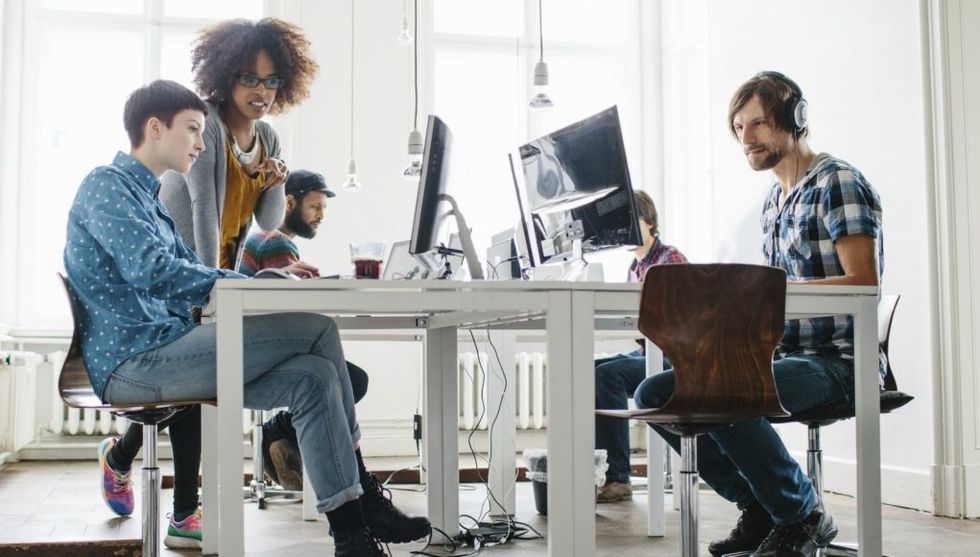 Millennials don't care about dressing up for work.
Another way to look at this issue is via the lens of corporate America. As pointed out by Tucker Max**, the corporate formula is simple: sacrifice youth in exchange for status and financial security. The problem is, status is only worthwhile if people believe in the power structures it's attached to. Money certainly still commands respect, but middle managers aren't exactly rolling in it. With this in mind, it's easy to look at Boomers' Millennial fixation as an obsession with preserving the status quo (pun intended). In their world, being respected can feel like the end all be all of adult life. If Millennials don't buy into the existing systems of power, then the prestige Boomers have strived for is meaningless.
There's always a disconnect between generations, but the way in which Millennials have been used as scapegoats for economic issues is beyond the pale. Many of us own homes and have families already. Some of us are prominent business owners. If 1996 is a strict cutoff, then this coming school year will be the last college graduating class primarily comprised of Millennials. We're adults, in every sense of the word. Still, the stereotypes attached to Millennials have persisted, and while I've discussed the hows and whys, I haven't directly addressed the crimes my generation is accused of.
Here's a shortlist of refutations:
-Millennials are not as addicted to their phones as Boomers and Gen Xers.
-Millennials do not want participation trophies. Those were invented to coddle and reassure parents that their children are special. I have a box of them at home. They mean nothing to me.
-Every generation since the Boomers has been called "The Me Generation."
-Millennials aren't stupid. They're the most educated generation ever. Full stop.
-Millennials aren't lazy or entitled. We just won't work for less than what we're worth. Anyone who thinks refusing to work for free is an entitlement, has no spine.
-Our debt is not due to a lack of fiscal responsibility. Boomers destroyed the economy, and we're shouldering 1.2 trillion dollars in student debt because we were taught that higher education is a prerequisite to success in this country.
---
* This is because discourse is predicated on the idea that each side of an argument has merit. A potential side effect of debate, however, is the creation of a neutral center, a nebulous region in which values from either end of the discussion are combined and redefined ad infinitum. Often, the center is painted as the domain of the rational thinker, the one who can clearly see both sides of an argument. The problem is, in a debate with, say, a neo-nazi, the center must by this definition, at least partially endorse certain ethno-fascist ideals. In this way, the creation of an ideological middle ground always benefits the more radical opinion.

**Listen...I know. I didn't see the author until after I read the article, but it makes some pretty good points. Yes, his books are still bad.
---
Matt Clibanoff is a writer and editor based in New York City who covers music, politics, sports and pop culture. His editorial work can be found in Inked Magazine, Popdust, The Liberty Project, and All Things Go. His fiction has been published in Forth Magazine. -- Find Matt at his website and on Twitter: @mattclibanoff
Keep reading...
Show less