Dall-E Mini, the AI-powered text-to-image generator has taken over the internet. With its ability to render nearly anything your meme-loving heart desires, anyone can make their dreams come true.
DALL-E 2, a portmanteau of Salvador Dali, the surrealist and Wall-E, the Pixar robot, was created by OpenAI and is not widely available; it creates far cleaner imagery and was recently used to launch Cosmpolitan's first AI-generated cover. The art world has been one of the first industries to truly embrace AI.
The open-sourced miniature version is what's responsible for the memes. Programmer Boris Dayma wants to make AI more accessible; he built the Dall-E Mini program as part of a competition held by Google and an AI community called Hugging Face.
And with great technology, comes great memes. Typing a short phrase into Dall-E Mini will manifest 9 different amalgamations, theoretically shaping into reality the strange images you've conjured. Its popularity leads to too much traffic, often resulting in an error that can be fixed by refreshing the page or trying again later.
If you want to be a part of the creation of AI-powered engines, it all starts with code. CodeAcademy explains that Dall-E Mini is a seq2seq model, "typically used in natural language processing (NLP) for things like translation and conversational modeling." CodeAcademy's Text Generation course will teach you how to utilize seq2seq, but they also offer opportunities to learn 14+ coding languages at your own pace.
You can choose the Machine Learning Specialist career path if you want to become a Data Scientist who develops these types of programs, but you can also choose courses by language, subject (what is cybersecurity?) or even skill - build a website with HTML, CSS, and more.
CodeAcademy offers many classes for free as well as a free trial; it's an invaluable resource for giving people of all experience levels the fundamentals they need to build the world they want to see.
As for Dall-E Mini, while some have opted to create beauty, most have opted for memes. Here are some of the internet's favorites:
There's no looking back now, not once you've seen Pugachu; artificial intelligence is here to stay.
Women of America—Trump wants you now only because he needs you. You will be quickly abandoned. We do not need him.
Trump's affinity for strippers shouldn't come as any surprise.
These days, watching Trump on television spirals me back into depression, anxiety, and feelings of powerlessness just as I felt years ago.
I remember one night in the early 90s at an upscale "Gentlemen's Club" in New York City's Upper East Side when Donald Trump visited. A buzz permeated the dressing room as strippers hurried to prep and primp themselves. I had no desire to try to get near Trump while he chose the women that met his standards. He would not have liked me—a stripper with an attitude.
I remember the other strippers talking about how if he chose you for the backroom, you were rewarded handsomely. The club was packed; I saw Trump's hair-bubble bobbing up and down inside a sea of sequins and tassels.
He is the kind of man who thinks his wealth can plow over everything and everybody in its way. In a strip club, the Trumpers sit up tall, bark drink orders at waitresses and grab women's body parts as they please. Trumpers act entitled to treat strippers like garbage and talk crap about women in general. For the most part, strippers play along because they are there to make money and defending women's rights rarely goes over well with a drunk dude in a strip club.
FUN FACT: In an astonishingly sexist remark during a campaign rally yesterday, Trump pledged to women that if reele… https://t.co/mcOwsZHVUP

— Jon Cooper 🇺🇸 (@Jon Cooper 🇺🇸) 1603883343.0
And now Trump is trying to woo women? Like he's got our back and knows what we want? I am now one of those suburban middle-aged women whose vote he is begging for, but I do not have a husband who needs to get back to work. I am divorced with three children. What about me? What about the women you picked like cows at an auction from the stage at Score's? Do you remember us? Because we remember you.

Trump is every customer who flaunted his wealth in strippers' faces and acted as if that meant we should bow down to him, and that is exactly what Donald Trump is trying to do to the world—turn us all into his harem.
He brags about his wealth and takes no shame in admitting that all he cares about is his family and his well-being. He does not care about others, just as the customers who came to me in the strip clubs only cared about their sexual satisfaction. They didn't care about how they hurt me with names they would lob at me when I was not the woman they wished me to be.
Whenever I tried to talk back and stand up for myself, I was talked over, ridiculed in front of a room full of men.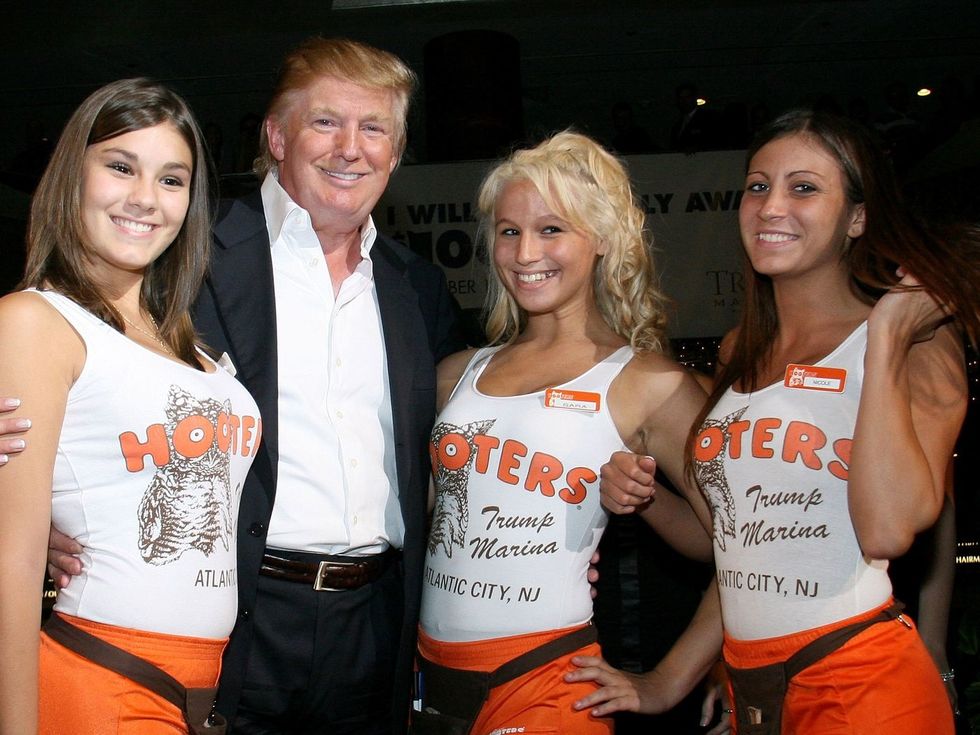 Donald Trump with young Hooters girls.Vox / Getty
And now we have this strip club male attitude being encouraged all over our country by Trump. We see men and media who look up to him, because they wish they could be so rich and powerful that they could stand up and be so sure of themselves.

When I was younger, I did not go begging at Trump's table, but I also didn't do anything to change the problem. I felt powerless at the time.
That so many Americans find Donald Trump palatable to be president at all confirms to me that many people continue to want to live in a strip club version of the world, believing that women are only there to serve their needs and desires, and if and when we step out of those boundaries, we become less than human to them.
Trump continues to wave those dollar bills in front of us in hopes we will dance naked onstage.
If Trump applied for a job with any company in the US, HR would deny his hiring. 26 sexual assault allegations, 6 b… https://t.co/eddIhIdLUz

— Steve Kerr (@Steve Kerr) 1603918199.0
He's not promising us that money. He's only dangling it like a carrot, drawing us in so that he can puff up his own power and make himself larger because he will never be satisfied.

I was once powerless, voiceless and scared. I did not have enough money and I felt a need to do things I didn't want to do. I danced after that magical dollar bill. I allowed customers to call me the kinds of names that Trump throws around.
The strip club belief gives men space to see women just as a means to an end. Trump is trying to perpetuate that atmosphere in the greater world, where anybody in power can say anything about anyone with no repercussions.
I have my voice now, and this country is not a Gentlemen's Club. I am no longer begging for money; I am standing on a different platform and saying, I get to choose now, with my vote.
Women voters of America: President Trump wants you now only because he needs you. You will be quickly abandoned. We do not need him. Do not let his many misdeeds toward women go unanswered.
Use your voice. Use your vote.
Tell him this strip club is closed.
The Women Accusing Trump of Assault Are Speaking Out youtu.be
Keep reading...
Show less
Time's Up, one of the largest organizations fighting against sexual assault, says they can't help the alleged victim.
Content warning: the following article contains a brief depiction of sexual assault.

For the entirety of his run in the 2020 presidential race (and much of his decades-long career), Joe Biden hasn't had the best track record regarding his treatment of women.
The former vice president, who's earned a shocking lead in the Democratic primaries thus far, has racked up multiple accusations from women who say he was inappropriate towards them. Many of these recounts involve a disregard for personal space, improper comments about appearance, and even some condescending finger-wagging, but none of them explicitly depicted a sexual assault. Until now.
Tara Reade didn't initially go public with her sexual assault story about Joe Biden when it allegedly occurred in 1993. A staff assistant of Biden's at the time, Reade told her brother and close friend but otherwise kept her story silent. But, in an episode recently aired of Katie Halper's podcast, Reade has finally let her story out in the world.
Reade says that she was called to bring a gym bag to Biden, who was Chair of the Senate Judiciary Committee at the time, near the Capitol. Nobody else was around. "We were alone, and it was the strangest thing," Reade said. "There was no exchange, really. He just had me up against the wall." In what seemed like one swift motion, she added, Biden had his hands under her clothes and then began penetrating her digitally. "I pulled back, and he said, 'Come on, man, I heard you liked me'...It's like he implied that I had done this."
Reade tried to come forward with her story in April 2019, but she was halted after her claims of sexual harassment got her doxxed and smeared as a Russian agent. In January of this year, Reade tried again telling her story to Time's Up, the organization that rose as Hollywood's initial #MeToo movement unfolded. However, as Ryan Grim reports in The Intercept, Time's Up couldn't provide assistance "because Biden was a candidate for federal office, and assisting a case against him, Time's Up said, could jeopardize the organization's nonprofit status."
Reade told Grim she was conflicted about coming forward with her sexual assault allegation as the 2020 election carried on because she feared she'd be "help[ing] Trump" win over Biden. But, if our two presidential front-runners are both men accused of sexual assault, and one of the largest organizations intended to help survivors can't help at all, there's a much larger issue than simply defeating Trump: It's how we handle assault at the hands of the world's most powerful men.
This incident reportedly took place during Kavanaugh's Freshman year at Yale University.
Brett Kavanaugh and The White House have publicly denied a second woman's claims of sexual misconduct by the Supreme Court nominee. This allegation comes in the wake of negotiators reaching a decision to hold a hearing to investigate the claims of Kavanaugh's first accuser, Christine Blasey Ford. In light of the new accusation, the top Democrat on the senate judiciary committee, California Sen. Dianne Feinstein, called for immediate postponement of Kavanaugh's confirmation process. In a letter to Iowa Republican Sen. Chuck Grassley., Sen. Feinstein asked that the matter be referred to the FBI for investigation.
The new allegation dates back to the 1983-84 school year, when Kavanaugh was a freshman at Yale University. Deborah Ramirez, Kavanaugh's classmate at Yale at the time, was contacted by The New Yorker after the allegation was relayed to Democratic senators by a civil-rights lawyer. She was originally reluctant to share the story, in part because she had been drinking at the party in question and felt she had some gaps in her memory of the night. After several days of assessing her recollection with her attorney, she said she felt certain enough of the memory to describe it in an interview with The New Yorker.
The New Yorker reports, "Kavanaugh had exposed himself at a drunken dormitory party, thrust his penis in her face, and caused her to touch it without her consent as she pushed him away."
Ramirez recalled being shaken by the event. "I wasn't going to touch a penis until I was married," she said. "I was embarrassed and ashamed and humiliated." The New Yorker reported that Ramirez "...remembers Kavanaugh standing to her right and laughing, pulling up his pants. 'Brett was laughing.' she said. 'I can still see his face, and his hips coming forward, like when you pull up your pants.'" She also stated that another student "yelled down the hall, 'Brett Kavanaugh just put his penis in Debbie's face.'" She remarked, "It was his full name. I don't think it was just 'Brett.' And I remember hearing and being mortified that this was out there."
Regarding the incident, Ramirez said, "I would think an FBI investigation would be warranted."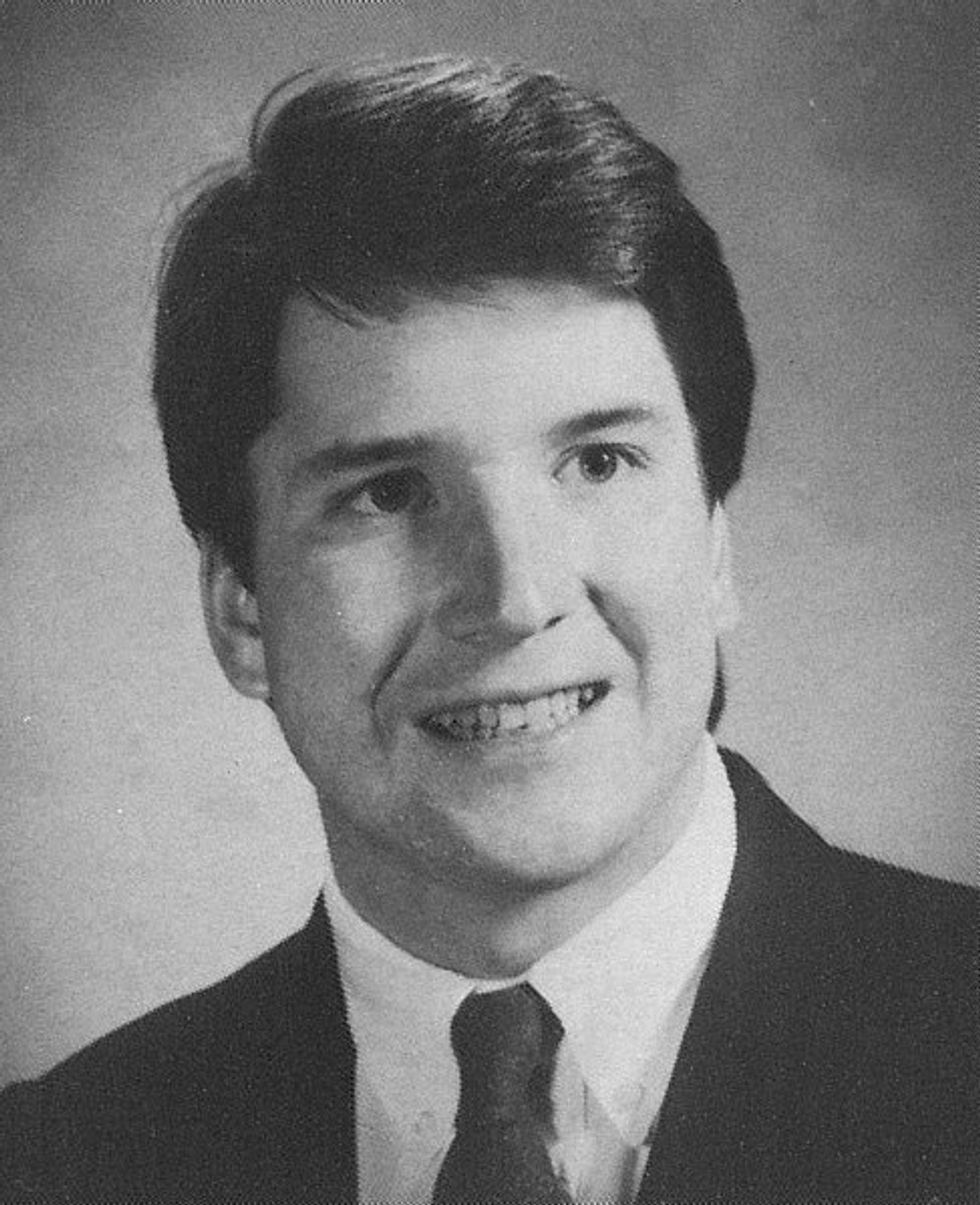 Brett Kavanaugh in the Yale Yearbookwhitehouse.gov
In response to Ramirez's allegation, the White House spokesperson Kerri Kupec stated, "This 35-year-old, uncorroborated claim is the latest in a coordinated smear campaign by the Democrats designed to tear down a good man. This claim is denied by all who were said to be present and is wholly inconsistent with what many women and men who knew Judge Kavanaugh at the time in college say. The White House stands firmly behind Judge Kavanaugh."

It has been confirmed that four Democratic senators have received information about Ramirez's allegation, and at least two are investigating the matter further. Ramirez will not be appearing at Kavanaugh's hearing on Thursday.
---
Brooke Ivey Johnson is a Brooklyn based writer, playwright, and human woman. To read more of her work visit her blog or follow her twitter @BrookeIJohnson.
Amidst the chaos of confirmation, the real force behind right-wing policy is going unnoticed
When a storm hits, it can be difficult to remember everything that came before. After the revelations of the past week regarding allegations of sexual assault against Supreme Court nominee Brett M. Kavanaugh, the relative calm that was the previous months of the confirmation process seem like hazy half-memories. Yet, in light of where the political gaze of the nation now finds itself directed, perhaps it's time to ask, in the spirit of The Talking Heads, "How did we get here?" How did a man accused of sexual assault end up receiving a lifetime nomination to one of the most powerful institutions in America? Answering that question will require traversing the interconnected and exclusive ranges of the right-wing political machinery, where dark money and faceless groups lay their hands on the scales of our civic life. Yet, in the end, the question of how we got here is one with a relatively simple answer and one that strikes at the heart of a vast range of the illnesses that seem to be ravaging the body politic. We are here, and we are here with Brett Kavanaugh because a small group of wealthy people wanted us to be.
On July 9th in the East Room of the White House, Judge Brett M. Kavanaugh of the D.C. Circuit was officially unveiled as President Trump's nominee to the Supreme Court. It was a sedated Trump who showed up to emcee the big reveal that day –– the incarnation of the 45th President who is shuffled out to read a script at grand occasions of state such as this, lest his free-wheeling, ad-libbing alter-ego debase the few civic rituals that have survived his first year in office. Trump dutifully sang Kavanaugh's praises: "Judge Kavanaugh has impeccable credentials, unsurpassed qualifications and a proven commitment to equal justice under the law," he assured the American people, squinting into the light of the teleprompter. His detachment seemed palpable, but not in the way that repeating the kind of boilerplate political language that comes so unnaturally to him usually appears. This was the detachment of a man uninvested in the grand spectacle of tension, power, and pomp that surrounded him, and, in a simpler previous life, would have been his to conduct. This was Donald Trump, trapped hosting a reality show he wasn't controlling, put on by producers he despises; a show where the contestants were pre-selected and the winner decided in advance.
Prior to the upending effect of the public disclosure of the sexual assault allegations levied at Judge Kavanaugh by Christine Blasey Ford (the consequences of which, at time of writing, are yet to be fully borne out), the confirmation hearings had been mostly marked by the kind of aesthetic grandstanding that has come to form the majority of our contemporary political discourse. This was particularly true of the contribution of the Democrats on the Judiciary Committee, who struggled to form a single substantive counter-argument against what had appeared to be a confirmation secured on the strength of a brute mathematical reality. Despite bouts of laser-sharp questioning from Kamala Harris on women's rights and Mazie Hirono on the judge's view on Native Americans, as well as slightly less laser-sharp bouts of Cory Booker tweeting links to his Dropbox account, asserting, in the guise of a liberal Alex Jones, that he "has the documents", the broad Democratic counter-argument during the confirmation hearings was a simple one. Brett Kavanaugh is Donald Trump's justice, and, as Donald Trump is bad, he should be denied confirmation on account of being bad.
Yet, looking at the breadth of the Democrats' campaign against Kavanaugh's nomination, one can't help but think that the bulk of their strategy would not have changed regardless of who won this season of The Judicial Apprentice, as though there were already a hymn sheet prepared for everyone to sing from with a space to write the name of whoever was eventually nominated. The plan until the recent revelations appears to have been to attack Kavanaugh as an extension of Trump personally, rather than as someone who poses a specific and pressing threat to certain ideals. That one-size-fits-all communications strategy was made a little too publicly apparent immediately after the East Room unveiling when, in the proud Democratic tradition of reliable competence, the DNC tweeted out a rousing call to #StopKavanaugh that made one small error: the picture of the judge they used was of Thomas Hardiman (another rumored candidate for the seat). Yet, perhaps the Democrats can be forgiven for approaching Kavanaugh as a factory-made, hard-right jurist because, in fact, that's exactly what he is.
In early 2016 –– a time that now seems to belong to another political epoch –– then-candidate Donald Trump took the unusual step of publishing a list of his potential Supreme Court picks. The list, which, at the time, appeared unlikely to ever actually become relevant, was designed by then-campaign lawyer Don McGahn to assure the right-wing establishment that his ideologically erratic candidate could be relied upon to deliver them a justice who would swing the court in their preferred direction for generations. After the election, the list made the seamless transition from speculative fiction to official White House policy, as Neil Gorsuch jumped from paper to robe under the careful guidance of now White House counsel McGahn and became the newest Associate Justice of the Supreme Court. The rest of the names on the list; which included DNC-canon justice Hardiman, evangelical Catholic cult aficionado Amy Coney Barrett, William Pryor –– a man who thinks that decriminalizing homosexuality was made a bit too hastily, as well as Kavanaugh, could not have been more palatable to the conservative donor base if they'd written it themselves. This is probably because, essentially, they did.
The Federalist Society, founded in 1982 at the height of the Reagan-era conservative fever dream, is a network of lawyers and jurists who work to combat the perceived 'liberal' tendencies of America's judicial system. They advocate the so-called 'originalist' and 'textualist' approaches to jurisprudence most famously espoused by former Supreme Court Justice Antonin Scalia, the product of an ill-fated crossover between the Scarlet Letter and The Sopranos whose most famous contributions to the judicial corpus involved compromising the ability of states to regulate firearms and enshrining the rights of corporations to spend unlimited, unaccountable sums of money to influence elections. The group is backed by the kind of people one would expect would be interested in enshrining a judicial philosophy that can essentially be boiled down to 'Mad Max, but the NFL is still on'; the Koch brothers, Exxon Mobil, Google, and the Knights of Columbus are all donors. It should come as no surprise then that the Federalist Society Executive Vice President Leonard Leo was the co-author of Trump's Supreme Court list, and that the shadowy organization has been one of the strongest lobbyists in Congress for both Gorsuch and Kavanaugh's confirmations.
In many ways, the establishment of the Republican party has gotten away with their role in enabling the Trump Presidency –– whether it be the donors like Islamophobic blob-fish Sheldon Adelson, who so quickly moved to pour resources into his campaign after condemning his lack of support for Israel; or the #NeverTrumpers like Jeff Flake, who has made himself a CNN-ebrity by shouting "how dare you, sir!" at the President on the floor of the Senate before sitting down and voting 83% of the time for his policies. For these people, the litany of horrors unleashed by the Trump administration is either their stated policy goals or acceptable casualties. Their primary objections to Trump are largely aesthetic –– they worry that the President's propensity for free-association bigotry is saying the quiet part of their ideology loud in a way that might attract undue attention and resistance. Yet they endure it and will continue to endure it for however long the President remains in office because he has signed up to give a life appointment to those who whistle at a much less audible pitch.
Brett Kavanaugh is the apotheosis of the right-wing, corporatist establishment's vision of a justice. In his confirmation hearings, he gave answers to direct questions that were so evasive they were practically quantum. He replied that he "could not provide his views" 53 times to written questions, providing a rationale of response that seemed to be limitless only in defining what he was not, not what he is. This is all that The Federalist Society and their boosters in Congress and the business world desired. Trump could morph into a cloud of sarin and visit a playground so long as their ideological aim of pushing the Supreme Court to the right is achieved, and so they have instituted a system that has ensured they have complete control over the trajectory of that process. This is the mechanism that resulted in such an inanimate Trump appearing in the East Room that day, a mechanism with one singular focus –– to place in the President's hand a cue card with "Brett Kavanaugh" written in big bold type. Considering the subsequent trajectory of the confirmation process, perhaps Donald Trump is glad he didn't take that producer's credit.
Seamus McGuigan is a writer and academic studying Critical Theory and Comparative Literature at NYU. Find him on Twitter: @seamusmcguigan.
Keep reading...
Show less
Volunteers look to change the world but the agency's practices have been debated for decades
In February 2013, 23-year-old Peace Corps volunteer Nick Castle died in a hospital at West China Hospital of Sichuan University of a gastrointestinal illness. He had fallen into a coma after feeling sick for months, losing weight and, finally, collapsing in Chengdu, the capital of the Sichuan province. Carrie Hessler-Radelet, the director of the Peace Corps in 2013, told the New York Times that the agency had been examining and revising its entire practice since the death of another volunteer in Morocco in 2009.
Deaths in the Peace Corps are not frequent, but they rightly call into question the program's training processes, medical resources, and the security of volunteers.
The physician who treated Castle, Dr. Jin Gao, became the center of a report by the Corps' inspector general about miscommunication and delayed reactions in the agency's healthcare system that might have led to the volunteer's death. Though the report didn't blame the Peace Corps for the man's death, it revealed inefficiencies and errors made by the doctor and others (including the ambulance getting lost on the way to pick up Castle) that added to concerns about volunteer welfare.
Many testimonies—positive and negative—reached reporters following the death. Chance Dorland, a volunteer in Columbia, said, "I was forced to leave my site . . . early because I was made sick by the inadequate and unprofessional medical care the Peace Corps offered its volunteers." Nancy Tongue, founder and director of Health Justice for Peace Corps Volunteers, wrote that a sick volunteer carries the "burden of proof." She expects volunteers who maintain a successful claim to be left "living slightly above poverty level regardless of prior earnings," waiting months or years for proper treatment or attention.
The Peace Corps has also been criticized for failing to keep its volunteers safe. In 2007, Juan Duntugan, a Filipino woodcarver, confessed to killing Julia Campbell because she had bumped into him while he was enraged by a fight with a neighbor. The organization cannot possibly guarantee the safety of its thousands of volunteers in hundreds of countries around the world but it can better prepare them and be more transparent about the dangers they might face.
It can also offer better mental health services. During the application process, the Peace Corps might require, from a person who has a mental illness, letters from mental health professionals, clearance from a psychologist, and participation in a sort of exam. "Transition can often be one of the biggest triggers for mental health issues," writes Ross Szabo, a former volunteer. Even in people not diagnosed with a specific mental illness, adjusting to life among strangers in another country can be massively stressful. And the pressure to succeed can make a difficult situation unmanageable. Another former volunteer, Emily Best, ended her stay in Senegal in 2012 after a year of frustration. She writes, "The onus of success seemed to be placed solely on the volunteer. If the volunteer struggles, it's because she isn't trying hard enough to adapt."
Some volunteers have struggled with a lack of education after being handed a project in an unfamiliar field or with too little training. Kelli Donley returned home from her agricultural posting after only five months because, she realized, "the audacity of my arrogance in assuming that this time abroad would do Cameroon any good was apparent on Day 1." Benjamin Clark was sent to Senegal as a 23-year-old with a graduate school degree. "I taught them a little about accounting and some basic math," he writes, "but my real value was being one extra person to hold a shovel." He thinks of the Peace Corps as a cultural exchange program more than an international aid group.
The loudest controversy for the Peace Corps in recent years has been their alleged mishandling of rape and sexual assault. On average, twenty-two female volunteers reported being raped or being victims of attempts between 2000 and 2009. In 2016, the percentage of women who said they've been sexually assaulted rose to 38%.
Danae Smith was attacked in the Dominican Republic and reported it to the Peace Corps in 2015. The Corps responded by blaming her for not doing enough to prevent it from happening. They sent her home immediately afterward. The U.S. Office of Special Counsel wants better training for host families and other in-country workers, including fellow teachers and priests, who represent a significant percentage of the attackers.
The agency is also being asked to provide much better access to victim care, including medical treatment and counseling.
The Peace Corps has drawn criticism since its inception in 1961 for its actions and intentions as an international development organization. Some think that its goal is mainly to create a positive image of the U.S. despite the country's imperialistic military engagements. Others think of the Peace Corps, itself, as an imperialistic strategy, developing Western culture and planting American influence in impoverished regions around the world. Hayley White, a volunteer in Uganda, wrote that the Corps should work more closely with in-country social entrepreneurs than with nongovernmental organizations that are "often too indoctrinated in Western ideas of how things must be done."
It is difficult to separate imperialism from a foreign aid program such as the Peace Corps or WorldTeach. After all, how can a U.S. citizen, perhaps only recently graduated from college, and maybe on their first trip outside of the country, provide meaningful help to a foreign community based on any other system than the American one in which they grew up? Instead of ending the imperialism argument outright, this is a question that is worth answering as a step toward a solution.
This article has focused on the controversies that surround the Peace Corps not to debase the organization's mission, but because without the constant discussion of weaknesses and the incessant push to do better, these dangers will remain. Many volunteers who write about their unsatisfactory experiences maintain that the organization needs revision to do its work better, not to cease working altogether. The mission of the Peace Corps is important; therefore, it is important to ensure that its mission is carried out correctly and with care.
Keep reading...
Show less