Time's Up, one of the largest organizations fighting against sexual assault, says they can't help the alleged victim.
Content warning: the following article contains a brief depiction of sexual assault.

For the entirety of his run in the 2020 presidential race (and much of his decades-long career), Joe Biden hasn't had the best track record regarding his treatment of women.
The former vice president, who's earned a shocking lead in the Democratic primaries thus far, has racked up multiple accusations from women who say he was inappropriate towards them. Many of these recounts involve a disregard for personal space, improper comments about appearance, and even some condescending finger-wagging, but none of them explicitly depicted a sexual assault. Until now.
Tara Reade didn't initially go public with her sexual assault story about Joe Biden when it allegedly occurred in 1993. A staff assistant of Biden's at the time, Reade told her brother and close friend but otherwise kept her story silent. But, in an episode recently aired of Katie Halper's podcast, Reade has finally let her story out in the world.
Reade says that she was called to bring a gym bag to Biden, who was Chair of the Senate Judiciary Committee at the time, near the Capitol. Nobody else was around. "We were alone, and it was the strangest thing," Reade said. "There was no exchange, really. He just had me up against the wall." In what seemed like one swift motion, she added, Biden had his hands under her clothes and then began penetrating her digitally. "I pulled back, and he said, 'Come on, man, I heard you liked me'...It's like he implied that I had done this."
Reade tried to come forward with her story in April 2019, but she was halted after her claims of sexual harassment got her doxxed and smeared as a Russian agent. In January of this year, Reade tried again telling her story to Time's Up, the organization that rose as Hollywood's initial #MeToo movement unfolded. However, as Ryan Grim reports in The Intercept, Time's Up couldn't provide assistance "because Biden was a candidate for federal office, and assisting a case against him, Time's Up said, could jeopardize the organization's nonprofit status."
Reade told Grim she was conflicted about coming forward with her sexual assault allegation as the 2020 election carried on because she feared she'd be "help[ing] Trump" win over Biden. But, if our two presidential front-runners are both men accused of sexual assault, and one of the largest organizations intended to help survivors can't help at all, there's a much larger issue than simply defeating Trump: It's how we handle assault at the hands of the world's most powerful men.
This incident reportedly took place during Kavanaugh's Freshman year at Yale University.
Brett Kavanaugh and The White House have publicly denied a second woman's claims of sexual misconduct by the Supreme Court nominee. This allegation comes in the wake of negotiators reaching a decision to hold a hearing to investigate the claims of Kavanaugh's first accuser, Christine Blasey Ford. In light of the new accusation, the top Democrat on the senate judiciary committee, California Sen. Dianne Feinstein, called for immediate postponement of Kavanaugh's confirmation process. In a letter to Iowa Republican Sen. Chuck Grassley., Sen. Feinstein asked that the matter be referred to the FBI for investigation.
The new allegation dates back to the 1983-84 school year, when Kavanaugh was a freshman at Yale University. Deborah Ramirez, Kavanaugh's classmate at Yale at the time, was contacted by The New Yorker after the allegation was relayed to Democratic senators by a civil-rights lawyer. She was originally reluctant to share the story, in part because she had been drinking at the party in question and felt she had some gaps in her memory of the night. After several days of assessing her recollection with her attorney, she said she felt certain enough of the memory to describe it in an interview with The New Yorker.
The New Yorker reports, "Kavanaugh had exposed himself at a drunken dormitory party, thrust his penis in her face, and caused her to touch it without her consent as she pushed him away."
Ramirez recalled being shaken by the event. "I wasn't going to touch a penis until I was married," she said. "I was embarrassed and ashamed and humiliated." The New Yorker reported that Ramirez "...remembers Kavanaugh standing to her right and laughing, pulling up his pants. 'Brett was laughing.' she said. 'I can still see his face, and his hips coming forward, like when you pull up your pants.'" She also stated that another student "yelled down the hall, 'Brett Kavanaugh just put his penis in Debbie's face.'" She remarked, "It was his full name. I don't think it was just 'Brett.' And I remember hearing and being mortified that this was out there."
Regarding the incident, Ramirez said, "I would think an FBI investigation would be warranted."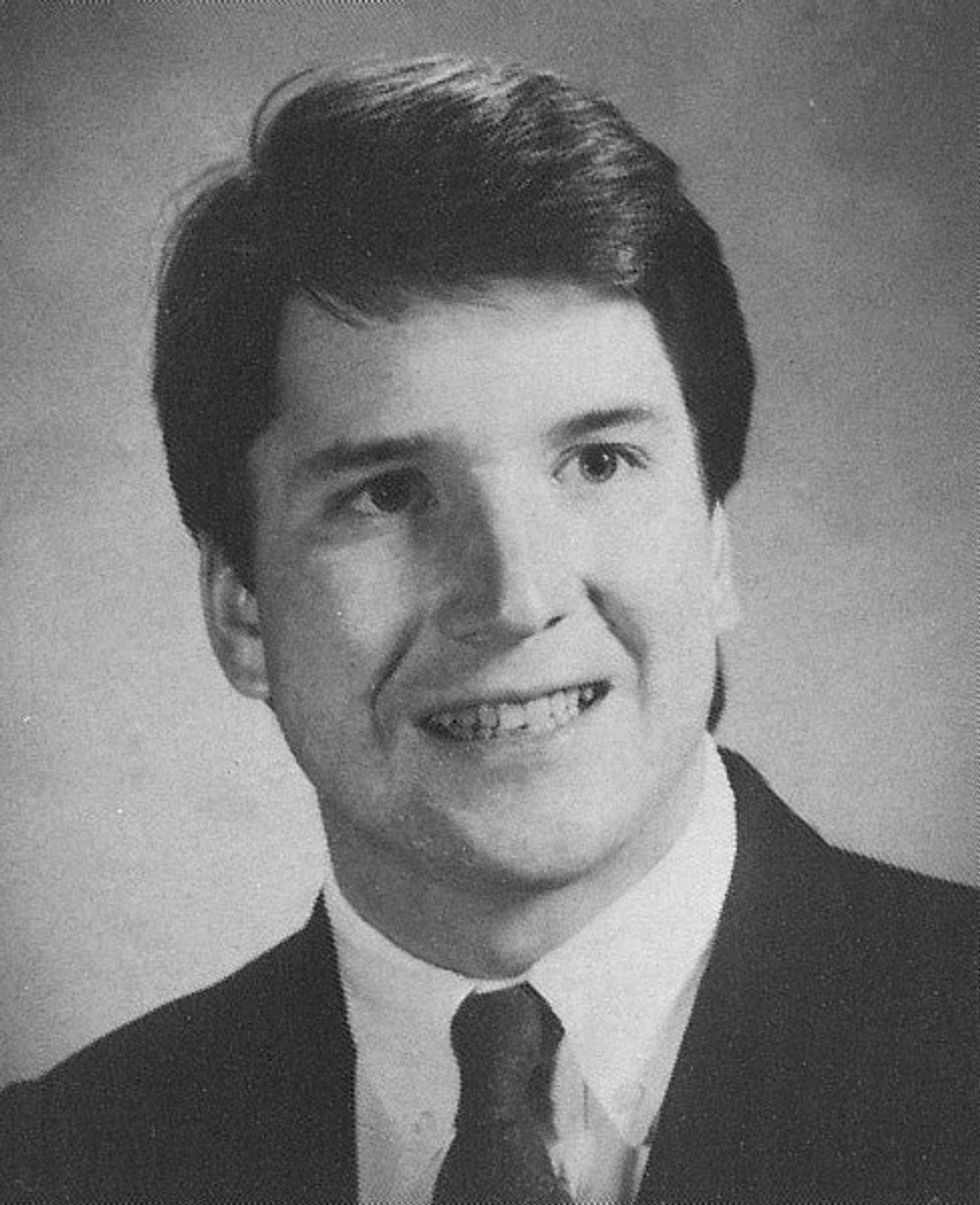 Brett Kavanaugh in the Yale Yearbookwhitehouse.gov
In response to Ramirez's allegation, the White House spokesperson Kerri Kupec stated, "This 35-year-old, uncorroborated claim is the latest in a coordinated smear campaign by the Democrats designed to tear down a good man. This claim is denied by all who were said to be present and is wholly inconsistent with what many women and men who knew Judge Kavanaugh at the time in college say. The White House stands firmly behind Judge Kavanaugh."

It has been confirmed that four Democratic senators have received information about Ramirez's allegation, and at least two are investigating the matter further. Ramirez will not be appearing at Kavanaugh's hearing on Thursday.
---
Brooke Ivey Johnson is a Brooklyn based writer, playwright, and human woman. To read more of her work visit her blog or follow her twitter @BrookeIJohnson.
Amidst the chaos of confirmation, the real force behind right-wing policy is going unnoticed
When a storm hits, it can be difficult to remember everything that came before. After the revelations of the past week regarding allegations of sexual assault against Supreme Court nominee Brett M. Kavanaugh, the relative calm that was the previous months of the confirmation process seem like hazy half-memories. Yet, in light of where the political gaze of the nation now finds itself directed, perhaps it's time to ask, in the spirit of The Talking Heads, "How did we get here?" How did a man accused of sexual assault end up receiving a lifetime nomination to one of the most powerful institutions in America? Answering that question will require traversing the interconnected and exclusive ranges of the right-wing political machinery, where dark money and faceless groups lay their hands on the scales of our civic life. Yet, in the end, the question of how we got here is one with a relatively simple answer and one that strikes at the heart of a vast range of the illnesses that seem to be ravaging the body politic. We are here, and we are here with Brett Kavanaugh because a small group of wealthy people wanted us to be.
Keep reading...
Show less
Volunteers look to change the world but the agency's practices have been debated for decades
In February 2013, 23-year-old Peace Corps volunteer Nick Castle died in a hospital at West China Hospital of Sichuan University of a gastrointestinal illness. He had fallen into a coma after feeling sick for months, losing weight and, finally, collapsing in Chengdu, the capital of the Sichuan province. Carrie Hessler-Radelet, the director of the Peace Corps in 2013, told the New York Times that the agency had been examining and revising its entire practice since the death of another volunteer in Morocco in 2009.
Deaths in the Peace Corps are not frequent, but they rightly call into question the program's training processes, medical resources, and the security of volunteers.
Keep reading...
Show less