"A tree is best measured when it is down," the poet Carl Sandburg once observed, "and so it is with people." The recent death of Harry Belafonte at the age of 96 has prompted many assessments of what this pioneering singer-actor-activist accomplished in a long and fruitful life.
Belafonte's career as a ground-breaking entertainer brought him substantial wealth and fame; according to Playbill magazine, "By 1959, he was the highest paid Black entertainer in the industry, appearing in raucously successful engagements in Las Vegas, New York, and Los Angeles." He scored on Broadway, winning a 1954 Tony for Best Featured Actor in a Musical – John Murray Anderson's Almanac. Belafonte was the first Black person to win the prestigious award. A 1960 television special, "Tonight with Belafonte," brought him an Emmy for Outstanding Performance in a Variety or Musical Program or Series, making him the first Black person to win that award. He found equal success in the recording studio, bringing Calypso music to the masses via such hits as "Day-O (The Banana Boat Song)" and "Jamaica Farewell."
Harry Belafonte - Day-O (The Banana Boat Song) (Live)www.youtube.com
Belafonte's blockbuster stardom is all the more remarkable for happening in a world plagued by virulent systemic racism. Though he never stopped performing, by the early 1960s he'd shifted his energies to the nascent Civil Right movement. He was a friend and adviser to the Reverend Doctor Martin Luther King, Jr. and, as the New York Times stated, Belafonte "put up much of the seed money to help start the Student Nonviolent Coordinating Committee and was one of the principal fund-raisers for that organization and Dr. King's Southern Christian Leadership Conference."
The Southern Poverty Law Center notes that "he helped launch one of Mississippi's first voter registration drives and provided funding for the Freedom Riders. His activism extended beyond the U.S. as he fought against apartheid alongside Nelson Mandela and Miriam Makeba, campaigned for Mandela's release from prison, and advocated for famine relief in Africa." And in 1987, he received an appointment to UNICEF as a goodwill ambassador.
Over a career spanning more than seventy years, Belafonte brought joy to millions of people. He also did something that is, perhaps, even greater: he fostered the hope that a better world for all could be created. And, by his example, demonstrated how we might go about bringing that world into existence.
There's still a long way to go for women's equality, but movements around the world are striving for progress.
Since 1987 March has been designated Women's History Month in the United States.
But since at least 1914, March 8th has been recognized as International Women's Day. Originally associated with movements pushing for women's suffrage, the meaning of March 8th changed in 1917 in Petrograd, Russia when female textile workers used the occasion to go on strike, demonstrating against the czarist system and their country's devastating involvement in World War I. It marked the beginning of the Russian Revolution.
It would be an understatement to say that women have always played a big role in pushing society forward. And the more of a role they've been able to wrestle from patriarchal control, the more they have been able to push for that progress.
With that in mind, let's take the occasion of Women's History Month and the recent celebration of International Women's Day to look at some major women's movements that are working to push the world forward in 2021.Polish women's rights protest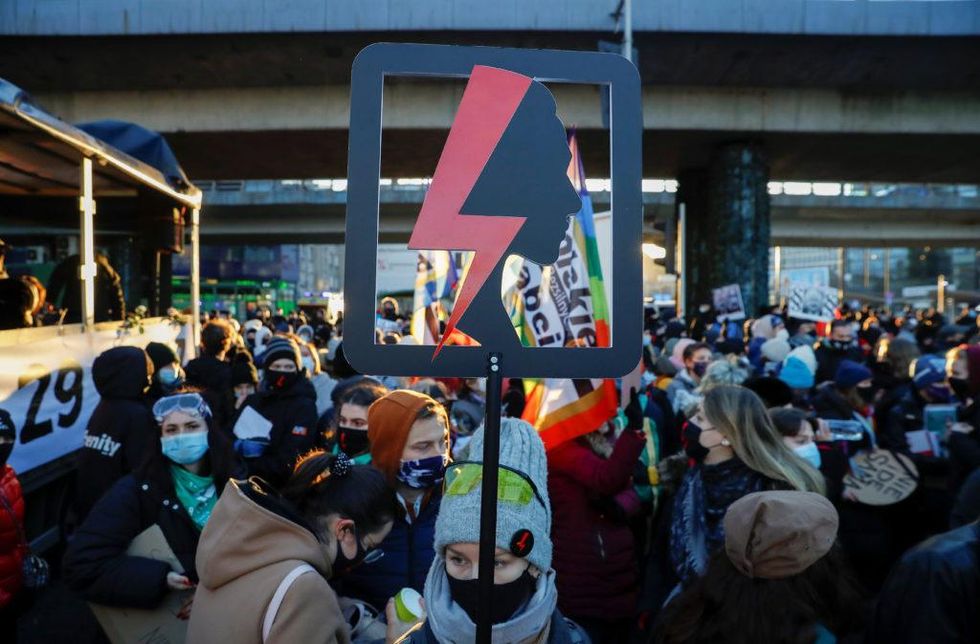 In January a ruling from Poland's Constitutional Court went into effect, labelling nearly all abortions in the predominantly Catholic country unconstitutional.

While there were already harsh restrictions placed on abortion access in Poland, 98% of legal abortions within Poland prior to this ruling were provided on the grounds of severe fetal abnormalities. Now the only legal instances for terminating a pregnancy are cases involving sexual assault and instances in which the mother's life is in danger.
The ban is unpopular among Polish citizens but is aligned with the interests of the Right-wing Law and Justice party, to which the members of the court are considered to be loyal. Since that time, thousands of women have taken part in the Women's Strike, taking to the streets of Warsaw to protest for their bodily autonomy and demand unfettered access to abortion services.
For International Women's Day, strike leaders organized a Women's Day Without Compromises Protest. As Klementyna Suchanow, one of the movement's leaders, put it: "We are under attack by religious radicals, and this is an international movement. So we women in different countries, we need to face it and fight against it. It's something that is happening to all of us: to Argentinians, to Americans, to Poles, to Croatians."
Mexico: Green Tide and a #MeToo Scandal
Mexico abortions: Pro-choice activists lead social media campaignwww.youtube.com
Speaking of Argentina and abortion, the recent passage of legislation legalizing abortion through the 14th week of pregnancy has sent ripples throughout Latin America. Calling themselves the Green Tide or the Green Wave, protesters in that country pushed politicians in Buenos Aires to acknowledge their rights and have become an inspiration for an expanding women's movement throughout the region.

In Mexico, that has included a protest movement pushing for improved abortion access, especially in the 30 states where it is currently subject to harsh restrictions — access is more available in Oaxaca and in the State of Mexico. But it has also melded with some other issues, including protests of President Andrés Manuel López Obrador's continued support of Félix Salgado Macedonio.
Salgado Macedonia is a candidate for governor of the state of Guerrero who has been accused of sexual misconduct and assault by at least five women in incidents spanning decades.
Iran: The Right to Leave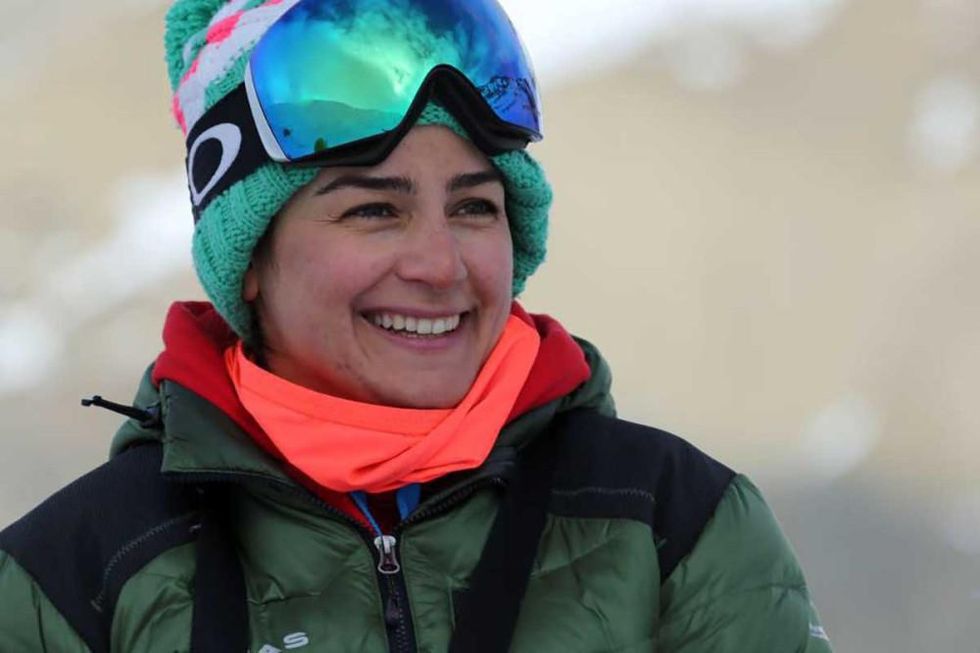 In recent years women have been a big part of protests in Iran. In addition to protest movements against various sexist social restrictions — like a dress code requiring women to wear head scarves in public — women were deeply involved in the bloody November 2019 protests, in which the government crackdown killed hundreds.

In recent weeks the story of alpine ski coach Samira Zargari — whose husband barred her from joining her team at the world championship in Italy last month — sparked a social media backlash, with women asserting that a husband should not be allowed to control their wives' travel and careers. An online petition to reform Iran's regulations on women leaving the country quickly amassed tens of thousands of signatures, amid a broader push to end the country's oppressive treatment of women.
Turkey: Violence Against Women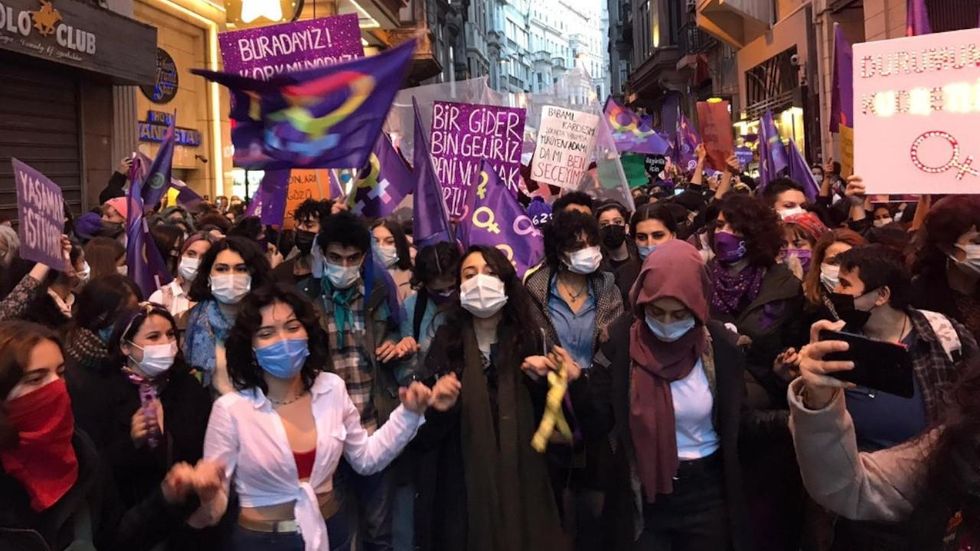 In Istanbul's Taksim Square in Turkey, around 1000 women gathered for International Women's Day, despite Erdogan's government shutting down public transit in the area. They were there to advocate for LGBTQ+ rights and to protest their government's lack of action to address violence against women.

The rate at which Turkish women have been murdered has reportedly doubled over the last decade. Many of these deaths involve domestic violence and "honor" killings that are often treated leniently by Turkish courts. As one protester Sumeyye Kose put it, "We are oppressed under the male power every day. Women's murderers are rewarded by not being punished."
Japan: A Voice for Women in Leadership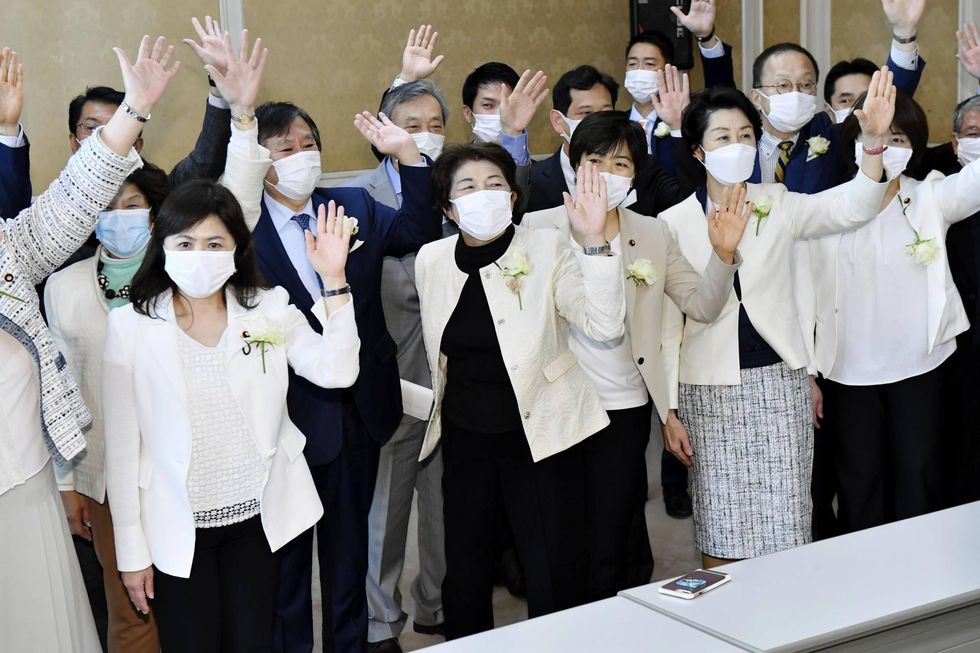 In 2020 the World Economic Forum ranked Japan 121st out of 153 countries in terms of gender parity. Women make up only about 10% of the membership of Japan's parliament — far lower than the underwhelming global average of 25-30% — and on average Japanese women earn about half as much as Japanese men.

Given this context, the outrage was particularly deserved when Yoshiro Mori — then chief of the Tokyo Olympic Organizing Committee — recently commented that meetings with women "drag on," claiming that women talk to0 much. Since then female lawmakers in Japan's Constitutional Democratic Party organized a demonstration against Mori, wearing white and donning white roses in homage to the American Suffragette movement of the early 20th century.
The display magnified the pressure on Mori, who was eventually forced to resign, but Japan clearly still has a long way to go. Not long after the scandal, Japan's ruling Liberal Democratic Party invited female lawmakers to sit in on meetings of its mostly-male board of directors — with the stipulation that those observers would not be allowed to talk...
On the Greek island of Lesvos, volunteers and refugees are facing violent attacks from locals.
Each day, dozens of refugees wash up on the shores of the Greek island of Lesvos. They come at all hours and from many different shores.
These refugees will be in the midst of dangerous journeys across the ocean, having fled their homes. Some come to the shores of Greece for a shot at a better life, but most come simply to survive.
One Border Falls, Another Closes
Last week, Idlib—one of the last rebel strongholds in Syria—began to crumble as Russian-backed airstrikes eviscerated its infrastructure. Surviving residents fled in huge numbers to the neighboring nation, Turkey.
Turkey has been shouldering the vast majority of the world's refugees since the worldwide crisis coalesced in the 2010s, and they currently host over three million refugees. Following Idlib's fall, Turkish president Recep Tayyip Erdoğan declared that Turkey's borders were officially open because his nation could no longer handle the flows of refugees rushing out of Idlib.
This action was in violation of a 2016 Turkey-EU deal, in which the EU promised $6 billion to Turkey in exchange for their closed borders (though Turkey has only received roughly $3.2 million, which is perhaps the cause of Erdoğan's violation).
Many of Turkey's migrant population, aided or pushed by Turkish police, immediately attempted to flee Turkey for Greece, embarking on a journey across the Aegean Sea. Across the nation, Greek citizens and law enforcement officials have reacted violently, greeting refugees with tear gas, water cannons, and brutal attacks. Millions of refugees are now in prison-like camps on Greece's borders; others are still at sea, blocked by government ships on both sides.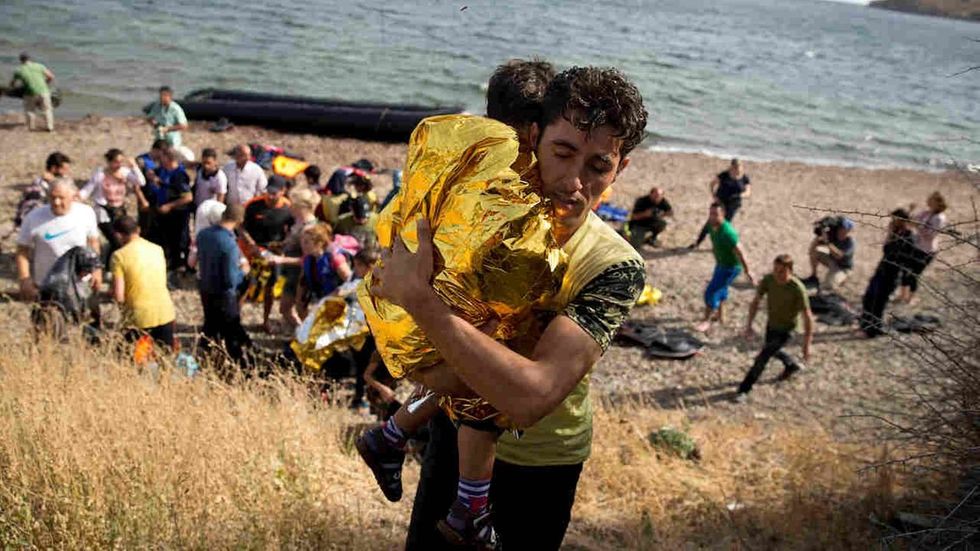 laoistoday.com
Lesvos: A Microcosm of a Macro-Disaster
The island of Lesvos has seen a particularly harsh fallout from these recent events. Since the news from Turkey broke, local islanders have launched huge protests, establishing roadblocks and patrols to prevent migrants from moving from the sea into the camps.
In February, seven Lesvos inhabitants were arrested for planning violent attacks on migrants; following Turkey's announcement, journalists and aid volunteers have been injured by locals, and warehouses containing supplies and donations have been burned. Many of the organizations providing life-saving resources to refugees have been forced to shut down, and locals have been forcing boats to turn away from the island, resulting in the death of at least one child.
A far-right neo-Nazi party known as the Golden Dawn, which may be gaining prominence on the island, may be behind some of these actions.
Crumbling Patience: Lesvos Takes Fallout from the Syrian War
Lesvos's inhabitants were once praised for the strength of their solidarity. The island is vast and full of empty stretches of land, and the makeshift camps only take up a tiny fraction of its dry mountainous areas; but lately, the influx of migrants from Turkey and the threat of new government-built migrant centers have catalyzed a new wave of xenophobic violence.
The horrors of Lesvos's one major holding camp—Moria—are difficult to describe. The camp, designed to hold 3,000, currently holds over 20,000 refugees. Many languish there even though they have family and job prospects in the EU, held in limbo and exposed to disease and traumatizing violence, both of which run rampant in the camps.
In light of the recent riots, North Aegean governor Kostas Moutzouris has called for the declaration of a national emergency. However, politicians and human rights organizations have constantly called for an end to the misery on Lesvos since the crisis began five years ago.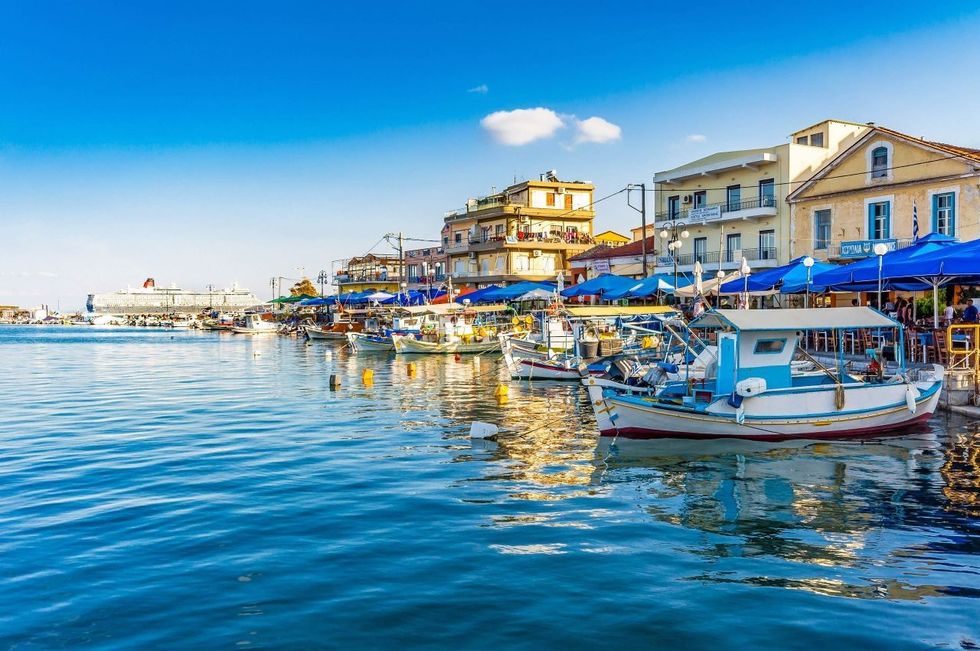 Greeka.com
Of course, all these events are tragic consequences of much bigger political movements. The EU's failure to accept more refugees—and its failure to support the people living in its nation's camps—have burdened the island with far more refugees than it can handle. "The Lesbos community has been abandoned by its own government for almost five years to deal with the consequences of a failed reception system. Like the refugee community, it is tired," said Sophie McCann, a Doctors Without Borders advocacy advisor.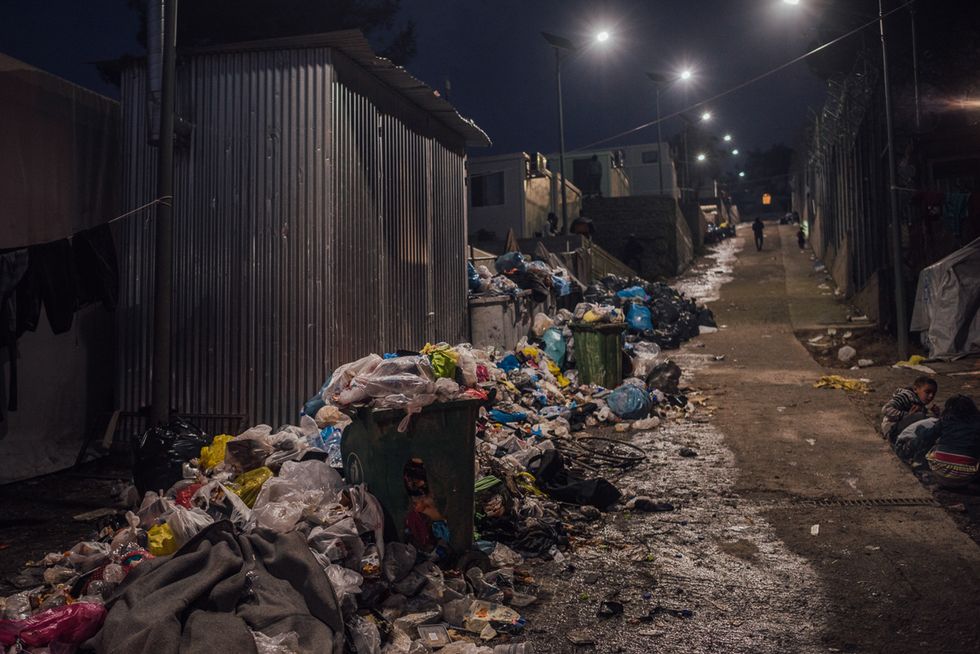 Al Jazeera
In turn, the proliferation of refugees is the result of a complex humanitarian disaster, one that often has unfortunate consequences. "Refugees are not a bargaining chip to be played with at the whims of political leaders," said EuroMed Rights President Wadir Al-Asmar. "Europeans cannot look away from what might become one of the worst humanitarian disasters the war in Syria has brought on its people. Respecting international humanitarian law as well as the human right to protection and refuge remain the sole possible answer in the face of such indiscriminate violence."
The Syrian civil war, which began in 2011, has killed 500,000 people, coming out to nearly 1 in 10 Syrians. The conflict was caused by many complex forces—including climate change, which led to a drought that resulted in congestion and economic stagnation in Syria's inner cities.
Russian ships fired on Ukrainian sailors and illegally detained whole crews over the weekend, escalating Russia-Ukraine tensions.
Ukraine began the week by declaring martial law after six navy sailors were injured when the Russian coast guard open fired on them. Concerningly, three Ukrainian artillery ships were also seized, with their 24 crew members forcibly detained by Russian authorities.
U.S. Ambassador Nikki Haley urged Russia to "immediately cease its unlawful conduct" in the Black Sea off the coast of Crimea, which was illegally annexed by Russia in 2014. "In the name of international peace and security, Russia must immediately cease its unlawful conduct and respect the navigational rights and freedoms of all states," Haley announced at an emergency meeting of the U.N. Security Council late Monday morning.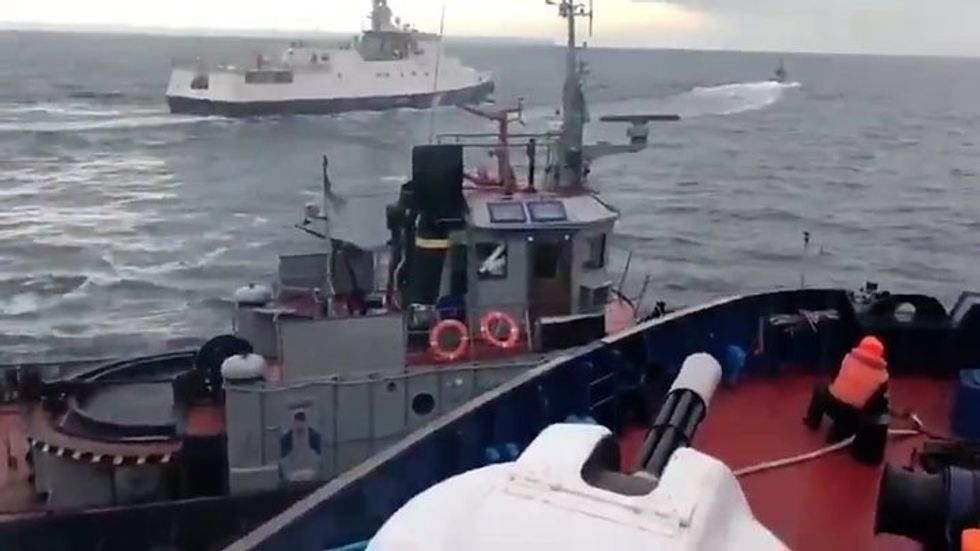 Russian vessel rams Ukrainian shipBBC
In response to the maritime incident, Ukraine's parliament overwhelmingly voted to impose martial law in the 10 regions bordering Russia. Ukrainian President Petro Poroshenko announced that martial law will last for 30 days, concluding in December, at which time he will assess the need for further action.
Poroshenko openly condemned Russia's actions, stating, "We consider it as an act of aggression against our state and a very serious threat," the president said. "Unfortunately, there are no 'red lines' for the Russian Federation." The international community has joined Ukraine in condemning Russia's actions, with NATO Secretary General Jens Stoltenberg pledging "full support for Ukraine's territorial integrity" and stating that Russia had "no justification" for the seizure of Ukraine's ships.
Russian officials dispute the details of the altercation, as the Federal Security Service contends that the skirmish was a justified response to the Ukrainian ships illegally entering territorial waters. Russia's Border Service released a statement over the weekend, stating, "The vessels are carrying out dangerous maneuvers and are disobeying the Russian authorities' demands." Ukraine denies allegations of wrongdoing, citing a 2003 treaty dictating maritime rights and protocol over the Kerch Strait where their ships were detained.
Ultimately, both governments are interpreting the incident as a fabricated aggression in order to discredit the other. Amidst an international backlash over the conflict, an arbitration court in Paris reportedly ruled that Russia owed Ukraine $1.3 billion in damages for the property seized in the annexation of Crimea. Though Russia did not comment on the ruling, they've accused the Ukrainian president of using the situation as a "dangerous provocation" that justifies the imposition of martial law, which grants him the power to manipulate Ukraine's next presidential election, scheduled for March.
It's true that President Poroshenko is currently far behind his political rival in the polls. Oksana Syroid, a deputy speaker in Ukraine's parliament, agreed, "Martial law in Ukraine would present a wonderful chance to manipulate the presidential elections." Aside from increasing the president's power, martial law would ostensibly allow the government to strengthen air defense and prepare a partial mobilization in the event of a Russian incursion. However, it could also restrict Ukrainians' civil liberties. For instance, objectors cite parliament's ambiguous wording in its plans for "strengthening" anti-terrorism measures and "information security." Three former Ukrainian presidents have already publicly opposed martial law, penning a letter that warns that it could be a "threat to democracy" in a country that found its democratic feet less than 30 years ago.
Martial law is set to begin on Wednesday, November 28. Alleged footage of the maritime clash has been leaked across news outlets and Youtube, found below.

Russian vessels fire at and seize Ukrainian shipsyoutu.be
Meg Hanson is a Brooklyn-based writer, teacher, and jaywalker. Find Meg at her website and on Twitter @megsoyung
Sites like Facebook will have more and more influence over our elections in the future.
America's favorite uncorroborated news story of the moment is that the Russian government masterminded Trump's rise to power. It's easy to understand why. Introspection after a loss is difficult, and rather than face themselves, the DNC decided to have a seance, evoking a Cold War ghost to explain their defeat. It's somewhat comforting to assume an international conspiracy was behind the Hillary Clinton's failure in the 2016 election. It absolves the DNC of any responsibility to change their conduct or adjust their political strategy. That said, there is no hard evidence of collusion, but rather a string of awkward encounters by Trump's largely inexperienced, and frankly stupid, staff. The meat of Russia's "interference" came in the form of social media bots, fake accounts that would automatically repost sensationalist headlines to drum up support for Trump. These accounts are pretty easy to spot however, as they don't even come close to passing a turing test.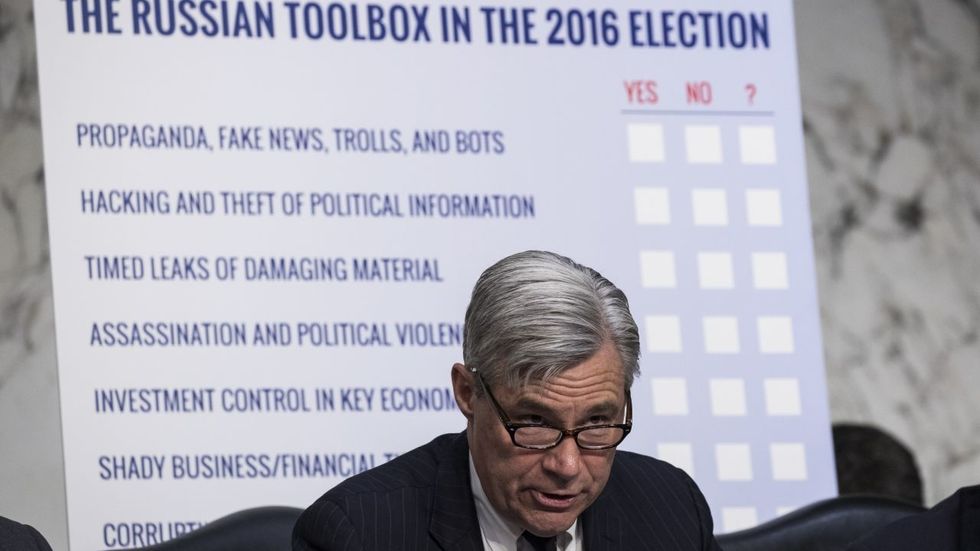 Blaming Russia is too easy
Still, the creation of Russia's bot army had to be predicated on some form of information, and many have accused Putin's government of tracking users' Facebook data in an attempt to gain a psychological understanding of the average American voter. This is where Aleksandr Kogan comes into play. Kogan sold the data of some 87 million Facebook users (collected via a quiz app) to Cambridge Analytica, a political consulting firm hired by the Trump campaign. Cambridge Analytica's goal was to create psychographic voting profiles. While there's no definitive connection between Cambridge Analytica and Russia, the precedent set by CA and their illegal exploitation of Facebook is a frightening one. If a private company is collecting data on citizens, it's a pretty safe bet that governments around the world are doing the same. While the Democratic Party's Russophobia is definitely a reaction to losing in 2016 more than anything else, but it accidentally shed light on an important issue: our data isn't safe, and with recent improvements AI and voice recognition software, we'll soon have the technology to not only create comprehensive individual psych profiles, but to tailor campaigns to individual voters.
Obviously companies like Google and Facebook have large stores of internal data, and they've certainly been amenable to
selling it
, but academic researchers (like Kogan) also have large data caches. Behavioral psychologists use Facebook in studies all the time, and the academic world isn't particularly well-known for its cyber security. Even in the event that these databases aren't hacked, there's nothing to prevent a researcher from
selling their findings
after their study is complete. The quick fix is to let Facebook block third parties from collecting data on its users, and for its part, Facebook has done just that. They've begun
blocking apps
from collecting information, and have also limited the number of researchers allowed to look at data on the site. Only academics researching political elections through the lens of social media are
permitted to apply
for access to Facebook's database.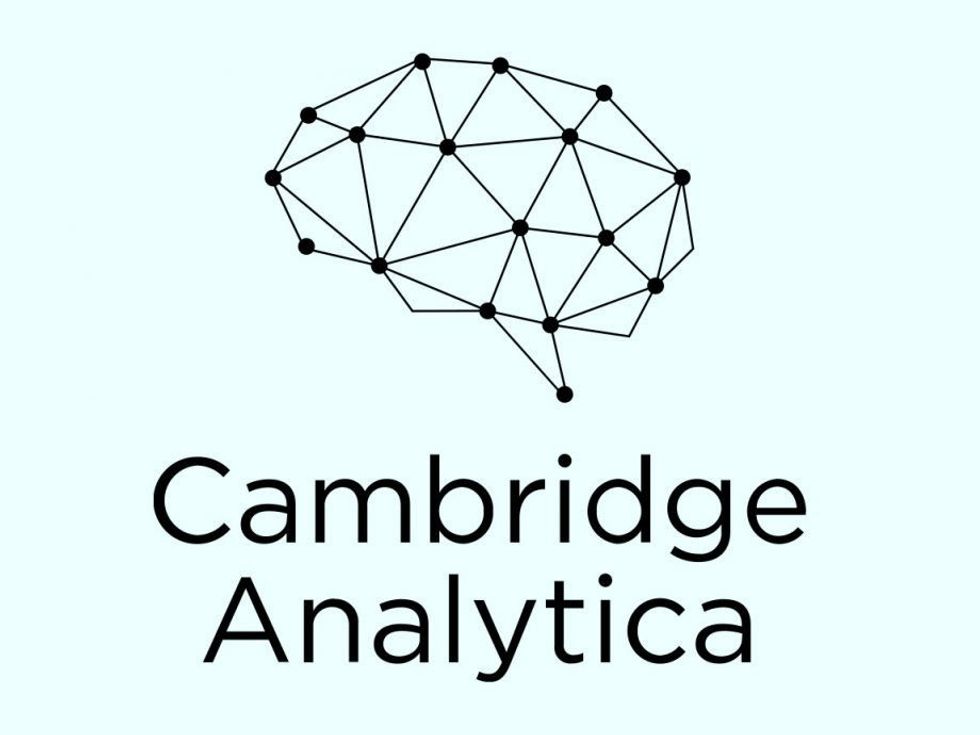 Cambridge Analytica
At a glance, these robust safety measures are a breath of fresh air. It isn't often that a tech company is so committed to its customers' privacy. That said, when things look too good to be true, they usually are. If Facebook continues its path to prohibition, "only Facebook will really know very much about how Facebook actually operates and how people act on Facebook," warns Dr. Rasmus Kleis Nielsen of Oxford University. Sure, measures like these could protect data from outsiders, but it would also give a private company sole proprietorship over the most comprehensive database of human behaviors and tendencies ever created. Facebook would have even more sway over our local and national elections than it already does, and would gain a monopoly over 2 billion people's personal data. Essentially, Facebook could name its price. Because of the way the Internet works, there's no way to effectively protect our Facebook data without severely compromising our freedom. And even if we were to let Zuckerberg shut everyone out of Facebook's data vaults, this doesn't prevent other websites or services from collecting information on us. It doesn't make us any safer. Our sensitive information is freely available to anyone who knows how to access it.
As technology improves, it's going to become more and more difficult to tell what is and isn't fake news–whether or not that article you just read was an advertisement for Tide or some political campaign you weren't aware of. For better or worse, we've set out to map the entire spectrum of human behaviors. Eventually, marketing campaigns will be so advanced, so accurate in their mapping of our desires, we may forget that we ever had the capacity to think. Somewhere, the ghost of B.F. Skinner smiling.

How the voting systems around the world differ from country to country
There are many different voting systems in the world that vary in large or small ways from one another. Here are some of the most popular, explained. These three systems make up the majority of the world's election processes and can be used for larger and smaller elections.

First, some vocab
Plurality: The Candidate with the most votes wins, doesn't need to be a majority.
Examples: United States, United Kingdom, Ethiopia, India, etc.
Two Round System: Similar to plurality but a winner needs the majority. If there is no majority in the first round of voting then there will be a second with the 2 leading candidates.
Examples: France, Iran, Mali, Vietnam, etc.
List Proportional Voting: Multi-winner system where political parties nominate candidates and electors vote for preferred party or candidate. The governmental seats are given to each party in proportion to the votes they receive.
Examples: Spain, Morocco, Russia, Brazil, Angola, etc.
A Deeper Look into Certain Election Processes

France
French Presidents serve for 5 year terms and are elected using a run off voting system which involves two rounds of elections. If someone doesn't win the majority in the first round then the top contenders run against each other in the second. France does not have a two party system and many different parties are represented in their 3 branches of government. This means that the French President could have a Prime Minister from another political party.
Both the financing and spending of French campaigns are highly regulated. All commercial advertisements are prohibited in the three months before the election. Political ads are aired for free but on an equal basis for each candidate on national television and radio. There are limits on donations and expenses that are regulated by an independent financial representative of the campaign.
United Kingdom
General elections are held every five years with a large number of elections across the UK. In 2015, six hundred and fifty people were elected into the House of Commons and this greatly changes the standing of the parties in the government. With three major parties there is no longer a two party system. These parties are the Conservative Party formerly know as the Tories, the Liberal Democrats formerly known as the Whigs, and the Labour Party who all make up the bulk of the government along with various independents.
The party that wins the majority of seats in the House of Commons in the general election becomes the leading party. The leader of the majority party is appointed Prime Minister by the Queen. The leader of the minority party is referred to as the leader of the opposition. The Prime Minister appoints the ministries and forms the government. There are moments where the system is adapted whether the Prime Minister calls for a special early election or there is no party with a majority in the House of Commons.
UK elections limit how much campaigns can spend during certain elections, but there is no price limit for donations. This is regulated by the Electoral Commission which is an independent regulatory body. All of the parties need to keep records for the independent audit. To ensure transparency the Electoral Commission publishes party spending returns online.
Russia
A presidential candidate can be nominated by a Russian political party or by a collection of signatures in support. Similar to France, Russia has many political parties that make up their government and there is also a two round voting system. The Presidential term is 6 years and though someone can hold many terms there can only be two consecutive terms at a time. There were protests and concerns over the legitimacy of past elections.
The main political party is the United Russia Party lead by Vladimir Putin and it holds 343 seats of the 450 possible seats in their governmental body, the Duma. Other parties are the Communist Party, the Liberal Democratic Party, A Just Russia, Civic Platform, and there are independents. Members of the Duma are elected for 5 year terms.
Though spending and broadcast time is monitored and regulated there are large loopholes for the party who is in control of public resources. Opposition parties need to fund from their own resources but United Russia uses official state-funded trips, positive news reporting, and other means to avoid using personal funds.