On the Greek island of Lesvos, volunteers and refugees are facing violent attacks from locals.
Each day, dozens of refugees wash up on the shores of the Greek island of Lesvos. They come at all hours and from many different shores.
These refugees will be in the midst of dangerous journeys across the ocean, having fled their homes. Some come to the shores of Greece for a shot at a better life, but most come simply to survive.
One Border Falls, Another Closes
Last week, Idlib—one of the last rebel strongholds in Syria—began to crumble as Russian-backed airstrikes eviscerated its infrastructure. Surviving residents fled in huge numbers to the neighboring nation, Turkey.
Turkey has been shouldering the vast majority of the world's refugees since the worldwide crisis coalesced in the 2010s, and they currently host over three million refugees. Following Idlib's fall, Turkish president Recep Tayyip Erdoğan declared that Turkey's borders were officially open because his nation could no longer handle the flows of refugees rushing out of Idlib.
This action was in violation of a 2016 Turkey-EU deal, in which the EU promised $6 billion to Turkey in exchange for their closed borders (though Turkey has only received roughly $3.2 million, which is perhaps the cause of Erdoğan's violation).
Many of Turkey's migrant population, aided or pushed by Turkish police, immediately attempted to flee Turkey for Greece, embarking on a journey across the Aegean Sea. Across the nation, Greek citizens and law enforcement officials have reacted violently, greeting refugees with tear gas, water cannons, and brutal attacks. Millions of refugees are now in prison-like camps on Greece's borders; others are still at sea, blocked by government ships on both sides.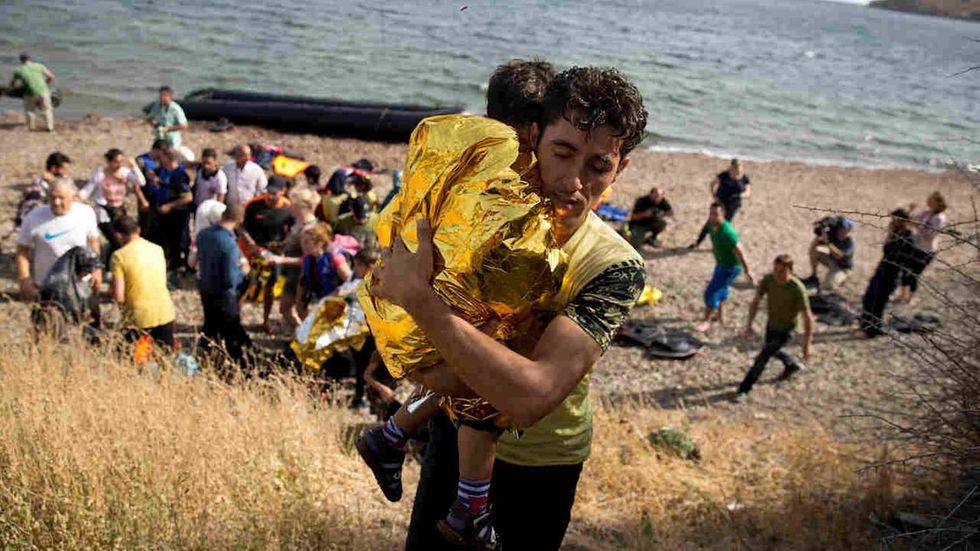 laoistoday.com
Lesvos: A Microcosm of a Macro-Disaster
The island of Lesvos has seen a particularly harsh fallout from these recent events. Since the news from Turkey broke, local islanders have launched huge protests, establishing roadblocks and patrols to prevent migrants from moving from the sea into the camps.
In February, seven Lesvos inhabitants were arrested for planning violent attacks on migrants; following Turkey's announcement, journalists and aid volunteers have been injured by locals, and warehouses containing supplies and donations have been burned. Many of the organizations providing life-saving resources to refugees have been forced to shut down, and locals have been forcing boats to turn away from the island, resulting in the death of at least one child.
A far-right neo-Nazi party known as the Golden Dawn, which may be gaining prominence on the island, may be behind some of these actions.
Crumbling Patience: Lesvos Takes Fallout from the Syrian War
Lesvos's inhabitants were once praised for the strength of their solidarity. The island is vast and full of empty stretches of land, and the makeshift camps only take up a tiny fraction of its dry mountainous areas; but lately, the influx of migrants from Turkey and the threat of new government-built migrant centers have catalyzed a new wave of xenophobic violence.
The horrors of Lesvos's one major holding camp—Moria—are difficult to describe. The camp, designed to hold 3,000, currently holds over 20,000 refugees. Many languish there even though they have family and job prospects in the EU, held in limbo and exposed to disease and traumatizing violence, both of which run rampant in the camps.
In light of the recent riots, North Aegean governor Kostas Moutzouris has called for the declaration of a national emergency. However, politicians and human rights organizations have constantly called for an end to the misery on Lesvos since the crisis began five years ago.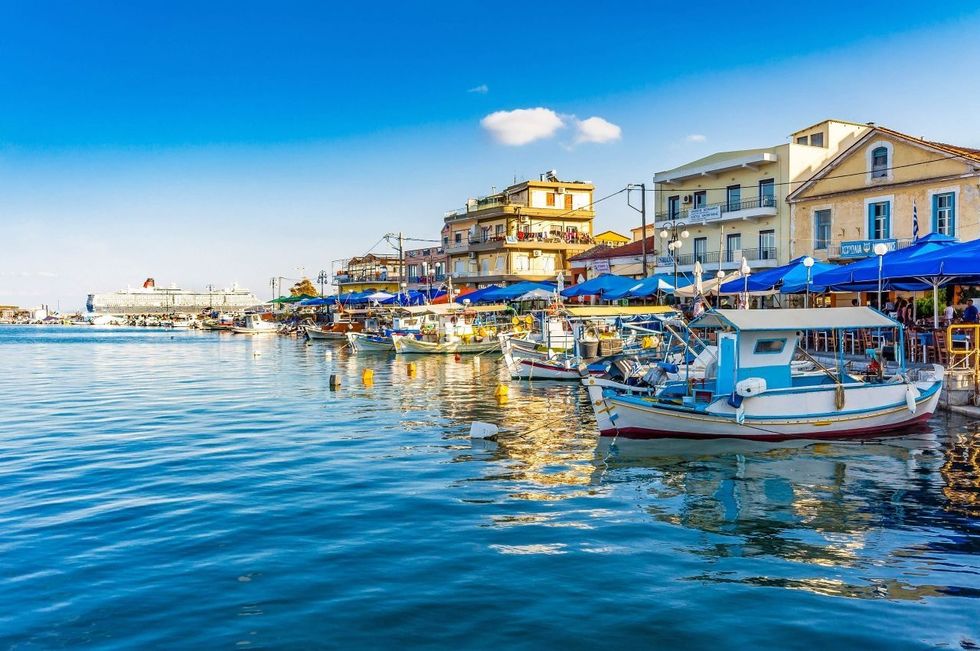 Greeka.com
Of course, all these events are tragic consequences of much bigger political movements. The EU's failure to accept more refugees—and its failure to support the people living in its nation's camps—have burdened the island with far more refugees than it can handle. "The Lesbos community has been abandoned by its own government for almost five years to deal with the consequences of a failed reception system. Like the refugee community, it is tired," said Sophie McCann, a Doctors Without Borders advocacy advisor.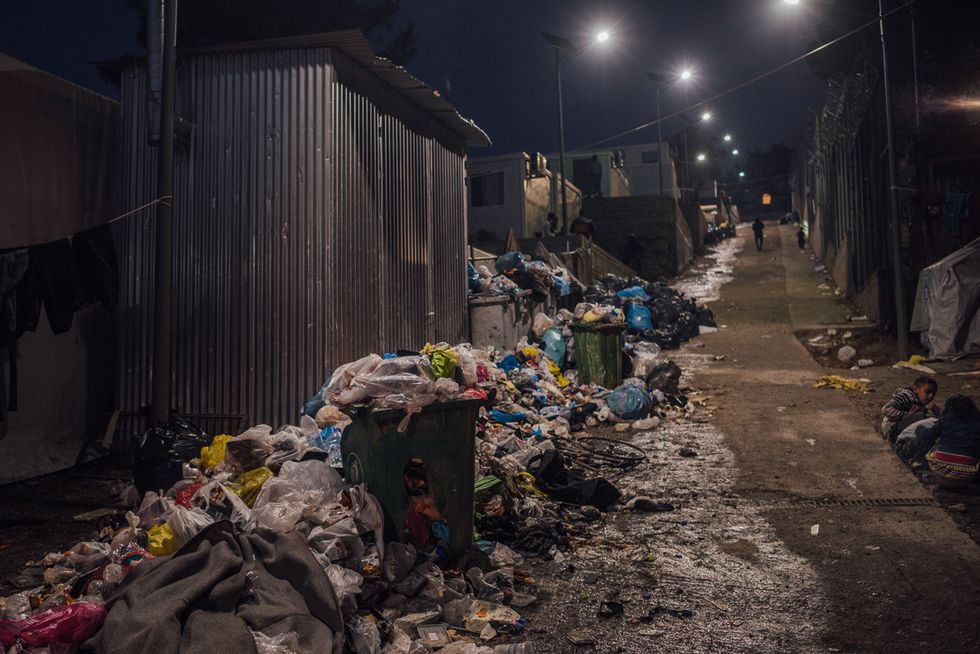 Al Jazeera
In turn, the proliferation of refugees is the result of a complex humanitarian disaster, one that often has unfortunate consequences. "Refugees are not a bargaining chip to be played with at the whims of political leaders," said EuroMed Rights President Wadir Al-Asmar. "Europeans cannot look away from what might become one of the worst humanitarian disasters the war in Syria has brought on its people. Respecting international humanitarian law as well as the human right to protection and refuge remain the sole possible answer in the face of such indiscriminate violence."
The Syrian civil war, which began in 2011, has killed 500,000 people, coming out to nearly 1 in 10 Syrians. The conflict was caused by many complex forces—including climate change, which led to a drought that resulted in congestion and economic stagnation in Syria's inner cities.
Russian ships fired on Ukrainian sailors and illegally detained whole crews over the weekend, escalating Russia-Ukraine tensions.
Ukraine began the week by declaring martial law after six navy sailors were injured when the Russian coast guard open fired on them. Concerningly, three Ukrainian artillery ships were also seized, with their 24 crew members forcibly detained by Russian authorities.
U.S. Ambassador Nikki Haley urged Russia to "immediately cease its unlawful conduct" in the Black Sea off the coast of Crimea, which was illegally annexed by Russia in 2014. "In the name of international peace and security, Russia must immediately cease its unlawful conduct and respect the navigational rights and freedoms of all states," Haley announced at an emergency meeting of the U.N. Security Council late Monday morning.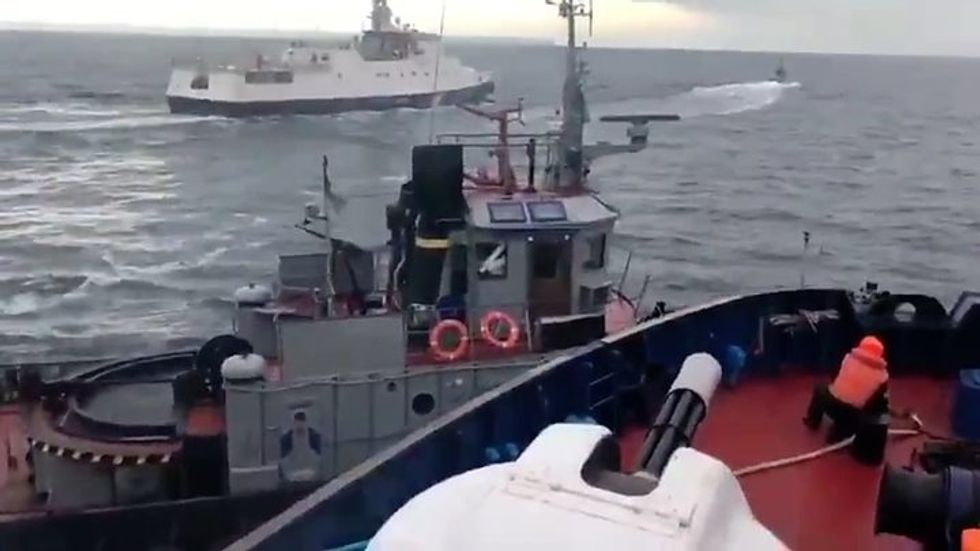 Russian vessel rams Ukrainian shipBBC
In response to the maritime incident, Ukraine's parliament overwhelmingly voted to impose martial law in the 10 regions bordering Russia. Ukrainian President Petro Poroshenko announced that martial law will last for 30 days, concluding in December, at which time he will assess the need for further action.
Poroshenko openly condemned Russia's actions, stating, "We consider it as an act of aggression against our state and a very serious threat," the president said. "Unfortunately, there are no 'red lines' for the Russian Federation." The international community has joined Ukraine in condemning Russia's actions, with NATO Secretary General Jens Stoltenberg pledging "full support for Ukraine's territorial integrity" and stating that Russia had "no justification" for the seizure of Ukraine's ships.
Russian officials dispute the details of the altercation, as the Federal Security Service contends that the skirmish was a justified response to the Ukrainian ships illegally entering territorial waters. Russia's Border Service released a statement over the weekend, stating, "The vessels are carrying out dangerous maneuvers and are disobeying the Russian authorities' demands." Ukraine denies allegations of wrongdoing, citing a 2003 treaty dictating maritime rights and protocol over the Kerch Strait where their ships were detained.
Ultimately, both governments are interpreting the incident as a fabricated aggression in order to discredit the other. Amidst an international backlash over the conflict, an arbitration court in Paris reportedly ruled that Russia owed Ukraine $1.3 billion in damages for the property seized in the annexation of Crimea. Though Russia did not comment on the ruling, they've accused the Ukrainian president of using the situation as a "dangerous provocation" that justifies the imposition of martial law, which grants him the power to manipulate Ukraine's next presidential election, scheduled for March.
It's true that President Poroshenko is currently far behind his political rival in the polls. Oksana Syroid, a deputy speaker in Ukraine's parliament, agreed, "Martial law in Ukraine would present a wonderful chance to manipulate the presidential elections." Aside from increasing the president's power, martial law would ostensibly allow the government to strengthen air defense and prepare a partial mobilization in the event of a Russian incursion. However, it could also restrict Ukrainians' civil liberties. For instance, objectors cite parliament's ambiguous wording in its plans for "strengthening" anti-terrorism measures and "information security." Three former Ukrainian presidents have already publicly opposed martial law, penning a letter that warns that it could be a "threat to democracy" in a country that found its democratic feet less than 30 years ago.
Martial law is set to begin on Wednesday, November 28. Alleged footage of the maritime clash has been leaked across news outlets and Youtube, found below.

Russian vessels fire at and seize Ukrainian ships youtu.be
Meg Hanson is a Brooklyn-based writer, teacher, and jaywalker. Find Meg at her website and on Twitter @megsoyung
Sites like Facebook will have more and more influence over our elections in the future.
America's favorite uncorroborated news story of the moment is that the Russian government masterminded Trump's rise to power. It's easy to understand why. Introspection after a loss is difficult, and rather than face themselves, the DNC decided to have a seance, evoking a Cold War ghost to explain their defeat. It's somewhat comforting to assume an international conspiracy was behind the Hillary Clinton's failure in the 2016 election. It absolves the DNC of any responsibility to change their conduct or adjust their political strategy. That said, there is no hard evidence of collusion, but rather a string of awkward encounters by Trump's largely inexperienced, and frankly stupid, staff. The meat of Russia's "interference" came in the form of social media bots, fake accounts that would automatically repost sensationalist headlines to drum up support for Trump. These accounts are pretty easy to spot however, as they don't even come close to passing a turing test.
Keep reading...
Show less
How the voting systems around the world differ from country to country
There are many different voting systems in the world that vary in large or small ways from one another. Here are some of the most popular, explained. These three systems make up the majority of the world's election processes and can be used for larger and smaller elections.

Keep reading...
Show less