The most powerful people in the world need to go to the bathroom, too! (You won't BELIEVE the last on our list)
World leaders might seem larger than life, but even the most powerful people in society are actually just like us!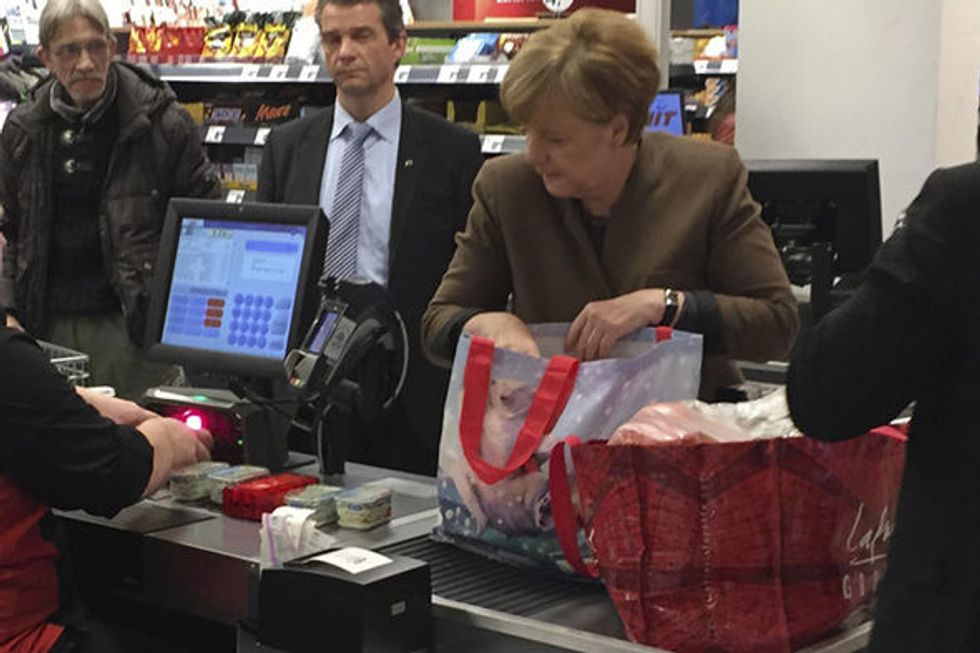 SPLASH
They Shop at the Supermarket!

German chancellor Angela Merkel digs through her bag at the supermarket checkout while flanked by security.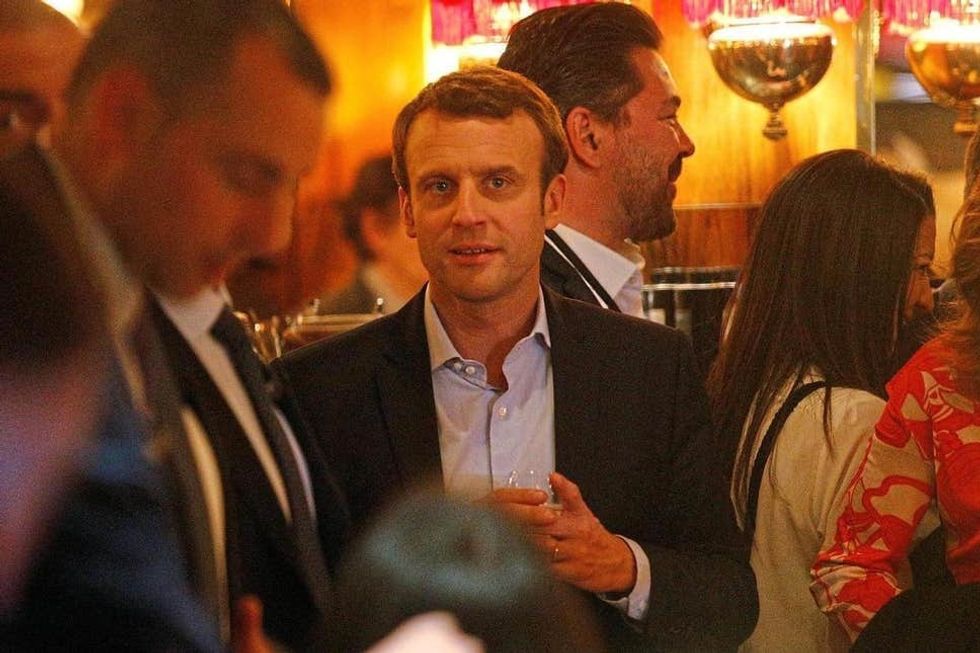 GEOFFROY VAN DER HASSELT/GETTY
They Go to Restaurants!
French president Emmanuel Macron enjoys a tasty beverage at La Rotonde.
Must See: Trudeau Caught on Camera Joking About Trump www.youtube.com
They Make Fun of Stupid People!

Canadian prime minister Justin Trudeau laughs it up with other world leaders at the expense of the most stupid guy they all know. Even weak UK prime minister Boris Johnson joins in to avoid being on the bottom of the world leader totem pole!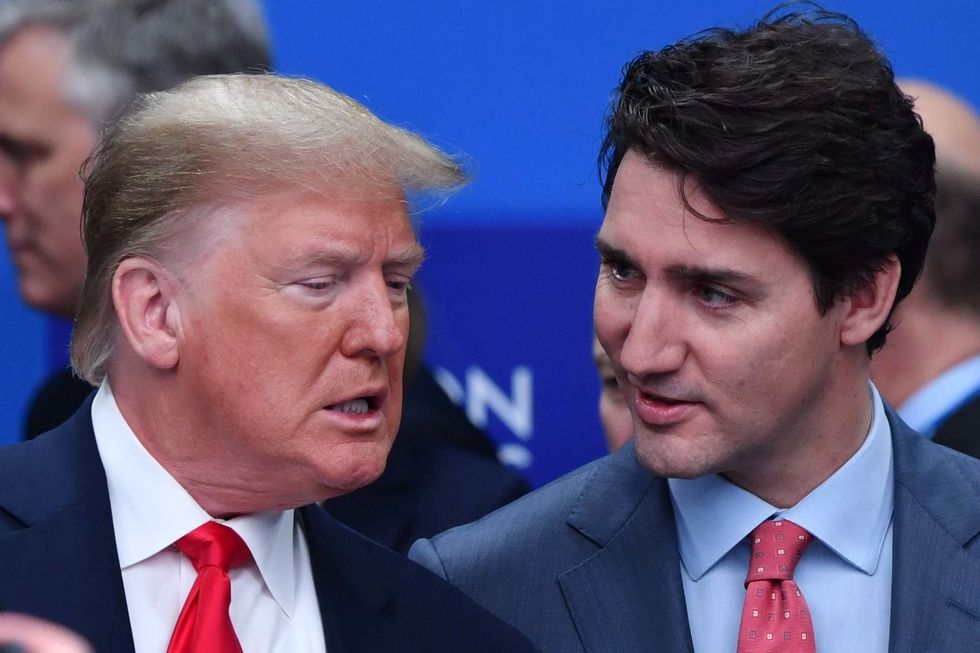 https://www.standard.co.uk/news/world/donald-trump-justin-trudeau-twofaced-nato-a4304571.html
They Don't Respect Stupid People So Much That They Openly Admit to Trash Talking Them!

Canadian prime minister Justin Trudeau gets covertly taped goofing on US president Donald Trump ("You just watched his team's jaws drop to the floor," he said in regards to Trump holding an impromptu press conference that derailed the NATO schedule). Then, after being asked about it by the media, Trudeau is pretty much just like, "Yeah, that guy's a f*cking moron." Okay, he's a little more eloquent than that: "I was happy to be part of it but it was certainly notable," Trudeau said.
They Whine and Attempt to Call Their More Powerful Rivals Names When Their Feelings Get Hurt!
US president Donald Trump tries his best to insult Canadian prime minister Justin Trudeau, calling him "two-faced" in response to the surfaced video of Trudeau roasting him.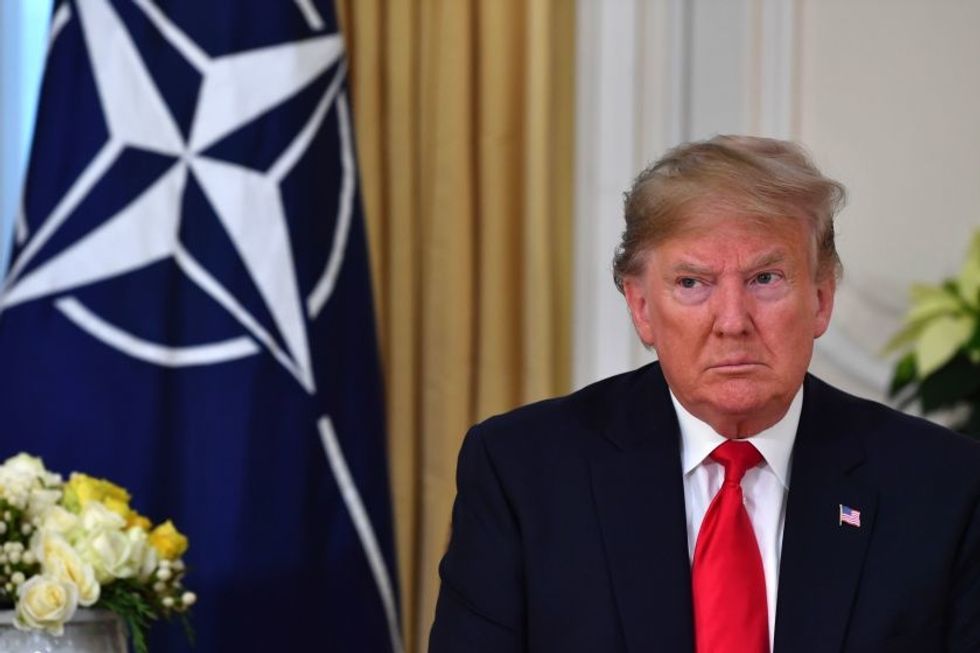 https://www.latimes.com/politics/story/2019-12-03/trump-blasts-macron-nato-unity-meeting
They Give Up and Run Back to Their Safe Spaces!

US president Donald Trump ultimately can't handle the big leagues, so after a pathetic attempt at calling Canadian prime minister Justin Trudeau names, Trump quits NATO and runs back home to his safe space in America.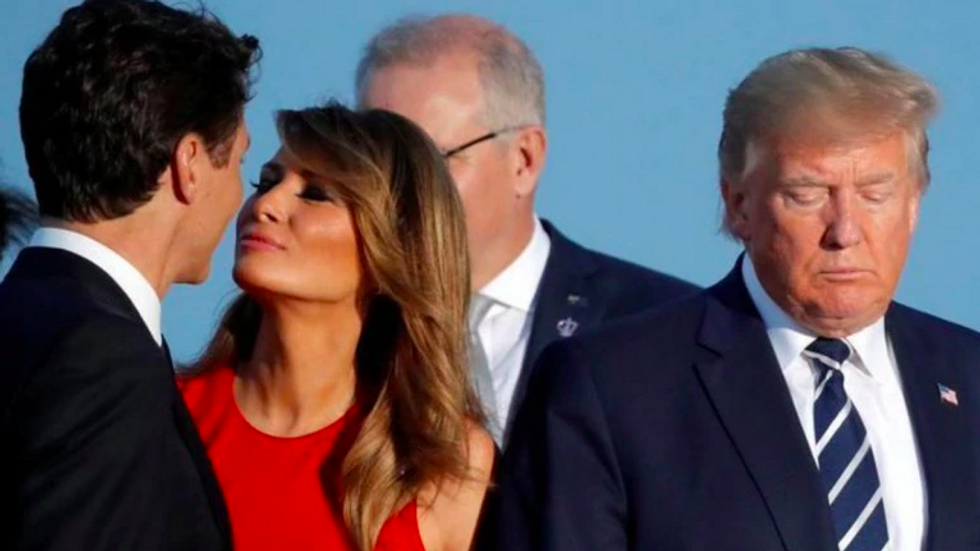 Reuters
They Ultimately Succumb to Their Stronger, More Handsome Rivals!

US President Donald Trump sulks as his wife Melania, who allegedly sleeps in a separate bedroom from him, gets extra friendly with his biggest rival, Canadian prime minister Justin Trudeau. Trump loves to prove that his supporters who constantly shout about "cucks" are, as always, projecting.
At the end of the day, maybe we're not so different from world leaders after all!
"We are Americans and we do not do that." Uh, yeah Joe, we do.
After making an appearance at Game 5 of the World Series, Donald Trump got an unexpected surprise––he learned that pretty much everybody at the game hated him.
In a karmic callback to the "lock her up!" chants that continue to arise at every Trump rally, in opposition to Hillary Clinton, baseball fans gleefully chanted "lock him up!" as soon as Donald Trump showed up on the jumbotron. (As an aside, Clinton was fully investigated by the State Department for using a private email, and while investigators agreed that her online behavior was not necessarily safe, they found "no persuasive evidence of systemic, deliberate mishandling of classified information." Trump's family has done the exact same thing while working in the US government, which seems ridiculously hypocritical, but what else is new?)
Here's Trump being publicly jeered during America's favorite pastime:
And here's his face after realizing what's happening. Hilarious:
While everyone who isn't an absolute troglodyte is fine with the American people voicing their disdain for an international mobster and 25-times-accused, alleged-but-pretty-much-self-admitted sex offender occupying the highest political office in the country, one bespectacled termite held tight to his pearls.

MSNBC Morning Joe host, Joe Scarborough––a man who has built a career on his inability to distinguish between a fencepost and a chair––had this to say:
"We are Americans and we do not do that. We do not want the world hearing us chant 'Lock him up' to this president or to any president."

Except, here's the thing, Joe: Yeah. We really do do that.
The rest of the world needs to know that the majority of the American people reject Donald Trump. Currently, 54.6% of Americans disapprove of Donald Trump (40.6% approve and the rest, presumably, are in a collective coma). Over half the country currently supports opening an impeachment inquiry. And, while it's been said ad nauseum, it always bears repeating: Trump lost the popular vote by nearly 3 million votes. In short, Trump might represent America as a landmass, but he does not represent the will of the majority American populace.
In America, we should want criminals to be held accountable regardless of whether or not they are the President. We should want criminals held accountable regardless of whether or not they are Democrats or Republicans, or if we agree with their personal views. In the United States, nobody should be above the law. Especially if they're the President.
So, sorry Joe, but you're very, very wrong. Reach up way into your butt and pry out that fence post before it pierces an organ. The American people are speaking, and it's time to listen. Lock him up.
This Could Actually Work...
Petition for the Establishment of the Ronald Reagan Super-Presidency
I think every Rational Person can agree that half of this country has lost its damn mind—and I'm not talking about the Good Half! It's time we forced the Elites in this country—again, not the good ones—to pay their fair share! If they really think that we should raise the top marginal tax rate—which affects everyone equally!—they should prove it by putting their unearned billions of dollars to good use.
By establishing the official, fully-funded position of RONALD REAGAN SUPER PRESIDENCY, Jeff Bezos, Bill Gates, George Soros, and Warren Buffett will be demonstrating a commitment to start being patriotic and working to MATA—Make America Truly Amazing. For only a quarter of a billion dollars each, they can create a new Executive Position that would have some Real, Actual Power in this country—unlike the regular presidency that, a lot of people don't realize, was basically RUINED by Obama, and doesn't let you do anything without a bunch of Very Partisan, Very Crooked judges getting in the way.
With that in mind, the following are the enumerated powers and privileges that the Super-President would wield:
1)The Super-Presidency, Super-President and all Derivatives are always Capitalized, and should actually be in ALL-CAPS as often as possible, because He—not to be sexist, but who are we kidding?—deserves our respect.
2)Upon unanimous selection by everyone on Cable News and the Met Gala guest list—who are generally Snooty Jerks, but will make the right call on this one, because it's Important—the Super-President shall be awarded A BILLION DOLLARS, up-front, no questions asked. Not that he needs it. I mean, even being qualified for this kind of position probably means He's already a Billionaire (but there's obviously no need to look too closely into His finances).
3)He will have his own social-media platform that's like Twitter, but with more Free Speech and fewer Haters. It will be called the Super-President's, Listen Up, Time To E-learn Respectfully—or SPLUTTER for short.
4)Everyone on cable news has to say one flattering thing about the Super-President every day, unless they want to be officially CANCELED, and de-platformed from SPLUTTER, or possibly executed—we'll work out the details later.
5)Once a week, He gets to force someone who's been rude to Him to APOLOGIZE or, again, be de-platformed/executed.
6)Once a month he gets a full Military Parade, with real Hollywood military weapons and vehicles like you see in the movies, and a lot of really Handsome Generals straight from central casting. And also a free tour of Universal Studios.
7)Once a year, His official title will be amended to reflect his achievements. Like, say that Billion Dollar bonus gives him the momentum he needs to quickly become the richest man in the world—as long as a Close Associate vouches over the phone and has a different name (though some overlap in the names is no big deal), we won't need to check too closely—then His official title will be lengthened to THE RONALD REAGAN SUPER-PRESIDENT, _ _ _ _ _ _ _. _ _ _ _ _, THE RICHEST AND THEREFORE SMARTEST MAN IN THE WORLD. And if he wants to replace the part about Reagan with his own name, that's also allowed—it's really just a place-holder.
8)He can have a Second Wife if he wants to, because He's EARNED it—unlike the regular president, who only gets one.
9)Free McDonald's for life, including if he wants to feed like a whole sports team, as long as they aren't Anthem-Kneelers.
10)His own version of the American flag with His name on it, and extra padding for flag-hugs.
11)It's a Lifetime Appointment, so He doesn't need to waste his time on re-elections, and He can never be IMPEACHED OR WITCH-HUNTED OR LYNCHED.
12)Rallies whenever He wants, and also Meetings for very High-Level, Important deals with very Handsome and Important Men, straight out of central casting.
Obviously this is way too much POWER to give to just anyone, so we better talk about the Requirements For Qualification, which are pretty tough, let me tell you, but should be no big deal as long as you're not a loser.
1)He should already be RICH, like really loaded, and not embarrassed to show it off, because that makes Him smart.
2)He should have gone to a really good school, like the Wharton School of Business, and any really established Jesuit School should be fine for undergrad. He also needs to have gotten really good grades, as verified by another call from a Close Associate with a BELIEVABLE name.
3)He has to resign from any Political Office He is currently holding, and can never hold another office, but there's obviously no Shame in it, because this is basically a PROMOTION, and we wouldn't want a politician-type having this much power in the first place—this is a job for a Real Man.
4)He has to pledge to Make America Truly Amazing
5)He should have made his Fortune in something Real and Important, like Real Estate or Branded Marketing.
6)He should definitely be tall, like at least 6'2"—not that we're getting out a tape measure.
7)He should be a truly great golfer, since most DEALS happen out on the links these days. Any plaque that lists Him as a Champion at a prestigious Club/Resort should be proof enough.
8)Must be a Real American, and no I will not explain.
9)He should be able to provide a Classy Venue for a really lavish Inauguration Party with just an amazing Chocolate Cake, and a bigger TV and Internet Audience than anyone ever.
10)He will probably already be very important and respected, as measured by how many times He's been on the cover of TIME magazine—at least 20.
11)Everyone should LOVE this guy, and he should be on record as loving them, too—the Blacks, Hispanics, the Jews, and especially the poorly educated (college these days is Ruining Kids anyway).
So, please sign here if you want these rich, Lefty Elites to pony up and give someone a REAL chance to fix this country. And if you don't sign, that means you hate America and you hate Trump. Oh, and feel free to nominate anyone you think might Qualify.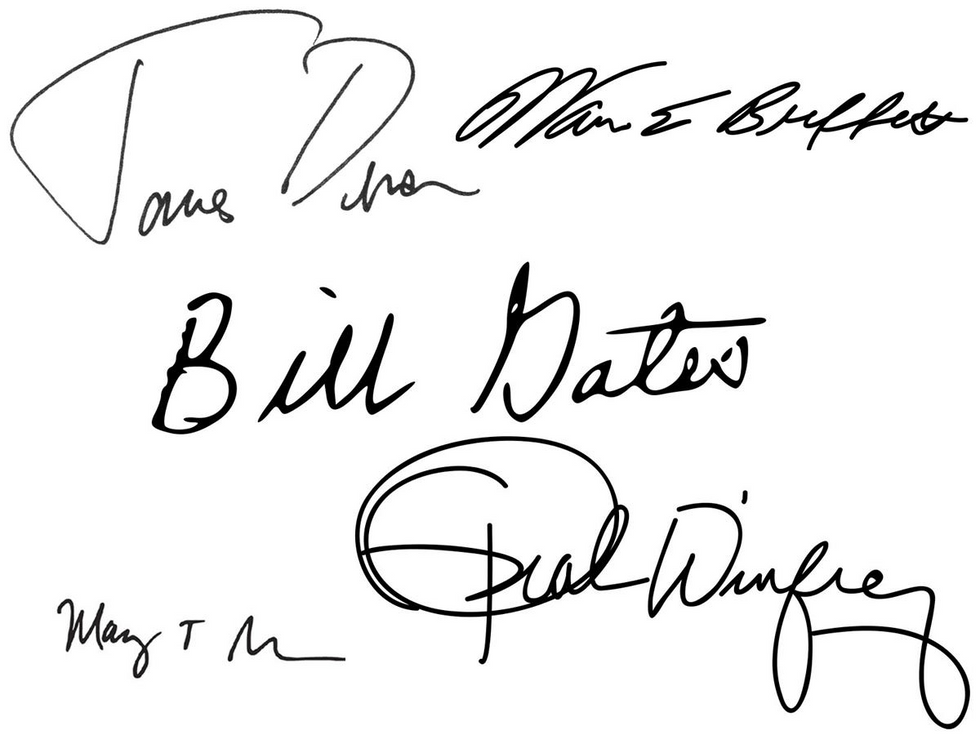 Donald Trump is the most innocent president of our time.
Amidst the House's mounting Trump impeachment inquiry, only one thing is 100% certain no matter what the facts end up being: Donald Trump is totally innocent.
We know this because he tells us on Twitter, and if there's one thing we can all agree on, it's that Donald Trump never lies (and even if he was pretty much lying 84% of the time, that's only to troll stupid people, and by that I mean college-educated democrats and people who can read).
So who cares if the Whistleblower's statement has been proven accurate in a line-by-line dissection? And who cares if the White House definitely tried to cover up the details of the Ukraine call. If Donald Trump says he didn't do anything wrong, well, he's the president so I believe him. So in celebration of how truthful and honest our President is, and how much I believe him no matter what he says or does, I've made a lot of 5 times that Donald Trump was completely innocent.
In the first installment of our Visionaries Project, we interview brilliant writer, activist, and horror buff Sherronda J. Brown.
The Visionaries Project is a new subsection of The Liberty Project dedicated to highlighting the lives, passions, and work of writers and activists currently working towards social justice and liberation from oppression. We aim to uplift the perspectives of powerful, diverse voices working in media and activism today—and not just the faces who make headlines, but the real people on the ground every day, working towards their visions of a better world.
As our first installment of the Visionaries Project, we're beyond honored to feature Sherronda J. Brown, an incredibly eloquent and brilliant journalist and activist currently doing vital work in the media sphere.
Where did you grow up? Was there an activism or writing background in your childhood?
I grew up in a small town called Tarboro in Eastern North Carolina. I don't have an activism background from my youth, but I have always been a writer. My mom still has a stack of little books I wrote as early as Kindergarten and first grade.
Can you tell me a little bit about how you got into writing and journalism?
I don't think writing was much of a choice for me. I think it's something that just lives in my bones and my fingertips. If I wasn't writing about systemic oppression and its multiple arms, I'd almost certainly be writing in some other capacity, probably in entertainment media or true crime. Definitely true crime. Hell, I might still do that one day.
My foray into journalism was more like being pulled into it. I have always shared my views on social media, specifically Facebook, and eventually people started to follow me and root for me. To my surprise, my words touched people. I wrote briefly for a now-shuttered, indie feminist website (for free!) while in college many years ago, but my presence in this world really became solidified when current Managing Editor at Black Youth Project (BYP), Hari Ziyad, gave my writing a home at RaceBaitR and later encouraged me to write for BYP as well. Then, the Deputy Editor position came along, and Hari encouraged me to take another step. The next step was Wear Your Voice (WYV), where I was promoted to Managing Editor by founder Ravneet Vohra before I even knew what hit me. And here I am. Other people recognized my talents and potential before I did. They knew I could do this before I even knew it was an option. Shout out to imposter syndrome, and shout out to the people who helped me get here.
How did you get involved with Wear Your Voice? What work do you do for it, and what's the publication about?
Lara Witt, the current EIC, posted a call for pitches on social media and I submitted a piece about an indie film I had been really impressed by, The Keeping Room. This was just after the release of Sofia Coppola's remake of The Beguiled, and I argued that The Keeping Room—while an imperfect film—succeeds where Coppola's film fails, specifically in her erasure of an enslaved Black woman character from the Civil War era South in order to ensure that the Confederate white women are seen as indisputable victims within the story, rather than cruel enslavers. The essay did very well, so much so that the writer and producer, Julia Hart and Jordan Horowitz, reached out to thank me. That was a surprise and, of course, hugely flattering. From that point, I continued to write for WYV as a freelancer, until I got the courage to ask Lara if she needed any editorial support. She advocated for me and helped me become a part of the team, beginning as a part-time Social Media Manager. I will always, always be so grateful to her for that, especially because WYV is such an amazing publication to work for. I now get to say that I serve as the Managing Editor of a bold magazine that wholly embraces me and gives QTBIPOC space to talk about our experiences without tone policing or censorship. It's incredibly rewarding and therapeutic work for me.
The bio for Wear Your Voice cites Kimberlé Crenshaw's definition of "intersectionality." How would you define intersectionality? Has your understanding of it changed over time?

A lot of people misunderstand or wrongly define intersectionality, and I suppose I used to do the same. Once upon a time, I thought of it as a literal intersection, with multiple roads meeting and touching at a particular point, with each road being a different aspect of a marginalized identity. So, one road would be Black, one would be woman, one would be queer, and so on, and they would intersect with each other. In this visual representation, the points where they intersect would be the nucleus, where all the layered oppressions one experiences are most concentrated, for lack of a better phrase.
Now, I understand how wrong I was. Because, for a queer Black woman, Blackness is never separate from woman, is never separate from queer, and so on. More specifically, Kimberlé Crenshaw developed this theory and coined this term thirty years ago for Black women to think and talk about how we experience misogynoir. Intersectionality is specifically for Black women's benefit, and Crenshaw herself has told us not to use it as a blanket term for thinking about oppressions.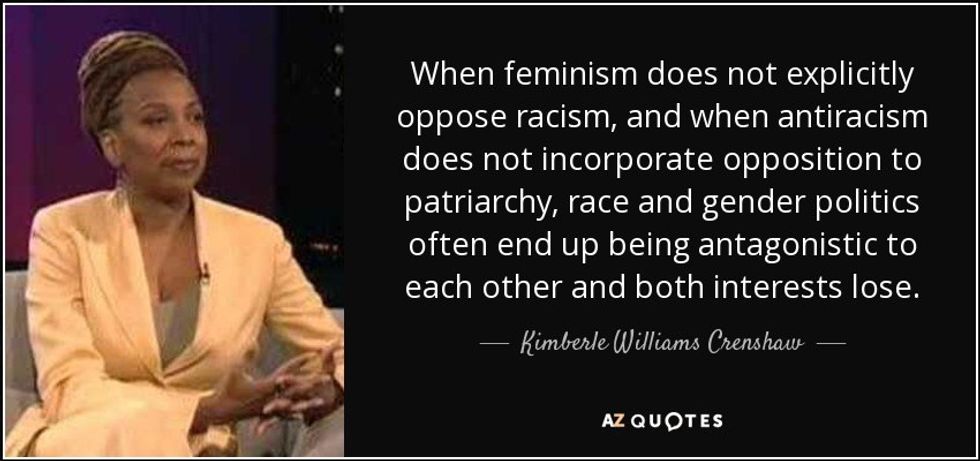 folekeafrica.com
What do you mean by "digital activist," as you say in your bio? What potential do you see in digital activism going forward?

It's funny, I didn't realize that I was a digital activist until someone told me I was. I guess, I didn't really understand the true impact that my words were making. One of my favorite anecdotes—or maybe it's a testimony—is from a woman who said that my writing helped her get her teenage daughter to stop bleaching her skin. That made my heart sink and sing at the same time. People reach out to me periodically to share how I've helped them to think about things from a new perspective and better understand how oppressive systems work and even how they have participated in and benefited from them. That's the best reward for me. A lot of people don't consider digital activism to be valid. People like me often get called "armchair activists" as an indictment of our supposed laziness, which is quite an ableist sentiment. There is tremendous value in digital activism, whether or not people are physically or mentally healthy and able enough to contribute to "boots on the ground" work, and I don't just say this because I consider myself one. Think about how much information gets shared across social media by marginalized people that might not otherwise be reported on by the mainstream media. Digital activism can and does enact change in its own way, and there are plenty of examples.
If you see yourself as a resource for awareness or inspiration for activists and radical thinkers, what would you recommend to others looking to get into the type of work you're doing?
I know this is easier said than done, but take the leap. Shoot your shot. Send that pitch email. Read other people's work, digest it, process it, live in it. And then, find the gaps. With any given subject, there's always someone who has already written about it, of course, but there are always things left unsaid, views left unexplored. No one person can tackle every possible angle. Find the gaps that other people inevitably leave in their work and fill them. Address the unaddressed. That is how writers can set themselves apart, in my opinion. That's what I really appreciate as an editor and a reader.
Are there any projects or current topics you want to promote?
We are currently wrapping up our Summer of Sex campaign at WYV, a series that highlights perspectives of QTBIPOC [Queer, Trans, Black, Indigenous, People of Color] on the subject of sex and the things surrounding it. The piece I contributed to this is rather personal, maybe more personal than anything else I've ever written. In it, I do what feels for me like heavy lifting on the subjects of unhealthy sex, asexuality, celibacy, and fawning as a trauma response, as all of these relate to my personal story and life experience. These are topics I rarely see talked about openly and I would like to see others engaging with them as well.
You describe yourself as a "reformed Blackademic." What was your experience in academia and why did you choose to move towards digital media?
I had no idea I would end up here. For a long time, I thought I would be an academic, and I had plans to pursue a doctorate. The bureaucracy and high pressure of the institution turned out to be something I wasn't cut out for, and I'm perfectly fine with that. I call myself a reformed Blackademic because stepping back from academia allowed me to see how elitism and inaccessibility can sometimes be a barrier to connecting with our own communities. If my work isn't accessible to those outside of higher education, then I don't think it's actually doing as much work as we might assume. This isn't to say that there isn't value in academic thought and high theory. Of course there is, and the things I learned while pursuing my degrees absolutely continue to inform my current work. I'm just more intentional about making my work accessible, as much as I can, and I will hopefully continue to make more progress in that arena through digital media.
What are your favorite writing projects or stories you've covered over the years?
My favorite projects are the ones that allow me to blend my passion for entertainment media with my radical, leftist, Black feminist, anti-capitalist philosophies. I'd say I'm currently most fond of my analysis of Thanos and his flawed Malthusian logic system about overpopulation and my laments on the unfortunate pattern of Black horror stories and Black time travel narratives that seem to only contemplate white violence as a constant fixture in our lives.
You've written a lot about your interest in horror and haunting narratives. Can you tell me a little bit about that?
I became interested in hauntings in grad school, in terms of how the ghosts of history continue to haunt our lives everyday and how we see those ghosts manifesting in oppressive systems, and these things often show up as literal ghosts in cinematic haunting narratives, like literally any film that uses a "Native American burial ground" as a way to convey danger and terror for white protagonists only to ultimately subdue the ghosts rather than truly acknowledge and hold accountable the violent white colonialism that created them.
Candyman (1992) is also a prime example with the vengeful ghost created from a lynching, and it is one of my personal favorites, despite it ultimately being yet another story of a frightened white woman being lusted after by a Black man. Choosing favorites is always difficult, because it changes every few years, and I love so many. Train to Busan (2016), Tigers Are Not Afraid (2017), Hereditary (2018), and The Babadook (2014) are some of my contemporary favorites, but Psycho (1960), The Exorcist (1973), Night of the Living Dead (1968), and Invasion of the Body Snatchers (1956) are longevity faves.
When you say "new voices" in horror, I immediately think of Jordan Peele, of course, who has two amazing horror entries already, which are among my favorites as well, and is sure to bring us more. He's tapped Nia DaCosta to direct his Candyman "spiritual sequel" expected in 2020, and I am ecstatic about a Black woman directing such a huge mainstream horror film. It would be a dream to see more Black women, more queer folks, more trans folks, more disabled folks at the helm of these stories. I want to see people who have historically been largely relegated to monstrosities in horror giving us innovative tales that subvert the status quo and rattle us in new, challenging ways.
You write a lot of content that challenges hegemonic, white supremacist narratives and ways of reporting and understanding current events; for example, the idea that climate change is new/just beginning to show effect, or that BIPOC women's bodies haven't always been byproducts of white supremacist violence. What writers, sources, or strategies have helped you challenge these hegemonic narratives? What kind of anti-oppression work do you see coming to the fore and/or still needing to be done in terms of this?
My first piece of writing that went viral viral was "White Women In Robes" on my personal blog, werdbrew. It was a critique of The Handmaid's Tale's use of harms committed against BIPOC in a story that centers white women and white feminism's historical connections with white supremacy, among other things. Dorothy E. Roberts' "Killing the Black Body" greatly informed that piece of writing, and anything else I've written about the reproductive control of and expectations for Black people. I also carry Audre Lorde, Alice Walker, and Angela Davis with me daily, and the spirits of Harriet Tubman and Zora Neale Hurston. The voices of Patricia Hill Collins, Nina Simone, and Toni Morrison are always with me when I write about Black womanhood. Some more recent entries that have inspired me include Tressie McMillan Cottom's "Thick" and Sabrina Strings' "Fearing the Black Body," both amazing and important works. I just think Black women are so brilliant and so uniquely able to Illuminate ugly but necessary truths about our world. Black women are already doing crucial anti-oppression work, and always have been. People just need to listen.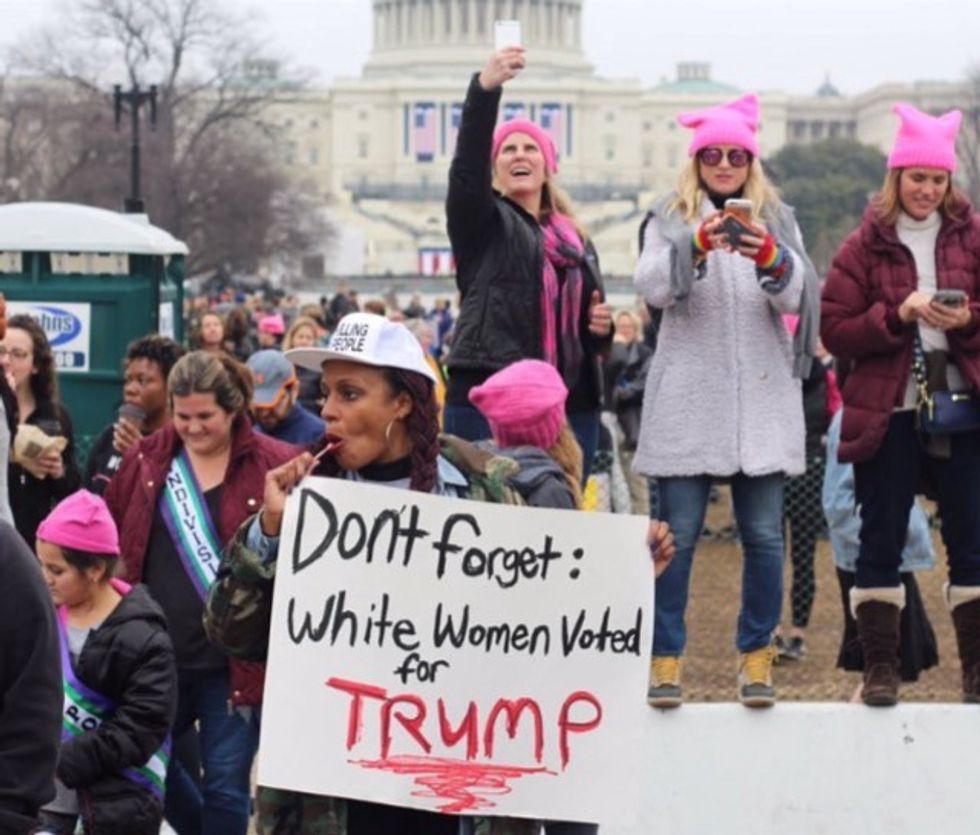 werdbrew.wordpress.com
You write that white dystopian narratives align with the "destruction of the dominant white society, the disruption of the white heteropatriarchal family unit, and the downfall of post-colonial civilization as a whole" in one of your reviews. What kind of disruption would you like to see, and are there any images of the future that you imagine seeing through and beyond this disruption?

That is the kind of disruption I like to see. In a perfect world, we would finally get to see all the remnants of white colonialism gone, but unfortunately that is not our reality. I don't mind at all that dystopian narratives involve this kind of destruction in the fantasy world, especially because the destruction of a society where white supremacists hold political, economic, and social power only creates possibilities for the rest of us. My issue is that these narratives—with the exception of The Girl With All The Gifts (2017)—never explore those new opportunities or acknowledge the fact that QTBIPOC already live in a dystopia in the real world.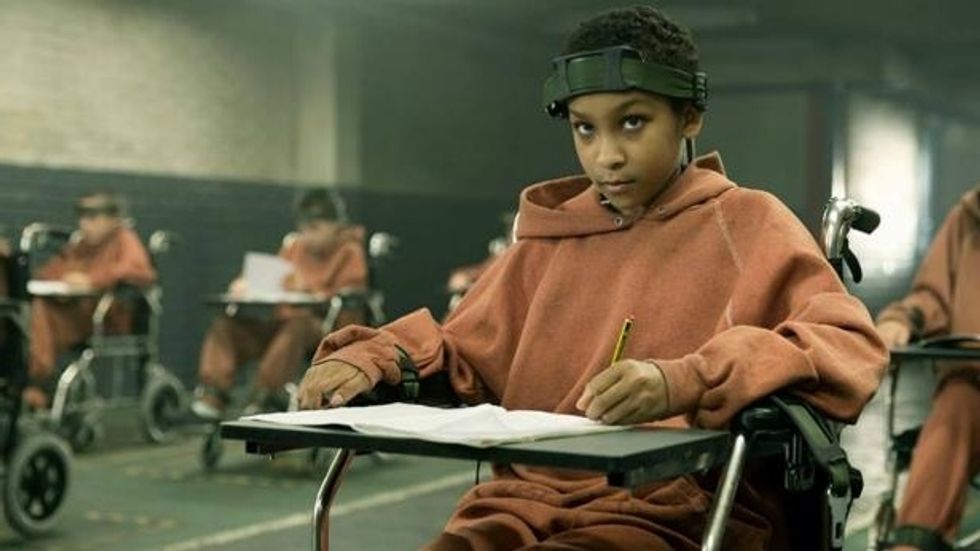 Still from "The Girl With All the Gifts"pressinfo.com
Are there any particular voices or groups you'd like to see highlighted in our current cultural moment?
I absolutely want more QTBIPOC voices. More fat, disabled, neurodivergent folks being heard and respected and humanized. More sex workers, more undocumented immigrants. I want to hear more from the younger generation, too. The people who get silenced the most are the ones who need to be elevated the most.
What's your everyday routine like? Where do you like to do your work or write?
I'm actually working to embrace my nocturnal nature these days, and I'm fortunate enough to have a career that allows me to do so. What are considered "normal" sleeping hours often serve as my writing time. Some of the best things I've written have come pouring out of me between the hours of 3 and 6 am. I'm either writing in bed or on the couch, and I always write on my phone. I sleep as best as I can, if I can, for a few hours and then I'm up and working again by noon. For BYP, I might be publishing in WordPress and/or desperately searching for good stock images of Black people. For WYV, I might be taking care of daily social media management duties, doing secondary edits or final checks on a piece before Lara publishes, creating graphics, and/or designing and sending out our weekly newsletter(s). For both publications, I might be hopping on a staff video or phone call, brainstorming new content, reading and catching up on the day's news so far, answering emails, evaluating pitches, responding to Slack messages, drafting calls for pitches, organizing my editorial calendar, conducting interviews, checking in with writers, and addressing anything else that requires my attention. The late afternoon and evening is when I rest, recharge, meditate, exercise, and eat. Sometimes, I will do some in-depth editing work on writers' drafts during this time, but mostly I don't start doing that kind of work until around midnight. Then, I plan for the next day/night. I admit, sometimes it's hard to keep track of what day it is.
You do a lot of challenging work. What do you do for fun, and to take care of yourself?
I'm proud to say that I'm much better about taking care of myself now than I used to be. For self-care, I watch horror game play on YouTube because I think it's more fun to watch other people do it—plus it's cheaper and less time-consuming. I spend quality time with friends virtually—ironically, all of my closest friends live far away. I SnapChat with my little sister. I take myself to 4 pm matinees in the middle of the week. I laugh with my co-workers. I support and mentor Black kids. I lift weights. I hit my heavy bag. I eat peanut butter fudge sorbet at 3 AM. I write happy things. I listen to podcasts and audiobooks about true crime, folklore, and history. I laugh at nonsensical memes. I block white people with dreadlocks. I drink plenty of water. I take selfies. I spend entire weekends naked, and I don't let myself work on Saturdays anymore.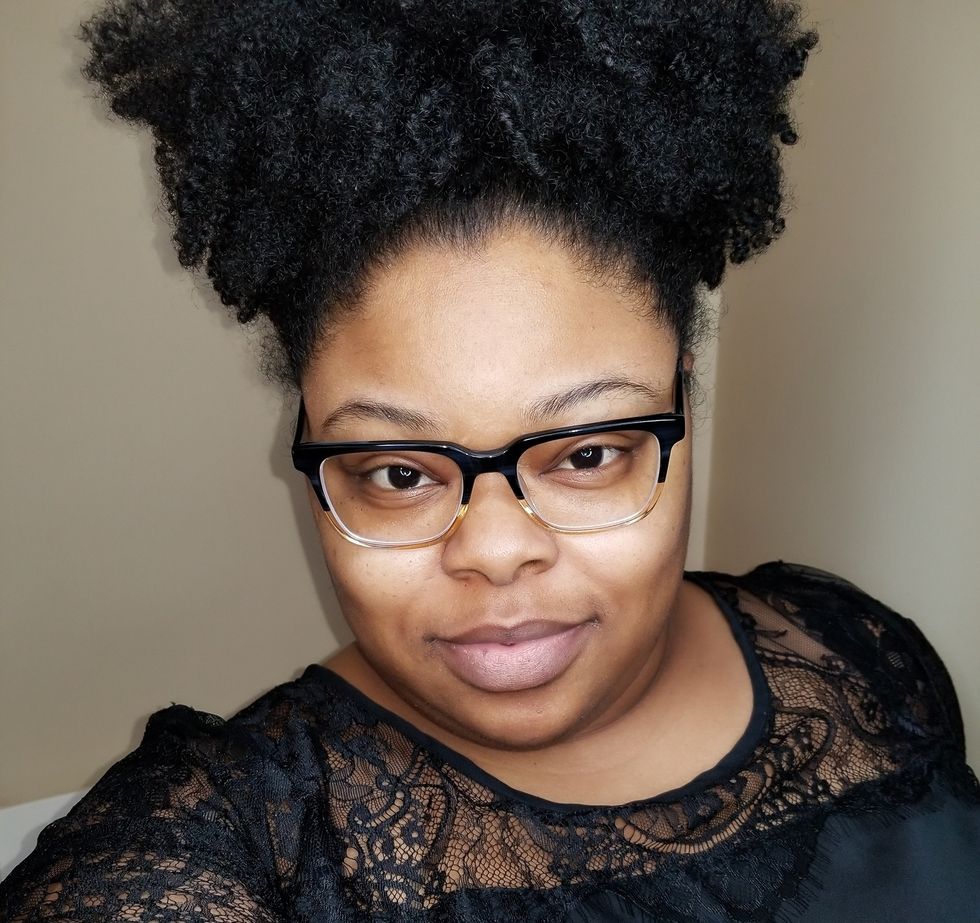 Want to be featured on The Visionaries Project, or want to nominate someone you think should be? Email us at editor@popdust.com or message us on Twitter at @LibertyThis.

Trump's words and actions have led our country into a terrifying state, a state in which the president has put people of color in severe danger.
This week the Republican party has only helped to fuel Donald Trump's racist fire. For many, this isn't surprising. Trump began his attacks during his first campaign, targeting Mexican-Americans and generalizing them as "drug dealers, criminals, and rapists." Once he was elected, Trump enforced a xenophobic Muslim ban and continued to fuel the fire of white supremacy. Now, immigrants seeking asylum are dying in American custody. Overall, Trump's words and actions have led our country to a terrifying state, a state in which the president has put minorities and POC immigrants in severe danger.
A lot has happened within the last seven days: It's harder than usual to keep up with Trump and his minions' actions. Here's a timeline to help get you up to speed.
July 12th
Vice President Mike Pence and Republican Senators Lindsey Graham, John Cornyn, and Mike Lee visited a detention center in McAllen, Texas. The government officials observed around 400 men crammed in cages with no mats, no pillows, and barely room to sit down. The four men did not speak to any of the 400 immigrants and stayed in the detention center for only 90 seconds.
Vice President Mike Pence Visits Texas Migrant Detention Center | TODAY www.youtube.com
July 14th

Only two days later, President Donald Trump took to Twitter to advise "progressive" congresswomen that, instead of participating in American politics, they should "go back and help fix the totally broken and crime infested places from which they came." The tweets were sent in the midst of ICE raids occurring across the nation. The tweets' purpose was clear: Create hysteria targeting people of color in hopes of eradicating the immigrant population.
July 15th

A day after Trump's tweets, Senator Lindsey Graham, who once called the President a "race-baiting, xenophobic, religious bigot," defended him, proclaiming, "AOC and this crowd are a bunch of communists… they're Anti-Semitic. They're anti-America."
Lindsey Graham's Fox News MELTDOWN www.youtube.com
July 16th

On Tuesday, the House voted to condemn the President for his racist rhetoric. A President of the United States has not been formally rebuked a president in over a century. While the House voted in favor of the symbolic motion, the numbers included 240 Democrats in favor and 187 Republicans against. It's noteworthy that only four Republicans voted in favor of condemning the president's racist tweets.
That same night, Louisiana Senator John Kennedy referred to Rep. Alexandria Ocasio-Cortez (New York), Ayanna Pressley (Massachusetts), Ilhan Omar (Minnesota), and Rashida Tlaib (Michigan) as the "four horsewomen of the apocalypse."
John Kennedy Blasts The Squad www.youtube.com
July 17th

On Wednesday, during President Trump's rally in North Carolina, he again attacked the group of freshmen congresswomen, explicitly targeting the Minnesotan representative, a Muslim, and Somalian refugee, Ilhan Omar. His supporters began chanting, "Send her back." The president stood silently for a mighty thirteen-second pause, head held high, as he proudly looked upon his supporters.
'Send her back': Trump batters Ilhan Omar on campaign trail www.youtube.com
July 18th

The morning after, two of Twitter's top trending hashtags were #IStandWithPresTrump and #IStandWithIlhan. A few hours later, a few GOP members finally spoke out about the chants. Senator Marco Rubio called the targeting of Representative Omar "grotesque." A few other Republican Congressmen also spoke out on Twitter:
Trump later said he was "not happy" with the chants. When asked why he didn't stop the crowd, he answered, "I think I did—I started speaking very quickly."
Trump disavows supporters chant of 'Send her back!' at rally www.youtube.com
The same day, John McCain was also trending on Twitter. Former Representative of Florida, David Jolly, tweeted about how he missed the moment when John McCain cut off a woman claiming Barack Obama was an "Arab."
Senator Chuck Schumer also referred to the moment while addressing his colleagues.
Finally, to end this appalling timeline on a high note, here's a video of Minnesotan Representative Ilhan Omar returning home to the Twin Cities. Watch as she's celebrated below:
Could her Democratic Debate win unseat frontrunner Biden?
The second night of the 2020 Democratic primary debates gave American voters a glimpse into the policies, platforms, histories, and personalities of 10 more candidates, all vying to stand out in a crowded 25-person race to challenge Donald Trump in the next presidential election. Following up a spirited debate the night before, during which Elizabeth Warren ran much of the show, the second showdown featured the party's two frontrunners, Joe Biden and Bernie Sanders. Biden and Sanders, however, were not the brightest shining stars on the stage by the end of the night. For many Americans, Thursday's debate served as a formal introduction to many of the other candidates in the race, some of whom made quite a name for themselves.
The general consensus, at least according to liberal-leaning media outlets, is that California Senator Kamala Harris won the debate. Harris was exceptionally poised and confident throughout the entire night, answering questions directly and succinctly—a refreshing break from the single-note catchphrasing, discursive meandering, and sometimes chaotic squabbling of many of her opponents.
At one point of heightened bickering (of which there were several), while nearly every other candidate was trying to yell over one another, Harris addressed her colleagues and competitors, reminding them that "Americans don't want to witness a food fight, they want to know how we're going to put food on their tables." She then seamlessly shifted the discussion back to the matter at hand: jobs. Although quick-witted and clever, sure, I would posit that this was not merely a quippy soundbite. It demonstrates a seemingly natural proclivity for leadership, as well as an ability to behave with cool diplomacy in the face of contentious disarray—all of which are traits one might call "presidential."
That, however, was not even the most defining moment of the night for Harris. About halfway through the debate, she aired her grievances with Joe Biden's sordid political relationship with civil rights. Harris addressed Biden directly and with candor. Instead of trying to smear the former vice president, she simply informed him that she was personally hurt by recent comments he made regarding his positive working relationships with now-deceased segregationists in the Senate.
"It was hurtful," Harris said to Biden, "to hear you talk about the reputations of two United States senators who built their reputations and career on the segregation of race in this country. And it was not only that—you also worked with them to oppose busing."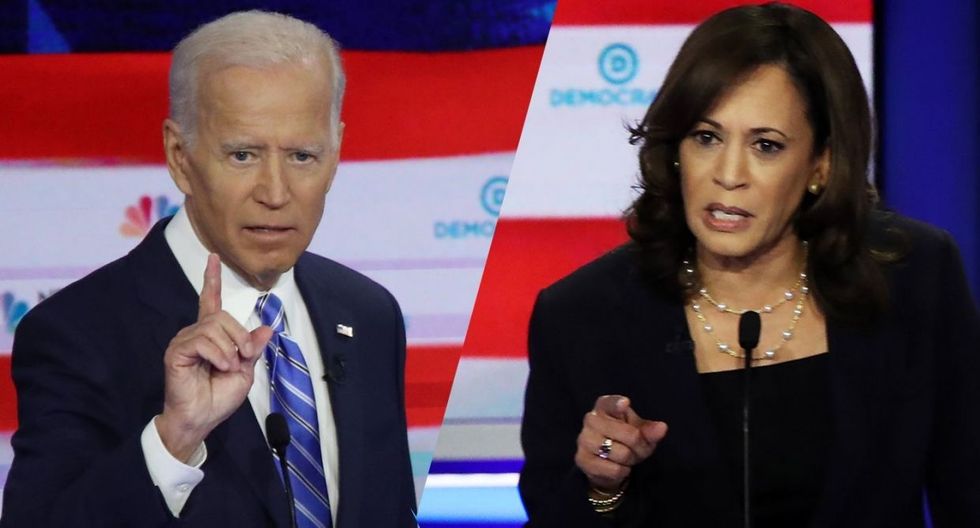 Yahoo News
She then went on to relay the story of a young girl in California being bused in order to integrate into public schools. "And that little girl was me," Harris concluded, "So I will tell you that on this subject, it cannot be an intellectual debate among Democrats. We have to take it seriously. We have to act swiftly,"

Even though he probably should have seen this coming, given the public outcry and a call from fellow Democratic primary hopeful, Senator Cory Booker, for an apology, Biden was clearly rattled by Harris' statements.
In short, he fumbled it. Instead of wielding an opportunity to mirror Harris' sincerity and take her concerns seriously, using the debate platform to finally make an apology, he doubled-down and condescendingly lectured (actually, his tone seemed, at least to this writer, to be teetering on the brink of scolding) Harris, stating that his stance on Civil Rights-era busing was about states' rights, not a tepid attitude towards racial equality.
"I did not praise racists," Biden retorted, "That is not true, number one. Number two, if we want to have this campaign litigated on who supports civil rights and whether I did or not, I'm happy to do that." The former vice president, however, still refuses to issue an apology.
In fact, upon hearing Cory Booker's initial call for an apology, he issued a statement outside of a fundraising event in Washington on June 19th, saying, "Apologize for what? Cory should apologize [...] He knows better. There's not a racist bone in my body. I've been involved in civil rights my whole career. Period."
Joe Biden, who has been the primary frontrunner for the Democratic primary nomination thus far, appears to be largely impenetrable in the face of criticism and scandal, despite being comparatively conservative among a pool of majority-progressive candidates. Only time will tell whether or not Harris has, indeed, finally found Biden's political Achilles Heel.
Either way, though, the first Democratic debate was all about Kamala Harris and the underdogs. In addition to Harris' impressive performance, Mayor Pete Buttigieg of South Bend, Indiana also stood out as intelligent, composed, and unflinching. And Andrew Yang, best known for his somewhat controversial platform of Universal Basic Income (giving every American citizen a monthly stipend of $1,000), also held his own—offering straightforward, no-nonsense, and logically sound answers, even if seldom few questions were directed at him.
A lot can happen between now and February 3rd when the first Democratic primary caucus is scheduled to take place in Iowa. And there will be plenty of chances for candidates to rise and fall in the meantime. If Thursday's debate is any indication of what's to come, however, it appears as if a paradigm shift may be on the horizon, with Senator Kamala Harris leading the charge.
Can the Democratic establishment get it right this time?
With the first Democratic primary still about eight months away, the Democratic party establishment appears prepared to throw all of their weight behind Joe Biden.

To hear MSNBC or CNN tell the story, Joe Biden has been the Democratic party's frontrunner since before he even declared his candidacy. Whether or not this is entirely true, however, is debatable. Misleading polls are being conducted and then misrepresented by many liberal news outlets as a means of solidifying Uncle Joe's frontrunner status early on in hopes of swaying voters toward the "more electable" candidate in the primaries. If Joe Biden can be made to look like he actually has the best chance of clinching the nomination or winning against Trump in a general election, then, voters will be more likely to vote for him as the safe bet.
IVN, or the Independent Voters Network, self-described as "a platform for unfiltered political news and policy analysis from independent-minded authors," has highlighted the biased nature of many political polls. IVN writer, Rudolpho Cortes Barragan reports:
"FiveThirtyEight, which is owned by ABC/Disney, functions as a sort of gatekeeper for polling, and polls are extremely important for candidacies. The public is told that polls judged as A+ by FiveThirtyEight are to be seen as real bellwethers of popular opinion. In reality, 'the polls' are manufactured to produce the results that the pollsters (and their corporate funders) want to see."
Barragan goes on to cite a recent Mammoth University poll as evidence. "The results showed Biden 9 percentage points ahead of Sanders," he writes, "but if you look closely you will see that more than 70% of the people polled are over the age of 50. Any honest person would be able to tell you that the 2020 electorate will be far younger than 50." The data is seldom presented within its full context on mainstream news outlets like MSNBC or CNN, and instills in voters a false sense of Biden's electability and props him up as the "safe" vote.
If this sounds eerily familiar, it's because the same thing happened in 2016. Hillary Clinton, like Biden, was prematurely propped up as the most electable candidate, even though an anti-establishment candidate like Bernie Sanders may have stood a better chance against Trump's "outsider" persona, which resonated with many voters (particularly across the midwest). This was proven in the wake of Trump's victory when analyses showed that many Bernie supporters either did not vote in the general election or jumped on the Trump ticket, preferring the radical change suggested by Trump's "drain the swamp" narrative over Clinton's years of experience as a politician.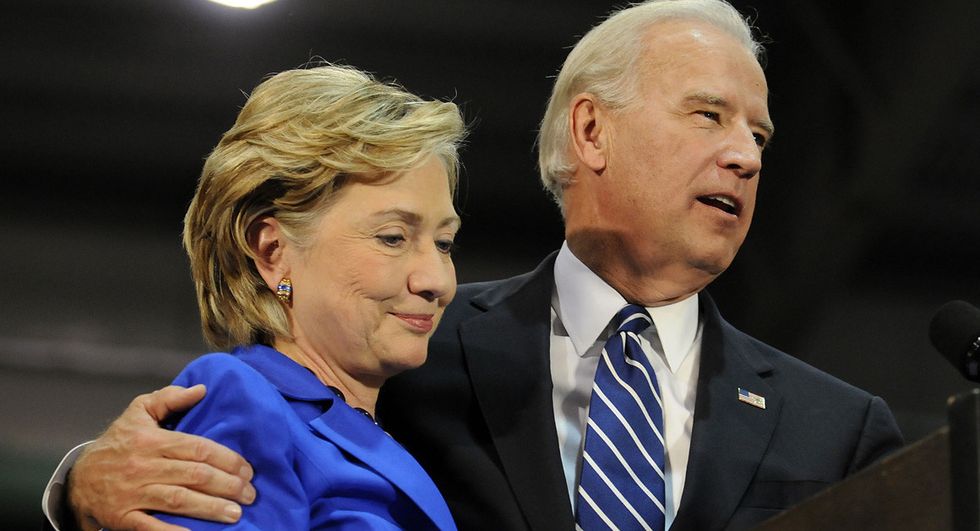 Joe Biden, like Clinton, is firmly rooted in the Democratic establishment. While Trump's approval rating has wavered over the last few years, hitting its low at 35% in 2017, it has remained around 40 to 45% — a number that should be alarming for Democrats going into 2020, as there have been only three single-term presidents since World War II.

Either way, the Democratic party and its voters must avoid making the same mistakes if there is any hope of preventing a Trump reelection. Poll manipulation was not the only issue in the 2016 election. The Democratic National Committee (DNC) was also exposed for unfairly tipping the scales toward Clinton in 2016, effectively rigging the primary against Bernie Sanders.
Donna Brazile, former interim chair of the DNC, revealed in her book, Hacks: The Inside Story of the Break-ins and Breakdowns that Put Donald Trump in the White House, the nefarious– although not technically illegal, according to US District Judge William J. Zloch, who dismissed a class action lawsuit against the DNC – actions of the Committee.
"Hillary would control the party's finances, strategy, and all the money raised," writes Brazile. "Her campaign had the right of refusal of who would be the party communications director, and it would make final decisions on all the other staff. The DNC also was required to consult with the campaign about all other staffing, budgeting, data, analytics, and mailings."
It's unclear whether the DNC's current chair, Tom Perez, will run an honest and fair ship as we approach the 2020 election cycle. Perez held the position of labor secretary during the Obama administration, and Biden publicly threw his support behind Perez during his campaign for DNC chair; whereas Sanders preferred Keith Ellison, who lost by a narrow margin. Only time will tell if Perez will tip the scales in Biden's favor due to their favorable history together, but the Democratic party is no stranger to nepotism, so Perez – especially in light of 2016 – should be watched carefully in the months to come.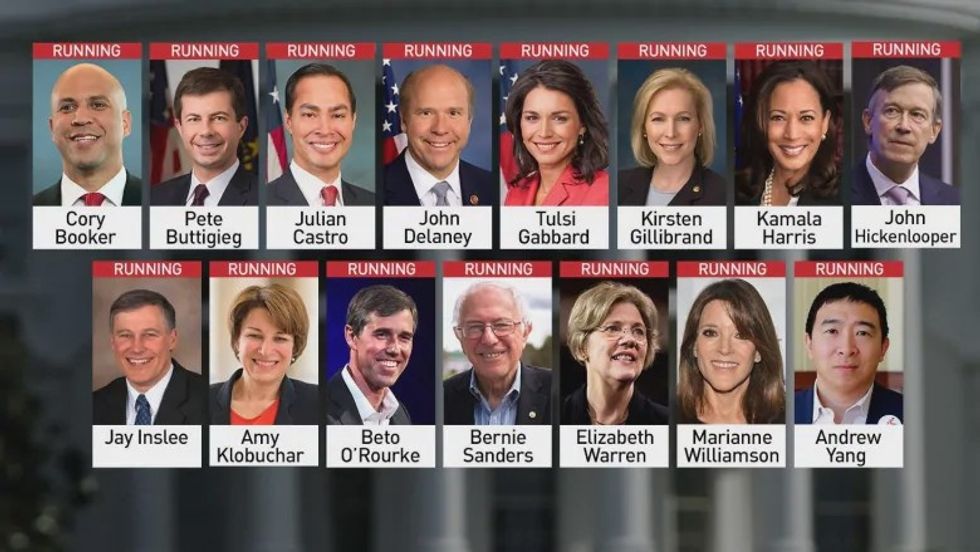 Even if the DNC does run a fair election this time around, electing Joe Biden would be a grave mistake. A mistake that the party already made last time around in the form of gifting the primary to Hillary Clinton. This election will not be one for tepid, center-of-the-road policies. We've already seen how an establishment centrist performs against Donald Trump. The Democratic party must embrace and adopt the progressive push to the left provided by candidates like Sanders and others if they have any hope of winning in 2020. Playing politics as usual will cost the Democratic party, and the nation, another four years of a Donald Trump White House.

The refugee crisis hasn't gone anywhere. But news outlets and political leaders everywhere are ignoring it—and xenophobia is making it worse.
Around 2015, the so-called European refugee crisis was topping every newspaper headline. Reports of the 5.2 million refugees pouring in from Syria and other war-torn countries that year led to mass calls for mobilization to create infrastructure and support systems for displaced peoples. The photo of Alan Kurdi, the drowned three-year-old who provided a name and face to the crisis, sparked international acknowledgment and inspired humanitarian activists all over the world.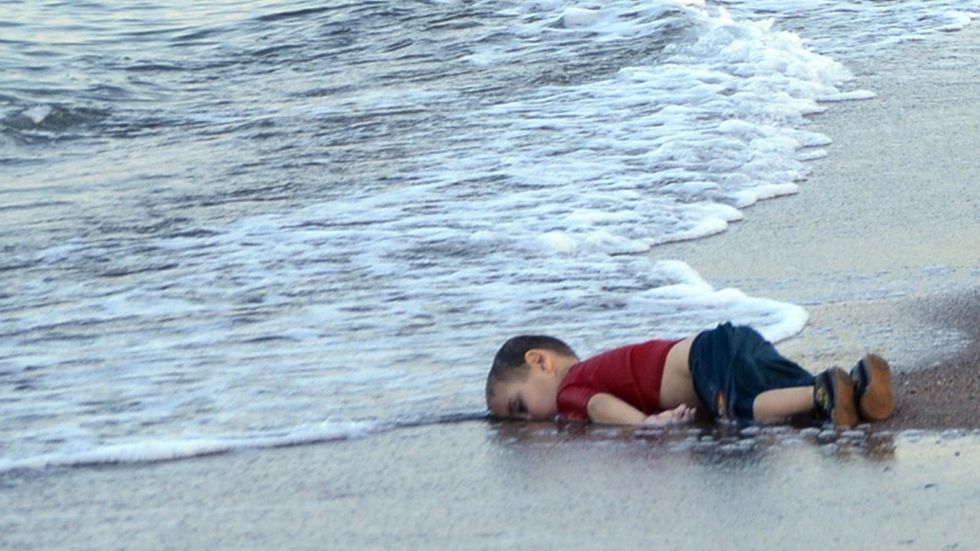 Alan Kurdi, via Medium
But that was four years ago. What has happened to those 5.2 million since then?

Firstly, there are a lot more than 5.2 million now. According to the UN, as many as 63.5 million people have had to flee their homes because of conflict since World War II; and today, roughly eight thousand people per month arrive in Greece, Italy, and Spain from Syria, Guinea, Algeria, and neighboring countries. These numbers are staggering; the lives they describe are almost impossible to imagine. But each figure corresponds to individual experience and a body that likely has crossed countless miles of ocean to arrive on European shores. Though it is impossible to generalize their stories, the majority of these people are currently stranded in liminal places like refugee camps or living as undocumented citizens without access to rights, living wages, and other protections.
According to the Aegean Boat Report, around 20 boats have arrived on the Greek island of Lesvos alone in February 2019, carrying a total of 791 people. Lesvos's Moria Camp holds somewhere between eight to ten thousand refugees; it was initially designed to hold ten. Many have been there for over half a decade, and the conditions in the camp are becoming more and more unlivable by the day.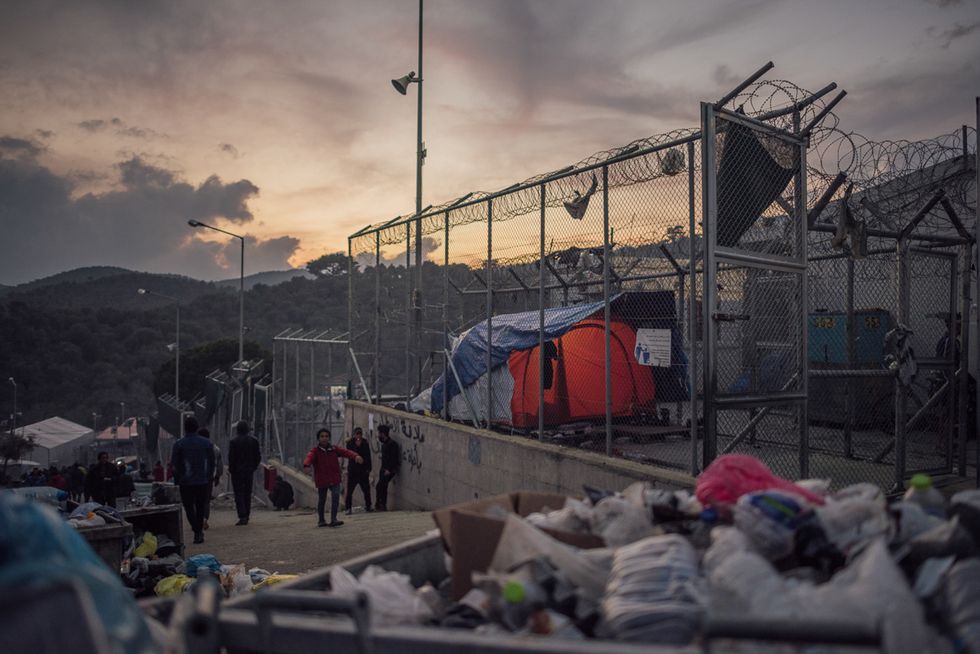 Moria Camp, via Al Jazeera
Many refugees go through hell and back to get there. Left with no choice but to flee violence and unlivable conditions, many spend thousands of dollars on hiring a smuggler who could carry them across the sea. The journey is treacherous—smugglers sometimes have deals with authorities or even pirates, and recent reports have revealed that the journey is more dangerous than ever before, with 1,600 to as many as 2,730 people dying at sea in 2018. The UNHCR released a report which argued that although the official number of migrants crossing the Mediterranean fell last year, this was likely due to "reductions to search and rescue capacity coupled with an uncoordinated and unpredictable response to disembarkation." This in turn, "led to an increased death rate as people continued to flee their countries due to conflict, human rights violations, persecution, and poverty." As the world forgets, the little structure and safety netting that does exist inevitably falls apart.

The news is a strange beast. Some stories can dominate for months and fade out so suddenly it's almost like they never happened; particularly shocking acts of individual or random violence can consume headlines while systematic, long-term horrors can fade away, having lost their ability to capture audiences' attention. With countries like South Sudan, Yemen, and Afghanistan steadily experiencing mass exoduses for years and years at a time, and with the inundation of tragic stories and gory photographs from Syria, it's easy for ongoing horrors to slip underneath an ocean of facts and figures that seem too overwhelming to address.
It's also easy for governments to shirk off responsibility for taking in refugees, seeing as technically they are stateless and, therefore, are not protected by any citizenship rights. Though the Universal Declaration of Human Rights guarantees basic protections for all people on earth, it does not specify which countries are responsible for providing these protections.
But every political decision manifests in lived experiences. For example, when migrants arrive on the shores of Lesvos, they are sometimes met with volunteers who provide water and transportation to the camps. Families and individuals are assigned at random to tents, which are crammed next to each other, creating unlivable conditions.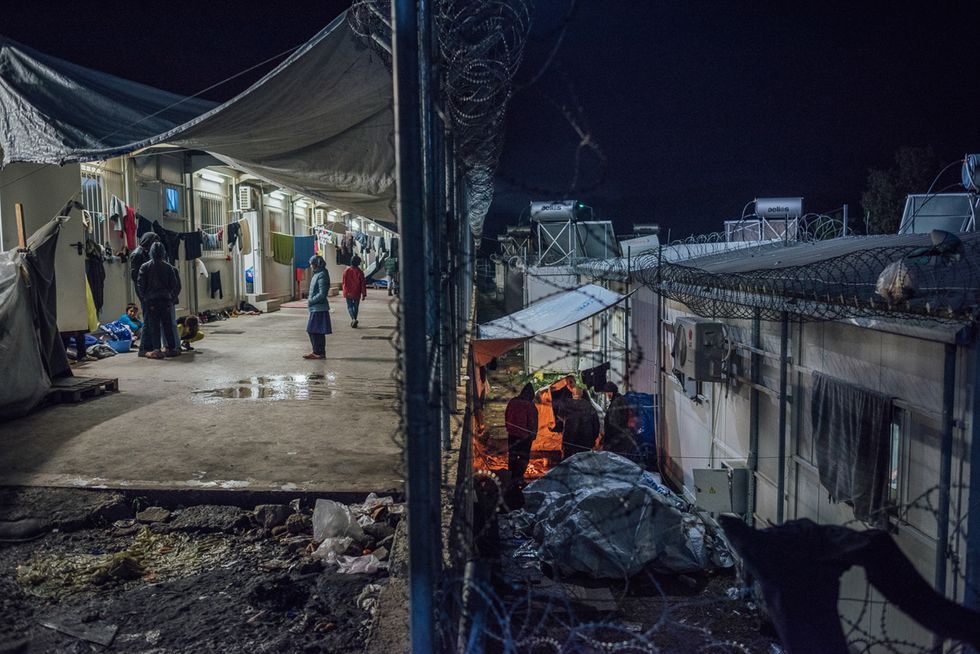 Image via aljazeera.com
Lesvos, in particular, has an extensive volunteer population, but overall aid groups often work as band-aids, failing to heal the sources of a larger issue and failing to structure a pathway forward. Instead, aid groups and refugees languish on Lesvos, in the grey area of statelessness and global amnesia. NGOs are gradually shifting their focus to working with refugees and locals to develop long-lasting relationships and skills, which can propel migrants forward into new lives.

But in light of the antipathy many locals hold towards newcomers, and also because of the trauma, language barriers, or other struggles that migrants face, the process of adjustment is challenging and will require individualized attention, patience, and cohesive efforts. Reports reveal that the majority of refugees fleeing severe conflicts will have vestiges of trauma; the IRC reported high levels of depression and PTSD among refugees across the board.
A 2011 Oxford University study found that the best way for refugees to move forward is through integration into life in their new countries. Solutions lie in treating the wound at its source, addressing xenophobia, and fighting for fair opportunities to education, jobs, healthcare, and other vital structural support systems. On the other hand, stranding migrants in places like Lesvos—where they live in unsanitary and dangerous conditions, surrounded by strangers who may also be experiencing trauma, with no idea of if or when they will be able to leave—is a product of a collective worldwide amnesia, a refusal to see what is happening in real time.
Long-term, slow-moving challengers are not foddered for breaking news. Particularly massive floods of refugees might pique the interest of a world leader; an artist might draw attention to the crisis through an installation in a busy city; but always, the cycles of violence and erasure continue as the world gets caught up in shinier, brighter topics. But remembering and acknowledging what is happening is the first step to moving in a new direction.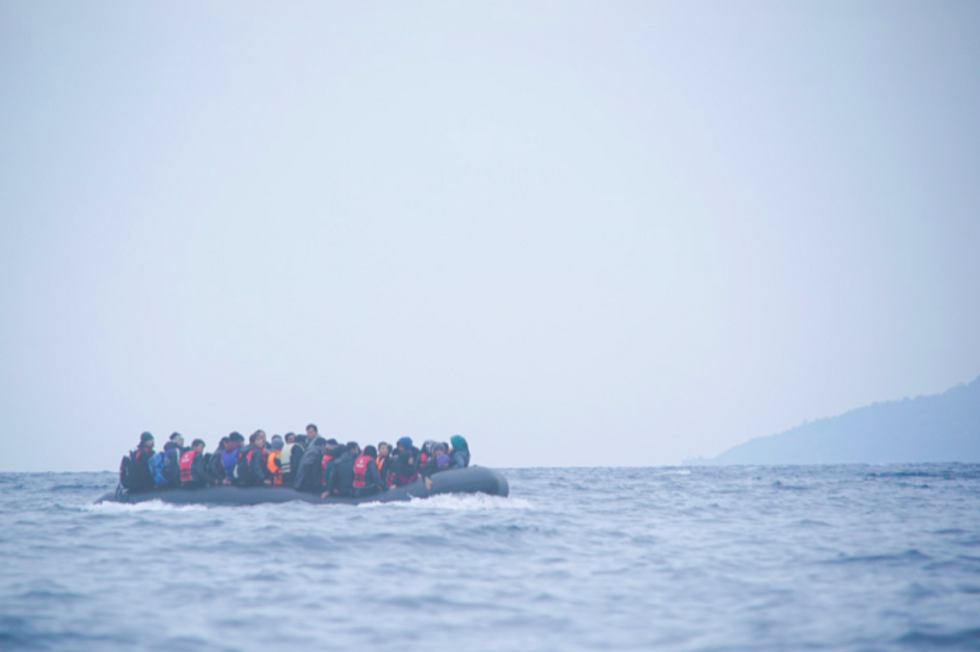 Image via Oxfam Novib Academy
---
Eden Arielle Gordon is a writer and musician from New York City.
Federal land is diminishing at a frightening pace under Trump.
Much of Alaska has long been protected from oil drilling by laws intended to preserve the natural beauty of one of America's least populous states. But for as long as people have fought to keep parts of Alaska free from human interference, others have fought to profit from the land. Now, the Arctic National Wildlife Refuge is under threat of oil drilling. Unfortunately for the protected land, a GOP tax law passed by Congress a year ago and introduced by Sen. Lisa Murkowski (R-Alaska) requires the Secretary of the Interior "to approve at least two lease sales for drilling — each covering no less than 400,000 acres."
Ryan Zinke, the outgoing interior secretary, has openly lauded the development, saying, "An energy-dominant America starts with an energy-dominant Alaska, and among the scores of accomplishments we have had at Interior under President Donald J. Trump, taking these steps toward opening the 1002 section of Alaska's North Slope stands out among the most impactful toward bolstering America's economic strength and security."

This move is in line with other initiatives by the Trump administration to alter Obama era regulations and expand fossil-fuel acquisition all over the country. According to The Chicago Tribune, the interior is also "trying to scrap wildlife management plans for the Mojave Desert in California and for sagebrush habitat through much of the rest of the western United States."

Mark Salvo, vice president of landscape conservation at the Defenders of Wildlife, emphasized how reckless these decisions are. "These are examples of the Trump administration stealing defeat from the jaws of victory," he said. "These plans took years to produce and tens of millions of dollars of taxpayer resources to arrive at these carefully crafted compromises to conserve public lands."
Trump is far and away the US President who has most significantly shrunk the size of protected land, notably reducing Bear Ears National Monument by 85% — a loss of 1.1 million acres. This was a part of a major push in 2017 by interior secretary Ryan Zinke to shrink the size of 10 different areas of federal land or open them up to things like oil drilling, lumber farming, and commercial fishing.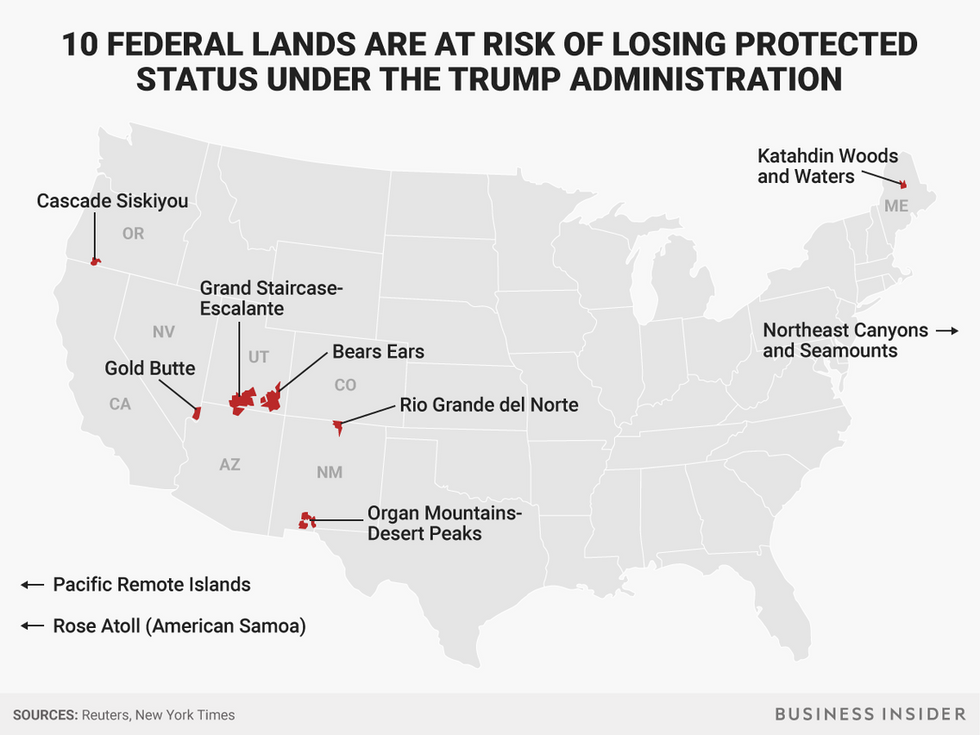 So just how much protected land have we lost under Trump? According to a study conducted by the Wilderness Society — a not-for-profit organization advocating for the protection of public lands — shared with The Guardian, the tally is as follows:

"13.6m acres onshore have been made available for leasing by the Trump administration, far more than in any two-year period under the Obama administration."
"More than 153m acres of ecologically sensitive habitats – from the California desert to the Arctic national wildlife refuge – have seen conservation protections rolled back in some form."
"More than 280m acres have been made available for offshore leasing in the Gulf of Mexico and along nearly 90% of the US coastline."
Cumulatively, that is approximately 433 million acres of land that is no longer protected under US law. What this will mean for the ecosystems and tourism that exists in these places remains to be seen.