Dall-E Mini, the AI-powered text-to-image generator has taken over the internet. With its ability to render nearly anything your meme-loving heart desires, anyone can make their dreams come true.
DALL-E 2, a portmanteau of Salvador Dali, the surrealist and Wall-E, the Pixar robot, was created by OpenAI and is not widely available; it creates far cleaner imagery and was recently used to launch Cosmpolitan's first AI-generated cover. The art world has been one of the first industries to truly embrace AI.
The open-sourced miniature version is what's responsible for the memes. Programmer Boris Dayma wants to make AI more accessible; he built the Dall-E Mini program as part of a competition held by Google and an AI community called Hugging Face.
And with great technology, comes great memes. Typing a short phrase into Dall-E Mini will manifest 9 different amalgamations, theoretically shaping into reality the strange images you've conjured. Its popularity leads to too much traffic, often resulting in an error that can be fixed by refreshing the page or trying again later.
If you want to be a part of the creation of AI-powered engines, it all starts with code. CodeAcademy explains that Dall-E Mini is a seq2seq model, "typically used in natural language processing (NLP) for things like translation and conversational modeling." CodeAcademy's Text Generation course will teach you how to utilize seq2seq, but they also offer opportunities to learn 14+ coding languages at your own pace.
You can choose the Machine Learning Specialist career path if you want to become a Data Scientist who develops these types of programs, but you can also choose courses by language, subject (what is cybersecurity?) or even skill - build a website with HTML, CSS, and more.
CodeAcademy offers many classes for free as well as a free trial; it's an invaluable resource for giving people of all experience levels the fundamentals they need to build the world they want to see.
As for Dall-E Mini, while some have opted to create beauty, most have opted for memes. Here are some of the internet's favorites:
There's no looking back now, not once you've seen Pugachu; artificial intelligence is here to stay.
The K-Pop stars are using their platform to contribute to a broader conversation on the discrimination that breeds hate crimes.
K-Pop sensation BTS have added their voices to the concern around a recent spike in anti-Asian hate crimes in the US and elsewhere.
On Tuesday the band — who, along with their management company, donated $1 million to Black Lives Matter last summer — took to Twitter with the hashtags #StopAsianHate and #StopAAPIHate, sharing a message of unity and anti-discrimination, expressing "grief and anger" over violence and lives lost, and recounting some of their own experiences of anti-Asian racism.
The message refers to times when the group behind hit songs like "Dynamite" and "Black Swan" had "endured expletives without reason," "were mocked for the way [they] look," and "were even asked why Asians spoke in English." They expressed the harm that these experiences had done on a personal level — making them feel powerless — but acknowledged that they were "inconsequential compared to the events that have occurred over the past few weeks."
But of course, the past few weeks have only brought to light a trend that has been building since the beginning of the coronavirus pandemic. Since that time, the fact that the virus originated in China has given bigots an excuse to target individuals as representatives of entire racial groups, and the incidents of hate crimes against Asian-Americans and Pacific Islanders have more than doubled in major American cities.

In an atmosphere reminiscent of the World War II era — when tens of thousands of Japanese Americans were treated as potential spies and forced into inhumane internment camps — American politicians have encouraged conspiratorial and xenophobic framing of the current crisis. Former president Donald Trump has been particularly guilty of this scapegoating, regularly referring to COVID-19 as "the China virus," and — on at least one occasion — as "Kung flu," openly and proudly conflating the deadly pandemic with unrelated aspects of Chinese culture.
In their effort to deflect their constituents' anger and resentment over economic and social conditions brought on by their mismanagement of the pandemic, they have highlighted false associations of the virus with people of Asian and Pacific Islander descent — despite the fact that far more white people have caught and spread the virus at this point. And they have lent credence to unfounded theories that the Chinese government created or intentionally spread the disease.
As a result, thousands have reported being directly affected by incidents of anti-Asian harassment and assault — with many likely going unreported -- and millions more have been living with the fear that they will be targeted next.
While this worrying trend had received some coverage previously — with particular attention to incidents of violence against the elderly — it didn't become major national news until March 16th of this year. That afternoon, a 21-year-old gunman in Atlanta targeted massage parlors staffed primarily by Asian employees, killing eight people — including six Asian women — at three spas, in a deadly spree which he reportedly blamed on "sexual addiction."
Yong Ae Yue Suncha Kim Soon Chung Park Hyun Jung Grant (maiden name Kim) Daoyou Feng Xiaojie Tan Delaina Ashley Yau… https://t.co/c8CpXaxMvT

— Eugene Lee Yang (@Eugene Lee Yang) 1616179564.0
Despite Georgia officials' reluctance to label the murders as a hate crime — with one police spokesperson being removed from the case after telling press that the shooter had "had a really bad day" — it clearly folds into the ongoing trend and has stoked pushback and protests against anti-Asian hate. But it also points to the fact that the current trend is part of an existing history of racism and hate.

The shooter's sense that Asian women working in massage parlors are necessarily sex workers and that this was more of a "temptation" that he wanted to eliminate than, for instance, the strip club across from one of the spas he attacked, tie into longstanding issues of race, immigration, and fetishization.
Whether or not he invested in the xenophobic framing that all Asian people are somehow to blame for the spread of the coronavirus, he was playing into a notion of Asian women as sex workers that dates back to the 1800s and the first federal immigration law.
Responding to "Yellow Peril" panic, the Page Act of 1875 imposed special restrictions on women trying to immigrate from East Asia, with the belief — as expressed by President Ulysses S. Grant — that "few [Asian women] are brought to our shores to pursue honorable or useful occupations." In case that wasn't clear enough, the law required Asian women intending to immigrate to answer a series of questions about sex work and undergo a medical examination to determine their "character."
Today, despite the fact that there is no evidence any of the women who were killed were sex workers, much of the media has carried on this history — covering the shooter's supposed motives with a credulous narrative of a sex addict killing sex workers. Clearly a broader conversation about anti-Asian racism is necessary.
We Need To Talk About Anti-Asian Hate www.youtube.com
So, while it's true that BTS members have not experienced the most dramatic, violent consequences of that racism, it's vitally important that they're using their popularity and their platform — with around 34 million followers on Twitter — to keep the conversation going and call out all forms of discrimination.

Because as long as our culture makes room for depictions of Asian people as disease vectors, fetish objects, hyper-foreign curiosities, or model minorities to be used as a cudgel against other marginalized groups — as anything less than complex individuals trying to live their lives — there will be room for anti-Asian racism, hate, and violence.
Keep reading...
Show less
New evidence suggests asymptomatic transmission is less likely than previously thought.
On Monday, a representative from the World Health Organization called asymptomatic transmissions of the coronavirus "very rare." This was quickly bolstered by conservative lawmakers to call for the end of social distancing guidelines and the mandatory wearing of face masks. Many health experts and scientists questioned WHO's statement, citing a lack of evidence.
Today, WHO has walked back their original statement, clarifying that the observation "was based on a relatively small set of studies," and, "Evidence suggests people with symptoms are most infectious, but the disease can be passed on before they develop."
So What Happened?
Essentially, the original statement was referring to a small set of data from various countries in instances where an asymptomatic case had been followed up and secondary infections among the asymptomatic person's contact had been sought out. This data suggested that infections among the people the asymptomatic person had come in contact with were "very rare."
The WHO emphasized today that there is no way of knowing if this trend is true on a global scale.
According to the BBC, the Director of the WHO's health emergencies program, Dr Michael Ryan, said he was "absolutely convinced" asymptomatic transmission was occurring, but "the question is how much."

What Exactly Does Asymptomatic Mean, Anyway?
According Dr Van Kerkhove, the WHO's head of emerging diseases, there are three categories within the designation of "asymptomatic."
People who never develop symptoms (asymptomatic)
People who test positive when they don't yet have symptoms - but go on to develop them (pre-symptomatic)
People with very mild or atypical symptoms who do not realise they have coronavirus
So, while people who never develop symptoms are unlikely to pass on the virus, it's impossible to know if someone who has tested positive is truly asymptomatic or merely pre-symptomatic. If they are pre-symptomatic, then they are more likely to pass on the virus.
Should I Continue to Social Distance and Wear a Mask?
Yes. There is still so much that experts don't know about the spread of COVID-19, so while some evidence may suggest the virus isn't as easily passed on by as many people as previously thought, that doesn't mean you won't contract the virus if you aren't careful.
New studies show a correlation between COVID-19 deaths and low levels of the "sunshine vitamin."
Vitamin D has long been a useful warrior in the fight against disease, but now some studies are hinting that it might help fight COVID-19.
In this day and age, everyone is desperately looking for a cure, the Internet is rife with misinformation, and nothing is certain about vitamin D yet. But several promising studies have found that lower levels of vitamin D can put patients at increased risk of death from COVID-19, while higher levels might increase patients' chances of survival.
An April 9 study from the Philippines measured vitamin D levels in 212 coronavirus patients and found that patients with lower Vitamin D levels had relatively mild symptoms, while patients with deficiencies tended to grow much sicker. Prior to that, an Indonesian study from May said that "majority of the COVID-19 cases with insufficient and deficient vitamin D status died."
A similar study from Northwestern University explored 10 countries and also "found a correlation between low vitamin D levels and hyperactive immune systems." Most recently, a new study from Trinity in Ireland came to the same conclusions, also finding that lower levels of vitamin D are linked to a higher mortality rate for COVID patients.
Vitamin D plays an important role in the body's immune response. It may also be able to help heal compromised respiratory functions, according to Newsweek. COVID-19 is still a relatively unknown disease, but it is believed that the virus creates what's called a cytokine storm in patients. That means that the body produces a superabundance of messenger proteins called cytokines, which can lead to inflammation in the lungs. Vitamin D can help prevent the release of cytokines.
These studies are inconclusive, and clinical trials are just beginning. "If vitamin D levels are really a marker for better diet, or more access to healthcare, or any of a variety of other variables that are not statistically assessed, then it is not the vitamin D that is the cause of the better or worse outcomes but rather the other factors," said Daniel Culver, Director of the Interstitial Lung Disease Program in the Department of Pulmonary, Medicine at the Cleveland Clinic.
To be clear, vitamin D is not a miracle cure. "We found no clinical evidence on vitamin D in COVID-19," scientists from Oxford University wrote after their study. "There was no evidence related to vitamin D deficiency predisposing to COVID-19, nor were there studies of supplementation for preventing or treating COVID-19."
Still, because it's relatively harmless, some countries are now calling for widespread dissemination of vitamin D supplements and advising people to pay attention to their own levels. It's important to note that it is possible to ingest too much vitamin D, but a few supplements, some eggs, or some extra (safe) sunshine is probably as good a prescription as any during these isolated times.
They don't need our thanks, they need us to continue containing the spread of the coronavirus
In honor of National Nurses Day, Donald Trump invited a group of nurses to the White House on Wednesday afternoon to thank them for their dedicated service to their patients and for the sacrifices they've made in this difficult time.

This comes the day after Trump referred to reopening the country and the "Yankee stadium of death" that will result (a gross understatement of actual projections).
Meanwhile the hashtags #NationalNursesDay and #ThankYouNurses have been trending on Twitter with messages of gratitude. It's the literal least we can do as a nation to acknowledge the crucial role of the people who are at the front lines of fighting a deadly pandemic. Of course, if we wanted to a little bit more for them—just a little bit to honor the people we love to call heroes—we would listen to their desperate pleas for more help and more caution. We would try not to turn their hospitals into living hells.
Just last week National Nurses United, the largest organization of registered nurses in the US, issued a statement in opposition to the push to "reopen the country." They insist that we aren't ready and call for significant improvements to hospital safety standards and to the level of personal protective equipment provided, "Otherwise, hospitals will continue to be places that spread infection, and nurses and health care workers will continue to get sick and sidelined, die, and be unable to care for the next wave of patients." They also call on President Trump to invoke the Defense Production Act in order to produce necessary equipment. He could do so at any time but has so far deferred to private industry and friendly businesses instead.

The statement goes on to address the real economic hardships that are driving much of the push to reopen and advocates for a set of solutions that would prioritize the collective well-being and avoid overwhelming our healthcare system: "People in America must have enhanced unemployment benefits and paid sick time and family leave; food security; housing; healthcare; and other social supports for people who are unemployed or unable to work … we can organize our society in ways that are beneficial to everyone, as opposed to a handful of billionaires."
It's honestly the least that we as a nation should be doing as the devastating flaws in our system are laid bare by this crisis, but at the state and federal level we continue to opt instead for the least we can do—which is next to nothing.
Luke Adams, one of the nurses being honored, traveled from Pennsylvania to New York City to provide much needed help for the city's overwhelmed healthcare system. He slept in his car for days until a local family took him into their home. It's a nice story, and Adams represents the kind of noble sacrifice that good and caring people make in times of unavoidable crisis. But if we accept—as the Trump administration, business leaders, and right-wing pundits continue to insist—that a massive increase in COVID-19 deaths is an acceptable downside to boosting the economy, then we are thrusting that crisis upon healthcare workers and forcing them to make those sacrifices against their will.

While we all seem to have accepted the idea that we've made it past the worst of the pandemic, the reality is that the death toll has barely begun to plateau in most of the country. We are nowhere near the federally recommended guidelines for reopening—14 days of steadily declining cases—and as we continue to pursue an agenda of accelerating economic recovery ahead of any reasonable schedule, we are ensuring that the nurses we are thanking and honoring today will face horrific, traumatizing conditions in the weeks and months ahead.
Already coronavirus deaths in the US outnumber the American soldiers who died in the entirety of the Vietnam war, and the people on the frontlines will likewise carry the psychological damage of the devastation that we are containing to our hospitals—while we push for a return to offices, nail salons, and restaurants as though everything is normal.
Here's how far we are from normal: There isn't even enough time to clean rooms as new patients are moved in to replace the dead. Patients are dying in hallways and overflow tents. Nurses and doctors are forced to choose whose life is worth saving while refrigerated trucks are shipped in to store the bodies before they're sent to mass graves. As one doctor in New Orleans put it, "We are in the valley of the shadow of death right now."

These are not experiences that anyone will have an easy time moving on from. In some places it has started to get better, but the worst is ahead if we reopen. They are risking their lives and destroying their mental health for us, and we are telling them it's not enough—that we are fine with making the problem worse for the sake of our comfort.
The voices of the wealthy, the bored, and the ignorant rise up as one to say, "Do more. We want to go back to work, to send our kids back to school, to go golfing again. We want to get back to our lives and back to getting rich on oil stocks and the labor of underpaid workers. If that means you need to enter the next ring of hell, then that's a sacrifice you're just going to have to make."
We can't keep thrusting nurses, doctors, hospital staff into dangerous, traumatic circumstances rather than making necessary, humane changes to the structure of our society. If people can't pay for rent or food right now, then we should provide for them—not push them back to work. We can afford it. We have billionaires who can pay for it. That's the value of being the richest nation in history—of living in a society that produces so much abundance. But we prefer to throw sickness and death at nurses with a patronizing, "Thanks, guys! You're the real heroes."
Enough. We aren't allowed to call these people heroes, or to perform these shows of superficial gratitude, if we want to continue treating them as fodder in a war against minority communities and modest social reforms. We need to give them what they need—what they're asking for—and stop forcing them to sacrifice at the altar of heartless consumption.

They've given us enough. It's time for us to give back.
Keep reading...
Show less
Whether you're unemployed, working from home, or an essential worker, there's a lot to fight for right now
According to a report published in The Intercept on Tuesday, essential workers at major companies like Amazon, Walmart, Instacart, Target, Whole Foods, and FedEx are planning a walkout as part of a May Day general strike, fighting for workers' rights.
A lot of Americans probably don't know the history of May Day, or the fact that May 1st is known as International Workers' Day—or Labour Day—in much of the world. That ignorance, and the fact that we have our own Labor Day in September, can best be understood as part of a deliberate effort to undermine class consciousness and solidarity in the US, and is all the more reason why more workers need to participate in Friday's strike.
The power structures of our country have long maintained a hostile relationship toward labor and have successfully suppressed unionization and other efforts by workers to agitate for their rights. But this May 1st is the perfect time to correct that tendency and join the world in celebrating workers–because the historic event that International Workers' Day commemorates took place here in America in 1886, and it upset the established hierarchy in a way that should serve as inspiration for people currently struggling to make ends meet.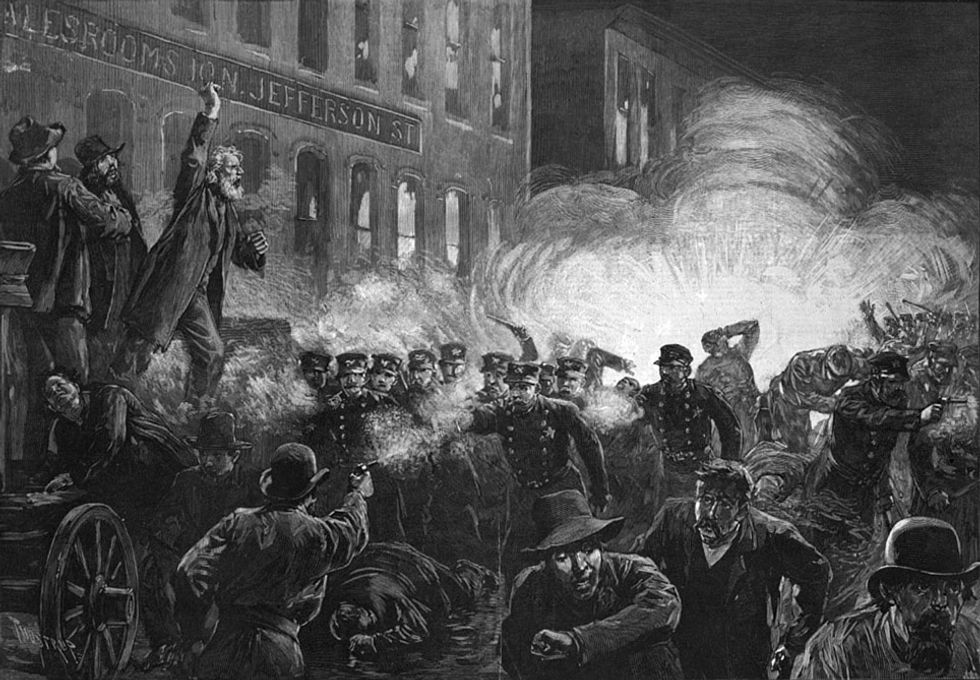 Prior to 1886, May Day had traditionally been celebrated in European cultures with a variety of festivals celebrating spring, but that year American workers took the occasion as an opportunity to fight for their rights. A massive, nationwide work stoppage began on May 1st and continued for several days, with thousands of striking workers demonstrating in every major city. At the time, workers were often made to work long hours in dangerous conditions, and they were fighting for the eight-hour workday—so if you've ever gotten overtime pay, or just enjoyed clocking out at 5:00, then you have them to thank.
On May 3rd police efforts to quash the protests in Chicago resulted in at least one death and several injuries.The next day an unknown assailant came prepared. When police once more attempted to disperse the crowd in Haymarket Square with violent tactics, that person threw a dynamite bomb. The explosion and the ensuing gunfire killed seven police officers and at least four civilians. Dozens more were badly hurt. Police then rounded up hundreds of organizers, and four men—none of whom had thrown the bomb—were hanged after a lengthy, internationally publicized trial.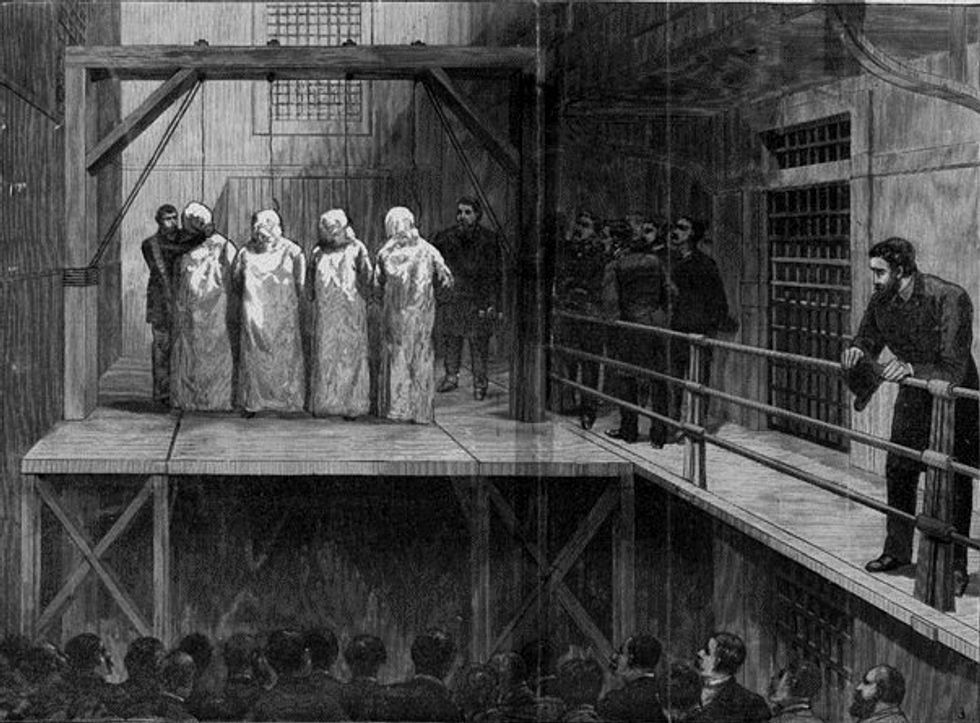 It would take another 30 years of fighting before a federal law established an eight-hour work day for any private industry—and even longer before FDR's administration made it standard across most types of work. But those four men became martyrs for the cause of workers' rights and galvanized people around the world to take action. According to historian William J. Adelman, "No single event has influenced the history of labor in Illinois, the United States, and even the world, more than the Chicago Haymarket Affair," yet few Americans are aware of these events or the holiday they spawned. While the violence and death that took place back then was obviously regrettable—and no one should be hoping for its recurrence—we are about due for another turning point in labor history.

The cracks in our system are being exposed like never before, and millions are falling through. Tens of millions of Americans find themselves suddenly unemployed or underemployed. Shockingly few have been able to sign up for unemployment benefits, and the federal government's $1,200 checks are being treated as a long-term cure-all. People aren't making money, yet most of them are still expected to pay their rent in full, and many have lost their health insurance amid a viral pandemic. It's no wonder people are protesting for their states to reopen; but seeing as that would plainly backfire (and is a push being secretly driven by wealthy backers who won't have to risk their lives), we need to direct that energy toward measures that would actually help.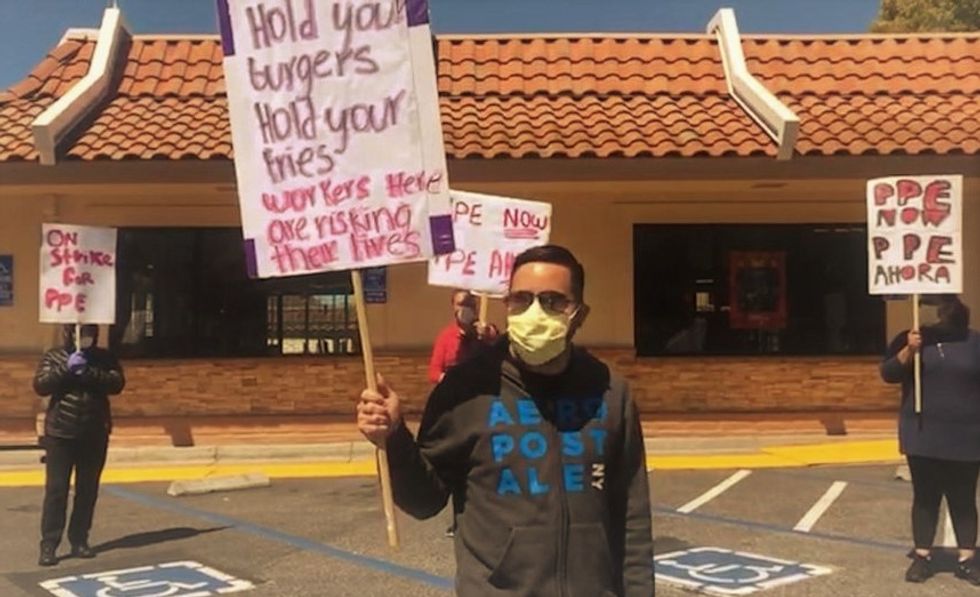 ABC
Meanwhile, many of the people who never stopped working—in healthcare, retail, food service, and other industries deemed "essential"—are being asked to risk their lives working without safety equipment, hazard pay, or even adequate sick leave. These conditions would be unacceptable at the best of times, but now—at the worst of times—we have no choice but to fight back and demand immediate relief and lasting reforms.

A rent strike is a good start, but a general strike—in which workers across industries and around the country participate—sends a real message. So if it's at all possible for you to join the general strike on Friday, May 1st, and/or participate in a (safe, socially-distant) demonstration, consider what you'd be fighting for: A rent and mortgage freeze; liveable stimulus payments; guaranteed healthcare; and hazard pay, sick leave, and PPE for all essential workers.
These are the absolute bare minimum measures that can get us all through this crisis, and if we don't demonstrate the collective power of the American working class—to drive or shut down the economy—we will continue to be deprived of even these. It's time to stand up.
What can nature teach us about responding to two massive crises?
The mycelium is a type of fungi that thrives on decomposition.
Spores germinate and multiply, forming mushrooms that absorb nutrients and swallowing dead plants, devouring toxins and fostering the growth of new life. It's essentially the earth's life support system, the embodiment of regeneration.
What we need now is life support, and a mycelium of relief—a multifaceted plan that understands and utilizes our interconnectedness, which could save us or that could drive us to extinction. But one thing's for certain: Our divisions are killing us. We need to let the systems that no longer serve us decompose so that new realities can come to light.
Today, though, many of us are facing a peculiar polarity. We're isolated because of a pandemic that threatens all of humanity. Yet we have failed to rally together to fight it, and if anything, political divisions have deepened in recent weeks.
We've also failed to rally around another existential threat, a parallel—and far more severe—crisis that's been bubbling under the surface of our reality for decades. The climate crisis will wreak far more havoc than the virus has, costing many more lives and changing our world on a much vaster scale. It's already contributing to rising sea levels that are flooding cities. You can see it manifesting in the wildfires that smeared California and Australia these past few years, in the tsunami that eviscerated Japan in 2011, in the bad air quality that's decimating the lungs of people living in crowded cities, and in the waves of refugees fleeing conflicts sparked by droughts and other disasters. If a climate-related disaster were to hit an area affected by COVID-19 or another pandemic, the results would be apocalyptic beyond measure.
Neither COVID or climate have easy, immediate solutions, which is part of what makes them such vast, slippery issues. Both could, of course, be solved by scientific miracles—a vaccine or a superbly effective fossil-fuel devourer—but since we can't count on those inventions, then we have to rely instead on solutions that are much more difficult to define.
We have to rely on each other, and on policies that support our most vulnerable populations as well as our most powerful. Be it a virus or a wildfire, climate change and coronavirus do far more harm to frontline communities than they affect people who can work from home or who can live off their savings. While half of the population rests on their couches, another half scrounges to eat or pulls themselves off to another brutal shift at a grocery store or in a hospital. The coronavirus crisis has exposed the brutal divisions of American society, which allow some people to safely isolate while others face extreme poverty and instability.
These divisions are largely consequences of neoliberal capitalism, a driving force behind climate change. "Let's not lose sight of the root cause of this crisis: rampant capitalism. Capitalism has steamrolled this planet and its organisms, gouging out mountains, overexploiting fish stocks, and burning fossil fuels to power the maniacal pursuit of growth and enrich a fraction of humanity," writes Matt Simon. "Since 1988, 100 corporations have been responsible for 70 percent of greenhouse gas emissions."
No wonder the Earth is collapsing under our weight. But the solutions to coronavirus and climate change may just be intertwined, part of the same web of regeneration and redistribution that could lift us up and off of the edge of this cliff.
One such solution is outlined in the People's Bailout, a relief and recovery package designed by over 800 activist groups. The People's Bailout demands that Congress commit to five steps during their efforts to provide COVID-19 relief:
1. Health is the top priority, for all people, with no exceptions
2. Economic relief must be provided directly to the people
3. Rescue workers and communities, not corporate executives
4. Make a downpayment on a regenerative economy while preventing future crises
5. Protect our democratic process while protecting each other
In a world where the actual stimulus package that Congress passed provided $3 trillion of relief to major corporations (a check three times the size of Joe Biden's climate plan), all this seems far away.
But this is America, and this is humanity, and this is life, which should be an impossibility in itself. Despite our many mistakes, we have always built impossible things. We have created glorious temples and magnificent skyscrapers; we criss-crossed the world with roads; we sent men to the moon. We may not always act ethically or responsibly, but we have the power to build and we have the power to grow.
Now we are being forced to change. We have the choice to build a world that can sustain itself—for the good of not only the planet, but for the good of our own world, our own economies, our own selves.
We need plans that erode poverty and pollution and disease and convert them into new, creative solutions. Plans that start from below, from inside, from underground, from the communities that need them most, and that grow up and out towards the light. An alchemy of release and rebirth, starting from the soil and the sadness of isolation, upwards and outwards and eventually back outside, towards a future truly worth fighting for.
We need to have faith, even though it all seems impossible—because what's the alternative?
We can create a future of open fields and breathable air, of wind turbines and monthly checks that land like clockwork in our bank accounts, of fewer private jets and more bullet trains. That future seems further and further away with each devastating headline and each rising degree.
That the Earth exists at all—that we broke through the darkness, that some spore broke into the shape of life—is an impossibility in itself. Within each of us there is a longing to survive, to connect, and to heal.
In her book Parable of the Sower, Octavia Butler writes, "God is change." This pandemic has shown us that everything can change on a dime. Now the question is: What kind of change do we want? What are we choosing to worship during this time? And what role can each of us play in creating it?