Here are the facts about #hantavirus.
One of the most searched terms on the Internet right now is "hantavirus." This comes in the wake of reports out of China that a man who died on a bus Monday tested positive for something called hantavirus. Global Times, an English-language Chinese news outlet, tweeted, "He was tested positive for #hantavirus. Other 32 people on bus were tested." The tweet has now been shared more than 15,000 times.
This immediately sparked rumors of a new pandemic poised to sweep the world before we even have a chance to get the coronavirus (COVID-19) under control, and #hantavirus soon began trending on Twitter. Luckily, there is accurate information out there about hantavirus. Here's what you need to know.

What is a Hantavirus?
By this time, everyone knows that the novel coronavirus that has caused international turmoil since originating in Wuhan, China, jumped from an animal host to humans. A coronavirus is any virus that originated in animals. Similarly, hantaviruses are a family of virus that spread through rodents. But there are key differences: According to the CDC, hantaviruses spread to humans as a result of close contact with rodent urine, droppings, or saliva, and scientists and doctors have been aware of them since the 1950s. According to the CDC, "Hantaviruses in the Americas are known as 'New World' hantaviruses and may cause hantavirus pulmonary syndrome (HPS). Other hantaviruses, known as 'Old World' hantaviruses, are found mostly in Europe and Asia and may cause hemorrhagic fever with renal syndrome (HFRS)."
The CDC goes on to specify, "The hantaviruses that cause human illness in the United States cannot be transmitted from one person to another." Not only that, but hantavirus infections are exceedingly rare.
What are the Symptoms of Hantavirus?
Symptoms of HPS include,"Fatigue, fever and muscle aches, especially in the large muscle groups—thighs, hips, back, and sometimes shoulders. These symptoms are universal. There may also be headaches, dizziness, chills, and abdominal problems, such as nausea, vomiting, diarrhea, and abdominal pain. About half of all HPS patients experience these symptoms."
The CDC informational page on the virus goes on to say, "Four to 10 days after the initial phase of illness, the late symptoms of HPS appear. These include coughing and shortness of breath, with the sensation of, as one survivor put it, a '…tight band around my chest and a pillow over my face' as the lungs fill with fluid."
In contrast, HFRS is characterized by, "Symptoms [that] begin suddenly and include intense headaches, back and abdominal pain, fever, chills, nausea, and blurred vision. Individuals may have flushing of the face, inflammation or redness of the eyes, or a rash. Later symptoms can include low blood pressure, acute shock, vascular leakage, and acute kidney failure, which can cause severe fluid overload."
Is the Disease Fatal?
HFRS has a fatality rate of 5-15% while HPS has a fatality rate of 38%.
Could Hantavirus Turn Into a Pandemic Like Coronavirus?
The answer is, simply, almost definitely not. Human to human transmission of hantavirus is exceedingly rare, particularly in the United States where it is unheard of. In fact, the CDC specifies, "To date, no cases of HPS have been reported in the United States in which the virus was transmitted from one person to another." Meanwhile, it is possible for HFRS to be transmitted from person to person, but it is extremely rare and unlikely. So much so that it is essentially impossible for the virus to travel between people at such a rate as to cause a global pandemic.
How Can I Avoid Getting Hantavirus?
According to the CDC, to get infected with HFRS, one must be exposed to, "Aerosolized urine, droppings, or saliva of infected rodents or after exposure to dust from their nests. Transmission may also occur when infected urine or these other materials are directly introduced into broken skin or onto the mucous membranes of the eyes, nose, or mouth. In addition, individuals who work with live rodents can be exposed to hantaviruses through rodent bites from infected animals." Transmission of HFRS from one person to another is extremely rare.
Meanwhile, if you live in the United States, you have even less to worry about as HPS cannot be passed between humans. The majority of cases of HPS in the USA are caused by deer mice (with some cases caused by cotton rats, and rice rats in the southeastern states, and the white-footed mouse in the Northeast). The virus can be contracted through the air when fresh rodent urine, droppings, or nesting materials are disturbed or otherwise stirred up, which can cause tiny droplets containing the virus to become airborne. It can also, more rarely, be contracted through rodent bites, food contaminated by rodent waste or saliva, and possibly by touching something contaminated and then touching your face. But just because you may have come in contact with a rodent nest does not mean you will contract the virus, as HPS infections are still very rare and not all rodents carry the virus.
Should I Worry About Hantavirus?
No, unless you're someone who frequently consumes or comes in contact with the kinds of rodents who may carry the virus, you have nothing to worry about. Even if you think you may have come into contact with a rodent nest recently, it is unlikely that you have contracted this virus. Additionally, HFRS (the version of the virus the man who died in China Monday likely had) rarely jumps between people, and there is no evidence that the infected man transmitted the virus to anyone else. Of course, if you have been around an infected person or rodents and have fever, deep muscle aches, and severe shortness of breath, see your doctor as soon as possible.
Look on our works, ye mighty, and despair!
There is a saying that it is easier to imagine the end of the world than to imagine the end of capitalism.
Entrenched systems of power have established bulwarks against the kind of institutional reform that younger Americans have recently been pushing for. By controlling the political conversation through lobbying, control of mass media, regulatory capture, and authoring of legislation, the ultra-wealthy maintain the status quo in a way that makes changing it seem impossible. The problem is that change is desperately needed if we are going to maintain any semblance of civilization.
While political dynamics have become so rigid that the boundaries of what we can achieve begin to feel impenetrable, the COVID-19 pandemic has revealed that the vital structures of our society—a society that is superficially so robust—have been so weakened that a collapse in one form or another is inevitable. We are the world's superpower, yet faced with a slightly more contagious, slightly more lethal virus than the flu, we are powerless. How did it get to be this bad? How were we so blind to it?
To clarify, depending on the part of the country you live in, it could seem like I'm exaggerating. It may not seem "so bad," or like we're on the verge of collapse. Not long ago the president and many of his loyalists on Fox News and AM radio were still calling dire forecasts around the coronavirus a hoax. At the time it seemed reckless but not unhinged from current events—which were still largely unaffected. In much of the country there is little cause for alarm, so few people are doing much to change their behavior. That's about to change, and the areas hit worst will soon be making the dire choices that Italian hospitals were recently faced with—which patients are we going to hook up to ventilators, and which are we going to allow to die. We are already started on a path that leads to overflowing hospitals in every major city.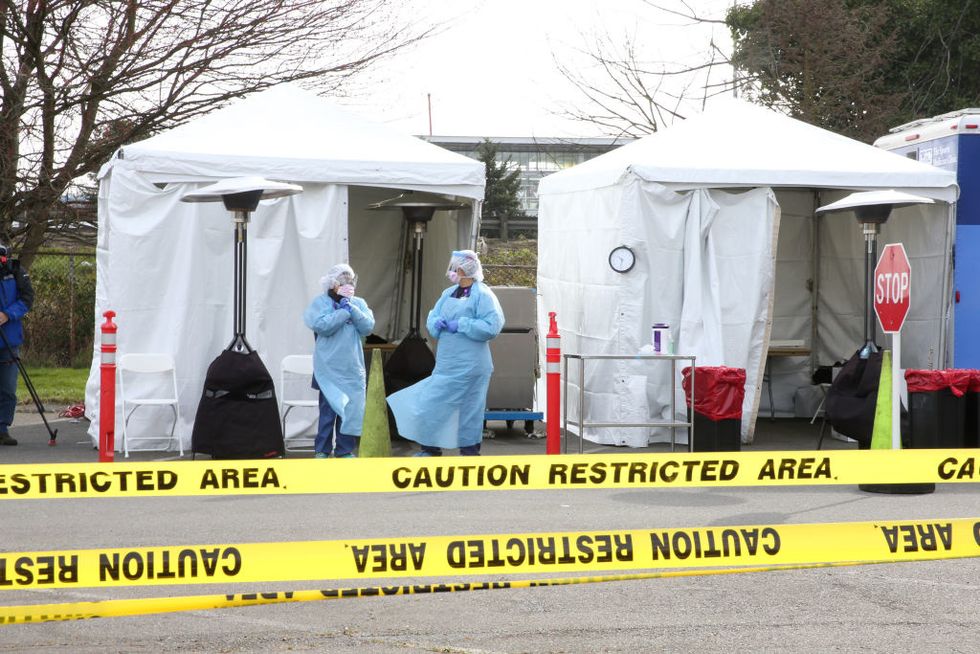 A makeshift testing facility in Seattle, Washington Getty Images
The problem is that our entire economy is set up around the same kind of short-term thinking that drive publicly traded corporations. The mentality that "government should be run like a business," leads to cost-cutting measures that only look to the current budget, with minimal consideration given to the kind of intermittent crises that we are bound to face—like a viral pandemic. If it's not particularly likely to happen before the next election cycle, it's better not to even worry about it. This is the kind of thinking that led Donald Trump's administration to push for cuts to the CDC and to disband their global health security team in 2018.

But the systemic issues go much deeper than that and started long before Trump took office. Trump and his ilk can't be blamed for the fact that the US has two hospital beds for every 1,000 citizens. Nor are they responsible for the fact that almost every aspect of America's critical infrastructure receives a near-failing grade from the American Society of Civil Engineers. This includes airport congestion—which has already become an issue with the current pandemic—and important shipping routes that we will rely on to maintain the movement of necessary goods as conditions around the country worsen.
Add to those issues the fact that we have a massive population of prisoners sharing tight quarters with poor sanitation, a substantial homeless population with no way to quarantine, a dearth of worker protections like paid sick leave, and it becomes hard to imagine how we'll get through this unscathed. And, of course, this is still ignoring the elephant in the room—a for-profit healthcare system that discourages millions of uninsured and underinsured Americans from seeking medical advice or treatment until it's too late.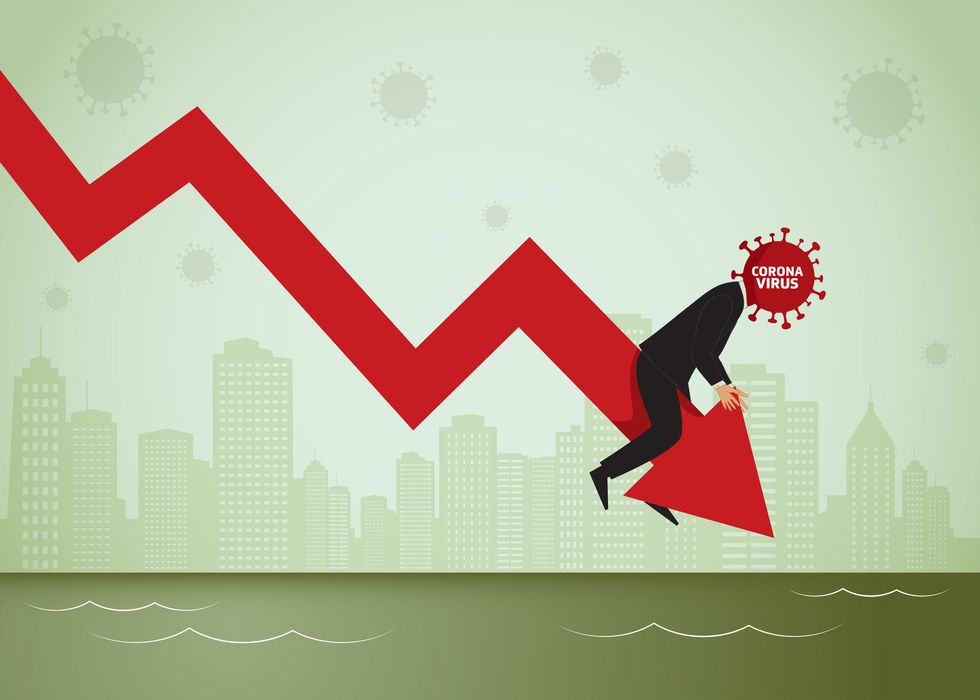 Getty Images
Meanwhile, the economic hardships imposed by the necessity of social distancing are being exacerbated by an economy that is heavily reliant on the whims of financial speculators who create an echo chamber of divestment that heightens every crisis. The stock market, in other words, is going crazy in the worst possible way. It's too soon to say how thoroughly the weaknesses in our system will be tested by the developing pandemic, but even in the best case scenario they are going to be strained to a terrifying extent.

Fortunately, there are efforts underway to shore up some of the most obvious breaking points so we can avoid complete societal collapse. They may turn out to be too little too late, but even if they get us through this current disaster, how long will it be before the next one hits? The best models of climate change predict that we are nearing an era that will be ruled by powerful natural disasters and refugee crises that will threaten economic stability and critical infrastructure and may heighten the threat of infectious diseases. Temporary, reactive measures cannot save us if the next crisis hits a little harder or when multiple crises overlap.
A strong social safety net like the one the US tried to develop under FDR would serve to mitigate the damage from this kind of crisis. But modern American politics has worked for decades—in an effort that became an object of worship under Ronald Reagan—to whittle the welfare state of the New Deal and the Great Society down to a fragile bare minimum.
We need to take seriously the voices of politicians like Bernie Sanders and Alexandria Ocasio-Cortez who have called for the kind of broad, sweeping legislation that stands a chance of upending the rigid political dynamics that maintain the status quo. The Green New Deal would be a good start. The alternative, one way or another, is the end of our civilization and the world as we know it.
Lies and cover-ups resulted in failed containment.
As the number of coronavirus cases worldwide rises to nearly 80,000, experts say the renamed COVID-19 is "almost certainly going to be a pandemic," with some saying it already is "in all but name."
But public information about the latest coronavirus, which describes a group of viruses that have crown-like spikes on the surface of the virus, has disseminated slowly considering the novelty of COVID-19. While coronaviruses are common and include SARS and MERS, they commonly cause mild to moderate respiratory infections similar to the common cold. However, COVID-19 is a new form that has caused serious respiratory illness in individuals with compromised immune systems, killing over 2,100 individuals worldwide. That's more than twice the number of deaths caused by SARS and MERS combined.
In China, where the virus originated and the vast majority of cases and nearly all of the casualties have taken place, the government has gone from being commended by the World Health Organization for their swift response to the disease to vilified by the international health community. Despite the government enforcing strict quarantines, the virus has continued to spread. What mistakes were made?
First, the Chinese government's strict media censorship resulted in Chinese citizens remaining unaware of the virus weeks after the government shared the information with the international community. Government officials not only limited the spread of information but downplayed the severity of the virus and its ability to spread from person to person. Writer Youyou Zhou of Quartz details how the doctor who first tried to warn the global community about the dangers of the virus, the late Dr. Li Wenliang, received a warning letter from the Wuhan police. Dr. Wenliang was one of eight doctors who were "reprimanded for [their] illegal activity of publishing false information online." He was forced to sign a statement that admitted he had violated the law and "seriously disrupted social order."
Zhou concludes, "The delayed information disclosure by the government combined with the population migration during the lunar new year caused the virus to spread quickly all over China. By Feb. 13, 1,383 have died from the virus around the world, and all except three took place within mainland China. On the same day, Beijing replaced the top officials of Wuhan and Hubei province with new party officials to contain the outbreak."
Second, when Dr. Wenliang himself was tested to have contracted the virus on January 11, officials should have publicly confirmed that the virus could be transferred from person to person. Instead, they issued straightforward denials that there was "no proof" that human transmission was possible. The Wuhan Health Commission only admitted how quickly the disease was spreading and its severity when confronted with irrefutable proof, with inconsistent numbers given in multiple reprots.
Third, when Dr. Wenliang, age 34, died on February 7 in Wuhan, the Chinese government took steps to suppress news of his death. Once word spread, the Chinese public grieved and expressed widespread frustration and anger at the government's censorship, which had proven to cost people's lives. On China's social media app Weibo, "We want free speech" trended with almost 2 million views before being censored.
Ultimately, the Chinese government's authoritarian censorship, cover-ups, and direct lies to the public resulted in failed containment of the coronavirus at the very outset. Global concerns about the virus have intensified due to doubts about the accuracy of the data released by the Chinese government.
But other global agencies are also being placed under intense scrutiny in regards to their response to the coronavirus. WHO Director-General Tedros Adhanom Ghebreyesus has been criticized for waiting to declare the outbreak a global health emergency.
Now, with a global pandemic "almost certain," government lies and cover ups have irrefutably resulted in an international health risk that may have been preventable if the Chinese government had practiced transparency and put human lives above party lines.