We've all been there. You were gifted a dumb present that you'll never in a million-zillion years ever use and you're too polite to tell anyone any differently. It sits at the bottom of your drawer for months, then years. And when you finally feel like enough time has passed, you can throw it out in good conscience.
A return is almost always out of the question. Plus, gift givers don't often include a return receipt, and we all know we wouldn't dare ask for one. I'd rather admit to a crime than confess I don't like a gift - how insulting to the gifter's sense of aesthetics.
And-hey, I have limited drawer space. Who can keep these unwanted gifts for six months when there isn't any space for them? I hate clutter, and unwanted gifts are just that.
This year, I am making an effort to swiftly remove any unwanted gifts from my house without hurting anyone's feelings…and potentially benefiting others. As the old saying goes, one man's trash is another man's treasure. And thank goodness for that.
From the The Guardian:
"According to research published this week by the consumer body, one in four people (24%) received an unwanted or unsuitable gift for the Christmas of 2021. Meanwhile, a separate study by the personal finance comparison site Finder said £1.2bn was wasted on unwanted Christmas gifts each year."
Come to terms with the fact that you will never use that gift and follow these quick tips to offload those unwanted gifts:
Donate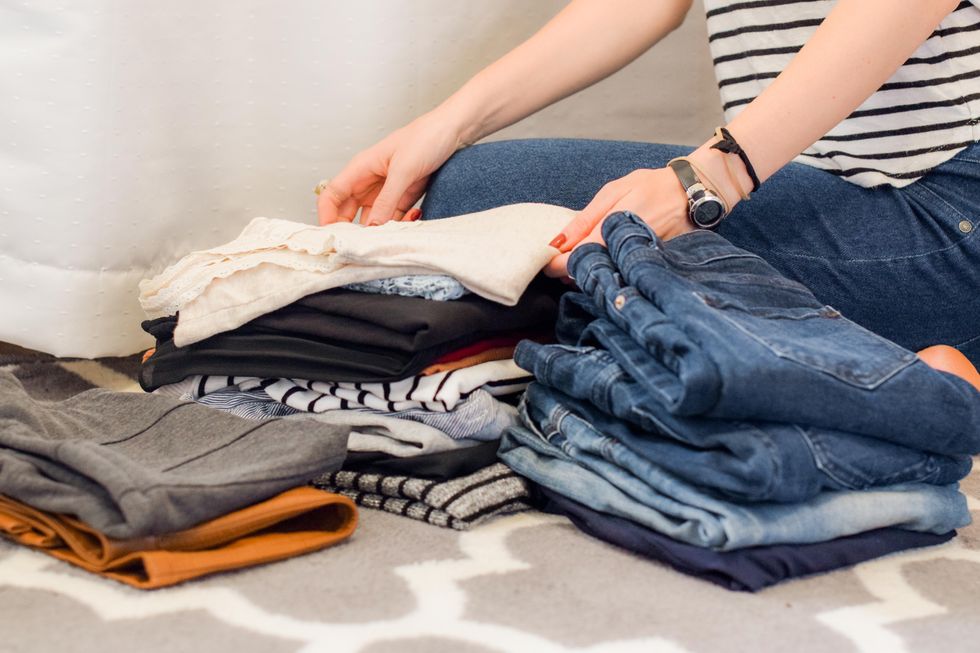 Sarah Brown via Unsplash
The most obvious choice for those unwanted pairs of mud-green sweat socks and that same fluffy robe you get every year from your Aunt Judy is to donate them. Just round up everything you don't want and Google the donation center closest to you.
This is also a fantastic excuse to purge your closet of that pile of stuff you've been meaning to get rid of. A few bags of give-away-clothes will get your spring cleaning out of the way early.
Sell Them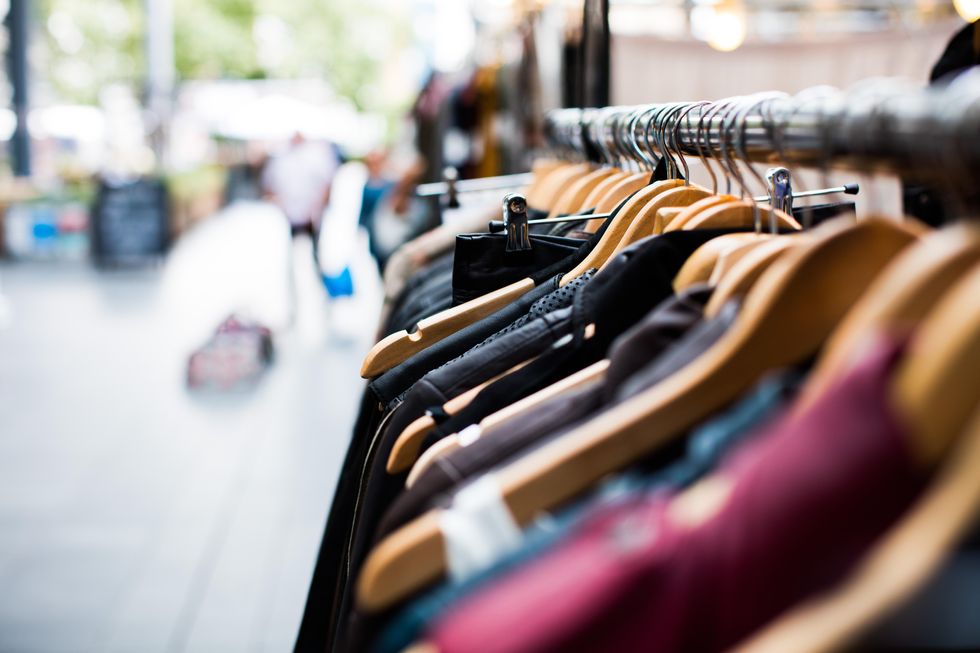 Artificial Photography via Unsplash
Resale websites are all the rage right now. If you got a pair of pants that don't fit or a sweater that isn't your style, resell them on a website dedicated to just that. Sites like Poshmark, Mercari, and DePop are known for selling those trendy pieces of clothing you barely used.
Thrifting has never been hotter. Hop on the trend while people are constantly perusing sites for the hottest deal. Then reward yourself for being so virtuous, by dropping the cash on some fabulous things you'll actually wear!
Re-Gift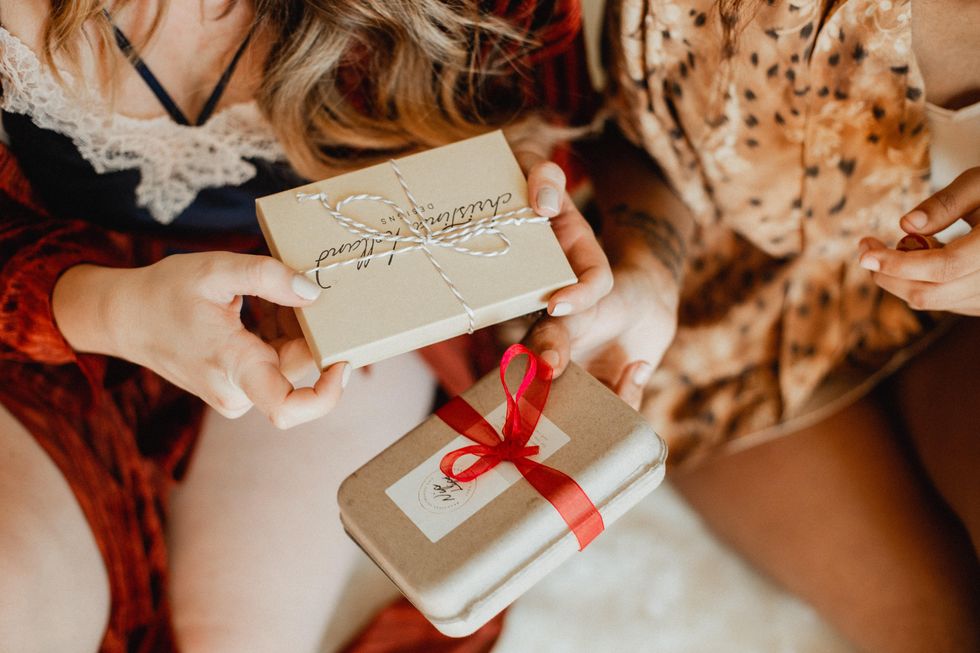 Jackie S via Unsplash
If you got something that you think one of your friends or family can benefit from, why not give it to them? There's no shame in revealing that it was a gift and you don't want it anymore…as long as you aren't re-gifting to the person who gave it to you!
Or, keep the gifts to re-gift at a later date. You never know when you're going to need a last minute gift. You'll thank yourself later.
Attempt a Return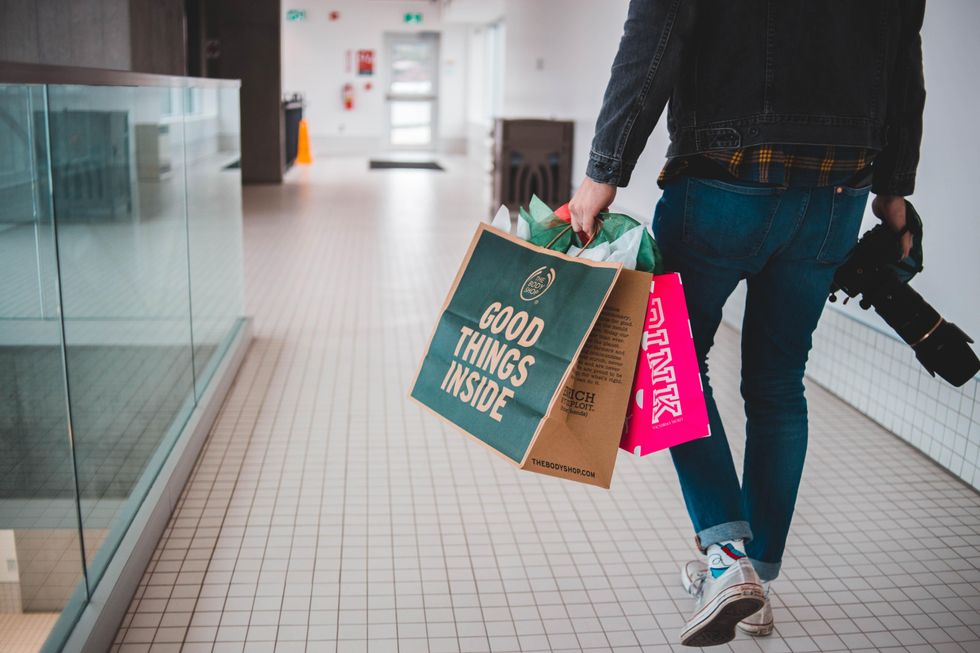 Erik McLean via Unsplash
If your item still has a tag, you can make a valiant effort to return to the store. If you can make your case, many stores won't want to fight you on it. They may be forgiving and grant you store credit at the very least.
#SaveTheUSPS? Budget cuts and reforms have made it difficult for the Post Office, a beloved American institution to do its job.
The United States Post Office is under attack.
Direct attacks from the president, COVID-19, government failure to provide aid, and a radical new postmaster general have all contributed to what's shaping up to be a veritable disaster for American mail—one that might have consequences for the upcoming November election.
The Postal Service's Opponents: COVID-19, Trump, DeJoy, and Money
2020 has been extremely difficult for most people and businesses, and the USPS, which reported a $3 billion loss in the last three months, is no difference. Democrats proposed giving the postal service $25 billion in aid as part of their latest coronavirus stimulus package, which stalled to a standstill in Congress due to partisan divides. Without significant aid, the USPS has suffered intensely during the COVID-19 pandemic—and so have its customers.
In addition to the fact that the postal service provides necessary services to millions across America every day–and it is now responsible for delivering vital products to Americans trying to social distance and end this pandemic–it will be responsible for perhaps the most important job ever: carrying the millions of mail-in ballots that are sure to be cast in 2020 to the appropriate destination.
More Americans than ever before are projected to vote by mail in the 2020 election, largely due to the coronavirus pandemic. Some polls have shown that Trump's supporters are more likely to vote in person, whereas Democrats are more likely to vote by mail, while others show that there is no partisan divide between who votes by mail and who does not.
Still, many of Trump's opponents, who fear he is attempting to sabotage the election by shutting down the postal service and forcing people to choose between their health and democracy, are terrified.
The postal service has, therefore, found itself an unwitting political punching bag.
President Donald Trump has never hid his disdain for the Post Office. Recently, he's begun to argue that voting by mail—the safest way to vote during COVID-19—will lead to fraud.
Americans Fight for the Post Office & Obama Speaks Out | The Daily Social Distancing Showwww.youtube.com
This claim has been proven false, but of course Trump doesn't care. Still, it's clear that the postal service could easily manage an election if it was allowed to continue as it had been for over 200 years. "If — and that's a big IF — allowed to do its work, the US Postal Service can easily handle the surge of mail that might result from 150 million Americans choosing to vote by mail this fall rather than vote in person," writes Jesse Jackson for the Chicago Sun Times. The postal service normally handles around 500 million letters per day.
The problem is that the postal service is not being allowed to do its work. COVID-19 was incredibly difficult, but the postal service was able to keep things somewhat under control until Louis DeJoy entered the scene.
Louis DeJoy, Postmaster General
At the center of all this is Louis DeJoy, who was appointed the new postmaster general in June. Notably, DeJoy, a multimillionaire, is a top GOP donor and was the chairman of fundraising for the Republican National Convention last year.
Since he was appointed, DeJoy has made some changes. His "reforms," all imposed without any public consultation or discussion with employees, include cutting hours, reducing overtime, and removing mail processing equipment. The USPS also recently announced that it will not treat ballots as priority mail without first-class postage.
In short, DeJoy's "reforms" are slowing down the mail.
Over the past few months, the Post Office has reported delays in receiving prescription medications and other necessary goods, delays that have increased thanks to DeJoy's new policies.

The Post Office's sudden decline has also already harmed elections, with some voters in Wisconsin and Michigan never receiving the absentee ballots they requested in advance and with New York postal service employees rejecting ballots that did not have the appropriate postage.
Postal service employees themselves are extremely confused by the "reforms." "If you asked me a month ago [if] the postal service handle an influx of mail-in ballots, I would have said, 'We've been through two world wars and a depression, we've been doing this for more than 200 years,'" said Mark Dimondstein, president of the American Postal Workers' Union, to The Guardian. "Now, I'm not so sure."
Trump's administration has already announced that they want to privatize the Post Office, selling it off to private companies. DeJoy—who has million-dollar investments in competitors to the Post Office—has a reason to support these plans.
Democrats are attempting to take action. Nancy Pelosi recently called lawmakers back to the House to vote on legislation dedicated to protecting the postal service. They're currently voting on the Delivering America Act, which bans changes to the post office implemented after January 1st, 2020.
Democratic leaders are also calling on DeJoy to testify in court, demanding an explanation for the "sweeping and dangerous operational changes at the Postal Service that are slowing the mail and jeopardizing the integrity of the election."
What Can We Do?
With #SaveTheUSPS and #SaveThePostOffice trending on Twitter recently, the hashtag needs to become a movement.

"Citizens should be mobilizing pressure across the country, with demonstrations at Post Offices in support of the service, with calls to legislators demanding action, with pressure on state and local election officials to provide the resources needed for more drop-off boxes, more hours of early voting, more polling places," continues Jackson.
It's a great time to stage protests and call legislators, who need to know the people's opinions. While civilian contributions alone won't save the Post Office (only government stimulus packages or pocket change from Jeff Bezos could do that), concerned citizens can still do our part to show the postal service that we stand with them by buying Post Office merchandise, sending letters, and rallying to support our democracy by fighting voter suppression.
Trump continues to alienate the U.S. from the global community by panning diplomacy for his own agendas.
Donald Trump singled out the United States before the entire international community at the G20 summit over the weekend. He was the only leader in attendance to refuse to sign a joint statement pledging a non-binding commitment to continue combating climate change.
After a strenuous, all-night negotiation in Buenos Aires, the world leaders issued a communiqué re-affirming that the Paris climate agreement "is irreversible" and vowing "full implementation" of its policies to "continue to tackle climate change, while promoting sustainable development and economic growth."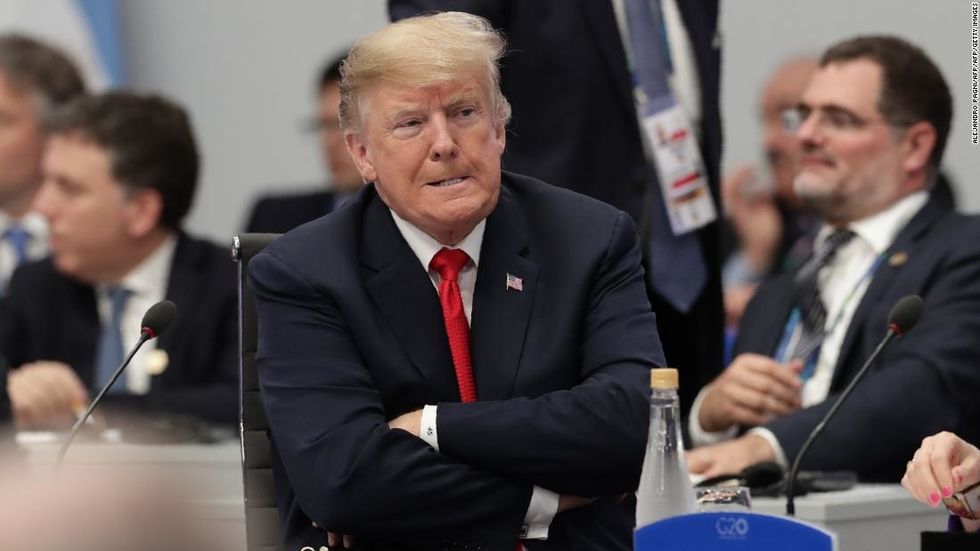 CNN
However, the summit was fraught with tensions over various countries' objections and demands, including Trump's refusal to budge on climate change or trade agreements. As such, world leaders struggled to pen a separate clause to account for Trump's "America First" stance. The communiqué reads: "The United States reiterates its decision to withdraw from the Paris Agreement, and affirms its strong commitment to economic growth and energy access and security, utilizing all energy sources and technologies, while protecting the environment."

In another compromise forced by Trump's intransigence, this year's G20 statement also shirked its usual promises to fight protectionism and uphold multilateral trading rules. The summit weakly acknowledged the "contribution" of the "multilateral trading system," despite the fact that it's "falling short" of its goals in trade growth and job creation. One European official present at the weekend's negotiations told NBC News, "There were moments when we thought all was lost."
At last year's summit, Trump shocked world leaders with his first refusal to join the consensus on climate and trade issues. He continued to alienate the U.S. from the international community over the summer. In June, the president refused to sign a joint statement on global economic policies from the G7 summit, even taking to Twitter to deride Canadian Prime Minister Justin Trudeau over the policies.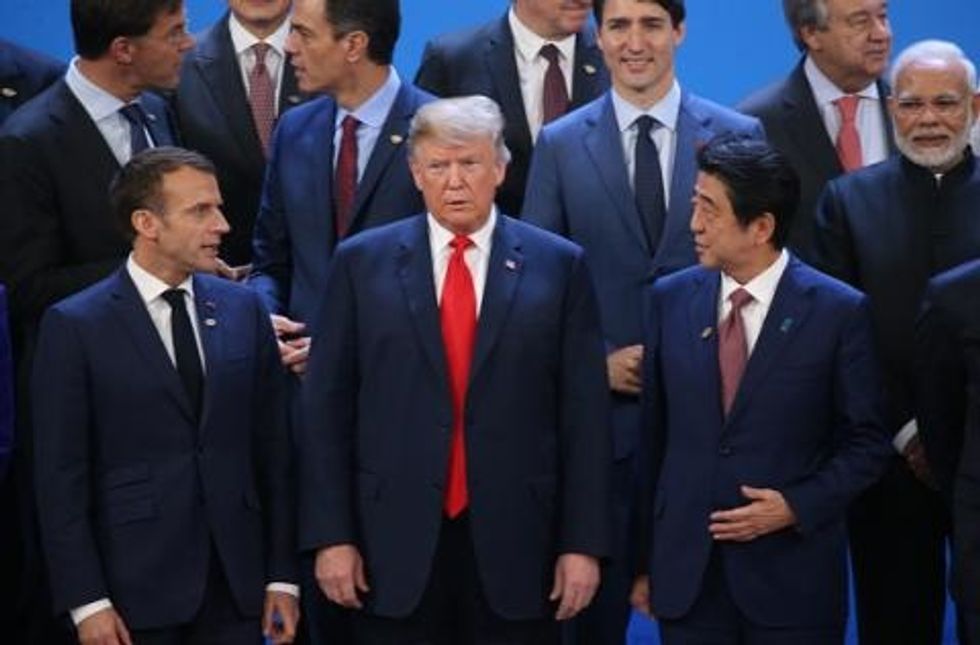 Newsweek - Getty Images
As a final act of belligerence, Trump stormed off the stage as the rest of the world leaders gathered for a photo to commemorate the end of a two-day effort in global solidarity. After shaking hands with Argentine President Mauricio Macri, Trump left Macri visibly confused on stage as he hastily left. Trump was audibly recorded telling an aide, "Get me out of here."

Reluctantly, he returned to the stage moments later to pose for group photos.
Hilarious moment Trump caught saying "get me out of here" at G20 Summitwww.youtube.com
Meg Hanson is a Brooklyn-based writer, teacher, and jaywalker. Find Meg at her website and on Twitter @megsoyung.

In a closed vote House Democrats spotlit Pelosi with overwhelming support, 203-32.
Nancy Pelosi secured the Democratic nomination on Wednesday, regaining her position as Speaker of the House. Pelosi, 78, ran unopposed on a secret ballot when the House Democrats cast a 203-32 vote in a closed door meeting.
Still, Pelosi was opposed by a small faction who charge that the Californian lawmaker is too divisive a figure to represent the party. Rep. Brian Higgins (D-N.Y.) was an initial detractor, but he turned to voice his endorsement of Pelosi last week.
Higgins told reporters, "Democracy is a sloppy mess. ... There are a lot of differing views, even within the Democratic Caucus. The ability to pull that together is not clean and efficient all the time, and everyone has laid on the table what they are looking for." He added, "Everyone here, 435 members in the House, has one legislative tool and that is their vote."
The House of Representatives will elect a new speaker on January 3. Even with Democrats holding a majority of the 435 seats, it's still possible for Pelosi to lose the final vote; those 32 opposers are enough to tip the scales if Republicans unanimously reject her. Pelosi has until the new year to win over more representatives like Higgins.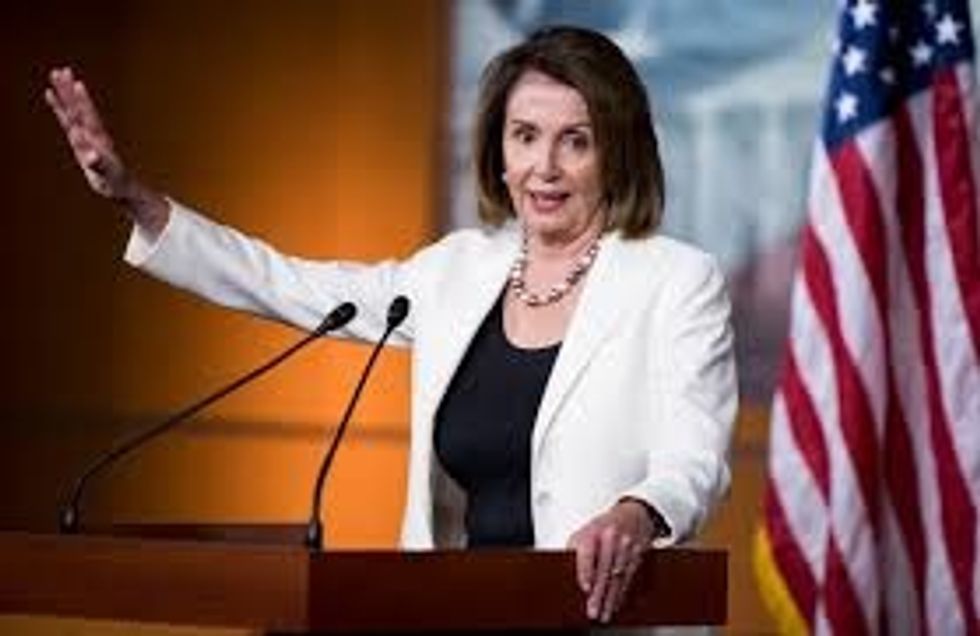 Time Magazine
Meg Hanson is a Brooklyn-based writer, teacher, and jaywalker. Find Meg at her website and on Twitter @megsoyung.

Alexandria Ocasio-Cortez is the new Democratic candidate for New York's 14th congressional district.
On June 26th, 28-year-old Alexandria Ocasio-Cortez defeated longtime incumbent Joe Crowley in the Democratic primary for New York's 14th congressional district. Crowley raised millions from his corporate donors. Ocasio-Cortez ran a grassroots campaign; her average donation was just $22. This wasn't supposed to happen. Crowley was a shoe in. He'd ran unopposed for over a decade. More shocking than her victory however, were the platforms on which Ocasio-Cortez ran her campaign. A vocal supporter of democratic socialism, she's determined to raise the minimum wage to $15/hr, ensure free higher education for all, and to secure medicare for all citizens. Predictably, Republicans have responded to the "Socialist threat" Ocasio-Cortez represents by spewing vitriol, but what's more interesting is the way the entrenched powers within the Democratic Party have responded to her.
There's a growing feeling on the left, particularly in younger circles, that many longtime Democratic senators and congressmen are Republican in everything but name. Corporate donors fund Democratic campaigns. The DNC has lost touch with the working class, which is supposed to be their core constituency. And, Democrats hide behind their socially liberal views, never addressing the underlying economic realities of the minority groups they claim to support. Considering the torrent of political sound bites we've heard over the past two and a half years, it's easy to forget this one, in which Nancy Pelosi (minority leader in the House of Representatives) responds to a question about the Democratic Party potentially shifting left on economic issues with "sorry, but we're capitalists." I think it's one of the most politically revealing clips CNN has ever published, the implication being that Democrats aren't even open to hearing an argument that doesn't comport with their worldview.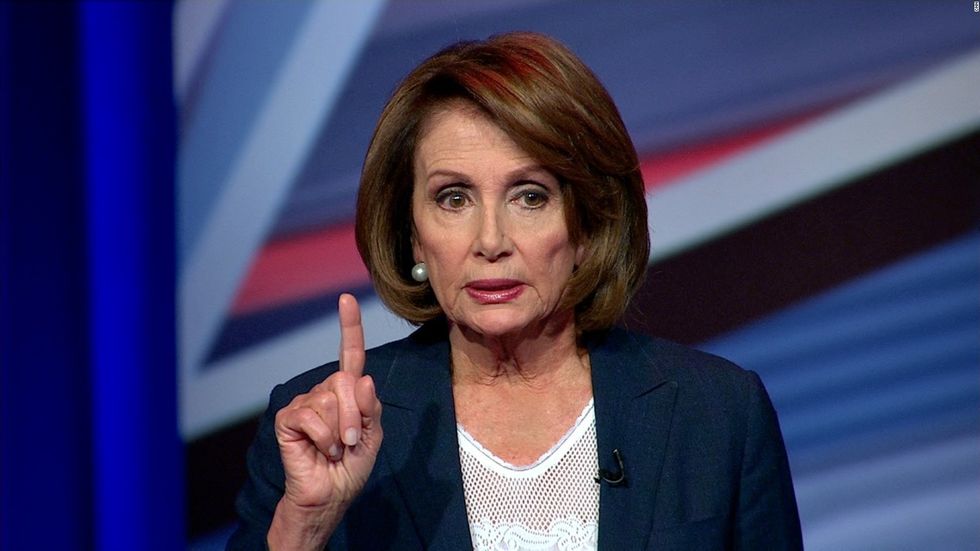 Sorry, we're capitalist.
The problem for the Democrats is, Bernie Sanders' 2016 campaign breathed new life into the Socialist movement, and Ocasio-Cortez, while this years' most notable winner, is far from the only Socialist running for public office. Julia Salazar is running for the New York State Senate, Sara Innamorato is running for the Pennsylvania House of Representatives, and there are plenty of other candidates aiming to move the Democratic party leftwards. Interestingly, the fledgling Democratic Socialist movement has taken a strategy out of the Republican playbook and is hyper-focused on local and state elections. While it's easy to be cynical and assume the DSA (Democratic Socialists of America) is only doing this because they don't have the juice to participate on the national stage, it's worth pointing out that Democrats tend to get clobbered in state elections, and that the DSA's strategy is a welcomed change of pace.

But will these progressives be able to work within the Democratic party, or will they split it in two? If the prevailing media sentiments are to be believed, then the answer is the latter. In the wake of Ocasio-Cortez's victory, there's been a wave of think pieces by many a prominent essayist asserting that if the Democratic Party veers too far left, it risks losing to Trump again in 2020. After Ocasio-Cortez's win, Illinois Senator Tammy Duckworth said "I think that you can't win the White House without the Midwest, and I don't think you can go too far to the left and still win the Midwest," adding that the Democrats' 2020 presidential candidate has to speak to the "industrial Midwest." Ocasio-Cortez fired back with some snark–like many 28-year-olds she's very good on Twitter– but to focus on the acrimonious exchange between the two politicians, risks overlooking Duckworth's original point. Why shouldn't the "industrial Midwest" want universal healthcare or a higher minimum wage? Bernie Sanders won large chunks of the midwest when he was campaigning against Hillary on the exact same platforms. Duckworth's ill-conceived attack on Ocasio-Cortez echoes an uncomfortable belief that's been fermenting just beneath the surface of the Democratic party for some time. That is, that working class voters are too stupid to act in their own self interest.
Ocasio-Cortez's victory could very well create a schism within the Democratic party. Her views, and the views of those like her aren't particularly compatible with those of establishment Democrats. That said, when Bernie lost in the primary, he endorsed Hillary Clinton. Most of the hand wringing about the Democrats not having a unified front for 2020 is nonsense. It assumes two things, both erroneous. One, that diversity of ideas is a negative within a political party. Two, that Socialist supporters lack the capacity to choose between the lesser of two evils. You'd be hard pressed to find a Democratic Socialist who if forced to choose between a Democratic mainstay like Joe Biden or another four years of Trump wouldn't pick the former every time.
While the American political class has been reeling from the shock of Trump's election, Socialists have managed to carve out a niche for themselves. It remains to be seen whether or not they can get anything done within the Democratic party, but any move leftward will be a welcomed change of pace. For the first time in since 2016, there seems to be a glimmer of hope in American politics.