Dall-E Mini, the AI-powered text-to-image generator has taken over the internet. With its ability to render nearly anything your meme-loving heart desires, anyone can make their dreams come true.
DALL-E 2, a portmanteau of Salvador Dali, the surrealist and Wall-E, the Pixar robot, was created by OpenAI and is not widely available; it creates far cleaner imagery and was recently used to launch Cosmpolitan's first AI-generated cover. The art world has been one of the first industries to truly embrace AI.
The open-sourced miniature version is what's responsible for the memes. Programmer Boris Dayma wants to make AI more accessible; he built the Dall-E Mini program as part of a competition held by Google and an AI community called Hugging Face.
And with great technology, comes great memes. Typing a short phrase into Dall-E Mini will manifest 9 different amalgamations, theoretically shaping into reality the strange images you've conjured. Its popularity leads to too much traffic, often resulting in an error that can be fixed by refreshing the page or trying again later.
If you want to be a part of the creation of AI-powered engines, it all starts with code. CodeAcademy explains that Dall-E Mini is a seq2seq model, "typically used in natural language processing (NLP) for things like translation and conversational modeling." CodeAcademy's Text Generation course will teach you how to utilize seq2seq, but they also offer opportunities to learn 14+ coding languages at your own pace.
You can choose the Machine Learning Specialist career path if you want to become a Data Scientist who develops these types of programs, but you can also choose courses by language, subject (what is cybersecurity?) or even skill - build a website with HTML, CSS, and more.
CodeAcademy offers many classes for free as well as a free trial; it's an invaluable resource for giving people of all experience levels the fundamentals they need to build the world they want to see.
As for Dall-E Mini, while some have opted to create beauty, most have opted for memes. Here are some of the internet's favorites:
There's no looking back now, not once you've seen Pugachu; artificial intelligence is here to stay.
Ordinary people will need to stand up to make sure that democracy is preserved.
After four years with Trump, the day finally arrived. We the people were asked to decide if we'd endure another four years under his orange fist.
At least, it should have been all of our decisions. But ever since the race was called for Joe Biden and Kamala Harris, whistleblowers across the nation—and even Trump himself—have been protesting the election results.
Trump has openly refused to commit to a peaceful transfer of power. His administration has attempted to reduce the number of ballots that will be counted in swing states. He rushed the nomination of a partisan Supreme Court justice just days before the election.
One week before the election, news broke that Trump had been trying to ask Republican lawmakers in swing states if they can ignore the popular vote and appoint Trump-supporting electoral college members. The list of warning signs goes on.
In light of all this, there were several ways that the election could have played out:
In the first scenario, Biden wins fair and square and Trump concedes. This could happen on Election Night, but it would most likely happen several days after the election, or depending on how counting ballots goes, the process could take weeks.
In the second scenario, Trump wins fair and square.
In the third scenario, Trump loses the election but refuses to relinquish power. He could do this constitutionally by refusing to offer a concession speech, or by directly mobilizing his supporters in his defense. He might also attempt to stop post-election ballot counting through legal or administrative means.
In the fourth scenario, Trump could appear to win, but his win will have either been doctored or influenced by non-democratic factors.
These two latter scenarios fall under the umbrella of a coup. They're also the two scenarios that have come to fruition. So what are Americans to do?

Expert compares Trump's politics to fascism youtu.be
Mobilize.

Now that Trump has lost (and thus lost the protections of the presidency), he could end up in prison–his fortune gone. He has been millions of dollars in debt and has managed to con his way out of every scheme before, so he probably thinks he can do the same thing now.
But this won't happen in America, not with all this nation's powerful organizers, movements, and protections in place.
Everyday people have stopped coups before—but it always takes knowledge and a willingness to organize. Should Trump attempt to steal the election, every person who is able has to be willing to take to the streets and peacefully mobilize in protest.
The Protect the Results coalition is coordinating actions across the nation in response to every scenario. Youth movements and labor movements are planning on striking—the 100,000-member-strong MLK Labor Council is calling for a general strike if Trump refuses to step down, as is the youth movement coalition We Count On Us, a combination of Sunrise Movement, March for our Lives, and Dream Defenders.
Groups like Color of Change, the Progressive Change Campaign Committee, MoveOn, People's Action or the Working Families Party are also preparing to mobilize nonviolently if necessary.
Hold elected officials accountable.
The impetus for stopping a coup should, technically, fall on politicians and electors whose job it is to ensure a safe and fair election for all.
Democratic governors must appoint Biden electors, and the Democratic Party must refuse to concede should there be any sign that Trump is actively stealing the election. When it comes down to the wire, Congress must hold states accountable, particularly if Trump attempts to repress legally counted votes.
Elected officials were already promising to hold Trump accountable on Election Day. "We have our lawyers poised to move on a dime on Election Day or evening, as we see a problem," House Speaker Nancy Pelosi told the Huffington Post. "We're ready for it all. I would just like him to know it ain't going to happen for him at the end of the day."
Be careful where you get your information.
Media organizations have been preparing for a possible coup for months. Twitter labels tweets proclaiming false information as fraudulent, while Facebook may or may not be hosting irresponsible ads.
Media networks are also preparing for various cases, including a scenario where Trump still claims victory based on false information. Still, if Trump does attempt to claim victory, it's likely that his words will be aired far and wide by digital networks. Double and triple-check where you get your information, and be careful of sharing information, especially something that could cause panic.
Prepare for the possibility of a coup.
Remember that Trump's entire presidency has been marred by unlikely events.
"In short, Trump is trying to steal the election, more blatantly than any previous president, and providing a clear preview of how Republicans would move to further erode democracy if given another four years in power," writes The Week's Ryan Cooper. "It's an unusually clear and stark choice this election: a continuation of America's republican institutions, or its probable replacement with a tyranny."
Between Trump's efforts to sabotage the Post Office, his legal efforts to disrupt absentee ballot counting, and his refusal to disavow his supporters' violence, it is clear that Trump is not preparing to go gently into the good night. If tyranny is indeed afoot, we have but a brief window to stop it.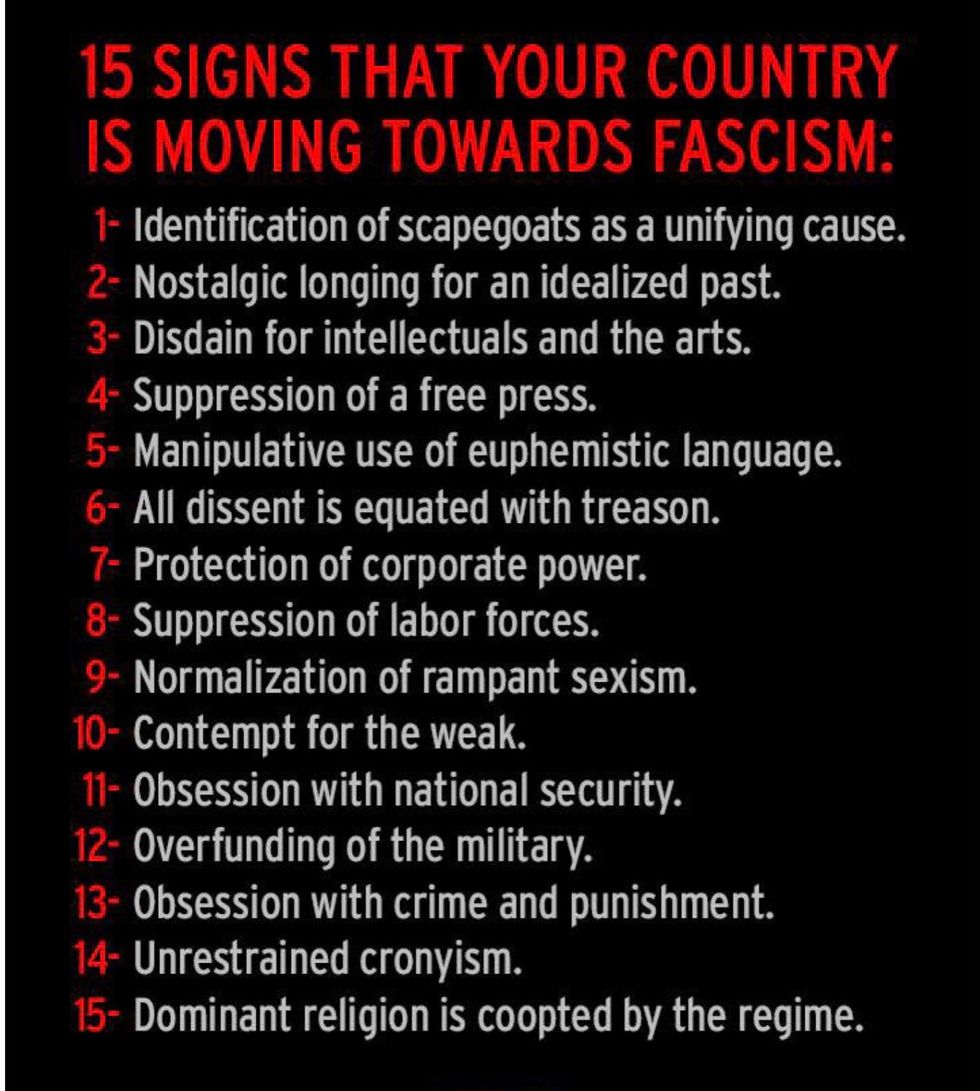 Believe that we will win.
"For the election to succeed, we have to think and act as if it will succeed," writes George Packer for The Atlantic. "Stealing an election remains extremely difficult, and almost impossible if the vote isn't close."
Though we must remain prepared for Trump to steal the election, we must also envision the future we want. There are millions of good people across America and hundreds of thousands of great leaders who have fought (and are still fighting) to make sure the election is run fairly.
Those who've demanded a fair election have righteousness, history, and the entirety of the Democratic process on their side, while Trump is a weak con man with an insatiable need to fill the gaping hole inside of him. He has made America an embarrassment to the world and has botched the COVID-19 crisis and launched us all into a depression. His time is over.
We just have to be ready to make sure he actually leaves.
Take care of yourself and your loved ones.
While we all have a role to play, no one is in this alone. If you've read this far, your anxiety about the election is likely off the charts. Take some time away from the news and send some love to friends and chosen family.
Accept the emotions you might be feeling (without blaming them on others), and do whatever you need to make yourself and your community feel loved and supported.
Neither Trump nor Biden has the ability to save or destroy the world, and fights for justice will go on and on, regardless of who's in the White House So get some rest, get ready to fight, and celebrate a fair, clean victory for democracy.
Keep reading...
Show less
Whistleblower files official complaint on disturbing conditions at Georgia detention center.
A whistleblower who worked as a nurse at a US Immigration and Customs Enforcement (ICE) detention center in Georgia has come forward with a claim that immigrants are facing serious medical neglect in regards to the COVID-19 pandemic—as well as an unusually high rate of hysterectomies.

The whistleblower is Dawn Wooten LPN. She has worked at the facility for three years as a licensed practical nurse, and has over 10 years of experience working as a nurse in prisons. She originally worked full time at the Irwin County Detention Center (ICDC) in Ocilla, Georgia but was demoted to an on-call position in mid-July after repeatedly complaining to staff leadership about the dangerous working conditions. Irwin is a private prison which houses immigrants detained by Immigrations and Customs Enforcement (ICE) and is run by LaSalle Corrections, a private company that runs immigration detention facilities in Georgia, Texas, and Louisiana.
The Government Accountability Project and Project South have filed complaints with the Department of Homeland Security Office of Inspector General on Wooten's behalf. The complaints detail the alleged abuses she witnessed while working at the facility. The majority of Wooten's complaints have to do with a grave mishandling of the COVID-19 pandemic, but also speak to a pattern of medical neglect and raise concerns about hysterectomies performed on detainees.
The complaint states that the private facility has willfully disregarded the CDC's COVID-19 guidelines. Wooten claims that the facility has repeatedly refused to properly treat or test symptomatic detainees and has failed to enforce any sort of social distancing with detainees who have confirmed or suspected cases. The treatment of the staff is no exception. They allegedly have not been provided with personal protective equipment (PPE) and have been required to work even if they are symptomatic.
Wooten claims that the number of cases at the facility has been underreported. According to ICE, 31 people detained at Irwin have tested positive for Covid-19. Wooten told The Intercept that at least 50 detainees and 15 staff had tested positive as of July, when she was demoted, based on the number of people she personally knew who had tested positive.
Negligent medical care was apparently common even before the pandemic. According to Wooten, it was common practice for the sick call nurse to shred medical request forms from detained immigrants who were requesting to go to the medical unit. Sometimes the nurses even fabricated records such as vital signs without ever seeing the individual requesting medical help. Many of the detainees reported long wait times for medical requests due to these types of practices, and sometimes they weren't seen at all.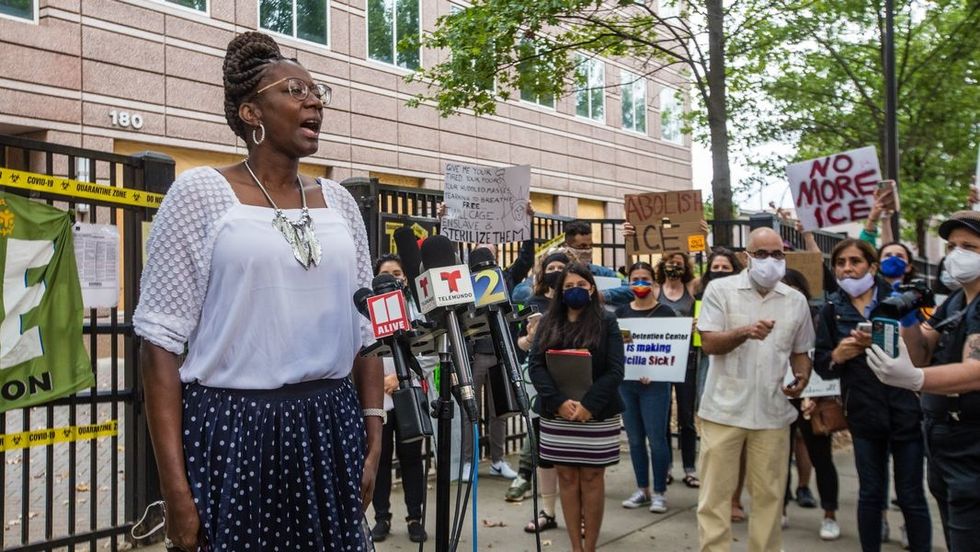 Dawn Wooten LPC speaks out with the support of local protesters.Jenni Girtman
Wooten's accounts of these dangerous conditions and medical neglect have been supported by dozens of interviews with current detainees in the facility which were included in the Project South complaint. They have also been corroborated by another member of the medical staff who chose to remain anonymous but interviewed with The Intercept.
The most shocking portion of the complaint details the high rate of hysterectomies happening within the facility. A detained immigrant told Project South that she talked to five different women detained at Irwin between October and December 2019 who had hysterectomies done. When asked about the surgery, the women seemed confused and were unable to explain why the procedure was needed.
A hysterectomy is the removal of a woman's uterus. In some cases, such as uterine cancer, it is a necessary procedure. However, in most other cases, hysterectomies are done to improve a woman's life, not to save her life, as it can relieve pain, discomfort, or heavy bleeding, but there are often other ways of treating or dealing with these problems. That being said, hysterectomies are very common. In fact, 1 in 3 women in the United States has one by age 60, according to the CDC.
Wooten expressed concern that while some women have heavy menstruation or other severe issues that would require hysterectomies, "everybody's uterus cannot be that bad." Wooten explained that a specific offsite doctor seems to be administering an abnormally high rate of hysterectomies, stating "Everybody he sees has a hysterectomy—just about everybody."
She also stated that other nurses have marveled at the problem amongst themselves, saying things like, "That's his specialty, he's the uterus collector." The complaint does not specify an estimate of the total number of hysterectomies, just that they are occurring at an unusually high rate.
The report is particularly concerning because it doesn't seem that the women receiving the major surgery know what they are getting or why. Wooten stated that the sick call nurse tries to communicate with the detained immigrants in Spanish by simply "googling Spanish" instead of using the LanguageLine that healthcare professionals are supposed to use.
One female detainee claims she was told by three different people that three different things were going to happen. She was originally told by the off-site doctor that she had an ovarian cyst and was going to have a small twenty-minute procedure done, involving drilling three small holes in her stomach to drain the cyst. The officer who was transporting her to the hospital told her that she was receiving a hysterectomy. When the hospital refused to operate on her because her COVID-19 test came back positive for antibodies, she was transferred back to Irwin, where the nurse said that the procedure she was going to have done entailed dilating her vagina and scraping tissue off. She reported feeling frightened and angry, saying it "felt like they were trying to mess with my body."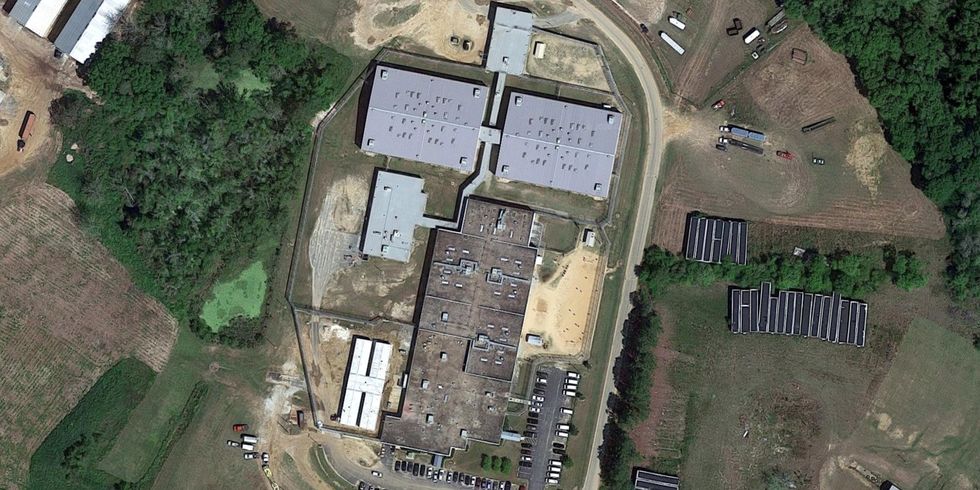 Irwin County Detention Center
Another woman said she was not properly anesthetized during an ovarian cyst procedure and overheard the doctor say he had mistakenly removed the wrong ovary, she then had to have the correct ovary removed as well, rendering her unable to have kids.
"When I met all these women who had had surgeries, I thought this was like an experimental concentration camp. It was like they're experimenting with our bodies," one detainee said, according to the complaint.
An ICE spokeswoman, Lindsay Williams, said on Tuesday that the agency does not comment on complaints made to the Office of the Inspector General but added that, "ICE takes all allegations seriously and defers to the OIG regarding any potential investigation and/or results. That said," the spokesperson added, "in general, anonymous, unproven allegations, made without any fact-checkable specifics, should be treated with the appropriate skepticism they deserve."
Dr. Ada Rivera, the medical director of the ICE Health Service Corps, strongly refuted the allegations. He said that according to ICE data, only two individuals at the Irwin center in Georgia were referred for hysterectomies since 2018. "These recommendations were reviewed by the facility clinical authority and approved."
Nancy Pelosi also responded to the complaint, calling for a thorough investigation of the disturbing claims. She drew parallels to dark instances American history in which American doctors cruelly experimented on minorities in the name of medicine. "This profoundly disturbing situation recalls some of the darkest moments of our nation's history, from the exploitation of Henrietta Lacks, to the horror of the Tuskegee Syphilis Study, to the forced sterilizations of Black women that Fannie Lou Hamer and so many others underwent and fought." she said.
If true, the allegations would not only be against US laws and CDC guidelines but also against international law. The United Nations defines "imposing measures intended to prevent births within the group" as an act of genocide and a crime under international law.
Keep reading...
Show less
#SaveTheUSPS? Budget cuts and reforms have made it difficult for the Post Office, a beloved American institution to do its job.
The United States Post Office is under attack.
Direct attacks from the president, COVID-19, government failure to provide aid, and a radical new postmaster general have all contributed to what's shaping up to be a veritable disaster for American mail—one that might have consequences for the upcoming November election.
The Postal Service's Opponents: COVID-19, Trump, DeJoy, and Money
2020 has been extremely difficult for most people and businesses, and the USPS, which reported a $3 billion loss in the last three months, is no difference. Democrats proposed giving the postal service $25 billion in aid as part of their latest coronavirus stimulus package, which stalled to a standstill in Congress due to partisan divides. Without significant aid, the USPS has suffered intensely during the COVID-19 pandemic—and so have its customers.
In addition to the fact that the postal service provides necessary services to millions across America every day–and it is now responsible for delivering vital products to Americans trying to social distance and end this pandemic–it will be responsible for perhaps the most important job ever: carrying the millions of mail-in ballots that are sure to be cast in 2020 to the appropriate destination.
More Americans than ever before are projected to vote by mail in the 2020 election, largely due to the coronavirus pandemic. Some polls have shown that Trump's supporters are more likely to vote in person, whereas Democrats are more likely to vote by mail, while others show that there is no partisan divide between who votes by mail and who does not.
Still, many of Trump's opponents, who fear he is attempting to sabotage the election by shutting down the postal service and forcing people to choose between their health and democracy, are terrified.
The postal service has, therefore, found itself an unwitting political punching bag.
President Donald Trump has never hid his disdain for the Post Office. Recently, he's begun to argue that voting by mail—the safest way to vote during COVID-19—will lead to fraud.
Americans Fight for the Post Office & Obama Speaks Out | The Daily Social Distancing Show www.youtube.com
This claim has been proven false, but of course Trump doesn't care. Still, it's clear that the postal service could easily manage an election if it was allowed to continue as it had been for over 200 years. "If — and that's a big IF — allowed to do its work, the US Postal Service can easily handle the surge of mail that might result from 150 million Americans choosing to vote by mail this fall rather than vote in person," writes Jesse Jackson for the Chicago Sun Times. The postal service normally handles around 500 million letters per day.
The problem is that the postal service is not being allowed to do its work. COVID-19 was incredibly difficult, but the postal service was able to keep things somewhat under control until Louis DeJoy entered the scene.
Louis DeJoy, Postmaster General
At the center of all this is Louis DeJoy, who was appointed the new postmaster general in June. Notably, DeJoy, a multimillionaire, is a top GOP donor and was the chairman of fundraising for the Republican National Convention last year.
Since he was appointed, DeJoy has made some changes. His "reforms," all imposed without any public consultation or discussion with employees, include cutting hours, reducing overtime, and removing mail processing equipment. The USPS also recently announced that it will not treat ballots as priority mail without first-class postage.
In short, DeJoy's "reforms" are slowing down the mail.
Over the past few months, the Post Office has reported delays in receiving prescription medications and other necessary goods, delays that have increased thanks to DeJoy's new policies.

The Post Office's sudden decline has also already harmed elections, with some voters in Wisconsin and Michigan never receiving the absentee ballots they requested in advance and with New York postal service employees rejecting ballots that did not have the appropriate postage.
Postal service employees themselves are extremely confused by the "reforms." "If you asked me a month ago [if] the postal service handle an influx of mail-in ballots, I would have said, 'We've been through two world wars and a depression, we've been doing this for more than 200 years,'" said Mark Dimondstein, president of the American Postal Workers' Union, to The Guardian. "Now, I'm not so sure."
Trump's administration has already announced that they want to privatize the Post Office, selling it off to private companies. DeJoy—who has million-dollar investments in competitors to the Post Office—has a reason to support these plans.
Democrats are attempting to take action. Nancy Pelosi recently called lawmakers back to the House to vote on legislation dedicated to protecting the postal service. They're currently voting on the Delivering America Act, which bans changes to the post office implemented after January 1st, 2020.
Democratic leaders are also calling on DeJoy to testify in court, demanding an explanation for the "sweeping and dangerous operational changes at the Postal Service that are slowing the mail and jeopardizing the integrity of the election."
What Can We Do?
With #SaveTheUSPS and #SaveThePostOffice trending on Twitter recently, the hashtag needs to become a movement.

"Citizens should be mobilizing pressure across the country, with demonstrations at Post Offices in support of the service, with calls to legislators demanding action, with pressure on state and local election officials to provide the resources needed for more drop-off boxes, more hours of early voting, more polling places," continues Jackson.
It's a great time to stage protests and call legislators, who need to know the people's opinions. While civilian contributions alone won't save the Post Office (only government stimulus packages or pocket change from Jeff Bezos could do that), concerned citizens can still do our part to show the postal service that we stand with them by buying Post Office merchandise, sending letters, and rallying to support our democracy by fighting voter suppression.
Keep reading...
Show less
Trump continues to alienate the U.S. from the global community by panning diplomacy for his own agendas.
Donald Trump singled out the United States before the entire international community at the G20 summit over the weekend. He was the only leader in attendance to refuse to sign a joint statement pledging a non-binding commitment to continue combating climate change.
After a strenuous, all-night negotiation in Buenos Aires, the world leaders issued a communiqué re-affirming that the Paris climate agreement "is irreversible" and vowing "full implementation" of its policies to "continue to tackle climate change, while promoting sustainable development and economic growth."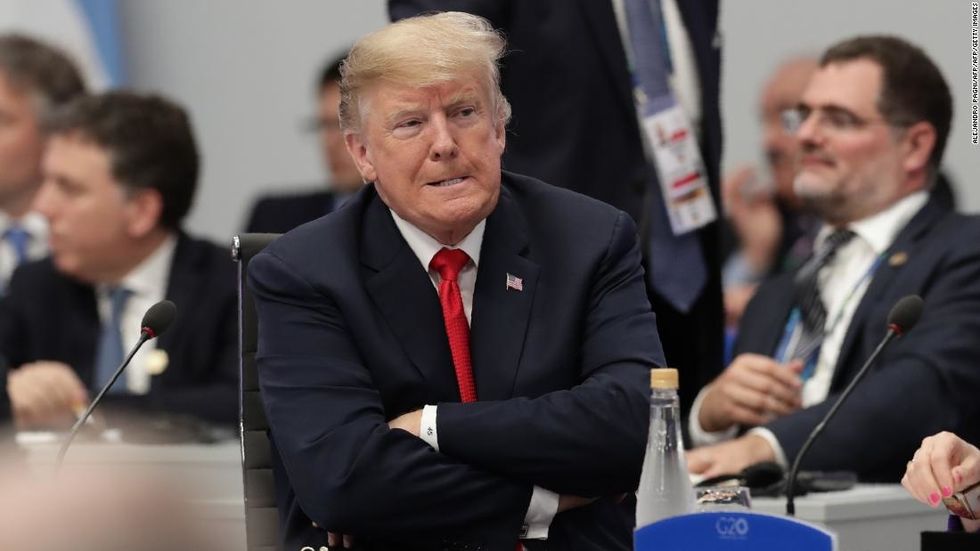 CNN
However, the summit was fraught with tensions over various countries' objections and demands, including Trump's refusal to budge on climate change or trade agreements. As such, world leaders struggled to pen a separate clause to account for Trump's "America First" stance. The communiqué reads: "The United States reiterates its decision to withdraw from the Paris Agreement, and affirms its strong commitment to economic growth and energy access and security, utilizing all energy sources and technologies, while protecting the environment."

In another compromise forced by Trump's intransigence, this year's G20 statement also shirked its usual promises to fight protectionism and uphold multilateral trading rules. The summit weakly acknowledged the "contribution" of the "multilateral trading system," despite the fact that it's "falling short" of its goals in trade growth and job creation. One European official present at the weekend's negotiations told NBC News, "There were moments when we thought all was lost."
At last year's summit, Trump shocked world leaders with his first refusal to join the consensus on climate and trade issues. He continued to alienate the U.S. from the international community over the summer. In June, the president refused to sign a joint statement on global economic policies from the G7 summit, even taking to Twitter to deride Canadian Prime Minister Justin Trudeau over the policies.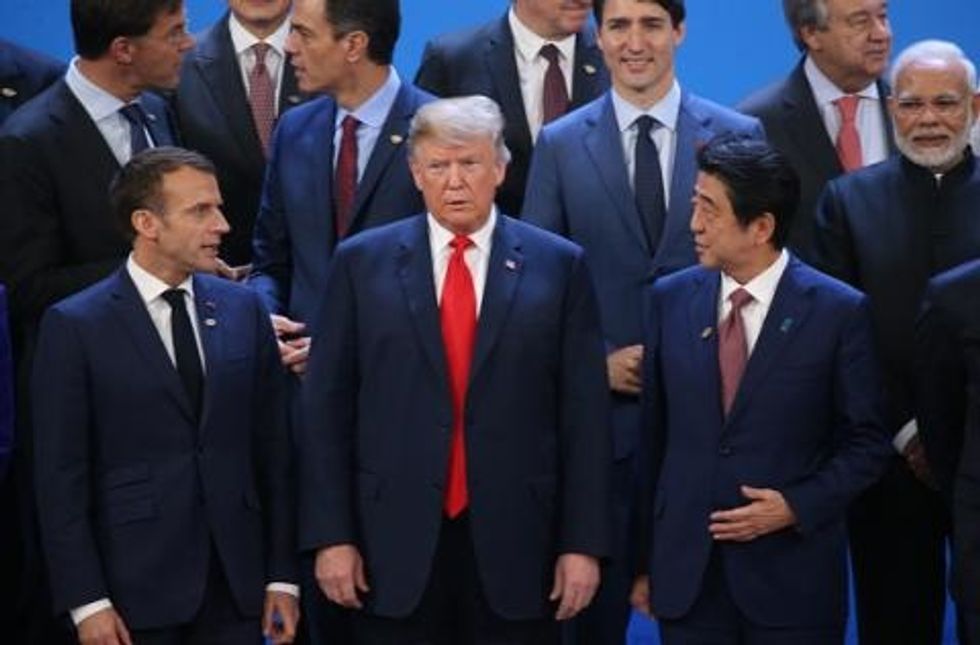 Newsweek - Getty Images
As a final act of belligerence, Trump stormed off the stage as the rest of the world leaders gathered for a photo to commemorate the end of a two-day effort in global solidarity. After shaking hands with Argentine President Mauricio Macri, Trump left Macri visibly confused on stage as he hastily left. Trump was audibly recorded telling an aide, "Get me out of here."

Reluctantly, he returned to the stage moments later to pose for group photos.
Hilarious moment Trump caught saying "get me out of here" at G20 Summit www.youtube.com
Meg Hanson is a Brooklyn-based writer, teacher, and jaywalker. Find Meg at her website and on Twitter @megsoyung.

In a closed vote House Democrats spotlit Pelosi with overwhelming support, 203-32.
Nancy Pelosi secured the Democratic nomination on Wednesday, regaining her position as Speaker of the House. Pelosi, 78, ran unopposed on a secret ballot when the House Democrats cast a 203-32 vote in a closed door meeting.
Still, Pelosi was opposed by a small faction who charge that the Californian lawmaker is too divisive a figure to represent the party. Rep. Brian Higgins (D-N.Y.) was an initial detractor, but he turned to voice his endorsement of Pelosi last week.
Higgins told reporters, "Democracy is a sloppy mess. ... There are a lot of differing views, even within the Democratic Caucus. The ability to pull that together is not clean and efficient all the time, and everyone has laid on the table what they are looking for." He added, "Everyone here, 435 members in the House, has one legislative tool and that is their vote."
The House of Representatives will elect a new speaker on January 3. Even with Democrats holding a majority of the 435 seats, it's still possible for Pelosi to lose the final vote; those 32 opposers are enough to tip the scales if Republicans unanimously reject her. Pelosi has until the new year to win over more representatives like Higgins.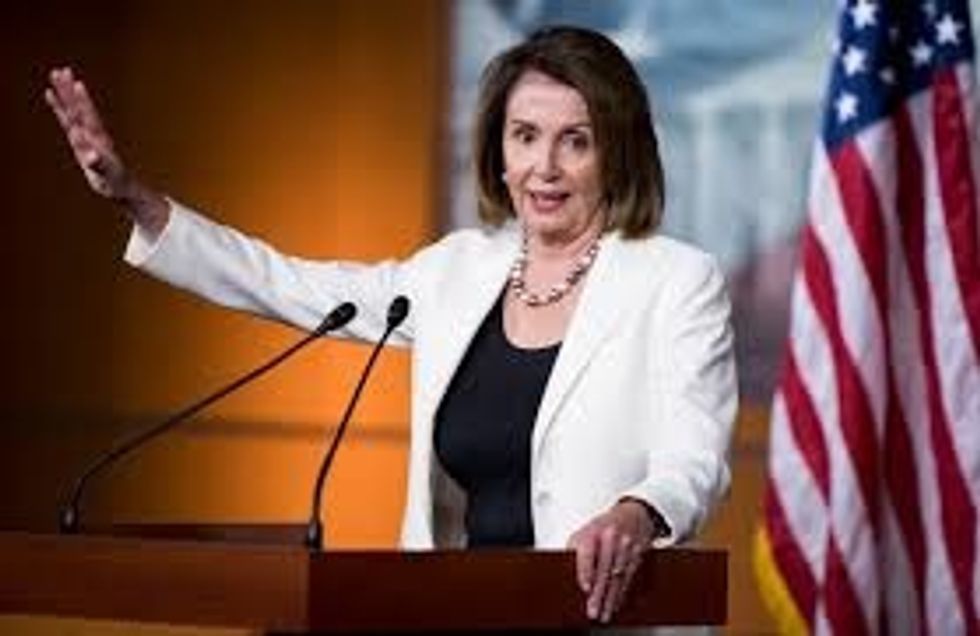 Time Magazine
Meg Hanson is a Brooklyn-based writer, teacher, and jaywalker. Find Meg at her website and on Twitter @megsoyung.

Alexandria Ocasio-Cortez is the new Democratic candidate for New York's 14th congressional district.
On June 26th, 28-year-old Alexandria Ocasio-Cortez defeated longtime incumbent Joe Crowley in the Democratic primary for New York's 14th congressional district. Crowley raised millions from his corporate donors. Ocasio-Cortez ran a grassroots campaign; her average donation was just $22. This wasn't supposed to happen. Crowley was a shoe in. He'd ran unopposed for over a decade. More shocking than her victory however, were the platforms on which Ocasio-Cortez ran her campaign. A vocal supporter of democratic socialism, she's determined to raise the minimum wage to $15/hr, ensure free higher education for all, and to secure medicare for all citizens. Predictably, Republicans have responded to the "Socialist threat" Ocasio-Cortez represents by spewing vitriol, but what's more interesting is the way the entrenched powers within the Democratic Party have responded to her.
There's a growing feeling on the left, particularly in younger circles, that many longtime Democratic senators and congressmen are Republican in everything but name. Corporate donors fund Democratic campaigns. The DNC has lost touch with the working class, which is supposed to be their core constituency. And, Democrats hide behind their socially liberal views, never addressing the underlying economic realities of the minority groups they claim to support. Considering the torrent of political sound bites we've heard over the past two and a half years, it's easy to forget this one, in which Nancy Pelosi (minority leader in the House of Representatives) responds to a question about the Democratic Party potentially shifting left on economic issues with "sorry, but we're capitalists." I think it's one of the most politically revealing clips CNN has ever published, the implication being that Democrats aren't even open to hearing an argument that doesn't comport with their worldview.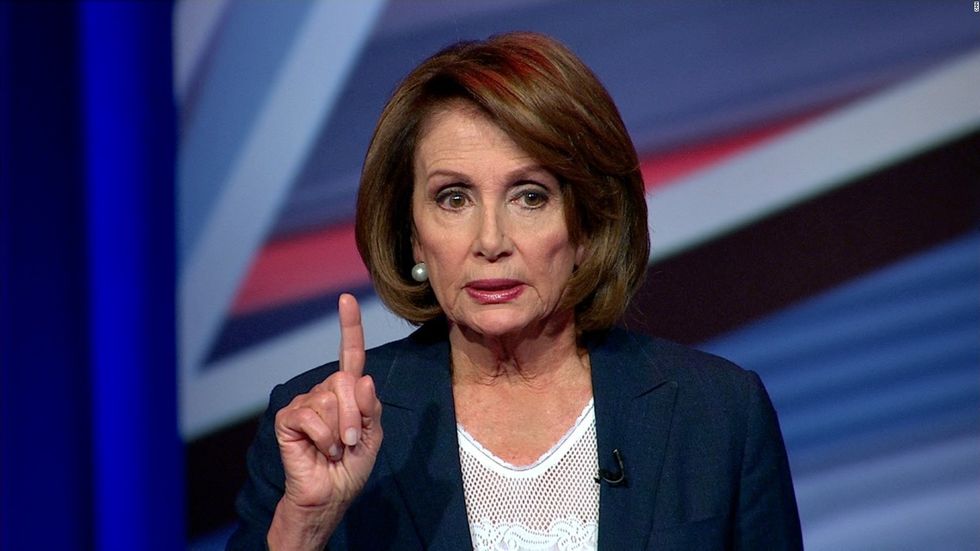 Sorry, we're capitalist.
The problem for the Democrats is, Bernie Sanders' 2016 campaign breathed new life into the Socialist movement, and Ocasio-Cortez, while this years' most notable winner, is far from the only Socialist running for public office. Julia Salazar is running for the New York State Senate, Sara Innamorato is running for the Pennsylvania House of Representatives, and there are plenty of other candidates aiming to move the Democratic party leftwards. Interestingly, the fledgling Democratic Socialist movement has taken a strategy out of the Republican playbook and is hyper-focused on local and state elections. While it's easy to be cynical and assume the DSA (Democratic Socialists of America) is only doing this because they don't have the juice to participate on the national stage, it's worth pointing out that Democrats tend to get clobbered in state elections, and that the DSA's strategy is a welcomed change of pace.

But will these progressives be able to work within the Democratic party, or will they split it in two? If the prevailing media sentiments are to be believed, then the answer is the latter. In the wake of Ocasio-Cortez's victory, there's been a wave of think pieces by many a prominent essayist asserting that if the Democratic Party veers too far left, it risks losing to Trump again in 2020. After Ocasio-Cortez's win, Illinois Senator Tammy Duckworth said "I think that you can't win the White House without the Midwest, and I don't think you can go too far to the left and still win the Midwest," adding that the Democrats' 2020 presidential candidate has to speak to the "industrial Midwest." Ocasio-Cortez fired back with some snark–like many 28-year-olds she's very good on Twitter– but to focus on the acrimonious exchange between the two politicians, risks overlooking Duckworth's original point. Why shouldn't the "industrial Midwest" want universal healthcare or a higher minimum wage? Bernie Sanders won large chunks of the midwest when he was campaigning against Hillary on the exact same platforms. Duckworth's ill-conceived attack on Ocasio-Cortez echoes an uncomfortable belief that's been fermenting just beneath the surface of the Democratic party for some time. That is, that working class voters are too stupid to act in their own self interest.
Ocasio-Cortez's victory could very well create a schism within the Democratic party. Her views, and the views of those like her aren't particularly compatible with those of establishment Democrats. That said, when Bernie lost in the primary, he endorsed Hillary Clinton. Most of the hand wringing about the Democrats not having a unified front for 2020 is nonsense. It assumes two things, both erroneous. One, that diversity of ideas is a negative within a political party. Two, that Socialist supporters lack the capacity to choose between the lesser of two evils. You'd be hard pressed to find a Democratic Socialist who if forced to choose between a Democratic mainstay like Joe Biden or another four years of Trump wouldn't pick the former every time.
While the American political class has been reeling from the shock of Trump's election, Socialists have managed to carve out a niche for themselves. It remains to be seen whether or not they can get anything done within the Democratic party, but any move leftward will be a welcomed change of pace. For the first time in since 2016, there seems to be a glimmer of hope in American politics.
Keep reading...
Show less