Dall-E Mini, the AI-powered text-to-image generator has taken over the internet. With its ability to render nearly anything your meme-loving heart desires, anyone can make their dreams come true.
DALL-E 2, a portmanteau of Salvador Dali, the surrealist and Wall-E, the Pixar robot, was created by OpenAI and is not widely available; it creates far cleaner imagery and was recently used to launch Cosmpolitan's first AI-generated cover. The art world has been one of the first industries to truly embrace AI.
The open-sourced miniature version is what's responsible for the memes. Programmer Boris Dayma wants to make AI more accessible; he built the Dall-E Mini program as part of a competition held by Google and an AI community called Hugging Face.
And with great technology, comes great memes. Typing a short phrase into Dall-E Mini will manifest 9 different amalgamations, theoretically shaping into reality the strange images you've conjured. Its popularity leads to too much traffic, often resulting in an error that can be fixed by refreshing the page or trying again later.
If you want to be a part of the creation of AI-powered engines, it all starts with code. CodeAcademy explains that Dall-E Mini is a seq2seq model, "typically used in natural language processing (NLP) for things like translation and conversational modeling." CodeAcademy's Text Generation course will teach you how to utilize seq2seq, but they also offer opportunities to learn 14+ coding languages at your own pace.
You can choose the Machine Learning Specialist career path if you want to become a Data Scientist who develops these types of programs, but you can also choose courses by language, subject (what is cybersecurity?) or even skill - build a website with HTML, CSS, and more.
CodeAcademy offers many classes for free as well as a free trial; it's an invaluable resource for giving people of all experience levels the fundamentals they need to build the world they want to see.
As for Dall-E Mini, while some have opted to create beauty, most have opted for memes. Here are some of the internet's favorites:
There's no looking back now, not once you've seen Pugachu; artificial intelligence is here to stay.
In our era of apocalyptic headlines, it's normal to feel overwhelmed.
We are living in an era of unfathomable news.
Every week, disturbing headlines run parallel in the media landscape. From the plight of migrants at the U.S.-Mexico border who, as Alexandria Ocasio-Cortez put it, are being held in concentration camps to the world's most powerful men abusing their power, we become numb to bad news. When E. Jean Carroll published her essay titled "Hideous Men," in which she recounted how Donald Trump raped her in a Bergdorf Goodman dressing room, that claim didn't even make the front page of the New York Times.
In her recent New Yorker essay, Jia Tolentino writes that after Trump was elected, her vision of the future looked something like this week: relentless persecution of immigrants and endless bad news met with no nationwide resistance, no mass protests in the streets. "Specifically, I feared that the Trump era would bring a surfeit of bad news, and that I would compartmentalize this bad news in order to remain functional, and that this attempt to remain functional would itself be so demoralizing that it would contribute to the despair and distraction that allowed all this bad news to occur," she wrote. But she hadn't counted on the E. Jean Carroll's accusations, or the fact that "I would be so sad and numb, after years of writing about Trump's many accusers, after watching Brett Kavanaugh get confirmed to the Supreme Court in the face of credible sexual-assault allegations, that I would not even have the courage to read the story for days."
Like Tolentino, I also didn't read the Carroll story for several days. My eyes glossed over the headline, and it barely even had an affect on me, partly because I've lost faith in the possibility that Trump will ever be taken down by the word of any woman. But I also chose not to see it; as I later realized, I have grown comfortable with stories like this. I have learned to compartmentalize media stories like it, separating them from reality so I don't have to think about their implications. In other words, I'm suffering from bad news burnout.
Growing Numb: Signs of Burnout
I find myself skimming over the news quite often, particularly news about climate change, which is perhaps the most ominous and urgent story of them all. And yet, like the E. Jean Carroll piece, unless I specifically open my mind to thinking about it, climate change headlines appear strangely theoretical when they flash across my screen, almost holographic in their surreality.
I don't think I am alone in this. Though many of us are glued to the news and are actively protesting and engaging with politics, I believe that just as many of us have fallen into a deep hole of pessimism, which often cools to quiet numbness. We grow complacent in our oblivion, and we use it as an excuse to do nothing. And so we go about our lives never really reacting to the news but followed around by a creeping cloud that sometimes manifests itself as anxiety and depression, which often simply echoes in our ears like the whine of a small mosquito.
This whining easily turns into white noise. After a while, we get used to feeling numb and lose all desire to engage. We're exhausted, unable to go on participating and reacting to everything, and so we do nothing.
This is bad news burnout, and it may be one of the defining characteristics of the millennial generation.
Burnout is a very real affliction. Studies have shown that burnout actually affects the brain, with one study finding that an overworked group seemed to have less activity between the amygdala and prefrontal cortex than a control group, meaning that the overworked group had less control over executive functions. Burnout can be detrimental to physical and mental health, and it often starts a vicious cycle: People suffering from burnout often don't seek help and are less open to learning new information.
Though normally associated with work, media burnout also exists. News media is known to trigger bursts of the hormone cortisol, which can affect concentration and digestion; it can also affect sleep, having an all-around detrimental effect on one's life and health.
Fortunately, there is research-based advice on how to combat media burnout. As with many afflictions, we can't simply wake up one day and decide that we're not going to be burned out anymore. To combat burnout, we need to develop consistent strategies. We can start by placing limitations on our empathy.
The Issue with Empathy
According to the psychologist Paul Bloom, excessive empathy makes us more prone to burnout. If we feel every injury we read about in the media as if it were our own, we'll inevitably get overwhelmed.
Even if does manage to spur us to action, empathy can even have a negative effect on the way we respond to natural disasters, violence, and bad news at large. An excess of empathy can make us overly attached to the struggles of people similar to us, causing us to ignore larger turmoil in the rest of the world (hence the fact that the media barely blinks at another bombing in the Middle East, but a Paris shooting makes the front page of every paper). It can also make us focus on individual stories, like the plight of a single suffering child, while ignoring the larger issues that cause that suffering in the first place.
Instead of prioritizing empathy, Bloom advises that we practice "rational compassion," which means that we should focus on doing the maximum good for the most number of people, rather than getting too hung up on individual stories.
Put the Phone Away
Even with limitations on our empathy levels, it's incredibly difficult not to grow burned out if we're plugged into the 24/7 news cycle. Obsessing over headlines doesn't actually help anyone, and the importance of limiting your engagement with news and social media cannot be overstated.
That doesn't mean that we shouldn't keep up with the times and do as much as we are able to combat injustices in the world. Actually, staying perpetually keyed to the fluctuations of world events may be detrimental to our ability to think critically about news stories and engage productively with issues. "Understanding anything, including politics, involves longer term investigation and contemplation than we are affording ourselves when we buy into being news addicts," writes Megan Nolan.
In order to do the maximum amount of good and to maintain our own sanity, we need to be careful where we focus our energy and attention. The behavioral scientist Kristen Lee writes that in order to avoid burnout, we need to take care of ourselves by staying grounded, setting boundaries, practicing a healthy, balanced lifestyle, and doing what we must in order to ensure that we have the strength to keep up and take action when we can. Putting down the phone is one of the most important things we can do to shield ourselves from falling into despair, along with focusing on practicing gratitude for what we have.
Ultimately, the point is that we need to learn how to pace ourselves. We need to spend more time off our screens, so that when we do plug in, we can be fully present to digest information.
Self-Care as Conscious Action
Sometimes, self-care can take the form of direct action. With issues like climate change and the camps at the U.S.-Mexico border, direct actions—whether that's political protest, lobbying, donating, or something else—can be the most effective ways to assuage our own feelings of uselessness and guilt, and it can hopefully help heal some of the problems at their core Plus, joining communities that are engaged in active resistance can help us feel less alone in our fear and anger, allowing us to face and process it, rather than letting it control us. As Robert Frost said, "The best way out is always through."
For a long time, I avoided thinking about climate change, because I knew if I looked at it head-on, I'd have to do something about it. Since I allowed myself to fully realize the extent of the situation, I've actually felt much more free, able to dive in and learn about the situation, instead of feeling overpowered by a vague sense of hopelessness. Obviously, none of us can engage with every world issue, but sometimes focusing on one or two and taking action is the best form of self-care.
After all, despite our selfish human natures, there's something in each one of us—though sometimes it lies very deep below the surface—that feels we have a moral responsibility to work for a better world for all, that believes it's possible. Sometimes, having the optimism and courage to make small changes is the best way to move forward. According to Angela Davis, "You have to act as if it were possible to radically transform the world. And you have to do it all the time." Instead of passively accepting the news, we can focus on combating it by creating a better world—or at least we can go down fighting for one.
Toughen Up
According to Richard A. Friedman, we can avoid burnout not by withdrawing from the world, but rather by lowering our expectations and embracing the negative feelings that accompany the news cycle. He writes, "I suspect my generation suffered less burnout than the current students for the simple reason that we expected to have a rough ride, and our expectations often turned out to be worse than the real stresses we confronted."
Though this advice may seem harsh, especially because the news today is far more apocalyptic than it was when Friedman's generation was coming of age, there may be a seed of wisdom within it. Today's American millennials face a particularly jarring contrast: In keeping with the American dream, many of us were brought up to think that the world was our oyster, and we had little to challenge our self-centered perspectives. We quickly learned to obsess over success, wealth, and personal happiness. Now that we're being told that the world is on the brink of collapse, we face a completely different reality than the one we were born into.
Many of us have also never been taught how to process emotions in a healthy way. We get hung-up on small injustices without working to understand the larger systems behind them, and that quickly becomes too overwhelming for anyone to bear. Perhaps, if we focus less on our own unhappiness and realize that the world will never be a perfect place, we can focus on making things a little better by doing our small part for the whole.
We're All in This Together
When apocalyptic headlines announce unbearable injustices or threaten our ways of life, and when we realize that not only are humans not the center of the world but that we have almost certainly destroyed it, something glitches in our minds. We can't process what it all means.
But we don't have to rationalize or make sense of all the bad news. Since we are not the center of the world, it is not our responsibility to single-handedly change everything. Understanding this can liberate us to take small actions that will actually benefit ourselves and others if it's echoed by a thousand or a billion other small actions.
It also helps to process what's happening with others. When it comes down to it, there's no way to really comprehend the news as it is today, and almost all of us are feeling lost, confused, and helpless in some way—but we're far from alone in that, and we'll have to help each other develop the skills and techniques to make it through this. By maintaining our connections to our communities, both locally and globally, we can develop networks of support that can help us survive and thrive in these strange times.
With three high profile figures filing lawsuits against the company for marketing their likeness, the video game phenomenon is challenging who owns choreography.
Epic Games' Fortnite is at the center of controversy surrounding copyright and the limits of intellectual property laws. With three high profile figures filing lawsuits against the company for marketing their likeness, the video game phenomenon prompts a conversation about who owns culture.
The Battle Royale style game features customizable avatars, for which users can purchase "emotes," specific gestures or dance moves that avatars can perform in the game. The problem is that "emotes" are designed to appeal to millions of international users, with many replicating wildly popular dance trends and cultural icons. Select "emotes" are based on Snoop Dogg's "Drop It Like It's Hot" dance, Psy's "Gangnam Style," and Donald Faison's "Poison" dance from the US sitcom Scrubs.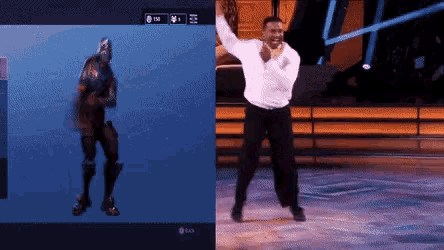 Tenor
However, Fortnite's creators did not secure licenses to recreate these artists' likenesses in their game. But it's unclear under U.S. law whether or not a segment of choreography even qualifies for copyright protection. As highlighted by the Wall Street Journal, the U.S. Copyright Office's stance on choreography dictates that it "cannot register short dance routines consisting of only a few movements or steps with minor linear or spatial variations, even if a routine is novel or distinctive." They elaborate that "social dance steps and simple routines" are not protected by copyright "even if they contain a substantial amount of creative expression."

In fact, few dance moves have been successfully copyrighted. Michael Jackson was able to patent his impressive leaning move featured in the "Smooth Criminal" music video–but only because he invented the special shoe that makes it possible. Since each one of Fortnite's "emotes" is a short movement and not a creative song or dance of its own, copyright lawyers can't agree about whether or not infringement laws apply.
The first "emote" to challenge what constitutes copyright infringement is called "Swipe It," which replicates the dance move recognizable as the "Milly Rock." Its creator, rapper 2 Milly, born Terrence Ferguson, was the first to sue the game with allegations that Fortnite violates copyright law by selling his "signature" choreography. He told Rolling Stone, "My dance is my signature. Everybody would tell you, from here to Alaska, 'Hey, that's the Milly Rock.' I don't mind people doing it in their videos. What I do mind is when somebody takes what I created and sells it."
While the "Milly Rock" became a viral dance move in 2015, it isn't a full choreography set. Christine Lepera, attorney for music industry giants like Drake and Timbaland, argues that a single dance move is precluded from copyright infringement: "You cannot copyright certain dance moves that are generic. From what I've seen online, I've done these [Milly Rock] moves in hip-hop [dance] class for years — it's a pivot, heel-out, heel-out, and swing your arms."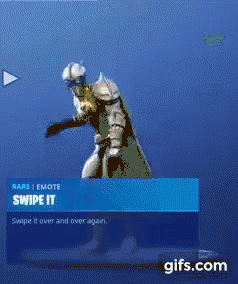 Amino Apps
The second creator to file charges against Epic Games is Alfonso Ribeiro, best known for playing Carlton Banks on The Fresh Prince of Bel-Air. He alleged that the "emotes" called "Fresh" plagiarizes the "Carlton Dance," made famous by the beloved sitcom character Ribeiro played in the 90s. However, copyright lawyer Scott Alan Burroughs argues that an actor doesn't own his character's stylized, or "signature," movements, since the character is owned by the production company. Burroughs says, "[Ribeiro] created and performed that dance while acting on a television show he was a performer on, so it was likely 'work for hire' that belongs to the show's producers."

The third creator to file charges against the game is actually the mother of Russell Horning, a 17-year-old content creator on YouTube who popularized "the floss" dance. Again, Fortnite sells a "Floss" emote that the Hornings claim infringes upon their legal right to share in the profit made through dance move.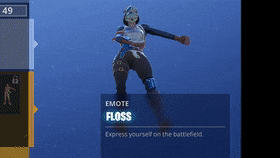 2048
But how much money does Fortnite make from selling "emotes?" For that matter, how does a game that's technically free to play earn Epic Games over $2 billion in 2018? When the Fortnite App launched on Apple's IOS in April, the game reportedly made $2 million a day, making history as the first to net over $1 billion by following a free-to-play model.

The secret–and the root of the controversy–is the game's profit from microtransactions. While all users can play the entirety of the game for free, they have the option of purchasing in-game currency, called "V-bucks," which allows players to customize their gaming experience. With an exchange rate of approximately 1 USD to 100 V-bucks, users are offered deals to spend anywhere from $2 to $20 on cosmetic skins, game modes for their characters, and, of course, dances. Michael Pachter, an analyst at Wedbush Securities, noted, "On the revenue side, [Fortnite has] done something that's really unique, which is come up with a perception of exclusivity." He added, "If you see another player in a leopard skin and go to the store and see it's no longer available, you think, Shoot, I've got to move on it next time."
All three complainants are represented by the law firm Pierce Bainbridge Beck Price & Hecht LLP. In addition to copyright infringement, the lawsuits allege violations of the rights to publicity, which are creators' rights to control and profit off any use of their likeness, name, or other distinct traits. David L. Hecht, the representative for 2 Milly, Ribeiro, and Horning, insists that his clients have exclusive rights to the cultural trends they've instigated, stating, "I will say you can absolutely copyright choreography, and you can leave it there." Whether U.S. law is in agreement with him is for a judge to decide in 2019.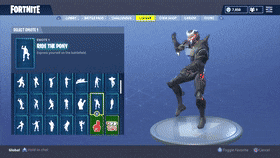 Meg Hanson is a Brooklyn-based writer, teacher, and jaywalker. Find Meg at her website and on Twitter @megsoyung.