Concerned by beauty industry scandals lately? We got you.
Whether it's big beauty brands still including harmful ingredients, or overpromising and under-delivering, we're tired of trying to cut through the noise.
We've finally found a brand we're throwing our support behind 100%: Thrive Causemetics. They're an inclusive makeup and skincare brand that strives to create the highest quality beauty products, and use their status as a reputable brand to give back!
Founded in 2015, they've already manufactured an award-winning mascara and given millions of products and dollars to different communities who could use the support.
Here's everything you need to know.
What is Thrive Causemetics?
They're a company that delivers iconic, high-performance products that are 100% vegan, cruelty-free and don't include any harmful ingredients, like parabens or sulfates
What products do they sell?
You can find anything for your beauty and skincare needs!
If you need a new mascara, get the Liquid Lash Extensions Mascara™ immediately. It lifts, lengthens, and provides incredible volume, thanks to a blend of castor seed oil, shea butter, Orchid Stem Cell Complex™, and Youth B5 Complex™ that help build healthy lashes over time. It's also so good, it looks like you're wearing falsies, and it never clumps or flakes (but still comes off with just warm water and a washcloth). Not to mention, it comes in a unique Brown Black shade which we love, as well as Rich Black.
There's the Brilliant Eye Brightener™ that instantly brightens your eye area with a universally flattering glow. It's easy to use, hydrating, waterproof and is the perfect accessory for any Zoom call.
We also love the Buildable Blur CC Cream™ with SPF 35 in 18 shades, the Infinity Waterproof Eyeliner™ in 7 colors, and their Liquid Light Therapy All-in-One Face Serum™ that mimics red and blue light therapy for a glowing complexion.
How much do they cost?
Prices are super affordable considering the high-quality and clinically-proven ingredients used. The Mascara is $24, and the whole line ranges from $16 to $62. The key here is incredible quality and efficacy at an affordable cost (for the beauty world).
How does the subscription work?
It's always optional, but if you want to guarantee free shipping, you can opt in to get certain products delivered every 1, 2, 3, or 4 months, so you never run out.
How do they choose ingredients?
First off, they're always 100% vegan and cruelty-free. They also work to source ingredients that replenish your skin, your lashes, your face, so they won't dry you out or cause harm.
What are people saying?
Not only has the brand grabbed an Allure Beauty award, but their products are beloved, with the Liquid Lash Extensions Mascara™ and the Brilliant Eye Brightener™ ascending to cult must-have status. Their colors are approachable and inclusive, they serve a wide range of skin tones, and the products have silky non-flaky textures.
How is Thrive Causemetics different from other organizations that give back?
They're extremely transparent about where your money is going, so you know it's going to actual causes. For every product purchased, they donate to help a woman thrive; they've already given $500,000 worth of Thrive Causemetics products to frontline workers battling Covid-19.
In 2020, they spread their donations across multiple organizations that support first responders, women experiencing homelessness, women fighting cancer, families facing food insecurity, racial justice advocacy, grocery + restaurant workers, women surviving domestic abuse, underserved marginalized youth, healthcare professionals, LGBTQ+ advocacy organizations, and women veterans.
Also, 100% of the profits of their Moisture-Enriched Hand Sanitizer is donated to the Black Women's Health Imperative, "the first nonprofit organization created by Black women to help protect and advance the health and wellness of Black women and girls."
We're tired of two shade offerings from brands that don't seem to care about what ingredients they use. Thrive Causemetics is the real deal when it comes to amazing products and using your brand as more than just a brand, but a way to support communities of women.
JUST FOR YOU: Our friends at Thrive Causemetics are giving readers FREE shipping on all orders $35+ and a FREE makeup bag with each purchase! Follow this link to shop!
Since I became a mom, I've stopped doing some of the things I used to love.
Like most moms, I rarely get time to dress up and do nice makeup anymore. I realized recently that I hadn't put eye makeup on in almost a month! I was in a serious rut and wasn't feeling great about myself, so I decided it was time to get back into makeup again.
I was having a virtual coffee with a fellow mom on Facetime, who somehow always has the nicest makeup - this day she had the nicest nude lipstick and smudged liner. I asked her what her secret was and she said she was wearing a brand called MILLI ROSE - she said the liner was actually eyeshadow from the MILLI ROSE Natural Modern Nudes Palette.
She said she ordered it online and couldn't recommend it enough. I was a bit apprehensive about ordering makeup online, but I could tell by looking at my friend it was great quality.
That night when I got home I went on the MILLI ROSE website. The first thing I noticed was the gorgeous palettes. It had been so long since I had bought myself a new eyeshadow, I never go out and shop for myself anymore. A new palette was well overdue, and having it delivered straight to my doorstep would be super convenient. I kept browsing and saw that there were so many nice shades of lipsticks and glosses, too
I was pleasantly surprised by how affordable all of their products are. I read that all their products are tested by dermatologists so they suit all skin types, plus they're not tested on animals. With that, I decided I'd bite the bullet and get the Natural Modern Nudes kit.
The kit was only $68 for 12 eyeshadows and 3 nude lipsticks -I love that they were going to be already matched for me because I never knew what lip colors to match with eye colors. With this kit, I knew everything would look good together. I also got the Lash Play Multi-tasking Mascara - it has 4 different brush heads in one! I was so excited to try it all.
When my delivery arrived I felt like a kid on Christmas day. I opened up the box and the first thing I noticed was how pretty the packaging is. The palette had a stunning floral design - it'll look great on my vanity table.
The next day I decided to do a nude smokey-eye look. I kept it simple, I blended the shade 'Sahara' all over my lid and put the shade 'Chestnut' in my crease and blended. I applied some of the Multitasking mascara in the first mode for a subtle look.
I was so happy with how the look came out - it was a great daytime natural look. The following evening I experimented with some of the darker shades from the palette, and used the fourth mode on the mascara to create a classy smokey eye. I applied the Modern Nudes Yoyo Lipstick for a nude lip. My husband complimented my look when he saw me, and he never usually notices anything like that.
The thing I love most about MILLI ROSE makeup is the versatility of it. There are so many looks that can be created from just 12 shades. And I've never had a mascara with four modes before, it's great for any occasion.
I loved it so much, I decided to order the Modern Glam Palette too, which has some more striking colors. I'm feeling more confident to try more colors after practicing and seeing how easy the Modern Nudes Palette is to use. I'm looking forward to the next special occasion, so I can showcase a glam eye look.
I'd recommend MILLI ROSE to anyone who needs to get out of a funk like I did or is looking for some inspiration for some new looks.
Exclusive Liberty Offer: Get 15% OFF Your Entire MILLI ROSE Purchase For A Limited Time With The Code "SAVE15"!"
Offer Expires In
I only do basic looks, but my sister is an expert with makeup. It's all the YouTube tutorials. So when our aunt gifted IPSY subscriptions to both of us, I just figured I'd give her mine.
However, when we went to sign up, we got to customize what comes in the bag. I like doing my nails, so I was able to pick a nail polish I wanted along with some other products I'd never tried before. My sister was thrilled when she saw she could input her favorite brands and choose more niche products for advanced makeup artists.
IPSY is seriously for anyone who wants to try out new beauty products and brands -- makeup newbies or pros.
If you're thinking about signing up for IPSY, here's what you need to know.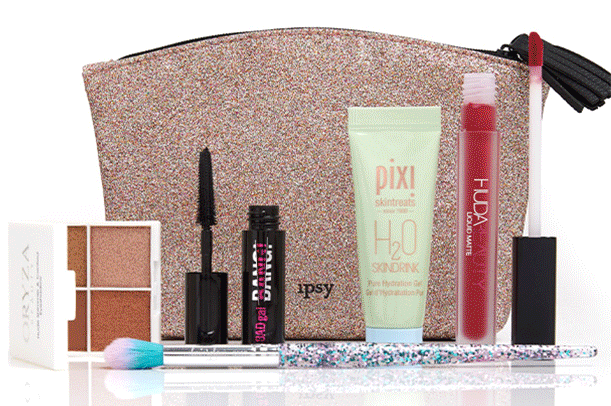 What exactly is IPSY?
IPSY is a personalized monthly beauty membership. For $12 a month, you get 5 deluxe samples to try along with a seasonally themed makeup bag. When we say "samples," these aren't some tiny products that'll dry up after one use. They're good-sized premium samples that should easily last you until your next bag.
What kinds of beauty products?
There's hair, body, skincare, makeup, fragrance, and even popular brushes and applicators (don't worry, they tell you what they're for!) that could come in your bag.
Will I like the stuff?
You take an extensive quiz when you sign up, so you can specify if you don't wear eyeliner, love floral perfume, or only want your liquid lipsticks in matte neutral shades (like my sister). When you sign up, you also input your skin tone, eye color, and hair color, along with your hair and skin concerns, so products like foundation should match you!
Are these from legit brands?
Yup - they're from major brands at all price points, so you know they look for the best products. Past brands include benefit, Colourpop, Farmacy, GlamGlow, Glossier, Kiehl's, Nars, NYX, Origins, Tarte, Tom Ford, Too Faced, and Urban Decay.
Are they bottom-of-the-barrel leftovers?
Nope - you'll get iconic beauty blogger favorites like Huda beauty liquid lipsticks, Ouai's leave-in conditioner, and Smashbox Cosmetics' PhotoFinish Primer along with new finds.
So...what's the catch?
None! Brands know it can be a commitment to buy a full-size product, so they love working with IPSY to offer products to members who might otherwise be skeptical. You can cancel at any time, and if you do want to buy full-sized versions of your faves, you can get up to 30% cashback with the IPSY shopper.
It's the only personalized beauty subscription that delivers stuff you'll definitely use. Also, you can sample the "it" products to find out if they're really worth the hype instead of dropping a ton of money on a gamble at a specialty beauty store.

Update: IPSY just released its newest GlamBag, and it is AMAZING. Take the 5 minute beauty quiz to get your personalized makeup mix!