I only do basic looks, but my sister is an expert with makeup. It's all the YouTube tutorials. So when our aunt gifted IPSY subscriptions to both of us, I just figured I'd give her mine.
However, when we went to sign up, we got to customize what comes in the bag. I like doing my nails, so I was able to pick a nail polish I wanted along with some other products I'd never tried before. My sister was thrilled when she saw she could input her favorite brands and choose more niche products for advanced makeup artists.
IPSY is seriously for anyone who wants to try out new beauty products and brands -- makeup newbies or pros.
If you're thinking about signing up for IPSY, here's what you need to know.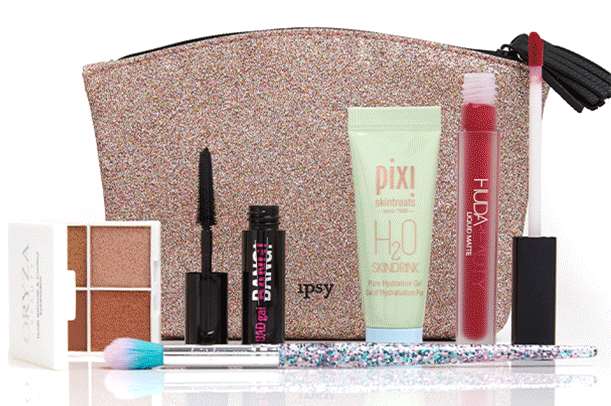 What exactly is IPSY?
IPSY is a personalized monthly beauty membership. For $12 a month, you get 5 deluxe samples to try along with a seasonally themed makeup bag. When we say "samples," these aren't some tiny products that'll dry up after one use. They're good-sized premium samples that should easily last you until your next bag.
What kinds of beauty products?
There's hair, body, skincare, makeup, fragrance, and even popular brushes and applicators (don't worry, they tell you what they're for!) that could come in your bag.
Will I like the stuff?
You take an extensive quiz when you sign up, so you can specify if you don't wear eyeliner, love floral perfume, or only want your liquid lipsticks in matte neutral shades (like my sister). When you sign up, you also input your skin tone, eye color, and hair color, along with your hair and skin concerns, so products like foundation should match you!
Are these from legit brands?
Yup - they're from major brands at all price points, so you know they look for the best products. Past brands include benefit, Colourpop, Farmacy, GlamGlow, Glossier, Kiehl's, Nars, NYX, Origins, Tarte, Tom Ford, Too Faced, and Urban Decay.
Are they bottom-of-the-barrel leftovers?
Nope - you'll get iconic beauty blogger favorites like Huda beauty liquid lipsticks, Ouai's leave-in conditioner, and Smashbox Cosmetics' PhotoFinish Primer along with new finds.
So...what's the catch?
None! Brands know it can be a commitment to buy a full-size product, so they love working with IPSY to offer products to members who might otherwise be skeptical. You can cancel at any time, and if you do want to buy full-sized versions of your faves, you can get up to 30% cashback with the IPSY shopper.
It's the only personalized beauty subscription that delivers stuff you'll definitely use. Also, you can sample the "it" products to find out if they're really worth the hype instead of dropping a ton of money on a gamble at a specialty beauty store.

Update: IPSY just released its newest GlamBag, and it is AMAZING. Take the 5 minute beauty quiz to get your personalized makeup mix!