"A tree is best measured when it is down," the poet Carl Sandburg once observed, "and so it is with people." The recent death of Harry Belafonte at the age of 96 has prompted many assessments of what this pioneering singer-actor-activist accomplished in a long and fruitful life.
Belafonte's career as a ground-breaking entertainer brought him substantial wealth and fame; according to Playbill magazine, "By 1959, he was the highest paid Black entertainer in the industry, appearing in raucously successful engagements in Las Vegas, New York, and Los Angeles." He scored on Broadway, winning a 1954 Tony for Best Featured Actor in a Musical – John Murray Anderson's Almanac. Belafonte was the first Black person to win the prestigious award. A 1960 television special, "Tonight with Belafonte," brought him an Emmy for Outstanding Performance in a Variety or Musical Program or Series, making him the first Black person to win that award. He found equal success in the recording studio, bringing Calypso music to the masses via such hits as "Day-O (The Banana Boat Song)" and "Jamaica Farewell."
Harry Belafonte - Day-O (The Banana Boat Song) (Live)www.youtube.com
Belafonte's blockbuster stardom is all the more remarkable for happening in a world plagued by virulent systemic racism. Though he never stopped performing, by the early 1960s he'd shifted his energies to the nascent Civil Right movement. He was a friend and adviser to the Reverend Doctor Martin Luther King, Jr. and, as the New York Times stated, Belafonte "put up much of the seed money to help start the Student Nonviolent Coordinating Committee and was one of the principal fund-raisers for that organization and Dr. King's Southern Christian Leadership Conference."
The Southern Poverty Law Center notes that "he helped launch one of Mississippi's first voter registration drives and provided funding for the Freedom Riders. His activism extended beyond the U.S. as he fought against apartheid alongside Nelson Mandela and Miriam Makeba, campaigned for Mandela's release from prison, and advocated for famine relief in Africa." And in 1987, he received an appointment to UNICEF as a goodwill ambassador.
Over a career spanning more than seventy years, Belafonte brought joy to millions of people. He also did something that is, perhaps, even greater: he fostered the hope that a better world for all could be created. And, by his example, demonstrated how we might go about bringing that world into existence.
How responsible are you for your actions?
The debate over free will, and whether we as humans possess such a thing, has been ongoing since Aristotelian times. When discussing free will, philosophers commonly mean the kind that means humans are ultimately responsible for their actions. The assumption of this kind of free will's existence, and the kind of ultimate responsibility that is inherent in it, is the basis of many religions, justice systems, and cultural structures. As philosopher's continue to debate whether free will exists, another question arises: what are the implications if we let go of the concept of free will and the kind of moral responsibility that accompanies it? How would our institutions, behaviors, and individual operations change if we allowed the idea of a causally determined universe without free will to become a part of public consciousness? Based on the work, of Samuel Harris, Daniel Dennet, Robert Kane and Bruce Waller, one can conclude that the world would be a more productive, compassionate place if society were to generally let go of this concept and embrace a hard determinist viewpoint.
First, it is vital that we elucidate what hard determinism looks like in the context of other philosophical viewpoints regarding free will. At present, the debate regarding the existence of free will revolves around the idea of determinism, it's validity as a concept, and, if valid, how that affects free will and responsibility. Determinism is the idea that everything that occurs and will ever occur is an inevitable product of all that has occurred before.
Or as Robert Kane puts it in his book Free Will, "…we say that a determined event is inevitable or necessary, (it cannot but occur), given the determining conditions." (Kane, 6) This idea calls into question the validity of the concept of free will. In this debate, when referring to "free will," one means the kind of freedom that goes beyond surface freedoms (choosing what to eat, where to travel etc.) and extends to the power to control why one desires what they desire and chooses what they choose. Kane refers to this deeper kind of free will as, "…the ultimate power over what it is that we willed." (Kane, 2) Another way to think about it is the power to be the author of one's own character.
Today, for the purpose of this article, the debate can be reasonably divided into two large categories: compatibilism and incompatibilism. The first group is made up of those who believe free will is compatible with the idea of determinism, that is, that free will can exist, on some level, in a causally determined world. The classical compatibilist believes that, "…our natural belief in the incompatibility of free will and determinism rests on confusions of two kinds—confusions about the nature of freedom and confusions about the nature of determinism." (Kane, 21) In brief, classical compatibilists believe that the kind of free will worth having is essentially merely an accumulation of exercising surface freedoms, something very possible in a causally determined world.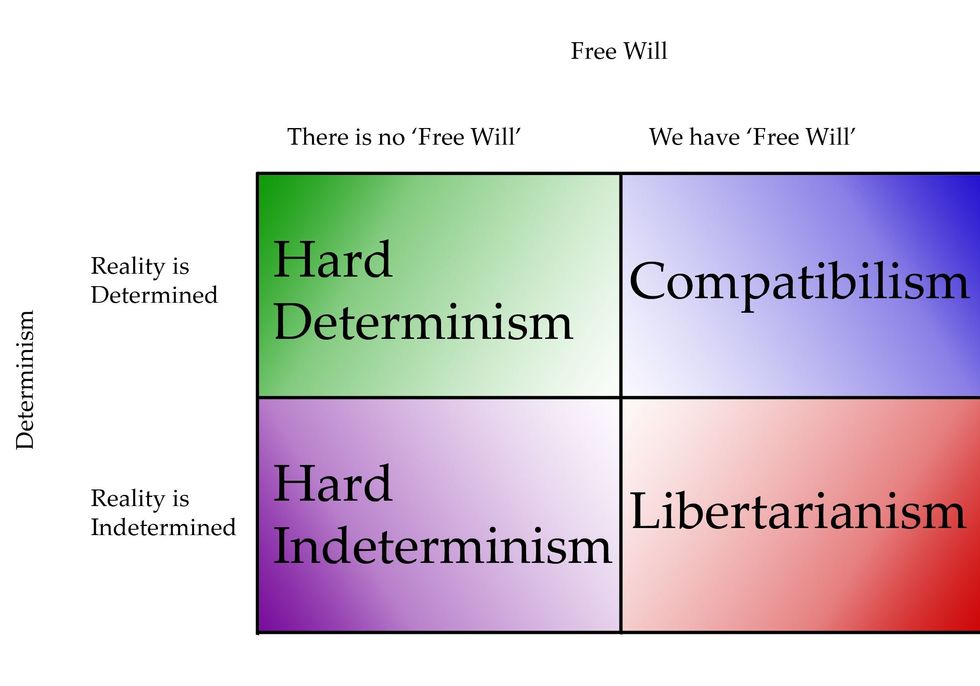 Contrastingly, incompatibilists are those people who believe that free will and determinism can't both be true. This leaves incompatibilists with the burden of proving that free will and determinism cannot exist simultaneously, which once accomplished, leaves them to decide which of the two (determinism and free will) is then true. Meaning this group is much more starkly divided than the compatibilists.
The first group in this division, libertarians, are as Kane puts it, those "…who affirm free will and deny determinism…" (Kane, 32) This leaves the libertarian to prove how free will can exist in an indeterminist world, which creates arguments that rely largely on luck or other vague, metaphysical concepts that critics argue, even if true, won't necessarily make a person more free. This view agrees the most with the intuitive sense of free will many common "folk" have, but is not accepted by the majority of philosophers of merit.
The other view an incompatibilist can reasonably take is that of hard determinism, the belief that because determinism is true, free will cannot exist. As Kane puts it, those who hold this view, "…believe that if you look more deeply into the psychological and other springs of action, you will see that all of us are determined to do what we do, whether it be good or evil; and so none of us is ultimately responsible." (Kane, 68) It is this view, as we will explore, that removes the burden of free will and moral responsibility from the world, and creates space for a more compassionate, productive world. Essentially, if we were always going to do what we do because of a combination of our experiences and biology, how can our actions truly be our fault?
According to Kane, "Hard Determinism is defined by three theses: (1) Free will is incompatible with determinism and (2) free will does not exist because (3) determinism is true." (Kane, 70) The basic argument, that philosopher Galen Strawson lays out, seems to make this thesis appear logically sound. The argument is made up of five parts that are as follows: (1) Nothing can be causa sui - nothing can be the cause of itself. (2) In order to be truly morally responsible for one's actions one would have to be causa sui, at least in certain crucial mental respects. (3) Therefore nothing can be truly morally responsible (Strawson,1)This seems to be a difficult argument to reason ones way out of, as at every step one is tempted to refer to an earlier moment of self-authorship, only to be foiled by Strawson's unavoidable logic that such a moment simply cannot have existed.
Those who oppose this view, argue that though we may be affected by our environment and biology, we still have the power to decide to change who we are. (Kane, 73) To this, Kane says that Strawson argues that, "…neither compatibilists nor libertarians give us an adequate account of how we could change our characters that accounts for true responsibility. If the way we change ourselves later in life is determined by how we already are, as compatibilists allow, then that kind of change would not amount to true responsibility. But if the way we change ourselves later in life is undetermined, as libertarians require, then it would amount to mere luck or chance and that would not be true responsibility either."(Kane, 73) Of course, it is important to note, as Sam Harris does in his book Free Will, "There is a distinction between voluntary and involuntary actions, of course, but it does nothing to support the common idea of free will (nor does it depend upon it). A voluntary action is accompanied by the felt intention to carry it out, whereas an involuntary action isn't." (Harris, 12) Meaning that just because we do not act with free will, does not mean we do not act voluntarily, it is merely the motivation behind our voluntary actions over which we have no control. Essentially, hard determinist's argue that the only two things that influence what a person does are biology and circumstance, and if an individual doesn't have control over either of these things from their first moments on earth, how can they be held responsible for their actions? Indeed, when considering these arguments, hard determinism begins to feel inescapable.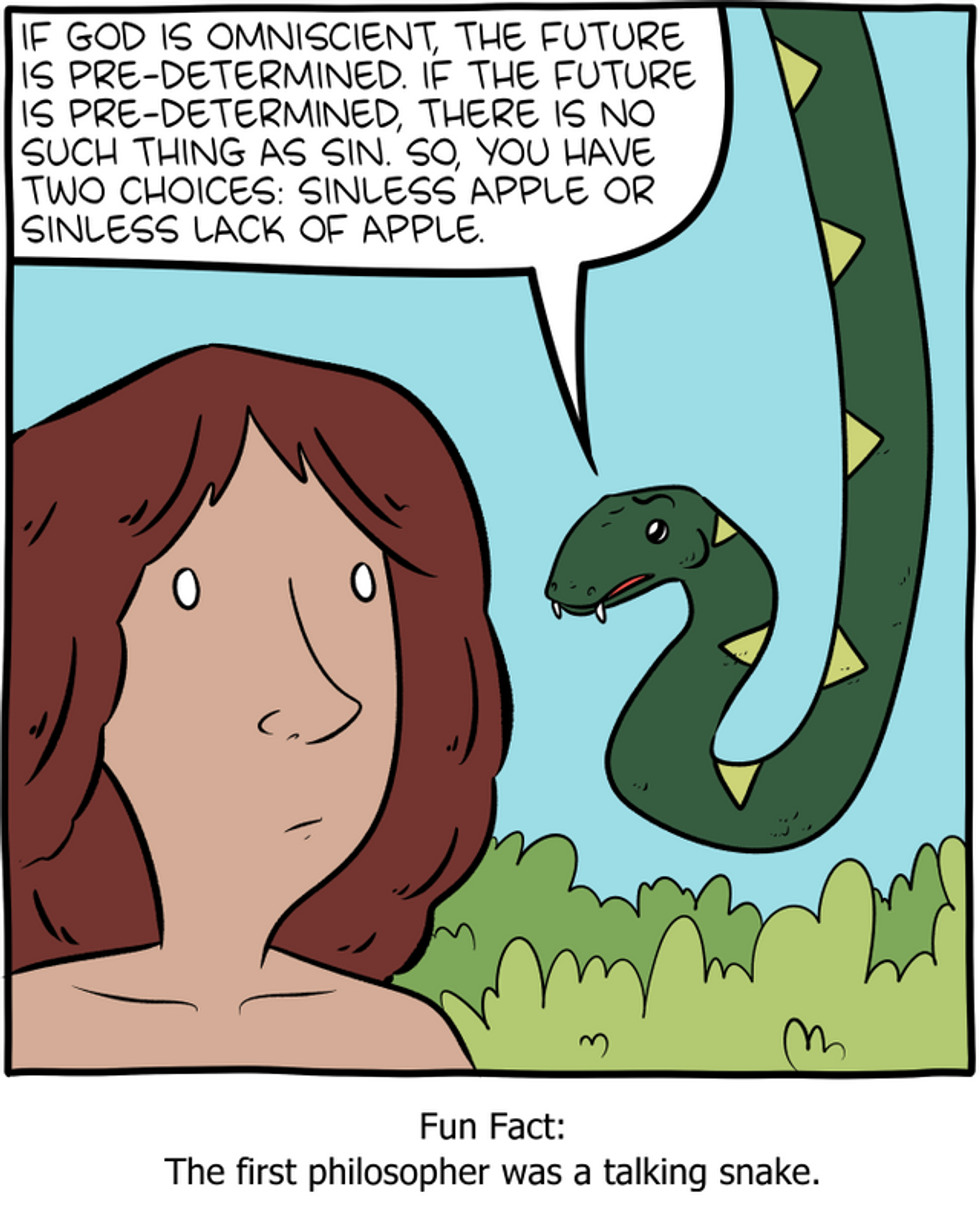 This brings up the question: How would internalizing a hard determinist viewpoint shape the way individuals view themselves? Hard determinism may at first appear to be a callous view, as one may assume that the absence of free will means that humans are veritable slaves to determinism, nothing but metaphorical puppets tied to the merciless hands of luck. But, just because ultimate moral responsibility is not an option, that does not mean individual responsibility is also invalid. In fact, Bruce Waller argues in his paramount work, Against Moral Responsibility, the absence of moral responsibility, "…would leave ample room for take charge responsibility and increase the likelihood of exercising it well, and when we look closely (and distinguish take charge from moral responsibility), take charge responsibility is the responsibility most of us really want. It enables us to exercise effective control, make our own decisions and choices, reflect carefully on what we deeply value, and manage our own lives." (Waller, 278) Waller maintains the optimistic viewpoint that, essentially, the idea that we are not causes unto ourselves, should be an idea that motivates and empowers individuals to consider what it is they desire and why, and begin to make choices that leads them in this direction. The elimination of free will and moral responsibility as valid concepts leaves room for people to inspect why they are the way they are, and use that as the motivating force to change their path. Indeed, the very knowledge that none of us are responsible for who we are could be a positive factor that shapes us unavoidably, "…it would promote stronger self control and nurture genuine self-respect." (Waller, 278)
We see now that it is in fact very possible that the loss of moral responsibility could actually positively affect an individual, but what of an individual's view of others? Here is where hard determinism most obviously improves the world. As Harris points out, "Once we recognize that even the most terrifying predators are, in a very real sense, unlucky to be who they are, the logic of hating (as opposed to fearing) them begins to unravel." (Harris, 53) An interesting way to think of this problem is with the following thought experiment: if you were to take the place of a murderer, moments before he commits the heinous act, and arrive in his body with his exact brain and past experiences, could you possibly say you would put down the knife and decide not to murder? Of course not. The things that led him to that place, his biology and experiences, are what have made him into who he is. He is not evil because he has decided to be evil, he does not have the impulse to kill because some deep part of him chose it, and there is no scrap of you that would be transferred to his body that is deeper or more in control of decision making than the murderers nervous system. So how can we hate him? Instead, it makes sense that instead of condemning the murderer as evil, we should seek to understand the factors that led him to murder, in order to create a society in which fewer people are led to act as such. As Waller puts it, "…the most salient feature of a world without moral responsibility is its openness to inquiry: its openness to recognizing and reporting and dealing with problems and flaws and mistakes." (Waller, 285)
This does lead to an obvious question: what is to be done with the murderer? As Harris states, "Certain criminals must be incarcerated to prevent them from harming other people. The moral justification for this is entirely straightforward: Everyone else will be better off this way. Dispensing with the illusion of free will allows us to focus on the things that matter—assessing risk, protecting innocent people, deterring crime, etc.." (Harris, 53) This idea, that incarceration would still be justified without free will, the same way quarantining sick people is justified, is known as the quarantine model. Kane cites philosopher Derek Pereboom, who argues that an upside of this idea, "…is that punishments would not be more severe than is needed to protect society and deter future crime, just as quarantine of the sick should not be more restrictive than is needed to protect society from diseases." (Kane, 75)
Additionally, without moral responsibility, the criminal justice system can be made to reform instead of punish. Waller cites Michael Cavadino and James Dignan, who point out that the American criminal justice system blames the individual instead of at least partially blaming the various factors that contributed to an individuals criminality, "…Crime is likewise seen as entirely the responsibility of the offending individual. The social soil is fertile ground for a harsh "law and order ideology." (Cavadino and Dignan in Waller, 285) But Waller points out that retributive law and order is not effective, in fact, in America's retributive system, a person going to jail once, raises their likelihood of doing so again. Waller goes on that, in some countries justice systems, "…when genuine efforts were made to develop effective rehabilitation programs, some achieved considerable success; it also became clear that those negative influences that shaped violent antisocial character." (Waller, 294) This positive effect does not just extend to criminal law, without moral responsibility fostering individual blaming; systems (such as medical teams, air traffic control, factories etc.) can be improved to work better and with less mistakes, as individuals will be more likely to admit their mistakes, and people will be more likely to analyze how systems can be redesigned to ensure less mistakes. Summarily, "The second positive feature of a world without moral responsibility is that it shifts the focus to systems and away from individuals." (Waller, 285)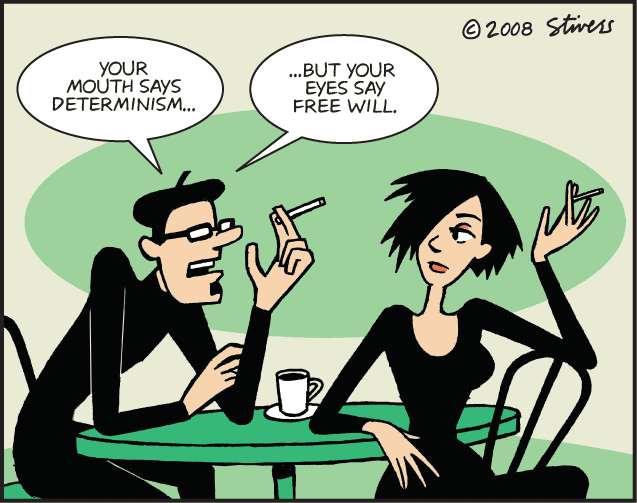 This argument, that a world free of free will and moral responsibility would be a better world, can perhaps be deepened when one acknowledges that perhaps it is not an argument merely confined to hard determinist thinking. To illustrate this, lets investigate Daniel Dennet's response to Sam Harris' Free Will. It is important to note that Daniel Dennet is a compatibilist.
Waller's argument, that a world free of moral responsibility and the idea of free will is a better world, feel pretty sound and, at surface, Harris appears to agree with Waller. However, upon further inspection, one can find quite a few flaws within Harris' argument. Daniel Dennet helpfully illuminates these in his paper, "Reflections on Free Will." Dennet's major criticism of Harris focuses on the idea that Harris assumed an incompatibilist view (libertarian even). Harris argues that because free will requires that we somehow step outside the causally determined universe and such stepping is impossible, no one can have free will. Dennet asks us to look carefully at this kind of argument and realize that just because the world is causally determined, doesn't mean our choices, "come out of the darkness" (Harris, 34). Instead, Dennet argues, "Freedom involves the ability to have one's choices influenced by changes in the world that matter under the circumstances. Not a perfect ability, but a reliable ability." (Dennet, 14) Additionally, Dennet criticizes Harris' tendency in his work to define the kind of free will worth having as that which "common folk" feel they possess, "…he thinks 'free will' has to be given the incoherent sense that emerges from uncritical reflection by everyday folk. He sees quite well that compatibilism is "the only philosophically respectable way to endorse free will" (p16) but adds: However, the "'free will' that compatibilists defend is not the free will that most people feel they have. (p16)" (Dennet, 4) Dennet argues that just because the compatibilists version of free will is not the kind most people feel they have, does not mean it is invalid. Harris' biggest mistake is assuming that because we cannot be authors of ourselves, we cannot have any degree of free will at all. Interestingly, both Waller and Dennet disagree with him, despite supposedly maintaining radically different views.
Dennet argues that compatibilists, "…think we can articulate and defend a more sophisticated model of free will that is not only consistent with neuroscience and introspection but also grounds a (modified, toned-down, non-Absolute) variety of responsibility that justifies both praise and blame, reward and punishment. We don't think this variety of free will is an illusion at all, but rather a robust feature of our psychology and a reliable part of the foundations of morality, law and society." (Dennet, 1) The kind of free will Dennet allows for, is not Harris' kind (ultimate authorship) but rather what Waller might call, "take charge responsibility" (Waller, 278). Waller describes this kind of free will as, "It enables us to exercise effective control, make our own decisions and choices, reflect carefully on what we deeply value, and manage our own lives." (Waller, 278) It appears that the only thing that truly differs between the two men's view points is what they mean when they say "free will." They both assert that the power to respond differentially to stimuli in the environment exists. However, Waller does not see this as free will, and instead means ultimate authorship over ones character when referring to free will. Meanwhile, Dennet thinks ultimate authorship is an incoherent idea, and believes free will is this smaller thing mentioned above, and therefore compatible with determinism. What is important though, is that neither man believes that we have the kind of free will that requires ultimate responsibility for ones actions. This means that a hypothetical world improved by dispelling of free will and moral responsibility is a world possible as a compatibilist and hard determinist.
When inspected carefully, it becomes clear that ultimate free will is not seen as possible by either the compatibilists or the incompatibilists, and it is only the libertarians who believe such a free will exists. In conclusion, moral responsibility is an incoherent idea because individuals are merely the product of a causal world, and therefore their actions are a product of this world as well. Embracing this idea would create a more compassionate and effective world because it would be a world open to inquiry into people's behavior, additionally such a world helpfully shifts focus to systems and away from individuals. Indeed, Waller says, "In the absence of moral responsibility, it is possible to look more deeply at the influences of social systems and situation and to move away from both the fundamental attribution error and the individualistic blindness that hides the forces that shaped our qualities of character." (Waller, 286)
Sources
The Impossibility of Moral Responsibility Author(s): Galen Strawson Reviewed work(s): Source: Philosophical Studies: An International Journal for Philosophy in the Analytic Tradition, Vol. 75, No. 1/2, Free Will, Determinism, and Moral Responsibility (Aug., 1994), pp. 5-24
Kane, Robert. Free Will. Malden, MA: Blackwell, 2009. Print.
Harris, Sam. Free Will. London: Simon & Schuster, 2012. Print.
Dennet, Daniel. "Reflections on Free Will." (n.d.): n. pag. Web. 1 May 2017.
Waller, Bruce N. Against Moral Responsibility. Cambridge, MA: MIT, 2011. Print.
Bernie is talking about voting rights, but is this the most important issue facing offenders?
Bernie Sanders has gotten some attention, and a lot of criticism, for proposing that people currently incarcerated, on probation, or parole should have the right to vote.
He even wrote an op-ed about it. Kamala Harris said she supported the idea and then flip-flopped once she realized what a gaffe it was. Vox has an excellent, though undoubtedly "woke" take on the issue here.
This is a legislation that is opposed by 3 out of 4 Americans, which reveals that Bernie is a dangerous, even reckless candidate for the Dems. So many of his views are completely out of line with the mainstream. And we all know who is going to focus on those if he somehow surpasses Biden as the nominee.
Efforts to reform the criminal justice system are vital, but voting rights are just about at the bottom of the list of what matters to offenders. They want access to education and job training and work opportunities that will give them a chance to be productive in the world once they finally get out. The First Step Act was an excellent bit of progress, but there is so much more to do to block the school-to-prison pipeline. Progress is being made at the state level, and there seems to be a bipartisan consensus, aside from Sen. Tom Cotton, to keep reform moving forward.
State by state, offenders need fewer of the tripwires- high bail amounts, fees, fines, drug tests- that get them locked up in the first place or sent back to prison. Overcrowded conditions still abound in so many facilities.
While Bernie dreams of things that few people support, will he draw attention away from needed reform, maybe even turn people against it?
The refugee crisis hasn't gone anywhere. But news outlets and political leaders everywhere are ignoring it—and xenophobia is making it worse.
Around 2015, the so-called European refugee crisis was topping every newspaper headline. Reports of the 5.2 million refugees pouring in from Syria and other war-torn countries that year led to mass calls for mobilization to create infrastructure and support systems for displaced peoples. The photo of Alan Kurdi, the drowned three-year-old who provided a name and face to the crisis, sparked international acknowledgment and inspired humanitarian activists all over the world.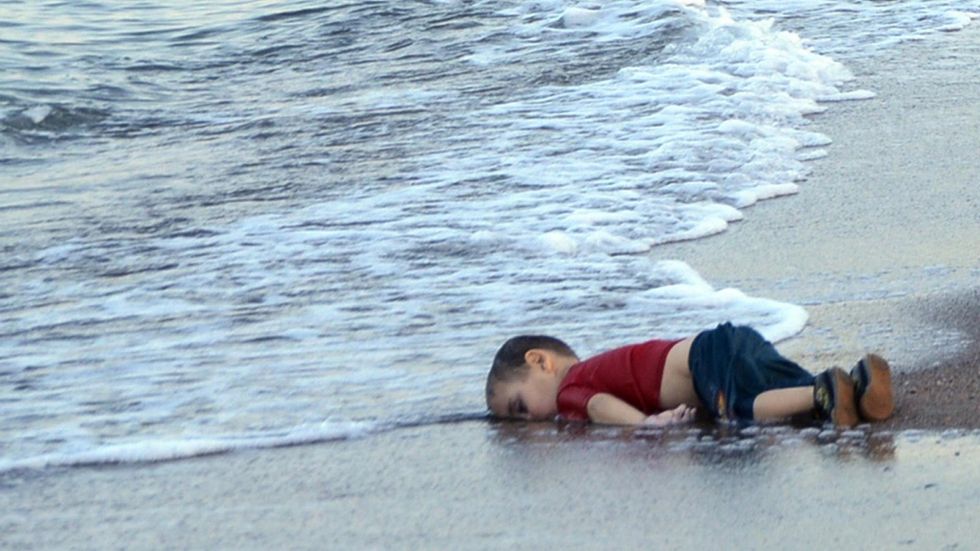 Alan Kurdi, via Medium
But that was four years ago. What has happened to those 5.2 million since then?

Firstly, there are a lot more than 5.2 million now. According to the UN, as many as 63.5 million people have had to flee their homes because of conflict since World War II; and today, roughly eight thousand people per month arrive in Greece, Italy, and Spain from Syria, Guinea, Algeria, and neighboring countries. These numbers are staggering; the lives they describe are almost impossible to imagine. But each figure corresponds to individual experience and a body that likely has crossed countless miles of ocean to arrive on European shores. Though it is impossible to generalize their stories, the majority of these people are currently stranded in liminal places like refugee camps or living as undocumented citizens without access to rights, living wages, and other protections.
According to the Aegean Boat Report, around 20 boats have arrived on the Greek island of Lesvos alone in February 2019, carrying a total of 791 people. Lesvos's Moria Camp holds somewhere between eight to ten thousand refugees; it was initially designed to hold ten. Many have been there for over half a decade, and the conditions in the camp are becoming more and more unlivable by the day.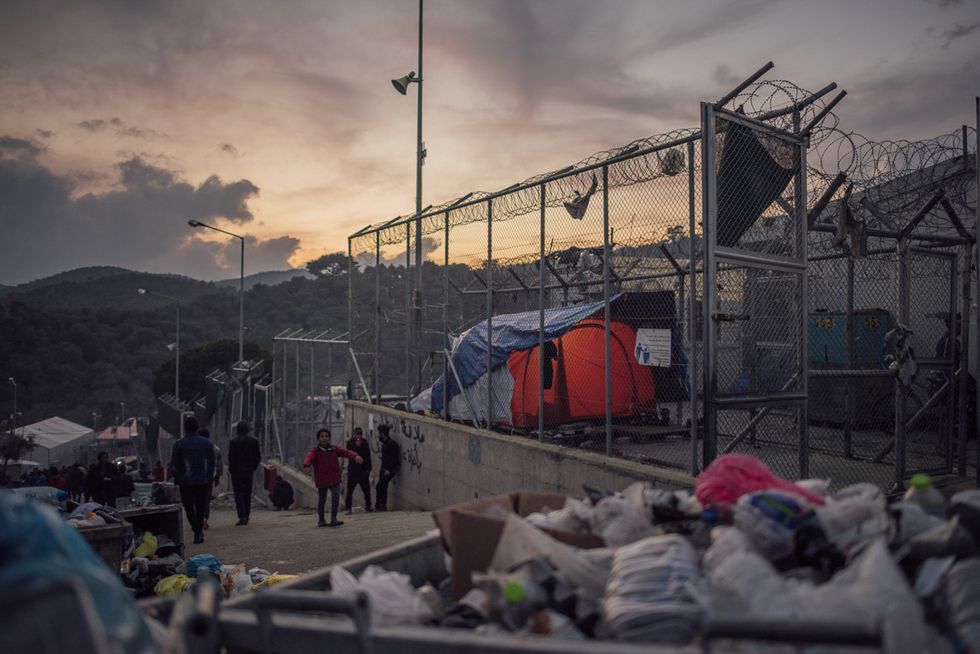 Moria Camp, via Al Jazeera
Many refugees go through hell and back to get there. Left with no choice but to flee violence and unlivable conditions, many spend thousands of dollars on hiring a smuggler who could carry them across the sea. The journey is treacherous—smugglers sometimes have deals with authorities or even pirates, and recent reports have revealed that the journey is more dangerous than ever before, with 1,600 to as many as 2,730 people dying at sea in 2018. The UNHCR released a report which argued that although the official number of migrants crossing the Mediterranean fell last year, this was likely due to "reductions to search and rescue capacity coupled with an uncoordinated and unpredictable response to disembarkation." This in turn, "led to an increased death rate as people continued to flee their countries due to conflict, human rights violations, persecution, and poverty." As the world forgets, the little structure and safety netting that does exist inevitably falls apart.

The news is a strange beast. Some stories can dominate for months and fade out so suddenly it's almost like they never happened; particularly shocking acts of individual or random violence can consume headlines while systematic, long-term horrors can fade away, having lost their ability to capture audiences' attention. With countries like South Sudan, Yemen, and Afghanistan steadily experiencing mass exoduses for years and years at a time, and with the inundation of tragic stories and gory photographs from Syria, it's easy for ongoing horrors to slip underneath an ocean of facts and figures that seem too overwhelming to address.
It's also easy for governments to shirk off responsibility for taking in refugees, seeing as technically they are stateless and, therefore, are not protected by any citizenship rights. Though the Universal Declaration of Human Rights guarantees basic protections for all people on earth, it does not specify which countries are responsible for providing these protections.
But every political decision manifests in lived experiences. For example, when migrants arrive on the shores of Lesvos, they are sometimes met with volunteers who provide water and transportation to the camps. Families and individuals are assigned at random to tents, which are crammed next to each other, creating unlivable conditions.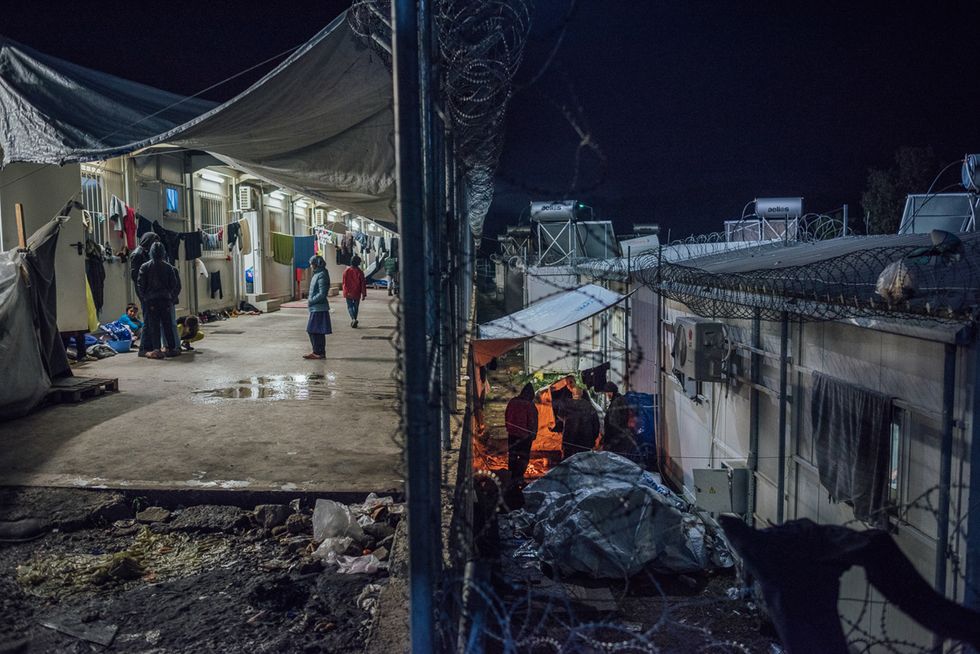 Image via aljazeera.com
Lesvos, in particular, has an extensive volunteer population, but overall aid groups often work as band-aids, failing to heal the sources of a larger issue and failing to structure a pathway forward. Instead, aid groups and refugees languish on Lesvos, in the grey area of statelessness and global amnesia. NGOs are gradually shifting their focus to working with refugees and locals to develop long-lasting relationships and skills, which can propel migrants forward into new lives.

But in light of the antipathy many locals hold towards newcomers, and also because of the trauma, language barriers, or other struggles that migrants face, the process of adjustment is challenging and will require individualized attention, patience, and cohesive efforts. Reports reveal that the majority of refugees fleeing severe conflicts will have vestiges of trauma; the IRC reported high levels of depression and PTSD among refugees across the board.
A 2011 Oxford University study found that the best way for refugees to move forward is through integration into life in their new countries. Solutions lie in treating the wound at its source, addressing xenophobia, and fighting for fair opportunities to education, jobs, healthcare, and other vital structural support systems. On the other hand, stranding migrants in places like Lesvos—where they live in unsanitary and dangerous conditions, surrounded by strangers who may also be experiencing trauma, with no idea of if or when they will be able to leave—is a product of a collective worldwide amnesia, a refusal to see what is happening in real time.
Long-term, slow-moving challengers are not foddered for breaking news. Particularly massive floods of refugees might pique the interest of a world leader; an artist might draw attention to the crisis through an installation in a busy city; but always, the cycles of violence and erasure continue as the world gets caught up in shinier, brighter topics. But remembering and acknowledging what is happening is the first step to moving in a new direction.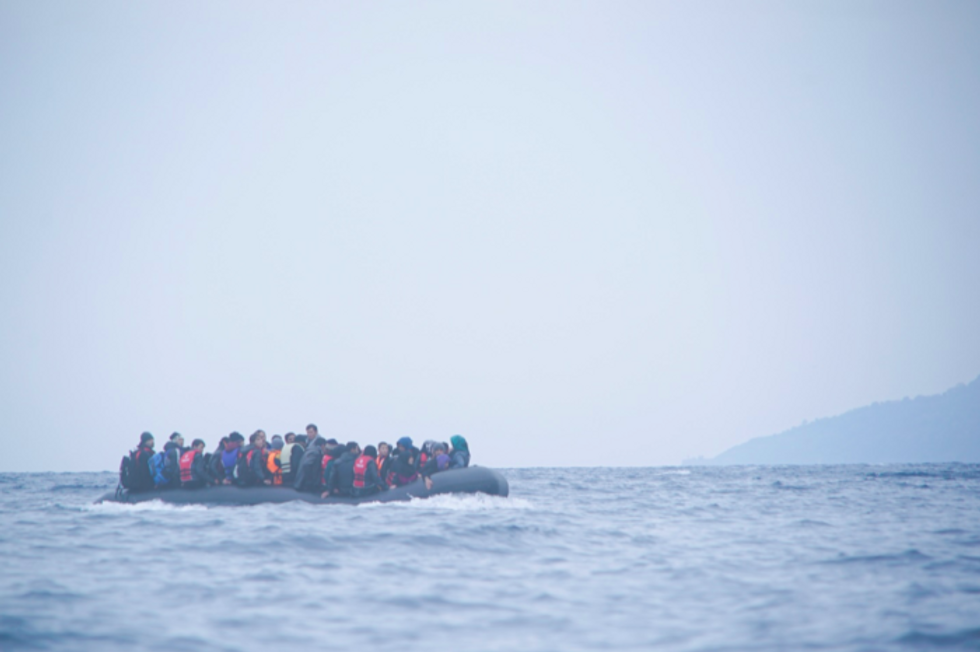 Image via Oxfam Novib Academy
---
Eden Arielle Gordon is a writer and musician from New York City.
Even though some Millennials are almost forty, people are still bashing them.
Last year the New York Post ran an article about Millennials making up the largest portion of the American workforce, ignoring a glaringly obvious point: of course 22-37 year olds are the largest portion of the labor market; they're adults. In an effort to make a distinctly un-newsworthy article newsworthy, the Post settled on an old trope, pick on the Millennials. For its part, this article wasn't as bad as most. The author refrained from using words like "entitled" and "coddled" and "irresponsible," but there's still a certain connotation attached to the term Millennial, particularly in the way it pertains to work ethic and maturity. Repudiating a stereotype often doesn't have the desired effect; in fact, it has a tendency of validating the stereotyper.* That said, my editor's asked me to dissect the maelstrom of insults and unfair generalizations that surround my generation, so here it goes.
In order to parse the general themes of Millennial bashing from the tsunami of bull shit that's been thrown our way, it's important to acknowledge how it all started. In many ways, a lot of the Millennial-centric ire feels natural. Baby Boomers hated Gen Xers. WWII Vets were critical of Boomers. There's always been something decidedly adversarial about the relationship between a young generation and their parents. This is fine. It's one of the many growing pains associated with being a young professional. The strange thing is how long this anti-Millennial sentiment has lasted. Complaints about young folks usually stop before those young folks are forty.
One theory about Millennial bashing's longevity is that it's a symptom of the economic anxiety created by the financial crisis of 2008. Parents had already been lambasting Millennials for being entitled and not wanting to sacrifice their twenties to careers paths they weren't interested in and didn't respect. Boomers were more concerned with being pragmatic, while Millennials wanted to find meaning in their work. Naturally, this caused friction. Still, there was nothing out of the ordinary. At this point, Millennials were college and high school students.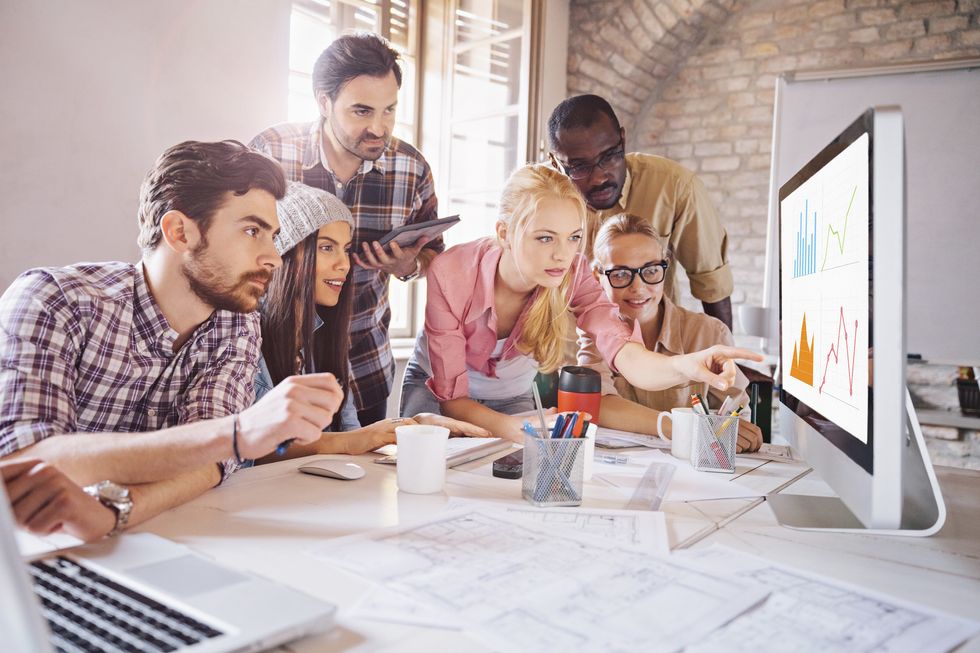 We're just gathering around a single computer monitor to check out some sweet graphs. You know, millennial stuff.
Following the Great Recession, however, this friction was compounded, as Boomers and Gen Xers everywhere lost pensions and 401ks, and their supposedly 'safe' jobs went up in smoke. When slapped in the face by reality, Boomers realized that sacrificing the best years of their lives to jobs they hated yielded very few tangible results. They were understandably upset. There's plenty of pop psychology out there that'll tell you people hate being wrong, but when by virtue of being wrong, their entire life is called into question, something interesting happens. Back in the 50s, a study was done on a doomsday cult in Chicago. The cult predicted that a massive flood would destroy the West Coast of the United States and that flying saucers would rescue the chosen believers before the cataclysm struck. Obviously, it never happened. Strangely, after the prophecy failed, rather than admitting they'd been duped, folks in the cult doubled down on their beliefs, assuming that their prayers had been answered by God and that he decided to spare the planet on their behalf.
Applying similar logic, Boomers, rather than admitting that the system they'd bought into wasn't really looking out for their best interest, doubled down, intensifying their rhetoric against lazy and entitled Millennials. Inasmuch as all invectives are projections of a speaker's insecurities, Boomers and Gen Xers are really saying one of two things when they blindly lash out. One: they made the wrong choices when they were young, and feel they missed The Road Not Taken. Two: they feel that they didn't work hard enough to inoculate themselves from the effects of our failing economy. The former is sad. The latter is terrifying.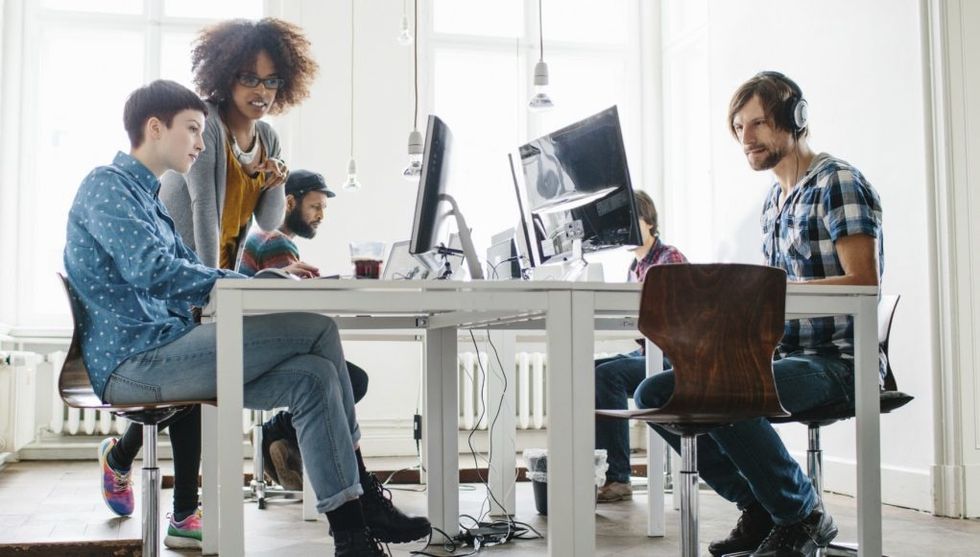 Millennials don't care about dressing up for work.
Another way to look at this issue is via the lens of corporate America. As pointed out by Tucker Max**, the corporate formula is simple: sacrifice youth in exchange for status and financial security. The problem is, status is only worthwhile if people believe in the power structures it's attached to. Money certainly still commands respect, but middle managers aren't exactly rolling in it. With this in mind, it's easy to look at Boomers' Millennial fixation as an obsession with preserving the status quo (pun intended). In their world, being respected can feel like the end all be all of adult life. If Millennials don't buy into the existing systems of power, then the prestige Boomers have strived for is meaningless.
There's always a disconnect between generations, but the way in which Millennials have been used as scapegoats for economic issues is beyond the pale. Many of us own homes and have families already. Some of us are prominent business owners. If 1996 is a strict cutoff, then this coming school year will be the last college graduating class primarily comprised of Millennials. We're adults, in every sense of the word. Still, the stereotypes attached to Millennials have persisted, and while I've discussed the hows and whys, I haven't directly addressed the crimes my generation is accused of.
Here's a shortlist of refutations:
-Millennials are not as addicted to their phones as Boomers and Gen Xers.
-Millennials do not want participation trophies. Those were invented to coddle and reassure parents that their children are special. I have a box of them at home. They mean nothing to me.
-Every generation since the Boomers has been called "The Me Generation."
-Millennials aren't stupid. They're the most educated generation ever. Full stop.
-Millennials aren't lazy or entitled. We just won't work for less than what we're worth. Anyone who thinks refusing to work for free is an entitlement, has no spine.
-Our debt is not due to a lack of fiscal responsibility. Boomers destroyed the economy, and we're shouldering 1.2 trillion dollars in student debt because we were taught that higher education is a prerequisite to success in this country.
---
* This is because discourse is predicated on the idea that each side of an argument has merit. A potential side effect of debate, however, is the creation of a neutral center, a nebulous region in which values from either end of the discussion are combined and redefined ad infinitum. Often, the center is painted as the domain of the rational thinker, the one who can clearly see both sides of an argument. The problem is, in a debate with, say, a neo-nazi, the center must by this definition, at least partially endorse certain ethno-fascist ideals. In this way, the creation of an ideological middle ground always benefits the more radical opinion.

**Listen...I know. I didn't see the author until after I read the article, but it makes some pretty good points. Yes, his books are still bad.
---
Matt Clibanoff is a writer and editor based in New York City who covers music, politics, sports and pop culture. His editorial work can be found in Inked Magazine, Popdust, The Liberty Project, and All Things Go. His fiction has been published in Forth Magazine. -- Find Matt at his website and on Twitter: @mattclibanoff