Pogues frontman Shane McGowan was an ancient 65 when he died on November 30. Television producer Norman Lear was a youthful 101 when he left this realm on December 5. No doubt his zest for life kept him going for so long – and his zest for controversy.
Norman Lear's work was an integral part of American life in the second half of the 20th Century. Television programs like Maude, Sanford and Son, and The Jeffersons dragged television out of the 1950s and into the real world. As Variety states: "Lear's shows were the first to address the serious political, cultural and social flashpoints of the day – racism, abortion, feminism, homosexuality, the Vietnam war – by working pointed new wrinkles into the standard domestic comedy formula. No subject was taboo: Two 1977 episodes of All in the Family revolved around the attempted rape of lead character Archie Bunker's wife Edith."
All in the Family, which ran on CBS from 1971 to 1979, typified the clash of generations. Middle-aged bigot Archie Bunker – played by Carrol O'Connor – was a right-wing King Lear in Queens, raging at the radical changes in society. Archie didn't let ignorance get in the way of his opinions; once he argued that people who lived in communes were communists. The thing is, the old dog was actually capable of learning new tricks. Archie never evolved into any kind of saint. But over the nine seasons "Family" aired, experience taught Archie the benefits of listening to (and respecting) viewpoints far different from his own.
All in the Family was the jewel in Lear's crown, but don't forget the highly popular shows One Day at a Time (which featured Bonnie Franklin as a divorcee raising two daughters in the Midwest) and Mary Hartman, Mary Hartman (with Louise Lasser as the titular figure in a parody of soap opera conventions). Good or bad, Lear's work was never indifferent.
More recently, you may have heard about Lear's lively activism. His TV shows were themselves arguments for free and unfettered speech, and Lear supported a slate of liberal causes. In 1981 he founded People for the American Way. The organization's website describes the ways that PFAW has "engaged cultural and community leaders and individual activists in campaigns promoting freedom of expression, civic engagement, fair courts, and legal and lived equality for LGBTQ people."
Lear's life was a long and fulfilling one. In 1978 he was given the first of two Peabody Awards, the most prestigious award in television. "To Norman Lear," it reads, "...for giving us comedy with a social conscience. He uses humor to give us a better understanding of social issues. He lets us laugh at our own shortcomings and prejudices, and while doing this, maintains the highest entertainment standards."
A pioneer, a gadfly of the state, a mensch. To paraphrase a lyric from All in the Family's theme song, "Mister, we could use a guy like Norman Lear again."
On March 22nd, Senator Bernie Sanders and Elon Musk entered a debate over the fate of the world.

It began when Sanders published a very in-character tweet. "We are in a moment in American history where two guys — Elon Musk and Jeff Bezos — own more wealth than the bottom 40% of people in this country," he wrote. "That level of greed and inequality is not only immoral. It is unsustainable."
Elon Musk, the Tesla and SpaceX CEO who briefly surpassed Jeff Bezos in early 2021 to become the wealthiest man in the world, had a ready-made response. In a Tweet, he wrote, "I am accumulating resources to help make life multiplanetary & extend the light of consciousness to the stars."
@cleantechnica I am accumulating resources to help make life multiplanetary & extend the light of consciousness to the stars

— Elon Musk (@Elon Musk) 1616304691.0
Sanders's reply remained laser-focused on his lifelong mission to fight income inequality on Earth. He wrote, "Space travel is an exciting idea, but right now we need to focus on Earth and create a progressive tax system so that children don't go hungry, people are not homeless and all Americans have healthcare. The level of inequality in America is obscene and a threat to our democracy."
Musk's starry-eyed statement has since faded into the ether of Twitter, but the context of this debate raises larger questions about futuristic technologies, the present-day interests and needs of humans on Earth, and the ongoing battle between them.
Billionaires dream of flying machines
As the Earth speeds towards irreversible climate disaster, many people's minds have naturally turned towards the stars. The distant, spinning nebulae and gleaming planets above us have long been idealized as potential escape routes for the unhappily earthbound.
But as the climate crisis grows more dire on Earth and space travel ramps up, thanks to ambitious patrons, some (like Elon Musk) have proposed that space may be our best shot at collective survival.
Famously, Musk founded SpaceX because he believed that NASA was not working hard enough to bring humans to Mars, and he feared that humanity is approaching its last chance to escape Earth before our planet becomes an uninhabitable hellscape.
His fellow Bernie Sanders nemesis Jeff Bezos has expressed similarly apocalyptic concerns. Bezos, who founded a rocket and aerospace travel company called Blue Origin in 2000, recently stepped down from his position as CEO of Amazon, claiming he planned on investing more time in his work with Blue Origin and his efforts to fight climate change.
Like Musk, Bezos aims to colonize space by investing ambitiously in new technologies that could help people reach the stars. And also like Musk, he fears for the future of civilization — and sees space as the place where these problems might be solved.
"Hundreds of years into the future, we will move all the polluting industries to space and other planets, where we have infinite resources for all practical purposes and Earth will only be (used for) light industries and residential," Bezos stated in a conversation with Amazon India chief Amit Agarwal in New Delhi.
This plan, which Bezos calls the New Inversion, is a long-term vision that would effectively move all pollution to the cosmos. "I would think, kind of [a] time frame of hundreds of years," Bezos added, reiterating that "we have to preserve this planet and we can do that using the resources of space."
The "space escape" as an escape route for the super-rich
Bezos, Musk, and their future-focused peers may claim that their plans to reach the stars are efforts to ensure a future for humanity, but their own reputations and vast fortunes have raised many questions about who this interplanetary future would actually serve.
At the moment, the future of space travel appears to be reserved for the super-rich — the sort of people who are already least affected by earthly calamities like climate change, despite unleashing the vast majority of the world's carbon emissions. For example, private spaceflight companies such as Axiom reportedly charge up to $55 million to send travelers into specially designed rooms located in the International Space Station.
It is likely that even if space travel begins to evolve in step with Moore's law (the theory that computers' processing power tends to double every two years), whatever world we build in the cosmos will remain reserved for the 1% for quite a long time. In this light, the futures preached by techno-prophets like Bezos and Musk start to look like thin cloaks for a kind of moon-eyed eugenics that would leave billions of people in the literal dust.
"The space barons are shrewdly — one might say cynically — tapping into our respect for astronauts and our idealism about what space represents," Ceridwen Dovey writes in The New Yorker. "They seem to be counting on us to be awestruck by whatever it is they do in space, and to overlook the fact that their motives are not exactly pure, nor are their methods of getting us there egalitarian."
Humans are drawn to mystery and beauty, and space is such a tantalizing frontier that it's difficult to completely write off billionaires' ambitious plans to penetrate it, even though we know their earthly work typically involves hoarding vast amounts of wealth while underpaying and mistreating masses of workers.
The ongoing battle between technological innovation and human-centered reform
Similar contradictions plague a multitude of existing plans to address climate change on Earth, and they are particularly endemic to plans broadcasted by corporate entities who have nothing to gain and everything to lose from substantial climate action.
For example, Jeff Bezos recently pledged $10 billion of his $188 billion net worth to the Bezos Earth Fund, yet his overall approach to climate and philanthropy has continuously come under fire.
First, there's the fact that despite all his talk of concern about climate change, Bezos's company continues to belch out carbon emissions, releasing around 51.17 million metric tons of carbon dioxide in 2019 – up 15% from the previous year despite various green pledges. The company has also been slammed with reports about its poor treatment of workers, and prior to the Capitol riots, Bezos also reportedly donated thousands of dollars to conservative politicians such as progressive disruptor-in-chief Mitch McConnell.
Then there's the fact that Bezos failed to donate more than roughly 0.1% of his net worth prior to his 2020 donations — and the latter comprised less than 8% of his vast net worth, a sum that, along with Musk's wealth, is equivalent to the collective wealth of the United States's poorest 40% of people.
The $10 billion Bezos did donate via the Earth Fund was also met with criticism, particularly from groups invested in climate justice. The vast majority of Bezos's donations went to established environmental organizations like the Environmental Defense Fund and World Wildlife Fund, most of which already possess endowments in the millions. Critics said that many of these contributions will never reach communities already subject to the worst effects of climate-caused floods, wildfires, pollution, and destruction, and many of their ultimate goals involve conserving an existing status quo rather than addressing interconnected crises like racism and economic inequality.
In a statement released in December, a group of community-focused NGOs called the Climate Justice Alliance released a statement in protest of Bezos's donations. It found that "less than a quarter of the first-round grants will go to intermediary funds that support thousands of grassroots communities cultivating solutions on the frontlines of the climate emergency. The inequities couldn't be more striking."
This could also be said of the work of many of the "Big Green" environmental groups, particularly those historically focused on conservation rather than human-focused social change. Conservation movements have historically been bound up with white supremacy, and a look at the bigger picture reveals that white supremacy created and perpetuates the conditions for climate change, itself is an inherently racist crisis.
Other billionaires and corporations' efforts have been subject to similar critiques. For example, Elon Musk recently launched a competition offering $50 million to whomever could invent the best carbon capture techniques. Carbon capture technology has long been an alluring yet elusive potential solution to climate change, and it has also been the recipient of generous funding.
Despite all this investment, no miracle technology with the ability to stop climate change has ever emerged, and waiting for one feels more and more like waiting for a doomsday savior who will never arrive.

False promises further threaten any chance of climate action
An April 2020 study from Lancaster University argues against promises that glorify miraculous technologies, because "overreliance on promises of new technology to solve climate change is enabling delay."
Hinging the solution of climate change on miraculous technological breakthroughs like ice-restoration, nuclear fusion power, massive carbon-eating machines, and extraterrestrial offshoring can "feed systemic 'moral corruption', in which current elites are enabled to pursue self-serving pathways, while passing off risk onto vulnerable people in the future and in the global South," say researchers Duncan McLaren and Nils Markusson, who encourage "cultural, social and political transformation" over placing hopes in instant solutions.
It seems that any genuine "cultural, social and political transformation" will not come directly from billionaires and massive corporations, who naturally often benefit most from current cultural, social, and political structures and hierarchies. Recent corporate efforts to combat climate change have been hollow and hypocritical; and many corporations are being accused of greenwashing as they release statements and pledges that appear to be commitments to fighting climate change but that are really efforts to deflect opposition.
A January 2021 report from the Sierra Club entitled "The Dirty Truth About Utility Climate Pledges" graded utility companies on their plans to cut emissions and transition to clean energy solutions and issued many failing grades to companies that have released "carbon neutral" pledges and similar statements. "
The infuriating truth is that many utilities are not only protecting their coal plants from retirement, but are also actively planning to build out climate destabilizing gas plants," said Mary Anne Hitt, who is the Director of Campaigns at the Sierra Club. "The consequences of allowing utilities to continue to delay the transition to clean energy will be particularly disastrous for low-income communities and communities of color."
Learning from the people and the planet
So where will change come from, if not rockets to stars or carbon pledges or the latest addictive inventions of Silicon Valley coders? Perhaps the answer is not above us but rather below our feet. Perhaps we have everything we need already here on Earth.
"We already have a safe and natural technology for carbon capture and storage (CCS)," writes Francis Seymour in a report for the Center for Global Development. It's called 'tropical forests.'"
We already have everything we need to transition to clean energy, and we already have enough food to feed the world's population. What is needed is a redistribution of wealth and resources — something billionaires, conservative politicians, and oil companies have fought against since climate change was exposed as a dangerous reality in the '80s.
Slowly but surely, the idea of wealth redistribution as an investment in fighting climate change is seeping into reality in the form of modern politics. Joe Biden's infrastructure plan will be paid for, in part, by taxing the super-rich. Still, there's a long way to go.
As things grow more dire, environmentalists increasingly view a cross-racial, cross-class movement as the only feasible solution to climate change. This framework, long supported by environmental justice movements and knitted into intersectional plans like the Green New Deal, sees the solutions to climate change as bound up with ending capitalism, racial injustice, and other interconnected global plagues.
The new vanguard of the climate movement also acknowledges how important Indigenous knowledge of land stewardship and conservation, frontline communities' understanding of environmental racism and the stakes of the climate crisis, and ongoing working class and BIPOC struggles for justice are to any just transition away from a fossil fuel-based economy.
Clearly, billionaires' expensive efforts to colonize space would be low on the priority list of any intersectional response to climate change.
Is there any place for space in the climate fight?
All this being said, it's unlikely that humans will ever totally abandon our desire to explore distant galaxies. Our desire to know the cosmos is as innate as our childhood desires to explore the deep green mysteries of the nearby woods. Fortunately, we don't have to write space exploration out completely in the fight for Earth.
Actually, Jeff Bezos wasn't wrong when he said space could be key to helping us fight climate change. NASA, the UN, and other organizations have consistently reported that some solutions to the climate crisis might be found through space-based technology capable of deepening our understanding of the climate crisis and providing key evidence of its effects.
For example, satellites can detect changing temperature levels, rising sea levels, and other factors that could be vital in the current global effort to halt warming at 1.5°C. On a more theoretical level, thinking about how alien civilizations may have responded to climate change could help us address our own situation.
It seems that for now, space travel's greatest contribution is its ability to help humans look back at Earth — either to measure its changes or to feel awed by what Carl Sagan called our "pale blue dot," as many astronauts have been when they viewed Earth from space and experienced the famous "Overview Effect." (Upon seeing the Earth from space, astronauts report a newfound sense of compassion for and responsibility to the planet and for the interconnected webs of life that live upon it).
Plus, the sheer ambition of the space race provides an excellent blueprint for the kind of effort it will take to actually address the climate crisis. All in all, there is room for space travel within a just transition to an ethical future.
But for now, it seems that the "light of consciousness," as Elon Musk put it, would be best directed towards Earth's living, breathing beings rather than towards a few billionaires and their efforts to further puncture the edges of our already damaged, airless, eternally silent atmosphere.
Billionaires' private charities help them push personal agendas on the world—when they aren't just dodging taxes.
Don't you just love stories about people giving back?
While there's a lot of greed out there, some of the richest people on Earth realize how lucky they are and decide to share the wealth.
Just look at Jeff Bezos of Amazon and his decision to donate $100 million to food banks. It's a lot more than you and I (and several large families put together) will ever give to charity… Because it's more than we'll earn in our entire lifetimes.
It's more than you could fit in the trunk of your car in stacks of $100 bills! If you put it all in a basic savings account, you and me and those several families could all easily live off the interest alone!
Actually, when you think about it like that, it's kind of more money than any one person could ever need or even spend on anything normal...
Sure, if you want to travel the world in a luxury blimp, eating meals out of the skulls of dead celebrities, you could spend it all pretty easily. But if you're just trying to have a happy, comfortable life, $100 million isn't much better than an $80,000 salary.
Fixing the World's Problems
So why doesn't any of these mega-billionaires like Jeff Bezos, Michael Bloomberg, Elon Musk, or any one of the Walmart Waltons just give away their riches and go down in history as the person who ended world hunger? At an estimated cost of $20 billion a year, each of them could afford to end homelessness in America for between two and eight years.
They could even keep a few car trunks stuffed with hundreds so they could continue living like kings and hunting olympic athletes for sport. And imagine how much all those people could improve their lives if they had stable places to live and sleep.
It must not be that simple... Because if private greed was the only thing standing in the way of transformational change, governments could have collected all that wealth with some steep taxes and made the world a better place. There has to be some reasonable explanation for why these people don't just give it all away…
In this series we are looking at a number of prominent myths around philanthropy, including the notions that billionaires' "wealth" is substantially different than money, and that they are important patrons of the arts.
Previously we debunked the ideas that charity is better than "government handouts" and that it's even possible for billionaires to be generous, but today we'll look at the question of whether their private charitable foundations are powerful forces for good.
Myth: Those foundations do a lot of good though
The Myth: They might not be as good as well-funded government programs, but in the absence of the political will to raise taxes and establish those kinds of programs, the private charitable foundations of billionaires do a lot of good and are a great option for helping people in need.
Why It's Wrong: There's no doubt that some of those foundations have truly helped people in significant, life-changing ways. But, generally speaking, the stated charitable missions of these organizations are secondary to their function as tax havens.
Adam Ruins Everything - Why Billionaire Philanthropy is Not So Selfless | truTVwww.youtube.com
In the past these organizations were a useful way for anyone lucky enough to be leaving assets in excess of ~$600,000 to their loved ones to avoid the estate tax. These days the estate tax has been gutted to the benefit of no one who has ever earned anything, and the amount has been pushed above $11,000,000. But there are plenty of people who still want that loophole or enjoy the prestige that private charitable foundations provide them.
Often private LLCs directly controlled by the billionaire funders, these foundations allow for income not only to evade income tax, while earning the donor a tax deduction on top of that. Of course in order to qualify for these benefits, the organization must meet the requirements of a non-profit, but the standards aren't exactly strict.

What Billionaires Want
Not only can the organization focus only on the issues that matter most to a person with ungodly amounts of money (a cure for all the papercuts they get from flipping through their stacks?), they only need to spend 5% of their investment assets annually. And they could choose to spend that amount on administrative costs and salary for the friends/lackeys they've chosen to run them.
You basically have to be as blatantly self-serving and corrupt as Donald Trump—spending other people's money to buy a portrait of himself—to come under any real scrutiny, and even then it's only if you're running for president...
On top of that, these foundations are free to grow their assets through investments—even in for-profit industries that work in diametric opposition to the foundations' stated goals. Consider the fact that—until Bill Gates was publicly shamed into divesting—the Bill and Melinda Gates Foundation was heavily invested in fossil fuel companies.
Apart from their horrifying impact on climate change, these companies are among the worst offenders on Earth in terms of polluting fresh water resources. If only there was a charitable foundation that was focused on preserving and cleaning water supplies in developing countries. Like, for instance, the WASH program…of the Bill and Melinda Gates Foundation.
Worse still, many so-called charitable donations end up going to think tanks, university branches, and political advocacy groups that fund and promote research and policy initiatives that support the interests of the wealthy.
The effect is to amplify ideas that ultra-wealthy already believe and what they want to be true. If you were a researcher who had reason to believe that increasing the top marginal tax rate to 90% could solve all of our nation's most pressing problems, you would struggle to get your research funded. But if you managed to complete it and get it published, there would immediately be 10 well funded studies seeking to disprove it.
The Bill Gates Approach to "Fixing" Education
Look again at the Bill and Melinda Gates Foundation. Not only does it give a lot of money to so-called good causes that primarily serve the wealthy, but even when the foundation is focused on trying to do actual good they often end up hurting more than they help.
Among its primary focuses has been revamping America's public school systems, which has involved billions of dollars being spent on various initiatives to change the way teachers are trained, the way children are taught, and the way schools themselves are organized—all with an emphasis on data collection and standardized testing.
Among the complaints against how the Foundation operates is the fact that its model of reform and success involves little input from educators and that Bill Gates himself essentially steers the ship with little resistance from within the organization. And the results have been...less than stellar.
Obviously the goal of improving the education system for everyone is admirable, but the allure of Gates' money and his supposed genius has tempted state and local governments to match his initiatives with a lot of money of their own.
And time after time those initiatives have been abandoned as soon as they don't yield the results Gates was looking for—leaving schools and municipalities on the hook for cleaning up the mess without that financial backing.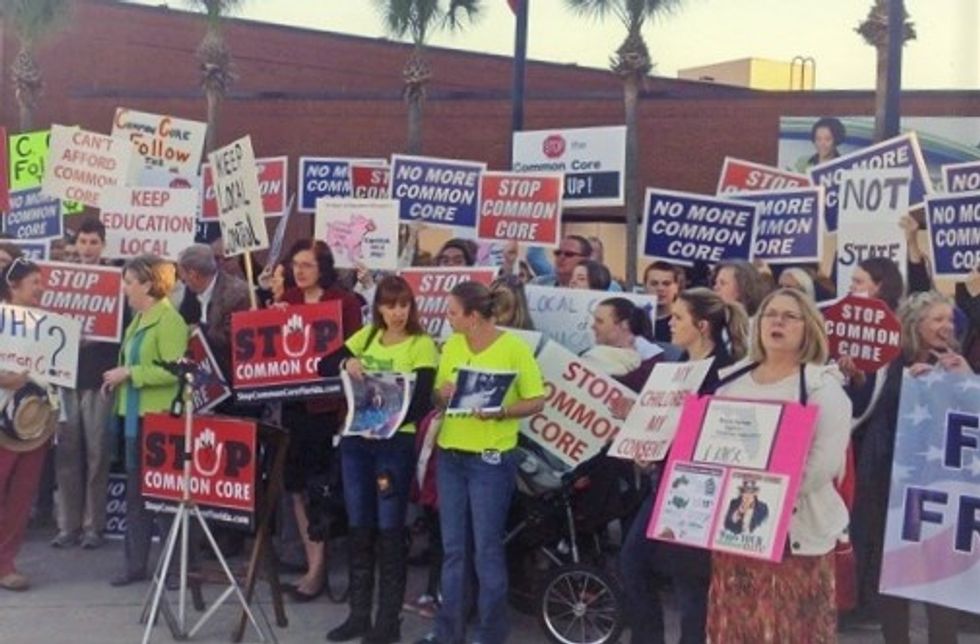 From Common Core to smaller schools to creepy data mining, Gates' ideas have faltered or crumbled when they meet with the real world, and they've ended up costing the communities they "serve" a lot more than they've ever cost him. At this point you could argue that the biggest accomplishment the foundation has achieved is rehabilitating Bill Gates' predatory reputation.

But he is way too rich to be ashamed of his failures. So Bill Gates just keeps going and pushes his narrow-minded views on education even harder. These days he's helping New York Governor Andrew Cuomo with the idea that we don't even need classrooms…
Stricter Standards for "Charity"
So while claims that Bill Gates is using vaccines to spread the mark of the beast and practice eugenics are a bit wild, the work of these private charities definitely deserve more scrutiny.
Basically, even when these private foundations aren't glorified tax shelters, they're still awful. As well-intentioned as some billionaires might be, they are too powerful, too used to getting their way, and too detached from real life to actually be much use in helping people.
In other words, we need to make the standards for these foundations far stricter—to make sure they're doing some actual good in exchange for their tax evasion—and once we've done that, we need to tax the hell out of all the billionaires' money so they remember what it's like to be human.
And if you're thinking that we can't do that—because all that wealth is tied up in investments—we'll have to cover that myth in the next installment.
If they were actually generous, they wouldn't be billionaires.
Don't you love to see a story about someone giving back?
Not every wealthy person is a miser. Some of the richest people on Earth recognize how lucky they are and choose to share the wealth.
Just look at Amazon's Jeffy B.—or Jeff Bezos, as his friend's call him—who recently donated $100 million to food banks to help America get through the coronavirus. Wowie! So much money, and he's just giving it away!
It's a lot more than you and I and several large families put together will ever give to charity, because it's more than we are likely to earn in our entire lifetimes! It's more money than you could fit in the trunk of your car in stacks of $100 bills!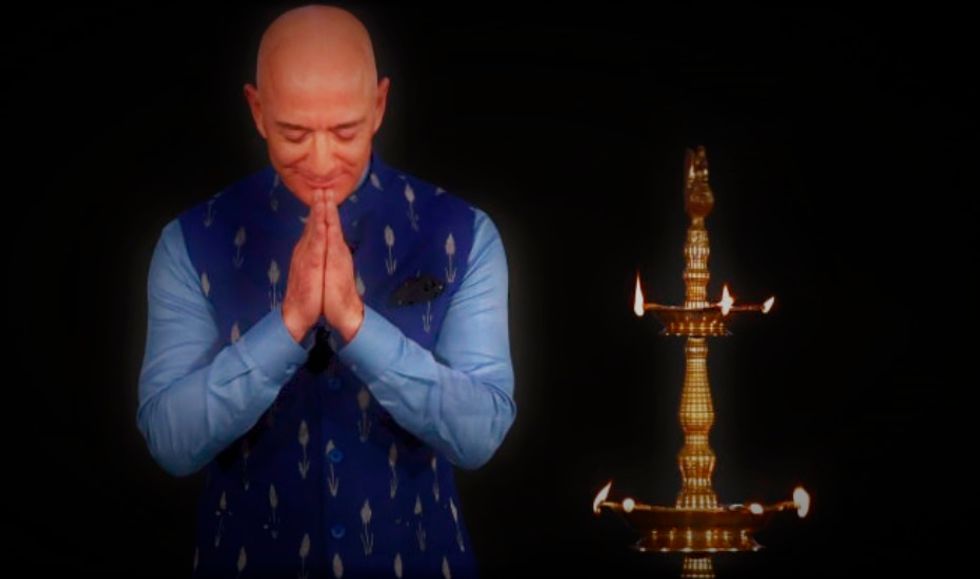 If you had that much money in a basic savings account, you and me and those several families could easily live off the interest alone! Actually, it's kind of more money than any one person could ever need or even spend on anything normal.
Sure, if you want to travel the world on a yacht, eating meals off the shaved heads of a series of world leaders, you could spend it all pretty easily. But if you just want to have a happy, comfortable life, $100 million isn't much better than an $80,000 salary.
So why don't people like Bill Gates, Jeffy B., Warren Buffett, Michael Bloomberg, Elon Musk, Charles Koch, or any of the Walmart Waltons just give away their riches and go down in history as the person who ended world hunger? At an estimated cost of $30 billion a year, each of them could feed the world's hungry for between one and five years. Or they could end homelessness in America for between two and eight years.

They could even keep a few hundred million so they could continue hunting supermodels for sport. And imagine how much those millions of people could improve their lives if they weren't constantly struggling to feed themselves or find a place to sleep.
It must not be that simple... Because if private greed was the only thing holding back transformational change, governments could have snatched up all that wealth with some steep taxes and made the world a better place. There has to be some reasonable explanation for why these people don't just give it all away…
In this series we will look at a number of prominent myths around philanthropy, including the notions that billionaires' "wealth" is substantially different than money, that their private foundations do a lot of good, and that they are patrons of the arts.
Previously we debunked the idea that charity is better than "government handouts," but today we'll look at the question of whether it's even possible for a billionaire to be generous.
The Myth:
The billionaires must know something we don't about these issues, because they're clearly smart, and would solve them if it was that easy. Just look at how much they give away! They aren't being stingy!
Why It's Wrong:
They absolutely are being stingy.
Let's look back at that $100 million donation from Jeff Bezos. At an estimated net worth of $165 billion—even after his mega-billion-dollar divorce—that "generous" sum constitutes about 0.06% of his wealth. To put that in perspective, if you had a $15,000 car, another $1,500 sitting in a bank account, and you had zero debt (lucky you), this would be the equivalent of giving $10 to charity.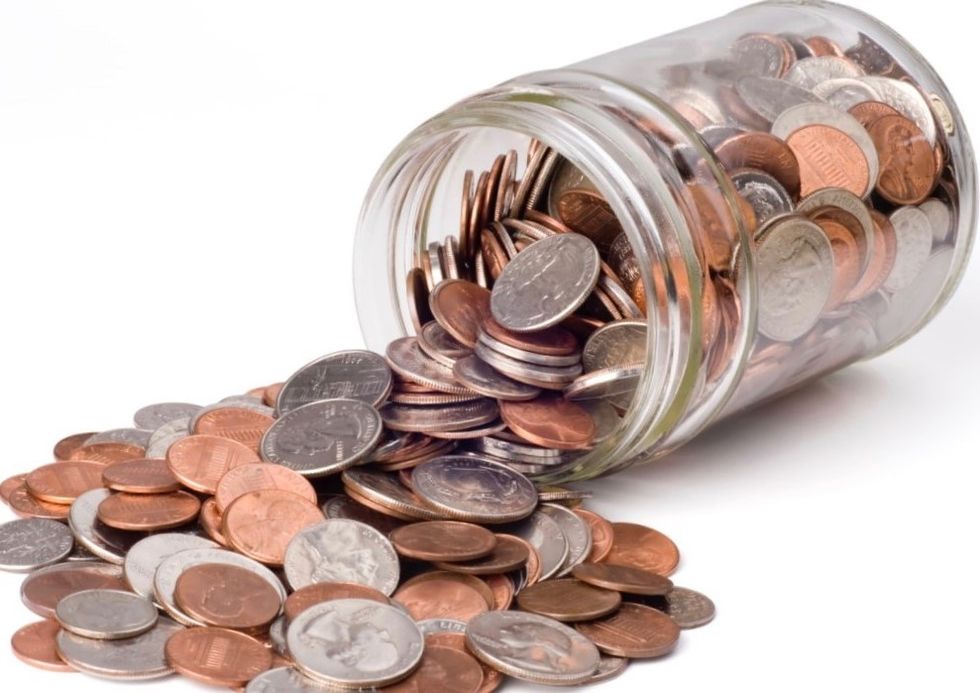 Why didn't CNN cover your swear jar donation?
It's nice and all, but it's hardly worthy of a flock of journalists rushing to tell the world about your incredible selflessness. And actually, it's much worse than that—because if you lost 99% of what you had, you'd be flat broke. If Jeff Bezos did the same, he'd still have more money than the 10 richest a**holes you've ever met.

Likewise, Bill Gates, Warren Buffett, and other "good" billionaires who have pledged to give away half of their wealth somehow still seem to get richer every year. They give away a tidy sum here and there to earn some fawning PR, all while their investments in companies that underpay their workers and destroy the environment earn them way more money than they hand out.
Everyone knows that large sums of money in a stable economic environment can easily be grown—as Uncle Phil put it on Fresh Prince, "my money makes money." But when your inordinate stacks make you further stacks on stacks on stacks, giving money away in dribs and drabs like this is entirely meaningless.
It may help some people, but it doesn't cost you anything you will even notice. It's like having a hole in your pocket that occasionally drops a few dimes on the street. Whoever is on the receiving end might appreciate those dimes, but you will literally never notice they're gone.
Billionaire Taxes
To see through the myth of billionaire generosity, you just need to look at how they reacted when they were worried that their vast fortunes might actually become appreciably less vast.
Last fall, when Elizabeth Warren looked like a contender for the Democratic nomination for president, she boosted her proposed tax on wealth over a billion dollars from 3% to 6%, and that was a bridge too far for Bill Gates who said, "I'm all for super-progressive tax systems," he said:
"I've paid over $10 bilion in taxes. I've paid more than anyone in taxes. If I had to pay $20 billion, it's fine. But when you say I should pay $100 billion, then I'm starting to do a little math about what I have left over … you really want the incentive system to be there and you can go a long ways without threatening that."
Elizabeth Warren tweets an open invitation to Bill Gates to discuss her wealth taxwww.youtube.com
To clarify Warren's plan, wealth between $50 million and $1 billion would only be taxed at a 2% rate—barely touching that first billion dollars. At the time, Bill Gates was worth $106 billion. He's gotten richer since then (because that's what billionaires do...even in 2020) and is now estimated to have just shy of $110 billion. If he'd been taxed at Warren's proposed rate, he'd now be down to about $103 billion (poor guy).

Considering the stock market grows an average of around 7% each year, he could pay that 6% tax and still rake in about $1 billion each year with some basic investments. That's enough money to buy about 4400 average American homes...each year...without spending any of your original investment...
If all these numbers are starting to hurt your head, that's because you don't have the brain disease that billionaires suffer from. It's how they got to where they are. All they think about is their money—how they can use it, and how they can make more of it.
Even the ones who support slight increases in their taxes just want to quell the masses and obscure the fact that they are all ripping us off. It's the same motivation that leads them to give away some money here and there—it makes them look like good guys, and it soothes their neglected, battered consciences.
The less cautious among them aren't even interested in going that far. Michael Bloomberg spent over $1 billion not on charity but on trying to buy the Democratic nomination because if Sanders or Warren had gotten elected it would have cost him several billion dollars each year. What's the cost of his public humiliation on a national stage compared to that.
The Ultra-Wealthy Rule Over Us
These people aren't satisfied simply with having more money than anyone could reasonably spend in a hundred lifetimes. They always want more, because more money is more power; power to sway politics to their singular will, manipulate the media, and to be the absolute arbiter of which causes are "worthy," and which will continue to be underfunded and ignored.
That "incentive system" that Gates mentioned has nothing to do with quality of life at the billionaire level. Working hard to earn more money doesn't change how these people eat, where they live, how their children are educated, how often they go to the doctor…
If we taxed wealth over $1 billion at 100%—just took it all away—food banks could just have that $100 million on hand without waiting for a billionaire to be in a good mood, and Jeff Bezos' actual quality of life would be unchanged. He'd still have his last billion dollars to spend on daily baths in endangered animal parts. Yet he clings to his insane level of wealth because it allows him to be an oligarch, and to be worshipped for his generosity (without ever losing a cent).
"Generosity" for billionaires has nothing to do with how much they want to help. It's based entirely on how much they want to be praised.
I'm moving $1B of my Square equity (~28% of my wealth) to #startsmall LLC to fund global COVID-19 relief. After we… https://t.co/TtdU7W4SWk

— jack (@jack) 1586289859.0
There are possible exceptions of course. Twitter CEO Jack Dorsey recently "donated" $1 billion to COVID-19 relief—which is almost 28% of his net worth. So if he does that a couple more times he won't even be a billionaire anymore… except that he "donated" that money to Start Small Fund—his private, "donor-advised" LLC that doesn't have to disclose its financials.

Surely though, this sort of private "charitable" foundations must do a lot of good for the world, right? We'll take a look at that myth in our third installment.
Charitable donations can not replace government programs.
Isn't it refreshing to see a story about someone giving back?
Not every wealthy person is Ebenezer Scrooge, clutching every penny for himself. Some of the wealthiest people on Earth also realize how fortunate they are to have been so blessed, so they share the wealth. When they open their pocketbooks, they aren't stingy.
Just look at Jeff Bezos, who recently announced he was donating $100 million to food banks to help America get through the coronavirus. Wow! That's so much money, and he's just giving it away! It's way more than you or I or several families put together are likely to earn in our entire lifetimes! It's more money than you could fit in your fridge in stacks of $100 bills—unless you're Nancy Pelosi.
If you had that much money in a bank account with just 1% interest compounding annually, you and me and those several families could easily live off that interest without ever touching the principal! Forever! Come to think of it, it's kind of more money than any one person could ever need or even spend on anything reasonable.
Sure, if you want your own private jet to shuttle you around the world eating dinner off the naked bodies of a series of celebrities, you could spend that much pretty easily, but if you just want to have a good, satisfying life, $100 million in the banks isn't much better than an $80,000 salary—depending on factors like your debt burden and the cost of living where you live.

So why don't any one of these mega-billionaires like Mark Zuckerberg, Bill Gates, Elon Musk, and Michael Bloomberg—if they really are as generous as they seem—just give away their riches and secure a place in history as the person who personally ended world hunger or homelessness in America? They could even keep a few hundred million to continue living like kings (or at least like Warren Buffett).
Surely it must not be that simple? Because if this was just a matter of private greed preventing that kind of transformational change, governments would surely have used their ability to levy taxes for the public good to seize that fallow wealth and make the world a better place. There has to be some reasonable explanation for why they don't just give it all away. Surely...
In this series we'll look at myths around philanthropy, including the notions that it's possible for billionaires to be generous, that their "wealth" is substantially different than money, that their private foundations do a lot of good, and that they are patrons of the arts.
But to start things off, let's look at one of the simplest explanations for this disconnect.
Myth: Charity Is Actually Better Than Taxation
What you'll hear
Government intervention is a blunt instrument, and charity is a scalpel.
The government is okay at helping people, but charity is really the way to go. Private individuals aren't hampered by government bureaucracy and can respond more efficiently and directly to needs as they occur. Over time we should try to shift toward a more voluntary charity-based model of social assistance, rather than relying on big government.
Why It's wrong
Actually the opposite is true.
During economic downturns, when the need is greatest, government assistance like unemployment, food stamps, and welfare kick in automatically to help those in need. They're called automatic stabilizers, and they help to mitigate the impact of these crises and make it easier to shift toward recovery.
Automatic stabilizers | National income and price determination | AP Macroeconomics | Khan Academywww.youtube.com
Meanwhile the wealthy are often anxiously tending to their own floundering finances or businesses amid the tumult and aren't as likely to open their checkbooks for charity. What this means is that charitable giving actually declines when people need it the most.
On top of that, as bad as politicians often are at being responsive to the needs of their constituents, at least they have constituents. By contrast, there's nothing to stop the wealthy from holing up in their gated compounds, beholden to no one and only responsive to the needs of the rarefied elites they know—donating to foundations developing a cure for gout or gene therapy to treat Habsburg Jaw.
To the extent that they are aware of the plight of others, it's often connected to their religious affiliation, which is why religious charities—that often spend money on churches and missionary work and who proselytize to the needy—are among the largest charities in the US.
If you don't mind someone else's idea of God determining which causes are important and who gets helped, then charity is a great way to go. For the rest of us, higher taxes on the wealthy—and reducing the amount they can dodge those taxes through, say "charity"—would be better.
In this sense, a blunt instrument is often exactly what we need—just a flood of money going to everyone who might realistically need it. And while government bureaucracy is annoying and should be cut where possible—particular when it comes to overzealous means testing—the fact that the federal government deals with such massive sums of money actually makes it possible to consolidate administrative overhead.
All this means that the government can actually use its resources for the public good far more efficiently than a bunch of disparate charitable foundations. In other words: Taxation and government handouts are (generally) much better than charity.
Charity: how effective is giving? | The Economistwww.youtube.com
While charitable donations have the added value of making rich people feel good and earning them some good PR, they aren't actually better for the world—or even nearly as good—as a robust social safety net. That means we should really limit the amount of taxes that can be written off through charitable donations.

Of course, without that tax incentive a lot of charities might receive substantially less in donations from the ultra-wealthy. But in that case we would have to ask: Are Billionaires really that generous? Check out our next installment to find out.
Studies have suggested that Rekognition less accurately recognized dark-skinned faces.
Amazon announced this week that they would be implementing a one-year moratorium on police use of Rekognition, a facial recognition software.
Launched in 2016, Rekognition has been sold to a number of government agencies, including various police departments and ICE. In 2017, it started being used by law enforcement for help identifying suspects.
But studies have shown that Rekognition is less accurate in recognizing dark-skinned faces, and the software has come under fire for propagating racism that's already relevant in the police force.

Black people are already mistaken for suspects at alarming rates, and the use of Rekognition in law enforcement poses extreme dangers for them. In a statement on their blog, Amazon stated that they've advocated for stronger regulations on facial recognition technology, however the company has sold Rekognition to various police departments in the past.
Read their statement below.
"We're implementing a one-year moratorium on police use of Amazon's facial recognition technology. We will continue to allow organizations like Thorn, the International Center for Missing and Exploited Children, and Marinus Analytics to use Amazon Rekognition to help rescue human trafficking victims and reunite missing children with their families.
We've advocated that governments should put in place stronger regulations to govern the ethical use of facial recognition technology, and in recent days, Congress appears ready to take on this challenge. We hope this one-year moratorium might give Congress enough time to implement appropriate rules, and we stand ready to help if requested."
What recession? A new report suggests that the Amazon CEO could earn his first trillion much sooner than originally predicted.
As many businesses have been tanking in 2020, Amazon sales have been doing just fine.
A Microsoft and Apple become trillion-dollar companies—with Amazon just a hair behind—the possibility of the world's first trillionaire is within arm's reach. Amazon's CEO and the richest person to ever live, Jeff Bezos, is projected to earn his first trillion by 2026. Especially in the wake of the worldwide health crisis and the recent strike of Amazon employees, Bezos has especially come under fire for his financial habits.
Here are just a few things Bezos could buy:
New Water Lines for Flint: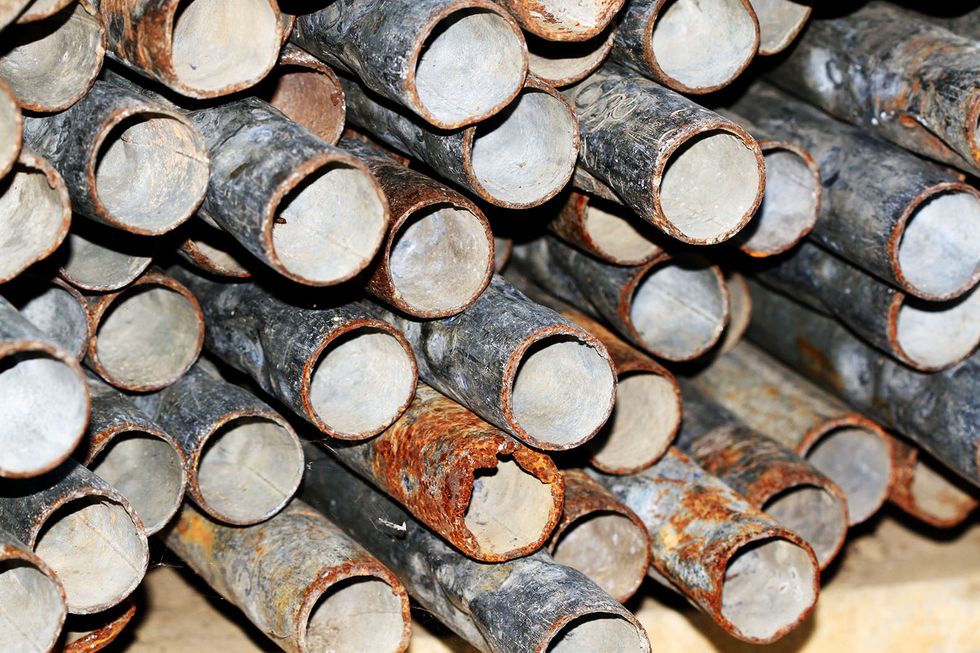 In 2017, the state of Michigan set aside $97 million for lead or galvanized steel water lines to be replaced in Flint as a solution to the city's ongoing water crisis.

Citizenship Tests: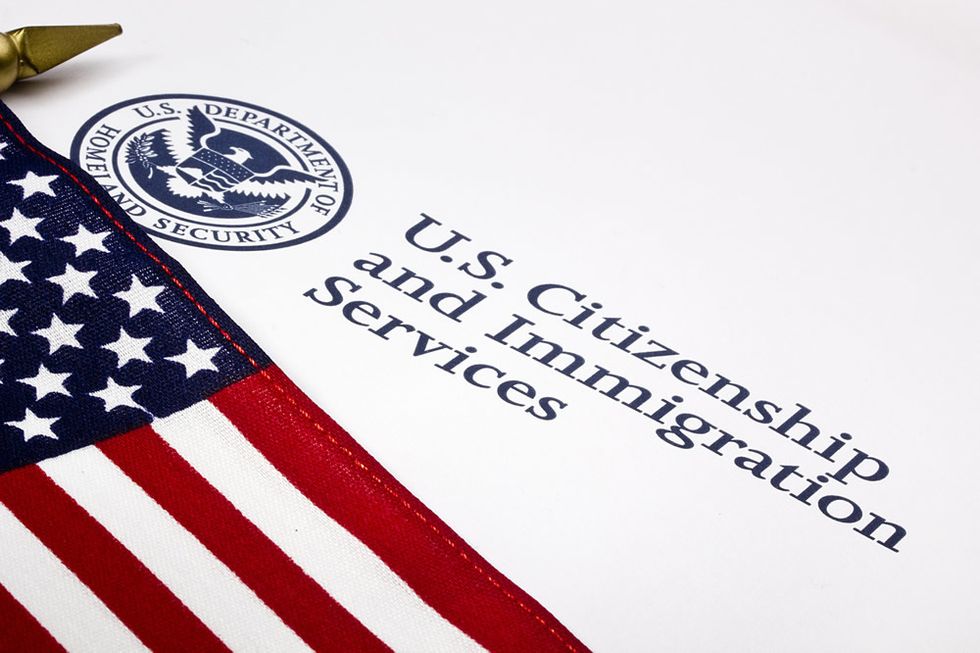 The current naturalization fee in the U.S. is $640. Although the exact number of undocumented immigrants in the United States is understandably difficult to pinpoint, the Pew Research Center estimated that there were roughly 10.5 million as of 2017. It would cost about $1 billion to pay for naturalization fees for all undocumented immigrants in the U.S., which Bezos could pay 100 times over and still have $40 billion to spare.

Homelessness: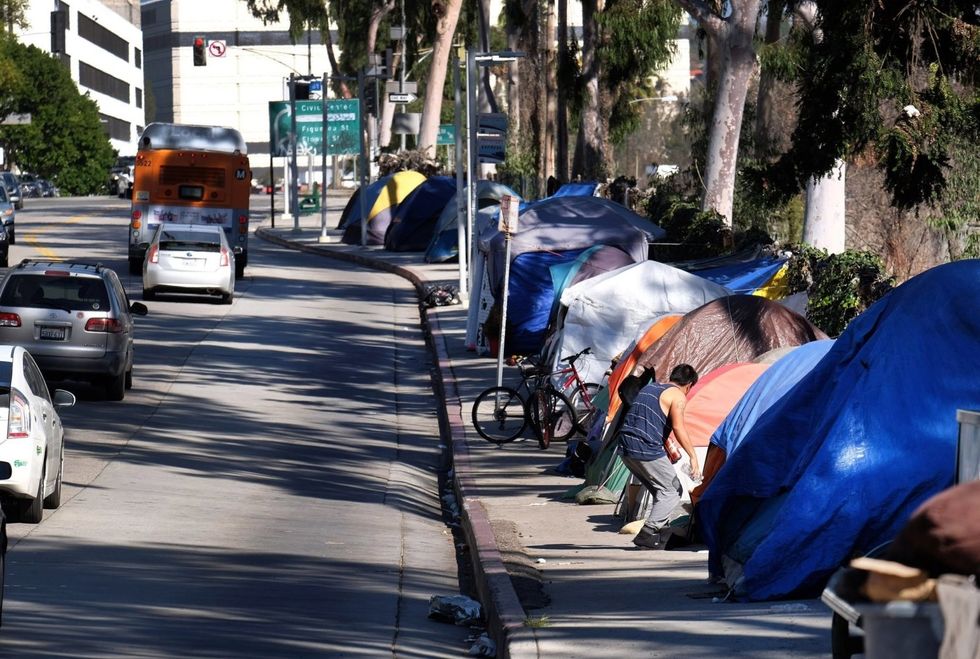 The San Francisco Bay Area and New York City account for two of the country's highest rates of homelessness. Reports in 2019 estimate that it would cost just under $13 billion to end homelessness in both San Francisco and New York City, which Bezos could pay and still have $100 billion for himself.

Universities: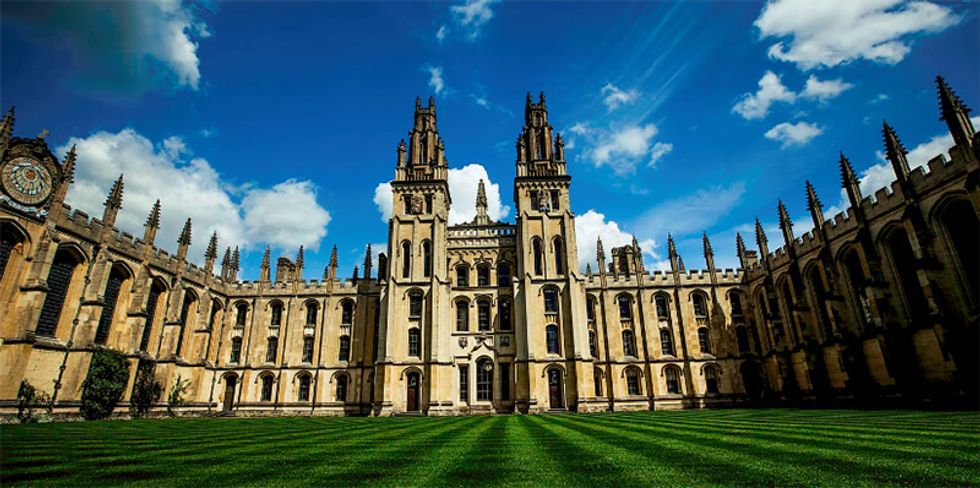 According to a 2018 report, the four richest universities in the U.S. are Harvard University ($38.3 billion), the University of Texas system ($30.9), and Yale University ($29.4 billion). Bezos could buy them all, with a few billion left over.

World Health: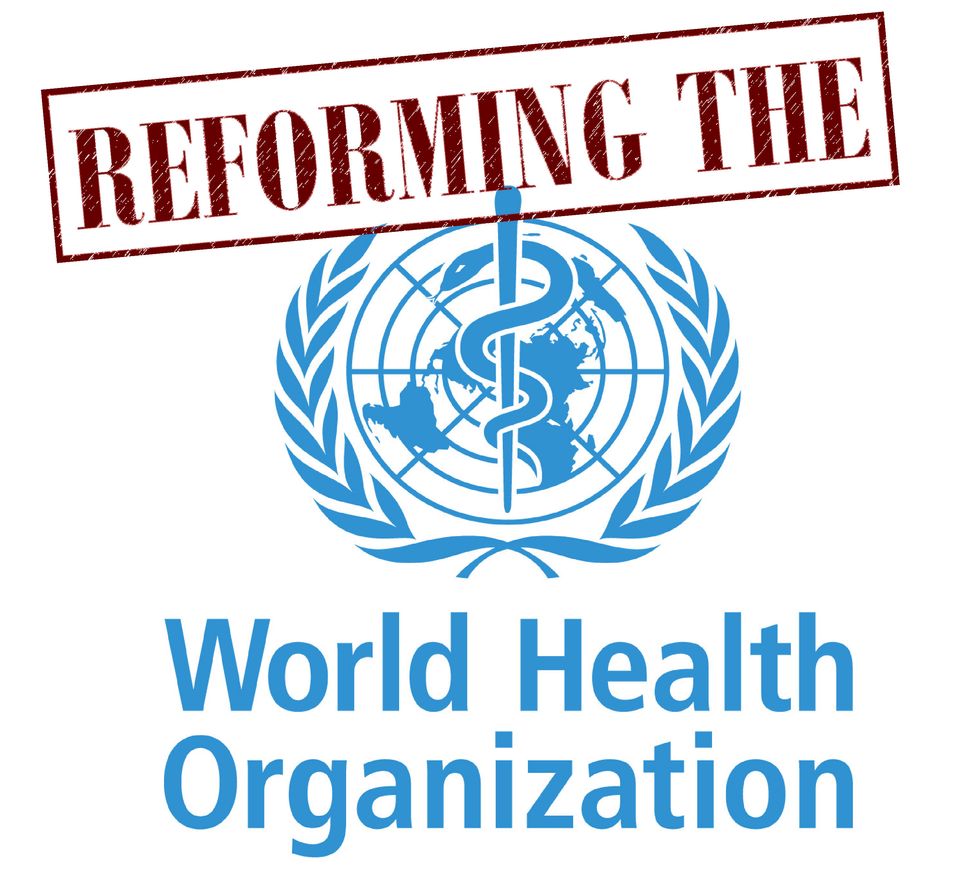 Bezos could permanently double the budgets (about $4.5 billion) of World Health Organization programs that address communicable diseases, health emergencies, vaccinations, and other global health threats—you know, the organization Trump just threatened to defund?

This Could Actually Work...
Petition for the Establishment of the Ronald Reagan Super-Presidency
I think every Rational Person can agree that half of this country has lost its damn mind—and I'm not talking about the Good Half! It's time we forced the Elites in this country—again, not the good ones—to pay their fair share! If they really think that we should raise the top marginal tax rate—which affects everyone equally!—they should prove it by putting their unearned billions of dollars to good use.
By establishing the official, fully-funded position of RONALD REAGAN SUPER PRESIDENCY, Jeff Bezos, Bill Gates, George Soros, and Warren Buffett will be demonstrating a commitment to start being patriotic and working to MATA—Make America Truly Amazing. For only a quarter of a billion dollars each, they can create a new Executive Position that would have some Real, Actual Power in this country—unlike the regular presidency that, a lot of people don't realize, was basically RUINED by Obama, and doesn't let you do anything without a bunch of Very Partisan, Very Crooked judges getting in the way.
With that in mind, the following are the enumerated powers and privileges that the Super-President would wield:
1)The Super-Presidency, Super-President and all Derivatives are always Capitalized, and should actually be in ALL-CAPS as often as possible, because He—not to be sexist, but who are we kidding?—deserves our respect.
2)Upon unanimous selection by everyone on Cable News and the Met Gala guest list—who are generally Snooty Jerks, but will make the right call on this one, because it's Important—the Super-President shall be awarded A BILLION DOLLARS, up-front, no questions asked. Not that he needs it. I mean, even being qualified for this kind of position probably means He's already a Billionaire (but there's obviously no need to look too closely into His finances).
3)He will have his own social-media platform that's like Twitter, but with more Free Speech and fewer Haters. It will be called the Super-President's, Listen Up, Time To E-learn Respectfully—or SPLUTTER for short.
4)Everyone on cable news has to say one flattering thing about the Super-President every day, unless they want to be officially CANCELED, and de-platformed from SPLUTTER, or possibly executed—we'll work out the details later.
5)Once a week, He gets to force someone who's been rude to Him to APOLOGIZE or, again, be de-platformed/executed.
6)Once a month he gets a full Military Parade, with real Hollywood military weapons and vehicles like you see in the movies, and a lot of really Handsome Generals straight from central casting. And also a free tour of Universal Studios.
7)Once a year, His official title will be amended to reflect his achievements. Like, say that Billion Dollar bonus gives him the momentum he needs to quickly become the richest man in the world—as long as a Close Associate vouches over the phone and has a different name (though some overlap in the names is no big deal), we won't need to check too closely—then His official title will be lengthened to THE RONALD REAGAN SUPER-PRESIDENT, _ _ _ _ _ _ _. _ _ _ _ _, THE RICHEST AND THEREFORE SMARTEST MAN IN THE WORLD. And if he wants to replace the part about Reagan with his own name, that's also allowed—it's really just a place-holder.
8)He can have a Second Wife if he wants to, because He's EARNED it—unlike the regular president, who only gets one.
9)Free McDonald's for life, including if he wants to feed like a whole sports team, as long as they aren't Anthem-Kneelers.
10)His own version of the American flag with His name on it, and extra padding for flag-hugs.
11)It's a Lifetime Appointment, so He doesn't need to waste his time on re-elections, and He can never be IMPEACHED OR WITCH-HUNTED OR LYNCHED.
12)Rallies whenever He wants, and also Meetings for very High-Level, Important deals with very Handsome and Important Men, straight out of central casting.
Obviously this is way too much POWER to give to just anyone, so we better talk about the Requirements For Qualification, which are pretty tough, let me tell you, but should be no big deal as long as you're not a loser.
1)He should already be RICH, like really loaded, and not embarrassed to show it off, because that makes Him smart.
2)He should have gone to a really good school, like the Wharton School of Business, and any really established Jesuit School should be fine for undergrad. He also needs to have gotten really good grades, as verified by another call from a Close Associate with a BELIEVABLE name.
3)He has to resign from any Political Office He is currently holding, and can never hold another office, but there's obviously no Shame in it, because this is basically a PROMOTION, and we wouldn't want a politician-type having this much power in the first place—this is a job for a Real Man.
4)He has to pledge to Make America Truly Amazing
5)He should have made his Fortune in something Real and Important, like Real Estate or Branded Marketing.
6)He should definitely be tall, like at least 6'2"—not that we're getting out a tape measure.
7)He should be a truly great golfer, since most DEALS happen out on the links these days. Any plaque that lists Him as a Champion at a prestigious Club/Resort should be proof enough.
8)Must be a Real American, and no I will not explain.
9)He should be able to provide a Classy Venue for a really lavish Inauguration Party with just an amazing Chocolate Cake, and a bigger TV and Internet Audience than anyone ever.
10)He will probably already be very important and respected, as measured by how many times He's been on the cover of TIME magazine—at least 20.
11)Everyone should LOVE this guy, and he should be on record as loving them, too—the Blacks, Hispanics, the Jews, and especially the poorly educated (college these days is Ruining Kids anyway).
So, please sign here if you want these rich, Lefty Elites to pony up and give someone a REAL chance to fix this country. And if you don't sign, that means you hate America and you hate Trump. Oh, and feel free to nominate anyone you think might Qualify.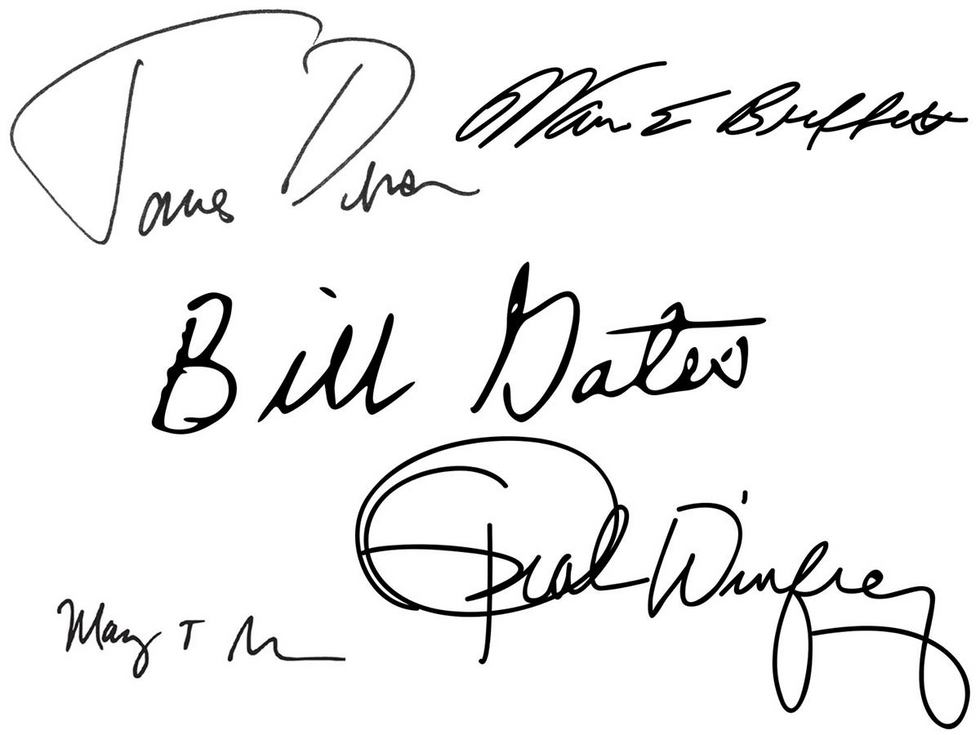 On Valentine's Day, Amazon pulled out of its plan to build a second headquarters in Queens, citing the efforts of citizen protestors and politicians who opposed its imminent arrival.
The moment Amazon announced that it would be building its second headquarters in NYC's Long Island City, people took to the streets.

On November 26th, a coalition of immigrant advocates and anti-HQ2 groups gathered to protest Amazon's involvement with ICE, Paladir, and other organizations responsible for deportations. Citizens marched again on Cyber Monday, launching a " day of action" and flooding an Amazon Bookstore in Manhattan, holding signs aloft and chanting sing-song rhymes about Jeff Bezos. Together, over two dozen community groups organized these protests, including local unions and nonprofits. Following the protests in Manhattan, Amazon workers employed in warehouses in Staten Island made the decision to unionize, citing low pay and impossible performance quotas, and leveraging Amazon's impending move to Queens to draw attention to their case.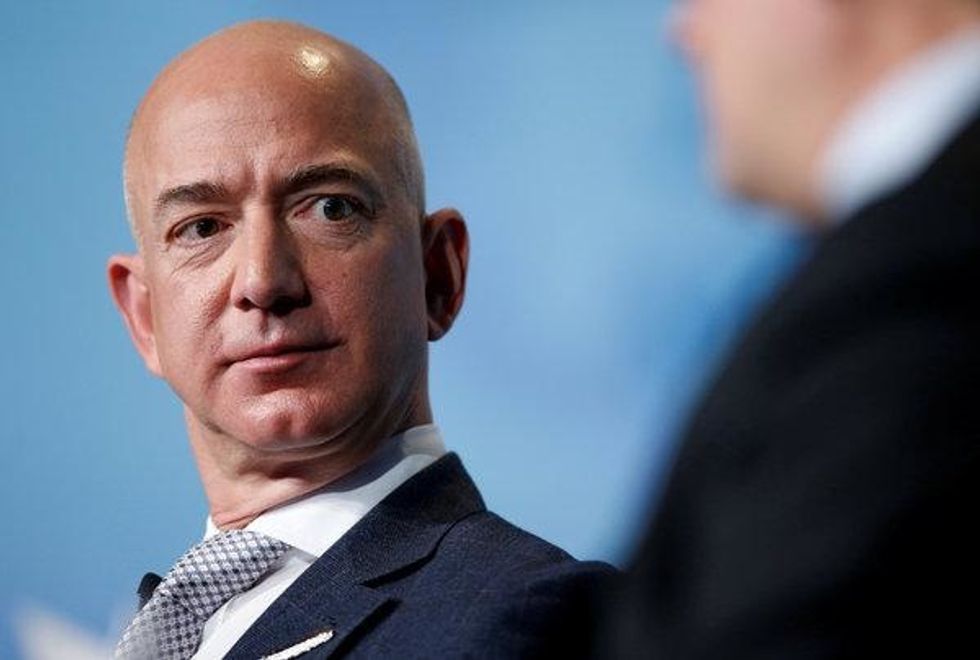 Image via The New York Times
Their protests attracted the attention of some of New York City's political officials, such as City Council Speaker Corey Johnson, who initially supported Amazon's entry but denounced it after learning more about the circumstances surrounding the deal. He began to stand with the protestors, complaining that a general lack of transparency and the fact that Amazon bypassed NYC's standard review process mandated further investigation.

In December, a public hearing was held at City Hall, and protestors gathered outside while council members grilled economists and officials who had been instrumental in making the deal with the world's most profitable corporation. "We are not in the business of corporate welfare here at city council," said Johnson.
It was this so-called corporate welfare—the $3 billion in government and tax incentives that Amazon was promised, in exchange for the 25,000 jobs it promised to create—that became the foundations of the anger stewing around the sales conglomerate's impending arrival, anger which resulted in Amazon's decision to pull out of its promise to develop a huge corporate campus in Queens.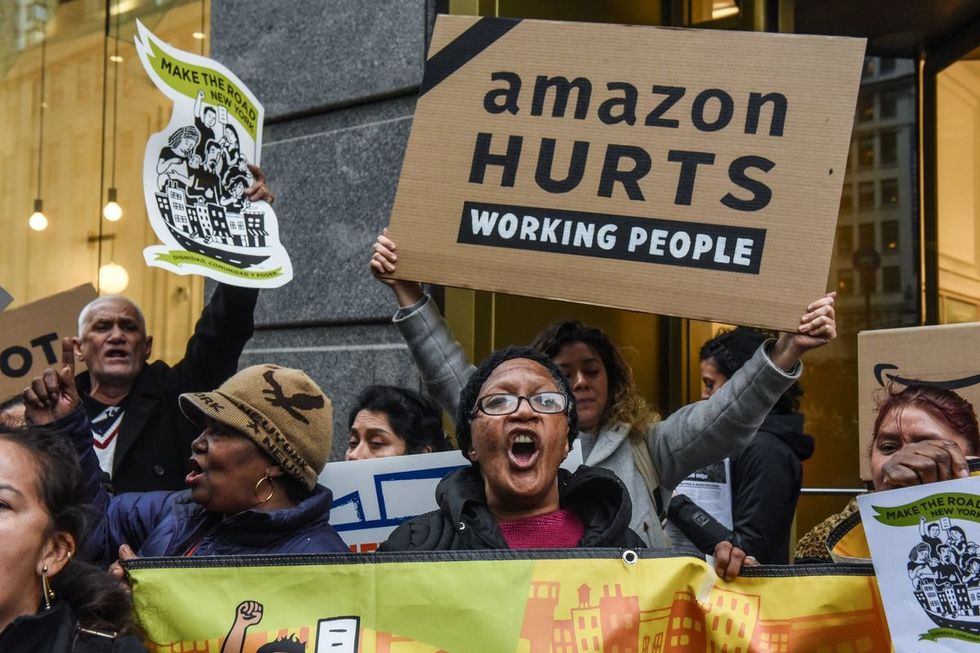 Image via Vox.com
The people's anger came from different places, and their protests were haphazard efforts, but their rage had been brewing for a long time, and Amazon's imminent arrival fed a variety of fears about corporate greed and pervasive gentrification, which opponents feared would tear apart places like Long Island City, sucking it clean of culture and community. Amazon's arrival was predicted to catalyze a wave of homelessness; the announcement that it was setting up shop in Long Island City was instantly followed by dizzying spikes in rent—chilling lower-income residents in a city already plagued by stretches of empty storefronts.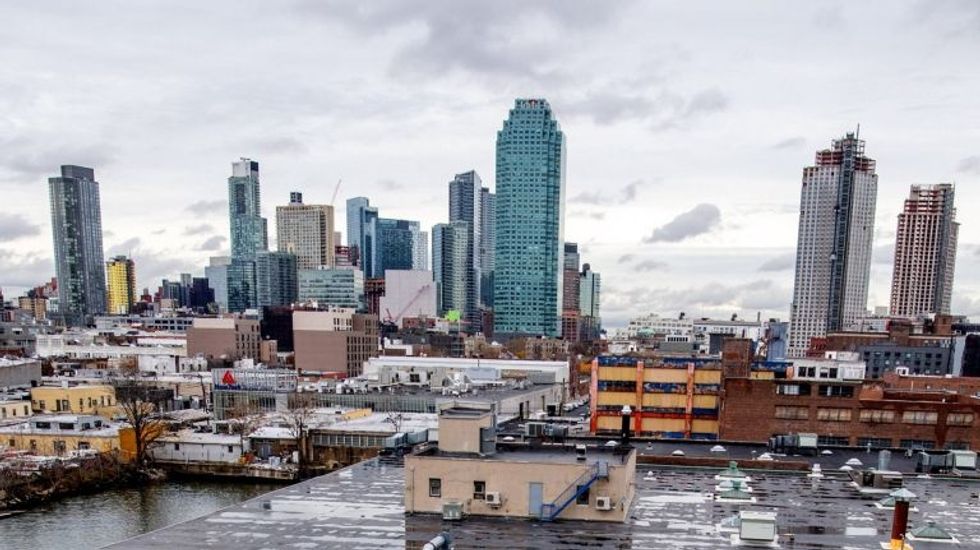 Long Island CityImage via AM NY
Protestors cited Amazon's effects on Seattle, Amazon's first home city, as reasons why the conglomerate shouldn't move on with its plan. Some people argue that Amazon made Seattle into a hull, a kind of paper city that existed only to facilitate its metallic corporate heart; and Seattle's homeless corporation did rise in tandem with rising housing prices, making it home to the third-highest number of homeless people in the country, after New York and Los Angeles.

HQ2 opposition united a great deal of unlikely allies—including an unlikely ally in the Wall Street Journal's Editorial Board, who argued that the deal was "crony capitalism at its worst." Their article continued, "Amazon's case is aboveboard, but it still amounts to a company with a market capitalization of nearly $800 billion getting paid to create jobs it would have created somewhere anyway."
Alexandria Ocasio-Cortez was the most visible face of a group of politicians who protested Amazon's HQ2 establishment, and her resistance might have been one of the central reasons for its decision to abandon ship. "It was that the environment over the course of the past three months had not got any better," said Joni Seth, Amazon's head of policy communications. "There were some local and state elected officials who refused to meet with Amazon and criticized us day in and day out about the plan."
This deal wasn't a simple tax break. It was $3 BILLION dollars. When the community wanted to negotiate, Amazon said… https://t.co/Q9E8zF3tZZ

— Alexandria Ocasio-Cortez (@Alexandria Ocasio-Cortez) 1550243136.0
Ocasio-Cortez had long denounced Amazon's plans to move into Queens, and she celebrated Amazon's retraction on Twitter. So did other political figures, including Cynthia Nixon. Following the company's Valentine's Day breakup announcement, the actress-turned politician triumphantly tweeted, "The fight against Amazon laid bare their union-busting, corporate welfare, ICE-abetting practices and shows why we need to break up monopolies like Amazon."

In addition to its ties to law enforcement giants, Amazon had also been accused of developing facial recognition technologies to gain information about customers without them knowing; and many protests have cropped up among its warehouse workers, especially in Europe, where employees have staged walkouts against low wages and poor working conditions.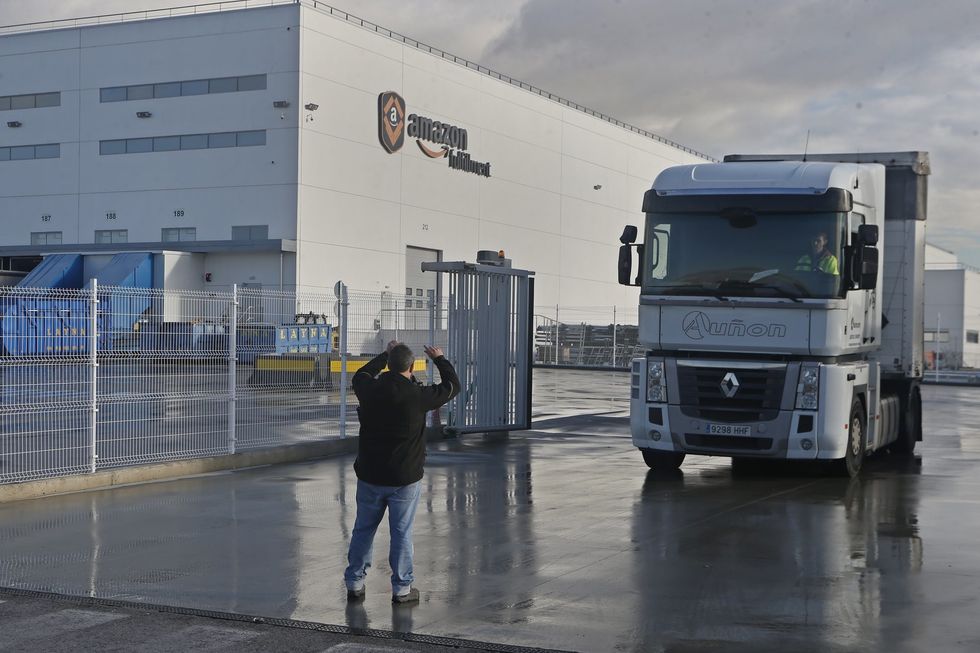 A protestor stops an Amazon truck in Spain.Image via apnews.com
Despite Amazon's shady ethics, many people were not as enthusiastic about the company's foiled New York City dreams, arguing that the demise of HQ2 will compromise what could've been an economic boom for the city, criticizing Ocasio-Cortez's decision to favor ideology over economics. Amazon may have hiked up rents, but rents are high anyway; and its arrival would have created thousands of jobs, including consistent positions for lower-level staff members and service workers.

Plus polls showed that 56% of New Yorkers approved Amazon's arrival, which was initially billed as a triumph by Mayor Bill de Blasio and Governor Andrew Cuomo—both central players in the deal's initial success who believed that the arrival would help NYC solidify its position as a worldwide hub of tech and industry. Bill DeBlasio's tweets following Amazon's decision resembled those of a spurned ex. He also lashed out at Ocasio-Cortez, stating that "a small group of politicians put their own narrow political interests above their community—which poll after poll showed overwhelmingly supported bringing Amazon to Long Island City—the state's economic future and the best interests of the people of this state," the governor said in a statement.
But even so, a great deal of major political figures opposed the deal, including Senator Michael Gianaris of Queens, who initially supported Amazon's arrival but, like Johnson, changed his mind after learning about its policies. Still, Amazon in Long Island City's demise all started with those first street protests, which erupted directly after De Blasio's announcement as politicians remained silent. Ultimately, community members and citizen organizers catalyzed the start of the resistance that led to the downfall of Amazon's Queens campus.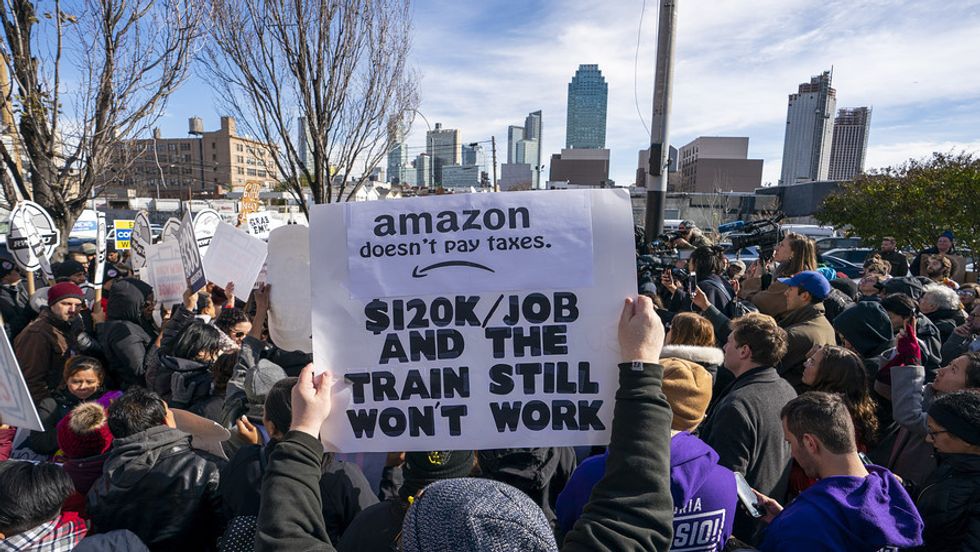 Image via Marketwatch
There's something deeply satisfying about the image of the world's richest man and his behemothic corporation getting kicked out of New York by impassioned Queens residents, ready to unite and fight for the integrity of their home borough. Still, Amazon's departure won't stop gentrification, won't fill up empty stores, and won't bring back the days when young artists could gallivant around Greenwich Village with pennies in their pockets and working-class families could call Manhattan home.
In a way, Amazon's departure is a symbolic victory for its opposition, a tantalizing promise that the people can triumph over corporations. Of course, this move will not deter Amazon from building its global empire, and America's supermassive wealth gap will remain. It just won't be as tangibly visible in New York.
---
Eden Arielle Gordon is a writer and musician from New York. Follow her on Twitter at @edenarielmusic.