The WHCA will not invite a comedian to speak at the 2019 dinner due to "unusual moment" in history when Trump's threats to freedom of the press aren't funny.
According to The White House Correspondents' Association, tensions between the press and the Trump Administration are nothing to joke about. This year's annual fundraising dinner, which traditionally invites a comedian to roast the president and the press corps, will instead feature Ron Chernow, noted biographer of Alexander Hamilton, as its speaker.
Oliver Knox, the association's president, announced Chernow's selection on Monday, stating, "As we celebrate the importance of a free and independent news media to the health of the republic, I look forward to hearing Ron place this unusual moment in the context of American history."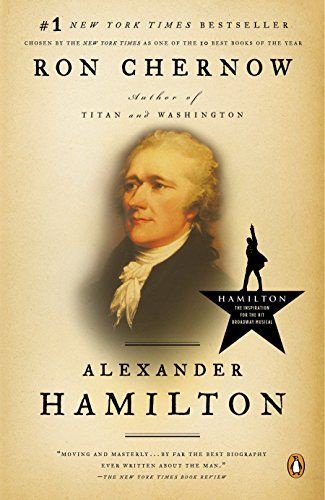 Town & Country Magazine
Ironically, it's Trump's expected absence from the event that worries the association. Another facet of the annual tradition is for the seated president to speak first, jest with the press corps and perhaps poke fun at himself, and then the comedian parries back in their own speech. However, Trump has declined to attend the last two years, giving no indication that he plans to appear at the April 27th event with Chernow. Knox has noted that the president's absence can skew the tone of the room into feeling antagonistic toward the current administration, rather than a good-humored acknowledgement of differences.

In fact, last year's event (sans Trump) featured Michelle Wolf, who incurred the president's wrath and general backlash for her remarks. For instance, Wolf singled out White House reporters for empowering Trump, stating, "You helped create this monster, and now you're profiting off of him." Later Trump took to Twitter to denounce Wolf as a "filthy 'comedian'."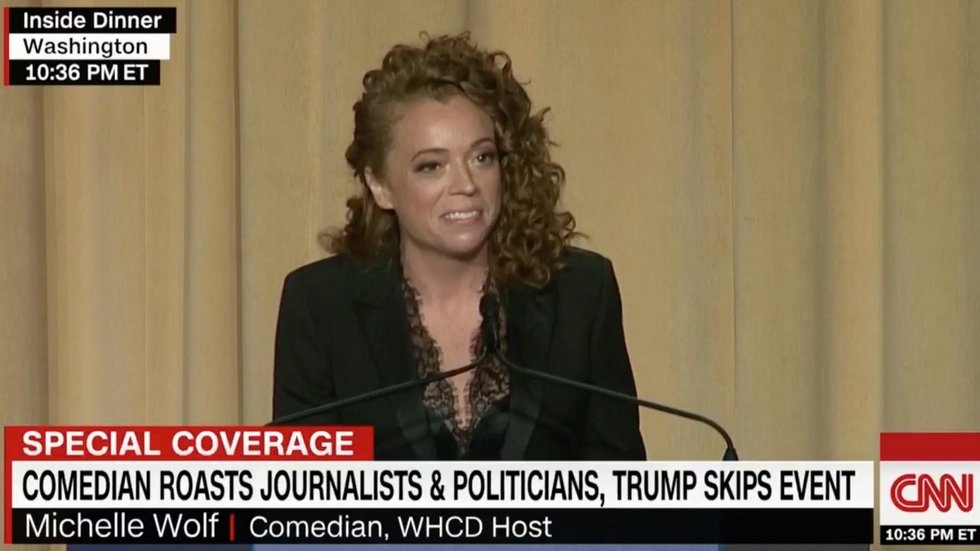 CNN - The Blaze
This year, Chernow is clarifying that "he's never been mistaken for a stand-up comedian," but he's aware of the "unusual moment" Knox speaks of, in terms of the fraught relationship between the Trump administration and the press. High points of tension include the widely publicized legal battle between CNN and the White House after CNN correspondent Jim Acosta's press pass was revoked and then reinstated by a judge after his network took the matter to court.

Stuck in the middle, Chernow released a statement, "The White House Correspondents' Association has asked me to make the case for the First Amendment and I am happy to oblige. Freedom of the press is always a timely subject and this seems like the perfect moment to go back to basics. My major worry these days is that we Americans will forget who we are as a people and historians should serve as our chief custodians in preserving that rich storehouse of memory."
Meg Hanson is a Brooklyn-based writer, teacher, and jaywalker. Find Meg at her website and on Twitter @megsoyung

A call for Julian Assange's arrest and extradition was found in an unrelated court filing.
U.S. Department of Justice charges against WikiLeaks founder Julian Assange have been discovered through an administrative error in an unrelated court filing late Thursday night.
The filing from prosecutors for the Eastern District of Virginia on August 22 contains language indicating the government is seeking a future warrant for Assange's arrest "in connection with the charges" in a sex-crimes case for Seitu Sulayman Kokayi, who was charged with coercing and enticing an underage person to engage in unlawful sexual activity. Unsealed last week by Seamus Hughes, a terrorism expert at George Washington University, the file says Assange "can therefore no longer evade or avoid arrest and extradition."
Joshua Stueve, a spokesman for the Eastern District of Virginia, referred to the mentions of Assange as an "administrative error" on Friday, and said the August case had nothing to do with WikiLeaks. He declined to comment further. However, multiple news outlets have reported that the Justice Department is preparing to prosecute Assange, citing people familiar with the matter in addition to the inadvertent court disclosure. The precise criminal charges he faces remain unclear.
U.S. authorities were allegedly prepared to seek charges against Assange in April 2017, but none were ever sought. Assange is currently located in the Ecuadorean embassy in London, where he's been living for years. If the charges against Assange are filed, it would require a multistep diplomatic and legal process to arrest and extradite him.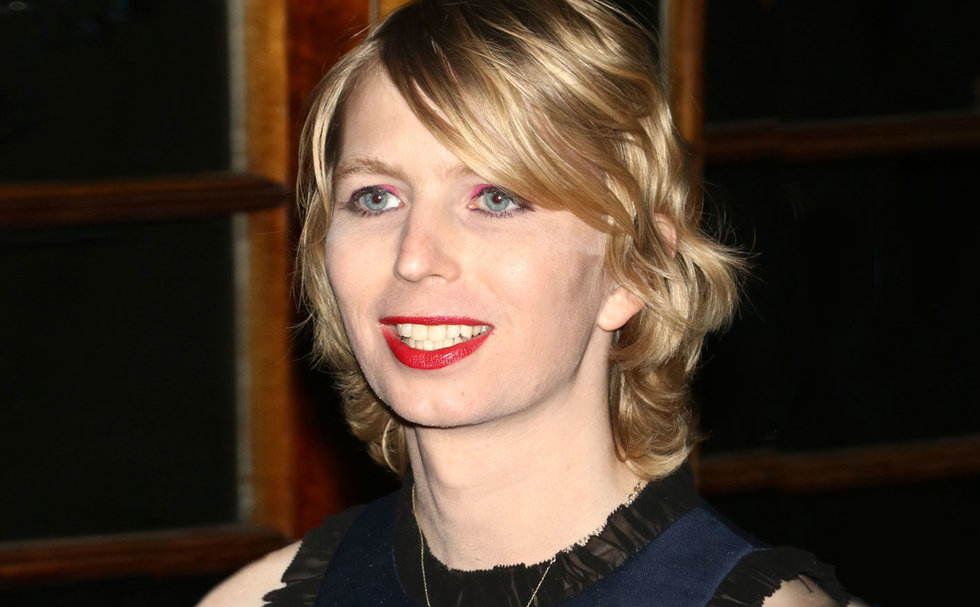 Chelsea Manning
Justice Department officials have been investigating Assange since 2010, when thousands of confidential government files were posted on WikiLeaks from U.S. Army intelligence analyst Chelsea Manning. The recent disclosure comes as special counsel Robert S. Mueller III continues to investigate the website while discerning potential links between Trump Administration officials and Russia's 2016 election interference. The site published thousands of emails during the election that were stolen by Russian intelligence officers as part of a disruption campaign against presidential nominee Hillary Clinton.

WikiLeaks tweeted about the filing soon after the news broke, saying "US Department of Justice 'accidentally' reveals existence of sealed charges (or a draft for them) against WikiLeak's publisher Julian Assange in apparent cut-and-paste error in an unrelated case."
While the exact details are a mystery, the potential charges against Assange for publishing information of public interest—even if it was obtained by Moscow hackers—would be a critical development in the relationship between modern governments and freedom of the press, and may set a threatening precedent.

"The news that criminal charges have apparently been filed against Mr. Assange is even more troubling than the haphazard manner in which that information has been revealed," Barry Pollack, an attorney for Assange, told CNN. "The government bringing criminal charges against someone for publishing truthful information is a dangerous path for a democracy to take."
Joshua Smalley is a New York-based writer, editor, and playwright. Find Josh at his website and on Twitter: @smalleywrites.
The White House's decision to ban CNN's Jim Acosta is "dangerous" and "unprecedented."
CNN is suing President Trump in response to his administration's widely-disparaged ban and smear campaign of the media network's Chief White House Correspondent Jim Acosta.
The White House revoked Acosta's Secret Service "hard pass" in a decades-long breach of protocol last Wednesday night, preventing the journalist from accessing press-friendly spaces on White House grounds. Pointing to the First and Fifth Amendment of the U.S. Constitution, the lawsuit alleges that both Acosta and CNN's rights were violated by the suspension of these privileges.
In a statement released Tuesday morning, CNN announced that it filed its lawsuit in a DC District Court against six people, including the president, Press Secretary Sarah Sanders, Chief of Staff John Kelly, Kelly's deputy William Shine, the U.S. Secret Service and its director Randolph Alles, as well as "John Doe," the currently-unidentified agent who denied Acosta access to the grounds. The defendants are named because of their roles in enforcing and announcing Acosta's suspension.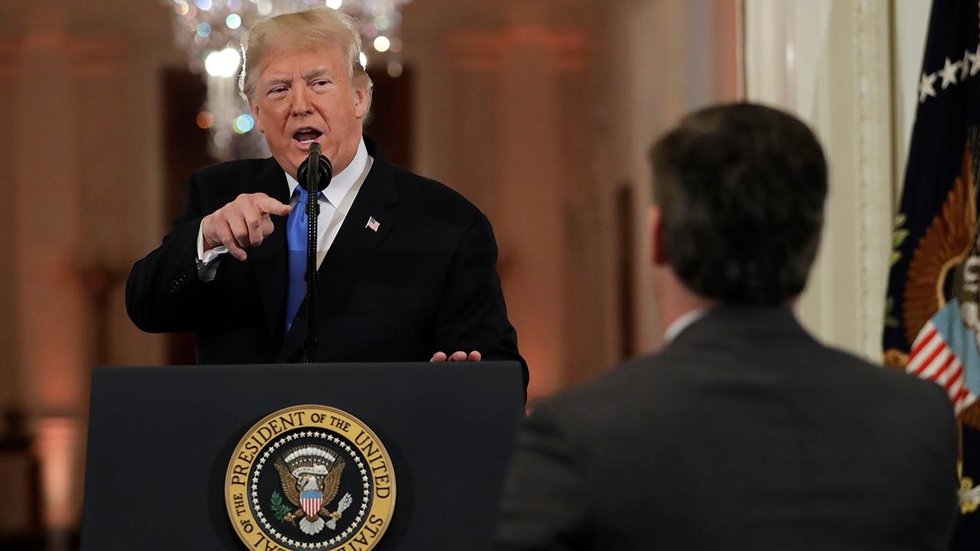 The lawsuit "demands the return of the White House credentials of CNN's Chief White House correspondent," according to the statement. "The wrongful revocation of these credentials violates CNN and Acosta's First Amendment rights of freedom of the press, and their Fifth Amendment rights to due process. We have asked this court for an immediate restraining order requiring the pass be returned to Jim, and will seek permanent relief as part of this process."

CNN's legal actions are the latest step in an escalating battle between President Trump and the media. Trump has shown particular antipathy to CNN, regularly deriding its reporters and the network as a whole. In light of the president going as far as to call the press "the enemy of the American people," it is fitting for there to be a lawsuit on the books titled "CNN vs. President Trump."
The White House responded to CNN's complaint in a statement by press secretary Sarah Sanders, accusing CNN of "grandstanding" by suing, and saying the administration "will vigorously defend against this lawsuit." Sanders previously alleged (in a tweet that is still live) that Acosta placed his hands on a female White House intern during a heated exchange with Trump last Wednesday.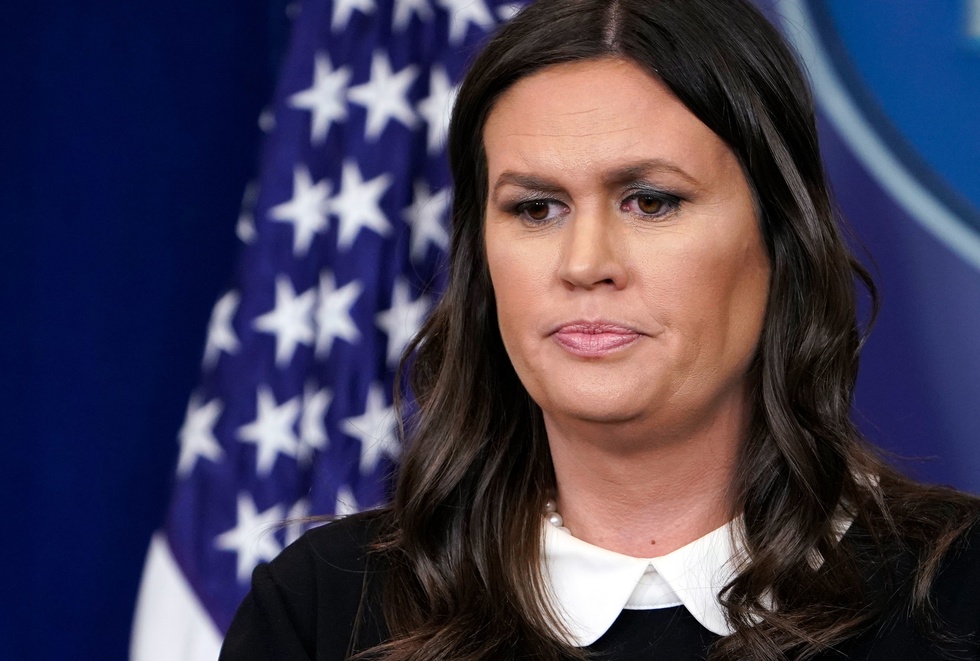 "Mr. Acosta is no more or less special than any other media outlet or reporter with respect to the First Amendment," said Sanders. "After Mr. Acosta asked the President two questions—each of which the President answered—he physically refused to surrender a White House microphone to an intern, so that other reporters might ask their questions. This was not the first time this reporter has inappropriately refused to yield to other reporters."

Trump's warlike stance against journalists, and his specific action to ban Acosta, flies in the face of decades of tradition and precedent. White House administrations on both sides of the aisle have sought to be accommodating of the press, erring on the side of inclusion, even for non-mainstream outlets. The well-known First Amendment attorney Floyd Abrams thinks CNN has a strong case in the precedent set by the 1977 ruling in favor of Robert Sherrill, a conservative journalist who was also denied access to the White House.
Furthermore, federal guidelines require that "officials of the Secret Service will be guided solely by the principle of whether the applicant presents a potential source of physical danger to the President and/or the family of the President so serious as to justify his or her exclusion from White House press privileges." The administration has made no claims that Acosta presents a physical danger to Trump during his press briefings.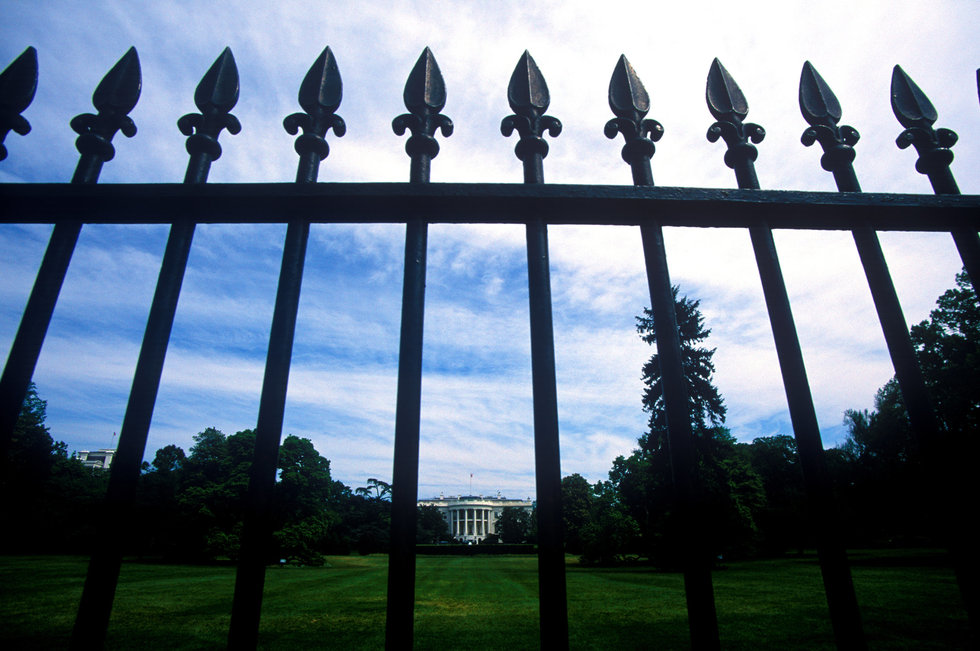 Getty
Abrams points out that those denied press privileges, "have to have notice… a chance to respond, and… a written opinion by the White House as to what it's doing and why, so the courts can examine it." He adds that, "We've had none of those things [in Trump's banning of Acosta]," giving weight to CNN's claim of due process violation.

As noted in CNN's statement, "While the suit is specific to CNN and Acosta, this could have happened to anyone. If left unchallenged, the actions of the White House would create a dangerous chilling effect for any journalist who covers our elected officials."
CNN Worldwide president Jeff Zucker emphasized the importance of taking action in an internal memo. "This is not a step we have taken lightly. But the White House action is unprecedented," Zucker said.
Joshua Smalley is a New York-based writer, editor, and playwright. Find Josh at his website and on Twitter: @smalleywrites.