Dall-E Mini, the AI-powered text-to-image generator has taken over the internet. With its ability to render nearly anything your meme-loving heart desires, anyone can make their dreams come true.
DALL-E 2, a portmanteau of Salvador Dali, the surrealist and Wall-E, the Pixar robot, was created by OpenAI and is not widely available; it creates far cleaner imagery and was recently used to launch Cosmpolitan's first AI-generated cover. The art world has been one of the first industries to truly embrace AI.
The open-sourced miniature version is what's responsible for the memes. Programmer Boris Dayma wants to make AI more accessible; he built the Dall-E Mini program as part of a competition held by Google and an AI community called Hugging Face.
And with great technology, comes great memes. Typing a short phrase into Dall-E Mini will manifest 9 different amalgamations, theoretically shaping into reality the strange images you've conjured. Its popularity leads to too much traffic, often resulting in an error that can be fixed by refreshing the page or trying again later.
If you want to be a part of the creation of AI-powered engines, it all starts with code. CodeAcademy explains that Dall-E Mini is a seq2seq model, "typically used in natural language processing (NLP) for things like translation and conversational modeling." CodeAcademy's Text Generation course will teach you how to utilize seq2seq, but they also offer opportunities to learn 14+ coding languages at your own pace.
You can choose the Machine Learning Specialist career path if you want to become a Data Scientist who develops these types of programs, but you can also choose courses by language, subject (what is cybersecurity?) or even skill - build a website with HTML, CSS, and more.
CodeAcademy offers many classes for free as well as a free trial; it's an invaluable resource for giving people of all experience levels the fundamentals they need to build the world they want to see.
As for Dall-E Mini, while some have opted to create beauty, most have opted for memes. Here are some of the internet's favorites:
There's no looking back now, not once you've seen Pugachu; artificial intelligence is here to stay.
Look on our works, ye mighty, and despair!
There is a saying that it is easier to imagine the end of the world than to imagine the end of capitalism.
Entrenched systems of power have established bulwarks against the kind of institutional reform that younger Americans have recently been pushing for. By controlling the political conversation through lobbying, control of mass media, regulatory capture, and authoring of legislation, the ultra-wealthy maintain the status quo in a way that makes changing it seem impossible. The problem is that change is desperately needed if we are going to maintain any semblance of civilization.
While political dynamics have become so rigid that the boundaries of what we can achieve begin to feel impenetrable, the COVID-19 pandemic has revealed that the vital structures of our society—a society that is superficially so robust—have been so weakened that a collapse in one form or another is inevitable. We are the world's superpower, yet faced with a slightly more contagious, slightly more lethal virus than the flu, we are powerless. How did it get to be this bad? How were we so blind to it?
To clarify, depending on the part of the country you live in, it could seem like I'm exaggerating. It may not seem "so bad," or like we're on the verge of collapse. Not long ago the president and many of his loyalists on Fox News and AM radio were still calling dire forecasts around the coronavirus a hoax. At the time it seemed reckless but not unhinged from current events—which were still largely unaffected. In much of the country there is little cause for alarm, so few people are doing much to change their behavior. That's about to change, and the areas hit worst will soon be making the dire choices that Italian hospitals were recently faced with—which patients are we going to hook up to ventilators, and which are we going to allow to die. We are already started on a path that leads to overflowing hospitals in every major city.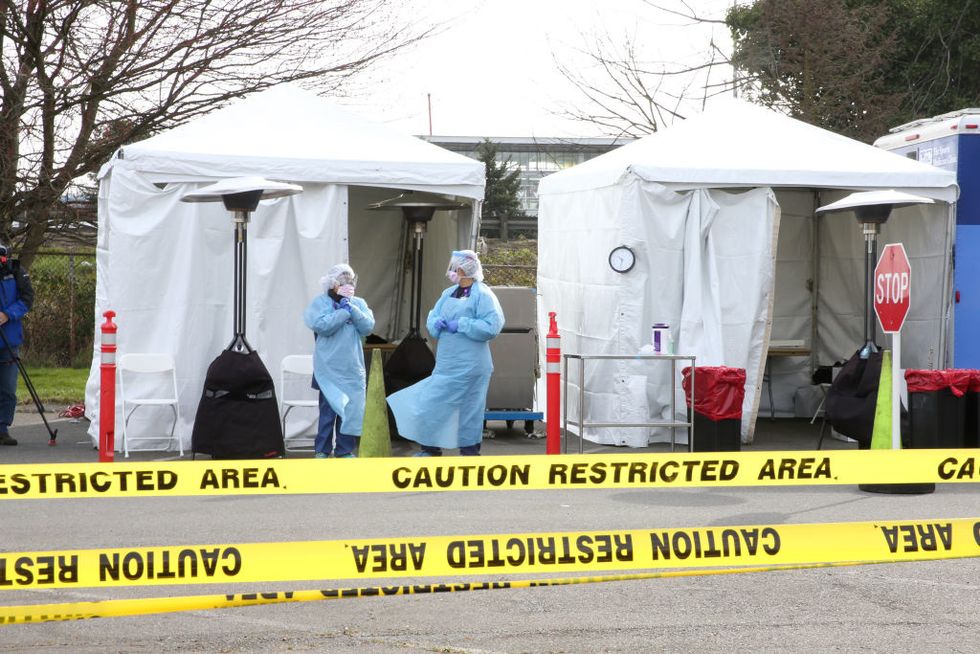 A makeshift testing facility in Seattle, Washington Getty Images
The problem is that our entire economy is set up around the same kind of short-term thinking that drive publicly traded corporations. The mentality that "government should be run like a business," leads to cost-cutting measures that only look to the current budget, with minimal consideration given to the kind of intermittent crises that we are bound to face—like a viral pandemic. If it's not particularly likely to happen before the next election cycle, it's better not to even worry about it. This is the kind of thinking that led Donald Trump's administration to push for cuts to the CDC and to disband their global health security team in 2018.

But the systemic issues go much deeper than that and started long before Trump took office. Trump and his ilk can't be blamed for the fact that the US has two hospital beds for every 1,000 citizens. Nor are they responsible for the fact that almost every aspect of America's critical infrastructure receives a near-failing grade from the American Society of Civil Engineers. This includes airport congestion—which has already become an issue with the current pandemic—and important shipping routes that we will rely on to maintain the movement of necessary goods as conditions around the country worsen.
Add to those issues the fact that we have a massive population of prisoners sharing tight quarters with poor sanitation, a substantial homeless population with no way to quarantine, a dearth of worker protections like paid sick leave, and it becomes hard to imagine how we'll get through this unscathed. And, of course, this is still ignoring the elephant in the room—a for-profit healthcare system that discourages millions of uninsured and underinsured Americans from seeking medical advice or treatment until it's too late.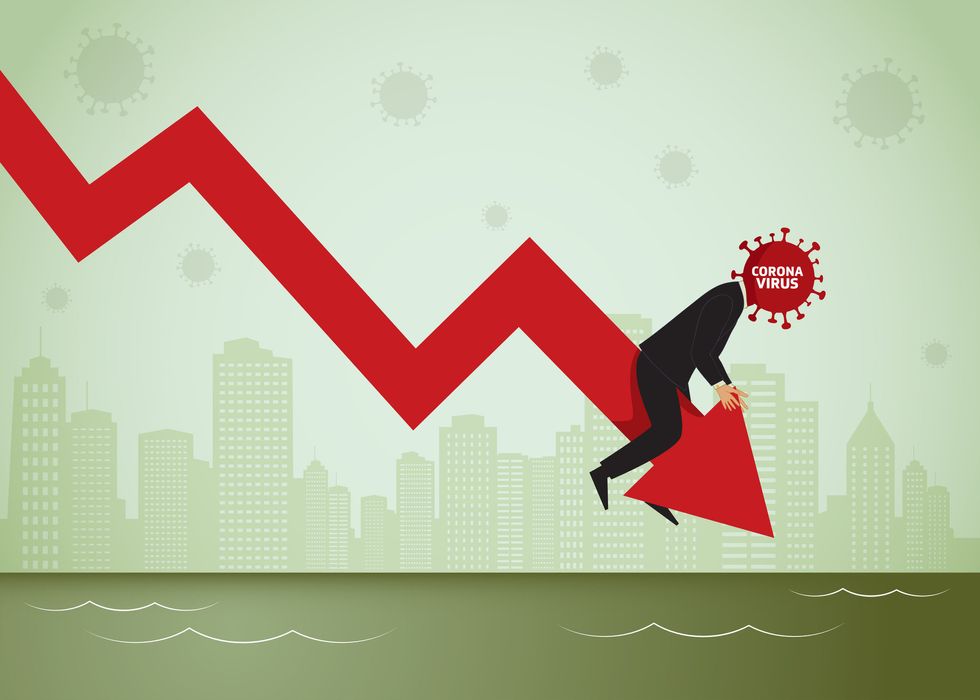 Getty Images
Meanwhile, the economic hardships imposed by the necessity of social distancing are being exacerbated by an economy that is heavily reliant on the whims of financial speculators who create an echo chamber of divestment that heightens every crisis. The stock market, in other words, is going crazy in the worst possible way. It's too soon to say how thoroughly the weaknesses in our system will be tested by the developing pandemic, but even in the best case scenario they are going to be strained to a terrifying extent.

Fortunately, there are efforts underway to shore up some of the most obvious breaking points so we can avoid complete societal collapse. They may turn out to be too little too late, but even if they get us through this current disaster, how long will it be before the next one hits? The best models of climate change predict that we are nearing an era that will be ruled by powerful natural disasters and refugee crises that will threaten economic stability and critical infrastructure and may heighten the threat of infectious diseases. Temporary, reactive measures cannot save us if the next crisis hits a little harder or when multiple crises overlap.
A strong social safety net like the one the US tried to develop under FDR would serve to mitigate the damage from this kind of crisis. But modern American politics has worked for decades—in an effort that became an object of worship under Ronald Reagan—to whittle the welfare state of the New Deal and the Great Society down to a fragile bare minimum.
We need to take seriously the voices of politicians like Bernie Sanders and Alexandria Ocasio-Cortez who have called for the kind of broad, sweeping legislation that stands a chance of upending the rigid political dynamics that maintain the status quo. The Green New Deal would be a good start. The alternative, one way or another, is the end of our civilization and the world as we know it.
This week, Rep. Alexandria Ocasio-Cortez and Senator Ed Markey will be proposing the most ambitious plan to fight climate change yet.
Recycle. Take shorter showers. Turn the lights off.

Over the past several decades, most of us have heard these diatribes repeated over and over, and have perhaps become numbed to these mantras, which promise that tiny droplets of collective action could potentially save the planet from environmental ruination.
It's true that small changes are important, and that each person contributes to the growing levels of waste and pollution that are killing our ecosystems and raising the planet's temperatures so dramatically that Manhattan-size gaps are forming in Antarctic ice. But it's also true that 71% of carbon emissions come from just 100 companies. It's also true that the scale of the crisis has grown unmanageable, and poses an unprecedented threat to human life.
That's where the Green New Deal comes in.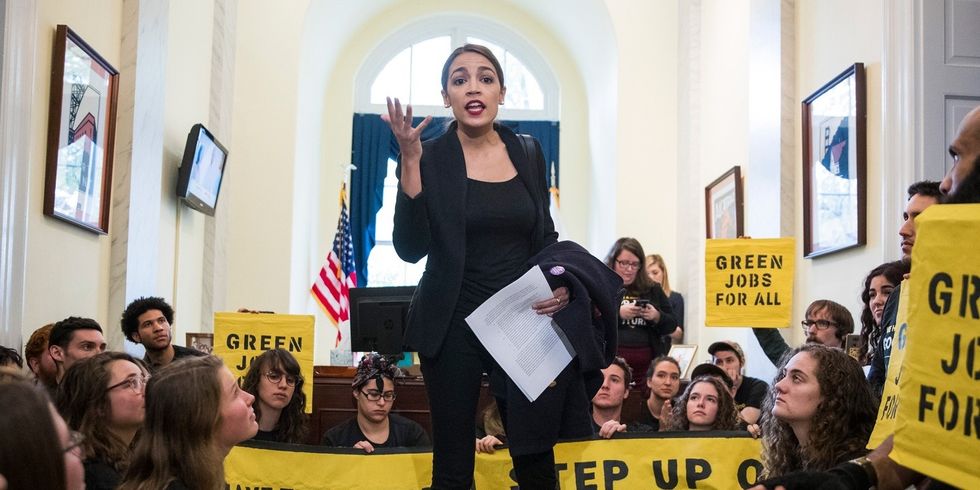 Image via The Intercept
"It's the only plan that matches the scale of the crisis," said Naomi Klein of the proposal, speaking on livestream yesterday night to thousands of activists tuning in across America. The livestream was hosted by the Sunrise Movement, a millennial-founded organization dedicated to supporting and fortifying the Green New Deal, especially as it's proposed in Congress in the coming week. Klein is the author of This Changes Everything, a book that argues that impending climate catastrophe actually presents an extraordinary opportunity to revamp the world's economic systems for the better. "I believe we were born for this moment," she told viewers.

Named after FDR's New Deal—which revolutionized the entire country on a tremendous scale, planting three billion trees and establishing hundreds of national forests in addition to catalyzing widespread economic, agricultural, and social reforms—the Green New Deal seeks to implant reforms on an equivalent scale in a time when it seems like there is no other option.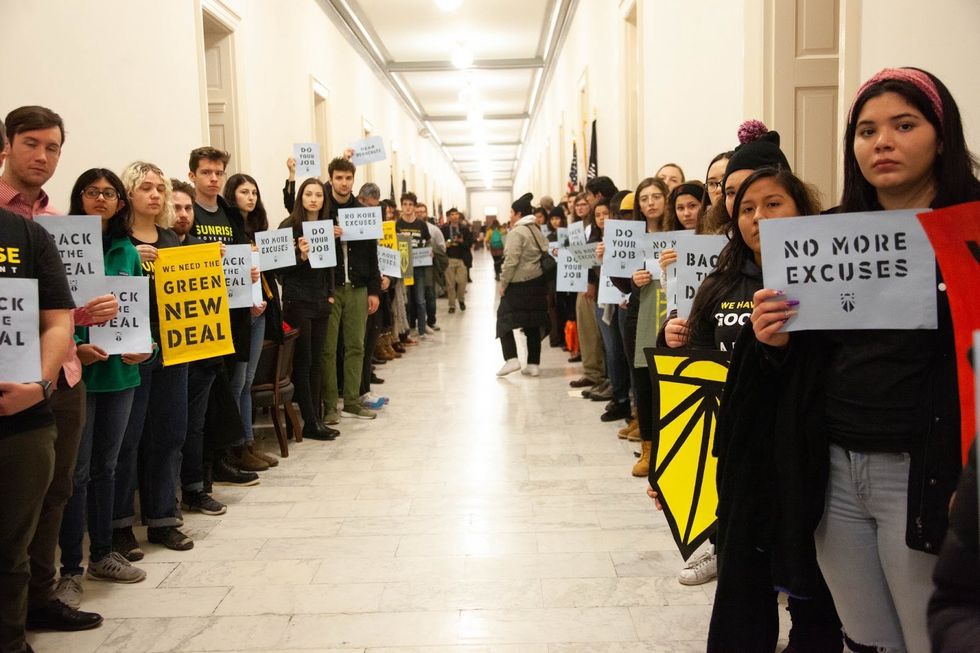 Image via Vice News
The plan has gone through several phases, but the one that's being proposed in Congress this week focuses on several fundamental points. First: achieve net-zero carbon emissions by 2030, and transition to renewable energy on a huge scale through initiatives like the creation of a nationwide electrical grid. Second: institute a living wage for all, in tandem with the creation of unlimited numbers of green jobs. These are the plan's main tenets, but its ideological aspirations stretch much further. It hopes to generate thousands of jobs in the form of start-ups and maintenance, and to start a wave of international trade in the renewable energy sector.

The original plan focused on a switch to 100% renewable energy by 2030, but a recent five-page draft obtained today by Bloomberg didn't mention this point, perhaps as a nod to moderates, though the omission is still subject to change. The draft proposes large-scale investment in green technology, the restoration of threatened lands, waste removal, and "massive growth in clean U.S. manufacturing, removing pollution byproducts and greenhouse gas emissions from that sector as much as technologically feasible."
The term "Green New Deal" is not a new one, though it has been going through different iterations since its inception. It was coined in a 2007 column by Thomas Friedman, and Barack Obama included it in his 2008 platform. Britain also took note, but a surge of Republican/Tory victories stymied its momentum.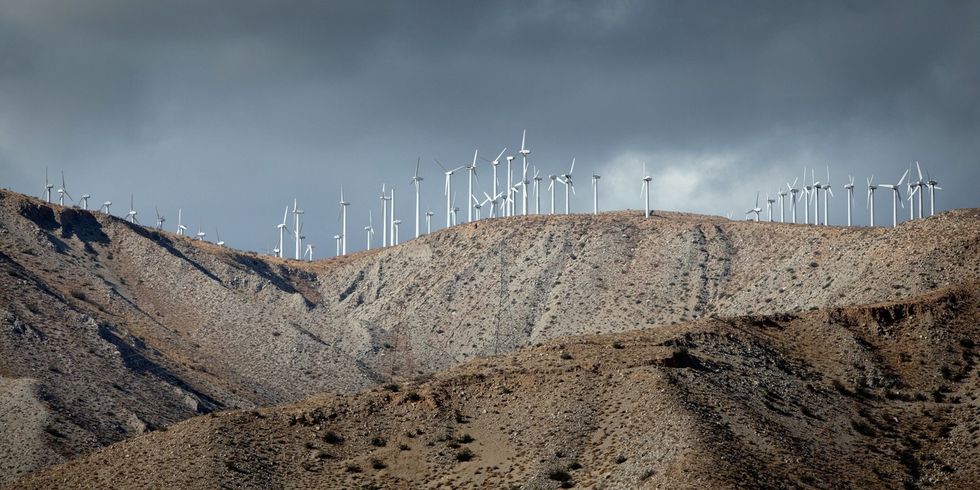 Image via theintercept.com
The GND has found new life in Representative Alexandria Ocasio-Cortez, the Bronx electorate whose rise to political success has been accompanied by widespread social media fame. Ocasio-Cortez showed up in person to support a Sunrise Movement sit-in in Nancy Pelosi's office, demanding the creation of a committee dedicated to developing and pushing the GND, and since then she has become one of its biggest proponents. Now she will be proposing it in Congress this week, alongside Massachusetts senator Ed Markey. The plan has also garnered support from Rep. Ayanna Pressley, as well as 2020 presidential candidates Kamala Harris, Cory Booker, and Bernie Sanders.

The Sunrise Movement began in 2015, when it was founded by climate activists Sara Blazevic and Varsini Prakash, and quickly gained momentum, taking notes from the heady drive of the 1963 civil rights protests of Birmingham, Alabama. Its founders gathered activists, reached out to politicians, and pulled together the finer points of the Sanders campaign and other recent social movements; the successful Pelosi sit-in was the product of months of organizing.
The movement is appealing in a narrative sense: the vision of young people fighting against bloated fossil fuel behemoths has a definite draw to it. There's also the fact that science says the fate of the entire world requires unprecedented global change over the next few years, otherwise catastrophes like Hurricane Sandy and the California wildfires will become the stuff of the everyday.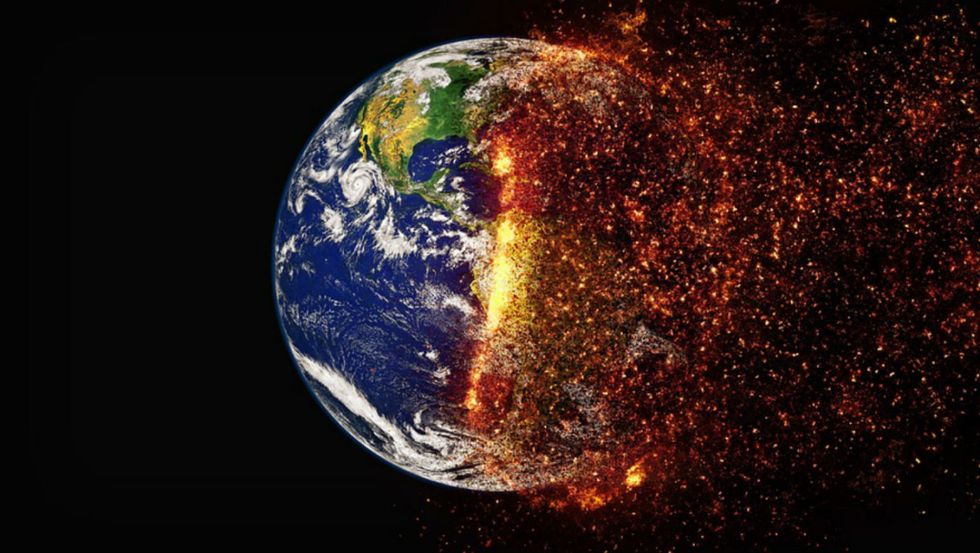 Image via theinsurgent.com
But the GND is still just an idea, and it could remain that way. Its lack of specific policy has been subject to criticism, though an official draft has yet to be unveiled, and conservative news sources have labeled it as a hoax, an amorphous idea without policy to back it.
While the GND might seem like an impossibly ambitious proposition, humans have revamped and reshaped the world before a hundred times over, and we are nothing if not creative and adaptive. We've created technologies that connect the globe and turned empty landscapes to highway-lined cities in a matter of years. Now—unless you like the idea of joining Elon Musk's exclusive Mars colony—it's time to turn all of our collective energies towards the future of the home we share.
70 leading Democrats have signed on in support so far, and momentum is building for its official proposition. The Sunrise Movement is planning on facilitating office visits to congress people across the country this week, as well as a rally in Washington on February 26th.
In an age of doomsday threats and constant headlines about plastic oceans and refugee crises facilitated by environmental droughts, the idea of a Green New Deal—something that could actually, genuinely make a difference that touches every aspect of life—seems like a light at the end of the tunnel. Now it's just a matter of getting there.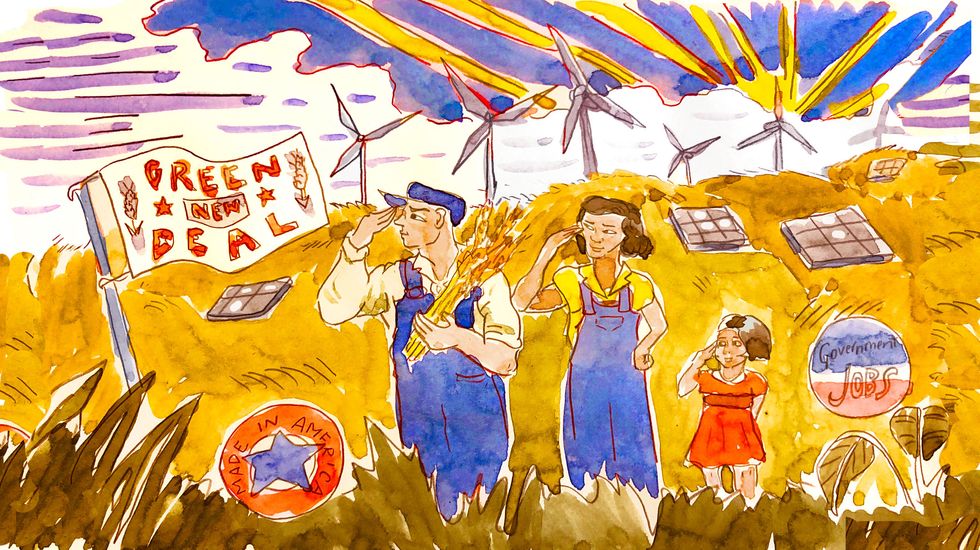 Image via radioopensource.org
Environmental crisis affects the poor and vulnerable at disproportionate levels; it catalyzes mental and physical illness, economic decline, and overall devastation. Irreparable damage has already been done—but the fight is not quite over yet, though time is running out.
---
Eden Arielle Gordon is a writer and musician from New York City. Follow her on Twitter at @edenarielmusic.

---