Dall-E Mini, the AI-powered text-to-image generator has taken over the internet. With its ability to render nearly anything your meme-loving heart desires, anyone can make their dreams come true.
DALL-E 2, a portmanteau of Salvador Dali, the surrealist and Wall-E, the Pixar robot, was created by OpenAI and is not widely available; it creates far cleaner imagery and was recently used to launch Cosmpolitan's first AI-generated cover. The art world has been one of the first industries to truly embrace AI.
The open-sourced miniature version is what's responsible for the memes. Programmer Boris Dayma wants to make AI more accessible; he built the Dall-E Mini program as part of a competition held by Google and an AI community called Hugging Face.
And with great technology, comes great memes. Typing a short phrase into Dall-E Mini will manifest 9 different amalgamations, theoretically shaping into reality the strange images you've conjured. Its popularity leads to too much traffic, often resulting in an error that can be fixed by refreshing the page or trying again later.
If you want to be a part of the creation of AI-powered engines, it all starts with code. CodeAcademy explains that Dall-E Mini is a seq2seq model, "typically used in natural language processing (NLP) for things like translation and conversational modeling." CodeAcademy's Text Generation course will teach you how to utilize seq2seq, but they also offer opportunities to learn 14+ coding languages at your own pace.
You can choose the Machine Learning Specialist career path if you want to become a Data Scientist who develops these types of programs, but you can also choose courses by language, subject (what is cybersecurity?) or even skill - build a website with HTML, CSS, and more.
CodeAcademy offers many classes for free as well as a free trial; it's an invaluable resource for giving people of all experience levels the fundamentals they need to build the world they want to see.
As for Dall-E Mini, while some have opted to create beauty, most have opted for memes. Here are some of the internet's favorites:
There's no looking back now, not once you've seen Pugachu; artificial intelligence is here to stay.
The risk of blood clots is so low it should actually make us feel safer.
Existing fears over the safety of the vaccines — which have been rumored to contain Bill Gates microchips, zombifying prions, or some sort of slow-acting execution serum — have sadly been bolstered and amplified. And many have been reacting as though this is a nail in the coffin for America's third-tier vaccine — which already suffered from unflattering comparisons to the higher efficacy rates of Pfizer and Moderna's two-dose options.
But that's not really the case. And closer examination of the issue reveals how much caution officials are exercising and how incredibly safe and effective all the vaccines actually are.
Dr. Anthony Fauci addresses J&J vaccine pause — 'This is a very rare event' www.youtube.com
While it's true that Johnson & Johnson's vaccine has shown a significantly lower efficacy in fully preventing COVID infections — 66-72%, compared to Pfizer and Moderna's 93-95% — all three vaccines share another, much more important figure: 100%. In studies, that's how effective they all were in preventing hospitalizations and deaths from COVID.

And while even a mild case of COVID can be spread to others, the chances are substantially reduced. The overall stats for Johnson & Johnson's vaccine would be considered phenomenal for an annual flu vaccine — let alone for a disease that was unheard of two years ago.
It's honestly incredible how quickly researchers around the world were able to collaborate in developing any vaccine at all, let alone run multiple versions through rigorous safety protocols. But they did; and as a result, cases of serious complications like this are incredibly rare.
Johnson & Johnson's vaccine alone would be considered miraculous if not for the existence of slightly better options. But — seeing as there are better options — is a Johnson & Johnson shot really worth the risk?
That depends on the person. But for most people, the correct response is, "What risk?" Of the 6.8 million Americans who have received the Johnson & Johnson vaccine, only six cases of these frightening blood clots have been recorded — all in women under the age of 50.
While these cases are all frightening — particularly the death of one Virginia woman — they represent less than 1 in a million vaccine recipients. While recent recipients are recommended to look out for symptoms, including severe headaches and shortness of breath, there's not even a clear indication of a causal relationship. In other words, it could all be a sad coincidence in which six women just happened to get some nasty blood clots within two weeks of receiving their shots.
Considering that positively identified COVID-19 cases have had a 1.8% mortality rate in the US — and around 1 in 600 Americans have already died as a result — that "possibly-1-in-a-million chance of developing blood clots that could kill you or not" seems like a pretty reasonable risk. The fact that it's a story at all just points to the overall safety of these treatments.
In this context, it's no wonder Europe is still planning to start administering Johnson & Johnson vaccinations, with officials from the EU's European Medicines Agency stating that "the benefits of the vaccine in preventing COVID-19 outweigh the risks of side effects." The only reason for a brief pause is to operate with an abundance of caution and for officials to adjust their recommendations for who should receive which vaccine.
Rather than recommending that everyone rush to get whatever option is most accessible, they may recommend that pre-menopausal women receive the Pfizer or Moderna shots. Or it could be far more specific — possibly related to an interaction with one or multiple types of contraceptive pill, which are already known to increase the risk of blood clots.
All-in-all, the frightening news about a vaccine possibly killing a woman is not nearly as frightening as the prospect that this incredibly rare case will feed into so-called "vaccine hesitancy". With around 20% of Americans in a recent survey still saying that they do not want to be vaccinated, and an additional 17% operating on a "wait and see" basis, we already face a monumental task in pushing for the all-important 70-90% herd immunity.
Herd Immunity and Coronavirus: Can It Be Achieved? www.youtube.com
Once we reach that ballpark, it will finally — finally — be possible to return to normal activities without the valid fear of contracting and spreading a wildly contagious and deadly virus. But that's going to take the work not only of manufacturing, distributing, and administering the vaccines, but of convincing those still on the fence of how important it is for everyone that they get immunized.

Sensationalizing a story about a small handful of scary cases and one death — compared to the hundreds of thousands of deaths the Johnson & Johnson vaccine is likely to prevent — is not going to help us get there. Instead, we should all take this opportunity to recognize what this story truly reveals: how careful health officials are being, and how remarkably safe the vaccines actually are.
Keep reading...
Show less
From romaine lettuce to dairy products, beware of the dangerous foods you probably have in your kitchen.
As a health-conscious consumer, it's always important to be aware of what you're putting into your body.
Many illnesses are foodborne, and certain ingredients can also activate allergic reactions. The Food and Drug Administration (FDA) consistently monitors and regulates outgoing food products, making it a great resource to help you stay on top of your meals. The Centers for Disease Control and Prevention (CDC) also has a great list of risky food groups, so you can be extra careful when preparing your meals. Currently, these are the top foods for US Consumers to watch out for.

Leafy Greens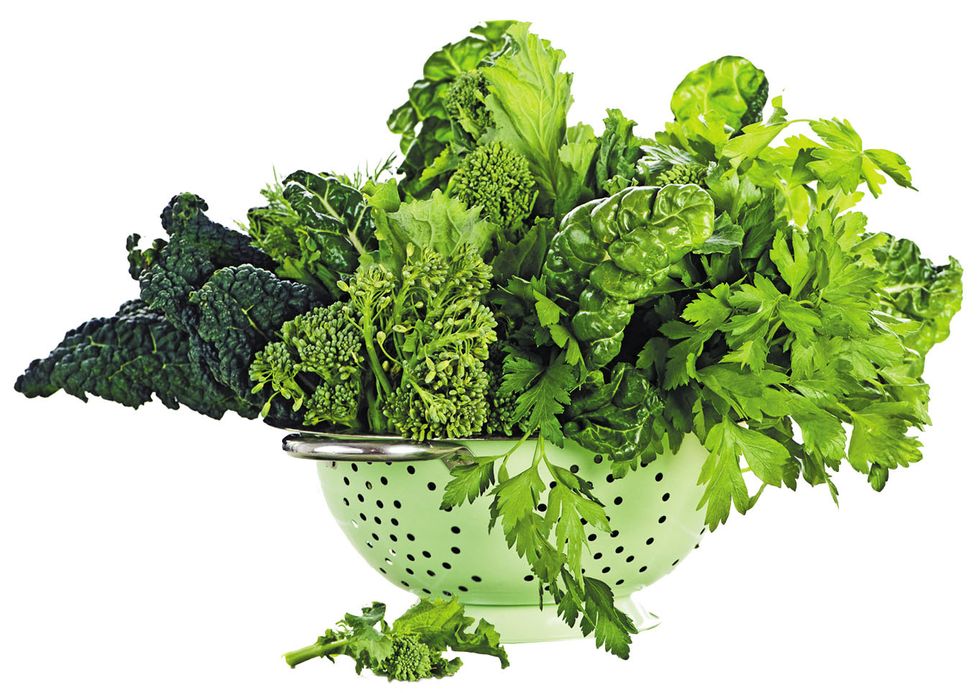 Different types of green vegetables in a stainless colander cloudfront.net
While salad is exceedingly healthy, raw or improperly washed greens can be a hotbed for dangerous germs including Salmonella, E. coli, and Listeria. Most recently, an outbreak of E. coli linked to California-grown romaine lettuce infected 62 people, hospitalizing 25. As of January 19, 2019, the outbreak seems to be over, according to the CDC. California-grown romaine lettuce should be safe to eat once again, but even so, it doesn't hurt to practice caution at the salad bar.

Raw Flour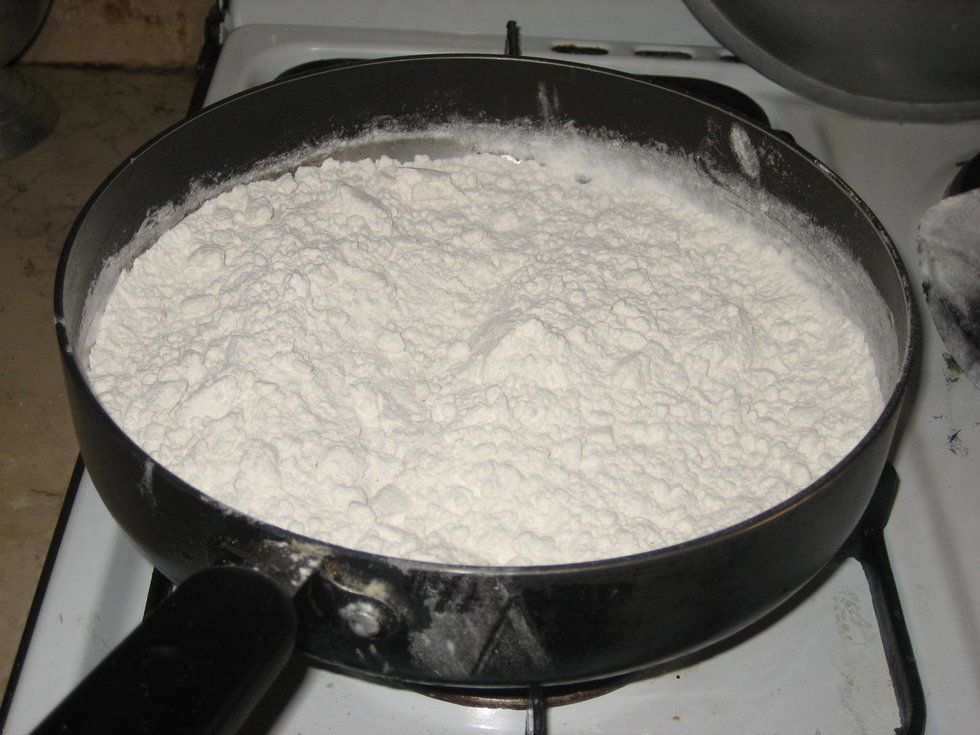 WordPress
You may love the taste of raw cookie dough, but anything containing uncooked flour is unsafe to eat. This is because flour is a raw agricultural product that hasn't been treated to kill potential germs. As a result, any contamination of the grain in the field can travel to your plate. The bacteria is killed through cooking though, so as long as you bake your desserts, you'll be fine.

Raw Oysters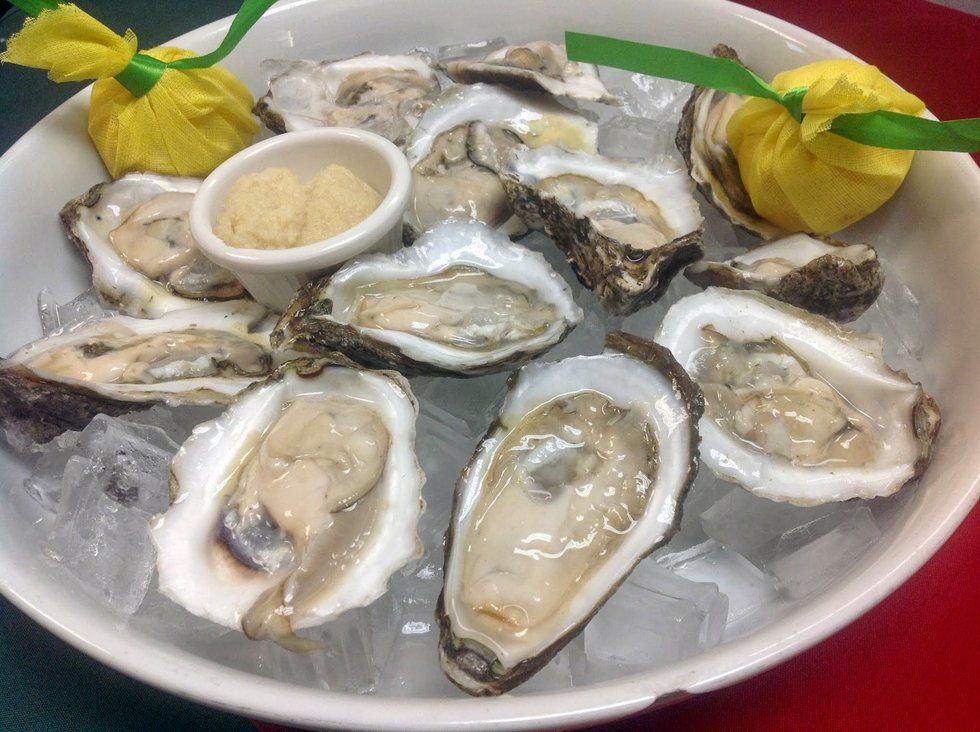 Business Post
Raw oysters are a wonderful delicacy, but they can also pose health risks if harvested from contaminated waters. If the water contains norovirus, it can be easily spread through raw oysters, along with Vibrio bacteria, which can lead to vibriosis. To avoid potential food poisoning, try cooked oysters as an alternative.
Eggs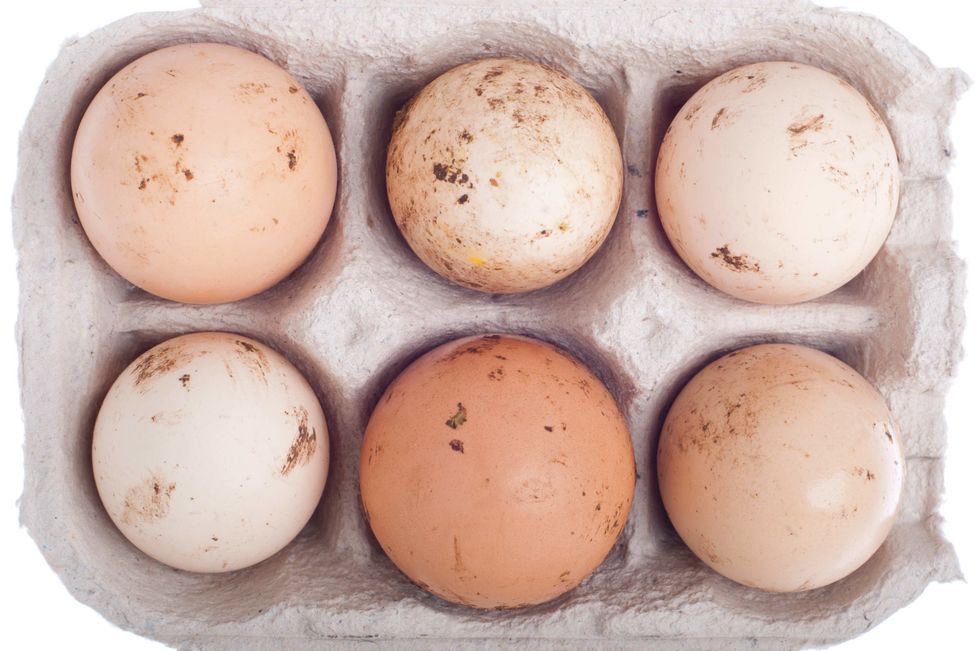 mypetchicken.com
Eggs are an amazing source of healthy fat and protein. That being said, they can also contain Salmonella, a germ which can make you ill. To be safe, always buy pasteurized eggs and egg products, and be sure to cook eggs well until the yolks and whites are firm. Also, be sure to keep eggs refrigerated at 40º or colder.
Raw Milk, Cheese, and Dairy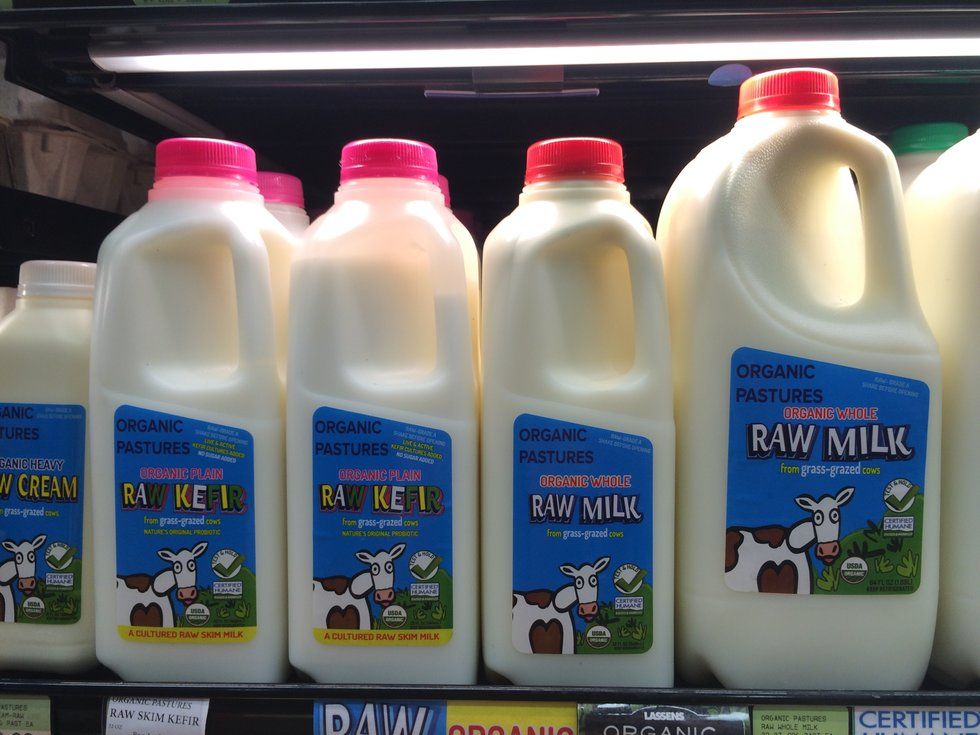 images1.laweekly.com
Everyone enjoys dairy products like cheese, yogurt, and ice cream. But raw dairy products are known to contain harmful germs such as Campylobacter, Cryptosporidium, E. coli, Listeria, and Salmonella. To avoid these, make sure your dairy products are pasteurized, and be especially careful of raw milk and soft cheeses like feta and brie.

Chicken, Beef, Pork, and Turkey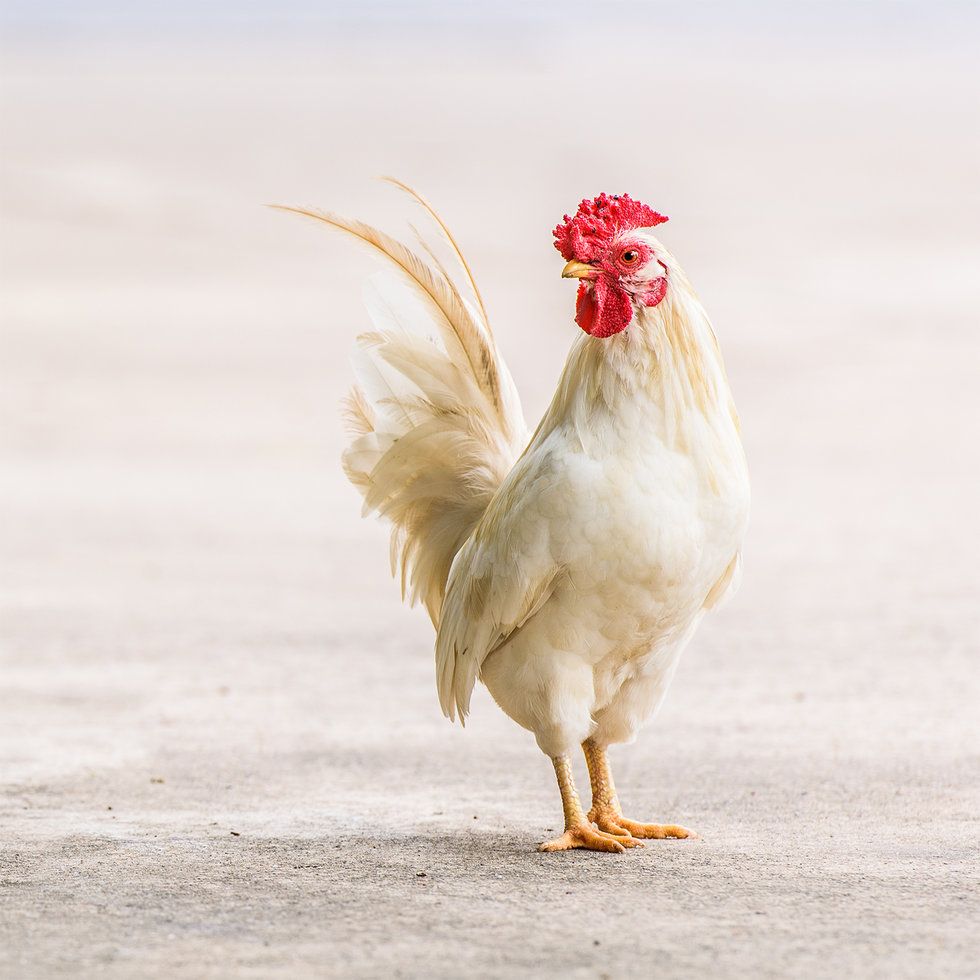 LibertyFHG
Raw meat contains all sorts of germs including Campylobacter, Salmonella, Clostridium perfringens, Salmonella, E. coli, and Yersinia. As such, always be sure you're using fresh, unexpired meat, and cooking it thoroughly to kill any potential bacteria. Also, do not wash meat before cooking. This poses the risk of spreading harmful bacteria to other surfaces and utensils.

Always be sure to stay up-to-date on FDA advisories before going grocery shopping, and be aware of proper cooking methods, too. Knowing what products are safe and what products to avoid can help protect you and your family from serious foodborne illnesses.
We love coffee. Does it love you?
In New York City, the Health Department makes restaurants display cleanliness and safety grades in their windows; anything less than an "A" is usually mounted behind a potted fern or hung near ground level. Visiting San Francisco last March, I noticed something similar when I bought my afternoon latte at a Starbucks. Tucked behind the half 'n' half jug and napkin dispensers was a 4x6 inch notification that acrylamide, a chemical byproduct of the roasting process, may cause cancer.
This assertion isn't new. A number of years ago, my husband pushed his morning cup away after a bout of insomnia led him to watch anti-coffee crusader and New Age nutritionist Gary Null preach it's evils on the 2 am segment of a PBS fund drive. While I scoffed at the notion that a drink consumed by millions over centuries was essentially poison, this latest alert, ordered by a judge in California, a state which tends to be on the cutting edge of of regulating toxins, made me wonder.
The warning labels on coffee stem from Prop 65, an 1986 law that that requires companies to inform consumers if their products contain potentially hazardous chemicals. Since California's economy is so far-reaching, the law has had a positive impact on people across the country. It's pushed manufacturers to remove substances like lead and formaldehyde from their formulas. But, according to Nathan A. Schachtman, a product liability defense lawyer and a Columbia Law School lecturer, it's also created "a cottage industry of lawyers roaming around looking for violators."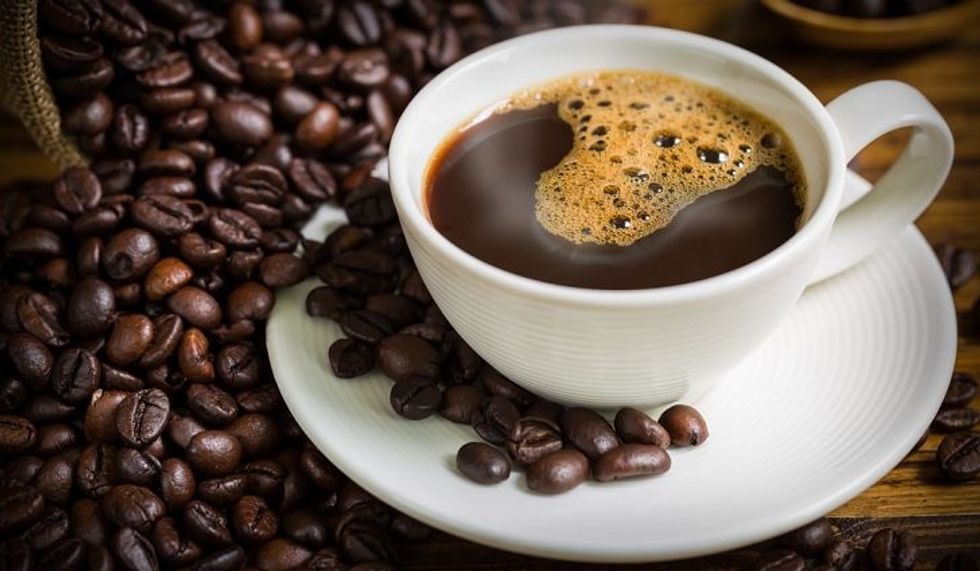 Recently, California's Office of Environmental Health Hazard Assessment (OEHHA) recommended that coffee be exempt from the law because the health risks have been overblown. While acrylamide does cause an increase in tumors in rodents who are fed high doses, the agency says that the minuscule amount found in a cup of coffee poses no health risks to humans and that the antioxidants and micro-nutrients in coffee may even be good for you. (FYI: According the the FDA, acrylamide is also found in higher levels in french fries, prunes, some cereals and breads, toasted nuts, and canned olives). A public hearing on the issue was held on Thursday, August 16. Sixty-four percent of American adults drink coffee every morning—can we all breathe a collective sigh of relief?
According to the American Cancer Society, "Coffee drinking is associated with a lower risk of dying from all causes of death." They add the caveat that an international study investigating the link between coffee and cancer said the results were "unclear." However, the same researchers found that drinking coffee was "not a cause of female breast, pancreas, and prostate cancers, [and] may reduce the risk of uterine endometrium and liver cancers." They also noted that drinking coffee is associated with a lower risk of insulin resistance and type 2 diabetes. In 2016, the World Health Organization took coffee off it's list of possible carcinogens.
The real risk in drinking coffee is overdoing the caffeine. People with anxiety disorders and those who take certain medications may be advised against drinking coffee by their physicians. Teenagers and pregnant women shouldn't drink more than one cup a day. More than 400 mg of caffeine a day, the amount in four average cups of brewed coffee, can cause stomach aches, irritability, insomnia, tremors, headaches, and other unpleasant side effects. For the rest of us who aren't guzzling buckets of cold brew or making hourly forays to the office percolator, it's fine to continue drinking coffee.
Keep reading...
Show less
The cosmetics industry is surprisingly under-regulated.
Since the passing of the Federal Food, Drug and Cosmetic Act, the U.S. cosmetics industry–currently valued at $62 billion–has been under the jurisdiction of the Food and Drug Administration (FDA). This Act, a 112-page law passed in 1938, provides exactly one full page detailing the regulation of cosmetics, and according to the Campaign for Safe Cosmetics "provides virtually no power to perform even the most rudimentary functions to ensure the safety" of the enormous industry. While food and pharmaceuticals tend to face stringent regulations–think Taco Bell and their not-allowed-to-call-this-beef mystery sludge–cosmetics have been virtually regulation-free for the past 80 years. Most cosmetics don't even need FDA approval, and are largely self-regulated by the companies that produce them.
While this lack of restrictions may be unsurprising to people familiar with the industry, stranger still are the rules about reporting customer complaints. For example, if a certain chemical in your mascara is causing your eyelashes to fall out and you file a complaint with the manufacturer, the company has no legal obligation to report this to the FDA. It's within the manufacturer's rights to keep that information private and do with it as they see fit. In short, even if a makeup company is poisoning people, there are no laws requiring them to recall their products.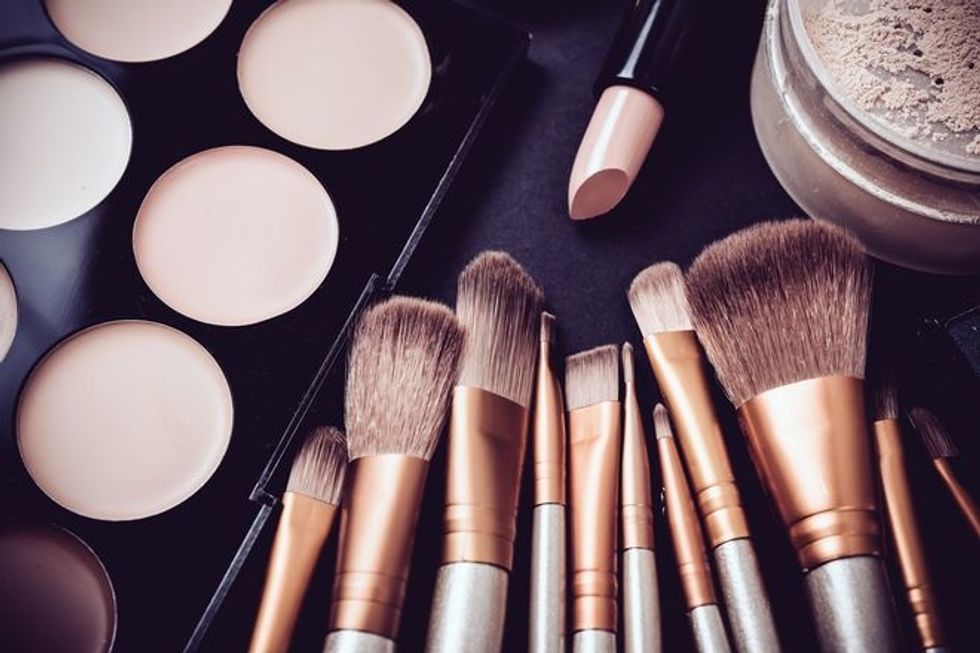 This stuff'll kill ya
A real life example of this, is the scandal surrounding WEN Hair Care, a company founded by celebrity hairstylist Chaz Dean. In 2014, the FDA opened a file on them after receiving 127 customer complaints about WEN's products causing hair loss. The subsequent investigation revealed that more than 21,000 complaints had gone unreported. Years later, the FDA still doesn't know what ingredient caused the alleged hair loss, and following an internal clinical trial by WEN, the company is once again touting their products as safe. Obviously, from a public relations standpoint the damage has been done and no amount of testimonials are going to fix WEN's image. Still, the fact that after a $26 million class-action lawsuit WEN and the FDA don't know what ingredient caused the hair loss borders on absurdity. For reference, try imagining how well that would go over for a company selling anti-inflammatories.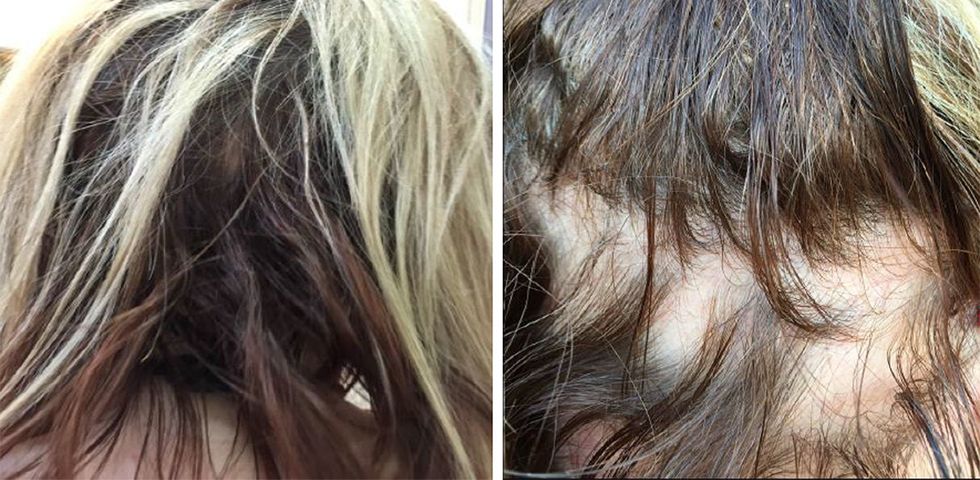 Hair loss from WEN productsPeople Magazine
This isn't the only way in which the beauty industry dodges regulations however. There are certain terms, like organic and hypoallergenic that while not completely devoid of meaning, have very wide parameters governing their use. The word organic as it pertains to foods/cosmetics, isn't regulated by the FDA, but rather the National Organic Program (NOP), a subsection of the U.S. Department of Agriculture (USDA). While the USDA is a federal department, its primary focus, as its name implies, is agriculture. Regarding cosmetics, all the USDA can really do is determine whether or not the plants from which the ingredients are harvested, are organically (meaning pesticide/GMO-free) grown. Since the USDA has no jurisdiction over the process with which makeup and other cosmetics are made, the organic label means very little. The term hypoallergenic definition is even looser, as in the FDA's own website says there are no federal regulations surrounding the use of hypoallergenic on packaging. The word essentially means nothing.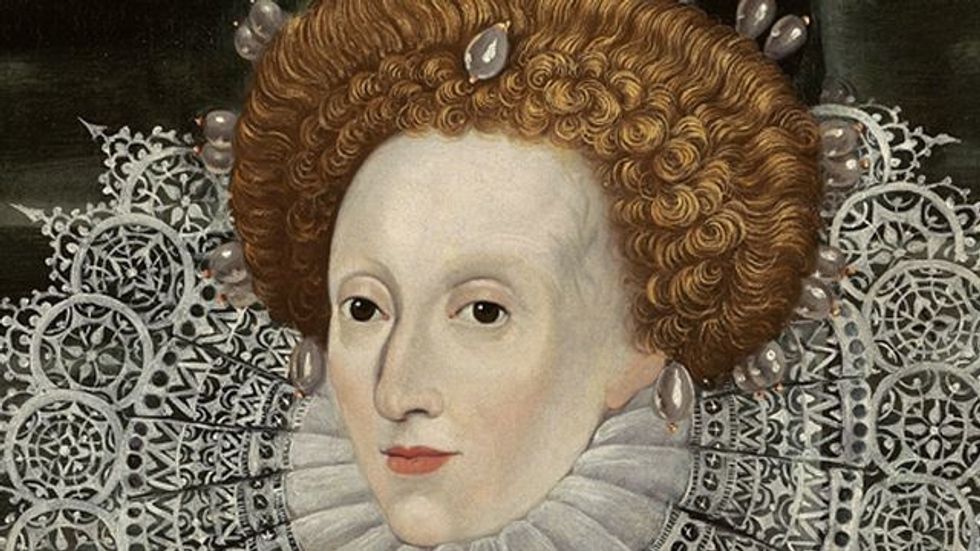 Lead-based makeup was all the rage...like literally, the lead poisoning drove people insane.
When looking back at pre-industrial beauty trends, it's easy to look at the lead-based makeup of the 17th and 18th centuries that poisoned so many royals, and write it off as primitive, but our startling lack of legislation designed to protect present-day makeup consumers might be leave us in a similar predicament. As recently as two months ago, the FDA had been investigating Claire's, under the suspicion that their foundation contains tremolite. Tremolite has been linked to lung cancer, asbestosis and mesothelioma, and is an extremely dangerous poison.
All this said, most makeup and skincare products won't kill you and are perfectly safe to use regularly. The purpose of this article isn't to be unnecessarily alarmist, but rather to illustrate the dangers an unregulated industry can pose to the general public. Unfortunately, barring a major change in legislation, consumers and not the federal government are responsible for ensuring that their cosmetics are safe. So before you go out and buy that new mascara at Sephora or that new face wash from Ulta, do a little research. Check the ingredients and find out if they're dangerous before you buy. It's definitely inconvenient, but most things that are good for you are.
Keep reading...
Show less
Tattoos have evolved over the years, but are they harmful or toxic to the body?
When most cancer survivors ask their oncologists if they can get a tattoo, the answer is, "No! And don't even think about it." The reason often stems from numerous studies looking at a possible connection between tattoos and leukemia, a blood cancer. The big concern is chemicals in the dye that will go directly on and potentially in the skin. The key questions many studies are trying to answer right now are: "What are in the dyes?" "Do they go directly into the blood stream for some or all?" "What is the impact of the dyes long-term?" and "Why are those dyes not regulated in he first place?"
So if everything else that can potentially go into your bloodstream is regulated, then why isn't tattoo ink?
First, to give you perspective, I have to share one cautionary rule that many oncologists tell survivors to follow in order to lower their risk, and this is certainly good for anyone. Think before you apply anything to your skin because it does have the potential to go directly into your bloodstream, and that includes sunscreen, bug spray or lotion. This should come as no surprise, especially with the existence of a birth control patch the size of a bandage that goes directly into your bloodstream. So if everything else that can potentially go into your bloodstream is regulated, why isn't tattoo ink?
The Food and Drug Administration (FDA) states on its website, "While state and local authorities oversee the practice of tattooing, ink and ink colorings (pigments) used in tattoos are subject to FDA regulation as cosmetics and color additives. However, because of other public health priorities and a previous lack of evidence of safety concerns, FDA has not traditionally regulated tattoo inks or the pigments used in them." After receiving various reports of adverse reactions to tattoo ink, the FDA launched an investigation in 2008. It has a warning on its website to consumers that says several of the pigments used in tattoo ink are "industrial-grade colors suitable for printers' ink or automobile paint."
The FDA's National Center for Toxicological Research (NCTR), research chemist Paul Howard, Ph.D., and his team are investigating to get more answers. What they do know is that some ink particles have shown the ability to go beyond the skin, into the bloodstream and into the lymph nodes or lymphatic system, which is where the body carries out disease-causing organisms. That's a problem. The FDA also found some potentially dangerous substances, including metals and hydrocarbons that are known carcinogens in the ink, saying, "One chemical commonly used to make black ink called benzo(a)pryrene is known to be a potent carcinogen that causes skin cancer in animal tests."
Some ink particles have shown the ability to go beyond the skin, into the bloodstream and into the lymph nodes or lymphatic system, which is where the body carries out disease-causing organisms.
Outside the US, more studies are being conducted. One out of the University of Bradford in the UK found that the tattoo process removes the body's main connective tissue and the ink particles leave the surface of the skin and travel elsewhere. Another study out of the UK is led by Jorgen Serup, a professor of dermatology at Copenhagen's Bispebjerg University Hospital. He claims that he found evidence that the nanoparticles present in inks can reach major organs of the body and cause cancer. According to the International Business Times, the study says that as many as 13 out of 21 commonly used European inks have cancer causing chemicals in them. The article goes on to state that the Tattoo Ink Manufacturers of Europe "believe that about 5 percent of European tattooists use toxic ink, and wants the EU to compel ink makers to conduct risk assessments on their products and make the results public."
Think that henna tattoos might be your best shot? Think again! The Telegraph looked at a study in the United Arab Emirates, published in the "Leukemia and Lymphoma Journal." Women there who use henna to stain their nails, hands, feet, etc., face a higher incidence of leukemia. They said it is not the henna itself that is the problem but rather the compounds used as a solvent for the henna powder. That solvent contains benzene, which is known to cause cancer. According to the Telegraph, benzene is banned in many countries but still used.
I checked many tattoo website across the country to see if, perhaps, a newer, "cleaner" dye has been introduced since these studies were published, but I found no mention of anything. A few sites mentioned that there are always risks since it is a dye/pigment is permanently being added to the layers of your skin. Bottom line: There is no hard evidence that there is a 100 percent connection to leukemia but there is much cause for concern about what chemicals are in the ink, the long-term effects of the ink, and how the ink enters the body. Ask questions. Know before you ink. Perhaps, if you have a history of cancer in your family and you are at higher risk, talk to your doctor as well.