Pogues frontman Shane McGowan was an ancient 65 when he died on November 30. Television producer Norman Lear was a youthful 101 when he left this realm on December 5. No doubt his zest for life kept him going for so long – and his zest for controversy.
Norman Lear's work was an integral part of American life in the second half of the 20th Century. Television programs like Maude, Sanford and Son, and The Jeffersons dragged television out of the 1950s and into the real world. As Variety states: "Lear's shows were the first to address the serious political, cultural and social flashpoints of the day – racism, abortion, feminism, homosexuality, the Vietnam war – by working pointed new wrinkles into the standard domestic comedy formula. No subject was taboo: Two 1977 episodes of All in the Family revolved around the attempted rape of lead character Archie Bunker's wife Edith."
All in the Family, which ran on CBS from 1971 to 1979, typified the clash of generations. Middle-aged bigot Archie Bunker – played by Carrol O'Connor – was a right-wing King Lear in Queens, raging at the radical changes in society. Archie didn't let ignorance get in the way of his opinions; once he argued that people who lived in communes were communists. The thing is, the old dog was actually capable of learning new tricks. Archie never evolved into any kind of saint. But over the nine seasons "Family" aired, experience taught Archie the benefits of listening to (and respecting) viewpoints far different from his own.
All in the Family was the jewel in Lear's crown, but don't forget the highly popular shows One Day at a Time (which featured Bonnie Franklin as a divorcee raising two daughters in the Midwest) and Mary Hartman, Mary Hartman (with Louise Lasser as the titular figure in a parody of soap opera conventions). Good or bad, Lear's work was never indifferent.
More recently, you may have heard about Lear's lively activism. His TV shows were themselves arguments for free and unfettered speech, and Lear supported a slate of liberal causes. In 1981 he founded People for the American Way. The organization's website describes the ways that PFAW has "engaged cultural and community leaders and individual activists in campaigns promoting freedom of expression, civic engagement, fair courts, and legal and lived equality for LGBTQ people."
Lear's life was a long and fulfilling one. In 1978 he was given the first of two Peabody Awards, the most prestigious award in television. "To Norman Lear," it reads, "...for giving us comedy with a social conscience. He uses humor to give us a better understanding of social issues. He lets us laugh at our own shortcomings and prejudices, and while doing this, maintains the highest entertainment standards."
A pioneer, a gadfly of the state, a mensch. To paraphrase a lyric from All in the Family's theme song, "Mister, we could use a guy like Norman Lear again."
8 ways to protect yourself, right now
When I was studying in China, the other kids and I always freaked out when we were doing something illicit, like entertaining a Chinese friend or using an electric tea kettle, and the dorm attendant came knocking at the door. Clearly we were being surveilled. Over time, one of the things we grew to appreciate about the United States was our individual privacy. Obviously, since then, what seemed like an inviolable right has been casually thrown away like a pile of old VHS tapes. Where I once cherished my privacy, now I might as well be sprawled naked on the pavement in Times Square surrounded by my open passport, credit cards, bank statements, and diaries.
The Internet is an incredible tool, but it appeals to some of our worst tendencies: sloth, addiction, prurience. We love it because it's free, although of course, we're all paying a huge price. Even after debacles like Yahoo exposing the data of every single one of it's users, three billion in all, or the Cambridge Analytica-Facebook scandal, how many people actually deleted any accounts, changed their privacy settings or read the epic and stultifying privacy agreements on social media? In the United States, what business theorist Shoshanna Zuboff terms "surveillance capitalism" was allowed to develop largely unregulated, allowing companies, in particular Google and Facebook, who rely on mining personal data for revenue to become, according to the New York Times, an "emerging duopoly that today controls more than half of the worldwide market in online advertising."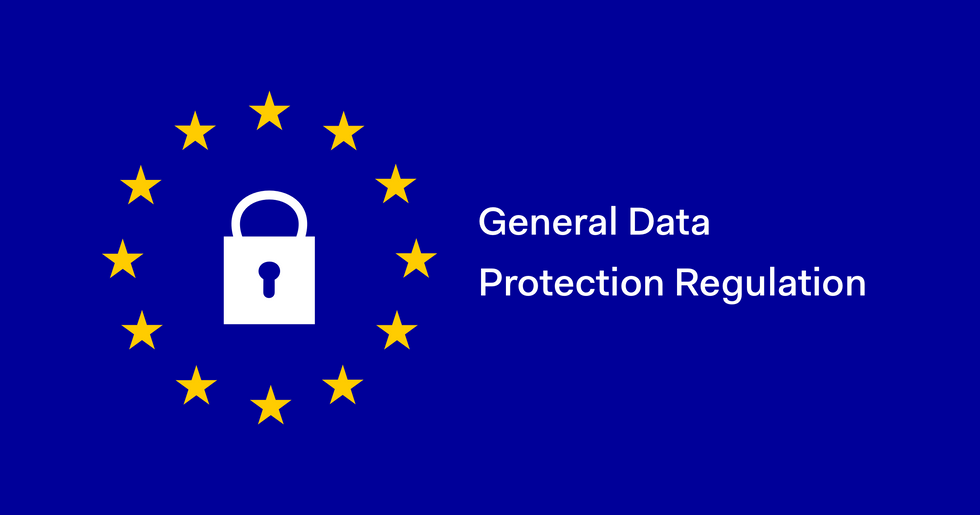 This spring, the European Union enacted the General Data Protection Regulation, a sweeping law that requires companies use the highest possible privacy settings and disclose any type of personal data they are collecting. In June, California followed suit with its own Consumer Internet Privacy Act of 2018, the most robust in the nation. And federal regulations? Remember back in 2017—I know that seems like the Dark Ages with the current breakneck news cycle—when President Trump signed a repeal of an Obama-era law which, under the FCC, would have required broadband companies to get permission from their customers when they were collecting "sensitive data" such as browsing history and geolocation? In late July, the Commerce Department "began holding stakeholder meetings to identify common ground and formulate core, high-level principles on data privacy," according to a senior official speaking to Reuters. In other words, don't hold your breath waiting for federal legislation.
Even California's law doesn't go into effect until 2020. What can you do right now to protect your privacy? Here are some steps you can complete in under an hour that will beef up your computer or phone's security:
1. Turn off location tracking for all of your Apps. You can turn them on selectively when you need them (such as with Uber).
2. Install automatic updates. This way your software will have the latest security features.
3. Cover your webcam with a piece of tape or post it like Mark Zuckerberg does. We know he's an expert on shady ways to collect personal information.
4. Use a password on every computer and gadget, not just your phone. And make it at least six characters long and strong. 123456 or your birthday will simply not do.
5. Put your social media accounts on lockdown. Check your privacy settings. Don't make everything public. Share only within a verifiable group of friends.
6. Avoid using public wifi connections. They can be convenient but the information you transmit is not secure.
7. Don't give away personal information that you don't have to. Phone number? Address? Birthdate? Nope. Facebook does not need to know.
8. Delete your search history regularly. This is critical if you use shared computers such as at school or in a library.
Consumer Reports has a useful list of nearly 70 other steps you can take to protect your security and privacy.
Have more tips? Tweet us at The Liberty Project.
We love coffee. Does it love you?
In New York City, the Health Department makes restaurants display cleanliness and safety grades in their windows; anything less than an "A" is usually mounted behind a potted fern or hung near ground level. Visiting San Francisco last March, I noticed something similar when I bought my afternoon latte at a Starbucks. Tucked behind the half 'n' half jug and napkin dispensers was a 4x6 inch notification that acrylamide, a chemical byproduct of the roasting process, may cause cancer.
This assertion isn't new. A number of years ago, my husband pushed his morning cup away after a bout of insomnia led him to watch anti-coffee crusader and New Age nutritionist Gary Null preach it's evils on the 2 am segment of a PBS fund drive. While I scoffed at the notion that a drink consumed by millions over centuries was essentially poison, this latest alert, ordered by a judge in California, a state which tends to be on the cutting edge of of regulating toxins, made me wonder.
The warning labels on coffee stem from Prop 65, an 1986 law that that requires companies to inform consumers if their products contain potentially hazardous chemicals. Since California's economy is so far-reaching, the law has had a positive impact on people across the country. It's pushed manufacturers to remove substances like lead and formaldehyde from their formulas. But, according to Nathan A. Schachtman, a product liability defense lawyer and a Columbia Law School lecturer, it's also created "a cottage industry of lawyers roaming around looking for violators."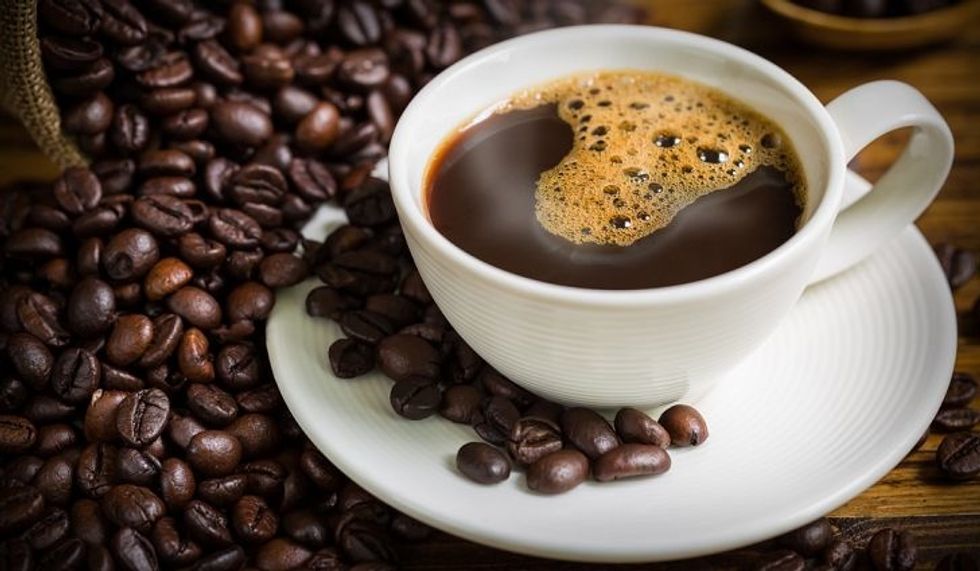 Recently, California's Office of Environmental Health Hazard Assessment (OEHHA) recommended that coffee be exempt from the law because the health risks have been overblown. While acrylamide does cause an increase in tumors in rodents who are fed high doses, the agency says that the minuscule amount found in a cup of coffee poses no health risks to humans and that the antioxidants and micro-nutrients in coffee may even be good for you. (FYI: According the the FDA, acrylamide is also found in higher levels in french fries, prunes, some cereals and breads, toasted nuts, and canned olives). A public hearing on the issue was held on Thursday, August 16. Sixty-four percent of American adults drink coffee every morning—can we all breathe a collective sigh of relief?
According to the American Cancer Society, "Coffee drinking is associated with a lower risk of dying from all causes of death." They add the caveat that an international study investigating the link between coffee and cancer said the results were "unclear." However, the same researchers found that drinking coffee was "not a cause of female breast, pancreas, and prostate cancers, [and] may reduce the risk of uterine endometrium and liver cancers." They also noted that drinking coffee is associated with a lower risk of insulin resistance and type 2 diabetes. In 2016, the World Health Organization took coffee off it's list of possible carcinogens.
The real risk in drinking coffee is overdoing the caffeine. People with anxiety disorders and those who take certain medications may be advised against drinking coffee by their physicians. Teenagers and pregnant women shouldn't drink more than one cup a day. More than 400 mg of caffeine a day, the amount in four average cups of brewed coffee, can cause stomach aches, irritability, insomnia, tremors, headaches, and other unpleasant side effects. For the rest of us who aren't guzzling buckets of cold brew or making hourly forays to the office percolator, it's fine to continue drinking coffee.
What your diet needs is a little dirt.
It sounds like the beginning of an corny old joke: What do you get when you swap the gut bacteria of a fat mouse and a thin mouse? However, the answer provides a tantalizing clue to solving one of the most dire public health challenges of our time: the obesity epidemic. In a number of studies, scientists have manipulated the intestinal microflora in mice that are obese (A) and lean (B). What they have found is when A gets B's gut bacteria, it becomes a skinny mouse and the opposite is true as well.
Not enough research has been done on humans in long term trials to definitively prescribe how we should be using probiotics to maintain our healthiest weight, but there are plenty of encouraging findings. In a 2016 meta analysis that studied obese children, researchers found that, "short-term courses of probiotic mixtures containing...14 alive probiotic strains...were shown to reduce significantly total body and visceral adipose tissue weight, together with improvement in insulin sensitivity [a precursor to diabetes]." The same study outlined how probiotics can affect appetite, the ratio of lean body mass to fat, and metabolism. The right probiotics can also improve cholesterol.
Scientists say that to reap the health benefits of these microflora, we need to have a diverse array of strains thriving in our intestines—something that many Americans do not. Speaking with Fitness Magazine, Lee Riley, M.D., a professor of epidemiology at the University of California, Berkeley points out that the heavy use of antibiotics in the livestock industry over the last couple of decades has taken a toll on the fragile balance in all of our bodies. "The obesity epidemic really took off in the last 20 years in the U.S. So the question is, what happened then? What was a large segment of the population exposed to that could account for this massive weight gain?" He concludes, "Counties with the highest prevalence of obesity are those counties with large concentrated animal feeding operations." The overuse of human antibiotics and anti-bacterial cleaners has also dealt a blow to our systems. Fortunately, there are ways rebuild our individual microbiomes and help the little guys flourish.
Promoting a Healthy Gut
Create a healthy, happy internal environment by eating lots of prebiotics. These are the foods that gut bacteria love to eat. Fiber is especially important so aim to consume twenty to thirty grams a day. Fruit, vegetables, whole grains, nuts, seeds, and beans are loaded with fiber and have the added benefits of being nutrient-rich and filling you up without a lot of calories. Absolute microflora favorites? Bananas, onions, garlic, leeks, asparagus, artichokes, soybeans, sweet potatoes, and whole-wheat products.
Eat a variety of probiotics. We know that different strains of bacteria are linked to healthy weight, so aim for diversity. Don't rely solely on supplements, they aren't regulated by the F.D.A. for efficacy and safety. If you do want to try a supplement, experts recommend looking for one that contains these strains: Lactobacillus plantarum, Lactobacillus acidophilus, Lactobacillus brevis, Bifidobacterium lactis (B. animalis), and Bifidobacterium longum. The best, cheapest, and easiest way to ingest probiotics is by simply by eating a range of cultured and fermented foods such as tempeh, yogurt, kimchi, sauerkraut, miso, and kombucha.
Some experts promote eating more soil based organisms, which can be found in supplements and are purportedly hardier and better able to pass through the acidic stomach to the intestine. Writing for Scientific American, nutritionist Monica Reinagel outlines her steps for restoring a healthy gut post-colonoscopy, which include eating raw vegetables from her own garden that are only lightly rinsed to remove the grit.
Sugar is the enemy.Sugar and refined carbs are absorbed very quickly and essentially starve our intestinal flora. Unhealthy organisms such as fungus and yeast also thrive on sugar. All in all, a dire situation for cultivating the best gut bugs.
While the science of gut bacteria and human health is cutting edge, you still can use common sense to guide your eating habits. What we keep learning over and over is that there is no miracle formula for weight loss that will allow us to consume junk and be slim and healthy. You have heard it a million times before: avoid processed foods, use sugar sparingly, load your plate with fresh vegetables and other whole foods, and eat some yogurt.