Trump threatens to close the border completely, despite having no authority to do so.
On Sunday, a group of Mexican migrants reportedly rushed the San Ysidro border crossing near San Diego, drawing tear gas from Border Patrollers. Consequently, the crossing was closed for several hours. Homeland Security Secretary Kirstjen Nielsen later said the closing of the border was "to ensure public safety in response to large numbers of migrants seeking to enter the U.S. illegally." According to the Washington Post, "At least two dozen tear gas canisters could be seen on the Mexican side of the border after the migrants eventually turned back."
Images from the incident, shot by Reuters photographer Kim Kyung-Hoon and showing young children fleeing the tear gas in obvious distress, have elicited outrage across the country. The photos also appear to contradict Republican propaganda claiming the migrant caravan was full of criminals.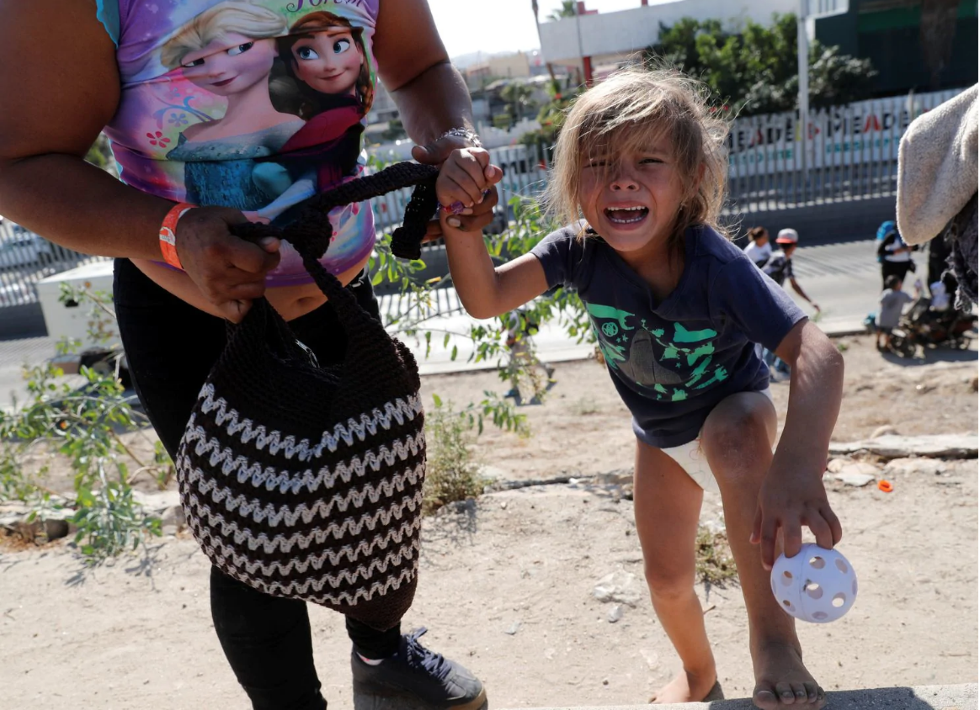 Kim Kyung-Hoon/Reuters
Senator Brian Schatz, D-Hawaii, condemned the extreme measures taken by border patrol, tweeting:

Gavin Newsom, the Democratic governor-elect from California, echoed this sentiment, saying:
On Monday, President Trump addressed the border closing by threatening to close the border permanently and calling for the deportation of the tear gassed migrants.
Despite this inflammatory claim, there are no legal provisions that would allow Trump to close the border in its entirety. Additionally, by law, asylum seekers must be allowed to present their case to a U.S. judge if they're able to cross the border. This means that the migrants who were tear-gassed on Sunday were not there illegally at all, and U.S. officials are required by law to consider their claim before deporting them back to Mexico. Yale Law School's Harold Hongju Koh, former legal adviser to the State Department, said that what Trump does not understand "is that everyone crossing our Southern border is not illegally present. Those with valid asylum claims have a legal right to assert those claims and remain."

But as the number of migrants waiting at the border grows and as Trump's anti-immigration policies and rhetoric cause longer and longer delays in the hearing of these cases, illegal immigration actually becomes more likely, not less. Wayne Cornelius, professor at the University of California, San Diego and expert on the border, told the New York Times, "The longer the caravaners stay in Tijuana, the more likely they are to succumb to the temptation to cross illegally into the U.S." So the Trump administration's anti-immigration stance is not only perpetuating a false impression that immigrants at the border are breaking the law, but also making the illegal immigration they're supposedly so opposed to more likely than ever.
Now, Trump is reportedly working with the Mexican government to add further peril and hardship to the journeys of these migrants. Trump tweeted on Saturday:
This provision, which the new Mexican government is reportedly agreeable to, would further violate asylum laws, which state that the United States must ensure that individuals waiting for asylum are safe not only from a hostile government, but from gangs and other threats. It would be nearly impossible for America to ensure asylum seekers this kind of protection while they're still in Mexico, and it would undoubtedly require a massive allocation of resources to do so. The American Civil Liberties Union immigration attorney Lee Gelernt told the Washington Post on Sunday night, "We believe it would be impossible for the U.S." to ensure asylum seekers safety while still in Mexico.
The truth of the matter is that these migrants are not the villains Trump has made them out to be, as they're merely seeking a better life for themselves and their families. Andrés Medina, 22, who left Honduras to escape gang recruitment and was a part of the group that rushed the crossing, said, "We've got to try one more time, we don't even have weapons." He added, "We just wanted to cross."
Brooke Ivey Johnson is a Brooklyn based writer, playwright, and human woman. To read more of her work visit her blog or follow her twitter @BrookeIJohnson.
Sessions submitted a letter of resignation "at the request" of the president earlier on Wednesday.
Administrative changes were expected following yesterday's midterm elections, but perhaps none with implications as big as the ousting of Attorney General Jeff Sessions. Sessions, who submitted a letter of resignation at the request of the president, has been the target of criticism from his boss for more than a year after recusing himself from special counsel Robert Mueller's investigation into Russian interference in the 2016 presidential election and possible collusion from the Trump campaign.
Sessions's chief of staff, Matthew Whitaker, will assume the role of acting attorney general until a permanent replacement is named. Whitaker will oversee the Mueller investigation, which has so far led to the convictions and guilty pleas of Trump allies including campaign chairman Paul Manafort and former personal lawyer, Michael Cohen. Though the former Alabama senator was one of the president's earliest and loudest supporters, he has been on the receiving end of Trump's consistent and public grievances.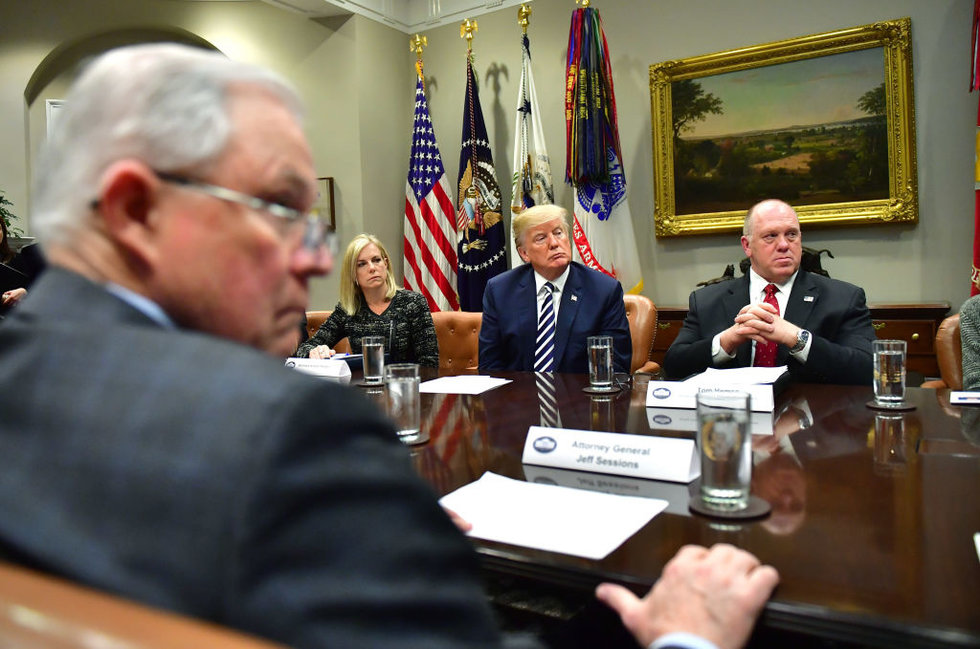 President Trump holds a law enforcement roundtable on sanctuary cities at the White House Getty Images North America
"Sessions should have never recused himself, and if he was going to recuse himself, he should have told me before he took the job and I would have picked somebody else," the president told the New York Times in a July interview.
The president has also lambasted Sessions for his management of the Justice Department, though Sessions has largely worked to make good on Trump's campaign promises by shifting legal focus away from protection of civil rights in favor of measures of "law and order" in the name of immigration reform and national security.
Reaction from Democratic leadership has been swift. Ranking House Judiciary member Jerry Nadler took to Twitter demanding answers about the timing of the announcement, and Minority Leader Chuck Schumer told reporters that any resulting interference with the special investigation would be considered a "constitutional crisis."
Whitaker, a former US attorney from Iowa who serves as director of the conservative ethics watchdog group Foundation for Accountability and Civic Trust, published an opinion piece for CNN in 2017, before he had joined the Justice Department, which was titled "Mueller's Investigation into Trump has Gone too Far."
Rebecca Linde is a writer and cultural critic in NYC. She tweets about pop culture and television @rklinde.