"A tree is best measured when it is down," the poet Carl Sandburg once observed, "and so it is with people." The recent death of Harry Belafonte at the age of 96 has prompted many assessments of what this pioneering singer-actor-activist accomplished in a long and fruitful life.
Belafonte's career as a ground-breaking entertainer brought him substantial wealth and fame; according to Playbill magazine, "By 1959, he was the highest paid Black entertainer in the industry, appearing in raucously successful engagements in Las Vegas, New York, and Los Angeles." He scored on Broadway, winning a 1954 Tony for Best Featured Actor in a Musical – John Murray Anderson's Almanac. Belafonte was the first Black person to win the prestigious award. A 1960 television special, "Tonight with Belafonte," brought him an Emmy for Outstanding Performance in a Variety or Musical Program or Series, making him the first Black person to win that award. He found equal success in the recording studio, bringing Calypso music to the masses via such hits as "Day-O (The Banana Boat Song)" and "Jamaica Farewell."
Harry Belafonte - Day-O (The Banana Boat Song) (Live)www.youtube.com
Belafonte's blockbuster stardom is all the more remarkable for happening in a world plagued by virulent systemic racism. Though he never stopped performing, by the early 1960s he'd shifted his energies to the nascent Civil Right movement. He was a friend and adviser to the Reverend Doctor Martin Luther King, Jr. and, as the New York Times stated, Belafonte "put up much of the seed money to help start the Student Nonviolent Coordinating Committee and was one of the principal fund-raisers for that organization and Dr. King's Southern Christian Leadership Conference."
The Southern Poverty Law Center notes that "he helped launch one of Mississippi's first voter registration drives and provided funding for the Freedom Riders. His activism extended beyond the U.S. as he fought against apartheid alongside Nelson Mandela and Miriam Makeba, campaigned for Mandela's release from prison, and advocated for famine relief in Africa." And in 1987, he received an appointment to UNICEF as a goodwill ambassador.
Over a career spanning more than seventy years, Belafonte brought joy to millions of people. He also did something that is, perhaps, even greater: he fostered the hope that a better world for all could be created. And, by his example, demonstrated how we might go about bringing that world into existence.
Together, Sanders and Warren promised radical hope—and wound up derailing the Democratic debate.
"Marooned on a desert island."
"Bonnie and Clyde."
"It's Bernie Sanders and Elizabeth Warren against the world."
These kinds of whimsical headlines, loaded with Americana folklore and reality TV surrealism, swirled across the Internet after the first installment of the second Democratic debates. They stemmed from the unlikely but oddly seamless union of Elizabeth Warren and Bernie Sanders, the second and third highest-polling and by far the most radically progressive candidates in the race to win the Democratic primary.
Standing in the dead center of the row of candidates, in between the youthful pillars of Buttegieg and Beto and far away from Marianne Williamson's mystic emanations and John Delaney's bitter combativeness, they seemed to cling to each other. By proxy, they seemed to cling to a similar collection of dreams, dreams that have been pulling a great deal of progressives towards the far reaches of socialism, or at least to the dissolution of income inequality.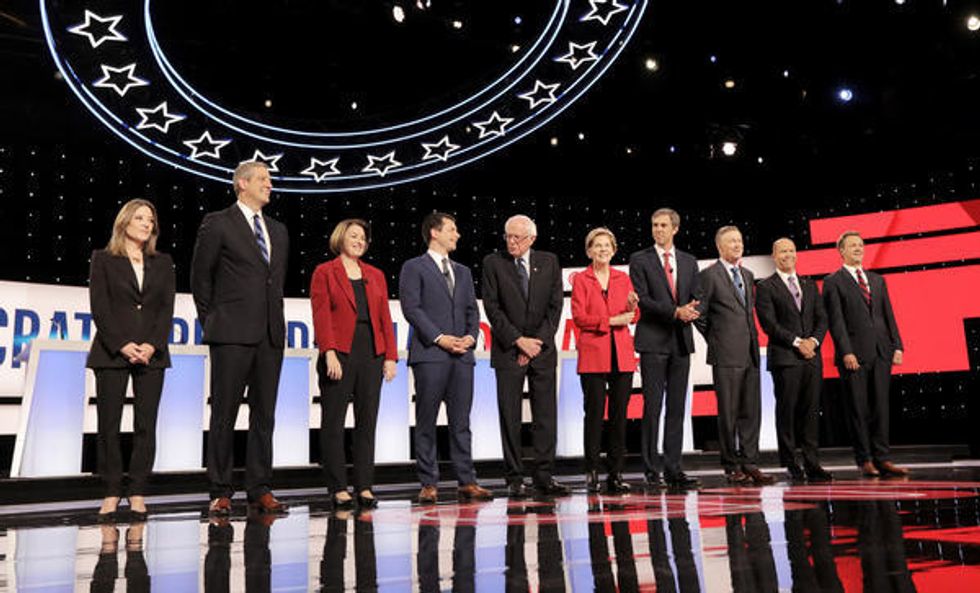 Image via WLRN
Watching Sanders vehemently defend the policies that he brought into the public eye—Medicare For All, free college, a refusal to accept superPAC donations—and watching Warren defend him (when she could get more than a few words in), the idea of a Sanders/Warren dream team entered the realm of plausibility.

Though either could lead, Sanders seems like the clear choice for the presidential candidate, with Warren as a strong VP. After all, the Warren/Sanders ethos thrives because it is buoyed by the idealism that Bernie popularized in 2016.
The fact that Sanders is a democratic socialist, while Warren is a self-proclaimed capitalist, is the primary reason why Bernie would be the most feasible leader of the duo. Sanders' campaign caught fire in 2016 because he spoke to a generation caught in the stranglehold of mind-blowing income inequality, a generation that faces the destabilizing knowledge that the world faces certain catastrophe if climate change is not addressed—and that capitalism has continuously favored the fossil fuel companies that prevent necessary environmental changes. Like most youth-led movements, Sanders supporters seek radical, totalizing change of the sort that's only be possible when the old systems are completely deconstructed.
On the whole, Sanders is more anti-establishment and seems more likely to reel in the followers of Trump's "drain the swamp" who could care less about actual policy, and she's more likely to inspire mass mobilization and excitement among those seeking radical change. As The Atlantic succinctly put it, "Sanders is fighting for a political revolution. Warren isn't."
Warren, for her part, maintains a link to solid ground with her vast collection of plans and policies—plans that, in theory, could be the perfect antidote to any accusation that Sanders' policies are implausible.
Still, last night, it seemed like Warren and Sanders were out in dreamland, reeling through a political Coney Island. This isn't necessarily a death knell, though. Together on a single ticket, their shared pull could be enough.
Torn apart, though, their campaigns might result in another 2016. Arguably, Bernie's campaign was a death knell for Hillary Clinton, as it provided the initial framework for Trump's demonization of her. In the same way, progressives are now putting up firewalls against the candidates they see as too middle-of-the-road, like Joe Biden.
In her opening statement, the ever-practical Warren reminded the audience that any candidate would be preferable to Donald Trump. While this is true, many progressives feel that the 2020 election presents an unmissable opportunity to completely change the direction of politics. In a nation that was prepared to elect someone as disruptive as Donald Trump, it seems feasible that we could handle a little more chaos, especially if it comes in tandem with the promise of a better world.
At the debate, with rampant arm-flailing and drawn-out storytelling, Warren and Sanders promised that better world. They stood for the dissolution of private health insurance companies and student debt in spite of endless criticisms from the other candidates. Against the totalizing extremity of their views, the other candidates who supported for-profit colleges and private insurance in any capacity seemed lost in the past—or lodged in reality, depending again on how willing you are to take the leap into their alternate state of mind.
But in last night's debate, the binary they created between themselves and the others didn't always work in their favor. Somehow, by the end of the night, both the Warren/Sanders island and the rest of the Democrats seemed to come out as losers.
This raises the question: Is extremism really the solution? For young progressives, it absolutely is. For this group, fighting against a rigged system that buoys the rich and throws the poor to the wolves, extreme action is the only thing that will work. Peace and love failed in the 1970s, and moderation is code for the status quo. For progressives, it's time to wake up from the dream presented at the start of the American capitalist experiment.
For other non-radical or socialism-phobic Democrats, the Sanders/Warren ticket is the stuff of nightmares, and the progressives are the ones lost in the dream. For those who merely want Trump gone and apparent order reinstated in the Oval Office, it seems that the division between the progressives and the middle-of-the-road Democrats is an unfortunate diversion.
Perhaps middle-of-the-road Democratic candidates could accrue more favor with would progressives if they could convince them (and the nation on the whole) that they actually stand for something (other than defeating Trump). In the technologically saturated mess of a modern era, one thing is certain: Policy is secondary to a candidate's ability to shape a vision of a better future.
For a long time, Sanders has been the best architect of that better future that the Democrats have. Though he and Warren presented an appealing team, seeing them cut down to size at the debate last night did nothing for the party and its motivation. Perhaps, had the debate been framed more as a discussion of specific policies rather than a black-and-white argument that pitted stagnancy against change, it wouldn't have been defined by such a strong feeling of premature defeat.
Could her Democratic Debate win unseat frontrunner Biden?
The second night of the 2020 Democratic primary debates gave American voters a glimpse into the policies, platforms, histories, and personalities of 10 more candidates, all vying to stand out in a crowded 25-person race to challenge Donald Trump in the next presidential election. Following up a spirited debate the night before, during which Elizabeth Warren ran much of the show, the second showdown featured the party's two frontrunners, Joe Biden and Bernie Sanders. Biden and Sanders, however, were not the brightest shining stars on the stage by the end of the night. For many Americans, Thursday's debate served as a formal introduction to many of the other candidates in the race, some of whom made quite a name for themselves.
The general consensus, at least according to liberal-leaning media outlets, is that California Senator Kamala Harris won the debate. Harris was exceptionally poised and confident throughout the entire night, answering questions directly and succinctly—a refreshing break from the single-note catchphrasing, discursive meandering, and sometimes chaotic squabbling of many of her opponents.
At one point of heightened bickering (of which there were several), while nearly every other candidate was trying to yell over one another, Harris addressed her colleagues and competitors, reminding them that "Americans don't want to witness a food fight, they want to know how we're going to put food on their tables." She then seamlessly shifted the discussion back to the matter at hand: jobs. Although quick-witted and clever, sure, I would posit that this was not merely a quippy soundbite. It demonstrates a seemingly natural proclivity for leadership, as well as an ability to behave with cool diplomacy in the face of contentious disarray—all of which are traits one might call "presidential."
That, however, was not even the most defining moment of the night for Harris. About halfway through the debate, she aired her grievances with Joe Biden's sordid political relationship with civil rights. Harris addressed Biden directly and with candor. Instead of trying to smear the former vice president, she simply informed him that she was personally hurt by recent comments he made regarding his positive working relationships with now-deceased segregationists in the Senate.
"It was hurtful," Harris said to Biden, "to hear you talk about the reputations of two United States senators who built their reputations and career on the segregation of race in this country. And it was not only that—you also worked with them to oppose busing."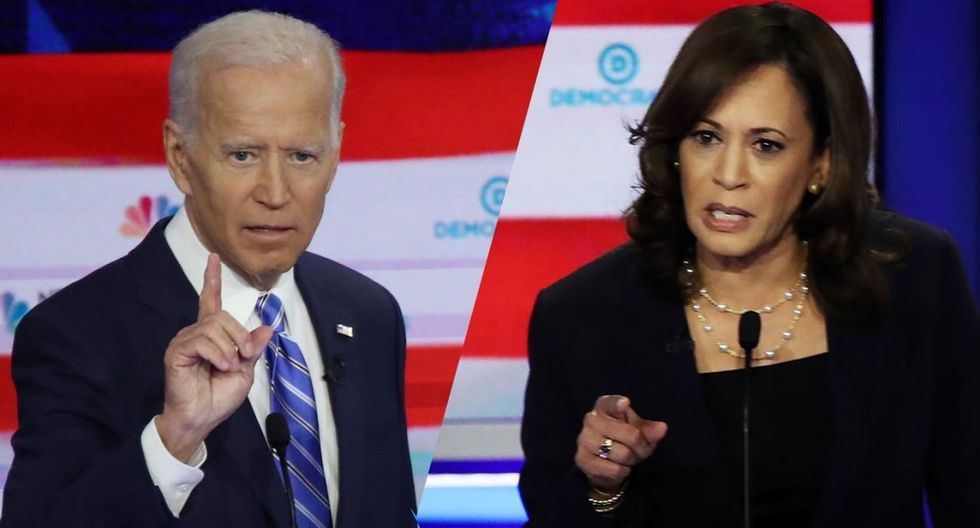 Yahoo News
She then went on to relay the story of a young girl in California being bused in order to integrate into public schools. "And that little girl was me," Harris concluded, "So I will tell you that on this subject, it cannot be an intellectual debate among Democrats. We have to take it seriously. We have to act swiftly,"

Even though he probably should have seen this coming, given the public outcry and a call from fellow Democratic primary hopeful, Senator Cory Booker, for an apology, Biden was clearly rattled by Harris' statements.
In short, he fumbled it. Instead of wielding an opportunity to mirror Harris' sincerity and take her concerns seriously, using the debate platform to finally make an apology, he doubled-down and condescendingly lectured (actually, his tone seemed, at least to this writer, to be teetering on the brink of scolding) Harris, stating that his stance on Civil Rights-era busing was about states' rights, not a tepid attitude towards racial equality.
"I did not praise racists," Biden retorted, "That is not true, number one. Number two, if we want to have this campaign litigated on who supports civil rights and whether I did or not, I'm happy to do that." The former vice president, however, still refuses to issue an apology.
In fact, upon hearing Cory Booker's initial call for an apology, he issued a statement outside of a fundraising event in Washington on June 19th, saying, "Apologize for what? Cory should apologize [...] He knows better. There's not a racist bone in my body. I've been involved in civil rights my whole career. Period."
Joe Biden, who has been the primary frontrunner for the Democratic primary nomination thus far, appears to be largely impenetrable in the face of criticism and scandal, despite being comparatively conservative among a pool of majority-progressive candidates. Only time will tell whether or not Harris has, indeed, finally found Biden's political Achilles Heel.
Either way, though, the first Democratic debate was all about Kamala Harris and the underdogs. In addition to Harris' impressive performance, Mayor Pete Buttigieg of South Bend, Indiana also stood out as intelligent, composed, and unflinching. And Andrew Yang, best known for his somewhat controversial platform of Universal Basic Income (giving every American citizen a monthly stipend of $1,000), also held his own—offering straightforward, no-nonsense, and logically sound answers, even if seldom few questions were directed at him.
A lot can happen between now and February 3rd when the first Democratic primary caucus is scheduled to take place in Iowa. And there will be plenty of chances for candidates to rise and fall in the meantime. If Thursday's debate is any indication of what's to come, however, it appears as if a paradigm shift may be on the horizon, with Senator Kamala Harris leading the charge.
Over the course of the evening, it became apparent the two frontrunners, Joe Biden and Bernie Sanders, aren't old dogs with new tricks.
Last night, the second round of Democratic debates came and went. Ten out of the twenty candidates who qualified for the debates were chosen at random to participate in the second half of NBC's nationally televised event. Of course, the goal for the Democratic Party is to take the Oval Office and hopefully the Senate.
Over the course of the evening, it became apparent the two frontrunners, Joe Biden and Bernie Sanders, are old dogs without any new tricks. Honestly, it'd be difficult to tell the difference between a clip of Senator Sanders debating in 2016 and 2019—maybe this time around, he's a little more tired. Joe Biden was alarming on the stage: He was ill-prepared, stumbled over his words, and leaned heavily on his smile. It's not that Biden had a terrible night' it's that he only had an okay night— which, for a frontrunner, is not a good sign. There were only three people anyone should be excited to hear from: Kamala Harris, Pete Buttigieg, and Marianne Williamson.
#LetYangSpeak
Between the two debates, candidate Andrew Yang spoke the least by a two-minute margin. During the three minutes he did speak, Yang introduced his Freedom Dividend policy. The Freedom Dividend Policy is a Universal Basic Income plan. All people over the age of eighteen would be eligible to obtain a basic income of a thousand dollars a month. Yang's policy is one of the few proposed that addresses an imminent threat: technology. If corporations like Amazon were heavily taxed, that'd free a lot more money for workers who are displaced due to automated jobs accomplished by AI.
If you look into Yang, he's a contender thanks to his reasonably successful grassroots campaign. Last night, Yang turned his campaign into the trending hashtag #LetYangSpeak. According to the candidate, his mic had been turned off multiple times throughout the evening. The only evidence available is footage of Yang attempting to get a word in but to no avail.
#LetYangSpeak Here's proof that @AndrewYang was attempting to speak, but his mic was cut off. Coincidences don't ex… https://t.co/cRhdujENfD

— AVWilhite20 (@AVWilhite20) 1561733609.0
In the video, he's speaking, loud enough for Joe Biden to hear him. Beyond that clip, there is no other evidence. If that were, in fact, true, then NBC would have a lot to answer for ah regarding their meddling in a primary debate.

Marianne Williamson, Be Still My Heart
Marianne Williamson sure made a name for herself last night. Her dramatic and chaotic delivery was a delight for many. Yet, she did not come to play games; she came to bring up points of contention and big ideas we need to tackle. According to her, "It's really nice if we've got all these plans, but if you think we're going to beat Donald Trump by just having all these plans, you've got another thing coming. He didn't win by saying he had a plan. He won by simply saying 'Make America Great Again.'" She's right, like she was right about a lot of things: Williamson thoughtfully addressed the need for reparations, slammed ageist rhetoric, and exclaimed of love over hate.
Although her delivery was off-kilter to many, Williamson should not be underestimated for her flowery language; she explained:
"I have had a career not making the political plans, but I have had a career harnessing the inspiration and the motivation and the excitement of people. Masses of people. When we know that when we say we are going to turn from a dirty economy to a clean economy, we're going to have a Green New Deal, we're going to create millions of jobs, we're going to do this within the next 12 years, because I'm not interested in just winning the next election, we are interested in our grandchildren. Then it will happen."
Many Americans never imagined Donald Trump would be our president, but here we are. Williamson's bold statements and captivating delivery about her hopes and dreams for this country have the potential to capture the American imagination. Sure, she may give off the spiritual energy of a wine mom who likes crystals, but why does that discredit her abilities? Remember, the hippies of our nation began revolutions.
Marianne Williamson: I Will 'Harness Love' To Defeat President Donald Trump | NBC Newswww.youtube.com
Yes, We Just Witnessed a Murder

Kamala Harris came prepared last night. Over all the ruckus, Harris reprimanded her fellow candidates with her rehearsed one-liner: "America does not want to witness a food fight; they want to know how we're going to put food on their table."
She continued to command the evening by confronting Joe Biden on his record. Harris challenged the former VP, asserting:
"I'm going to now direct this at Vice President Biden, I do not believe you are a racist, and I agree with you when you commit yourself to the importance of finding common ground. But I also believe, and it's personal— and I was actually very—it was hurtful to hear you talk about the reputations of two United States senators who built their reputations and career on the segregation of race in this country. And it was not only that, but you also worked with them to oppose busing.
"And, you know, there was a little girl in California who was part of the second class to integrate her public schools, and she was bused to school every day. And that little girl was me."
Kamala Harris Confronts Joe Biden On Race | TIMEwww.youtube.com
Biden, who was once a spirited debater, floundered in his response. He clarified that he supported busing, but on the state level. Harris clapped back, recounting how in her hometown of Berkeley, California, busing was not enforced. She utilized the anecdote to explain why The Civil Rights Act of 1964 and the Voting Rights Act of 1965 were crucial to this country, which is why we need to ratify the Equal Rights Amendment.

Biden was given thirty seconds to respond. He vouched for his record, reasserting that he always supported Civil Rights, before cutting himself off, saying, "— anyway, my time is up. I'm sorry." Biden caused the most damage to himself, as he failed to successfully defend himself.
Sometimes, You Just Can't Get it Done
Pete Buttigieg was another candidate with a breakout performance. The South Bend, Indiana Mayor may be young, but he's had skin in the game for seventeen years. Buttigieg is a veteran, a politician, a polyglot, and a gifted orator. He also made history last night as the first openly gay candidate to participate in a primary debate.
On the topic of immigration, he broke down the hypocrisy of the Christian-aligning Republican Party. Buttigieg did not hold back, proclaiming:
"The Republican Party likes to cloak itself in the language of religion. We should call hypocrisy, and for a party that associates with Christianity to say it is okay to suggest that God would smile on the division of families at the hands of federal agents, that God would condone putting children in cages has lost all claim to ever use religion language again."
The South Bend native also candidly addressed his failure to diversify his city's police force, noting, "I couldn't get it done." He went on to explain the pain his city is experiencing due to the devastating death of a local black man, Eric Logan. Logan was shot and killed by a white police officer. The officer did not have his body camera on at the time of the incident. Buttigieg unpacked how he could not take a position on the matter until the investigation is complete.
The mayor's transparency was received favorably and for a good reason. We need a president who doesn't spread fake news.
Stop Name Dropping
Joe Biden name-dropped Obama almost as frequently as he did Trump. Biden's attempts to piggy-back off the former President's accomplishments highlighted the reason Biden why was only able to make it into the Oval Office as a running mate instead of president: He is not our future. While Biden is a respected Washington staple, his vision for our country is dated and boring. It doesn't capture the America we live in today. After Harris' takedown, it's apparent that Biden cannot justify his unfavorable past.
Maybe California Senator Eric Swalwell was right when he told Biden to finally "pass the torch" to the next generation. Biden slyly smiled and said, "Not yet." However, if last night proved anything, it's that he should've let go of it a long time ago.
DIY: Do we need to teach kids cursive anymore or is it becoming a thing of the past?
It's been a long time since I was a grade school student (COUGH--late70searly80s--COUGH), but it boggles my mind how different classwork is today for our second-grade daughter. Techniques are so much better in terms of teaching kids' skills and strategies, instead of the rote "repetition and memorization" of my youth. I'm glad kids will never again know the tedium of pulling out a Big Chief tablet and taking dictation day-after-day-after-day. It's all in the name of competing in the global 21st-century economy, but there's one old school skill no longer taught (at least in my daughter's Brooklyn public school) that I have definite mixed feelings about. As she said to me the other day after I wrote something down for her, "Dad, I can't read this, it's in script." Or as we called it back at Kate Fratt Catholic, cursive.
So are the lovely flowing letters going the way of calligraphy? Not so fast. Break out your fountain pen and an ink cartridge, Longfellow… Sorry, ask your parents.
In a 2016 Washington Postarticle, Joe Heim writes that "cursive writing was suppose to be dead by now," but it's actually making a comeback in the age of the texting thumb. A number of states have added some form of cursive requirements, including Louisiana, which mandates all public schools, charters included, teach the sweeping script from 3rd-through-12th grade.
It's popping up all over the country. A Google search of "cursive writing" over the last year found a 4th-grade club in Kentucky, a Minnesota man literally named Loop hosting quarterly gatherings at craft beer bars, a New Hampshire museum exhibit highlighting the skill, and all manner of state legislatures arguing over whether it's a necessary part of childhood education.
The value of handwriting as a skill, separate from keyboarding, is clear. It's fundamental in learning to read and write, but the value of cursive as a form of penmanship on its own is murkier. A 1977 study said it's "possible" the continuous flow aids in higher reading and spelling scores, but forty years is a lifetime in classroom learning ago. A 2015 study hints at the same idea, but it wasn't specific to cursive outside of handwriting, so it's far from definitive. At best, the research is inconclusive and it seems cursive obsessiveness is driven by nostalgia.
The more time spent digging into the importance of cursive, the more it has a "get off my lawn" quality. Almost nobody uses it exclusively anymore, not even handwriting teachers as 55% use a print-cursive hybrid, according to a 2012 conference survey. Ask yourself, is there a time or place in modern society where cursive is even necessary? There is no scenario where cursive is required because print won't suffice. Even new Treasury Secretary Steve Mnuchin went with a printed signature on the dollar-dollar-bills. In theory, cursive might matter for electronic signatures, but in practice, a squiggly line is good enough. Then there's odd political supposition that kids "won't be able to read our Constitution," as if most Americans read their King James in Biblical Hebrew and Aramaic.
Yet, I hope my daughter learns to write "in script" and not just so we can communicate on paper. Experts say she can easily learn to read it without writing it, so my reason for wanting her to write cursive isn't pragmatic. It's aesthetic.
Perhaps cursive isn't necessary, but it is.
It's a wondrous style of writing created so the pen didn't have to leave the page (I suspect because those fountain pens were prone to major leakage), and there is something about the flow of cursive that tickles me. The swirls and twirls, curlicues and quirky "Qs," the weirdness of the lower-case letter similarities, individual styles and personal artistic flourishes, the indecipherable signature of my physician father and his brother, my priest uncle. Cursive provides an everyday beauty digital screens never can, and regular print rarely does.
Cursive has soul.
Hey, guess what, honey? The state of New York now wants 3rd-graders to learn cursive. Be still my ink-stained heart.
Capital punishment has long been a debated topic in the U.S. Do you know both sides?
Capital punishment is a major moral question in the United States. Is the government justified in killing someone, even if they committed a terrible crime? Rick Halperin, the director of the Embrey Human Rights program at Southern Methodist University, discusses this and other ethical questions surrounding capital punishment. Halperin has done extensive research on the death penalty and is a recognized international authority on the subject.

Editor's note: This conversation has been edited for clarity and length.
From an ethical and human rights standpoint, should the government have the death penalty?
Never. The government clearly has the power to kill people, but that's different than whether they have the right to kill people. The most fundamental human right that anybody in this world has is not the right to life, but the right to life with dignity. And the death penalty, in any country, used against any individual or group of individuals violates that most fundamental right — even if it were to be used on a person or a group of persons who are guilty of heinous and violent offenses. The death penalty is the most fundamental human rights violation of any country in the world, including our own.
From your perspective, would life imprisonment be a better alternative to capital punishment?
I would say that mandatory life imprisonment without parole, to me, is a major human rights issue and violation. The U.S. is the only country that has such a thing. So, there's no globally recognized sanction about the penalty of life in prison without parole. Our country is the only one that has it and uses it.
Society has a right to be protected from violent offenders. There's no question about that. I would like to believe that all people can be given an opportunity to get better than the worst moment of their life. But if they can't, if they are too ill, too psychopathic or they just don't want to get better, then I think society should keep those people behind bars for the protection of other innocent people.
Is there a human rights implication in the racial makeup of prisons? Statistically, there are more black Americans incarcerated than white Americans. The same trend continues with executions.
I think that that is incontrovertible. African Americans, who only comprise 13 percent of this country's population, are clearly incarcerated at much greater percentages than their numbers in society. No question about it. The criminal justice system is inherent in its racism. We are in a nation of 330 million people and have several million people incarcerated, most of whom are poor and/or people of color.
We're in 2017 and most Americans don't want to face the fact that on issues of criminal justice and social justice issues, we remain a brutally racist society. That's just a fact. It's not a pretty one to face about ourselves in 2017, but that is — collectively as a people on issues of criminal justice and beyond — in large part who we remain. We're not in anything like a post-racial society. We are disgustingly racist country. It's amazing. We shouldn't be, but we are.
Do you think it's cruel to have prisoners wait on Death Row before they are executed?
Absolutely. Death Row is physical and psychological terror and torture. The death penalty is not just an act in which a human being is put to death in the name of the law. That's not the death penalty.
The death penalty is a process and it begins the moment an individual (an agent of the state) announces their intention to seek death. That process is dragged out through incarceration, trial, conviction, post-conviction appeals, time spent on Death Row, and ultimately execution — if that is carried out. So, time and conditions on death row absolutely are physical and psychological terror and torture.
Since we are a society that does have capital punishment, in your view, is there a way to carry out the death penalty without causing too much suffering?
No. There's no such thing as a humane or painless way to kill somebody.
You know, we have five [legal] methods of killing people. We have more methods of killing people than any country in the world. They're all legal. We don't use them much anymore, but they're all still legal. We used to hang people and we still shoot people. We strap people in electric chairs and sent anywhere between two and five thousand volts of electricity through their bodies and hope that they don't catch on fire, but frequently they do. Or we use lethal gas and the condemned person will disappear in a cloud of poisonous gas. But invariably, they'll cough, they'll choke, they'll sever part of their tongue, their eyes will bulge out.
Or we try to make ourselves feel better as a society by just saying, well, we'll chemically poison them. We'll strap them on a gurney and just put them to sleep. But even that has been horrifically botched. There's been over 50 botched, gruesomely botched, lethal injections. Including many in the last three years in states like Ohio, where an inmate took over 25 minutes to be put to death. In Oklahoma, where it was over 50 minutes. In Arizona, where it was almost 2 hours. So, we want to pat ourselves on the back and say that lethal injection is clean, quick and painless but the reality is it isn't.
There just isn't any way to make killing somebody that is pain-free and mistake free. It can't be done.
One of the ways the government tries to make an execution an easier process is to have doctors on site. But that seems to contradict a doctor's promise to heal people. What do you think about that?
The doctors are not supposed to be on site. The American Medical Association and the American Nurses Association has prohibited doctors and nurses and medical personnel from participating in executions with the threat of losing their medical license if they are found out.
Because they are not supposed to participate in a process which, if botched, the doctor would have to give the go-ahead that this individual is not dead and that the execution process would have to resume or continue in order to kill the person. They are not supposed to be in the death chamber. I am not under any illusions that several of them are, but it's outrageous. They should lose their license. They should not be participating in a system of human extermination.
People on death row have been exonerated due to newly discovered DNA evidence. What is your reaction to that?
I think it's great, of course. I think even pro-death penalty people would realize that we don't want to execute innocent people. So if DNA can help free somebody who should never have been convicted or incarcerated in the first place, then clearly that is a great usage of DNA to get somebody away from the shadow of death.
Sadly, most people who are on death row and most death penalty cases do not contain DNA. And the law in the United States is that if their case doesn't have DNA, you might be factually innocent, but the law says you can be put to death. That's the law in this depraved country. You can be innocent, but if you don't have DNA to help you, it's just too damn bad for you.
It's not your family member. It's probably not ever going to be you or anybody you know. But it is somebody. And the fact that this country says, "Well, sorry. A jury of your peers got it wrong and that's just too bad." It's depraved. But DNA to free people from death row is a great usage of that technology to spare innocent people.
You obviously think we are on the wrong path with capital punishment. What would you change in the United States to shift opinion on to the right path?
I would say education is a fundamental aspect in changing the culture in this country. Nobody in this country, per se, really talks about the death penalty a whole lot. But I think having mandatory human rights education in this country, starting in kindergarten and going through university, would do a lot of good.
People could study human rights the way they study any other subject. We ought to be about to talk about human rights in this country the way we talk about politics or sports. But we don't. There's no culture of human rights in the United States and it's a real pity. It's a great moral failing of younger and future generations. So, if we educated people about human rights and human dignity, we would have a better understanding as to how awful and how violent the death penalty is of people's basic human rights to a life with dignity.
Do you think capital punishment will end in the United States anytime soon?
However anybody feels about the death penalty, whether they're for it or against it or whether they don't even think about it, the process of ending the death penalty in the United States is already underway. We're not talking about if the death penalty is going to be ended. We're talking about when is it going to end. It's just a matter of when and how many more people are going to be put to death before it ends.
Many people in this country have come to learn about the death penalty, including pro-death penalty people, people who used to be fanatic supporters of the death penalty, have come to understand the shortcomings and the inherent flaws of the death penalty to change their opinions about it. The fact that 10 years ago, over 320 people were sentenced to death in this country and last year, only 30. Death sentencing is way down. Executions are way down. Removals from death row because of innocence are up. People's knowledge of the death penalty is better.
Are we still going to kill people in the immediate future? Sadly, yes. We killed 20 people last year in 2016. We have a bunch of people that are going to be killed this year. So, it's closer. I don't know when it's going to end, but sooner or later, this country is going to be death penalty free.