Dall-E Mini, the AI-powered text-to-image generator has taken over the internet. With its ability to render nearly anything your meme-loving heart desires, anyone can make their dreams come true.
DALL-E 2, a portmanteau of Salvador Dali, the surrealist and Wall-E, the Pixar robot, was created by OpenAI and is not widely available; it creates far cleaner imagery and was recently used to launch Cosmpolitan's first AI-generated cover. The art world has been one of the first industries to truly embrace AI.
The open-sourced miniature version is what's responsible for the memes. Programmer Boris Dayma wants to make AI more accessible; he built the Dall-E Mini program as part of a competition held by Google and an AI community called Hugging Face.
And with great technology, comes great memes. Typing a short phrase into Dall-E Mini will manifest 9 different amalgamations, theoretically shaping into reality the strange images you've conjured. Its popularity leads to too much traffic, often resulting in an error that can be fixed by refreshing the page or trying again later.
If you want to be a part of the creation of AI-powered engines, it all starts with code. CodeAcademy explains that Dall-E Mini is a seq2seq model, "typically used in natural language processing (NLP) for things like translation and conversational modeling." CodeAcademy's Text Generation course will teach you how to utilize seq2seq, but they also offer opportunities to learn 14+ coding languages at your own pace.
You can choose the Machine Learning Specialist career path if you want to become a Data Scientist who develops these types of programs, but you can also choose courses by language, subject (what is cybersecurity?) or even skill - build a website with HTML, CSS, and more.
CodeAcademy offers many classes for free as well as a free trial; it's an invaluable resource for giving people of all experience levels the fundamentals they need to build the world they want to see.
As for Dall-E Mini, while some have opted to create beauty, most have opted for memes. Here are some of the internet's favorites:
There's no looking back now, not once you've seen Pugachu; artificial intelligence is here to stay.
The risk of blood clots is so low it should actually make us feel safer.
Existing fears over the safety of the vaccines — which have been rumored to contain Bill Gates microchips, zombifying prions, or some sort of slow-acting execution serum — have sadly been bolstered and amplified. And many have been reacting as though this is a nail in the coffin for America's third-tier vaccine — which already suffered from unflattering comparisons to the higher efficacy rates of Pfizer and Moderna's two-dose options.
But that's not really the case. And closer examination of the issue reveals how much caution officials are exercising and how incredibly safe and effective all the vaccines actually are.
Dr. Anthony Fauci addresses J&J vaccine pause — 'This is a very rare event' www.youtube.com
While it's true that Johnson & Johnson's vaccine has shown a significantly lower efficacy in fully preventing COVID infections — 66-72%, compared to Pfizer and Moderna's 93-95% — all three vaccines share another, much more important figure: 100%. In studies, that's how effective they all were in preventing hospitalizations and deaths from COVID.

And while even a mild case of COVID can be spread to others, the chances are substantially reduced. The overall stats for Johnson & Johnson's vaccine would be considered phenomenal for an annual flu vaccine — let alone for a disease that was unheard of two years ago.
It's honestly incredible how quickly researchers around the world were able to collaborate in developing any vaccine at all, let alone run multiple versions through rigorous safety protocols. But they did; and as a result, cases of serious complications like this are incredibly rare.
Johnson & Johnson's vaccine alone would be considered miraculous if not for the existence of slightly better options. But — seeing as there are better options — is a Johnson & Johnson shot really worth the risk?
That depends on the person. But for most people, the correct response is, "What risk?" Of the 6.8 million Americans who have received the Johnson & Johnson vaccine, only six cases of these frightening blood clots have been recorded — all in women under the age of 50.
While these cases are all frightening — particularly the death of one Virginia woman — they represent less than 1 in a million vaccine recipients. While recent recipients are recommended to look out for symptoms, including severe headaches and shortness of breath, there's not even a clear indication of a causal relationship. In other words, it could all be a sad coincidence in which six women just happened to get some nasty blood clots within two weeks of receiving their shots.
Considering that positively identified COVID-19 cases have had a 1.8% mortality rate in the US — and around 1 in 600 Americans have already died as a result — that "possibly-1-in-a-million chance of developing blood clots that could kill you or not" seems like a pretty reasonable risk. The fact that it's a story at all just points to the overall safety of these treatments.
In this context, it's no wonder Europe is still planning to start administering Johnson & Johnson vaccinations, with officials from the EU's European Medicines Agency stating that "the benefits of the vaccine in preventing COVID-19 outweigh the risks of side effects." The only reason for a brief pause is to operate with an abundance of caution and for officials to adjust their recommendations for who should receive which vaccine.
Rather than recommending that everyone rush to get whatever option is most accessible, they may recommend that pre-menopausal women receive the Pfizer or Moderna shots. Or it could be far more specific — possibly related to an interaction with one or multiple types of contraceptive pill, which are already known to increase the risk of blood clots.
All-in-all, the frightening news about a vaccine possibly killing a woman is not nearly as frightening as the prospect that this incredibly rare case will feed into so-called "vaccine hesitancy". With around 20% of Americans in a recent survey still saying that they do not want to be vaccinated, and an additional 17% operating on a "wait and see" basis, we already face a monumental task in pushing for the all-important 70-90% herd immunity.
Herd Immunity and Coronavirus: Can It Be Achieved? www.youtube.com
Once we reach that ballpark, it will finally — finally — be possible to return to normal activities without the valid fear of contracting and spreading a wildly contagious and deadly virus. But that's going to take the work not only of manufacturing, distributing, and administering the vaccines, but of convincing those still on the fence of how important it is for everyone that they get immunized.

Sensationalizing a story about a small handful of scary cases and one death — compared to the hundreds of thousands of deaths the Johnson & Johnson vaccine is likely to prevent — is not going to help us get there. Instead, we should all take this opportunity to recognize what this story truly reveals: how careful health officials are being, and how remarkably safe the vaccines actually are.
Keep reading...
Show less
The K-Pop stars are using their platform to contribute to a broader conversation on the discrimination that breeds hate crimes.
K-Pop sensation BTS have added their voices to the concern around a recent spike in anti-Asian hate crimes in the US and elsewhere.
On Tuesday the band — who, along with their management company, donated $1 million to Black Lives Matter last summer — took to Twitter with the hashtags #StopAsianHate and #StopAAPIHate, sharing a message of unity and anti-discrimination, expressing "grief and anger" over violence and lives lost, and recounting some of their own experiences of anti-Asian racism.
The message refers to times when the group behind hit songs like "Dynamite" and "Black Swan" had "endured expletives without reason," "were mocked for the way [they] look," and "were even asked why Asians spoke in English." They expressed the harm that these experiences had done on a personal level — making them feel powerless — but acknowledged that they were "inconsequential compared to the events that have occurred over the past few weeks."
But of course, the past few weeks have only brought to light a trend that has been building since the beginning of the coronavirus pandemic. Since that time, the fact that the virus originated in China has given bigots an excuse to target individuals as representatives of entire racial groups, and the incidents of hate crimes against Asian-Americans and Pacific Islanders have more than doubled in major American cities.

In an atmosphere reminiscent of the World War II era — when tens of thousands of Japanese Americans were treated as potential spies and forced into inhumane internment camps — American politicians have encouraged conspiratorial and xenophobic framing of the current crisis. Former president Donald Trump has been particularly guilty of this scapegoating, regularly referring to COVID-19 as "the China virus," and — on at least one occasion — as "Kung flu," openly and proudly conflating the deadly pandemic with unrelated aspects of Chinese culture.
In their effort to deflect their constituents' anger and resentment over economic and social conditions brought on by their mismanagement of the pandemic, they have highlighted false associations of the virus with people of Asian and Pacific Islander descent — despite the fact that far more white people have caught and spread the virus at this point. And they have lent credence to unfounded theories that the Chinese government created or intentionally spread the disease.
As a result, thousands have reported being directly affected by incidents of anti-Asian harassment and assault — with many likely going unreported -- and millions more have been living with the fear that they will be targeted next.
While this worrying trend had received some coverage previously — with particular attention to incidents of violence against the elderly — it didn't become major national news until March 16th of this year. That afternoon, a 21-year-old gunman in Atlanta targeted massage parlors staffed primarily by Asian employees, killing eight people — including six Asian women — at three spas, in a deadly spree which he reportedly blamed on "sexual addiction."
Yong Ae Yue Suncha Kim Soon Chung Park Hyun Jung Grant (maiden name Kim) Daoyou Feng Xiaojie Tan Delaina Ashley Yau… https://t.co/c8CpXaxMvT

— Eugene Lee Yang (@Eugene Lee Yang) 1616179564.0
Despite Georgia officials' reluctance to label the murders as a hate crime — with one police spokesperson being removed from the case after telling press that the shooter had "had a really bad day" — it clearly folds into the ongoing trend and has stoked pushback and protests against anti-Asian hate. But it also points to the fact that the current trend is part of an existing history of racism and hate.

The shooter's sense that Asian women working in massage parlors are necessarily sex workers and that this was more of a "temptation" that he wanted to eliminate than, for instance, the strip club across from one of the spas he attacked, tie into longstanding issues of race, immigration, and fetishization.
Whether or not he invested in the xenophobic framing that all Asian people are somehow to blame for the spread of the coronavirus, he was playing into a notion of Asian women as sex workers that dates back to the 1800s and the first federal immigration law.
Responding to "Yellow Peril" panic, the Page Act of 1875 imposed special restrictions on women trying to immigrate from East Asia, with the belief — as expressed by President Ulysses S. Grant — that "few [Asian women] are brought to our shores to pursue honorable or useful occupations." In case that wasn't clear enough, the law required Asian women intending to immigrate to answer a series of questions about sex work and undergo a medical examination to determine their "character."
Today, despite the fact that there is no evidence any of the women who were killed were sex workers, much of the media has carried on this history — covering the shooter's supposed motives with a credulous narrative of a sex addict killing sex workers. Clearly a broader conversation about anti-Asian racism is necessary.
We Need To Talk About Anti-Asian Hate www.youtube.com
So, while it's true that BTS members have not experienced the most dramatic, violent consequences of that racism, it's vitally important that they're using their popularity and their platform — with around 34 million followers on Twitter — to keep the conversation going and call out all forms of discrimination.

Because as long as our culture makes room for depictions of Asian people as disease vectors, fetish objects, hyper-foreign curiosities, or model minorities to be used as a cudgel against other marginalized groups — as anything less than complex individuals trying to live their lives — there will be room for anti-Asian racism, hate, and violence.
Keep reading...
Show less
Mackenzie Scott's charitable giving has exposed how stingy and selfish Jeff Bezos has been in a time of tremendous need.
Back in June, a representative for Amazon CEO Jeff Bezos reached out to nonprofit Feeding America to determine whether they could effectively channel his philanthropy.
A network of hundreds of food banks, the organization was providing crucial aid to the tens of millions of Americans who were then out of work. And they apparently impressed Bezos enough that he cut them a check for $100 million.
The fact that this sum constituted around 0.07% of Bezos' wealth at the time — the equivalent of an average American family giving about $65 to charity — didn't seem to figure in most of the headlines praising the donation. He was widely lauded for his generosity.
But by the time Thanksgiving rolled around, millions of Americans had experienced food insecurity for the first time in their lives, and Jeff Bezos had added around $70 billion to his 2019 wealth. So it's kind of like he did a tiny fraction of what was needed while profiting immensely off the crisis that was causing these problems in the first place… Hmm.
But just in case the issue wasn't already obvious, Bezos' ex-wife, novelist Mackenzie Scott, just stepped up to show him what philanthropy is supposed to look like. On Tuesday night Scott announced that she had donated more than $4.1 billion to nearly 400 charities in recent months, focusing on areas and issues closely connected to the COVID pandemic.
MacKenzie Scott says gave more than $4 billion to charity amid pandemic www.youtube.com
Compared to her remaining wealth of around $55 billion, it's a relatively paltry sum. But compared to the charity Jeff Bezos has provided to those dealing with the worst financial impact of the pandemic, it seems shockingly adequate.

In a blog post entitled "384 Ways to Help" Scott discussed her data-driven philanthropy, and wrote, "This pandemic has been a wrecking ball in the lives of Americans already struggling ... Meanwhile, it has substantially increased the wealth of billionaires." None more so than her ex-husband.
This is hardly the first time Scott has publicly humiliated her ex. She set a precedent for doing just that when they got divorced and she absorbed nearly $40 billion in Amazon shares in the largest divorce settlement in history.
She continued that tradition back in July when she signed the Giving Pledge, promising to give at least half of her wealth to charity in her lifetime. Initiated by Warren Buffett and Bill and Melinda Gates, the Giving Pledge is a campaign to encourage the super-wealthy to put some portion of their vast hoards to good use. Jeff Bezos has yet to sign on…
That same month, she announced that she had already given away around $1.7 billion to 116 charities. But Scott's latest announcement truly highlights what a stingy, greedy man Jeff Bezos has been.
While Americans have been facing an unprecedented rent crisis — with tens of millions living under the threat of eviction, and at least $70 billion in unpaid household rent — Jeff Bezos was making that amount of money for himself alone. And unlike Scott, he has held onto the vast majority.
That's not to say that he's kept every dollar he's made. Back in February, Bezos pledged $10 billion to a fund to fight climate change, with around $800 million in grants given out so far.
But the incredibly wasteful business model of direct-to-consumer hyper-convenience that has allowed him to amass so much money is incompatible with a serious approach to climate change. And Bezos' pledge came around a month after it was revealed that Amazon had threatened to fire employees who were pushing for more environmentally sustainable business practices.
Prior to that scandal, Jeff Bezos was recognized as one of the least charitable of the world's real-life dragons — sitting smugly on his hoard of gold and saying things like, "The only way that I can see to deploy this much financial resource is by converting my Amazon winnings into space travel."
But just in case there was any doubt what kind of man Jeff Bezos really is, Mackenzie Scott has now exposed him more effectively than Saudi phone hackers (or his girlfriend's brother) ever could. In one dramatic move, she gave away more than six times as much as he has in 2020, despite having less than one third his wealth.
Scott has given away nearly $6 billion so far in 2020. That's around 10% of her wealth, meaning that Jeff Bezos would need to give away more than $17 billion in the next two weeks just to match her generosity.
In reality, of course, neither of them are doing enough. They should both give away enough money to no longer be billionaires, because the concept of a billionaire is a disgusting insult in any world where homelessness and hunger are still rampant.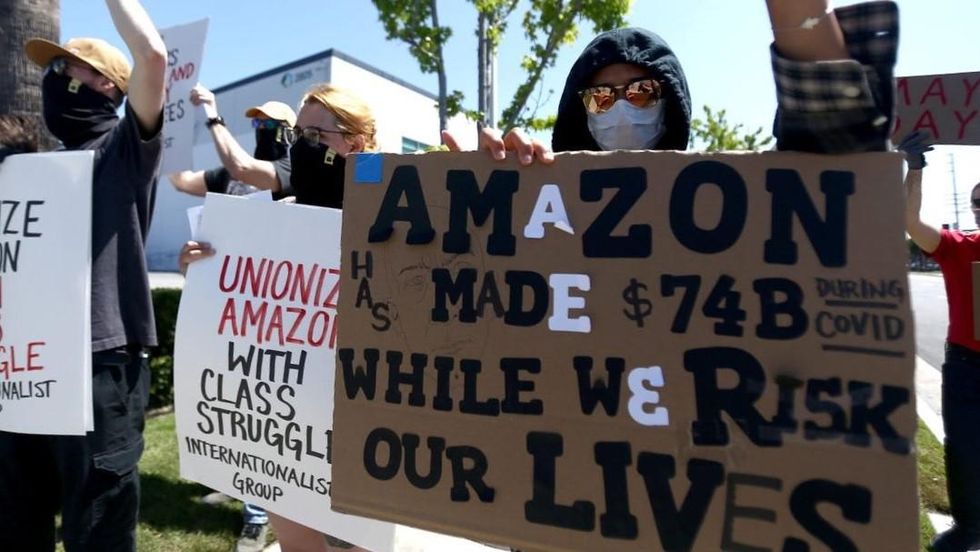 Amazon Workers striking in May
But what's even worse is that Jeff Bezos has amassed unheard-of riches by perfecting the very system of consumer capitalism that is ravaging the planet. What's even worse is that Amazon thrives while local businesses collapse around the country and wealth becomes consolidated in the hands of a few corporations. What's worse is the systematic way they squash efforts to unionize among their exploited workers.

What's even worse is a system of pro-billionaire propaganda, funded by corporate tax cuts, propagating the idea that the government's only role is to protect the interests of the wealthy. What's even worse than Jeff Bezos's failure to donate his wealth is a prevailing political discourse that treats the simultaneous growth of billionaires and homelessness as "meritocracy."
But, since Jeff Bezos is apparently incapable of feeling the shame that these practices should evoke in him, public humiliation is a nice consolation prize. So if Mackenzie Scott wants to continue absolving herself of wealth in gestures that undermine Amazon's pathetic PR bandaids, more power to her.
Keep reading...
Show less
And how do we apply the principle of "the temporary" not only to science but to our daily lives?
On a daily basis, we hear that we should "follow the science" with regard to COVID-19. What does that mean in the context of COVID, exactly? Moreover, based on humanity's lived experience of "following the science" what does that mean in general?
By definition, "science" consists of establishing and testing falsifiable hypotheses. Once tested, a hypothesis becomes established as fact until some new element of the testing environment finds it wanting in some respect.
As a result, scientists - or, more likely, a lonely iconoclastic scientist - test a new hypothesis that refines, or even explodes, the previous hypothesis resulting in a new hypothesis. That new hypothesis becomes the latest established fact and subsequent generations marvel at their benighted ancestors who accepted the previous hypothesis.
In other words, "following the science" means accepting the temporary positions of constantly evolving human knowledge. Such knowledge has been historically disproven when more refined measurement, better information, or a genius insight comes along. Given the shortening interval required to double the total sum of human knowledge, these positions become ever more temporary.
In terms of the development of geocentric astronomy, consider the millennium that passed from the ancients to Ptolemy. A mere 500 years passed before Copernicus revolutionized the field with heliocentrism. Only 200 years elapsed before Newton elucidated the laws of motion and gravitation.
True, it was the same 200-year interval that lapsed before Einstein's quantum leap to his theory of relativity. But less than 30 years later Fr. Lemaitre posited the Big Bang theory. Since then our knowledge of physics has evolved at such a dizzying pace that every few years there are groundbreaking discoveries that change our conception (or at least scientists' conceptions) of the universe.
Here's the point: when we "follow the science" we are correct for increasingly short intervals of time. This is because we are continually learning that fundamental elements of our understanding are wrong, or woefully incomplete.
Systems we use to describe the world have gaping holes that render a system such as geo-centrism obsolete with the introduction of heliocentrism. It was inevitable that heliocentrism would be usurped by the concept of an infinite ever-expanding universe - revealing our previous understanding to be at a preschool level compared to a doctoral program.
Following the science has long been the refuge of totalitarians. How did White Supremacists in the antebellum South justify their critical race theory? With science - carefully reasoned studies and tracts that they claimed to demonstrate the genetic inferiority of Blacks.
How did the Nazi party justify its version of critical race theory? With science - carefully controlled experiments on supposed genetic deficient populations carried out by the likes of Mengele.
How did the 20th-century Marxists justify wiping out millions in the Ukraine, the Cultural Revolution, or the Killing Fields - just to name a few? With science - as they touted the revealed truth of Social Science that requires the inevitability of class struggle.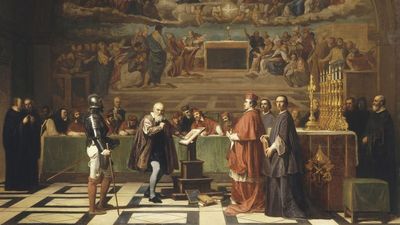 Even the Catholic Church - a supposed "enemy of science" - actually suppressed Galileo in the name of science. The real charge against him was not disagreement with his theories, but that he presented the theories as fact in the face of established science at the time.

Pick your bugaboo authoritarian regime at random and you'll find that each and every one bases its authority on "science".
So, let's bring this back to COVID.
The very same authorities have told us to "follow the science" all along. Not surprisingly, that science is constantly changing. COVID seemed nothing more than a nuisance until it turned into an existential threat to humanity that required shutting down our economy.
That shutdown was supposed to be two weeks so that we could flatten the curve. But then it turned into the oxymoron of eradicating an unstoppable, communicable virus.
Wearing masks was unnecessary until it turned out to be necessary. The virus wasn't transmitted person-to-person until we realized it was transmitted person-to-person.
The Swedish approach to minimizing economic lockdown was a grossly negligent mistake that put lives at risk. But then we realized that lockdowns themselves caused more human harm and suffering than the actual virus. This goes on and on, with breathless anxiety-inducing instructions as to what we should do as responsible citizens.
If we give this a charitable reading, we can assume people are acting in good faith who realize that their "science" changes rapidly as human knowledge of COVID expands. If true, then we should take their revealed science with a healthy dose of salt and wait for it to change in short order.
If we give it a less than charitable reading, then we can assume that this is an agenda propagated by authoritarians seeking power. In an election year during which so much power is at stake, this notion isn't at all far-fetched.
As for me, I go back to simple scientific discussions about diet. During my lifetime I've seen amusing swings in scientific opinion in this regard.
Are eggs good or bad for you? Sometimes eggs have been viewed as a death sentence by cholesterol consumption - guaranteed to give you a heart attack. At other times, eggs have been touted as an essential part of your diet that promotes brain health.
Is red meat good or bad for you? Sometimes red meat lurks as a killer. At other times red meat leads the way to weight loss and energy.
As it happens, I like both eggs and red meat. Indeed, I find myself to be more energetic, happier, and more productive when I include both in my diet. Others may disagree based on a different lived experience. Fine by me, but I suspect a scientist won't convince either one of us one way or the other. After all, we have our actual experience.
So, when people tell you to "follow the science" my recommendation would be to study this rapidly changing and evolving body of knowledge and get to understand what science actually means.
Further, I'd suggest that you question the agenda of anyone who presents "science" as a settled matter that only supports their own conclusions.
Finally, I'd suggest that the practicality of your own lived experience counts for much more than esoteric theory. After all, whether explained by Ptolemy, Copernicus, Newton, or Einstein, we find our feet firmly on the ground.
Margaret Caliente is a professional athlete turned internet entrepreneur and Manhattan-based journalist.
Want to READ MORE?
How To Interpret COVID-19 Statistics
Japanese internment camps pale in comparison to not being able breath your germs on a crowd of strangers in a bar.
On Wednesday, speaking at a Washington D.C. event celebrating Constitution Day, Attorney General and Donald Trump's lapdog William Barr noted that slavery—but only slavery—was worse than the pandemic lockdown.
Alongside accusations that the Black Lives Matter movement improperly uses Black people slain by the police as "props" for achieving "a much broader political agenda," Barr shared his thoughts on what he apparently thinks of as a much more serious injustice: "You know, putting a national lockdown, stay-at-home orders, is like house arrest. Other than slavery, which was a different kind of restraint, this is the greatest intrusion on civil liberties in American history,"
Leaving aside the familiar galactic scale of the understatement in the phrase "a different kind of restraint," it's worth noting that (thanks to his boss) there never were any national stay-at-home orders—though that approach could have saved tens of thousands of lives, trillions of dollars, and months of this confusing stasis.
More importantly, we can now take a stroll through history and look at all the horrible things America has done that apparently pale in comparison to telling people not to spread a deadly virus. As it turns out, when you signed up for HelloFresh this spring—because meal kits weren't already convenient enough without the looming threat of death—you weren't just avoiding the modern horror of the grocery store, you were giving into crushing tyranny.
Attorney General William Barr brings up slavery when referring to quarantining during the pandemic www.youtube.com
How bad is it? Well, you've probably heard about the Jim Crow era of American history—when Black Americans were legally refused service, housing, and employment, and deprived of access to adequate education, and even their voting rights. According to Bill Barr, this is worse—at least back then some people were allowed to eat in restaurants.

And you know how, during World War II, tens of thousands of Japanese Americans were taken from their homes and held in awful conditions in internment camps on the basis that they might be spies? Well at least they weren't asked to wear masks on the basis that they might be asymptomatic carriers of a highly contagious pathogen that has already killed nearly 200,000 Americans.
Oh, and about the systematic theft of land and resources from Native Americans, coupled with the destruction of their cultures and languages, deliberate exposure to deadly infections, forced sterilization, and just plain mass murder: It's true that the United States used violent, overwhelming force and numerous insidious measures to erase their heritage and move them onto smaller and smaller "reservations" of undesirable land. On the other hand, you try getting a "reservation" these days—in some places you can only get takeout.
As awful as it is to make light of these historic tragedies, it's important to call out the fact that the head of the Justice Department is speaking so flippantly about both American history and the vital ongoing efforts to prevent further deaths.
This is exactly the kind of inflammatory rhetoric that encourages people to storm government buildings armed with assault rifles. It's the logic that says we "have to get back to normal life" when that's just not possible.
Look at Sturgis, South Dakota where, each year, the Sturgis Motorcycle Rally brings hundreds of thousands of visitors, and hundreds of millions of dollars. Surely the state has no choice but to "get back to normal" by welcoming that kind of important economic stimulus for the region... except that it became a super-spreader event, rippling out from South Dakota to cause new COVID outbreaks around the country, creating a public health crisis that estimates say will end up costing over $12 billion.
Unless we're planning to let a million more Americans die off—in their homes, because it would take to much to hospitalize them—we have no choice but to treat this pandemic as the emergency it is, and to "intrude" on people's civil liberties.
Barr's comments, at an event hosted by conservative Hillsdale College, came specifically in response to a question about the freedom of religion in the context of the lockdown—the idea being that it may not be constitutional to disallow church services. Obviously if specific denominations or religious practices were being targeted for discriminatory restrictions, that would be a serious concern.
But that's not happening. In states where they aren't being given special leniency to risk their parishioners lives, churches are subject to the same restriction on public gatherings as any other organization. And while people should be free to worship as they choose, their choices must fall within a certain realm of reason and decency—no one has the freedom to perform human sacrifices. Well, maybe one person does...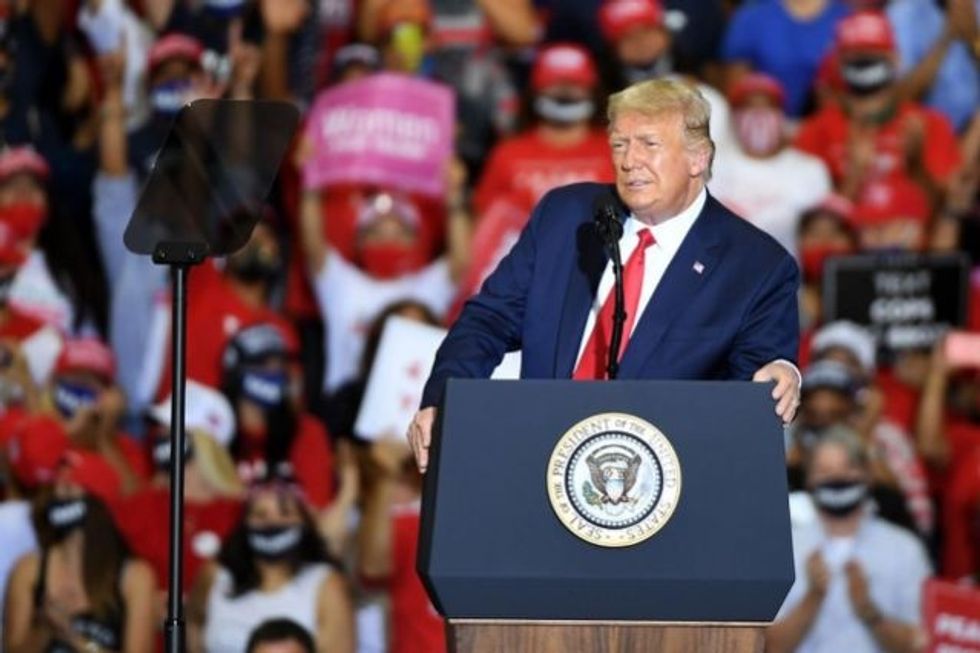 On Sunday Donald Trump—the man whom Bill Barr's justice department is inexplicably defending in a defamation suit involving rape accusations—defied city orders by holding a rally in Henderson, Nevada. His first indoor rally since the June event in Tulsa that likely led to the death of Herman Cain, this rally has been characterized as "negligent homicide," almost certainly spreading the novel coronavirus, in addition to spreading the kind of insanity that treats mail-in voting as a threat to democracy, and masks as a threat to liberty.

And thanks to the nature of the Trump administration, the Attorney General's job is no longer to impartially enforce the law, it's to cosign the president's favorite conspiracies, encourage violent hysteria, and compare bare minimum public health efforts to the worst crimes in American History.