"A tree is best measured when it is down," the poet Carl Sandburg once observed, "and so it is with people." The recent death of Harry Belafonte at the age of 96 has prompted many assessments of what this pioneering singer-actor-activist accomplished in a long and fruitful life.
Belafonte's career as a ground-breaking entertainer brought him substantial wealth and fame; according to Playbill magazine, "By 1959, he was the highest paid Black entertainer in the industry, appearing in raucously successful engagements in Las Vegas, New York, and Los Angeles." He scored on Broadway, winning a 1954 Tony for Best Featured Actor in a Musical – John Murray Anderson's Almanac. Belafonte was the first Black person to win the prestigious award. A 1960 television special, "Tonight with Belafonte," brought him an Emmy for Outstanding Performance in a Variety or Musical Program or Series, making him the first Black person to win that award. He found equal success in the recording studio, bringing Calypso music to the masses via such hits as "Day-O (The Banana Boat Song)" and "Jamaica Farewell."
Harry Belafonte - Day-O (The Banana Boat Song) (Live)www.youtube.com
Belafonte's blockbuster stardom is all the more remarkable for happening in a world plagued by virulent systemic racism. Though he never stopped performing, by the early 1960s he'd shifted his energies to the nascent Civil Right movement. He was a friend and adviser to the Reverend Doctor Martin Luther King, Jr. and, as the New York Times stated, Belafonte "put up much of the seed money to help start the Student Nonviolent Coordinating Committee and was one of the principal fund-raisers for that organization and Dr. King's Southern Christian Leadership Conference."
The Southern Poverty Law Center notes that "he helped launch one of Mississippi's first voter registration drives and provided funding for the Freedom Riders. His activism extended beyond the U.S. as he fought against apartheid alongside Nelson Mandela and Miriam Makeba, campaigned for Mandela's release from prison, and advocated for famine relief in Africa." And in 1987, he received an appointment to UNICEF as a goodwill ambassador.
Over a career spanning more than seventy years, Belafonte brought joy to millions of people. He also did something that is, perhaps, even greater: he fostered the hope that a better world for all could be created. And, by his example, demonstrated how we might go about bringing that world into existence.
Queen Mother's Crown on top of the coffin/ Peter Macdiarmid/Shutterstock
Queen Elizabeth II's death brought immense sadness to Britain. The United Kingdom has gone into mourning. Throngs of people are queueing outside Westminster Hall to bid farewell to the longest reigning Monarch in English history.
As the Queen's reign ends and her son King Charles III ascends the throne, countries within the commonwealth are left wondering what it will mean for them. Jamaica might become a republic, Australia seems to be mulling their options, and India has a Twitter riotous debate about getting the Kohinoor back.
For many, it's merely a diamond that rests on top of the crown — the most expensive diamond in the world, at between $140 - $400 Million. But for Indians, it's much-much more— history, tradition, and memories of pre-colonial India as well as the pain of colonial India.
Kohinoor or Kho-i-Noor — which means 'Mountain of Light' — is a 105.6-carat diamond that was found in southern India in the 14th century. This is where I'm from, so it hits close to home. This gem was claimed by the British during colonial times. Currently, there are 4 countries — India, Pakistan, Afghanistan, and Iran — trying to claim it back.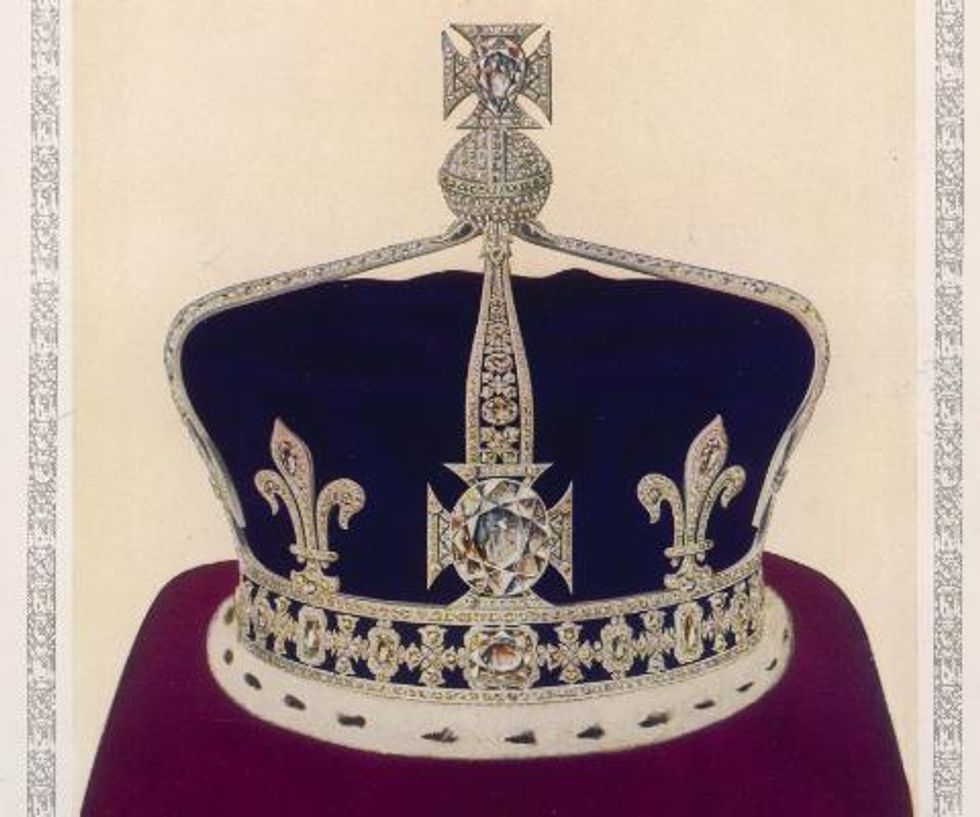 Historia/Shutterstock
The Crown Made For Queen Elizabeth the Queen Mother On the Coronation of King George Vi/Historia/Shutterstock
Along with sapphires and other precious stones, the Kohinoor is only one of the 2,800 diamonds in the Monarch partner's crown which was fashioned in 1937. This was while India was still under British rule. But since their freedom in 1947, there have been animated discussions about who the Kohinoor rightfully belongs to.
Many British museums are packed with artifacts looted from other cultures. In July 2010, then Prime Minister of the UK David Cameron said, "If you say yes to one, you suddenly find the British Museum would be empty."
So, here's the question. Should the Kohinoor stay in with the crown or returned to India?
During the 14th century, it was uncovered in the Indian Golconda mines and passed through many hands. Sashi Tharoor mentioned in his book An Era of Darkness, "The diamond was formally handed over to Queen Victoria by the child Sikh heir Maharaja Duleep Singh, who simply had no choice in the matter. As I have pointed out in the Indian political debate on the issue, if you hold a gun to my head, I might 'gift' you my wallet. But that doesn't mean I don't want it back when your gun has been put away."
Does that make it rightfully India's property?
Numerous Indians share this position, especially since Camilla, the Queen Consort will now wear this iconic diamond. So, of course, #Kohinoor went viral on Twitter with a flood of humor-driven memes. However, there's a serious petition underway seeking a minimum of a million signatures. The petition's aim is to spotlight the topic of restitution and where the diamond will rightfully sit.
Recently, the Horniman Museum in London announced that it would return 72 artifacts — including 12 brass plaques known as Benin Bronzes which were swiped in 1897 — to the Nigerian government.
Is this the first step?
The crown may look glittering and glorious to some. To many Indians the appropriation of the Kohinoor as part of the Crown Jewels connotes imperialism and the tragedies that occurred during 89 years of British oppression.
Danielle Kinsey — Assistant professor of history at Carleton University — said, "There are many, many other artifacts in Britain that continue to function as imperial trophies. And when people from around the world have to shell out the money and go through all of the visa and travel issues to go to Britain to engage with pieces of their own cultures and their own pasts, this continues the trauma of empire for them."
The perspective of the colonized is only now coming to world view. Throughout history they were sidelined but now that society is more progressive, there's an apprehension of the wrongs that have occurred. Surely, if a nation admits to a wrong, then steps ought to be taken to right it.

India before the British was one of the richest countries in the world — when they left it was one of the poorest. The Kohinoor is a symbolic reference to the deprivation caused by colonial rule. Its valuation wouldn't even cover 1% of the trillions pilfered from India during the colonial period. But it would send a message to Indians of respect and an equal friendship.
"Flaunting the Kohinoor on the Queen Mother's crown in the Tower of London is a powerful reminder of the injustice perpetrated by the former imperial power. Until it is returned — at least as a symbolic gesture of expiation — it will remain evidence of the loot, plunder, and misappropriation that colonialism was really all about," added Sashi Tharoor.
Jokes and petitions are only the beginning. Isn't it time for the British to stop amplifying their imperialism and return precious artifacts they've stolen from the world?
Personally, I'd love to see the Kohinoor return to India. It could be the start of Britain accepting their responsibility of past injustices and moving into a future of reconciliation.
Climate change activism has a whiteness problem and a class problem.
Climate change is inextricably linked to other systems of oppression, like neoliberal capitalism and colonization. But mainstream environmental movements have historically failed to recognize the roots of the climate crisis; and partly because of this, climate change activism has a whiteness problem and a class problem.

The movement's hypocrisy has grown harder to ignore as the climate crisis has intensified. Environmental racism has left poorer communities on the frontlines of unclean air and dangerous pipelines, while largely shutting their voices out of the decision and policy-making aspects of change.
The problem is rooted in the way environmental activism has traditionally been defined. Early environmental efforts (at least the ones that received the most funding) often focused on preservation and conservation of untouched land. These efforts existed in silos, painting the Earth as a childlike entity—as if the planet was separate and somehow lower than humans. This Earth was treated like an entity that required saving, and the saving was to be done by corporate firms and guilty consumers.
Even during these early times, many groups were actively fighting systemic oppression in conjunction with environmental activism, from Latino farmworkers protesting pesticides to Black students in Harlem fighting to oppose city garbage dumps in their communities. Still, over the next several decades, the mainstream environmental movement failed to realize that the climate crisis was not merely a matter of spoiled rivers and suffering polar bears. The climate crisis was seen as something separate from human life and separate from other social issues. Large "big green" corporations focused on promoting small changes that people could make on individual scales, as if "going green" could save us. We could all take shorter showers, take the bus instead of driving, purchase expensive organic products, and shut up—nevermind that the super wealthy have always used up far more resources and energy than their fair share.
A Crisis of Understanding
"Our economic system and our planetary system are now at war," writes Naomi Klein in This Changes Everything: Capitalism Vs. the Climate. "Or, more accurately, our economy is at war with many forms of life on earth, including human life. What the climate needs to avoid collapse is a contraction in humanity's use of resources; what our economic model demands to avoid collapse is unfettered expansion. Only one of these sets of rules can be changed, and it's not the laws of nature."
The climate movement will absolutely fail if it does not recognize the importance of its relationships with other social movements. The climate movement must stand in solidarity with organizations fighting for racial and class equity, for an end to the prison industrial complex and for reparations. It must stand in solidarity with people of color and particularly with Indigenous people, who have always been leading in the fight, and all climate movements must defer to leaders who are living on the front lines of the crisis.
If the climate movement continues to prioritize "an end to the climate crisis" over an end to capitalism, if the movement continues to languish in apocalyptic fears rather than paying attention to how climate actually affects people's lives, if the movement remains disconnected from actual life and the way that the climate crisis is already here for so many people around the globe, it will fail.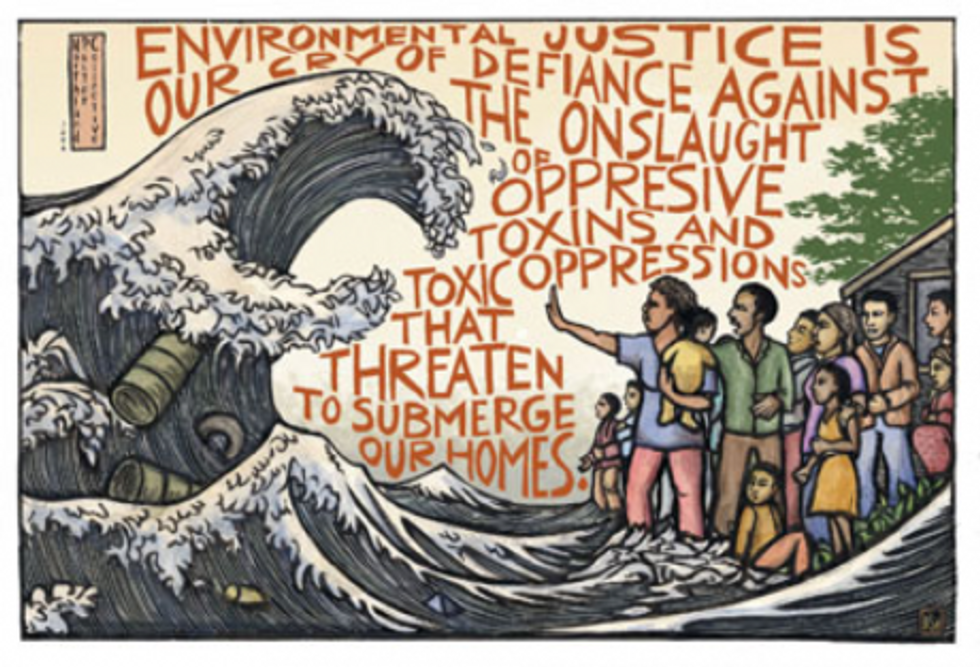 socialism.ca
Just as we humans cannot survive if we view ourselves as separate from the earth, we can't view the climate crisis as unrelated to other issues of inequality and systemic violence. We need to understand that, just as everything in nature relies on everything else—rivers flow into oceans, tree roots create an underlying network of communication that stretches through an entire forest—the movement to stop climate change is the movement to end relentless capitalism, which is also the movement to actually address the monetary inequalities that still exist because of America's legacy of colonization, slavery, and other violences.

The Future of Environmental Justice
Activist groups are waking up to this, at least theoretically. Groups like the youth organization Sunrise Movement have rallied around Alexandria Ocasio-Cortez's Green New Deal, a movement that aims to combine a massive reduction in carbon emissions with reforms that will make safe housing, affordable food, and health care available to everyone.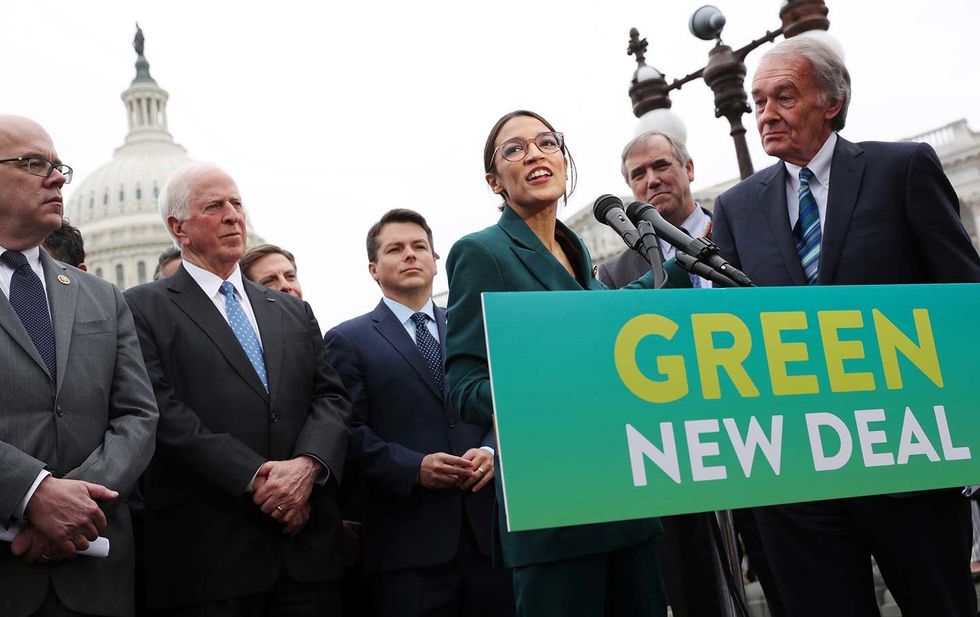 thenation
In some ways, Sunrise still suffers from the problems that have always plagued environmental groups: a pervasive level of whiteness and classism. But the movement has been discussing how to change this, initiating a hub restructure program and encouraging the development of smaller, more local groups that will facilitate local outreach. The next step is to put the voices of people who are already fighting for justice into power, people like the Indigenous climate activists who have been protecting the earth for centuries, often at great personal risk.

These are complex tasks that require deep thought and challenging conversations, but they are of the utmost importance. The environmental movement will fail unless it embraces its interconnectedness with all things–Embracing interconnectedness will only ever make us all stronger.
Climate change will inevitably result in tremendous change. If we somehow succeed in pulling the world back from the brink of climate disaster but fail to address other systems of oppression—if we merely keep the world as it is, favoring only the super-rich, allowing suffering on a massive scale despite the fact that we have the resources to address it—would the movement be a victory for anyone except those who were already winning?
The super-rich are hoping inequality is here to stay, even after the apocalypse.
With the Atlantic hurricane season already underway, tens of millions of people are preparing grab bags and emergency kits and hoping that the next storm isn't the one that will take away their lives, their homes, or their resources. Yet, in spite of researchers' warnings suggesting that global climate change is increasing the likelihood that the next big storm, or the one after that, will wreak unavoidable devastation on those same millions, a much smaller group have no such anxieties. These people are not members of a doomsday cult, climate change 'skeptic' Super-PAC, or owners of exceptionally-developed spleens. They are a part of a far more elite class of mammals –– the super-rich –– and, as the storms rage ever harder on the rest of us, they've prepared emergency kits that have far more than a flashlight and a radio in them.
In 1888, the British industrialist and fervent imperialist Cecil Rhodes gained a charter for exclusive mineral rights in lands that are now part of the nation of Zimbabwe. What set this particular acquisition apart from the earlier expansions of British control, however, was the fact that Southern Rhodesia (named, in customarily humble fashion, after its 'founder') was not a colony founded under the usual auspices of the desire of British expansionism, but as a result of the singular desire of a wealthy man to exert his control over territories that he believed were his to rule. The explicitly apartheid state of Rhodesia –– which would rule the nation from 1965 to 1979 without international recognition –– was the symbolic successor to this ideology, and its legacy of colonial plunder haunts Zimbabwe (once the great breadbasket of Africa) to this day. Eccentric Victorian industrialists' dreams of vainglorious expansion may seem like a far-flung relic; something to be exiled to a colonial past, rather than alive in our interconnected present.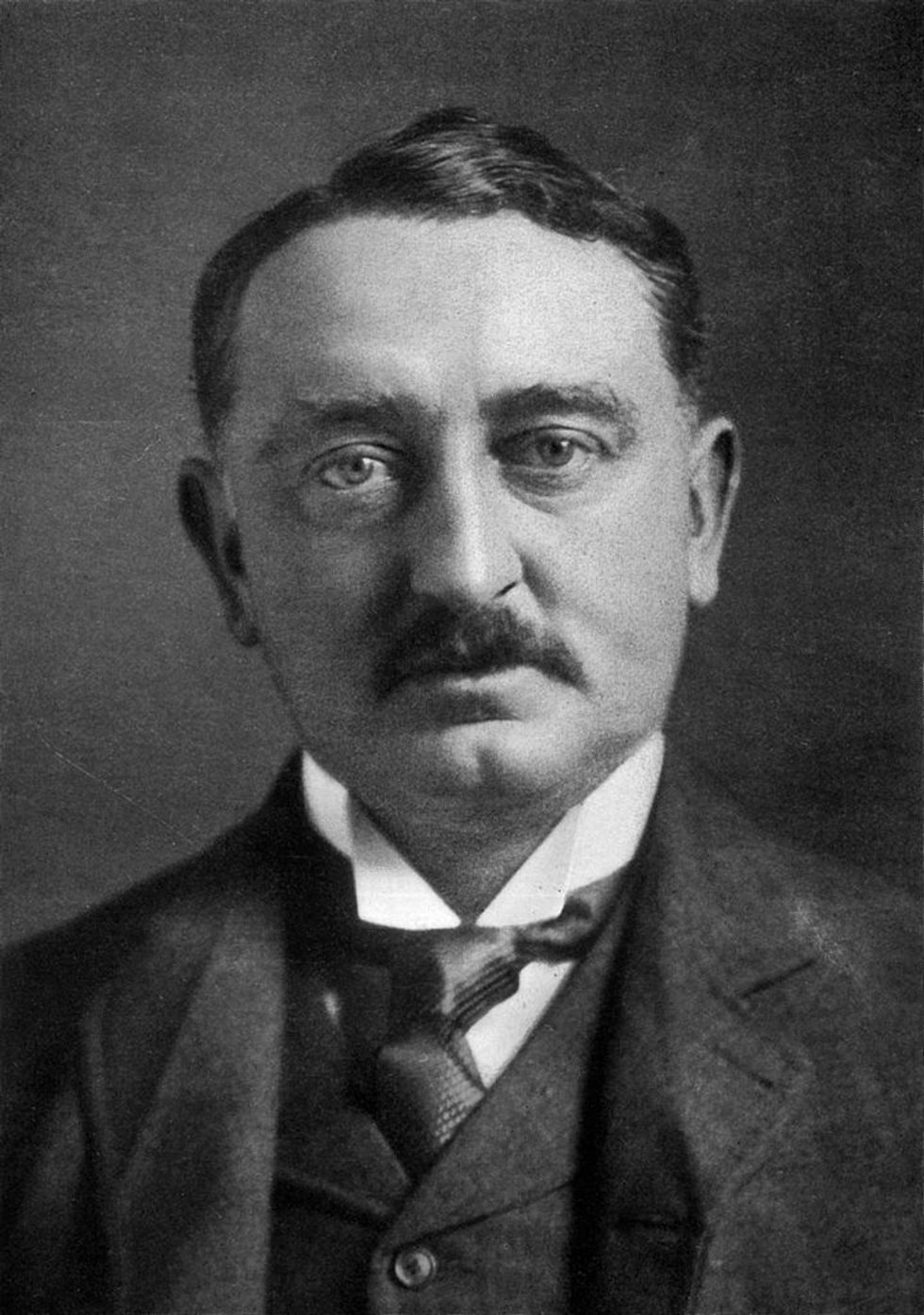 Photo: Wikimedia Commons
Yet, a world where sea levels are rising and storms are strengthening has given impetus to a new generation of businessmen dedicated to the prospect of forging a different future for their own ends. Unlike Rhodes, the unimaginably wealthy of our time are not motivated by the pride and riches of a national empire, but by the base desire to survive in an apocalyptic future where others of lesser means cannot.
The Seasteading Institute, established in 2008 by prominent techno-libertarians such as venture capitalist and Facebook investor Peter Thiel, seeks to develop:
"...a model wherein a single company comprising several stakeholders will oversee construction and management of a highly autonomous floating city, leaving residents and entrepreneurs free to operate their own lives and businesses."
While this may sound like the vanity project of a few multi-millionaires, the institute is far from a folly. In 2017 they gained the rights to develop their first 'autonomous community' off the coast of French Polynesia –– a settlement that is explicitly designed to be immune to the rising sea-levels that are an existential threat to the Pacific island nation; which is also, in a sort of tragic irony, a relic of French imperial power. That the endeavor seems to be simply interested in offering a tax-free refuge for the rich rather than mitigating the threat of global climate change to its prospective hosts is indicative of a world where the future of a tiny percentage of the population possesses the means to forge a future for themselves that is widely divergent from that of the rest of the planet –– a sort of survivalist colonialism that derives its power from capital, rather than nation states.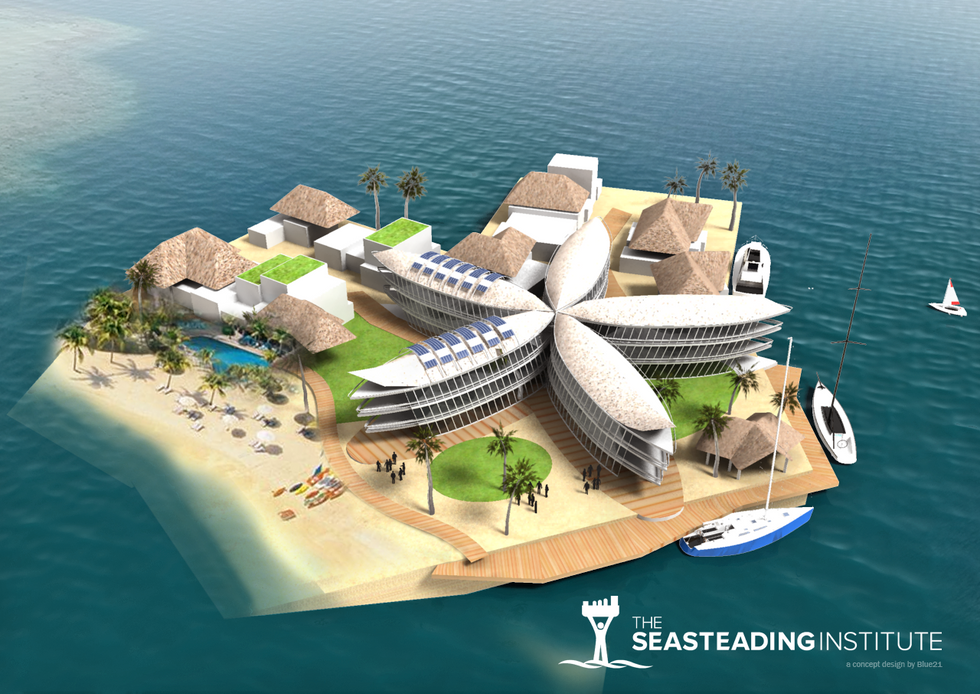 Concept design for the 'Floating Island Project'Photo: The Seasteading Institute
The sea-steader mindset is not, like their imperialist forebearers, constricted by the bonds of the globe, or confined to the lands of the so called 'Global South' –– its ambitions stretch as far as outer space, while also touching the homey plains of Kansas. Inspired by writers like Ayn Rand and Murray Rothbard (who famously rejected the women's rights and civil rights movements as "contemptuous and hostile"), these new self-styled 'anarcho-capitalists' seem willing to forge a future which protects their property and status at any cost, including the lives of their fellow human beings. Elon Musk, Twitter's favorite tech-billionaire, appears dedicated to using his fortune (which currently stands at 20 billion dollars) on a Martian colonization project which is unlikely to be in the price range of most regular apocalypse-fleeing humans. While Musk's space-faring future continues to be the preserve of engineering-defying ambition, his reaction to real-world climate catastrophes has been ambivalent at best. When Hurricane Maria destroyed Puerto Rico's power grid, Musk's press-friendly offer to rebuild with Tesla technology turned out to be a veiled attempt at privatization –– a brazen con by a man bound for life on Mars, seeking to profit off of those left drowning behind. On a smaller scale, the increasing number of tech entrepreneurs hoarding ammunition and building shelters in disused Kansas missile silos represents a similar desire for the wealthy to ensure that the vast wealth inequality already present in America continues after the end of days.
That is not to say that the rest of us in the 'developed' world are immune from blame. While the extravagant fantasies of a few individuals makes for intriguing (and often darkly hilarious) copy, the nature of global wealth disparity has led to a reality in which the measures taken by even the most middle-class citizens to survive in a warming world are actively contributing to its demise.
Experts warn
that, as temperatures rise, the increasing use of air conditioning by Americans seeking shelter from record-setting heat waves could contribute to a surge in air pollution and carbon dioxide emissions. It is becoming increasingly clear that the threat posed to communities by climate change, from Floridian retirees to
Mongolian subsistence farmers
, is the result of an unsustainable and unequal distribution of resource-use that implicates
all
of us. It should not come as a surprise, therefore, that, just as Cecil Rhodes once lashed out on his own at the limits of a waning colonial power, the elite of our time are now blazing a destructive trail of survival in the wake of a system on the verge of collapse.