"A tree is best measured when it is down," the poet Carl Sandburg once observed, "and so it is with people." The recent death of Harry Belafonte at the age of 96 has prompted many assessments of what this pioneering singer-actor-activist accomplished in a long and fruitful life.
Belafonte's career as a ground-breaking entertainer brought him substantial wealth and fame; according to Playbill magazine, "By 1959, he was the highest paid Black entertainer in the industry, appearing in raucously successful engagements in Las Vegas, New York, and Los Angeles." He scored on Broadway, winning a 1954 Tony for Best Featured Actor in a Musical – John Murray Anderson's Almanac. Belafonte was the first Black person to win the prestigious award. A 1960 television special, "Tonight with Belafonte," brought him an Emmy for Outstanding Performance in a Variety or Musical Program or Series, making him the first Black person to win that award. He found equal success in the recording studio, bringing Calypso music to the masses via such hits as "Day-O (The Banana Boat Song)" and "Jamaica Farewell."
Harry Belafonte - Day-O (The Banana Boat Song) (Live)www.youtube.com
Belafonte's blockbuster stardom is all the more remarkable for happening in a world plagued by virulent systemic racism. Though he never stopped performing, by the early 1960s he'd shifted his energies to the nascent Civil Right movement. He was a friend and adviser to the Reverend Doctor Martin Luther King, Jr. and, as the New York Times stated, Belafonte "put up much of the seed money to help start the Student Nonviolent Coordinating Committee and was one of the principal fund-raisers for that organization and Dr. King's Southern Christian Leadership Conference."
The Southern Poverty Law Center notes that "he helped launch one of Mississippi's first voter registration drives and provided funding for the Freedom Riders. His activism extended beyond the U.S. as he fought against apartheid alongside Nelson Mandela and Miriam Makeba, campaigned for Mandela's release from prison, and advocated for famine relief in Africa." And in 1987, he received an appointment to UNICEF as a goodwill ambassador.
Over a career spanning more than seventy years, Belafonte brought joy to millions of people. He also did something that is, perhaps, even greater: he fostered the hope that a better world for all could be created. And, by his example, demonstrated how we might go about bringing that world into existence.
Once the sparkling holiday decorations have been put up, many of us reflect on the past year. We mull over all that we have and what we might have done differently — and everything comes into perspective.
During the holiday season, we often realize that this is the best time to give back to our communities and help improve the world. There are small and large ways to give back. Some people go local, while others aim to make a more significant difference. Here's the chance for charities to truly achieve their missions. If you're looking for a philanthropic organization whose purpose is to save lives and empower people to develop resilience and greater control over their lives, then look no further than GOAL.
GOALis an agile first-responder to humanitarian crises and works with some of the most vulnerable communities across the world to help them recover and get them on the road to recovery.
For the last 45 years, they've been working tirelessly to support those who are in need and battling poverty. GOAL responded to crises such as the genocide in Rwanda, the tsunami in Southeast Asia, and the Haiti earthquake. They worked to provide safe water and food rations in Syria; they established treatment centers in Sierra Leone and Liberia during Ebola, and today GOAL is responding to the needs of IDPs (internally displaced people) fleeing Ukraine.
GOAL's commitment and courage stem from the notion that each and every person deserves equal rights and a life of dignity and opportunities. As they envision a world without poverty where every community is safe and healthy, we wonder what more we can do.
So, the big question is, how can you help GOAL this holiday season? Take part in the GOAL Mile, an inspiring event that sees people run or walk a mile at community events all across Ireland. Or you can take part virtually, from anywhere in the world — just walk or run a mile around your house, garden, or local area. For the last 4 decades, the GOAL Mile is a highly popular Christmas tradition for families. What a tremendous way to get the community involved while raising funds for a cause that matters.
Signing up and getting started is super easy. The GOAL Mile takes place on the 25th and 26th of December. Simply pick your location — and it can be any location — beach, forest trail, or running pitches. Depending on the number of participants in your GOAL Mile, you may need a team of organizers to stand at the start, cheer at the finish line, and along the course to hand out refreshments or collect donations.
GOAL sets up a fundraising page for you and sends you collection buckets. Additionally, they'll promote your GOAL Mile through their advertising campaign and, of course, social media.
Participants can also register online for their mile on the GOAL Mile website: https://www.goalmile.org/
GOAL Global and the GOAL Mile have helped so many communities all over the globe. Join a local outside event, participate virtually, or start your very own GOAL Mile.
The GOAL Mile is the perfect way to brighten your holidays, make someone's Christmas, and help make a difference in the world.
Queen Mother's Crown on top of the coffin/ Peter Macdiarmid/Shutterstock
Queen Elizabeth II's death brought immense sadness to Britain. The United Kingdom has gone into mourning. Throngs of people are queueing outside Westminster Hall to bid farewell to the longest reigning Monarch in English history.
As the Queen's reign ends and her son King Charles III ascends the throne, countries within the commonwealth are left wondering what it will mean for them. Jamaica might become a republic, Australia seems to be mulling their options, and India has a Twitter riotous debate about getting the Kohinoor back.
For many, it's merely a diamond that rests on top of the crown — the most expensive diamond in the world, at between $140 - $400 Million. But for Indians, it's much-much more— history, tradition, and memories of pre-colonial India as well as the pain of colonial India.
Kohinoor or Kho-i-Noor — which means 'Mountain of Light' — is a 105.6-carat diamond that was found in southern India in the 14th century. This is where I'm from, so it hits close to home. This gem was claimed by the British during colonial times. Currently, there are 4 countries — India, Pakistan, Afghanistan, and Iran — trying to claim it back.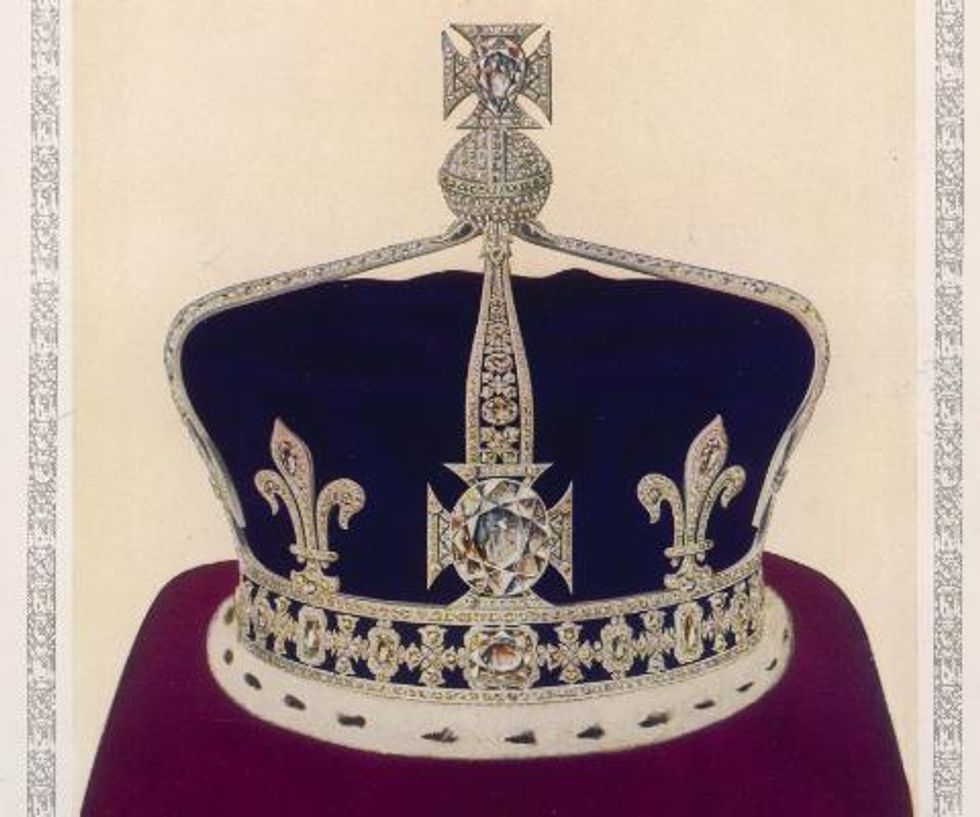 Historia/Shutterstock
The Crown Made For Queen Elizabeth the Queen Mother On the Coronation of King George Vi/Historia/Shutterstock
Along with sapphires and other precious stones, the Kohinoor is only one of the 2,800 diamonds in the Monarch partner's crown which was fashioned in 1937. This was while India was still under British rule. But since their freedom in 1947, there have been animated discussions about who the Kohinoor rightfully belongs to.
Many British museums are packed with artifacts looted from other cultures. In July 2010, then Prime Minister of the UK David Cameron said, "If you say yes to one, you suddenly find the British Museum would be empty."
So, here's the question. Should the Kohinoor stay in with the crown or returned to India?
During the 14th century, it was uncovered in the Indian Golconda mines and passed through many hands. Sashi Tharoor mentioned in his book An Era of Darkness, "The diamond was formally handed over to Queen Victoria by the child Sikh heir Maharaja Duleep Singh, who simply had no choice in the matter. As I have pointed out in the Indian political debate on the issue, if you hold a gun to my head, I might 'gift' you my wallet. But that doesn't mean I don't want it back when your gun has been put away."
Does that make it rightfully India's property?
Numerous Indians share this position, especially since Camilla, the Queen Consort will now wear this iconic diamond. So, of course, #Kohinoor went viral on Twitter with a flood of humor-driven memes. However, there's a serious petition underway seeking a minimum of a million signatures. The petition's aim is to spotlight the topic of restitution and where the diamond will rightfully sit.
Recently, the Horniman Museum in London announced that it would return 72 artifacts — including 12 brass plaques known as Benin Bronzes which were swiped in 1897 — to the Nigerian government.
Is this the first step?
The crown may look glittering and glorious to some. To many Indians the appropriation of the Kohinoor as part of the Crown Jewels connotes imperialism and the tragedies that occurred during 89 years of British oppression.
Danielle Kinsey — Assistant professor of history at Carleton University — said, "There are many, many other artifacts in Britain that continue to function as imperial trophies. And when people from around the world have to shell out the money and go through all of the visa and travel issues to go to Britain to engage with pieces of their own cultures and their own pasts, this continues the trauma of empire for them."
The perspective of the colonized is only now coming to world view. Throughout history they were sidelined but now that society is more progressive, there's an apprehension of the wrongs that have occurred. Surely, if a nation admits to a wrong, then steps ought to be taken to right it.

India before the British was one of the richest countries in the world — when they left it was one of the poorest. The Kohinoor is a symbolic reference to the deprivation caused by colonial rule. Its valuation wouldn't even cover 1% of the trillions pilfered from India during the colonial period. But it would send a message to Indians of respect and an equal friendship.
"Flaunting the Kohinoor on the Queen Mother's crown in the Tower of London is a powerful reminder of the injustice perpetrated by the former imperial power. Until it is returned — at least as a symbolic gesture of expiation — it will remain evidence of the loot, plunder, and misappropriation that colonialism was really all about," added Sashi Tharoor.
Jokes and petitions are only the beginning. Isn't it time for the British to stop amplifying their imperialism and return precious artifacts they've stolen from the world?
Personally, I'd love to see the Kohinoor return to India. It could be the start of Britain accepting their responsibility of past injustices and moving into a future of reconciliation.
Since the beginning of time, technology has never been stagnant – it's constantly evolving. Most of us are used to these fleeting technology trends and apps. We first started virtually communicating on MySpace and then ventured into the world of avatars with Snapchat's snappy 10-second stories.
We – or should I say Millenials and Gen Zers – are used to new ideas. But even we couldn't conceive of a virtual world where people can live, interact, and earn money until . . . the Metaverse was born.
October 28th 2021 will go down in history. That's when the company formerly known as Facebook rebranded as Meta fully committing to a 3D version of the internet know as the Metaverse.
Metaverse-Metaverse-Metaverse it's all over the place. But what is it exactly? Simply put, it's a virtual world that blurs the lines between online and offline communication.
Hold on! Virtual reality? My grandparents are only just getting used to taking my video calls, and now I have to introduce them to the Metaverse – a world where their avatar can walk, talk, and even get married?
During the last few years when people couldn't interact IRL, a virtual world was ideal. People – or should I say Avatars – could meet and engage in a rocking virtual party. That wasn't too extreme, but then people started buying property !?! This resembled a piece of land you can own and do with whatever you please. I cannot imagine living in a Metamansion – unless it's in a game of Sims.
Then came NFTs – or did they come before? – it's super hard to keep track of. But NFTs are Non-fungible tokens – digital assets like art, music, videos are bought and sold online through cryptocurrency. Oh-yeah, then there's cryptocurrency. It's a digital or virtual currency that's secured by cryptography, which makes it close to impossible to counterfeit or double-spend. Cryptocurrency revolutionized the finance world with people making a ton of money through bitcoin.
Slowly, the fashion industry moved into the Metaverse as well. A Gucci - Roblox bag recently went for 350,000 Robux (close to $4000) on Roblox – a site where you can purchase upgrades for your avatars. I mean, your Avatar can't be roaming the Metaverse in just jeans and a sweater, they need high-end fashion.
Obviously, with so many items moving into the Metaverse, it made sense for people to secure virtual insurance. I cannot believe this – Virtual insurance! So if you break or lose, or your artwork gets stolen, it makes sense to have a cover. Soon enough, educational institutions imagine digital classrooms, and medical professionals visualize a world where junior doctors practice medicine digitally.
There doesn't seem to be a limit.
Since we cannot physically inhabit the virtual world, most of these ties make sense until Coke-Cola recently announced a limited edition Coca-Cola® Zero Sugar Byte.
Coke promises that it tastes just like pixels. "The drink's bright, upfront taste is reminiscent of powering up a game. And its refreshing finish makes for a perfect gaming companion."
Personally, I don't understand the concept of creating a beverage for the Metaverse. And I'm so not interested in tasting pixels – I anticipate something chalky and salty. But if you pick up a Zero Sugar Byte before they hop back into the Metaverse, you are one brave individual.
In addition to this drink, Coke is hosting an immense digital experience that includes an original, augmented reality game. Then there's Pixel Point, an island designed by Coca-Cola where fortnight players can experience this refreshing soda and enjoy a few mini-games.
Now that beverages are being created for the Metaverse, the big question is what next? Will our Avatar's start grocery shopping in a virtual Target to survive?