"A tree is best measured when it is down," the poet Carl Sandburg once observed, "and so it is with people." The recent death of Harry Belafonte at the age of 96 has prompted many assessments of what this pioneering singer-actor-activist accomplished in a long and fruitful life.
Belafonte's career as a ground-breaking entertainer brought him substantial wealth and fame; according to Playbill magazine, "By 1959, he was the highest paid Black entertainer in the industry, appearing in raucously successful engagements in Las Vegas, New York, and Los Angeles." He scored on Broadway, winning a 1954 Tony for Best Featured Actor in a Musical – John Murray Anderson's Almanac. Belafonte was the first Black person to win the prestigious award. A 1960 television special, "Tonight with Belafonte," brought him an Emmy for Outstanding Performance in a Variety or Musical Program or Series, making him the first Black person to win that award. He found equal success in the recording studio, bringing Calypso music to the masses via such hits as "Day-O (The Banana Boat Song)" and "Jamaica Farewell."
Harry Belafonte - Day-O (The Banana Boat Song) (Live)www.youtube.com
Belafonte's blockbuster stardom is all the more remarkable for happening in a world plagued by virulent systemic racism. Though he never stopped performing, by the early 1960s he'd shifted his energies to the nascent Civil Right movement. He was a friend and adviser to the Reverend Doctor Martin Luther King, Jr. and, as the New York Times stated, Belafonte "put up much of the seed money to help start the Student Nonviolent Coordinating Committee and was one of the principal fund-raisers for that organization and Dr. King's Southern Christian Leadership Conference."
The Southern Poverty Law Center notes that "he helped launch one of Mississippi's first voter registration drives and provided funding for the Freedom Riders. His activism extended beyond the U.S. as he fought against apartheid alongside Nelson Mandela and Miriam Makeba, campaigned for Mandela's release from prison, and advocated for famine relief in Africa." And in 1987, he received an appointment to UNICEF as a goodwill ambassador.
Over a career spanning more than seventy years, Belafonte brought joy to millions of people. He also did something that is, perhaps, even greater: he fostered the hope that a better world for all could be created. And, by his example, demonstrated how we might go about bringing that world into existence.
On March 22nd, Senator Bernie Sanders and Elon Musk entered a debate over the fate of the world.

It began when Sanders published a very in-character tweet. "We are in a moment in American history where two guys — Elon Musk and Jeff Bezos — own more wealth than the bottom 40% of people in this country," he wrote. "That level of greed and inequality is not only immoral. It is unsustainable."
Elon Musk, the Tesla and SpaceX CEO who briefly surpassed Jeff Bezos in early 2021 to become the wealthiest man in the world, had a ready-made response. In a Tweet, he wrote, "I am accumulating resources to help make life multiplanetary & extend the light of consciousness to the stars."
@cleantechnica I am accumulating resources to help make life multiplanetary & extend the light of consciousness to the stars

— Elon Musk (@Elon Musk) 1616304691.0
Sanders's reply remained laser-focused on his lifelong mission to fight income inequality on Earth. He wrote, "Space travel is an exciting idea, but right now we need to focus on Earth and create a progressive tax system so that children don't go hungry, people are not homeless and all Americans have healthcare. The level of inequality in America is obscene and a threat to our democracy."
Musk's starry-eyed statement has since faded into the ether of Twitter, but the context of this debate raises larger questions about futuristic technologies, the present-day interests and needs of humans on Earth, and the ongoing battle between them.
Billionaires dream of flying machines
As the Earth speeds towards irreversible climate disaster, many people's minds have naturally turned towards the stars. The distant, spinning nebulae and gleaming planets above us have long been idealized as potential escape routes for the unhappily earthbound.
But as the climate crisis grows more dire on Earth and space travel ramps up, thanks to ambitious patrons, some (like Elon Musk) have proposed that space may be our best shot at collective survival.
Famously, Musk founded SpaceX because he believed that NASA was not working hard enough to bring humans to Mars, and he feared that humanity is approaching its last chance to escape Earth before our planet becomes an uninhabitable hellscape.
His fellow Bernie Sanders nemesis Jeff Bezos has expressed similarly apocalyptic concerns. Bezos, who founded a rocket and aerospace travel company called Blue Origin in 2000, recently stepped down from his position as CEO of Amazon, claiming he planned on investing more time in his work with Blue Origin and his efforts to fight climate change.
Like Musk, Bezos aims to colonize space by investing ambitiously in new technologies that could help people reach the stars. And also like Musk, he fears for the future of civilization — and sees space as the place where these problems might be solved.
"Hundreds of years into the future, we will move all the polluting industries to space and other planets, where we have infinite resources for all practical purposes and Earth will only be (used for) light industries and residential," Bezos stated in a conversation with Amazon India chief Amit Agarwal in New Delhi.
This plan, which Bezos calls the New Inversion, is a long-term vision that would effectively move all pollution to the cosmos. "I would think, kind of [a] time frame of hundreds of years," Bezos added, reiterating that "we have to preserve this planet and we can do that using the resources of space."
The "space escape" as an escape route for the super-rich
Bezos, Musk, and their future-focused peers may claim that their plans to reach the stars are efforts to ensure a future for humanity, but their own reputations and vast fortunes have raised many questions about who this interplanetary future would actually serve.
At the moment, the future of space travel appears to be reserved for the super-rich — the sort of people who are already least affected by earthly calamities like climate change, despite unleashing the vast majority of the world's carbon emissions. For example, private spaceflight companies such as Axiom reportedly charge up to $55 million to send travelers into specially designed rooms located in the International Space Station.
It is likely that even if space travel begins to evolve in step with Moore's law (the theory that computers' processing power tends to double every two years), whatever world we build in the cosmos will remain reserved for the 1% for quite a long time. In this light, the futures preached by techno-prophets like Bezos and Musk start to look like thin cloaks for a kind of moon-eyed eugenics that would leave billions of people in the literal dust.
"The space barons are shrewdly — one might say cynically — tapping into our respect for astronauts and our idealism about what space represents," Ceridwen Dovey writes in The New Yorker. "They seem to be counting on us to be awestruck by whatever it is they do in space, and to overlook the fact that their motives are not exactly pure, nor are their methods of getting us there egalitarian."
Humans are drawn to mystery and beauty, and space is such a tantalizing frontier that it's difficult to completely write off billionaires' ambitious plans to penetrate it, even though we know their earthly work typically involves hoarding vast amounts of wealth while underpaying and mistreating masses of workers.
The ongoing battle between technological innovation and human-centered reform
Similar contradictions plague a multitude of existing plans to address climate change on Earth, and they are particularly endemic to plans broadcasted by corporate entities who have nothing to gain and everything to lose from substantial climate action.
For example, Jeff Bezos recently pledged $10 billion of his $188 billion net worth to the Bezos Earth Fund, yet his overall approach to climate and philanthropy has continuously come under fire.
First, there's the fact that despite all his talk of concern about climate change, Bezos's company continues to belch out carbon emissions, releasing around 51.17 million metric tons of carbon dioxide in 2019 – up 15% from the previous year despite various green pledges. The company has also been slammed with reports about its poor treatment of workers, and prior to the Capitol riots, Bezos also reportedly donated thousands of dollars to conservative politicians such as progressive disruptor-in-chief Mitch McConnell.
Then there's the fact that Bezos failed to donate more than roughly 0.1% of his net worth prior to his 2020 donations — and the latter comprised less than 8% of his vast net worth, a sum that, along with Musk's wealth, is equivalent to the collective wealth of the United States's poorest 40% of people.
The $10 billion Bezos did donate via the Earth Fund was also met with criticism, particularly from groups invested in climate justice. The vast majority of Bezos's donations went to established environmental organizations like the Environmental Defense Fund and World Wildlife Fund, most of which already possess endowments in the millions. Critics said that many of these contributions will never reach communities already subject to the worst effects of climate-caused floods, wildfires, pollution, and destruction, and many of their ultimate goals involve conserving an existing status quo rather than addressing interconnected crises like racism and economic inequality.
In a statement released in December, a group of community-focused NGOs called the Climate Justice Alliance released a statement in protest of Bezos's donations. It found that "less than a quarter of the first-round grants will go to intermediary funds that support thousands of grassroots communities cultivating solutions on the frontlines of the climate emergency. The inequities couldn't be more striking."
This could also be said of the work of many of the "Big Green" environmental groups, particularly those historically focused on conservation rather than human-focused social change. Conservation movements have historically been bound up with white supremacy, and a look at the bigger picture reveals that white supremacy created and perpetuates the conditions for climate change, itself is an inherently racist crisis.
Other billionaires and corporations' efforts have been subject to similar critiques. For example, Elon Musk recently launched a competition offering $50 million to whomever could invent the best carbon capture techniques. Carbon capture technology has long been an alluring yet elusive potential solution to climate change, and it has also been the recipient of generous funding.
Despite all this investment, no miracle technology with the ability to stop climate change has ever emerged, and waiting for one feels more and more like waiting for a doomsday savior who will never arrive.

False promises further threaten any chance of climate action
An April 2020 study from Lancaster University argues against promises that glorify miraculous technologies, because "overreliance on promises of new technology to solve climate change is enabling delay."
Hinging the solution of climate change on miraculous technological breakthroughs like ice-restoration, nuclear fusion power, massive carbon-eating machines, and extraterrestrial offshoring can "feed systemic 'moral corruption', in which current elites are enabled to pursue self-serving pathways, while passing off risk onto vulnerable people in the future and in the global South," say researchers Duncan McLaren and Nils Markusson, who encourage "cultural, social and political transformation" over placing hopes in instant solutions.
It seems that any genuine "cultural, social and political transformation" will not come directly from billionaires and massive corporations, who naturally often benefit most from current cultural, social, and political structures and hierarchies. Recent corporate efforts to combat climate change have been hollow and hypocritical; and many corporations are being accused of greenwashing as they release statements and pledges that appear to be commitments to fighting climate change but that are really efforts to deflect opposition.
A January 2021 report from the Sierra Club entitled "The Dirty Truth About Utility Climate Pledges" graded utility companies on their plans to cut emissions and transition to clean energy solutions and issued many failing grades to companies that have released "carbon neutral" pledges and similar statements. "
The infuriating truth is that many utilities are not only protecting their coal plants from retirement, but are also actively planning to build out climate destabilizing gas plants," said Mary Anne Hitt, who is the Director of Campaigns at the Sierra Club. "The consequences of allowing utilities to continue to delay the transition to clean energy will be particularly disastrous for low-income communities and communities of color."
Learning from the people and the planet
So where will change come from, if not rockets to stars or carbon pledges or the latest addictive inventions of Silicon Valley coders? Perhaps the answer is not above us but rather below our feet. Perhaps we have everything we need already here on Earth.
"We already have a safe and natural technology for carbon capture and storage (CCS)," writes Francis Seymour in a report for the Center for Global Development. It's called 'tropical forests.'"
We already have everything we need to transition to clean energy, and we already have enough food to feed the world's population. What is needed is a redistribution of wealth and resources — something billionaires, conservative politicians, and oil companies have fought against since climate change was exposed as a dangerous reality in the '80s.
Slowly but surely, the idea of wealth redistribution as an investment in fighting climate change is seeping into reality in the form of modern politics. Joe Biden's infrastructure plan will be paid for, in part, by taxing the super-rich. Still, there's a long way to go.
As things grow more dire, environmentalists increasingly view a cross-racial, cross-class movement as the only feasible solution to climate change. This framework, long supported by environmental justice movements and knitted into intersectional plans like the Green New Deal, sees the solutions to climate change as bound up with ending capitalism, racial injustice, and other interconnected global plagues.
The new vanguard of the climate movement also acknowledges how important Indigenous knowledge of land stewardship and conservation, frontline communities' understanding of environmental racism and the stakes of the climate crisis, and ongoing working class and BIPOC struggles for justice are to any just transition away from a fossil fuel-based economy.
Clearly, billionaires' expensive efforts to colonize space would be low on the priority list of any intersectional response to climate change.
Is there any place for space in the climate fight?
All this being said, it's unlikely that humans will ever totally abandon our desire to explore distant galaxies. Our desire to know the cosmos is as innate as our childhood desires to explore the deep green mysteries of the nearby woods. Fortunately, we don't have to write space exploration out completely in the fight for Earth.
Actually, Jeff Bezos wasn't wrong when he said space could be key to helping us fight climate change. NASA, the UN, and other organizations have consistently reported that some solutions to the climate crisis might be found through space-based technology capable of deepening our understanding of the climate crisis and providing key evidence of its effects.
For example, satellites can detect changing temperature levels, rising sea levels, and other factors that could be vital in the current global effort to halt warming at 1.5°C. On a more theoretical level, thinking about how alien civilizations may have responded to climate change could help us address our own situation.
It seems that for now, space travel's greatest contribution is its ability to help humans look back at Earth — either to measure its changes or to feel awed by what Carl Sagan called our "pale blue dot," as many astronauts have been when they viewed Earth from space and experienced the famous "Overview Effect." (Upon seeing the Earth from space, astronauts report a newfound sense of compassion for and responsibility to the planet and for the interconnected webs of life that live upon it).
Plus, the sheer ambition of the space race provides an excellent blueprint for the kind of effort it will take to actually address the climate crisis. All in all, there is room for space travel within a just transition to an ethical future.
But for now, it seems that the "light of consciousness," as Elon Musk put it, would be best directed towards Earth's living, breathing beings rather than towards a few billionaires and their efforts to further puncture the edges of our already damaged, airless, eternally silent atmosphere.
Look on our works, ye mighty, and despair!
There is a saying that it is easier to imagine the end of the world than to imagine the end of capitalism.
Entrenched systems of power have established bulwarks against the kind of institutional reform that younger Americans have recently been pushing for. By controlling the political conversation through lobbying, control of mass media, regulatory capture, and authoring of legislation, the ultra-wealthy maintain the status quo in a way that makes changing it seem impossible. The problem is that change is desperately needed if we are going to maintain any semblance of civilization.
While political dynamics have become so rigid that the boundaries of what we can achieve begin to feel impenetrable, the COVID-19 pandemic has revealed that the vital structures of our society—a society that is superficially so robust—have been so weakened that a collapse in one form or another is inevitable. We are the world's superpower, yet faced with a slightly more contagious, slightly more lethal virus than the flu, we are powerless. How did it get to be this bad? How were we so blind to it?
To clarify, depending on the part of the country you live in, it could seem like I'm exaggerating. It may not seem "so bad," or like we're on the verge of collapse. Not long ago the president and many of his loyalists on Fox News and AM radio were still calling dire forecasts around the coronavirus a hoax. At the time it seemed reckless but not unhinged from current events—which were still largely unaffected. In much of the country there is little cause for alarm, so few people are doing much to change their behavior. That's about to change, and the areas hit worst will soon be making the dire choices that Italian hospitals were recently faced with—which patients are we going to hook up to ventilators, and which are we going to allow to die. We are already started on a path that leads to overflowing hospitals in every major city.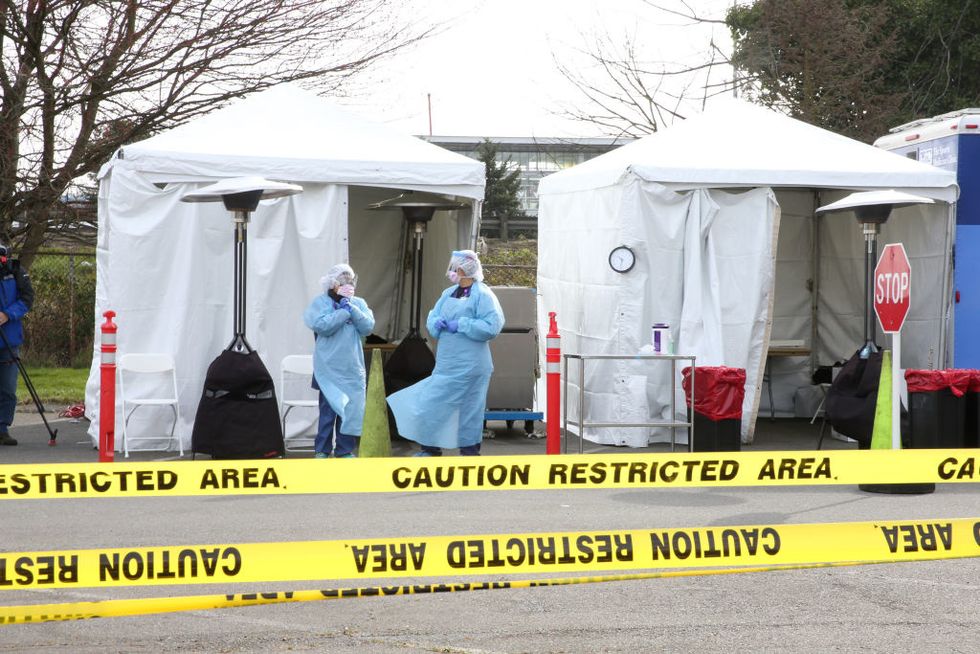 A makeshift testing facility in Seattle, Washington Getty Images
The problem is that our entire economy is set up around the same kind of short-term thinking that drive publicly traded corporations. The mentality that "government should be run like a business," leads to cost-cutting measures that only look to the current budget, with minimal consideration given to the kind of intermittent crises that we are bound to face—like a viral pandemic. If it's not particularly likely to happen before the next election cycle, it's better not to even worry about it. This is the kind of thinking that led Donald Trump's administration to push for cuts to the CDC and to disband their global health security team in 2018.

But the systemic issues go much deeper than that and started long before Trump took office. Trump and his ilk can't be blamed for the fact that the US has two hospital beds for every 1,000 citizens. Nor are they responsible for the fact that almost every aspect of America's critical infrastructure receives a near-failing grade from the American Society of Civil Engineers. This includes airport congestion—which has already become an issue with the current pandemic—and important shipping routes that we will rely on to maintain the movement of necessary goods as conditions around the country worsen.
Add to those issues the fact that we have a massive population of prisoners sharing tight quarters with poor sanitation, a substantial homeless population with no way to quarantine, a dearth of worker protections like paid sick leave, and it becomes hard to imagine how we'll get through this unscathed. And, of course, this is still ignoring the elephant in the room—a for-profit healthcare system that discourages millions of uninsured and underinsured Americans from seeking medical advice or treatment until it's too late.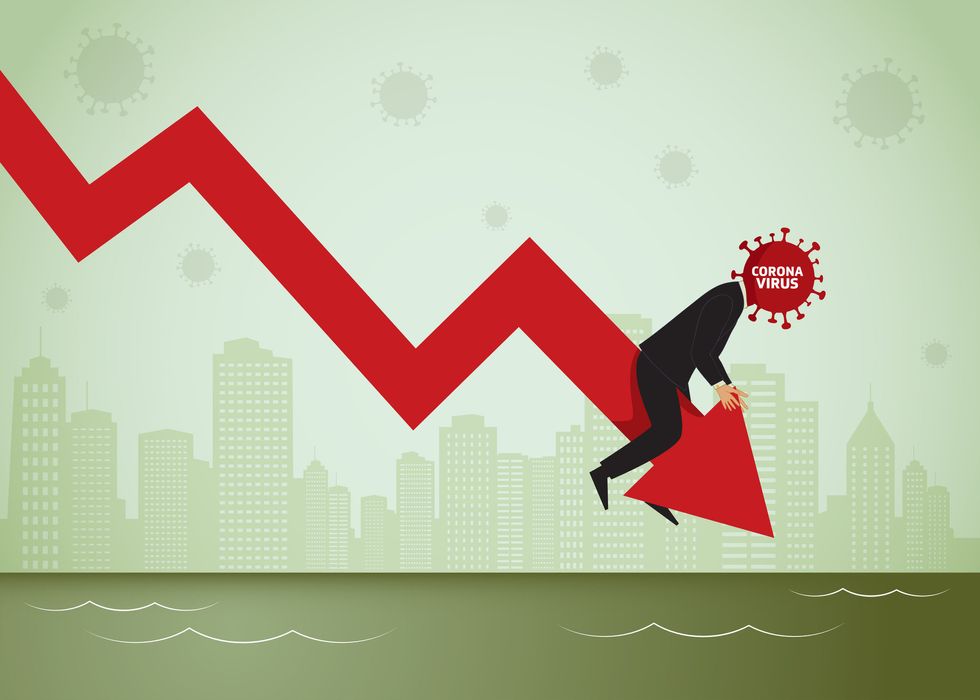 Getty Images
Meanwhile, the economic hardships imposed by the necessity of social distancing are being exacerbated by an economy that is heavily reliant on the whims of financial speculators who create an echo chamber of divestment that heightens every crisis. The stock market, in other words, is going crazy in the worst possible way. It's too soon to say how thoroughly the weaknesses in our system will be tested by the developing pandemic, but even in the best case scenario they are going to be strained to a terrifying extent.

Fortunately, there are efforts underway to shore up some of the most obvious breaking points so we can avoid complete societal collapse. They may turn out to be too little too late, but even if they get us through this current disaster, how long will it be before the next one hits? The best models of climate change predict that we are nearing an era that will be ruled by powerful natural disasters and refugee crises that will threaten economic stability and critical infrastructure and may heighten the threat of infectious diseases. Temporary, reactive measures cannot save us if the next crisis hits a little harder or when multiple crises overlap.
A strong social safety net like the one the US tried to develop under FDR would serve to mitigate the damage from this kind of crisis. But modern American politics has worked for decades—in an effort that became an object of worship under Ronald Reagan—to whittle the welfare state of the New Deal and the Great Society down to a fragile bare minimum.
We need to take seriously the voices of politicians like Bernie Sanders and Alexandria Ocasio-Cortez who have called for the kind of broad, sweeping legislation that stands a chance of upending the rigid political dynamics that maintain the status quo. The Green New Deal would be a good start. The alternative, one way or another, is the end of our civilization and the world as we know it.
In the fourth installment of the Visionaries Project, we speak to activist and community organizer Ebony Ava Harper.
The Visionaries Project is a new subsection of The Liberty Project dedicated to highlighting the lives, passions, and work of radical activists currently working towards social justice and liberation from oppression. We aim to uplift the perspectives of diverse voices working in media and activism today—and not just the faces who make headlines, but the real people on the ground every day, working towards their visions of a better world.
Ebony Ava Harper is an activist, philanthropist, writer, creator, life and world-changer, advocate for marginalized communities, and a tremendous inspiration to many. As an openly Black and trans woman and an advocate for environmental justice, prison reform, and so much more, she has done incredible work to fight for her communities, forging a path to a better world in the process. She is currently head of California TransCends, a statewide organization that works to promote the health and wellness of transgender people in California, and she's the recipient of the 2019 Stonewall Four Freedoms Award and the among other achievements (none of which could come close to adequately recognizing all of her marvelous work). We spoke about resilience, environmental justice, community organizing, and more.
1. Can you tell me a little bit about your background? Where are you from, and what were and are you passionate about?

I was born in Prince Georges County, Maryland, to a family of Jamaican immigrants. I believe I'm the first American born in my family. My parents migrated from Maryland to Los Angeles, CA when I was just a baby, so all I know is growing up in Los Angeles. I spent the first 27 years of my life mostly in Los Angeles, and then I moved to Sacramento. I've been in Sacramento for some time now, and I consider this my home city.
I'm passionate about dismantling systems of oppression and dismantling my own oppressive behaviors. I'm passionate about loving the unlovable. Flipping that negative into a positive and improving not only my quality of life but the quality of life of all living beings (plants and trees included).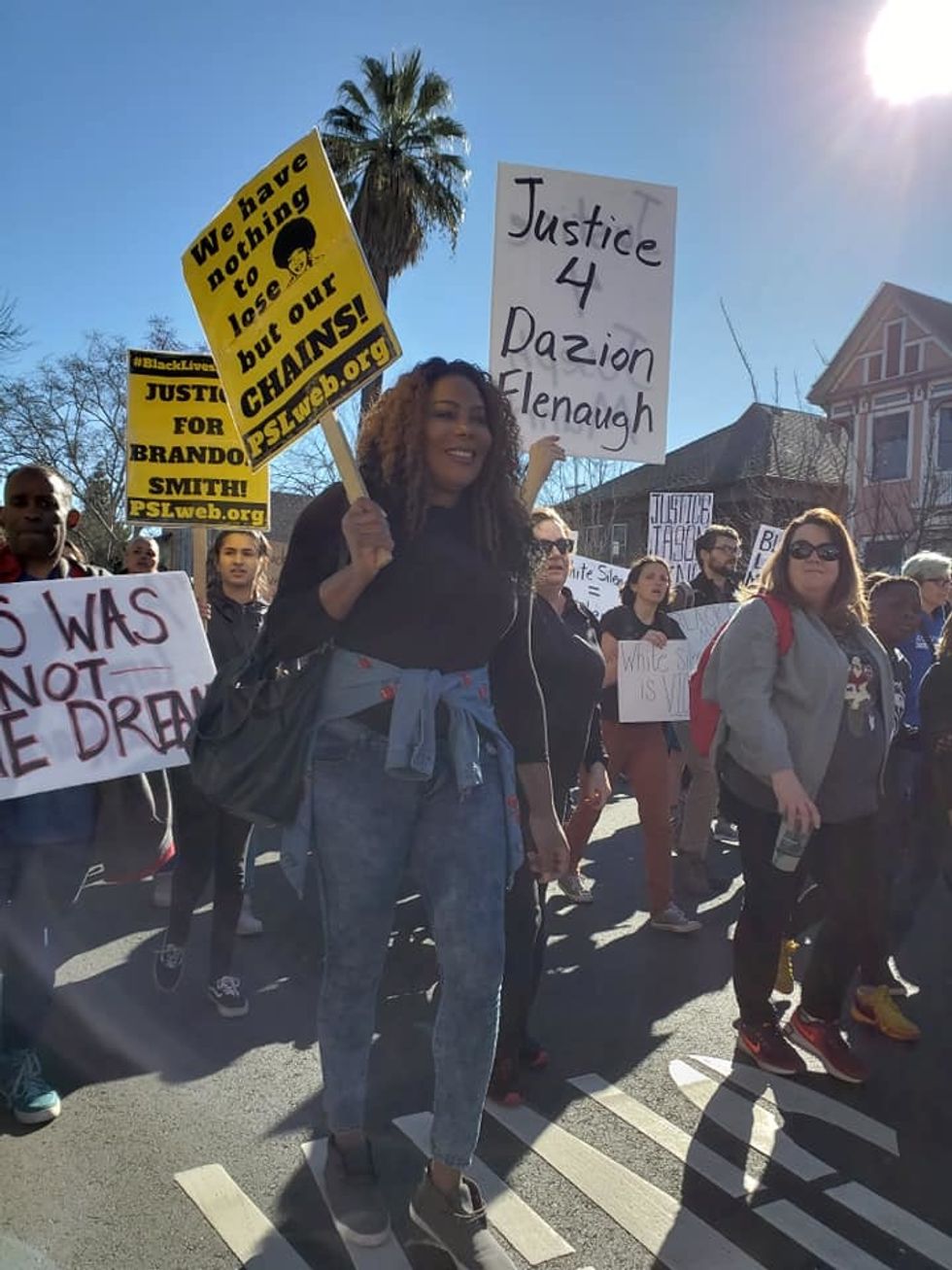 2. How did you first get started with activism, and what movements are you most involved in now?
I'm a Black trans woman that came out early in life, so I always say I came out fighting for survival from the gate (from the start). I was born an activist. I had to fight and speak up for myself to simply be... I'm a decedent of Jamaica, and if you listen to our music, you'll hear a lot about love, peace, "getting up, standing up, fighting for your rights." I would say I hit the ground fighting with all these intersections I embody. I also hit the ground loving and having empathy for others. My inner indignation against injustice and my tender Jamaican roots inform who I am today and my activism. My activism has transitioned along with me. I feel like we're all transitioning in some way. I have transitioned away from just relegating myself to being a trans activist, I'm a human rights activist. I fight for all oppressed peoples. Social oppression is even showing up through this current climate crisis.
I'm involved in Gender Justice, Climate Justice, Disability Justice, and Race Equity!! They all interconnect in my life.
3. A lot of your writing seems to focus on internal and community-wide restorative efforts and resilience, whether in terms of health, the environment, or the spirit. What does human resilience mean to you, and for you?
I love this question! It's a big question. I came from some harsh beginnings: All I know is resilience. I'm an introspective person, so as I have aged, I think about resilience on a much larger scale than the marginalized groups that produced me or my sole experience. I think about all the times life itself was on the brink of total catastrophe, and boom.... It rebounds. Resilience means to rebound from something that could've taken you out. It means hope for the future, it means another chance, another road, another shot. I'm a descendant of slaves and a descendant of those that have walked this trans path: All I know is resilience. I wish to share my struggle with others in hopes that they may be inspired not to give up. You know, "If that big ole queen can make it, so can I." That's the seed I want to plant when I'm sharing on any platform.
4. You wrote an amazing piece for Forbes in which you discuss feminism's failure to address "inequities of human injustices caused by colonial, capitalist, and social oppression." You also addressed this in your Sacramento News and Review piece in which you wrote, "Trans people, particularly our black women and femmes, were on the front lines of the Stonewall Rebellion, yet we're on the back lines of the gay and lesbian liberation." Feminism and many, or really most, social movements suffer from such a lack of intersectional and trans recognition. Where do you see that need for change manifesting itself?
I think social justice movements don't always think in terms of intersections, or they fight for things that will serve them in that particular moment, never really seeing how all this suffering intersects. They'll have all the language right, but their actions will be about that one topic. We need to remove the berries and realize an injustice to a Black trans woman is the same as an injustice to a cis woman. An injustice to a Black trans woman is an injustice to the Black community as a whole. There's no separation; Black trans issues are multidimensional and are relatable to any social justice issue today. You have to be radical and intentional about inclusivity to Black trans women.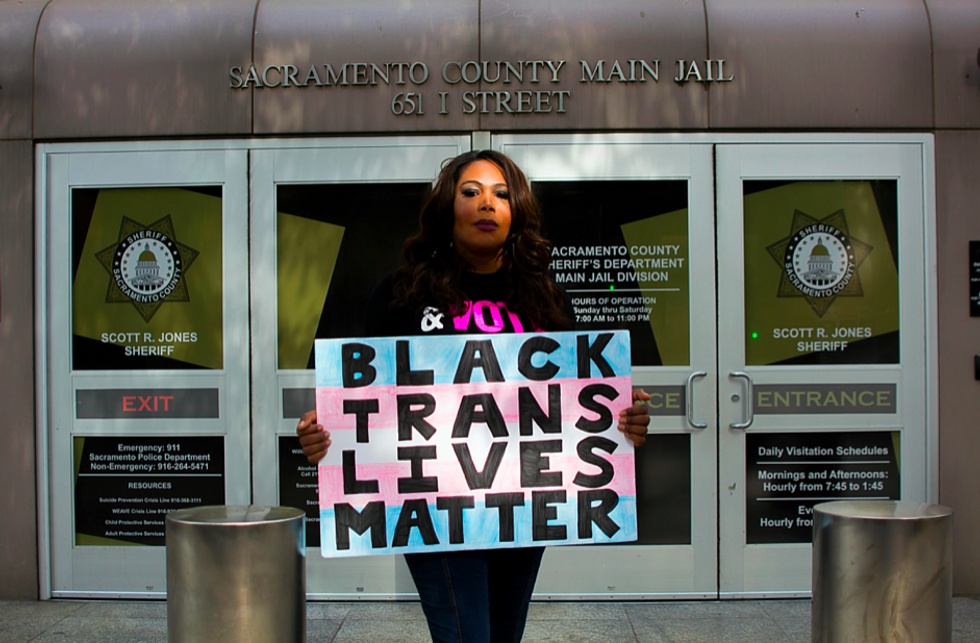 5. Are there any trans leaders, writers, or figures you're particularly inspired by at the moment?
Too many to name here, but I'll name just a few. Valerie Spencer inspired me as a young trans kid. We have Black trans philosophers, and I would say she's one of our great philosophers. Aria Sa'id is a young Black trans woman that has contributed so much to our movement at such a young age. She's Executive Director of the first Trans Cultural District in the nation, and she's smart as hell... Daroneshia Duncan-Boyd, from Alabam leading the charge for trans health equity throughout the South. Elle Hearns, one of the founding members of Black Lives Matter that just so happens to be a Black trans woman. Omega West, a Black trans man who, like me, came from some rough stuff and is out here fighting for our rights daily. Last but not least, my translatina sister, Bamby Salcedo, who's a national treasure in our community fighting for our freedoms every day.
6. You're vocal online about a lot of environmental issues. Do you see the environment as intertwined with queer, trans, and Black and Brown community issues? What does environmental justice mean to you?
It's absolutely intertwined! The factories in impoverished neighborhoods, access to clean food, clean water, information around health all are linked to poverty. Extreme poverty is linked to these marginalized groups that live on the fringe of the fringes of society. No resources, so capitalism exploits them. We have to look at what's affecting those at the bottom and work from there, while fighting these big corporations that are siphoning the life out of the planet.
7. What changes (spiritual or societal or both) would you like to see most in the near future? What does your vision of a better future look like?
Green renewable energy. No more wars. The end of capitalism! Love abounding on the earth like never before. Total freedom to just be without judgment.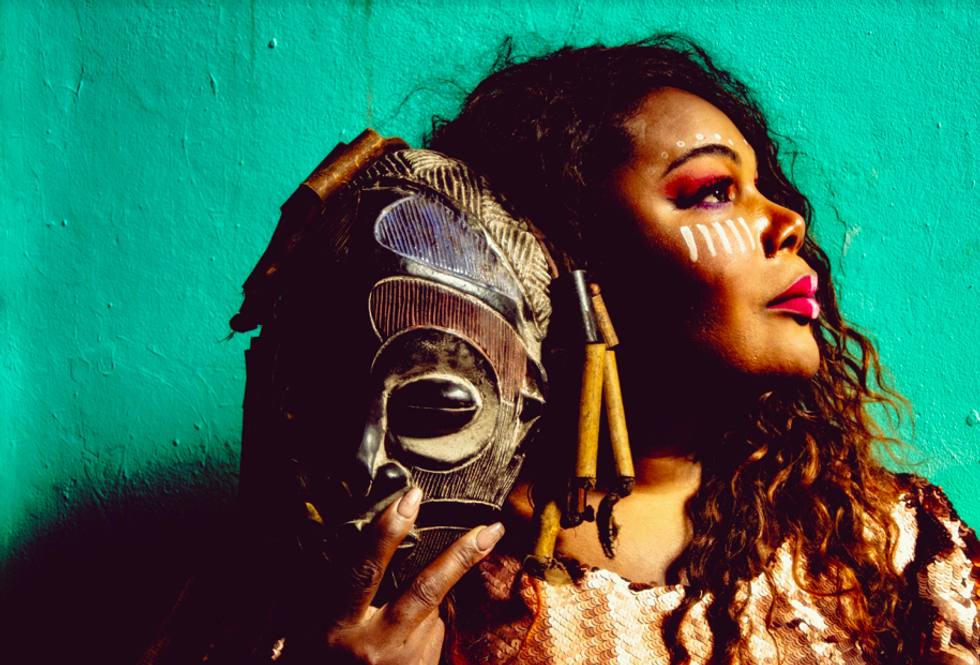 8. Are there any organizations or initiatives you'd like to promote?

I'm the leader of the new statewide initiative, California TransCends, in partnership with the California Endowment and California Public Health Advocates. California TransCends promotes the health and wellness of transgender people throughout the state of California. I'll be doing a statewide assessment of the needs of trans people living in rural communities, trans people of color, and our trans elders. We'll be working with local policymakers to see what we can do to make trans lives a bit more bearable. We're engaging other trans organizations that are leading statewide work to form a statewide and national coalition that will work in one accord on issues that need our rapid response. Lastly, we'll have micro-grants available for coalition-building conferences for trans people of color. I'm also one of the directors for the newly formed Employment Equality.
9. You're doing so much amazing work—how do you balance it all? What do you do for self-care and for fun?
I take a couple of days a week off and recharge. I have a small circle but good friends I can call when I'm going through a tough time. I have a spiritual community, The Center for Spiritual Awareness, that loves and supports me. This is my combination for staying afloat.
10. Do you have any advice for activists, or any lessons or mantras that you follow?
Don't become the same evil you're fighting! It's easy to fall into the trap of anger and vengeance. When fighting injustice, you have to make sure your approaches are balanced, or you'll perpetuate the same injustices you're fighting.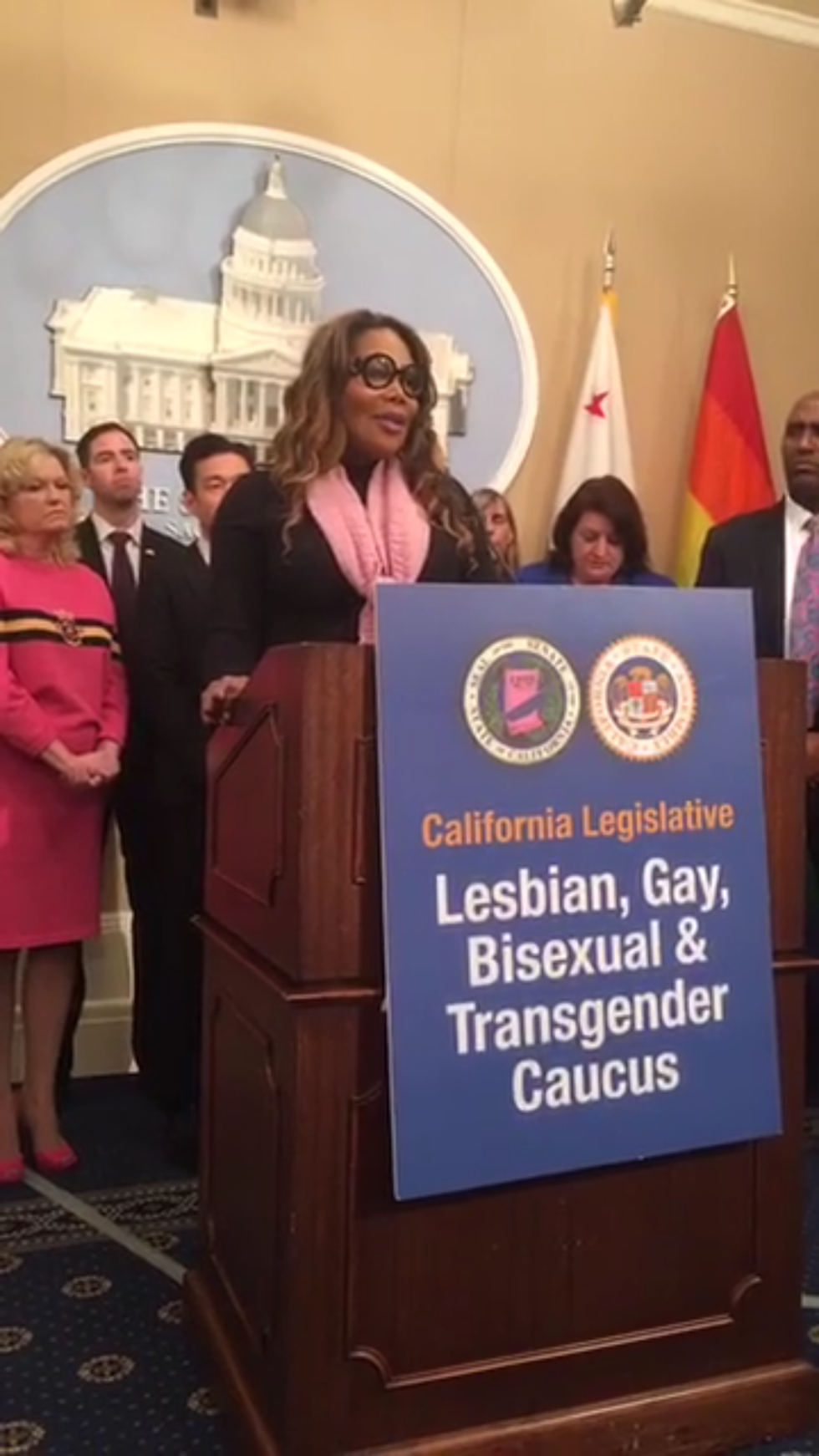 For the third installment of the Visionaries Project, we spoke to Sara Gozalo about capitalism, fighting ICE and the prison industrial complex, combating burnout as an activist, and her vision of a better world.
The Visionaries Project is a subsection of The Liberty Project dedicated to highlighting the lives, passions, and work of radical activists currently working towards social justice and liberation from oppression. We aim to uplift the perspectives of diverse voices working in media and activism today—and not just the faces who make headlines, but the real people on the ground every day, working towards their visions of a better world.
Sara Gozalo is an organizer currently based in New Orleans. Originally from Madrid, she describes herself as a "queer immigrant who believes in a world without borders and without jails, where everyone has the right to live in dignity." She currently works as a Unanimous Jury Specialist at the Promise of Justice Initiative, co-founded Students for Peace and Justice, and was formerly the Supervising Coordinator of the New Sanctuary Coalition and a member of the Worcester Global Action Network. We spoke with her about the insidiousness of capitalism, her work fighting ICE and the prison industrial complex, combating burnout as an activist, and her vision of a better world.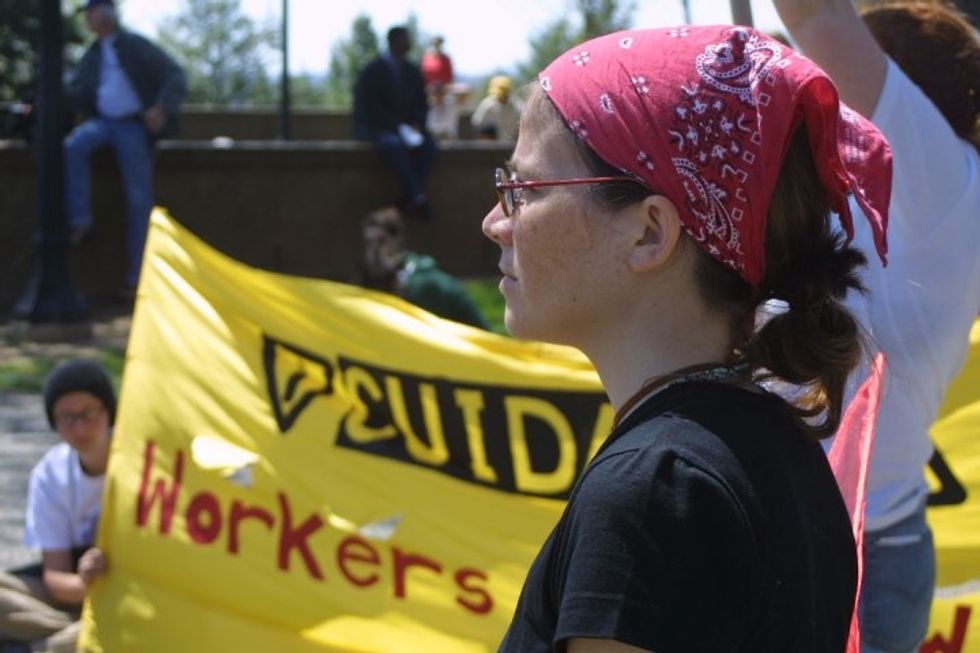 LIBERTY PROJECT: I was wondering if you could give an overview of your experience in activism and organizing.
SARA GOZALO: I have been organizing for a long time. I've only been organizing professionally for the past three and a half to four years, but I organized when I was at UMass against the war in Iraq. We did a lot of workshopping and teachings about free trade agreements, and how capitalism was destroying the planet.
It seems like that was such a long time ago, and we're still dealing with the same issues. I think that a lot of organizing is understanding that you're running a marathon, and it's never going to be a sprint. It's going to be a lot of small victories along the way, but you're going to fight the same issues constantly. That can be pretty demoralizing, but it also means you can never stop.
I come from a family that's very political. My dad is an attorney in Spain, and when he was a student he got arrested and kicked out of school for organizing against Franco during the dictatorship. My mom was always very political, and I remember hating that when I was a little kid.
While I was going through my own immigration case, I realized how hard it is for someone with a ton of privilege, and I started to look into what it was like for people who aren't as privileged. I got very involved in the immigration issue. Since I moved to New Orleans, I've seen the same patterns in the criminal justice system.
I think New Orleans brings these issues together. It has been very impacted in terms of climate change. Louisiana has the highest numbers per capita of incarcerated people [in the US], and one of the highest numbers of migrants in detention. The city brings everything together, and ties in all the different aspects that I have organized around in my life. In the end, it is important to remember that they're all related to each other.
Where are you at now?
I moved to New Orleans this summer. My wife was born and raised here. I'm working at the Promise of Justice Initiative, which is an organization that does a lot of criminal justice work.
It's clear that all these issues are very interconnected. Lately it seems that there's been a particular resurgence of anticapitalist sentiment, though that was always there…Is that affecting your organizing at all?
I have been organizing with these anti-capitalists since the late '90s. It feels like the "resurgence" has been a long time coming.
When we were organizing around the Iraq war in 2002 and 2003, we were very much organizing under the capitalist lens. Grassroots movements like Occupy and the movement for Medicare for All have ignited something even bigger now. It's become more mainstream.
The fight against capitalism is decades long, and its roots are in the people who are directly impacted, especially indigenous people all around the world. They have led that fight, because they know in their bodies what capitalism is doing to the world. I think it's important that now that conversation is part of western countries, especially the United States, which in many ways is the belly of the beast in terms of capitalism. Anti-capitalist organizing has been there forever; it just now feels like you can talk about it and people won't immediately discard you as someone crazy.
I want to make sure that [in spite of all the] now-mainstream groups that are taking this fight on—which is super important and necessary—we recognize how many people have been fighting this fight for so long and leading the efforts.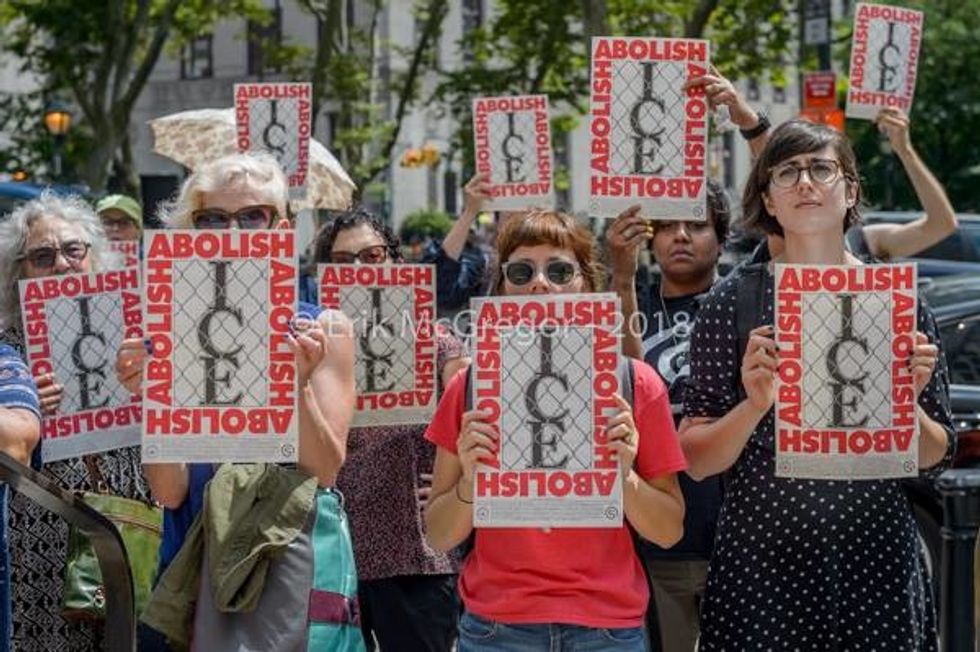 I first met you through New Sanctuary Coalition (an organization that provides legal support to immigrants in New York City). You were doing so much for them at once, and I was wondering what your reflections on that experience are.
NSC is one of the most powerful organizing groups that I have ever known, in terms of the numbers of people who are involved. Post-election, after Trump took power, it became very obvious that immigration was going to become one of the issues that he was going to attack the most. NSC grew because there are very concrete ways that people could get involved, and I think that is incredibly powerful. It's led by people who are directly impacted, but it really utilizes the number of people who want to fight alongside people who are directly impacted. That was a beautiful thing to see.
I've worked with other groups where there isn't a clear way for volunteers to get involved, and I think NSC recognizes that people can fight against the system with the support of others with more privilege. It's a great way to utilize the privilege that US citizens have. The [idea] that the people who are impacted lead, and you're showing up for solidarity—not to help or save anyone—is really important.
The accompaniment work, in particular, was hard for volunteers in that it was so boring, but it's such a good example of how much privilege US citizens have, and how important it is to show up and not feel like they're saving or leading. They're just standing in solidarity, which is an incredible exercise for everyone.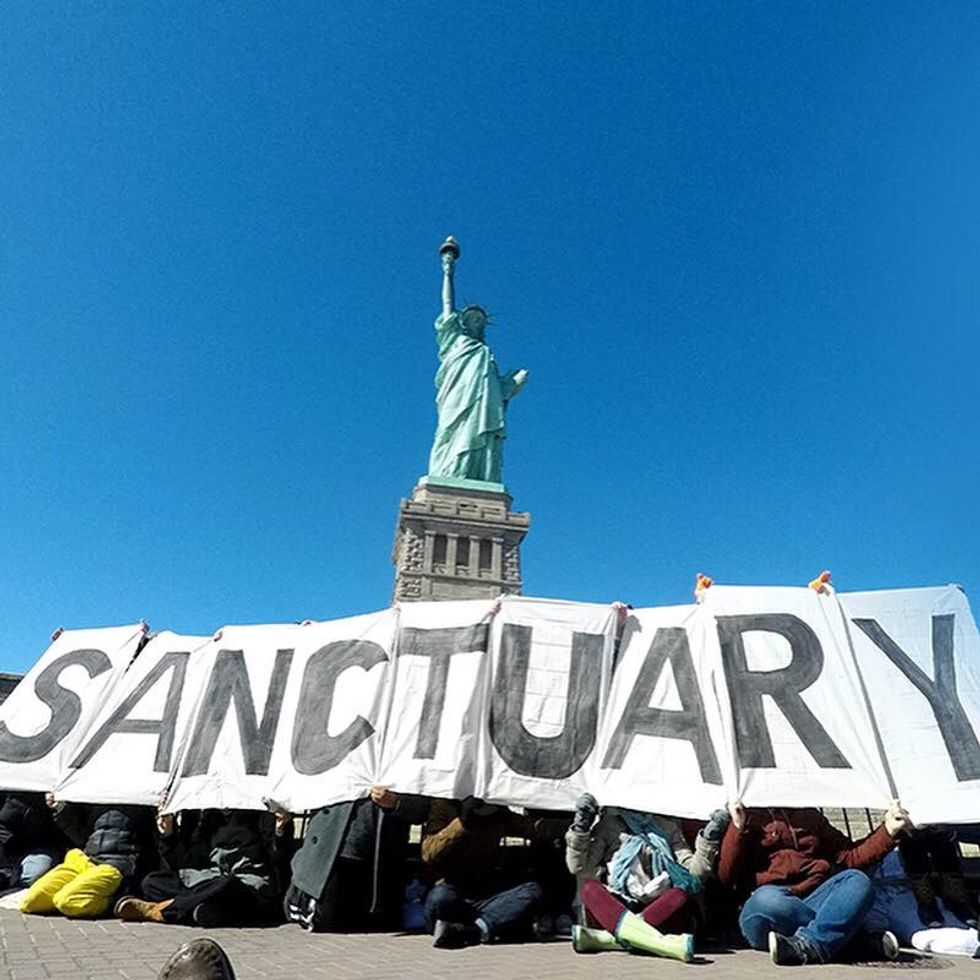 ignationsolidarity.net
It did feel at times overwhelming, which obviously leads to a lot of burnout and the sense of, oh my God, I am never doing enough, because everything is an emergency.
It felt at times that I was just pouring oil on the machine as opposed to throwing a wrench in it. For instance, if a judge said, I need an asylum application in three months as opposed to the year, we became so good at meeting those demands that it felt like in some way we were contributing to them.
I think that's a constant in organizing. There's a big difference between asking, what can you today to help a person who's going to be deported unless they show up with an asylum application, and what can you do to dismantle the system? Of course you're gonna support the person who's dealing with something today and not think in bigger terms, and so those were some difficult moments.
I don't have the answer. Maybe we need organizations that do more direct impact service work, and other organizations that only do the disruptive work; maybe that's the balance that we could work towards.
When I was leaving this summer, a lot of people finally went out on the streets, and people got arrested by the hundreds. I think that's the energy we need in the streets, while organizations like NSC do the day-to-day work that's helping people stay in the country and not be deported.
Activist Sara Gozalo from @NewSanctuaryNYC tells us about how they're working to empower immigrants during this dar… https://t.co/l1OK0TSFvA

— Jezebel (@Jezebel) 1541169069.0
Speaking of those larger systemic changes, are there any visions you have of changes that you would like to see happen on a large scale?
Yeah, so many.
First of all, we need to realign our belief system. Our bones, our insides, are so ingrained with this capitalist system of oppression. We make decisions on a daily basis that are informed by that upbringing. I admire Decolonize This Place and other groups that are really going to the roots of the problem, recognizing that unless we deal with those root problems, we're never going to affect systemic change.
For instance, we can't deal with climate change from a capitalist perspective. My friend was just fired for his job—which was to install solar panels—because they tried to unionize. We can't keep moving forward from the perspective of putting capital before humans and before the planet.
I really would like to see us having very honest conversations in which we start seeing, within ourselves and within our communities, how colonized we really are. We need to look at the root causes of the problem, if we really want to achieve any change that's going to make a difference, for our planet and for the survival of our communities everywhere in the world.
For instance, in Chile, I love to see the women who are protesting with everyone else and also bringing up the fact that the patriarchy is one of the biggest problems we have. Everything we see as an injustice has a root problem that's attached to racism and capitalism, and we need to address those, otherwise we're really not going to achieve the change that we want to achieve. Having these issues come into the light is an important step.
Women in South America sing against gender violencewww.youtube.com
I think I would like to see more compassion in our organizing. I think we're all very angry. We're all very quick to attack each other while not understanding that organizing is hard. Organizing is the hardest thing you can ever do, because there are no models for the world that we want. We have to reinvent the world.

Because we don't have those models, even nonprofits and some of the most progressive groups continue to replicate the systems of oppression that we are fighting against. [We need to ask], what does the world that we want look like, as opposed to fighting against something with means we learned from something we're fighting against.
I've read a lot about how organizations can replicate the systems they're trying to take down—people will be like, let's change ICE, but it really needs to be abolished, and I feel like that's symbolic.
I also really admire abolitionists; their clarity about what they're fighting for could be used by all nonprofits and all other organizing groups.
Do you have any advice as to how to keep going in this long fight?
In your struggle, you have to allow yourself to be led by the people who are directly impacted, because in a way, people who are directly impacted don't have the privilege of giving up. When you surround yourself with people who have to keep fighting, it helps you keep fighting.
I would say surround yourself with a supportive community, with people that you trust and people you can confide in and talk with when things get hard. And I would say be compassionate with yourself. You're going to make a lot of mistakes. That doesn't mean you're a terrible person. Everybody makes mistakes, and learning from those mistakes is the only thing you can do; don't beat yourself up so much that it paralyzes you.
And take breaks. I have been planting trees, I started a compost bin in my backyard, and I am learning how to plant vegetables. Putting your hands on the earth is actually incredibly therapeutic, and it brings everything back to what matters the most, which is life and sustainability and love for each other and our planet. When you bring it back to those core values of what really truly matters, then it allows you to breathe a little bit easier.
The event was a powerful challenge to capitalism and climate change.
This Friday, over 300 protestors from Extinction Rebellion took to the streets to draw attention to the climate crisis—as well as the undercurrents of excessive consumption and corporate greed that created and perpetuate it.
This week's protest was labeled a "Meditation Rebellion," and it featured speakers from a variety of different faiths, who gathered to call for unity and solidarity on the steps of the New York Public Library at Bryant Park. Though the event wasn't linked to any specific religion, in spirit, there was an underlying sense of worship.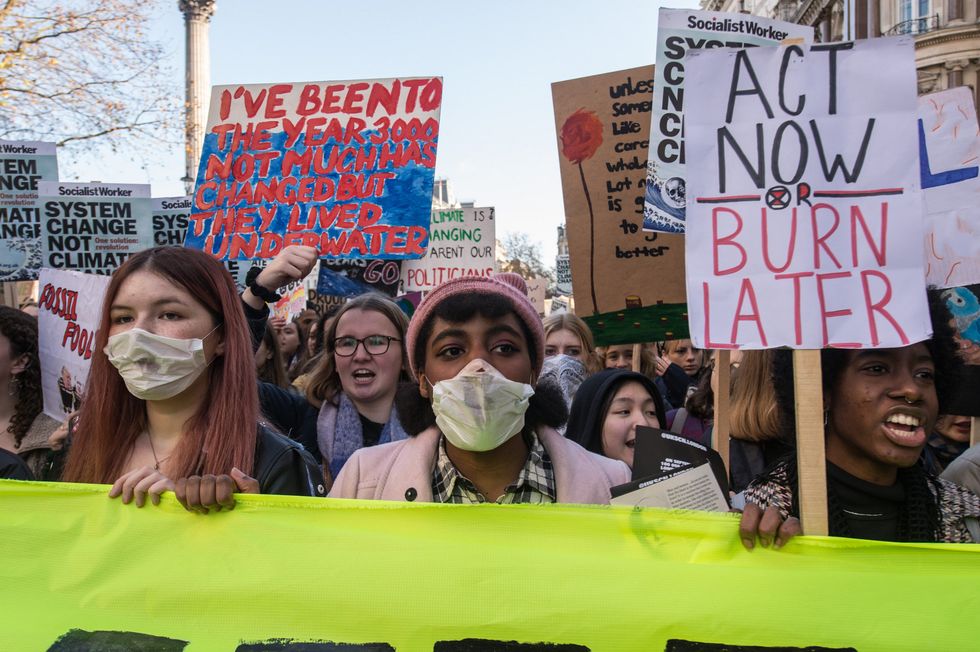 Newsweek
Personally, I'd been a bit worried about the event's theme, worried it would be a bunch of white people idealizing Eastern religions, especially because it's widely argued that XR and the climate movement have a race problem. Plus, climate activists have long been written off as hippie tree-huggers.

The event wasn't free from these issues, but at the NYC rally, speakers didn't over-emphasize the meditation aspect and mostly featured speakers of color, who all called for an intersectional approach to fighting the climate crisis. Overall, the event's organizers emphasized compassion, interconnectedness, and solidarity. The result was something that felt immensely powerful and regenerative.
After several speeches and songs, protestors marched silently down to 34th Street. To march in silence in New York City, especially on Black Friday, is a bit of an eye-opening experience, to say the least. Even if you weren't meditating, simply being silent with a group of protestors sharing the same pain and hopes created a sense of unity, despite or maybe because of the lack of conversation.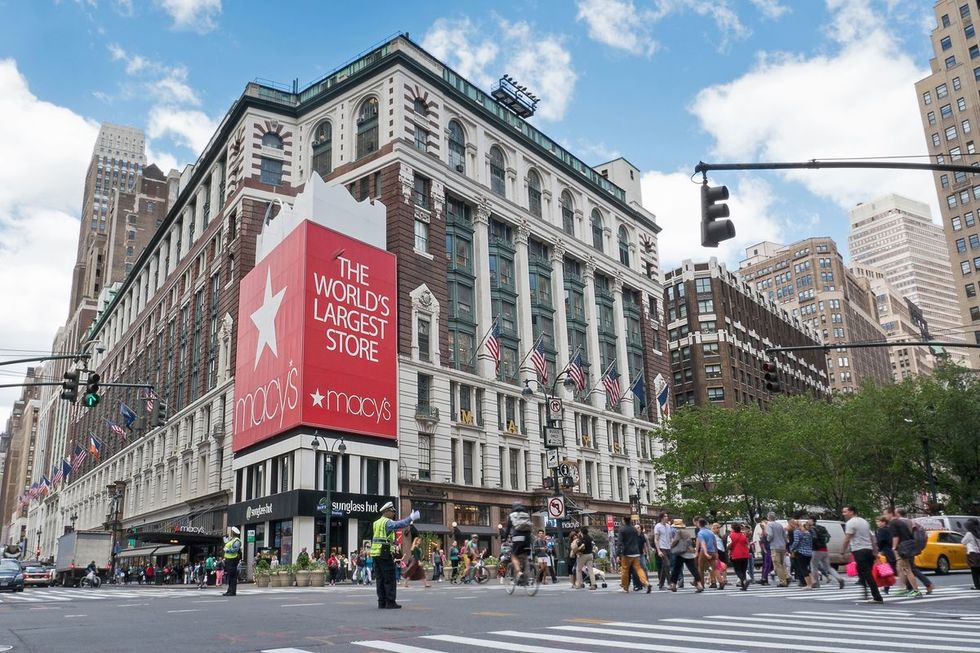 ny.curbed.com
During the march, I found myself really feeling my grief about climate change and its related and intersecting issues for the first time in a while. The grief formed a heavy mass in my chest. But I knew I was walking alongside people who felt the same thing, who were aware that this pavement-covered, ashen city was built on top of forests that were stolen from the Lenape, that it still bears the scars of that breach.

I knew I was walking alongside people whom, instead of marinating in fatalism, still hoped and believed change was worth fighting for and whom were willing to stand up and sacrifice to see that change become real.
Once the group reached Herald Square, which was completely lit up by garish Black Friday advertisements, 27 protestors sat down in the middle of the street and blocked traffic until they were forcibly removed by the police. (It's important to note that despite the aggressive police presence, the relatively peaceable nature of this removal was something that only could have been afforded to white protestors).


In the glow of Sephora, right outside of Macy's and H&M, the circle of trust formed by the protestors risking arrest felt temporarily unbreakable. As they were handcuffed and taken away by the dozens of cops that showed up at the scene, crowds of supporters cheered and sang from the sidelines.
Why Protest Black Friday: The Connections Between Capitalism and Climate Change
Why protest Black Friday as a climate change-focused organization? Climate change and capitalism have always been blood brothers. As Naomi Klein writes in This Changes Everything: Capitalism vs. the Climate, "Our economic system and our planetary system are now at war. Or, more accurately, our economy is at war with many forms of life on earth, including human life."
The consequences of this war, of course, are not distributed equally. Climate change disproportionately affects low-income communities and communities of color, who are often on the frontlines of the crisis's worst consequences. Like the climate crisis, capitalism (particularly in its vicious neoliberal form) disadvantages those who have less while propping up those who already have more (hence why a billionaire can effortlessly announce himself as a top-running candidate).
While individual consumers' choices won't singlehandedly end capitalism or stop climate change, mass movements, paradigm and consciousness shifts, and massive government action (such as plans like the Green New Deal) have that ability.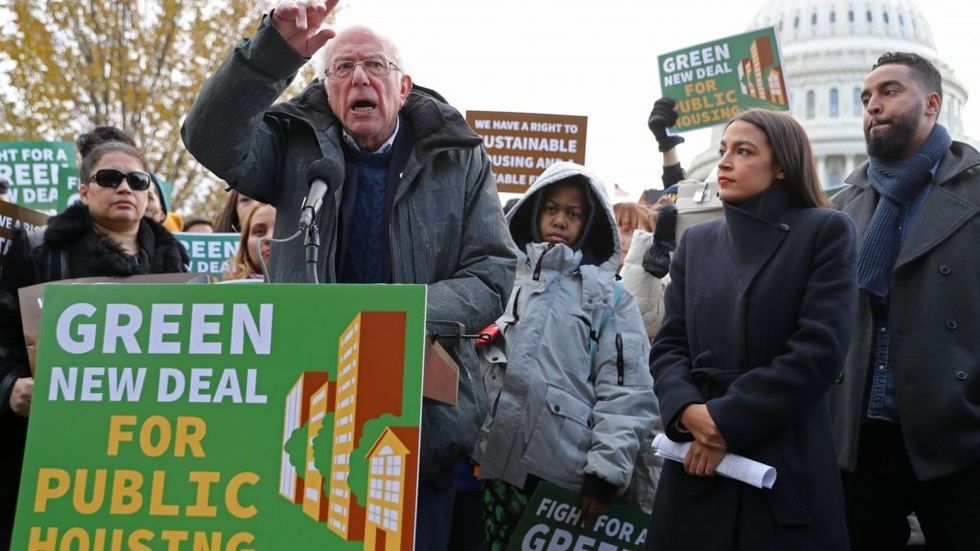 AOC and Bernie Sanders unveil their Green New Deal for Public Housing Grist
The climate crisis is not the fault of individual consumers and working people, and eradicating consumption completely isn't the answer. Instead, change will come through creating a movement large enough to pressure governments into holding corporations accountable for their actions, and it's going to be vital for these movements to connect issues like capitalism, climate change, and the ways they influence us internally as well as externally, and to stand in solidarity with those who they most affect.

Extinction Rebellion is part of this movement. It's also an arm of a worldwide reaction to frustration with economic inequality and neoliberalism, a movement that stretches (in different forms) from Chile and Hong Kong to Indonesia and Iran.
In recent months, NYC has seen an increase in anti-authoritarian protests (though they are far from new). For example, in October and November, the organization Decolonize This Place held two massive rallies in response to the MTA's crackdown on subway fare evasion.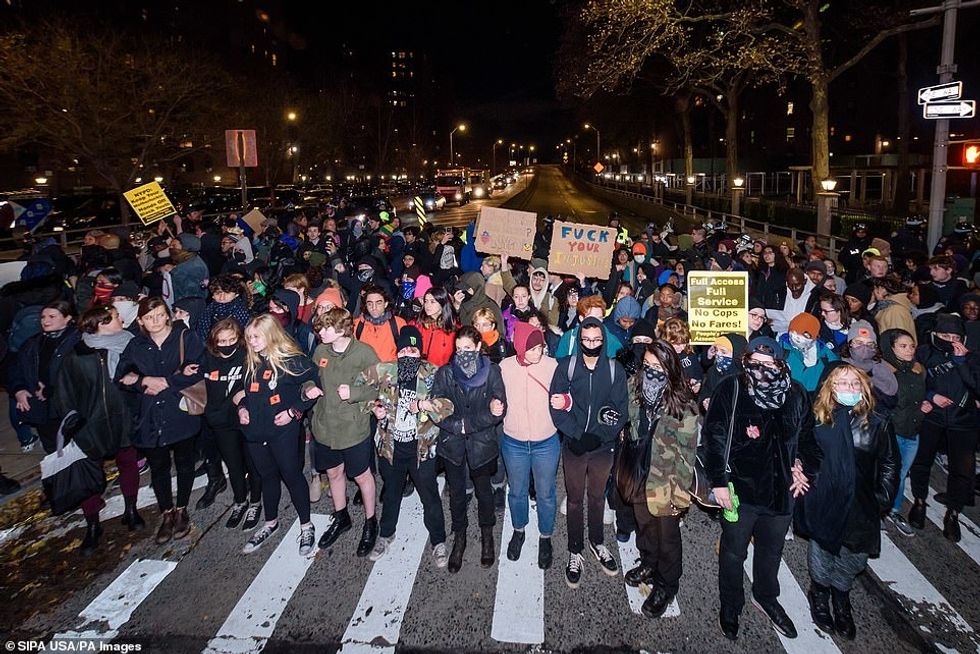 Daily Mail
Globally, a rising disillusionment with the false promises of billionaires and age-old toxicities rooted in white supremacy seem to be coalescing into a cohesive, if unstable, movement. Certainly, as these movements grow, things will break down and shatter, and roles and ideologies will shift and change.

As people with the privilege of choosing whether or not to protest, we have to be willing to be quiet and learn from each other during this time of instability, rage, and irrational, beautiful hope.
Reduce your carbon footprint for Thanksgiving and beyond
Are you worried about your carbon footprint this holiday season? There's a limit to how much the responsibility for climate change individuals can take when industry is the true locus of the damage, and governmental regulation is necessary to reign it in. Still, with all the travel and the piles of food piled on top of other piles of food, it's easy to see why some people are taking note of the waste and pollution that results from these annual occasions. Does that mean we should give up these rare chances to celebrate and share with far-flung relatives?
Most of us aren't interested in that option, so how do we balance all the positivity of the holidays against the shocking environmental impact they bring? There's a number of methods you can add to your holiday traditions to help minimize your carbon footprint. Hopefully some of these options will fit into your holiday plans and reduce any stress about your carbon footprint.
Each day, the Amazon loses over a football field of land to fire.
Right now, the wildfires in the Amazon forests are so massive they can be seen from space.
According to INPE, about a football field and a half of rainforest is being destroyed each day. Since Thursday, over 10,000 acres have been lost.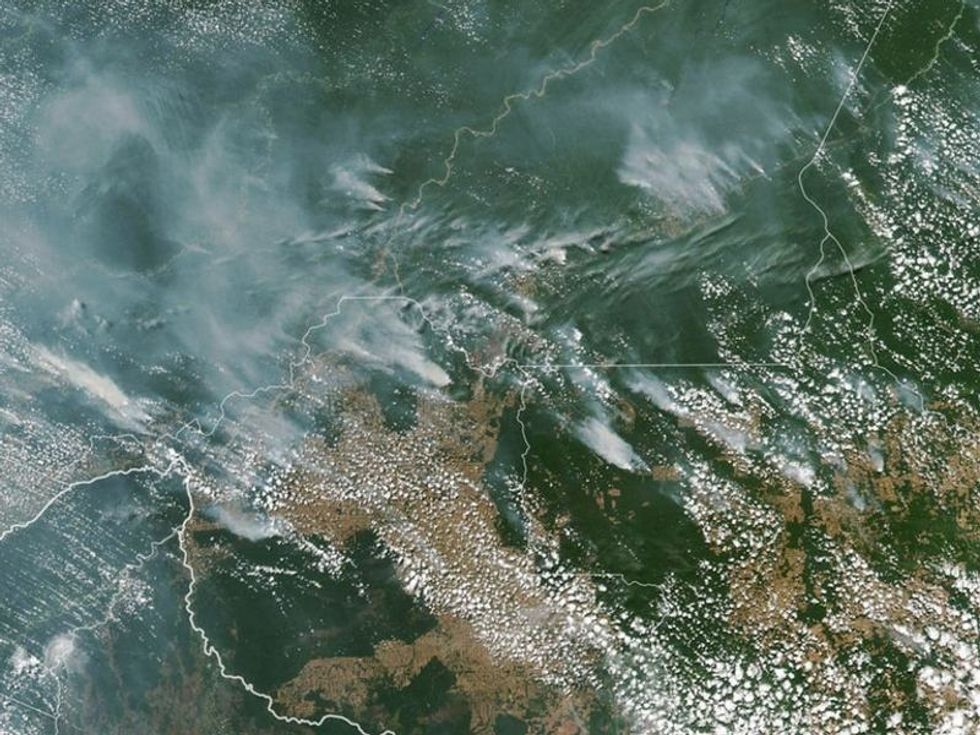 amazonwatch.org
Since January 2019, the number of forest fires in Brazil have grown by 80%. It's normal for wildfires to clear away the forest to make room for new growth, but these fires are happening at an unprecedented rate that scientists say is caused by human activity and the rising climate.

The destruction has also been exacerbated by the sentiments of Brazil's president, Jair Bolsonaro, who has been nonchalant when told that many of the fires are being caused by humans. Farmers are setting fire to the land in order to clear away indigenous forests, according to reports, and Bolsonaro has encouraged these actions with his anti-environmentalist sentiments.
In the name of development, Bolsonaro is endangering the entire world's future. The Amazon contains 40% of the world's rainforests, which are our best defense against a rising climate. Sometimes described as the planet's lungs, the Amazon rainforest provides around 20% of our world's oxygen and absorbs a quarter of the world's carbon. It also contains 10-15% of animal species, many of which are being incinerated along with ancient trees and rich biodiversity.
Indigenous peoples are on the front lines of these fires, as many of them live in or near the forests, but the loss of such a large portion of the Amazon will be damaging to the whole world.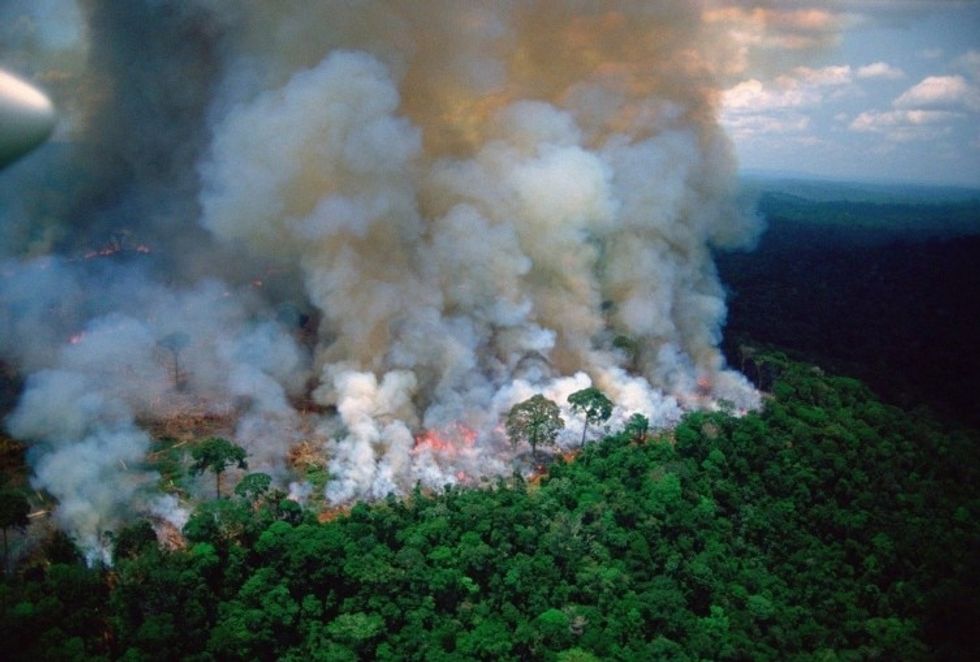 Image via India Today
Many people have asked about what they can do. Here are some actions you can take in response to the fires:

1. The main thing you can do to help out immediately with these forest fires is give money.
It's particularly important to give to organizations that work directly with indigenous people and those who know and live in the Amazon rainforest. Avoid major, corporatized organizations like the Red Cross.
Here are several organizations to give to:
*Protect and purchase rainforest land through rainforesttrust.org or the Rainforest Action
*Support indigenous communities through Amazon Watch or Survival International.
*Support arts, culture, and research about the Amazon through the Amazon Aid Foundation.
2. Unfortunately, even though donations will help, these wildfires will probably keep happening without massive political overhaul in Brazil. Contact your nation's Brazilian embassy to make your views heard. Here is a list of embassies in the US.
3. Sign this petition, being passed around by opponents of Bolsonaro and his policies.
4. Boycott beef and products made from rainforest trees. Check with the Rainforest Alliance to see whether the products you're buying are safe.
5. Switch your browser to Ecosia, which is run by an organization that plants trees based on searches—roughly one tree per 45 searches, to be exact. So far, it's planted over 65 million trees and has garnered good reviews from across the web.
6. To stop things like this from happening in the future (and to ensure that there is a future at all), you can also get involved in the fight against climate change and disaster capitalism.
Here are four ways to do that right now:
There are no quick fixes with regards to the deep-rooted problems that have caused this tragedy to happen. However, a worldwide shift in political sentiment towards environmentalism could be the start of the changes we need to see to stop this from growing even worse.
@LilNasX First, by understanding how & why it is happening (see thread). Second, by eliminating consumption of bee… https://t.co/jNasy7WyxF

— frenchie Ⓥ (@frenchie Ⓥ) 1566446935.0
Together, Sanders and Warren promised radical hope—and wound up derailing the Democratic debate.
"Marooned on a desert island."
"Bonnie and Clyde."
"It's Bernie Sanders and Elizabeth Warren against the world."
These kinds of whimsical headlines, loaded with Americana folklore and reality TV surrealism, swirled across the Internet after the first installment of the second Democratic debates. They stemmed from the unlikely but oddly seamless union of Elizabeth Warren and Bernie Sanders, the second and third highest-polling and by far the most radically progressive candidates in the race to win the Democratic primary.
Standing in the dead center of the row of candidates, in between the youthful pillars of Buttegieg and Beto and far away from Marianne Williamson's mystic emanations and John Delaney's bitter combativeness, they seemed to cling to each other. By proxy, they seemed to cling to a similar collection of dreams, dreams that have been pulling a great deal of progressives towards the far reaches of socialism, or at least to the dissolution of income inequality.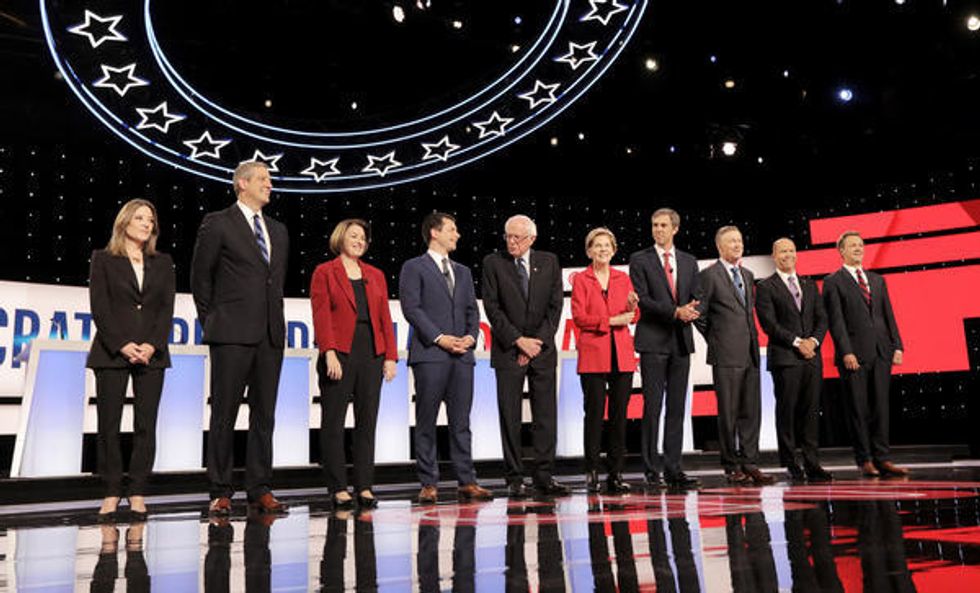 Image via WLRN
Watching Sanders vehemently defend the policies that he brought into the public eye—Medicare For All, free college, a refusal to accept superPAC donations—and watching Warren defend him (when she could get more than a few words in), the idea of a Sanders/Warren dream team entered the realm of plausibility.

Though either could lead, Sanders seems like the clear choice for the presidential candidate, with Warren as a strong VP. After all, the Warren/Sanders ethos thrives because it is buoyed by the idealism that Bernie popularized in 2016.
The fact that Sanders is a democratic socialist, while Warren is a self-proclaimed capitalist, is the primary reason why Bernie would be the most feasible leader of the duo. Sanders' campaign caught fire in 2016 because he spoke to a generation caught in the stranglehold of mind-blowing income inequality, a generation that faces the destabilizing knowledge that the world faces certain catastrophe if climate change is not addressed—and that capitalism has continuously favored the fossil fuel companies that prevent necessary environmental changes. Like most youth-led movements, Sanders supporters seek radical, totalizing change of the sort that's only be possible when the old systems are completely deconstructed.
On the whole, Sanders is more anti-establishment and seems more likely to reel in the followers of Trump's "drain the swamp" who could care less about actual policy, and she's more likely to inspire mass mobilization and excitement among those seeking radical change. As The Atlantic succinctly put it, "Sanders is fighting for a political revolution. Warren isn't."
Warren, for her part, maintains a link to solid ground with her vast collection of plans and policies—plans that, in theory, could be the perfect antidote to any accusation that Sanders' policies are implausible.
Still, last night, it seemed like Warren and Sanders were out in dreamland, reeling through a political Coney Island. This isn't necessarily a death knell, though. Together on a single ticket, their shared pull could be enough.
Torn apart, though, their campaigns might result in another 2016. Arguably, Bernie's campaign was a death knell for Hillary Clinton, as it provided the initial framework for Trump's demonization of her. In the same way, progressives are now putting up firewalls against the candidates they see as too middle-of-the-road, like Joe Biden.
In her opening statement, the ever-practical Warren reminded the audience that any candidate would be preferable to Donald Trump. While this is true, many progressives feel that the 2020 election presents an unmissable opportunity to completely change the direction of politics. In a nation that was prepared to elect someone as disruptive as Donald Trump, it seems feasible that we could handle a little more chaos, especially if it comes in tandem with the promise of a better world.
At the debate, with rampant arm-flailing and drawn-out storytelling, Warren and Sanders promised that better world. They stood for the dissolution of private health insurance companies and student debt in spite of endless criticisms from the other candidates. Against the totalizing extremity of their views, the other candidates who supported for-profit colleges and private insurance in any capacity seemed lost in the past—or lodged in reality, depending again on how willing you are to take the leap into their alternate state of mind.
But in last night's debate, the binary they created between themselves and the others didn't always work in their favor. Somehow, by the end of the night, both the Warren/Sanders island and the rest of the Democrats seemed to come out as losers.
This raises the question: Is extremism really the solution? For young progressives, it absolutely is. For this group, fighting against a rigged system that buoys the rich and throws the poor to the wolves, extreme action is the only thing that will work. Peace and love failed in the 1970s, and moderation is code for the status quo. For progressives, it's time to wake up from the dream presented at the start of the American capitalist experiment.
For other non-radical or socialism-phobic Democrats, the Sanders/Warren ticket is the stuff of nightmares, and the progressives are the ones lost in the dream. For those who merely want Trump gone and apparent order reinstated in the Oval Office, it seems that the division between the progressives and the middle-of-the-road Democrats is an unfortunate diversion.
Perhaps middle-of-the-road Democratic candidates could accrue more favor with would progressives if they could convince them (and the nation on the whole) that they actually stand for something (other than defeating Trump). In the technologically saturated mess of a modern era, one thing is certain: Policy is secondary to a candidate's ability to shape a vision of a better future.
For a long time, Sanders has been the best architect of that better future that the Democrats have. Though he and Warren presented an appealing team, seeing them cut down to size at the debate last night did nothing for the party and its motivation. Perhaps, had the debate been framed more as a discussion of specific policies rather than a black-and-white argument that pitted stagnancy against change, it wouldn't have been defined by such a strong feeling of premature defeat.
This was an act of terror, and should be widely condemned.
Emyra Wajãpi was a leader of the Wajãpi indigenous community, a group located in the north of Brazil—until he was murdered this week by a group of armed miners, who stabbed him to death and threw his body into a river.
On Saturday, Wajãpi community leaders issued a cry for help to the Brazilian government, stating that they were being invaded by troops bearing rifles and weapons and requesting the assistance of the army. Though a police force was en route, they did not arrive in time, and the community was forced to flee.
The invasion comes as a shock but not a surprise. In recent months, Brazil's far-right president, Jair Bolsonaro, has explicitly encouraged loggers, miners, and farmers to invade protected areas and land occupied by indigenous communities, arguing that the Brazilian government has the right to develop and profit off of any and all of its national territories. Under Bolsonaro, deforestation in the Amazon has skyrocketed, though he has repeatedly denied the validity of studies that reveal just how much land has been lost during his reign.
"The president is responsible for this death," said Brazilian lawmaker Rodolfe Rodrigues to the The New York Times. Bolsonaro has a history of making racist comments about indigenous people and is currently telling the public that the murder did not happen.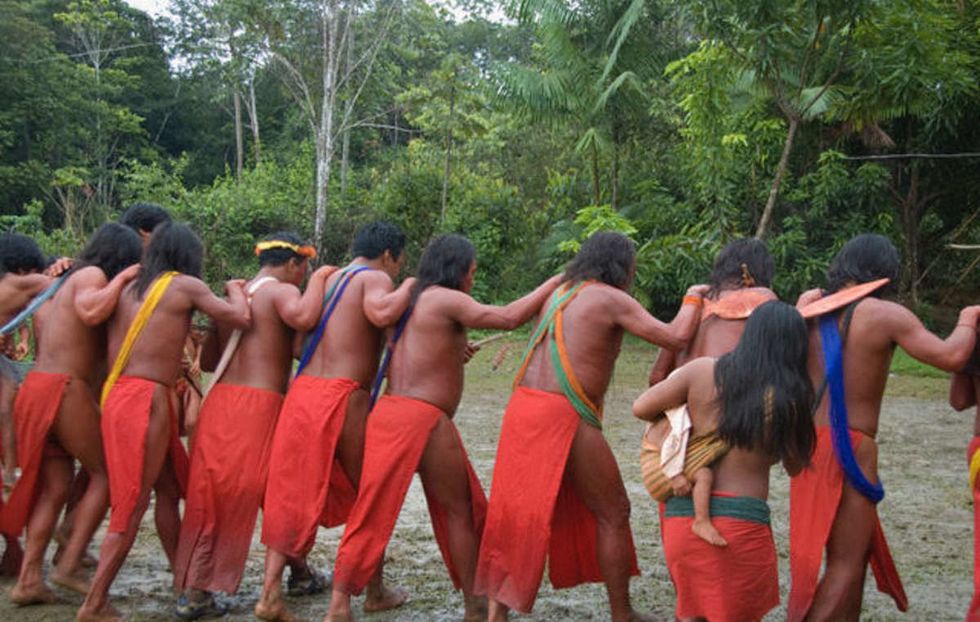 The Wajãpi people united in protest against invadersImage via survivalinternational.org
In March 2019, Bolsonaro met with U.S. President Donald Trump, and they signed a letter of intent promising the "sustainable development of the Amazon" (read: the ravaging of indigenous lands). Bolsonaro has also drafted plans that would legalize artisanal mining in protected lands, and that—to add insult to injury—would encourage indigenous communities to mine their own lands.
His priorities are crystal clear. "Brazil lives from commodities," Bolsonaro said in a recent speech. "What do we have here in addition to commodities? Do people not remember this? If the [commodities] business fails, it will be a disaster." These comments come at a time when mining and pollution present unparalleled threats to the planet's well-being and when indigenous ways of life present one of the best models of combating climate change and developing sustainable infrastructure.
The killing of Emyra Wajãpi should be viewed as a serious act of domestic terror among international communities. The U.N. human rights chief Michelle Bachelet has decried the death, calling it "a disturbing symptom of the growing problem of encroachment on indigenous land – especially forests – by miners, loggers and farmers in Brazil." World leaders should follow suit in denouncing these actions and reaffirming their commitment to conserving protected lands.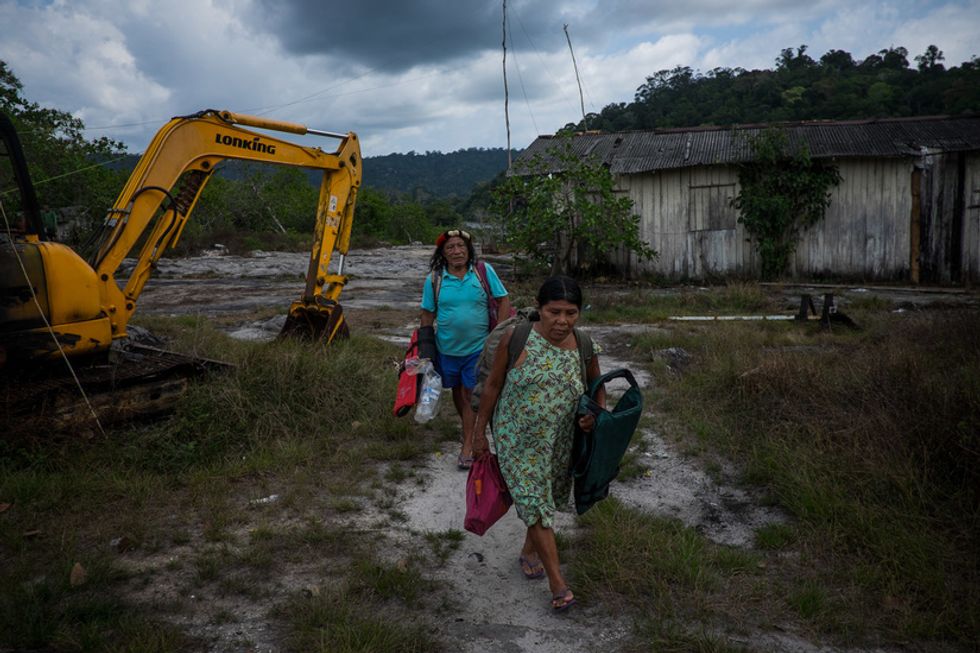 Wajãpi Indigenous TribeImage via Victor Moriyama
If they do not, a genocide could ensue. "This government is massacring our rights and our indigenous peoples," said a Wajãpi leader to NBC News. "They are already starting, killing the indigenous peoples."
Indigenous communities of the Americas have endured relentless persecution since the arrival of Europeans in the 1400s. The Wajãpi did not receive protected land until 1996, after a 21-year period of brutal military rule. In the 1970s, their community was almost completely wiped out by disease—brought by invading gold miners.
#Brazil: Effective measures should be taken to save lives & physical integrity of the #Waiãpi people. I urge Gov to… https://t.co/7VvPSCAxVg

— UN Human Rights (@UN Human Rights) 1564428776.0