For the third installment of the Visionaries Project, we spoke to Sara Gozalo about capitalism, fighting ICE and the prison industrial complex, combating burnout as an activist, and her vision of a better world.
The Visionaries Project is a subsection of The Liberty Project dedicated to highlighting the lives, passions, and work of radical activists currently working towards social justice and liberation from oppression. We aim to uplift the perspectives of diverse voices working in media and activism today—and not just the faces who make headlines, but the real people on the ground every day, working towards their visions of a better world.
Sara Gozalo is an organizer currently based in New Orleans. Originally from Madrid, she describes herself as a "queer immigrant who believes in a world without borders and without jails, where everyone has the right to live in dignity." She currently works as a Unanimous Jury Specialist at the Promise of Justice Initiative, co-founded Students for Peace and Justice, and was formerly the Supervising Coordinator of the New Sanctuary Coalition and a member of the Worcester Global Action Network. We spoke with her about the insidiousness of capitalism, her work fighting ICE and the prison industrial complex, combating burnout as an activist, and her vision of a better world.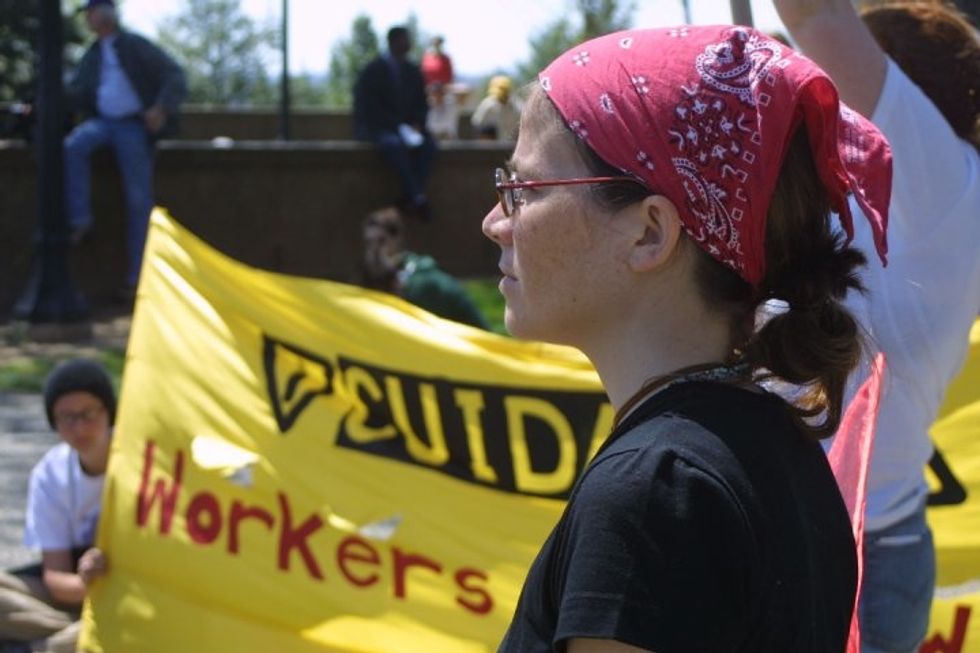 LIBERTY PROJECT: I was wondering if you could give an overview of your experience in activism and organizing.
SARA GOZALO: I have been organizing for a long time. I've only been organizing professionally for the past three and a half to four years, but I organized when I was at UMass against the war in Iraq. We did a lot of workshopping and teachings about free trade agreements, and how capitalism was destroying the planet.
It seems like that was such a long time ago, and we're still dealing with the same issues. I think that a lot of organizing is understanding that you're running a marathon, and it's never going to be a sprint. It's going to be a lot of small victories along the way, but you're going to fight the same issues constantly. That can be pretty demoralizing, but it also means you can never stop.
I come from a family that's very political. My dad is an attorney in Spain, and when he was a student he got arrested and kicked out of school for organizing against Franco during the dictatorship. My mom was always very political, and I remember hating that when I was a little kid.
While I was going through my own immigration case, I realized how hard it is for someone with a ton of privilege, and I started to look into what it was like for people who aren't as privileged. I got very involved in the immigration issue. Since I moved to New Orleans, I've seen the same patterns in the criminal justice system.
I think New Orleans brings these issues together. It has been very impacted in terms of climate change. Louisiana has the highest numbers per capita of incarcerated people [in the US], and one of the highest numbers of migrants in detention. The city brings everything together, and ties in all the different aspects that I have organized around in my life. In the end, it is important to remember that they're all related to each other.
Where are you at now?
I moved to New Orleans this summer. My wife was born and raised here. I'm working at the Promise of Justice Initiative, which is an organization that does a lot of criminal justice work.
It's clear that all these issues are very interconnected. Lately it seems that there's been a particular resurgence of anticapitalist sentiment, though that was always there…Is that affecting your organizing at all?
I have been organizing with these anti-capitalists since the late '90s. It feels like the "resurgence" has been a long time coming.
When we were organizing around the Iraq war in 2002 and 2003, we were very much organizing under the capitalist lens. Grassroots movements like Occupy and the movement for Medicare for All have ignited something even bigger now. It's become more mainstream.
The fight against capitalism is decades long, and its roots are in the people who are directly impacted, especially indigenous people all around the world. They have led that fight, because they know in their bodies what capitalism is doing to the world. I think it's important that now that conversation is part of western countries, especially the United States, which in many ways is the belly of the beast in terms of capitalism. Anti-capitalist organizing has been there forever; it just now feels like you can talk about it and people won't immediately discard you as someone crazy.
I want to make sure that [in spite of all the] now-mainstream groups that are taking this fight on—which is super important and necessary—we recognize how many people have been fighting this fight for so long and leading the efforts.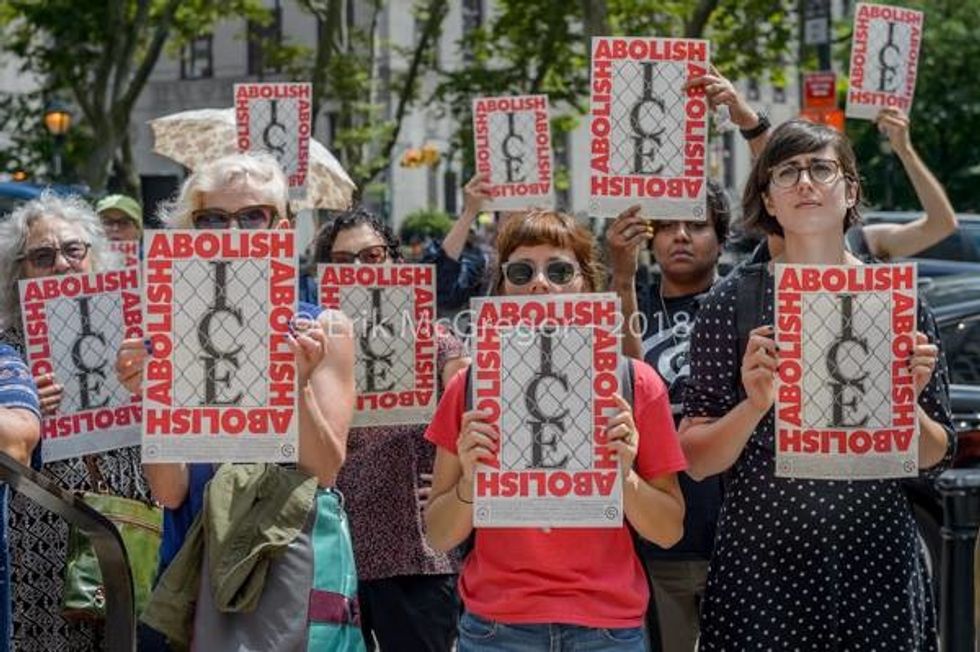 I first met you through New Sanctuary Coalition (an organization that provides legal support to immigrants in New York City). You were doing so much for them at once, and I was wondering what your reflections on that experience are.
NSC is one of the most powerful organizing groups that I have ever known, in terms of the numbers of people who are involved. Post-election, after Trump took power, it became very obvious that immigration was going to become one of the issues that he was going to attack the most. NSC grew because there are very concrete ways that people could get involved, and I think that is incredibly powerful. It's led by people who are directly impacted, but it really utilizes the number of people who want to fight alongside people who are directly impacted. That was a beautiful thing to see.
I've worked with other groups where there isn't a clear way for volunteers to get involved, and I think NSC recognizes that people can fight against the system with the support of others with more privilege. It's a great way to utilize the privilege that US citizens have. The [idea] that the people who are impacted lead, and you're showing up for solidarity—not to help or save anyone—is really important.
The accompaniment work, in particular, was hard for volunteers in that it was so boring, but it's such a good example of how much privilege US citizens have, and how important it is to show up and not feel like they're saving or leading. They're just standing in solidarity, which is an incredible exercise for everyone.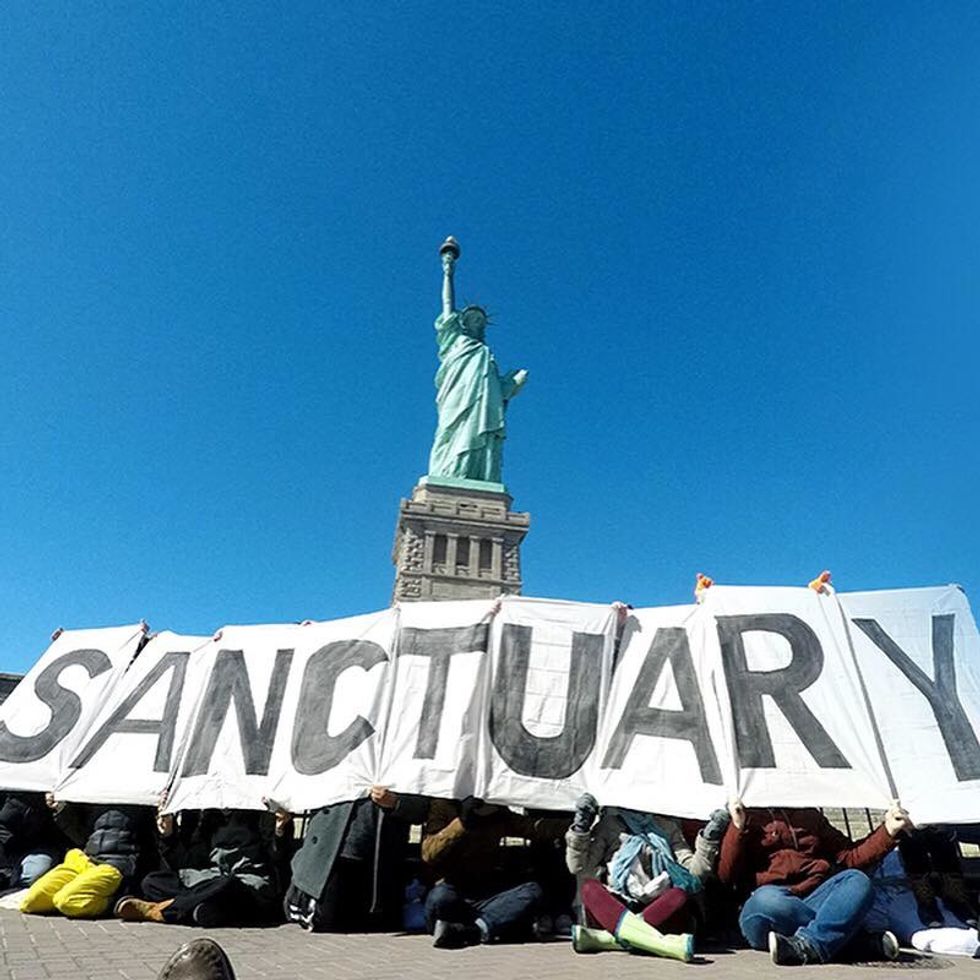 ignationsolidarity.net
It did feel at times overwhelming, which obviously leads to a lot of burnout and the sense of, oh my God, I am never doing enough, because everything is an emergency.
It felt at times that I was just pouring oil on the machine as opposed to throwing a wrench in it. For instance, if a judge said, I need an asylum application in three months as opposed to the year, we became so good at meeting those demands that it felt like in some way we were contributing to them.
I think that's a constant in organizing. There's a big difference between asking, what can you today to help a person who's going to be deported unless they show up with an asylum application, and what can you do to dismantle the system? Of course you're gonna support the person who's dealing with something today and not think in bigger terms, and so those were some difficult moments.
I don't have the answer. Maybe we need organizations that do more direct impact service work, and other organizations that only do the disruptive work; maybe that's the balance that we could work towards.
When I was leaving this summer, a lot of people finally went out on the streets, and people got arrested by the hundreds. I think that's the energy we need in the streets, while organizations like NSC do the day-to-day work that's helping people stay in the country and not be deported.
Speaking of those larger systemic changes, are there any visions you have of changes that you would like to see happen on a large scale?
Yeah, so many.
First of all, we need to realign our belief system. Our bones, our insides, are so ingrained with this capitalist system of oppression. We make decisions on a daily basis that are informed by that upbringing. I admire Decolonize This Place and other groups that are really going to the roots of the problem, recognizing that unless we deal with those root problems, we're never going to affect systemic change.
For instance, we can't deal with climate change from a capitalist perspective. My friend was just fired for his job—which was to install solar panels—because they tried to unionize. We can't keep moving forward from the perspective of putting capital before humans and before the planet.
I really would like to see us having very honest conversations in which we start seeing, within ourselves and within our communities, how colonized we really are. We need to look at the root causes of the problem, if we really want to achieve any change that's going to make a difference, for our planet and for the survival of our communities everywhere in the world.
For instance, in Chile, I love to see the women who are protesting with everyone else and also bringing up the fact that the patriarchy is one of the biggest problems we have. Everything we see as an injustice has a root problem that's attached to racism and capitalism, and we need to address those, otherwise we're really not going to achieve the change that we want to achieve. Having these issues come into the light is an important step.
Women in South America sing against gender violence www.youtube.com
I think I would like to see more compassion in our organizing. I think we're all very angry. We're all very quick to attack each other while not understanding that organizing is hard. Organizing is the hardest thing you can ever do, because there are no models for the world that we want. We have to reinvent the world.

Because we don't have those models, even nonprofits and some of the most progressive groups continue to replicate the systems of oppression that we are fighting against. [We need to ask], what does the world that we want look like, as opposed to fighting against something with means we learned from something we're fighting against.
I've read a lot about how organizations can replicate the systems they're trying to take down—people will be like, let's change ICE, but it really needs to be abolished, and I feel like that's symbolic.
I also really admire abolitionists; their clarity about what they're fighting for could be used by all nonprofits and all other organizing groups.
Do you have any advice as to how to keep going in this long fight?
In your struggle, you have to allow yourself to be led by the people who are directly impacted, because in a way, people who are directly impacted don't have the privilege of giving up. When you surround yourself with people who have to keep fighting, it helps you keep fighting.
I would say surround yourself with a supportive community, with people that you trust and people you can confide in and talk with when things get hard. And I would say be compassionate with yourself. You're going to make a lot of mistakes. That doesn't mean you're a terrible person. Everybody makes mistakes, and learning from those mistakes is the only thing you can do; don't beat yourself up so much that it paralyzes you.
And take breaks. I have been planting trees, I started a compost bin in my backyard, and I am learning how to plant vegetables. Putting your hands on the earth is actually incredibly therapeutic, and it brings everything back to what matters the most, which is life and sustainability and love for each other and our planet. When you bring it back to those core values of what really truly matters, then it allows you to breathe a little bit easier.
The event was a powerful challenge to capitalism and climate change.
This Friday, over 300 protestors from Extinction Rebellion took to the streets to draw attention to the climate crisis—as well as the undercurrents of excessive consumption and corporate greed that created and perpetuate it.
This week's protest was labeled a "Meditation Rebellion," and it featured speakers from a variety of different faiths, who gathered to call for unity and solidarity on the steps of the New York Public Library at Bryant Park. Though the event wasn't linked to any specific religion, in spirit, there was an underlying sense of worship.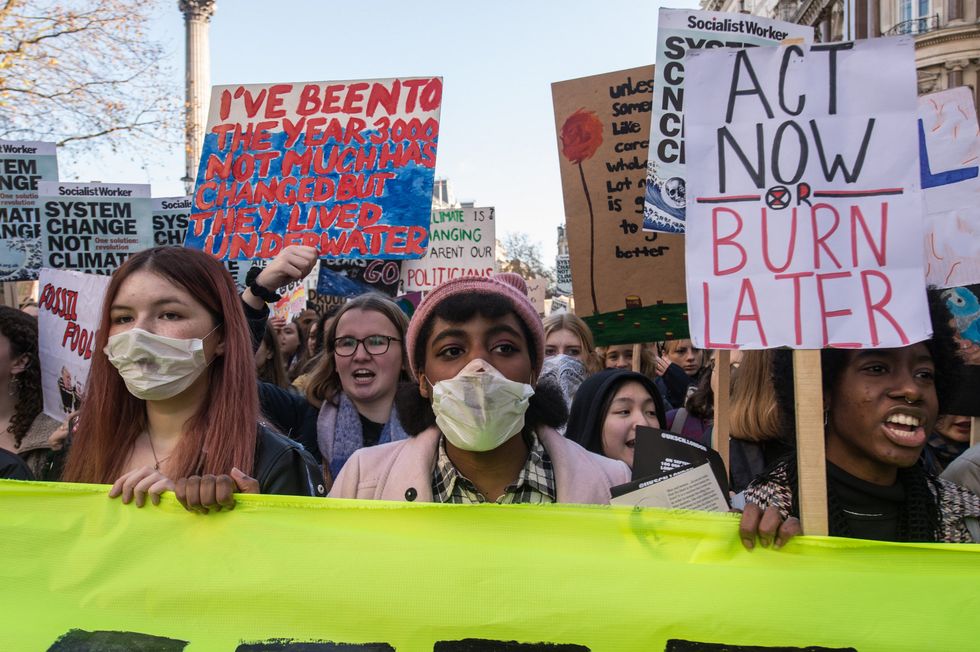 Newsweek
Personally, I'd been a bit worried about the event's theme, worried it would be a bunch of white people idealizing Eastern religions, especially because it's widely argued that XR and the climate movement have a race problem. Plus, climate activists have long been written off as hippie tree-huggers.

The event wasn't free from these issues, but at the NYC rally, speakers didn't over-emphasize the meditation aspect and mostly featured speakers of color, who all called for an intersectional approach to fighting the climate crisis. Overall, the event's organizers emphasized compassion, interconnectedness, and solidarity. The result was something that felt immensely powerful and regenerative.
After several speeches and songs, protestors marched silently down to 34th Street. To march in silence in New York City, especially on Black Friday, is a bit of an eye-opening experience, to say the least. Even if you weren't meditating, simply being silent with a group of protestors sharing the same pain and hopes created a sense of unity, despite or maybe because of the lack of conversation.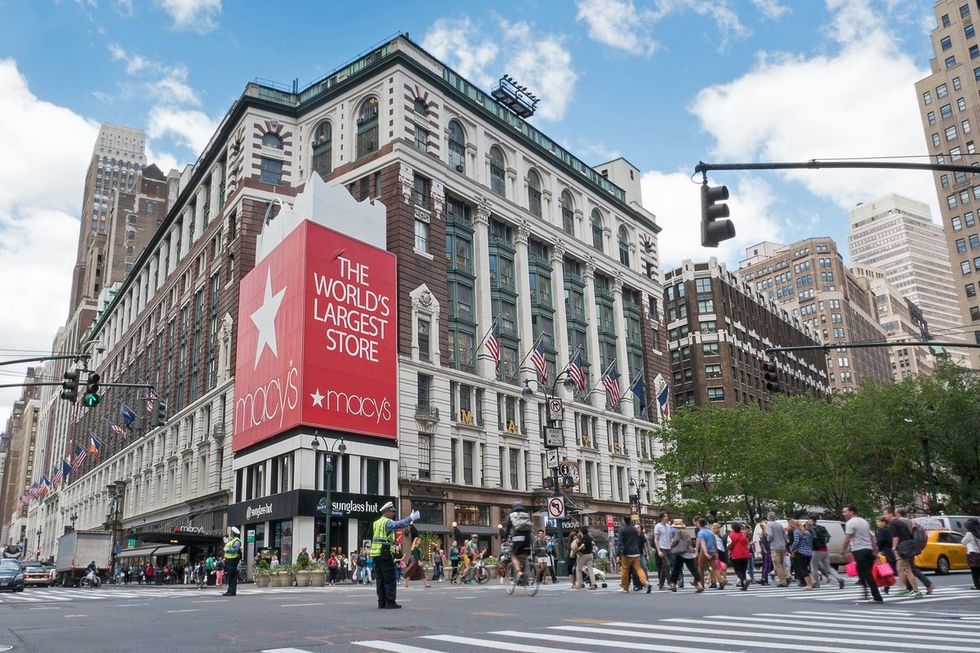 ny.curbed.com
During the march, I found myself really feeling my grief about climate change and its related and intersecting issues for the first time in a while. The grief formed a heavy mass in my chest. But I knew I was walking alongside people who felt the same thing, who were aware that this pavement-covered, ashen city was built on top of forests that were stolen from the Lenape, that it still bears the scars of that breach.

I knew I was walking alongside people whom, instead of marinating in fatalism, still hoped and believed change was worth fighting for and whom were willing to stand up and sacrifice to see that change become real.
Once the group reached Herald Square, which was completely lit up by garish Black Friday advertisements, 27 protestors sat down in the middle of the street and blocked traffic until they were forcibly removed by the police. (It's important to note that despite the aggressive police presence, the relatively peaceable nature of this removal was something that only could have been afforded to white protestors).


In the glow of Sephora, right outside of Macy's and H&M, the circle of trust formed by the protestors risking arrest felt temporarily unbreakable. As they were handcuffed and taken away by the dozens of cops that showed up at the scene, crowds of supporters cheered and sang from the sidelines.
Why Protest Black Friday: The Connections Between Capitalism and Climate Change
Why protest Black Friday as a climate change-focused organization? Climate change and capitalism have always been blood brothers. As Naomi Klein writes in This Changes Everything: Capitalism vs. the Climate, "Our economic system and our planetary system are now at war. Or, more accurately, our economy is at war with many forms of life on earth, including human life."
The consequences of this war, of course, are not distributed equally. Climate change disproportionately affects low-income communities and communities of color, who are often on the frontlines of the crisis's worst consequences. Like the climate crisis, capitalism (particularly in its vicious neoliberal form) disadvantages those who have less while propping up those who already have more (hence why a billionaire can effortlessly announce himself as a top-running candidate).
While individual consumers' choices won't singlehandedly end capitalism or stop climate change, mass movements, paradigm and consciousness shifts, and massive government action (such as plans like the Green New Deal) have that ability.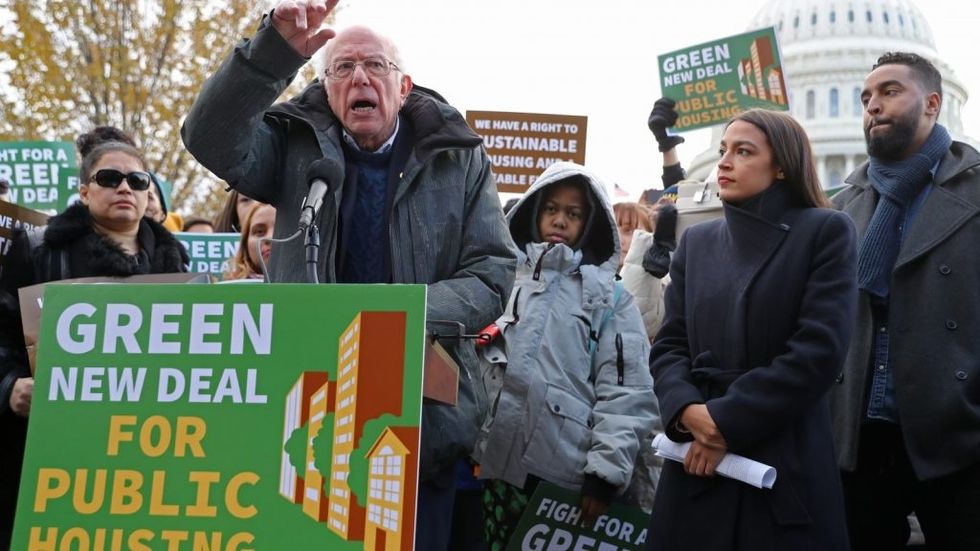 AOC and Bernie Sanders unveil their Green New Deal for Public Housing Grist
The climate crisis is not the fault of individual consumers and working people, and eradicating consumption completely isn't the answer. Instead, change will come through creating a movement large enough to pressure governments into holding corporations accountable for their actions, and it's going to be vital for these movements to connect issues like capitalism, climate change, and the ways they influence us internally as well as externally, and to stand in solidarity with those who they most affect.

Extinction Rebellion is part of this movement. It's also an arm of a worldwide reaction to frustration with economic inequality and neoliberalism, a movement that stretches (in different forms) from Chile and Hong Kong to Indonesia and Iran.
In recent months, NYC has seen an increase in anti-authoritarian protests (though they are far from new). For example, in October and November, the organization Decolonize This Place held two massive rallies in response to the MTA's crackdown on subway fare evasion.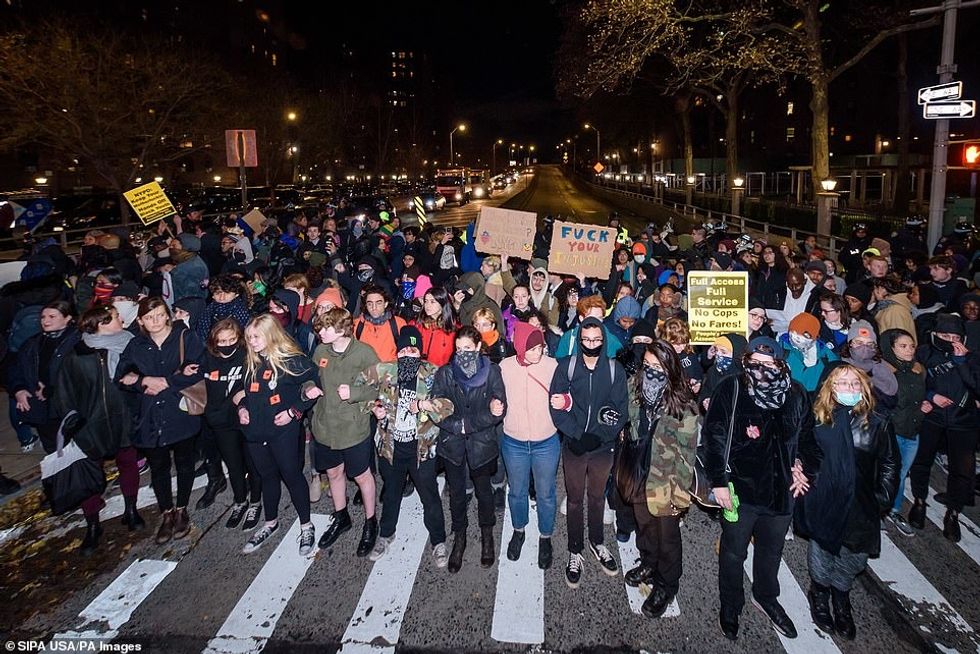 Daily Mail
Globally, a rising disillusionment with the false promises of billionaires and age-old toxicities rooted in white supremacy seem to be coalescing into a cohesive, if unstable, movement. Certainly, as these movements grow, things will break down and shatter, and roles and ideologies will shift and change.

As people with the privilege of choosing whether or not to protest, we have to be willing to be quiet and learn from each other during this time of instability, rage, and irrational, beautiful hope.
Reduce your carbon footprint for Thanksgiving and beyond
Are you worried about your carbon footprint this holiday season? There's a limit to how much the responsibility for climate change individuals can take when industry is the true locus of the damage, and governmental regulation is necessary to reign it in. Still, with all the travel and the piles of food piled on top of other piles of food, it's easy to see why some people are taking note of the waste and pollution that results from these annual occasions. Does that mean we should give up these rare chances to celebrate and share with far-flung relatives?
Most of us aren't interested in that option, so how do we balance all the positivity of the holidays against the shocking environmental impact they bring? There's a number of methods you can add to your holiday traditions to help minimize your carbon footprint. Hopefully some of these options will fit into your holiday plans and reduce any stress about your carbon footprint.
Each day, the Amazon loses over a football field of land to fire.
Right now, the wildfires in the Amazon forests are so massive they can be seen from space.
According to INPE, about a football field and a half of rainforest is being destroyed each day. Since Thursday, over 10,000 acres have been lost.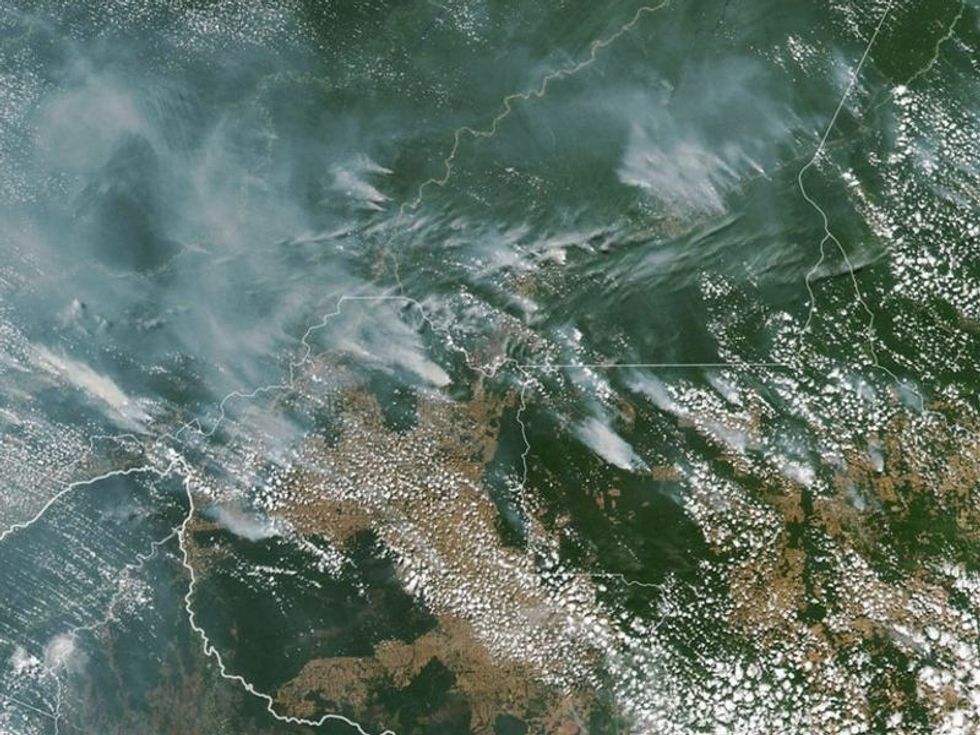 amazonwatch.org
Since January 2019, the number of forest fires in Brazil have grown by 80%. It's normal for wildfires to clear away the forest to make room for new growth, but these fires are happening at an unprecedented rate that scientists say is caused by human activity and the rising climate.

The destruction has also been exacerbated by the sentiments of Brazil's president, Jair Bolsonaro, who has been nonchalant when told that many of the fires are being caused by humans. Farmers are setting fire to the land in order to clear away indigenous forests, according to reports, and Bolsonaro has encouraged these actions with his anti-environmentalist sentiments.
In the name of development, Bolsonaro is endangering the entire world's future. The Amazon contains 40% of the world's rainforests, which are our best defense against a rising climate. Sometimes described as the planet's lungs, the Amazon rainforest provides around 20% of our world's oxygen and absorbs a quarter of the world's carbon. It also contains 10-15% of animal species, many of which are being incinerated along with ancient trees and rich biodiversity.
Indigenous peoples are on the front lines of these fires, as many of them live in or near the forests, but the loss of such a large portion of the Amazon will be damaging to the whole world.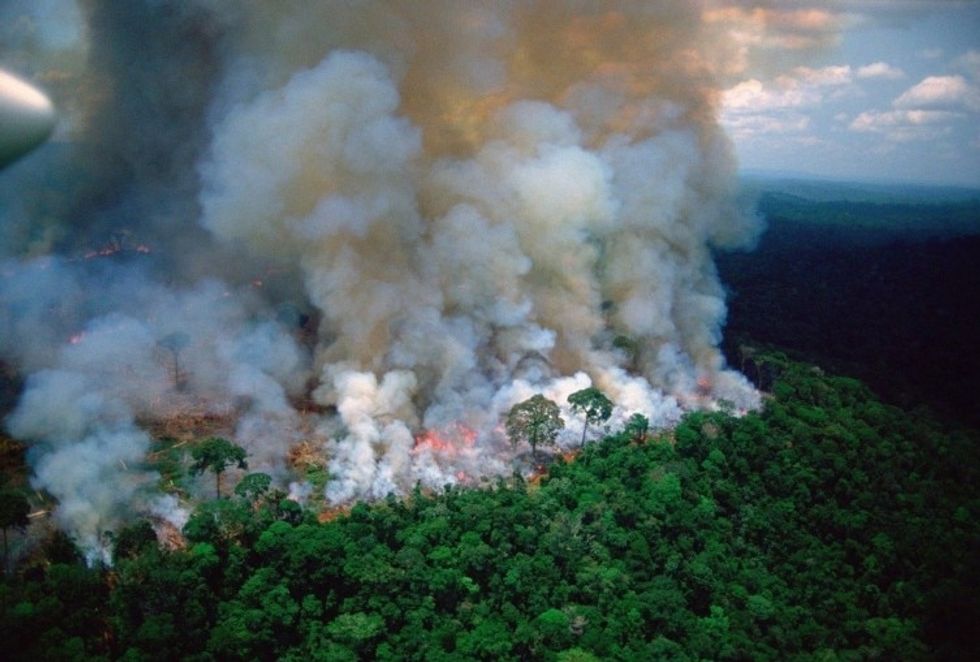 Image via India Today
Many people have asked about what they can do. Here are some actions you can take in response to the fires:

1. The main thing you can do to help out immediately with these forest fires is give money.
It's particularly important to give to organizations that work directly with indigenous people and those who know and live in the Amazon rainforest. Avoid major, corporatized organizations like the Red Cross.
Here are several organizations to give to:
*Protect and purchase rainforest land through rainforesttrust.org or the Rainforest Action
*Support indigenous communities through Amazon Watch or Survival International.
*Support arts, culture, and research about the Amazon through the Amazon Aid Foundation.
2. Unfortunately, even though donations will help, these wildfires will probably keep happening without massive political overhaul in Brazil. Contact your nation's Brazilian embassy to make your views heard. Here is a list of embassies in the US.
3. Sign this petition, being passed around by opponents of Bolsonaro and his policies.
4. Boycott beef and products made from rainforest trees. Check with the Rainforest Alliance to see whether the products you're buying are safe.
5. Switch your browser to Ecosia, which is run by an organization that plants trees based on searches—roughly one tree per 45 searches, to be exact. So far, it's planted over 65 million trees and has garnered good reviews from across the web.
6. To stop things like this from happening in the future (and to ensure that there is a future at all), you can also get involved in the fight against climate change and disaster capitalism.
Here are four ways to do that right now:
There are no quick fixes with regards to the deep-rooted problems that have caused this tragedy to happen. However, a worldwide shift in political sentiment towards environmentalism could be the start of the changes we need to see to stop this from growing even worse.
Together, Sanders and Warren promised radical hope—and wound up derailing the Democratic debate.
"Marooned on a desert island."
"Bonnie and Clyde."
"It's Bernie Sanders and Elizabeth Warren against the world."
These kinds of whimsical headlines, loaded with Americana folklore and reality TV surrealism, swirled across the Internet after the first installment of the second Democratic debates. They stemmed from the unlikely but oddly seamless union of Elizabeth Warren and Bernie Sanders, the second and third highest-polling and by far the most radically progressive candidates in the race to win the Democratic primary.
Standing in the dead center of the row of candidates, in between the youthful pillars of Buttegieg and Beto and far away from Marianne Williamson's mystic emanations and John Delaney's bitter combativeness, they seemed to cling to each other. By proxy, they seemed to cling to a similar collection of dreams, dreams that have been pulling a great deal of progressives towards the far reaches of socialism, or at least to the dissolution of income inequality.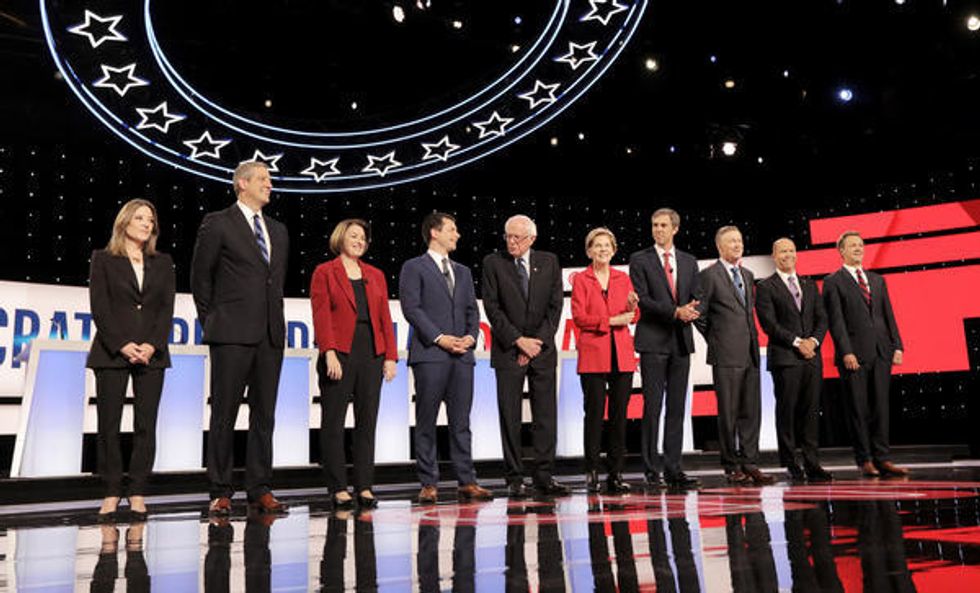 Image via WLRN
Watching Sanders vehemently defend the policies that he brought into the public eye—Medicare For All, free college, a refusal to accept superPAC donations—and watching Warren defend him (when she could get more than a few words in), the idea of a Sanders/Warren dream team entered the realm of plausibility.

Though either could lead, Sanders seems like the clear choice for the presidential candidate, with Warren as a strong VP. After all, the Warren/Sanders ethos thrives because it is buoyed by the idealism that Bernie popularized in 2016.
The fact that Sanders is a democratic socialist, while Warren is a self-proclaimed capitalist, is the primary reason why Bernie would be the most feasible leader of the duo. Sanders' campaign caught fire in 2016 because he spoke to a generation caught in the stranglehold of mind-blowing income inequality, a generation that faces the destabilizing knowledge that the world faces certain catastrophe if climate change is not addressed—and that capitalism has continuously favored the fossil fuel companies that prevent necessary environmental changes. Like most youth-led movements, Sanders supporters seek radical, totalizing change of the sort that's only be possible when the old systems are completely deconstructed.
On the whole, Sanders is more anti-establishment and seems more likely to reel in the followers of Trump's "drain the swamp" who could care less about actual policy, and she's more likely to inspire mass mobilization and excitement among those seeking radical change. As The Atlantic succinctly put it, "Sanders is fighting for a political revolution. Warren isn't."
Warren, for her part, maintains a link to solid ground with her vast collection of plans and policies—plans that, in theory, could be the perfect antidote to any accusation that Sanders' policies are implausible.
Still, last night, it seemed like Warren and Sanders were out in dreamland, reeling through a political Coney Island. This isn't necessarily a death knell, though. Together on a single ticket, their shared pull could be enough.
Torn apart, though, their campaigns might result in another 2016. Arguably, Bernie's campaign was a death knell for Hillary Clinton, as it provided the initial framework for Trump's demonization of her. In the same way, progressives are now putting up firewalls against the candidates they see as too middle-of-the-road, like Joe Biden.
In her opening statement, the ever-practical Warren reminded the audience that any candidate would be preferable to Donald Trump. While this is true, many progressives feel that the 2020 election presents an unmissable opportunity to completely change the direction of politics. In a nation that was prepared to elect someone as disruptive as Donald Trump, it seems feasible that we could handle a little more chaos, especially if it comes in tandem with the promise of a better world.
At the debate, with rampant arm-flailing and drawn-out storytelling, Warren and Sanders promised that better world. They stood for the dissolution of private health insurance companies and student debt in spite of endless criticisms from the other candidates. Against the totalizing extremity of their views, the other candidates who supported for-profit colleges and private insurance in any capacity seemed lost in the past—or lodged in reality, depending again on how willing you are to take the leap into their alternate state of mind.
But in last night's debate, the binary they created between themselves and the others didn't always work in their favor. Somehow, by the end of the night, both the Warren/Sanders island and the rest of the Democrats seemed to come out as losers.
This raises the question: Is extremism really the solution? For young progressives, it absolutely is. For this group, fighting against a rigged system that buoys the rich and throws the poor to the wolves, extreme action is the only thing that will work. Peace and love failed in the 1970s, and moderation is code for the status quo. For progressives, it's time to wake up from the dream presented at the start of the American capitalist experiment.
For other non-radical or socialism-phobic Democrats, the Sanders/Warren ticket is the stuff of nightmares, and the progressives are the ones lost in the dream. For those who merely want Trump gone and apparent order reinstated in the Oval Office, it seems that the division between the progressives and the middle-of-the-road Democrats is an unfortunate diversion.
Perhaps middle-of-the-road Democratic candidates could accrue more favor with would progressives if they could convince them (and the nation on the whole) that they actually stand for something (other than defeating Trump). In the technologically saturated mess of a modern era, one thing is certain: Policy is secondary to a candidate's ability to shape a vision of a better future.
For a long time, Sanders has been the best architect of that better future that the Democrats have. Though he and Warren presented an appealing team, seeing them cut down to size at the debate last night did nothing for the party and its motivation. Perhaps, had the debate been framed more as a discussion of specific policies rather than a black-and-white argument that pitted stagnancy against change, it wouldn't have been defined by such a strong feeling of premature defeat.
This was an act of terror, and should be widely condemned.
Emyra Wajãpi was a leader of the Wajãpi indigenous community, a group located in the north of Brazil—until he was murdered this week by a group of armed miners, who stabbed him to death and threw his body into a river.
On Saturday, Wajãpi community leaders issued a cry for help to the Brazilian government, stating that they were being invaded by troops bearing rifles and weapons and requesting the assistance of the army. Though a police force was en route, they did not arrive in time, and the community was forced to flee.
The invasion comes as a shock but not a surprise. In recent months, Brazil's far-right president, Jair Bolsonaro, has explicitly encouraged loggers, miners, and farmers to invade protected areas and land occupied by indigenous communities, arguing that the Brazilian government has the right to develop and profit off of any and all of its national territories. Under Bolsonaro, deforestation in the Amazon has skyrocketed, though he has repeatedly denied the validity of studies that reveal just how much land has been lost during his reign.
"The president is responsible for this death," said Brazilian lawmaker Rodolfe Rodrigues to the The New York Times. Bolsonaro has a history of making racist comments about indigenous people and is currently telling the public that the murder did not happen.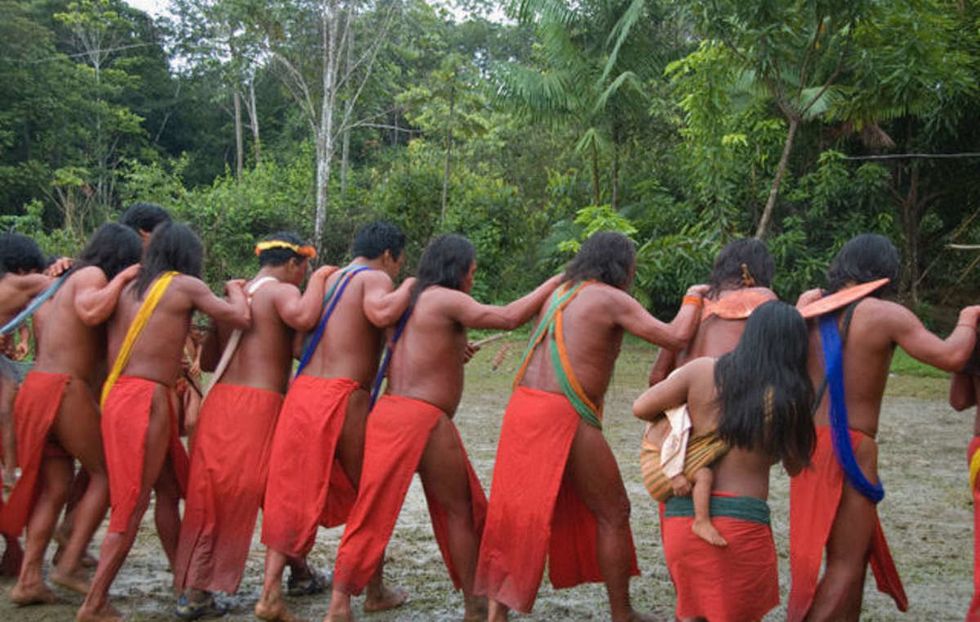 The Wajãpi people united in protest against invadersImage via survivalinternational.org
In March 2019, Bolsonaro met with U.S. President Donald Trump, and they signed a letter of intent promising the "sustainable development of the Amazon" (read: the ravaging of indigenous lands). Bolsonaro has also drafted plans that would legalize artisanal mining in protected lands, and that—to add insult to injury—would encourage indigenous communities to mine their own lands.
His priorities are crystal clear. "Brazil lives from commodities," Bolsonaro said in a recent speech. "What do we have here in addition to commodities? Do people not remember this? If the [commodities] business fails, it will be a disaster." These comments come at a time when mining and pollution present unparalleled threats to the planet's well-being and when indigenous ways of life present one of the best models of combating climate change and developing sustainable infrastructure.
The killing of Emyra Wajãpi should be viewed as a serious act of domestic terror among international communities. The U.N. human rights chief Michelle Bachelet has decried the death, calling it "a disturbing symptom of the growing problem of encroachment on indigenous land – especially forests – by miners, loggers and farmers in Brazil." World leaders should follow suit in denouncing these actions and reaffirming their commitment to conserving protected lands.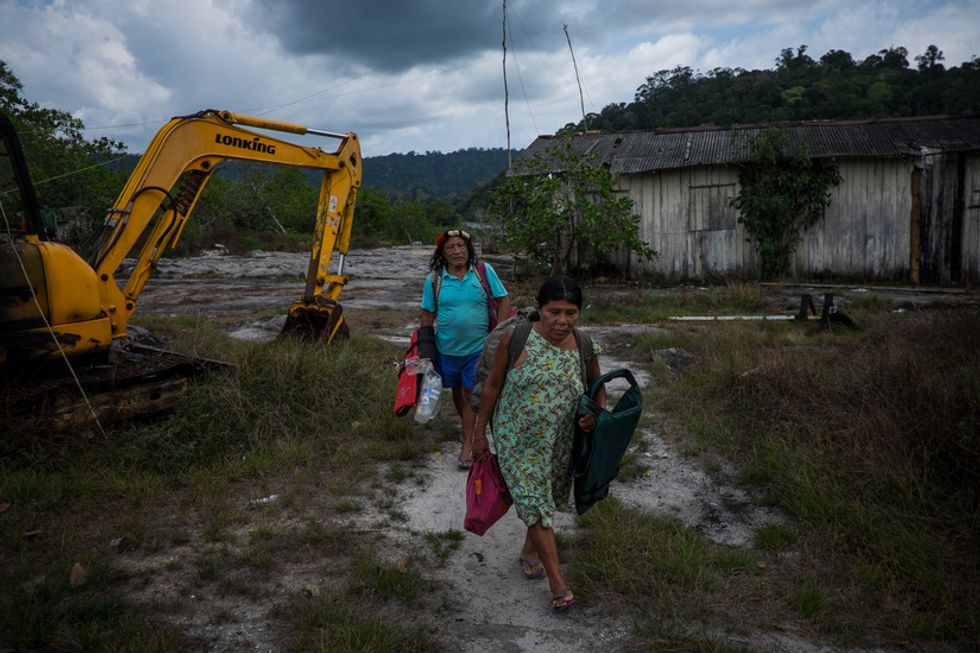 Wajãpi Indigenous Tribe Image via Victor Moriyama
If they do not, a genocide could ensue. "This government is massacring our rights and our indigenous peoples," said a Wajãpi leader to NBC News. "They are already starting, killing the indigenous peoples."
Indigenous communities of the Americas have endured relentless persecution since the arrival of Europeans in the 1400s. The Wajãpi did not receive protected land until 1996, after a 21-year period of brutal military rule. In the 1970s, their community was almost completely wiped out by disease—brought by invading gold miners.