Dall-E Mini, the AI-powered text-to-image generator has taken over the internet. With its ability to render nearly anything your meme-loving heart desires, anyone can make their dreams come true.
DALL-E 2, a portmanteau of Salvador Dali, the surrealist and Wall-E, the Pixar robot, was created by OpenAI and is not widely available; it creates far cleaner imagery and was recently used to launch Cosmpolitan's first AI-generated cover. The art world has been one of the first industries to truly embrace AI.
The open-sourced miniature version is what's responsible for the memes. Programmer Boris Dayma wants to make AI more accessible; he built the Dall-E Mini program as part of a competition held by Google and an AI community called Hugging Face.
And with great technology, comes great memes. Typing a short phrase into Dall-E Mini will manifest 9 different amalgamations, theoretically shaping into reality the strange images you've conjured. Its popularity leads to too much traffic, often resulting in an error that can be fixed by refreshing the page or trying again later.
If you want to be a part of the creation of AI-powered engines, it all starts with code. CodeAcademy explains that Dall-E Mini is a seq2seq model, "typically used in natural language processing (NLP) for things like translation and conversational modeling." CodeAcademy's Text Generation course will teach you how to utilize seq2seq, but they also offer opportunities to learn 14+ coding languages at your own pace.
You can choose the Machine Learning Specialist career path if you want to become a Data Scientist who develops these types of programs, but you can also choose courses by language, subject (what is cybersecurity?) or even skill - build a website with HTML, CSS, and more.
CodeAcademy offers many classes for free as well as a free trial; it's an invaluable resource for giving people of all experience levels the fundamentals they need to build the world they want to see.
As for Dall-E Mini, while some have opted to create beauty, most have opted for memes. Here are some of the internet's favorites:
There's no looking back now, not once you've seen Pugachu; artificial intelligence is here to stay.
Bronx native Alexandria Ocasio-Cortez first burst onto the political scene in the summer of 2018 with an incredible underdog win against 10-year incumbent Democrat Caucus Chair Joe Crowley.
Since then she's become an overnight celebrity, that infamous win being just the first of many historic moments to follow in her wake. During her short two years in office, she's done a lot, including authoring both the Green New Deal and the COVID-19 Funeral Assistance Act and introducing them to Congress.
(Seriously, when I say she's done a lot, I mean it — here's just some of her incredible political accomplishments, straight from the icon herself.)
Representative Cortez has proven that she's pretty amazing at a lot of things, but her most impressive skill of them all may just be her flawless social media game.
AOC is a trailblazer when it comes to the intersection of politics and social media. She has mastered the art of using her digital platforms (particularly Instagram and Twitter) to connect with her constituents and educate them on current political issues, legislation, votes, and world events. She breaks complex topics down into bite-sized pieces, answers public questions, and includes links to helpful infographics and resources.
Her down-to-Earth-ness is making politics much more accessible for young people who may otherwise find these topics too confusing or intimidating to research on their own. Her stories, livestreams, Q&As, and easy-to-digest explanations have brought an entire generation of voters into the loop when, for so many years, the ultimate goal of politicians was to keep us as far out of it as possible.

Livestreams
AOC has done quite a few Instagram Lives where she utilizes some of her spare time (it's hard to believe she has any) to talk with and answer her followers' questions.
She's even gone live on Twitch where a record-breaking 435,000 people watched her play Among Us with her fellow Congresswoman Minnesota Representative Ilhan Omar, as well as some popular streamers like Hasan Piker (Twitch user HasanAbi), Imane Anys (Twitch user Pokimane), Benjamin Lupo (Twitch user Dr Lupo), and Jeremy Wang (Twitch user Disguised Toast), among others. As of this writing, the archived video now has more than 5.6 million views.
AOC Among Us FULL STREAM with Ilhan Omar and Twitch Streamers #IWillVote | 10/20/20 www.youtube.com
In a completely unprecedented move, she posted an hour-long livestream where she broke down each part of the upcoming COVID relief bill and addressed questions and concerns from her followers in regards to exactly what this would mean for them and how it would affect them.
What Happened at the Capitol Instagram Live | Alexandria Ocasio-Cortez www.youtube.com
Never in American history have we had a politician that has taken the time to so closely and accurately explain what is in a piece of legislation to constituents. And especially during the pandemic — a time for so many people that was confusing, overwhelming, and frankly, pretty terrifying — having a politician be completely transparent about details surrounding relief was an incredible show of how politicians should serve the people.
"We are now in the era of receipts. People now want to see the actual clips of legislation. They want to hear less about our stances." - AOC
Although she's done many, her two most-watched lives are unsurprisingly both about the January 6th insurrection. In her first live addressing the situation, she explained what happened at the Capitol and answered some questions before stating that she wasn't quite ready to go into detail about her personal experience yet. A few weeks later, she revisited the topic in a second live where she finally dug a little bit deeper and got more personal about her experience, revealing the trauma she had endured and had been enduring ever since the violent attack on the capital.
Behind the Scenes and Q&As
Recently, in another never-before-seen political display of transparency, she's been taking her followers behind the scenes on her Instagram stories to see what she does in a week as a government employee. When most politicians would probably rather die (or have you die) than let you see what they're up to in a week, AOC wants to make sure you know that your tax dollars aren't wasted on her salary by showing you exactly what's in her work agenda: helping the people every single day.
During the COVID-19 pandemic (and the discourse surrounding the safety and legitimacy of vaccines), her Q&As have been an indispensable resource for a lot of people. She was very vocal about her COVID vaccination process and took her Instagram followers with her through the entire process via her stories, keeping them updated on her symptoms and side effects. (You can see all of this in a highlight she has pinned on her Instagram profile.)
Recently for Pride Month, she posted this Instagram story putting some companies on blast for using pride logos when they're funding anti-LGBTQ+ politicians behind the scenes. (We love an ally with receipts!)
Just @AOC using political social media flawlessly once again https://t.co/45LSkVLvev

— 🐉Samwise✨ (@🐉Samwise✨) 1623285306.0
The Relatability Factor

I know the term "relatable" has been completely overplayed by internet culture, but a certain air of relatability is such an important tool for politicians to have. People want to know real people, and the way Representative Cortez uses her social media to connect on a relatable level not just with young people, but constituents of all ages, is ingenious when it comes to breaking down the walls of secrecy surrounding political literacy.
Ocasio-Cortez comes from a lower-middle-class background, and before becoming a politician, she worked in the restaurant industry as a bartender. The fact that she comes from a "normal" background where she held a "normal" job gives her the distinct advantage of really knowing what it's like to live in the shoes of the people she represents. (As a former restaurant worker myself, it hits really close to home.) She knows what the most important issues are because she's lived them. She knows how to speak to people in vulnerable positions because she's been in them. And she knows how to connect with her audience because she understands the importance of accessibility.
AOC utilizing social media doesn't just make her relatable, it makes her accessible. There are so many people across America that don't have access to proper education or resources about things like politics, vaccines, laws, legislations, and voter rights — but many of them do have access to Instagram.
Representative Ocasio-Cortez has set a very high standard in terms of digital literacy for the next generation of politicians. She's setting a new precedent in terms of their responsibility to use their platforms as an opportunity to be open, honest, and engaging with their constituents. With the internet and social media increasingly becoming more ingrained in our everyday lives, it's more important than ever that politicians pivot to utilizing the platforms that will connect them the most efficiently with the people they represent. And to get started, it's easy: All they have to do is take the Masterclass from AOC herself.
Keep reading...
Show less
AOC and others have shared frightening first-hand details from the attempted coup on January 6th, 2021.
Update 2/2/2021: On Monday night, Representative Ocasio-Cortez once again took to Instagram Live to share her experience of the attack on the Capitol building in more detail.
She talked about the frightening moment when an unknown man made his way into her office shouting, "Where is she?" as she hid behind a bathroom door believing that he was likely there to kill her — "this was the moment where I thought everything was over,"
Even the realization that this man was a Capitol police officer didn't feel like a guarantee that he was looking out for her safety — an uncertainty which friendly interactions between police and attackers would later justify. She described sheltering in Representative Katie Porter's office as they received reports of bombs being found and made contingency plans for escaping out a window or into a safer office.
The intensity and detail of her account are striking, as is her decision to share a personal context for how she processes the experience, relating that she is "a survivor of sexual assault," and noting that "when we go through trauma, trauma compounds on each other."

But perhaps the most important moment of the stream was her comparison of recent calls for us all to "move on" from the insurrection — often from those who stoked the misinformation that brought it on — to "the tactics of abusers," saying, "this is at a point where it's not about the difference of political opinion. This is about just basic humanity."
On Tuesday night, Representative Alexandria Ocasio-Cortez of New York's 14th congressional district took to Instagram Live to share her experience of last week's frightening events at Capitol Hill.
Ocasio-Cortez has made a point of making herself accessible to the public, sharing her cooking, her gaming, and even her struggle to find affordable housing through social media. It's a practice that has contributed to the adoration of her fans as well as the vitriol of her detractors. But she has never shared anything quite as personal and affecting as her experience of the attempted coup on January 6th.
Keep reading...
Show less
Despite some technical difficulties and some uncomfortable moments, the Democratic National Convention was an attempt to provide solace to a fractured nation.
As tensions around the 2020 election rise to a near-fever pitch, all eyes are on the Democratic party.
The Democratic National Convention was an important moment, one that was inevitably rigorously analyzed by pundits across the political spectrum. But did it hold up to expectations?
First off, the convention was held virtually over Zoom, leading to a fair amount of awkward technical issues. But it did feature a number of highlights, some of which came from unexpected places. Overall, the DNC was a lot of things, but ultimately it was a call to action.
Keep reading...
Show less
Massachusetts senator Ed Markey might look like your average outdated boomer, but make no mistake—Markey is a legend.
Markey may be 74 years old, but he's been fighting the good fight for a long time, serving as one of the most progressive members of Congress for over four decades. He co-sponsored the Green New Deal alongside Alexandria Ocasio-Cortez and Bernies Sanders, strongly advocates for single-payer healthcare, and believes in preserving an open Internet. In short, this dude is the real deal.
But let's face it: Leftists generally skew younger; and as such, we tend to gravitate towards other younger people who share the same progressive ideals and sensibilities that we do. You know: Eat the rich, save the world.
Enter Markey's primary challenger in the battle for Senate: 39-year-old Joe Kennedy, the grandnephew of President John F. Kennedy, with a net worth upwards of 43 million dollars. Wait, what? When we said we wanted younger progressives in congress, we weren't really talking about privileged failsons.
In fairness to Kennedy, his stated policies are actually pretty progressive and he also supports the Green New Deal. At the same time, it's baffling why he would choose to run against Markey when Markey is already one of the most respected, proven progressive voices in the Senate. As such, Markey has picked up endorsements from fellow big-name progressives like AOC, more moderate progressives like Elizabeth Warren, and major progressive organizations like Sunrise Movement.
But age is a big deal for a lot of voters, and in a race between a 39-year-old Kennedy heir and a 74-year-old incumbent, it didn't come as a huge surprise that Kennedy boasted an early double-digit lead.
Except here's the thing: Markey isn't just some boomer. He's an old Boston dad-style boomer, and oh man, this guy can dish it out.
See, Joe Kennedy, in spite of all of his supposedly progressive values, has a good deal of Super PAC money in his corner. That money is largely being used to air a constant stream of attack ads against Markey, and as it turns out, the Super PAC also happens to be run by Joe Kennedy's twin brother, Matthew Kennedy, and potentially funded by his father, Joseph P. Kennedy II.
Markey uses this connection to—there's really no better way to put this—spank the sh!t out of Joe Kennedy in the middle of a debate.
"My question is this: Is your father funding that Super PAC that is attacking me right now?" asks Markey.
"No clue. No idea," replies Kennedy.
"I'm sure your father's watching right now," says Markey. "Tell your father right now that you don't want money to go into a Super PAC that runs negative ads. Just tell your twin brother and tell your father you don't want any money to be spent on negative ads in Massachusetts in 2020 in the era of Donald Trump."
"I've said that multiple times," stammers Kennedy. Markey just keeps going.
"Have you told your father that? Have you said it to your father?" he asks again and again.
Each utterance of "father" might as well be a dagger in Joe Kennedy's heart, as we watch Markey eviscerate his campaign in real-time.
Markey comes off looking like a warrior, and Kennedy a little boy.
And then, shortly after, Markey delivered a death-blow in the form of, quite possibly, one of the best campaign videos ever made.
Ed Markey, playing a slowed down version of the same Nine Inch Nails "34 Ghosts" sample used in "Old Town Road," drums up John F. Kennedy's most famous words: "Ask not what your country can do for you – ask what you can do for your country."
Markey re-contextualizes this sentiment within the era of Trump's administration: "We asked what we could do for our country, they looked for what they could take. But there's a truth written in every history book. If you break the sacred contract, the people make a revolution." Cut to mass protests for Black Lives Matter and the American people demanding a "new deal."
Next, Markey plays old footage of his younger Congressional campaigns—pro-unions, freezing the arms race, and recently, backing the Green New Deal. He's indisputably a man of the people in opposition to the ruling class.
Then comes the clincher: "We asked what we could do for our country. We went out. We did it. With all due respect, it's time to start asking what your country can do for you."
Yes, in a race against a privileged, multi-millionaire Kennedy heir, Markey used JFK's legacy to empower the working class against jingoistic imperialism. Bravo.
Well, Gen Z took notice. Ed Markey is a true, bona fide cool boomer.
Markey's Senate re-election prospects have shifted dramatically since the start of the race. He now boasts a double-digit lead over Kennedy, with vast majority support amongst younger voters and an entire meme campaign behind him. One Esquire article said that he was "Closing the Massachusetts Senate Race Like F*cking Secretariat."
Ed Markey has sneaker game.
Ed Markey has girls Tik Tok dancing for him.
Ed Markey has hot girl energy.
Ed Markey even has some moms certified simping for him.
So, yeah, you could say that Ed Markey is proving that even boomers can be pretty cool. Don't let his efforts go to waste. If you're a boomer in Massachusetts, you can be cool, too.
Keep reading...
Show less
Earth Week NYC saw climate activists deftly pivoting from IRL to digital actions. Here's a look at how they did it.
Earth Week NYC wasn't supposed to look this way.
Just a month ago, climate activists were planning a massive in-person rally and a three-day sequence of curated protests in honor of the 50th anniversary of the first Earth Day. Earth Week NYC was meant to recapture the spirit of the first Earth Day celebrations, which took place in 1970 and brought nearly 20 million Americans into the streets, while uplifting the movement's modern and more intersectional demands.
Instead, most of the climate movement's energetic young activists—like most of the rest of us should be—are at home in their houses. But that hasn't stopped them from organizing. Over the past few weeks, a three-day event that was supposed to pull thousands into the streets shifted almost entirely online.
"The Earth Week NYC coalition switched to a fully digital strategy almost overnight once large gatherings were banned in the city," said Ted Bogin, a member of the youth-led climate organization Sunrise NYC. "We built a website, earthweeknyc.com, that allows anyone to fight for climate justice at home with tools and scripts for calling and emailing our elected representatives, among other ways."
Events and actions moved to Instagram, Facebook Live, Slack, and Zoom. In-person office visits turned into email blasts and telephone calls. In preparation, climate activists hosted digital community care workshops, drafted emails, and crafted mutual aid resources and teach-ins.
The themes of each day remained in place as planned. Earth Week NYC consisted of three themed days, each dedicated to a different aspect of climate action. The first day's theme was "Strike," the second day's was "Divest," and the third was "Vote."
On the first day, Earth Day, young organizers took to social media to post images of themselves holding signs, calling for a Green New Deal, a People's Bailout, and other climate and social justice actions. Some activists even banded together for a socially distanced banner drop in New York City.
On the second day, activists lobbied with Stop the Money Pipeline, an organization dedicated to ending Wall Street's support of fossil fuels. Participants were encouraged to make calls to the CEOs of BlackRock, JP Morgan, Chase, and Liberty Mutual, using scripts to request fossil fuel divestment. (One terrifying statistic kept appearing: Wall Street has poured $1.9 trillion into the fossil fuel industry since 2015).
On the third day, which centered around voting, lobbying, and teach-ins, the NYC coalition sent out toolkits full of lesson plans for teachers, asked people to fill out their censuses, and called on everyone to reach out to their representatives and to encourage their friends to vote for climate champions. Championed in part by Fridays for Future, the organization first inspired by Greta Thunberg, Friday's actions (like the rest of the week's) focused on the intersections between social justice and climate change and the vital importance of local, indigenous-led, people-powered action.

All of it was supplemented by a flurry of online activities, including a three-day, all-day live broadcast hosted by the Future Coalition. Featuring politicians like Elizabeth Warren and John Kerry, musicians like Jason Mraz, and hundreds of other superstar activists and musicians, the livestream was a rousing marathon, a display of unity in the face of a brutal pandemic and the looming reality of the climate crisis.
Despite activists' best efforts, the week still suffered from a sense of inevitable disjointedness. But the climate crisis, with all its intersecting forces and causes and consequences, has never been an easy or cohesive thing to fight.
Back in the 1970s, activists were fighting against visible consequences of environmental degradation—rivers in flame, birds falling from the sky—but now we fight against a more invisible but much more insidious monster: rising global temperatures and the inequity that created and continues to perpetuate them.
Still, today's climate activists are used to shifting strategies on a dime and fighting rampant misinformation as well as apathy and inequality.
"Our demands include a people's bailout, prioritizing and funding those who have been hit first and worst by COVID-19 and the current recession, including, but not limited to, Black, Latinx, Indigenous, and low-income communities," reads an op-ed by the Youth Climate Strike Coalition, published last month in Teen Vogue. Additional demands include a Green New Deal that transitions the economy to 100% clean energy by 2030 and the return of stolen Indigenous lands.
Careful not to praise clearing skies or temporarily lowered pollution, the modern climate movement is dedicated to addressing environmental racism and large-scale problems head-on. Gone are the days of recycling and individual guilt. Instead, the modern movement is about collective action in the face of global tragedy.
The climate movement is all about the intersections that tie all things together—the land, the people, the economy, and even the digital world. In a way, perhaps the modern climate movement is uniquely well-suited to online action. "As one of the social media coordinators for the Sunrise NYC hub, I've seen our channels swell in importance and reach as people isolated in their homes connect with us digitally," said Jon Kirsch, an organizer with Sunrise NYC. "It's been tremendously exciting seeing Earth Week NYC take shape the past few months." Perhaps the digital world, which thrives on connection, is an ideal vehicle for the modern climate movement.
Regardless, the movement will not be giving up anytime soon. Populist activists have always been up against shadowy, malicious powers, winning seemingly impossible battles and fighting for justice in the short and long term. Now, more than ever, most agree that change is imperative.
"New Yorkers have made their demands for Climate Justice heard, and the fight will continue on (digitally for now) after Earth Week," said Bluedorn. "Fighting for Climate Justice is more important in this moment than ever, as we fight to reimagine what a more just and equitable world can look like."
For more information and to get involved with the movement, visit https://www.earthweeknyc.com.
Because the Military Forcing a Resignation is True Democracy
Bernie Sanders and Alexandria Ocasio Cortez would have you believe that Evo Morales's recent resignation at the behest of the Bolivian military was a coup.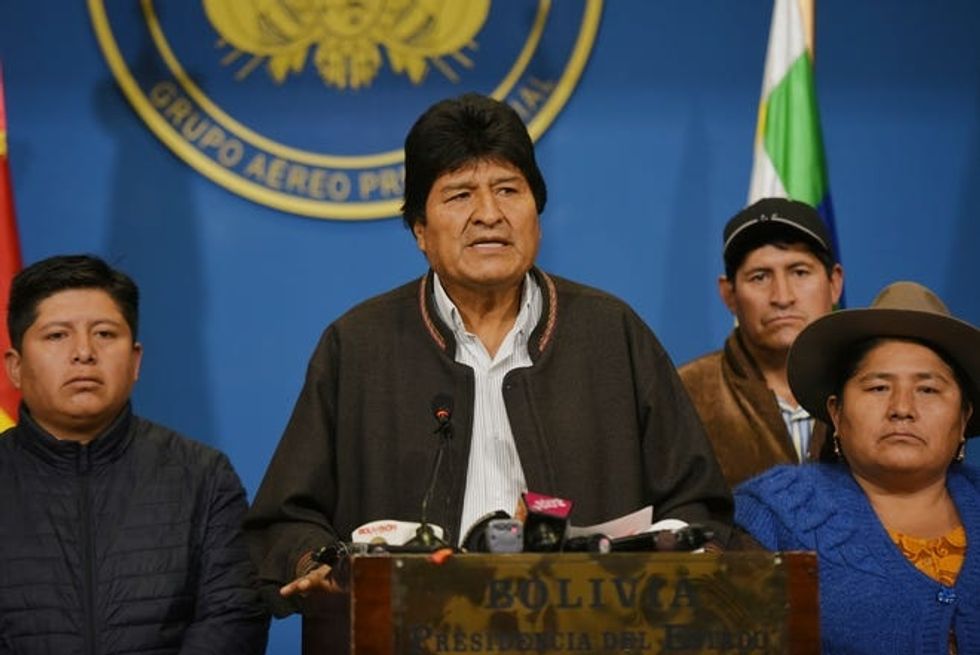 Don't be fooled! A coup is something bad that bad people do to take control of a democratically elected government, but there were actually irregularities in Bolivia's recent election, which means it's not democracy. Can you even imagine if there was ever any suggestion of electoral irregularities or cheating in the US? We would flip out. And yes, Evo Morales agreed to hold a second election, but that sounds boring, and it would take so much longer than just using the military to force him to leave so an opposition senator can declare herself president while wielding a giant bible and banishing indigenous belief systems from the palace.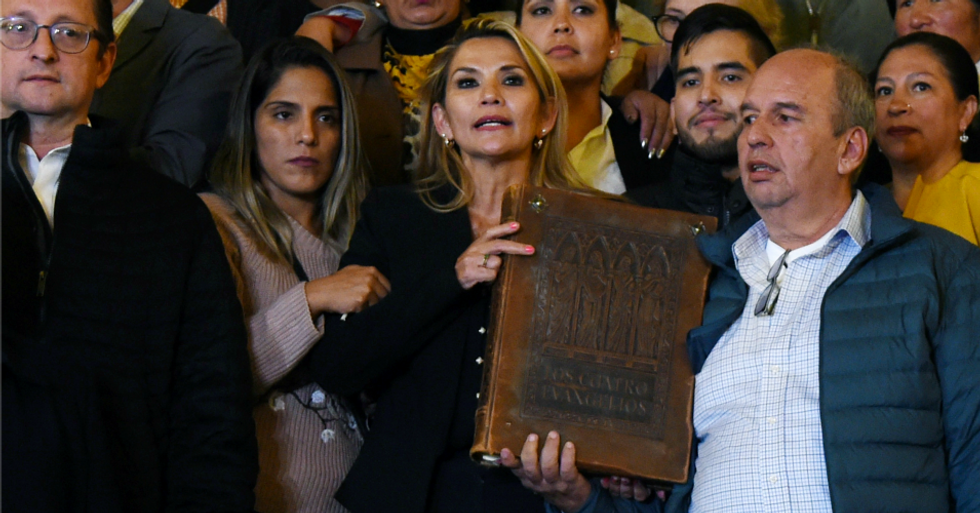 Speaking of elections, can you believe this impeachment nonsense? That's the real coup—the kind that is laid out in the constitution as an official process and is run according to rules established by the president's political allies. They've been acting as if just because this is a completely different context and process than a criminal trial, it doesn't need to follow the same rules as a courtroom. Since when? They're making this fundamentally political process into something ugly and political. Why can't these Democrat bozos just wait a year for the next election?

The Wall Street Journal knows what's up. Their opinion page has declared Evo Morales's resignation a "Democratic Breakout" and informed us that the impeachment "Subverts the Constitution." Clearly, if the Democrats were really upset with Trump's using military aid to get a foreign government to interfere with the 2020 election, they should not have investigated. They should have waited for an independent organization to point out the issues after Trump won reelection, then wait for Trump to agree to a new election before having the military kick him out of the country and allowing Dianne Feinstein to declare herself the new president. That's democracy! Investigating the President's crimes and airing his dirty laundry in front of the whole country, then having elected representatives who are accountable to their voters decide whether he should be removed from office—that's a coup.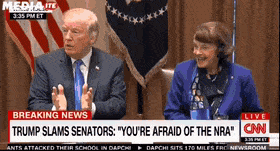 Of course, if you disagree with these sentiments, you may want to voice your opinion by calling your congressional representatives or signing a petition to have Congress acknowledge the Bolivian coup, so the US cannot support the new, unelected government. But that would be crazy.

Trump's words and actions have led our country into a terrifying state, a state in which the president has put people of color in severe danger.
This week the Republican party has only helped to fuel Donald Trump's racist fire. For many, this isn't surprising. Trump began his attacks during his first campaign, targeting Mexican-Americans and generalizing them as "drug dealers, criminals, and rapists." Once he was elected, Trump enforced a xenophobic Muslim ban and continued to fuel the fire of white supremacy. Now, immigrants seeking asylum are dying in American custody. Overall, Trump's words and actions have led our country to a terrifying state, a state in which the president has put minorities and POC immigrants in severe danger.
A lot has happened within the last seven days: It's harder than usual to keep up with Trump and his minions' actions. Here's a timeline to help get you up to speed.
July 12th
Vice President Mike Pence and Republican Senators Lindsey Graham, John Cornyn, and Mike Lee visited a detention center in McAllen, Texas. The government officials observed around 400 men crammed in cages with no mats, no pillows, and barely room to sit down. The four men did not speak to any of the 400 immigrants and stayed in the detention center for only 90 seconds.
Vice President Mike Pence Visits Texas Migrant Detention Center | TODAY www.youtube.com
July 14th

Only two days later, President Donald Trump took to Twitter to advise "progressive" congresswomen that, instead of participating in American politics, they should "go back and help fix the totally broken and crime infested places from which they came." The tweets were sent in the midst of ICE raids occurring across the nation. The tweets' purpose was clear: Create hysteria targeting people of color in hopes of eradicating the immigrant population.
....and viciously telling the people of the United States, the greatest and most powerful Nation on earth, how our… https://t.co/xPRSZHNNAd

— Donald J. Trump (@Donald J. Trump) 1563107272.0
July 15th

A day after Trump's tweets, Senator Lindsey Graham, who once called the President a "race-baiting, xenophobic, religious bigot," defended him, proclaiming, "AOC and this crowd are a bunch of communists… they're Anti-Semitic. They're anti-America."
Lindsey Graham's Fox News MELTDOWN www.youtube.com
July 16th

On Tuesday, the House voted to condemn the President for his racist rhetoric. A President of the United States has not been formally rebuked a president in over a century. While the House voted in favor of the symbolic motion, the numbers included 240 Democrats in favor and 187 Republicans against. It's noteworthy that only four Republicans voted in favor of condemning the president's racist tweets.
That same night, Louisiana Senator John Kennedy referred to Rep. Alexandria Ocasio-Cortez (New York), Ayanna Pressley (Massachusetts), Ilhan Omar (Minnesota), and Rashida Tlaib (Michigan) as the "four horsewomen of the apocalypse."
John Kennedy Blasts The Squad www.youtube.com
July 17th

On Wednesday, during President Trump's rally in North Carolina, he again attacked the group of freshmen congresswomen, explicitly targeting the Minnesotan representative, a Muslim, and Somalian refugee, Ilhan Omar. His supporters began chanting, "Send her back." The president stood silently for a mighty thirteen-second pause, head held high, as he proudly looked upon his supporters.
'Send her back': Trump batters Ilhan Omar on campaign trail www.youtube.com
July 18th

The morning after, two of Twitter's top trending hashtags were #IStandWithPresTrump and #IStandWithIlhan. A few hours later, a few GOP members finally spoke out about the chants. Senator Marco Rubio called the targeting of Representative Omar "grotesque." A few other Republican Congressmen also spoke out on Twitter:
I deeply disagree with the extreme left & have been disgusted by their tone. I woke up today equally disgusted - ch… https://t.co/hlIxUraFva

— Adam Kinzinger (@Adam Kinzinger) 1563455793.0
Though it was brief, I struggled with the "send her back" chant tonight referencing Rep. Omar. Her history, words… https://t.co/uHL8TNlr4k

— Rep. Mark Walker (@Rep. Mark Walker) 1563418882.0
Trump later said he was "not happy" with the chants. When asked why he didn't stop the crowd, he answered, "I think I did—I started speaking very quickly."
Trump disavows supporters chant of 'Send her back!' at rally www.youtube.com
The same day, John McCain was also trending on Twitter. Former Representative of Florida, David Jolly, tweeted about how he missed the moment when John McCain cut off a woman claiming Barack Obama was an "Arab."
Missing this moment this morning. https://t.co/XPMmIH4PjF

— David Jolly (@David Jolly) 1563453537.0
Senator Chuck Schumer also referred to the moment while addressing his colleagues.
Chuck Schumer: "The only way Pres. Trump will stop is when Republicans on the other side have the honor, the decenc… https://t.co/oR8NdLMPru

— Kyle Griffin (@Kyle Griffin) 1563469210.0
Finally, to end this appalling timeline on a high note, here's a video of Minnesotan Representative Ilhan Omar returning home to the Twin Cities. Watch as she's celebrated below:
Congresswoman Omar just arrived back in the Twin Cities. https://t.co/ZiFqWnDJgQ

— Tom Hauser (@Tom Hauser) 1563486133.0
The pain and struggle in those camps must be spun into a persuasive narrative; and the phrase "concentration camps" comes with a narrative, with implications, with images of something that we globally swore we would never let happen again.
In New York City there's an organization that sometimes operates out of empty college classrooms and sometimes out of church basements.
Every week, hundreds of undocumented people flow into the crowded rooms, working with translators to fit their stories into I-589 asylum application forms.

One week a woman came in with her eight-year-old son. Her court date was in days, but she had yet to begin filling out her official forms; just part of her story lay in disarray on an intake sheet. As she told her story—which involved rape and murder and decades of abuse—she began to sob. If she went back to Honduras, she said, she would die.
Her story, which would likely make worldwide headlines if any fraction of it was being told by a white woman in America, is not unique at all; abuse of the kind she experienced is one of the most common reasons why migrants come to the U.S.-Mexico border to seek refuge. If you present yourself at the border as seeking asylum, you are legally entitled to a hearing, under domestic and international law; and once she tells her story to the court she may well not receive asylum. Still, for now she is one of the lucky ones: she made it past the camps at the border.
The Semantics of a Human Rights Crisis
This week, Alexandria Ocasio-Cortez described the camps holding migrants at the U.S. border as "concentration camps." Immediately, she faced protests from politicians across the nation, most of whom have never been to the camps at the border and whose main point of contestation was the argument that the prisons at the U.S. border cannot be compared to the concentration camps of Nazi Germany.
This administration has established concentration camps on the southern border of the United States for immigrants,… https://t.co/40xPvnY41a

— Alexandria Ocasio-Cortez (@Alexandria Ocasio-Cortez) 1560863001.0
Criticism of Ocasio-Cortez's word choice is a convenient and fundamentally flawed distraction from the reality of what is happening. Firstly, both the Jewish people who experienced that genocide and the migrants who are attempting to cross the border are being caged, dehumanized, and denounced as vicious security and economic threats. Arguments that propose the suffering of the Jews is incomparable to the suffering of these migrants are a sort of Olympics of tyranny on the most depraved scale. How can the pain of one group delegitimize the suffering of another?

As a Jewish woman, I feel strongly that any trauma lingering in my bone marrow from the deaths of my family does more to link me to the migrants at the border than it does to separate me from them. We are not solitary in our persecution. Our struggle, as well as the lessons we have learned, means that we should feel a nauseating shock of recognition upon hearing that a group of people is being caged in brutal conditions on the basis of where they were born.
Though the meaning behind words is ultimately more important than the words themselves, semantics and word choice are undeniably powerful. As humans, we cling to symbols and patterns to make sense of our disorderly world. Words have sway over us, which is perhaps why calling the border camps concentration camps has sent such shockwaves across news outlets—more shockwaves than the reports of freezing cages, desert shootings, and persistent abuse in government facilities have created. In truth, words and our ability to freely speak them are often more incendiary than incidents of abuse and human suffering.
This is why calling the camps at the border concentration camps is a powerful act of political protest, one that merits repeating. In order to effectively protest these camps, merely telling stories of the human suffering that occur within them is not enough. The pain and struggle in those camps must be spun into a persuasive narrative; and the phrase "concentration camps" comes with a narrative, with implications, with images of something that we globally swore we would never let happen again.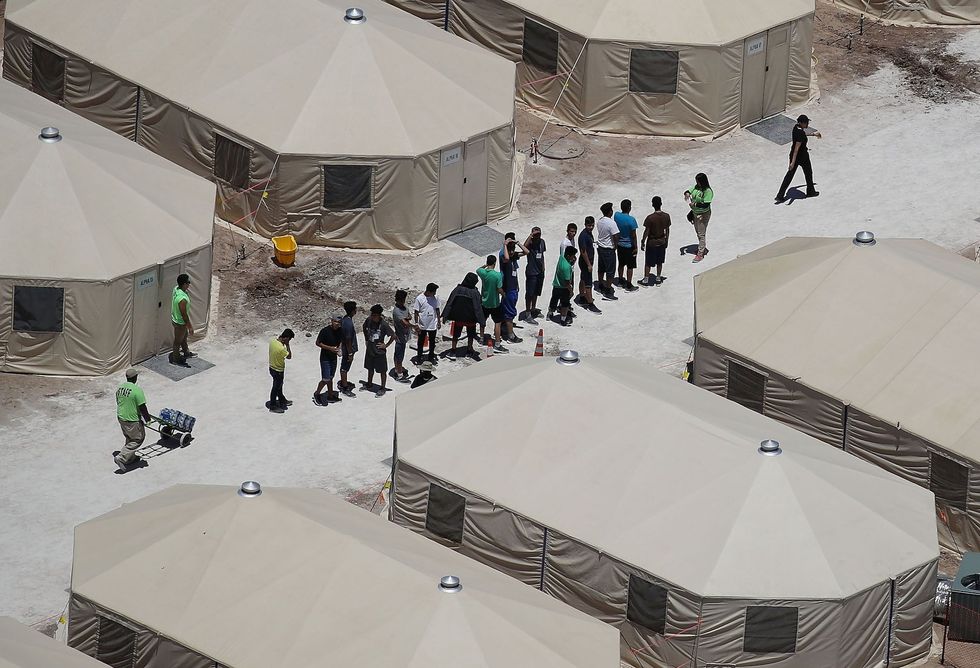 Image via Esquire
Another Holocaust?
The Holocaust, like most genocides, did not arise spontaneously. It began because of money—because of economic insecurity in Germany, a nation that had once been powerful but found itself suffering after wartime loss and a recession. It began with scattered proposals that Jewish people and other minority groups were to blame for these problems. It took off as a way of making Jews leave the country. The violence started with sporadic murders. The camps came later.
Even if the U.S.'s persecution of migrants at the border never reaches the level of the Final Solution, this does not legitimize the mistreatment and brutality that are occurring in those overcrowded, freezing prisons in the desert. Should the Holocaust be the standard that we expect human rights violations to live up to in order to merit serious criticism?
Andrea Pitzer, author of "One Long Night: A Global History of Concentration Camps," writes that the border camps qualify as concentration camps because the prisoners there are detained "without regard to individual circumstances, treating people as one mass, one group," and that the U.S. government, like the German government, is "presenting them as a national security threat to the country and then using as punitive means as the system will allow to detain them."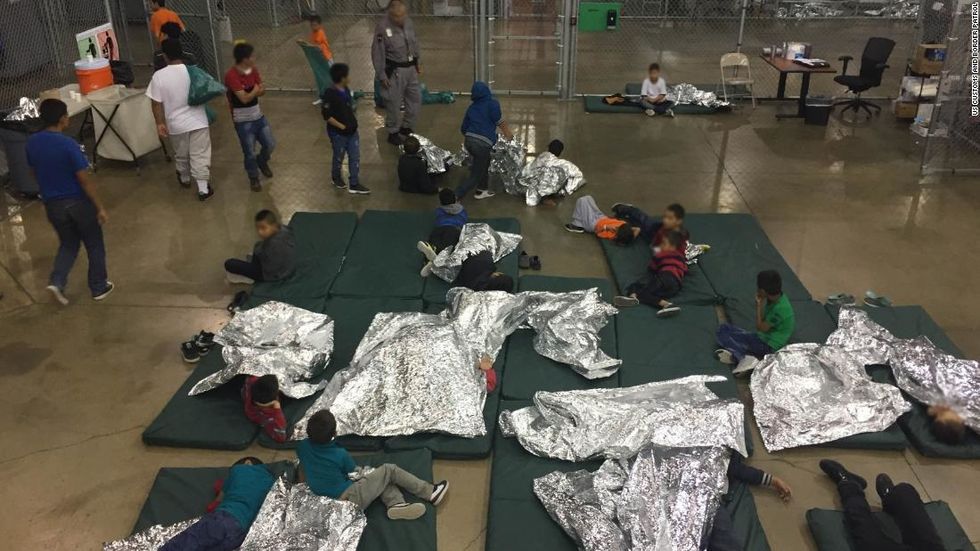 Image via CNN
This is a key requirement for the success of concentration camps: prisoners must be turned into shadowy, menacing masses. Through a variety of rhetorical strategies, the U.S. government has implemented this technique. Many Americans are convinced that migrants are criminals who should keep out of this country. They argue that refugees are not deserving of our justice system or our charity, nevermind that the justice system systemically targets poor and non-white people and that we are the richest nation in the world.
Most of the detainees are not criminals. Conditions in these migrants' homes are unbearable; the fact that they are willing to risk death at the U.S. border to escape shows this clearly. Migrants are usually not asking for charity or trying to steal the salaries of U.S. workers. They are asking for asylum. For mercy. For America to be a fraction of what some people once dreamed it could've been.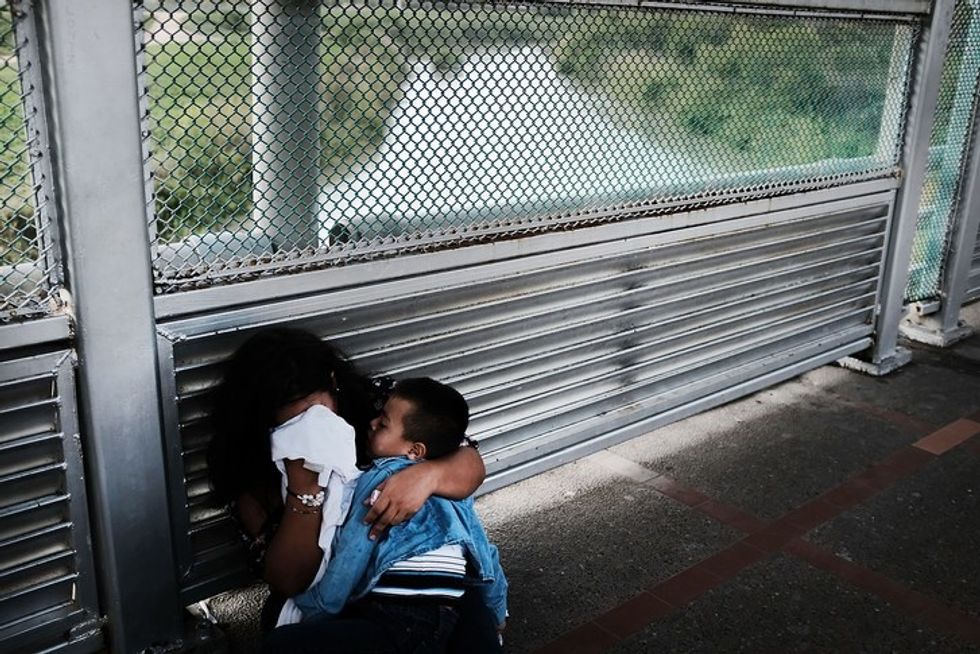 Image via The New Yorker
Call Them By Their Real Names
Rebecca Solnit writes that once we call injustices by their names, "we can start having a real conversation about our priorities and values. Because the revolt against brutality begins with a revolt against the language that hides that brutality." Alexandria Ocasio-Cortez has shown that she is unafraid to put this into practice, to look the murky viciousness of the U.S.'s treatment of migrants at the border straight in the eye. By calling the concentration camps what they are, she is replacing the language that legitimizes these injustices with language that condemns them. Unfortunately, she is largely alone in this.
Here is the name of our American S.S., the group that is fostering the concentration camps at the border: the ICE, or Immigration and Customs Enforcement. (Like the leaders of S.S., they also believe they're simply "doing their jobs").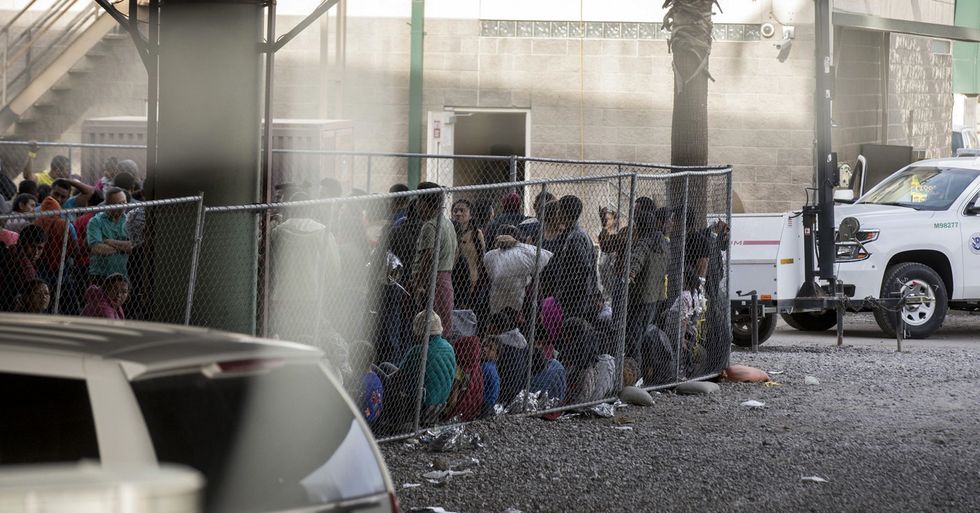 Image via BuzzFeed News
Here is a number: the ICE held 42,000 migrants in its detention camps last year.

Here is a list of DHS reports about the conditions at the border, including titles like "Lack of Planning Hinders Effective Oversight and Management" and "Immigration and Customs Officials Do Not Follow Federal Procurement Guidelines When Contracting For Detention Services."
Here are just a few quotes from official statements about the camps: A 2017 inspection found "problems that undermine the protection of detainees' rights, their humane treatment, and the provision of a safe and healthy environment." A Reuters report about the Paso Del Norte facility stated that "single adults were held in cells designed for one-fifth as many detainees as were housed there and were wearing soiled clothing for days or weeks with limited access to showers." It also stated that inspectors saw "detainees standing on toilets in the cells to make room and gain breathing space, limiting access to toilets." Additionally, there are reports of extreme temperatures, of physical and sexual abuse, of solitary confinement.
Right now, even the Customs and Border Patrol Commissioner John Sanders is demanding that the Senate pass a $4.6 billion dollar bill in emergency funding. If the bill is not passed, he testified, kids will keep dying.
Here are the names of some of the legally innocent people who have died at the border. Jakelin Caal Maquin, 7. Felipe Alonzo-Gomez, 8. Gurupreet Kaur, age 6, dead of dehydration in the Arizona desert. Roxana Hernandez, dead of untreated septic shock and HIV. Osmar Epifanio Gonzalez-Gadma, Jeancarlo Jiminez-Joseph, and Efrain Romero De La Rosa, all dead by suicide while in ICE facilities. Sergio Alonso Lopez, dead of internal bleeding after prison staff did not administer doses of methadone he needed to survive.
These names don't do justice to who they were and how they lived. No migrant story does, because migrants are whole people who want nothing but to live in America. They come for many reasons; they come knowing that they will be hated and discriminated against all their lives here—because, as poet Warsan Shire writes, "the insults are easier to swallow / than rubble / than bone / than your child body / in pieces."
Here are the names of some of the 200 ICE facilities:
The Adelanto Detention Center in California.
La Salle Processing Center in Louisiana.
The Aurora Detention Facility in Colorado.
Essex County Correctional Facility in New Jersey.
Fort Sill, an Oklahoma military base used to house Japanese immigrants during World War II.
The nameless makeshift camp underneath Paso Del Norte International Bridge, which connects Ciudad Juarez with El Paso, where hundreds of migrants were held outside behind a chain-link fence covered in razor wire.
The Tornillo Camp in Texas, meant to hold 400, now holding 2,400.
Here is the name of what these detention centers are: concentration camps. Remember these names. Imagine what you'll say when someone asks in the future: Did you know?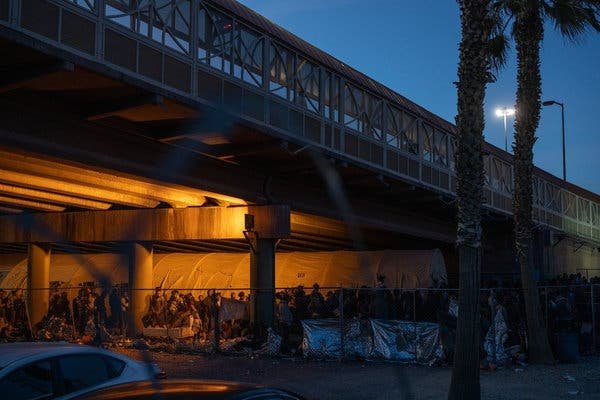 Image via The New York Times