"A tree is best measured when it is down," the poet Carl Sandburg once observed, "and so it is with people." The recent death of Harry Belafonte at the age of 96 has prompted many assessments of what this pioneering singer-actor-activist accomplished in a long and fruitful life.
Belafonte's career as a ground-breaking entertainer brought him substantial wealth and fame; according to Playbill magazine, "By 1959, he was the highest paid Black entertainer in the industry, appearing in raucously successful engagements in Las Vegas, New York, and Los Angeles." He scored on Broadway, winning a 1954 Tony for Best Featured Actor in a Musical – John Murray Anderson's Almanac. Belafonte was the first Black person to win the prestigious award. A 1960 television special, "Tonight with Belafonte," brought him an Emmy for Outstanding Performance in a Variety or Musical Program or Series, making him the first Black person to win that award. He found equal success in the recording studio, bringing Calypso music to the masses via such hits as "Day-O (The Banana Boat Song)" and "Jamaica Farewell."
Harry Belafonte - Day-O (The Banana Boat Song) (Live)www.youtube.com
Belafonte's blockbuster stardom is all the more remarkable for happening in a world plagued by virulent systemic racism. Though he never stopped performing, by the early 1960s he'd shifted his energies to the nascent Civil Right movement. He was a friend and adviser to the Reverend Doctor Martin Luther King, Jr. and, as the New York Times stated, Belafonte "put up much of the seed money to help start the Student Nonviolent Coordinating Committee and was one of the principal fund-raisers for that organization and Dr. King's Southern Christian Leadership Conference."
The Southern Poverty Law Center notes that "he helped launch one of Mississippi's first voter registration drives and provided funding for the Freedom Riders. His activism extended beyond the U.S. as he fought against apartheid alongside Nelson Mandela and Miriam Makeba, campaigned for Mandela's release from prison, and advocated for famine relief in Africa." And in 1987, he received an appointment to UNICEF as a goodwill ambassador.
Over a career spanning more than seventy years, Belafonte brought joy to millions of people. He also did something that is, perhaps, even greater: he fostered the hope that a better world for all could be created. And, by his example, demonstrated how we might go about bringing that world into existence.
For the third installment of the Visionaries Project, we spoke to Sara Gozalo about capitalism, fighting ICE and the prison industrial complex, combating burnout as an activist, and her vision of a better world.
The Visionaries Project is a subsection of The Liberty Project dedicated to highlighting the lives, passions, and work of radical activists currently working towards social justice and liberation from oppression. We aim to uplift the perspectives of diverse voices working in media and activism today—and not just the faces who make headlines, but the real people on the ground every day, working towards their visions of a better world.
Sara Gozalo is an organizer currently based in New Orleans. Originally from Madrid, she describes herself as a "queer immigrant who believes in a world without borders and without jails, where everyone has the right to live in dignity." She currently works as a Unanimous Jury Specialist at the Promise of Justice Initiative, co-founded Students for Peace and Justice, and was formerly the Supervising Coordinator of the New Sanctuary Coalition and a member of the Worcester Global Action Network. We spoke with her about the insidiousness of capitalism, her work fighting ICE and the prison industrial complex, combating burnout as an activist, and her vision of a better world.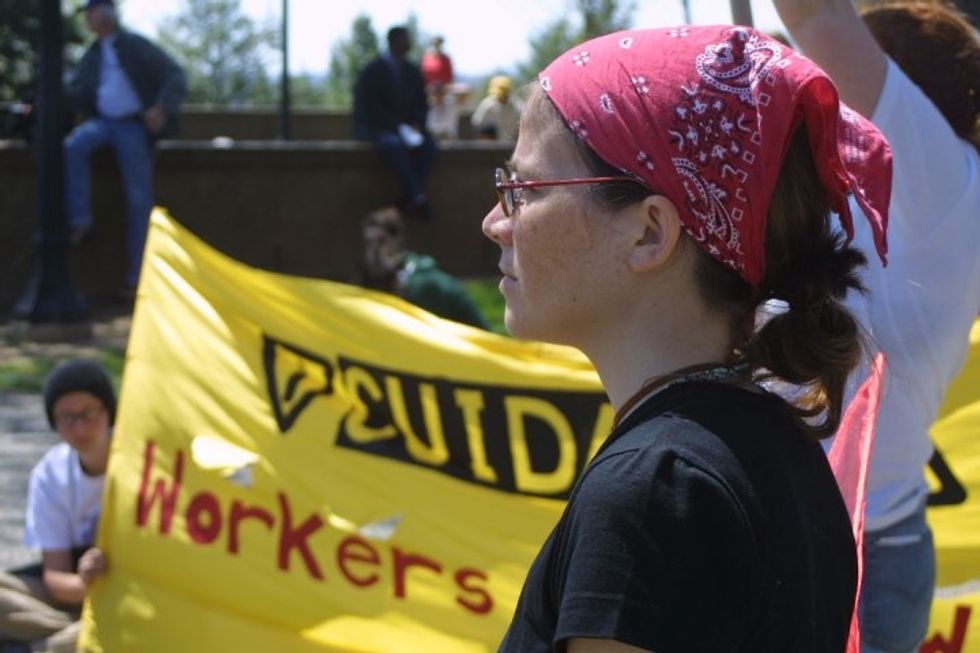 LIBERTY PROJECT: I was wondering if you could give an overview of your experience in activism and organizing.
SARA GOZALO: I have been organizing for a long time. I've only been organizing professionally for the past three and a half to four years, but I organized when I was at UMass against the war in Iraq. We did a lot of workshopping and teachings about free trade agreements, and how capitalism was destroying the planet.
It seems like that was such a long time ago, and we're still dealing with the same issues. I think that a lot of organizing is understanding that you're running a marathon, and it's never going to be a sprint. It's going to be a lot of small victories along the way, but you're going to fight the same issues constantly. That can be pretty demoralizing, but it also means you can never stop.
I come from a family that's very political. My dad is an attorney in Spain, and when he was a student he got arrested and kicked out of school for organizing against Franco during the dictatorship. My mom was always very political, and I remember hating that when I was a little kid.
While I was going through my own immigration case, I realized how hard it is for someone with a ton of privilege, and I started to look into what it was like for people who aren't as privileged. I got very involved in the immigration issue. Since I moved to New Orleans, I've seen the same patterns in the criminal justice system.
I think New Orleans brings these issues together. It has been very impacted in terms of climate change. Louisiana has the highest numbers per capita of incarcerated people [in the US], and one of the highest numbers of migrants in detention. The city brings everything together, and ties in all the different aspects that I have organized around in my life. In the end, it is important to remember that they're all related to each other.
Where are you at now?
I moved to New Orleans this summer. My wife was born and raised here. I'm working at the Promise of Justice Initiative, which is an organization that does a lot of criminal justice work.
It's clear that all these issues are very interconnected. Lately it seems that there's been a particular resurgence of anticapitalist sentiment, though that was always there…Is that affecting your organizing at all?
I have been organizing with these anti-capitalists since the late '90s. It feels like the "resurgence" has been a long time coming.
When we were organizing around the Iraq war in 2002 and 2003, we were very much organizing under the capitalist lens. Grassroots movements like Occupy and the movement for Medicare for All have ignited something even bigger now. It's become more mainstream.
The fight against capitalism is decades long, and its roots are in the people who are directly impacted, especially indigenous people all around the world. They have led that fight, because they know in their bodies what capitalism is doing to the world. I think it's important that now that conversation is part of western countries, especially the United States, which in many ways is the belly of the beast in terms of capitalism. Anti-capitalist organizing has been there forever; it just now feels like you can talk about it and people won't immediately discard you as someone crazy.
I want to make sure that [in spite of all the] now-mainstream groups that are taking this fight on—which is super important and necessary—we recognize how many people have been fighting this fight for so long and leading the efforts.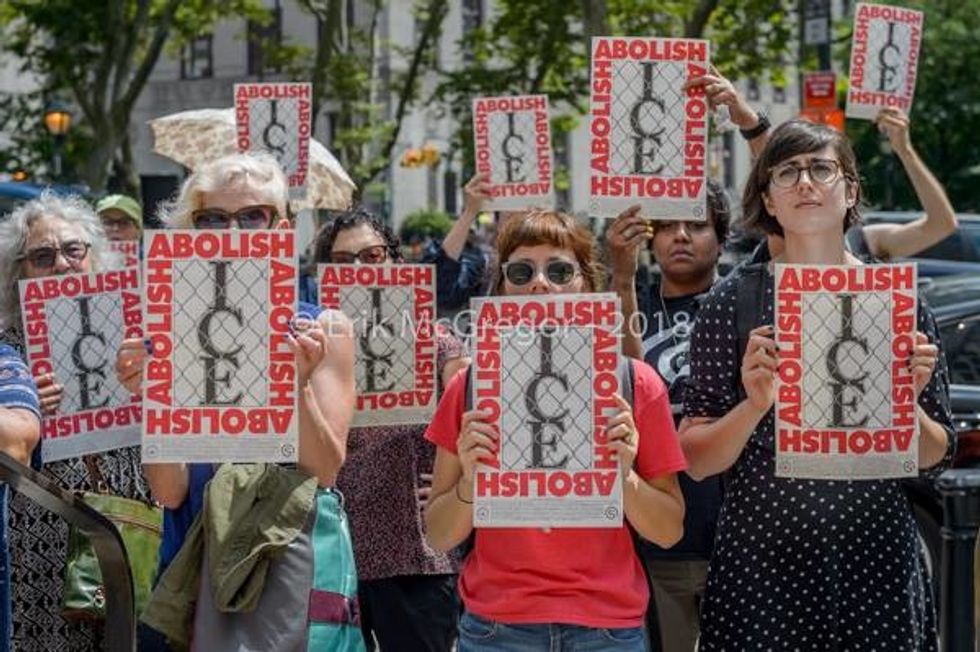 I first met you through New Sanctuary Coalition (an organization that provides legal support to immigrants in New York City). You were doing so much for them at once, and I was wondering what your reflections on that experience are.
NSC is one of the most powerful organizing groups that I have ever known, in terms of the numbers of people who are involved. Post-election, after Trump took power, it became very obvious that immigration was going to become one of the issues that he was going to attack the most. NSC grew because there are very concrete ways that people could get involved, and I think that is incredibly powerful. It's led by people who are directly impacted, but it really utilizes the number of people who want to fight alongside people who are directly impacted. That was a beautiful thing to see.
I've worked with other groups where there isn't a clear way for volunteers to get involved, and I think NSC recognizes that people can fight against the system with the support of others with more privilege. It's a great way to utilize the privilege that US citizens have. The [idea] that the people who are impacted lead, and you're showing up for solidarity—not to help or save anyone—is really important.
The accompaniment work, in particular, was hard for volunteers in that it was so boring, but it's such a good example of how much privilege US citizens have, and how important it is to show up and not feel like they're saving or leading. They're just standing in solidarity, which is an incredible exercise for everyone.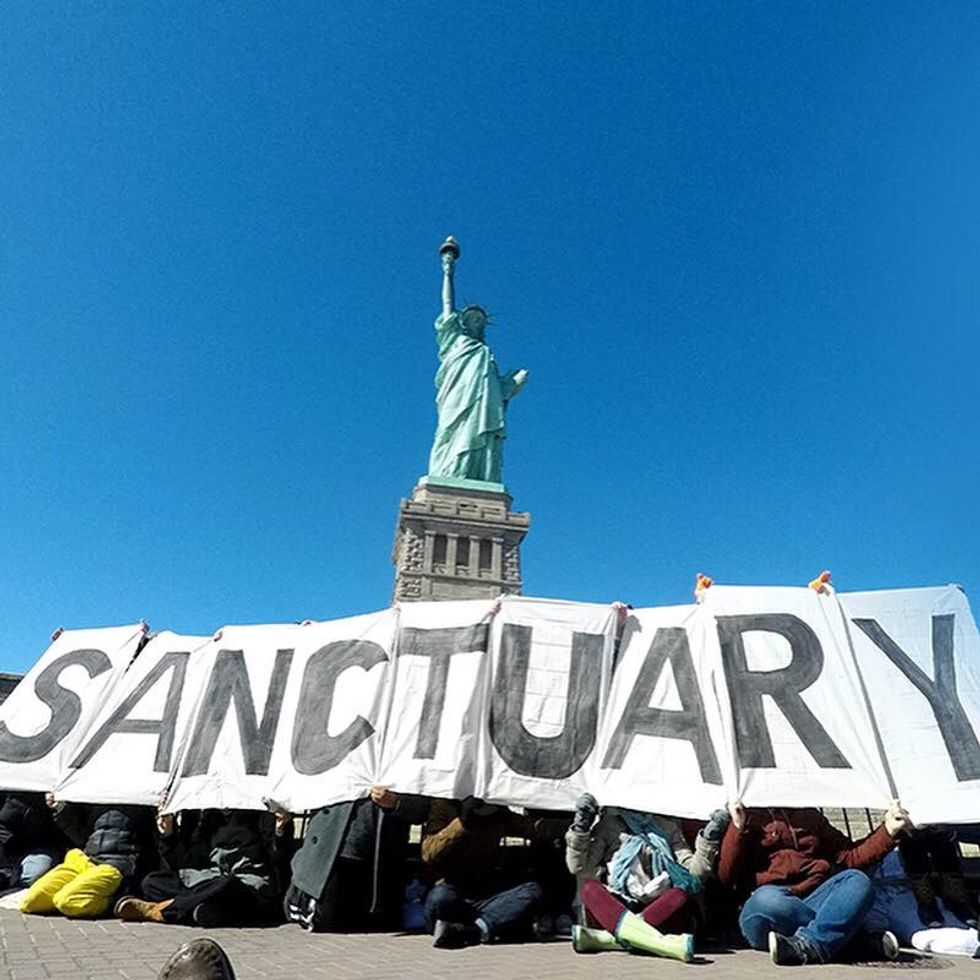 ignationsolidarity.net
It did feel at times overwhelming, which obviously leads to a lot of burnout and the sense of, oh my God, I am never doing enough, because everything is an emergency.
It felt at times that I was just pouring oil on the machine as opposed to throwing a wrench in it. For instance, if a judge said, I need an asylum application in three months as opposed to the year, we became so good at meeting those demands that it felt like in some way we were contributing to them.
I think that's a constant in organizing. There's a big difference between asking, what can you today to help a person who's going to be deported unless they show up with an asylum application, and what can you do to dismantle the system? Of course you're gonna support the person who's dealing with something today and not think in bigger terms, and so those were some difficult moments.
I don't have the answer. Maybe we need organizations that do more direct impact service work, and other organizations that only do the disruptive work; maybe that's the balance that we could work towards.
When I was leaving this summer, a lot of people finally went out on the streets, and people got arrested by the hundreds. I think that's the energy we need in the streets, while organizations like NSC do the day-to-day work that's helping people stay in the country and not be deported.
Activist Sara Gozalo from @NewSanctuaryNYC tells us about how they're working to empower immigrants during this dar… https://t.co/l1OK0TSFvA

— Jezebel (@Jezebel) 1541169069.0
Speaking of those larger systemic changes, are there any visions you have of changes that you would like to see happen on a large scale?
Yeah, so many.
First of all, we need to realign our belief system. Our bones, our insides, are so ingrained with this capitalist system of oppression. We make decisions on a daily basis that are informed by that upbringing. I admire Decolonize This Place and other groups that are really going to the roots of the problem, recognizing that unless we deal with those root problems, we're never going to affect systemic change.
For instance, we can't deal with climate change from a capitalist perspective. My friend was just fired for his job—which was to install solar panels—because they tried to unionize. We can't keep moving forward from the perspective of putting capital before humans and before the planet.
I really would like to see us having very honest conversations in which we start seeing, within ourselves and within our communities, how colonized we really are. We need to look at the root causes of the problem, if we really want to achieve any change that's going to make a difference, for our planet and for the survival of our communities everywhere in the world.
For instance, in Chile, I love to see the women who are protesting with everyone else and also bringing up the fact that the patriarchy is one of the biggest problems we have. Everything we see as an injustice has a root problem that's attached to racism and capitalism, and we need to address those, otherwise we're really not going to achieve the change that we want to achieve. Having these issues come into the light is an important step.
Women in South America sing against gender violencewww.youtube.com
I think I would like to see more compassion in our organizing. I think we're all very angry. We're all very quick to attack each other while not understanding that organizing is hard. Organizing is the hardest thing you can ever do, because there are no models for the world that we want. We have to reinvent the world.

Because we don't have those models, even nonprofits and some of the most progressive groups continue to replicate the systems of oppression that we are fighting against. [We need to ask], what does the world that we want look like, as opposed to fighting against something with means we learned from something we're fighting against.
I've read a lot about how organizations can replicate the systems they're trying to take down—people will be like, let's change ICE, but it really needs to be abolished, and I feel like that's symbolic.
I also really admire abolitionists; their clarity about what they're fighting for could be used by all nonprofits and all other organizing groups.
Do you have any advice as to how to keep going in this long fight?
In your struggle, you have to allow yourself to be led by the people who are directly impacted, because in a way, people who are directly impacted don't have the privilege of giving up. When you surround yourself with people who have to keep fighting, it helps you keep fighting.
I would say surround yourself with a supportive community, with people that you trust and people you can confide in and talk with when things get hard. And I would say be compassionate with yourself. You're going to make a lot of mistakes. That doesn't mean you're a terrible person. Everybody makes mistakes, and learning from those mistakes is the only thing you can do; don't beat yourself up so much that it paralyzes you.
And take breaks. I have been planting trees, I started a compost bin in my backyard, and I am learning how to plant vegetables. Putting your hands on the earth is actually incredibly therapeutic, and it brings everything back to what matters the most, which is life and sustainability and love for each other and our planet. When you bring it back to those core values of what really truly matters, then it allows you to breathe a little bit easier.
In our second Visionaries Project installment, we talk to sex workers' rights activist and writer Elsie B.
The Visionaries Project is a new subsection of The Liberty Project dedicated to highlighting the lives, passions, and work of radical activists currently working towards social justice and liberation from oppression. We aim to uplift the perspectives of diverse voices working in media and activism today—and not just the faces who make headlines, but the real people on the ground every day, working towards their visions of a better world.
For our second installment of the Visionaries Project, we're featuring Elsie B., a writer and activist who can be found on Twitter at @NotSuperIntoIt. Elsie is an out and proud member of the bisexual community and an active participant in the fight for sex workers' rights.
Sex workers, as Elsie informs us, often face unique legal constraints and social stigma that can prevent them from accessing adequate healthcare and opportunities. As sex workers' rights have been threatened in the United States and across the world by new laws that constrain their ability to work and share online under legal protections, the need for information and action has grown.
As Amnesty International implies, criminalization of sex workers' rights almost always puts them at a disadvantage. "We have chosen to advocate for the decriminalization of all aspects of consensual adult sex - sex work that does not involve coercion, exploitation or abuse," reads the organization's statement on the matter. "This is based on evidence and the real-life experience of sex workers themselves that criminalization makes them less safe."
Or as Elsie writes, "It's long past time to demand fair and equal treatment for sex workers, and the consequences of delayed action by civilians and lawmakers will be lethal."
We spoke to Elsie about how she became involved in the fight for sex workers' and LGBTQ+ rights, what kind of activism work she does, and how she unwinds after a long day of fighting oppression and injustice.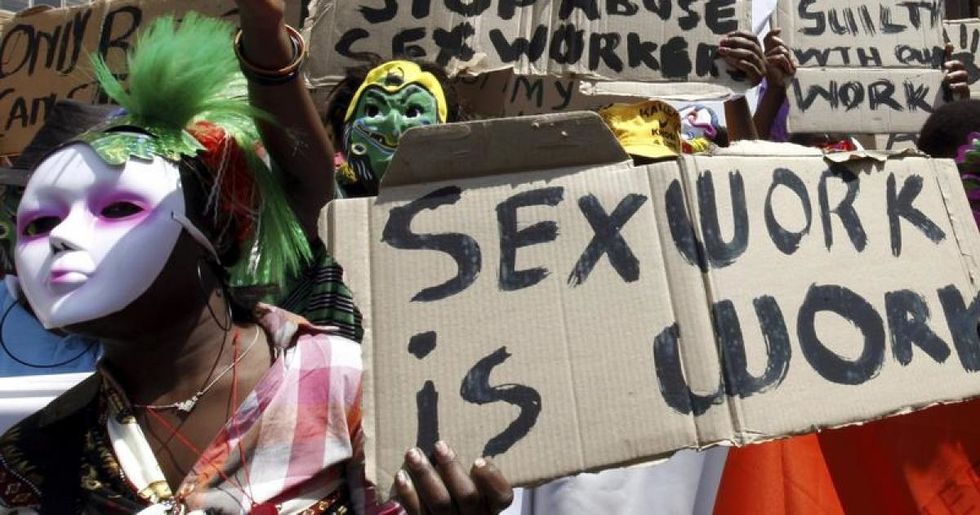 Human Rights Watch
LIBERTY PROJECT: Can you tell me a bit about your background? How did you get interested in activism?
ELSIE B: I'm fortunate to have grown up in a family that values social justice. I was raised as an ethical vegetarian and attended circus protests as a child. In middle school, I printed animal rights literature and ordered a pack of stickers from Peta2 that said "cut class, not frogs," which I slapped on every table in the science room when the dissection unit began approaching. As I got older, my dad and I would attend political rallies for Democratic candidates. During college, my politics became more radical than those I was raised with, thanks to some incredible professors. I was involved in social justice clubs, including the campus LGBTQ+ outreach program and an animal rights group of which I became VP.
In graduate school, I met a group of activists who shared my radical political beliefs and were doing meaningful, grassroots work for social justice and to end animal suffering. As I befriended these folks, I began to widen my interests in regard to my activism. I met my friend Emily during this time who is a stripper. Her influence changed my understanding of feminism and women's rights.
After graduate school, I started a small organization that helped connect feminist women and worked for the Sanders 2016 campaign.
How did you first start getting interested in sex workers' and LGBTQ+ rights?
A: From the time I realized LGBTQ+ folks were treated differently, I've been interested in the rights of non-hetero folks. I grew up with gay and lesbian culture as a constant in my life. And, at about the age of eight, I realized I myself am interested in more than only the opposite sex.
My official foray into LGBTQ+ activism started in college, but I saw myself as an ally at that time. However, after the Pulse shooting, I began to see my role in the LGBTQ+ community not as an ally but as a member of the community. I had quietly come out as bisexual many years before but had never felt comfortable identifying as someone in the LGBTQ+ community. However, after the gut-wrenching experience of watching what I realized was my community face such horrific violence, I decided it was my responsibility as an out bisexual to fight for destigmatization, especially of bisexuals who are at the highest risk for suicidal ideation and attempts.
Around the same time, sex workers started to experience attacks on their primary methods of advertisements, especially on Backpage. As so many of my friends are sex workers, I saw the panic these workers experienced. This is when I began to incorporate sex workers' rights into my activism platform. Then, in 2018, FOSTA/SESTA was introduced and passed. During this time, I dedicated all of my activism to fighting FOSTA/SESTA. During that year, I marched, helped plan harm reduction meetings, petitioned, and contacted government officials. The energy during 2018 was one of terror and excitement as sex workers rallied to fight against these new laws. It was electrifying to be a part of the first International Wh*re's March, but that euphoric buzz of being with other activists was quelled as the reality of a changing internet landscape for sex workers sunk in.
Sex workers are being locked out of their accounts en masse. This is terrifying for sex workers who have already be… https://t.co/8d7TYSFL7A

— Elsie (@Elsie) 1568936565.0
From 2018 to present, most of my activism has been based online, since sex workers work mostly in isolation. Through online communities, I have been able to continue my work in harm reduction, petitioning, and community organizing. I've also written under various pseudonyms (since even working as an activist carries stigma). I've had viral writing, which has given me some hope that sex workers' rights are beginning to creep into the consciousness of civilians, the term for non-sex workers.
Are there any challenges you've faced in activism work? Any particular successes, favorite moments, or pieces you've written?
A: Activism is draining, but there is no better feeling to me than having someone reach out to let me know how I've helped them. This has been especially true of my work as an activist for bisexual individuals. The number of messages I've received from people telling me I gave them the courage to come out or that reaching out to me is the first time they've admitted their attraction to more than one gender has been simultaneously heartbreaking and the most rewarding feeling.
Working as an activist for sex workers has unique challenges in that even associating with sex work as a topic comes with stigma. I usually work under pseudonyms, as I don't want my work in sex work to affect my other activism (I've worked in activism for education orgs which serve younger students).
Activism as a bisexual cis-woman has also been challenging, as biphobia and stigma are often just as hostile, if not more, in the community. Bisexuals have a unique fight, in that they are shunned from straight and gay communities for not being straight or gay enough. It can be painful to watch people choose to repress their complex sexual orientation in order to feel accepted by one group.
Coming out very publicly was one of the best feelings as an activist. It was such a personal act, and the number of friends and acquaintances who reached out to me during that time to tell me their stories was so touching.
Seattle Police shockingly claim sex workers need to be arrested "to disrupt the cycle of violence and abuse". Thi… https://t.co/WocSniI500

— Kshama Sawant (@Kshama Sawant) 1570115501.0
What would you suggest people do if they want to start to get involved in the fight for LGBTQ+ and sex workers' rights?

A: For most people, the most effective activism they can do is within their own communities. Talking about sex workers and LGBTQ+ rights with family and friends may seem menial, but it is some of the most important work we can all do.
To talk to folks in your circles though, you need to be armed with correct information about those you are hoping to help. It is important to avoid savior complexes. Listen to people in the communities you want to fight for. Trusted sources are SWOP chapters, the ACLU, the LGBT Center in Los Angeles (or local chapters to you), and actual LGBTQ+ folks and sex workers.
Of course, you can volunteer and leaflet with local chapters and organizations, but it is also important to support community members directly. You can do this by supporting a business owned by LGTBQ+ folks and sex workers or by tipping them directly!
You do a lot of challenging work. What do you do to take care of yourself and have fun?
A: What's been so great about my current work is the wonderful people I have met. I have never had more fun with a group of people than my sex worker comrades. We take trips, drink wine in the backyard, and gas each other up constantly.
Personally, I go to the gym almost every day and try to spend some time there with my phone off. Turning your phone off is very important for activists (and all workers at this point). In 2019 we can be constantly reached, and it's hard not to engage when you are so passionate about your work helping others.
I also got a fully functional TV for the first time in my adult life this year and now understand the benefits of winding down watching TV (even if I mostly watch The Office).
50 years after M.L.K. was assassinated, his legacy continues to inspire. Who are the strongest voices fighting for his vision?
In the 50 years since Dr. Martin Luther King Jr.'s death, his legacy has only gained momentum as activists and everyday citizens fight against prejudicial policies that would scale back his vision of equality, rather than realize it. The March on Washington may be most commemorated for Dr. King's speech on August 28, 1963, but the determination of the Civil Rights Movement inspired even more than the 250,000 people who demonstrated in the nation's capital that summer. Dr. King declared, "Go back to Mississippi, go back to Alabama, go back to South Carolina, go back to Georgia, go back to Louisiana, go back to the slums and ghettos of our northern cities, knowing that somehow this situation can and will be changed."
True to his legacy of equality, Dr. King's passion touched people from all walks of life, from famous actors and politicians to scholars and everyday citizens. Here are 5 people whose aspirations were inspired by MLK:
1. Ineva May-Pittman, activist and NAACP member who marched with Dr. King:
"I just felt–free. With all these people from all across the country and the world, of all ethnicities, together–no incidents or anything, and everybody was friendly toward each other...Why can't this be, you know, all the time? So we had to come back and double our determination to try to make it be. And we still workin' on it."
2. Frankye Adams-Johnson, activist and teacher who marched with Dr. King:
"I felt that somehow we had achieved whatever this freedom meant, that it had been achieved there in Washington. We had marched, we had listened to speeches, and we had been moved by the great Martin Luther King, Jr." Reflecting on the summer of 1963, she says, "I envisioned that our quality of life as an African-American people … would be better for more of us than the handful that it is. I don't want to put a damper on celebrating and commemorating. But I will just say there's still so much more we need to be fighting for."
3. Forest Whitaker, actor:
"We followed him because he was holding your hope. The hope that your life would be full and complete with equality. There are few people in history who take that position that allows people to follow and change, who represent something powerful...He did it in this country and made people walk with him towards a better life. I think it's difficult for the next generation to see the things that happened before...So you have to continually, historically remind them and try to make them aware of what Martin Luther King was doing that we are all in this together. And that hope is alive today."
4. Barack Obama, 44th President of the United States:
"Dr. King was 26 when the Montgomery bus boycott began. He started small, rallying others who believed their efforts mattered, pressing on through challenges and doubts to change our world for the better A permanent inspiration for the rest of us to keep pushing towards justice."
5. Stevie Wonder, along with 80 other iconic figures, and the youth of today:
In commemoration of Dr. King's assassination in Memphis in 1968, musician Stevie Wonder created a powerful tribute to Martin Luther King that called upon figures from Apple CEO Tim Cook and London Mayor Sadiq Khan to Serena Williams and Paul McCartney. Most powerfully, he called for all Twitter users to post their own dedication to Dr. King and how he continued to inspire today's generation. He posted, "On April 4, 1968 at 7:05 p.m. central time, Dr. King's life was cut tragically short. 50 years later a need for his dream to be fulfilled is far greater than ever. Share your dream & post your own #DreamStillLives video. Spread love...spread hope"
On April 4th, 1968 at 7:05 p.m. central time, Dr. King's life was cut tragically short. 50 years later a need for h… https://t.co/XVJ9Gis9zp

— Stevie Wonder (@Stevie Wonder) 1522886700.0
Meg Hanson is a Brooklyn-based writer, teacher, and jaywalker. Find Meg at her website and on Twitter @megsoyung.