Dall-E Mini, the AI-powered text-to-image generator has taken over the internet. With its ability to render nearly anything your meme-loving heart desires, anyone can make their dreams come true.
DALL-E 2, a portmanteau of Salvador Dali, the surrealist and Wall-E, the Pixar robot, was created by OpenAI and is not widely available; it creates far cleaner imagery and was recently used to launch Cosmpolitan's first AI-generated cover. The art world has been one of the first industries to truly embrace AI.
The open-sourced miniature version is what's responsible for the memes. Programmer Boris Dayma wants to make AI more accessible; he built the Dall-E Mini program as part of a competition held by Google and an AI community called Hugging Face.
And with great technology, comes great memes. Typing a short phrase into Dall-E Mini will manifest 9 different amalgamations, theoretically shaping into reality the strange images you've conjured. Its popularity leads to too much traffic, often resulting in an error that can be fixed by refreshing the page or trying again later.
If you want to be a part of the creation of AI-powered engines, it all starts with code. CodeAcademy explains that Dall-E Mini is a seq2seq model, "typically used in natural language processing (NLP) for things like translation and conversational modeling." CodeAcademy's Text Generation course will teach you how to utilize seq2seq, but they also offer opportunities to learn 14+ coding languages at your own pace.
You can choose the Machine Learning Specialist career path if you want to become a Data Scientist who develops these types of programs, but you can also choose courses by language, subject (what is cybersecurity?) or even skill - build a website with HTML, CSS, and more.
CodeAcademy offers many classes for free as well as a free trial; it's an invaluable resource for giving people of all experience levels the fundamentals they need to build the world they want to see.
As for Dall-E Mini, while some have opted to create beauty, most have opted for memes. Here are some of the internet's favorites:
There's no looking back now, not once you've seen Pugachu; artificial intelligence is here to stay.
Peter Macdiarmid/Shutterstock
Queen Mother's Crown on top of the coffin/ Peter Macdiarmid/Shutterstock
Queen Elizabeth II's death brought immense sadness to Britain. The United Kingdom has gone into mourning. Throngs of people are queueing outside Westminster Hall to bid farewell to the longest reigning Monarch in English history.
---
As the Queen's reign ends and her son King Charles III ascends the throne, countries within the commonwealth are left wondering what it will mean for them. Jamaica might become a republic, Australia seems to be mulling their options, and India has a Twitter riotous debate about getting the Kohinoor back.
For many, it's merely a diamond that rests on top of the crown — the most expensive diamond in the world, at between $140 - $400 Million. But for Indians, it's much-much more— history, tradition, and memories of pre-colonial India as well as the pain of colonial India.
Kohinoor or Kho-i-Noor — which means 'Mountain of Light' — is a 105.6-carat diamond that was found in southern India in the 14th century. This is where I'm from, so it hits close to home. This gem was claimed by the British during colonial times. Currently, there are 4 countries — India, Pakistan, Afghanistan, and Iran — trying to claim it back.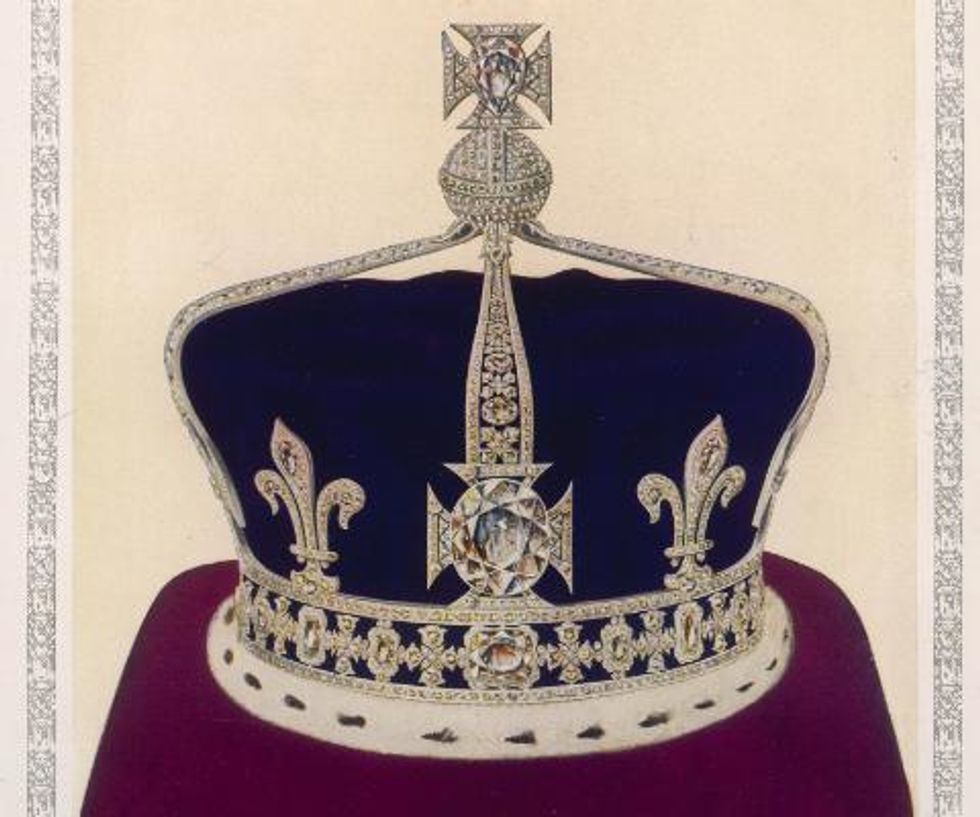 Historia/Shutterstock
The Crown Made For Queen Elizabeth the Queen Mother On the Coronation of King George Vi/Historia/Shutterstock
Along with sapphires and other precious stones, the Kohinoor is only one of the 2,800 diamonds in the Monarch partner's crown which was fashioned in 1937. This was while India was still under British rule. But since their freedom in 1947, there have been animated discussions about who the Kohinoor rightfully belongs to.
Many British museums are packed with artifacts looted from other cultures. In July 2010, then Prime Minister of the UK David Cameron said, "If you say yes to one, you suddenly find the British Museum would be empty."
So, here's the question. Should the Kohinoor stay in with the crown or returned to India?
During the 14th century, it was uncovered in the Indian Golconda mines and passed through many hands. Sashi Tharoor mentioned in his book An Era of Darkness, "The diamond was formally handed over to Queen Victoria by the child Sikh heir Maharaja Duleep Singh, who simply had no choice in the matter. As I have pointed out in the Indian political debate on the issue, if you hold a gun to my head, I might 'gift' you my wallet. But that doesn't mean I don't want it back when your gun has been put away."
Does that make it rightfully India's property?
Numerous Indians share this position, especially since Camilla, the Queen Consort will now wear this iconic diamond. So, of course, #Kohinoor went viral on Twitter with a flood of humor-driven memes. However, there's a serious petition underway seeking a minimum of a million signatures. The petition's aim is to spotlight the topic of restitution and where the diamond will rightfully sit.
Recently, the Horniman Museum in London announced that it would return 72 artifacts — including 12 brass plaques known as Benin Bronzes which were swiped in 1897 — to the Nigerian government.
Is this the first step?
The crown may look glittering and glorious to some. To many Indians the appropriation of the Kohinoor as part of the Crown Jewels connotes imperialism and the tragedies that occurred during 89 years of British oppression.
Danielle Kinsey — Assistant professor of history at Carleton University — said, "There are many, many other artifacts in Britain that continue to function as imperial trophies. And when people from around the world have to shell out the money and go through all of the visa and travel issues to go to Britain to engage with pieces of their own cultures and their own pasts, this continues the trauma of empire for them."
The perspective of the colonized is only now coming to world view. Throughout history they were sidelined but now that society is more progressive, there's an apprehension of the wrongs that have occurred. Surely, if a nation admits to a wrong, then steps ought to be taken to right it.

India before the British was one of the richest countries in the world — when they left it was one of the poorest. The Kohinoor is a symbolic reference to the deprivation caused by colonial rule. Its valuation wouldn't even cover 1% of the trillions pilfered from India during the colonial period. But it would send a message to Indians of respect and an equal friendship.
"Flaunting the Kohinoor on the Queen Mother's crown in the Tower of London is a powerful reminder of the injustice perpetrated by the former imperial power. Until it is returned — at least as a symbolic gesture of expiation — it will remain evidence of the loot, plunder, and misappropriation that colonialism was really all about," added Sashi Tharoor.
Jokes and petitions are only the beginning. Isn't it time for the British to stop amplifying their imperialism and return precious artifacts they've stolen from the world?
Personally, I'd love to see the Kohinoor return to India. It could be the start of Britain accepting their responsibility of past injustices and moving into a future of reconciliation.
Related Articles Around the Web