Pogues frontman Shane McGowan was an ancient 65 when he died on November 30. Television producer Norman Lear was a youthful 101 when he left this realm on December 5. No doubt his zest for life kept him going for so long – and his zest for controversy.
Norman Lear's work was an integral part of American life in the second half of the 20th Century. Television programs like Maude, Sanford and Son, and The Jeffersons dragged television out of the 1950s and into the real world. As Variety states: "Lear's shows were the first to address the serious political, cultural and social flashpoints of the day – racism, abortion, feminism, homosexuality, the Vietnam war – by working pointed new wrinkles into the standard domestic comedy formula. No subject was taboo: Two 1977 episodes of All in the Family revolved around the attempted rape of lead character Archie Bunker's wife Edith."
All in the Family, which ran on CBS from 1971 to 1979, typified the clash of generations. Middle-aged bigot Archie Bunker – played by Carrol O'Connor – was a right-wing King Lear in Queens, raging at the radical changes in society. Archie didn't let ignorance get in the way of his opinions; once he argued that people who lived in communes were communists. The thing is, the old dog was actually capable of learning new tricks. Archie never evolved into any kind of saint. But over the nine seasons "Family" aired, experience taught Archie the benefits of listening to (and respecting) viewpoints far different from his own.
All in the Family was the jewel in Lear's crown, but don't forget the highly popular shows One Day at a Time (which featured Bonnie Franklin as a divorcee raising two daughters in the Midwest) and Mary Hartman, Mary Hartman (with Louise Lasser as the titular figure in a parody of soap opera conventions). Good or bad, Lear's work was never indifferent.
More recently, you may have heard about Lear's lively activism. His TV shows were themselves arguments for free and unfettered speech, and Lear supported a slate of liberal causes. In 1981 he founded People for the American Way. The organization's website describes the ways that PFAW has "engaged cultural and community leaders and individual activists in campaigns promoting freedom of expression, civic engagement, fair courts, and legal and lived equality for LGBTQ people."
Lear's life was a long and fulfilling one. In 1978 he was given the first of two Peabody Awards, the most prestigious award in television. "To Norman Lear," it reads, "...for giving us comedy with a social conscience. He uses humor to give us a better understanding of social issues. He lets us laugh at our own shortcomings and prejudices, and while doing this, maintains the highest entertainment standards."
A pioneer, a gadfly of the state, a mensch. To paraphrase a lyric from All in the Family's theme song, "Mister, we could use a guy like Norman Lear again."
Queen Mother's Crown on top of the coffin/ Peter Macdiarmid/Shutterstock
Queen Elizabeth II's death brought immense sadness to Britain. The United Kingdom has gone into mourning. Throngs of people are queueing outside Westminster Hall to bid farewell to the longest reigning Monarch in English history.
As the Queen's reign ends and her son King Charles III ascends the throne, countries within the commonwealth are left wondering what it will mean for them. Jamaica might become a republic, Australia seems to be mulling their options, and India has a Twitter riotous debate about getting the Kohinoor back.
For many, it's merely a diamond that rests on top of the crown — the most expensive diamond in the world, at between $140 - $400 Million. But for Indians, it's much-much more— history, tradition, and memories of pre-colonial India as well as the pain of colonial India.
Kohinoor or Kho-i-Noor — which means 'Mountain of Light' — is a 105.6-carat diamond that was found in southern India in the 14th century. This is where I'm from, so it hits close to home. This gem was claimed by the British during colonial times. Currently, there are 4 countries — India, Pakistan, Afghanistan, and Iran — trying to claim it back.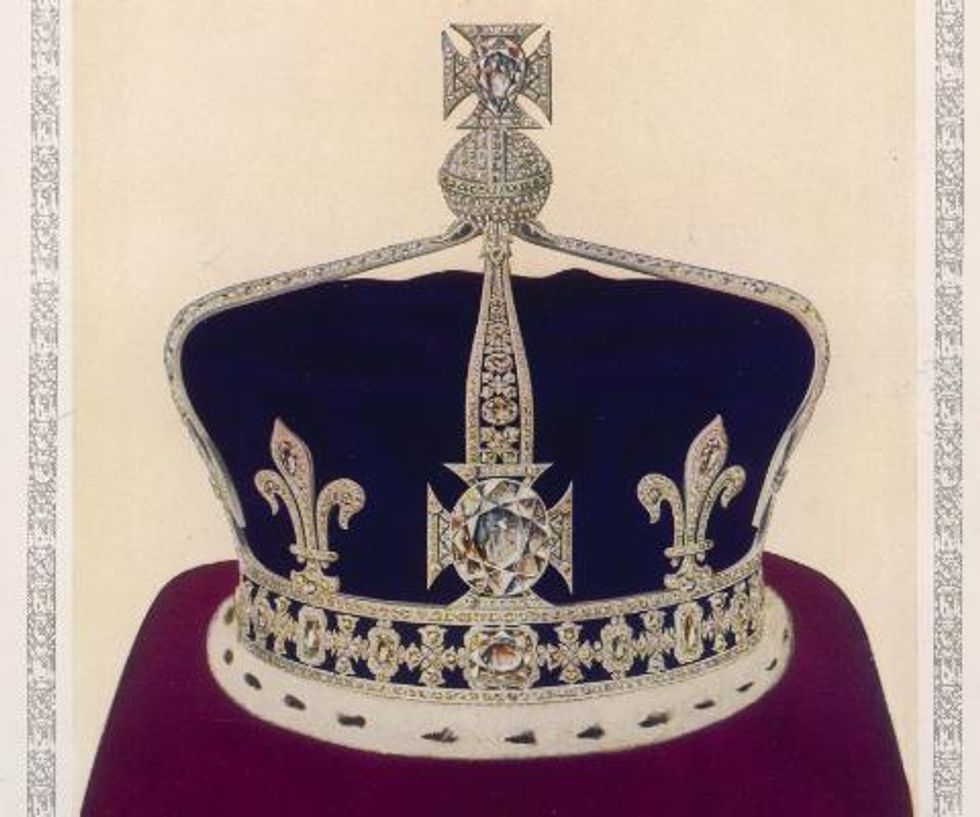 Historia/Shutterstock
The Crown Made For Queen Elizabeth the Queen Mother On the Coronation of King George Vi/Historia/Shutterstock
Along with sapphires and other precious stones, the Kohinoor is only one of the 2,800 diamonds in the Monarch partner's crown which was fashioned in 1937. This was while India was still under British rule. But since their freedom in 1947, there have been animated discussions about who the Kohinoor rightfully belongs to.
Many British museums are packed with artifacts looted from other cultures. In July 2010, then Prime Minister of the UK David Cameron said, "If you say yes to one, you suddenly find the British Museum would be empty."
So, here's the question. Should the Kohinoor stay in with the crown or returned to India?
During the 14th century, it was uncovered in the Indian Golconda mines and passed through many hands. Sashi Tharoor mentioned in his book An Era of Darkness, "The diamond was formally handed over to Queen Victoria by the child Sikh heir Maharaja Duleep Singh, who simply had no choice in the matter. As I have pointed out in the Indian political debate on the issue, if you hold a gun to my head, I might 'gift' you my wallet. But that doesn't mean I don't want it back when your gun has been put away."
Does that make it rightfully India's property?
Numerous Indians share this position, especially since Camilla, the Queen Consort will now wear this iconic diamond. So, of course, #Kohinoor went viral on Twitter with a flood of humor-driven memes. However, there's a serious petition underway seeking a minimum of a million signatures. The petition's aim is to spotlight the topic of restitution and where the diamond will rightfully sit.
Recently, the Horniman Museum in London announced that it would return 72 artifacts — including 12 brass plaques known as Benin Bronzes which were swiped in 1897 — to the Nigerian government.
Is this the first step?
The crown may look glittering and glorious to some. To many Indians the appropriation of the Kohinoor as part of the Crown Jewels connotes imperialism and the tragedies that occurred during 89 years of British oppression.
Danielle Kinsey — Assistant professor of history at Carleton University — said, "There are many, many other artifacts in Britain that continue to function as imperial trophies. And when people from around the world have to shell out the money and go through all of the visa and travel issues to go to Britain to engage with pieces of their own cultures and their own pasts, this continues the trauma of empire for them."
The perspective of the colonized is only now coming to world view. Throughout history they were sidelined but now that society is more progressive, there's an apprehension of the wrongs that have occurred. Surely, if a nation admits to a wrong, then steps ought to be taken to right it.

India before the British was one of the richest countries in the world — when they left it was one of the poorest. The Kohinoor is a symbolic reference to the deprivation caused by colonial rule. Its valuation wouldn't even cover 1% of the trillions pilfered from India during the colonial period. But it would send a message to Indians of respect and an equal friendship.
"Flaunting the Kohinoor on the Queen Mother's crown in the Tower of London is a powerful reminder of the injustice perpetrated by the former imperial power. Until it is returned — at least as a symbolic gesture of expiation — it will remain evidence of the loot, plunder, and misappropriation that colonialism was really all about," added Sashi Tharoor.
Jokes and petitions are only the beginning. Isn't it time for the British to stop amplifying their imperialism and return precious artifacts they've stolen from the world?
Personally, I'd love to see the Kohinoor return to India. It could be the start of Britain accepting their responsibility of past injustices and moving into a future of reconciliation.