"A tree is best measured when it is down," the poet Carl Sandburg once observed, "and so it is with people." The recent death of Harry Belafonte at the age of 96 has prompted many assessments of what this pioneering singer-actor-activist accomplished in a long and fruitful life.
Belafonte's career as a ground-breaking entertainer brought him substantial wealth and fame; according to Playbill magazine, "By 1959, he was the highest paid Black entertainer in the industry, appearing in raucously successful engagements in Las Vegas, New York, and Los Angeles." He scored on Broadway, winning a 1954 Tony for Best Featured Actor in a Musical – John Murray Anderson's Almanac. Belafonte was the first Black person to win the prestigious award. A 1960 television special, "Tonight with Belafonte," brought him an Emmy for Outstanding Performance in a Variety or Musical Program or Series, making him the first Black person to win that award. He found equal success in the recording studio, bringing Calypso music to the masses via such hits as "Day-O (The Banana Boat Song)" and "Jamaica Farewell."
Harry Belafonte - Day-O (The Banana Boat Song) (Live)www.youtube.com
Belafonte's blockbuster stardom is all the more remarkable for happening in a world plagued by virulent systemic racism. Though he never stopped performing, by the early 1960s he'd shifted his energies to the nascent Civil Right movement. He was a friend and adviser to the Reverend Doctor Martin Luther King, Jr. and, as the New York Times stated, Belafonte "put up much of the seed money to help start the Student Nonviolent Coordinating Committee and was one of the principal fund-raisers for that organization and Dr. King's Southern Christian Leadership Conference."
The Southern Poverty Law Center notes that "he helped launch one of Mississippi's first voter registration drives and provided funding for the Freedom Riders. His activism extended beyond the U.S. as he fought against apartheid alongside Nelson Mandela and Miriam Makeba, campaigned for Mandela's release from prison, and advocated for famine relief in Africa." And in 1987, he received an appointment to UNICEF as a goodwill ambassador.
Over a career spanning more than seventy years, Belafonte brought joy to millions of people. He also did something that is, perhaps, even greater: he fostered the hope that a better world for all could be created. And, by his example, demonstrated how we might go about bringing that world into existence.
ISSUES
How to Become a U.S. citizen: Immigration 101
A guide to the naturalization process, what comes before and what happens after
With all the talk surrounding immigration, we thought it would be useful to break down the actual process of becoming a U.S. citizen.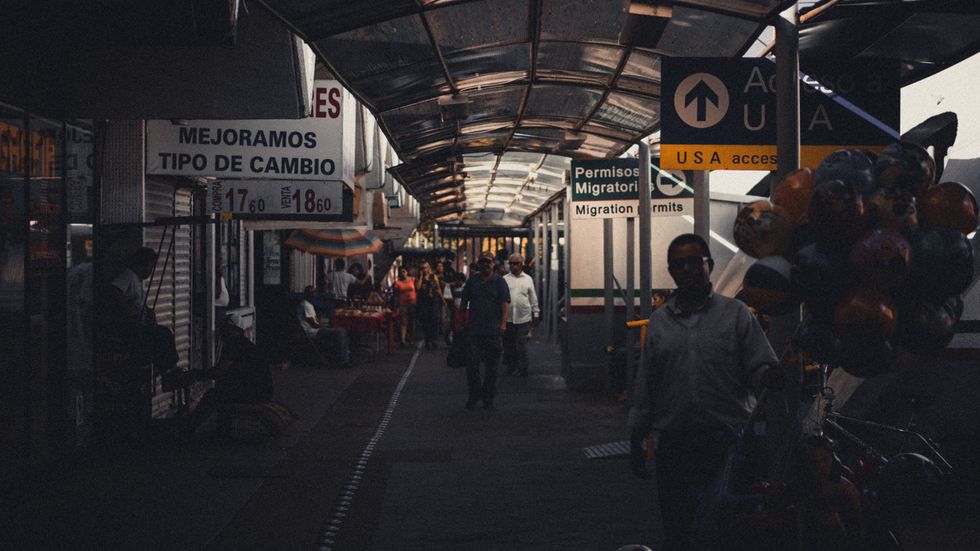 Photo: Andrew Schultz
Pre-naturalization
The first step on the road to U.S. citizenship is applying for an immigrant visa. A sponsor (such as a family member or employer) can file a petition on the applicant's behalf. Eligible applicants can also file on their own behalf. This first application could be for conditional legal residency, a temporary permit to live in the country (and work if the visa allows it). For potential students, an F1 visa allows a nonresident to attend school in the U.S. It's worth noting that, although they are not permanent residents and might not be allowed to work off-campus, international students must still pay federal and local taxes. An F1 visa costs up to $400.
A person with a sponsor can apply for permanent residency and the ability to live and work in the U.S.—their green card. Permanent residents are protected by the law but do not have the rights to vote or hold a U.S. passport and can be subjected to deportation hearings. Permanent residence is a requirement for naturalization: after five years of residence, a person can apply for citizenship. If the person has a spouse who is a U.S. citizen, the necessary length of time drops to three years. An application for permanent residence can cost over $1,000.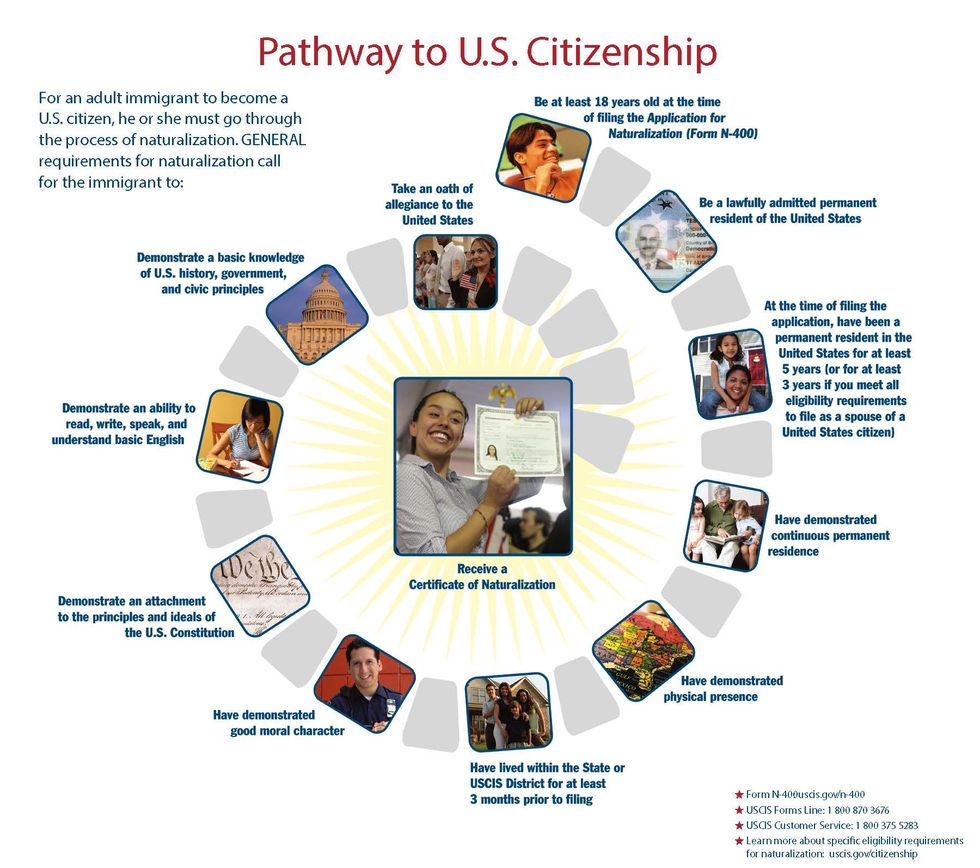 Photo: U.S. Government
The naturalization process
To begin the naturalization process, a person has to demonstrate their five (or three) years of "continuous" permanent residence as well as physical presence in the U.S. during that time. If they are married to a U.S. citizen, they must, basically, prove their love through bank statements, proof of shared residence and other official documents that show the U.S. Citizenship and Immigration Services (USCIS) that their relationship is real.
In addition to proving the proper term of residence, an applicant must be at least eighteen years old to fill out the N-400, the application for naturalization. The applicant must then live continuously within the U.S. from the date of their application until the time of their naturalization. By that time, they must also be able to read, write and speak English and be knowledgeable in U.S. civics: history and government. Qualifying service in the U.S. armed forces might also accelerate the process. Finally, the applicant must "be a person of good moral character, attached to the principles of the Constitution of the United States, and well disposed to the good order and happiness of the United States during all relevant periods under the law."
The Form N-400 asks for pretty much all of the information concerning who the applicant is, where they're from, where they've lived and traveled and how they've acted as a person. It asks: "Have you EVER been a member of, or in any way associated (either directly or indirectly) with: A. The Communist Party? B. Any other totalitarian party? C. A terrorist organization?" Also: "Have you EVER advocated (either directly or indirectly) the overthrow of any government by force or violence?" And: have you ever worked for the Nazi government? An applicant should answer no to these questions on the form and in the interview; no amount of comedic skill will earn a laugh from USCIS officials.
Following the application and its filing fee of $725, the U.S. requires a biometrics appointment to take fingerprints. The applicant will also need to have their vaccinations up to date or administered by an approved doctor. A person should expect delays and errors in the complex network of forms and appointments but should not lose hope: the system is thorough but that does not mean it is efficient. Altogether, the minimum price of naturalized citizenship will be no less than $2,100; it will likely be more, especially if lawyers are necessary.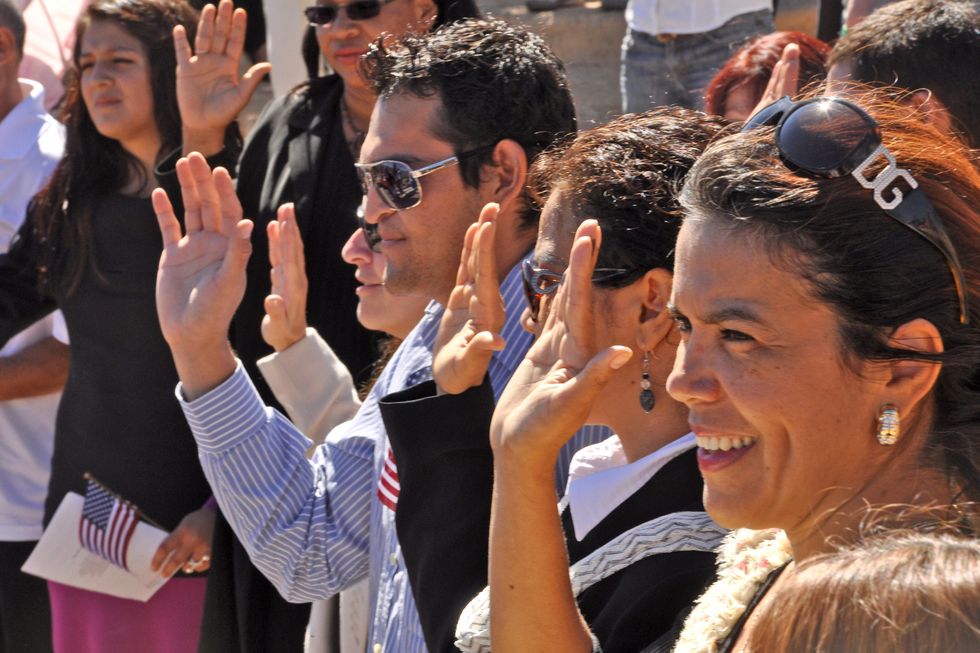 Photo: Grand Canyon National Park
Now what?
Finally, a decision will be made. If the application is accepted, the new U.S. citizen will have to surrender all previous visas and pledge an ominously-titled Oath of Allegiance to the United States. At a naturalization ceremony, they will receive their naturalization certificate and officially become a citizen of the U.S. This makes them eligible to hold a U.S. passport, vote in elections and serve on juries.
Jury duty might not be the top selling point for the long and expensive naturalization process but sharing equal rights and privileges with the citizens of the country in which a person wishes to spend their life is certainly worth it.