Pogues frontman Shane McGowan was an ancient 65 when he died on November 30. Television producer Norman Lear was a youthful 101 when he left this realm on December 5. No doubt his zest for life kept him going for so long – and his zest for controversy.
Norman Lear's work was an integral part of American life in the second half of the 20th Century. Television programs like Maude, Sanford and Son, and The Jeffersons dragged television out of the 1950s and into the real world. As Variety states: "Lear's shows were the first to address the serious political, cultural and social flashpoints of the day – racism, abortion, feminism, homosexuality, the Vietnam war – by working pointed new wrinkles into the standard domestic comedy formula. No subject was taboo: Two 1977 episodes of All in the Family revolved around the attempted rape of lead character Archie Bunker's wife Edith."
All in the Family, which ran on CBS from 1971 to 1979, typified the clash of generations. Middle-aged bigot Archie Bunker – played by Carrol O'Connor – was a right-wing King Lear in Queens, raging at the radical changes in society. Archie didn't let ignorance get in the way of his opinions; once he argued that people who lived in communes were communists. The thing is, the old dog was actually capable of learning new tricks. Archie never evolved into any kind of saint. But over the nine seasons "Family" aired, experience taught Archie the benefits of listening to (and respecting) viewpoints far different from his own.
All in the Family was the jewel in Lear's crown, but don't forget the highly popular shows One Day at a Time (which featured Bonnie Franklin as a divorcee raising two daughters in the Midwest) and Mary Hartman, Mary Hartman (with Louise Lasser as the titular figure in a parody of soap opera conventions). Good or bad, Lear's work was never indifferent.
More recently, you may have heard about Lear's lively activism. His TV shows were themselves arguments for free and unfettered speech, and Lear supported a slate of liberal causes. In 1981 he founded People for the American Way. The organization's website describes the ways that PFAW has "engaged cultural and community leaders and individual activists in campaigns promoting freedom of expression, civic engagement, fair courts, and legal and lived equality for LGBTQ people."
Lear's life was a long and fulfilling one. In 1978 he was given the first of two Peabody Awards, the most prestigious award in television. "To Norman Lear," it reads, "...for giving us comedy with a social conscience. He uses humor to give us a better understanding of social issues. He lets us laugh at our own shortcomings and prejudices, and while doing this, maintains the highest entertainment standards."
A pioneer, a gadfly of the state, a mensch. To paraphrase a lyric from All in the Family's theme song, "Mister, we could use a guy like Norman Lear again."
Those already in the U.S. required to marry by end of year or leave the country
The Trump administration began enforcing a new policy on Monday that denies visas to same-sex domestic partners of foreign diplomats.
The restrictions affect staff of U.S.-based international organizations such as the United Nations, the World Bank, and the International Monetary Fund, requiring those currently residing in the country to get married by December 31st or leave within 30 days. Announced earlier this year, the policy is framed by the administration as an effort to equalize visa requirements between straight and gay diplomats.
Officials say they are building off of rules implemented in 2009 by the Obama administration that asks other countries to treat same-sex partners of U.S. Foreign Service employees on a "reciprocal basis" to receive diplomatic visas.
In an August follow-up email to the Washington Blade, a State Department official explained, "This is based on changes to U.S. law recognizing same-sex marriages. Therefore, the Department will likewise require that, as a general matter, officials from other governments and international organizations be married to enjoy the rights and benefits of spouses for purposes of visa issuance and privileges and immunities."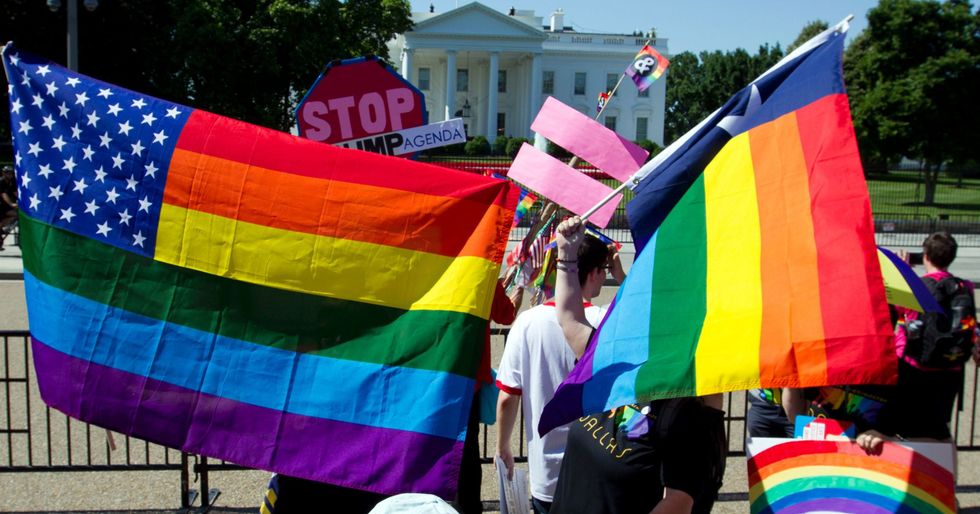 Jose Luis Magana, AFP/Getty Images
LGBT advocates are quick to point out that same-sex marriage is illegal in most countries, and cannot be compared to the rights given to heterosexual couples. Gay people face the death penalty in eight countries including U.N. members Saudi Arabia and Nigeria. Critics say the administration's rules will force LGBT diplomats to choose between breaking up their relationship for a career, or facing potentially life-threatening repercussions at home for entering into an illegal marriage.

Former U.S. Ambassador to the United Nations Samantha Power described the policy as "needlessly cruel & bigoted," tweeting that "only 12% of U.N. member states allow same-sex marriage."
Needlessly cruel & bigoted: State Dept. will no longer let same-sex domestic partners of UN employees get visas unless they are married. But only 12% of UN member states allow same-sex marriage. https://t.co/MjZpRVLYcf
— Samantha Power (@SamanthaJPower) September 28, 2018
Alfonso Nam, president of UN-GLOBE, an organization that advocates for LGBT staff in the U.N. system, told the Blade, "A policy that prioritizes marriages over all other forms of legal unions will have a chilling effect on all couples in the United States under a U.N.-sponsored visa who are in legal unions other than marriage."
"Whether it is an opposite-sex couple who did not get married for philosophical reasons, or a same-sex couple who did not get married because marriage was not a choice available to them, they would all now have to find a way to get married in order to remain in the United States," added Nam.
Currently, there are 10 U.N. employees in the United States who would need to marry by the New Year to have their partners' visas extended.
Joshua Smalley
is a New York-based writer, editor, and playwright. Find Josh at his
website
and on Twitter:
@smalleywrites
A guide to the naturalization process, what comes before and what happens after
With all the talk surrounding immigration, we thought it would be useful to break down the actual process of becoming a U.S. citizen.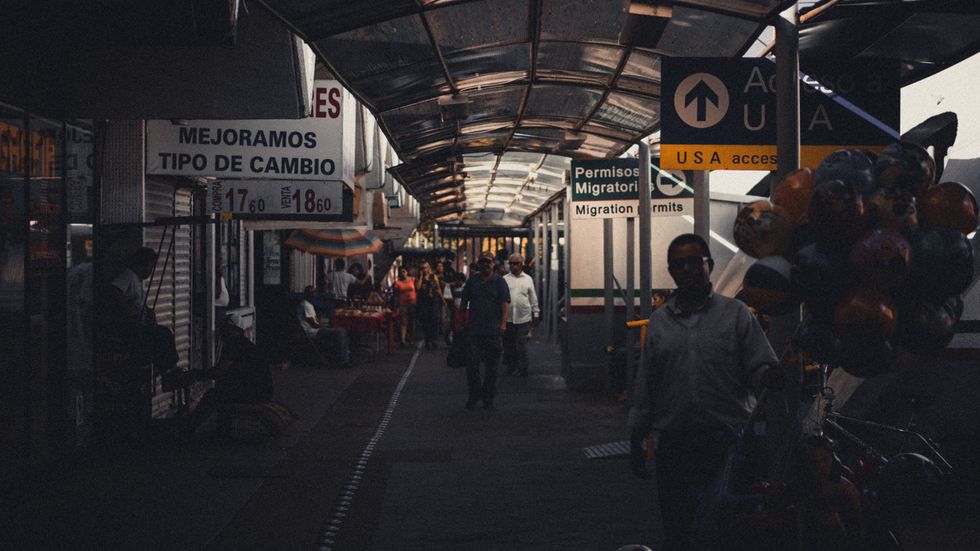 Photo: Andrew Schultz
Pre-naturalization
The first step on the road to U.S. citizenship is applying for an immigrant visa. A sponsor (such as a family member or employer) can file a petition on the applicant's behalf. Eligible applicants can also file on their own behalf. This first application could be for conditional legal residency, a temporary permit to live in the country (and work if the visa allows it). For potential students, an F1 visa allows a nonresident to attend school in the U.S. It's worth noting that, although they are not permanent residents and might not be allowed to work off-campus, international students must still pay federal and local taxes. An F1 visa costs up to $400.
A person with a sponsor can apply for permanent residency and the ability to live and work in the U.S.—their green card. Permanent residents are protected by the law but do not have the rights to vote or hold a U.S. passport and can be subjected to deportation hearings. Permanent residence is a requirement for naturalization: after five years of residence, a person can apply for citizenship. If the person has a spouse who is a U.S. citizen, the necessary length of time drops to three years. An application for permanent residence can cost over $1,000.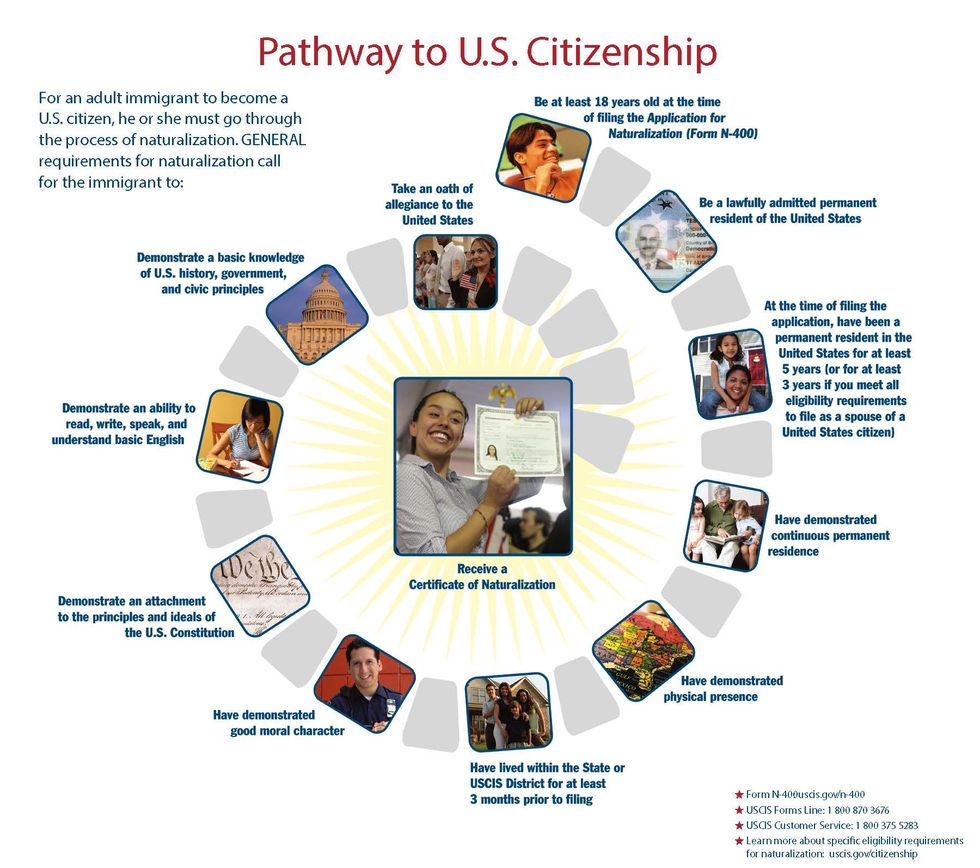 Photo: U.S. Government
The naturalization process
To begin the naturalization process, a person has to demonstrate their five (or three) years of "continuous" permanent residence as well as physical presence in the U.S. during that time. If they are married to a U.S. citizen, they must, basically, prove their love through bank statements, proof of shared residence and other official documents that show the U.S. Citizenship and Immigration Services (USCIS) that their relationship is real.
In addition to proving the proper term of residence, an applicant must be at least eighteen years old to fill out the N-400, the application for naturalization. The applicant must then live continuously within the U.S. from the date of their application until the time of their naturalization. By that time, they must also be able to read, write and speak English and be knowledgeable in U.S. civics: history and government. Qualifying service in the U.S. armed forces might also accelerate the process. Finally, the applicant must "be a person of good moral character, attached to the principles of the Constitution of the United States, and well disposed to the good order and happiness of the United States during all relevant periods under the law."
The Form N-400 asks for pretty much all of the information concerning who the applicant is, where they're from, where they've lived and traveled and how they've acted as a person. It asks: "Have you EVER been a member of, or in any way associated (either directly or indirectly) with: A. The Communist Party? B. Any other totalitarian party? C. A terrorist organization?" Also: "Have you EVER advocated (either directly or indirectly) the overthrow of any government by force or violence?" And: have you ever worked for the Nazi government? An applicant should answer no to these questions on the form and in the interview; no amount of comedic skill will earn a laugh from USCIS officials.
Following the application and its filing fee of $725, the U.S. requires a biometrics appointment to take fingerprints. The applicant will also need to have their vaccinations up to date or administered by an approved doctor. A person should expect delays and errors in the complex network of forms and appointments but should not lose hope: the system is thorough but that does not mean it is efficient. Altogether, the minimum price of naturalized citizenship will be no less than $2,100; it will likely be more, especially if lawyers are necessary.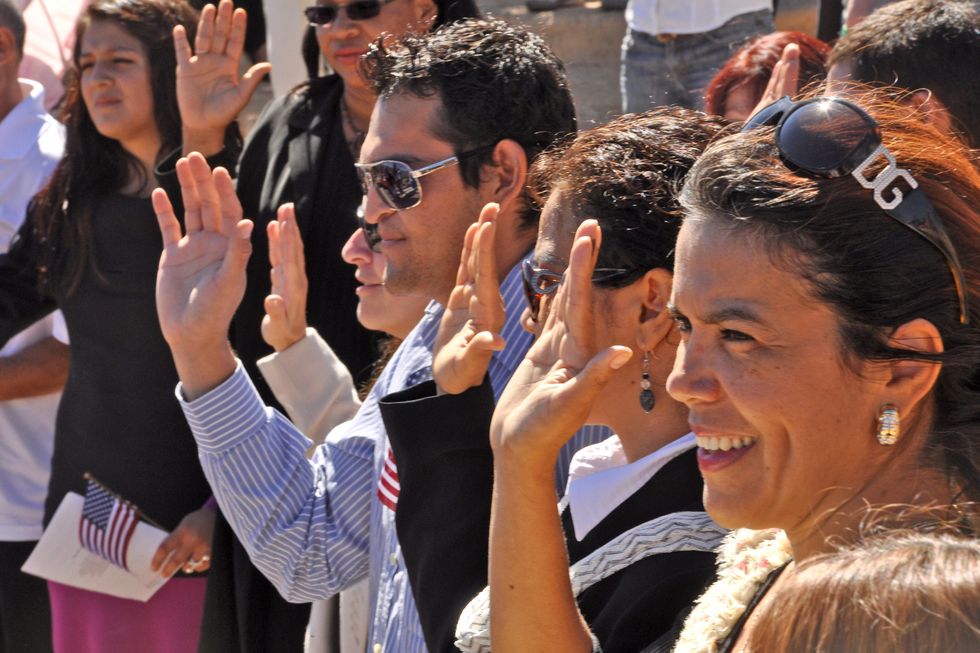 Photo: Grand Canyon National Park
Now what?
Finally, a decision will be made. If the application is accepted, the new U.S. citizen will have to surrender all previous visas and pledge an ominously-titled Oath of Allegiance to the United States. At a naturalization ceremony, they will receive their naturalization certificate and officially become a citizen of the U.S. This makes them eligible to hold a U.S. passport, vote in elections and serve on juries.
Jury duty might not be the top selling point for the long and expensive naturalization process but sharing equal rights and privileges with the citizens of the country in which a person wishes to spend their life is certainly worth it.